24th August - 9th September 2016
We made a trip to Northern Spain in October 2015 to "scout out" the Picos de Europa as a venue for mountain walking, and this two week trip was the culmination of that planning. The area is not that well known and good guide books in English are scarce, as are good maps of the standard of the Ordnance Survey series in the U.K. Hence we felt we needed the help of an experience operator, and booked the trip through Colletts Mountain Holidays of Saffron Walden. The Colletts plan is very flexible; you can arrive any day that you want and stay as long as you want; there are two organised walks each day (an "Easy" walk and a "Hard" walk), with the exception of Wednesday and there are Colletts staff on hand to walk with you. Colletts make it clear that their staff are not professional guides and the word "Guide" is never used, but Colletts offer their own description of 30 standard walks in the area.

Colletts have an arrangement wit Posada El Corcal, a nice hotel situated in Tama, a couple of kilometers from Potes. Breakfast is served in the Posada, and the evening meal is served in the Posada's restaurant, Casa Fofi, fifty yards away.
Colletts Mountain Holidays,
3a Market Hill,
Saffron Walden,
Essex CB10 1HQ
Tel: 01799 513331
https://www.colletts.co.uk
Brittany Ferries "Cap Finistere" to Bilbao, Spain
| | | |
| --- | --- | --- |
| | Departure | Arrival |
| Wednesday 24th August | ETD Portsmouth 11-45 hrs | ETA Bilbao 12:45 hrs (Thursday 25th) |
| Thursday 8th September | ETD Bilbao 15:30 hrs | ETA Portsmouth 14:15 hrs ( Friday 9th ) |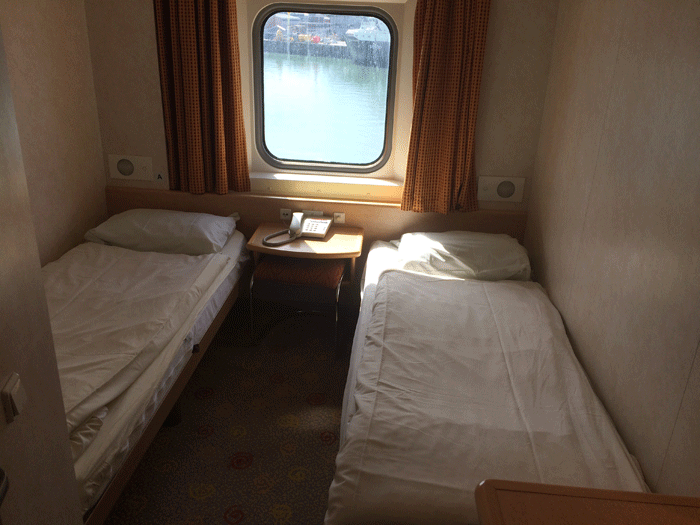 Two-berth cabin on "Cap Finistere"
Accommodation
Posada El Corcal,
Carretera General,
39584 Tama.
Tel: 00 34 942 730 734
The entrance to Posada El Corcal is down a short narrow lane immediately before the Casa Fofi; it is better to park in one of the two designated parking areas on the main road and to walk down to the Reception at the Posada. It is possible to drive down to the Reception, but unless you have a small car there is a danger of scraping the side on the narrow turns.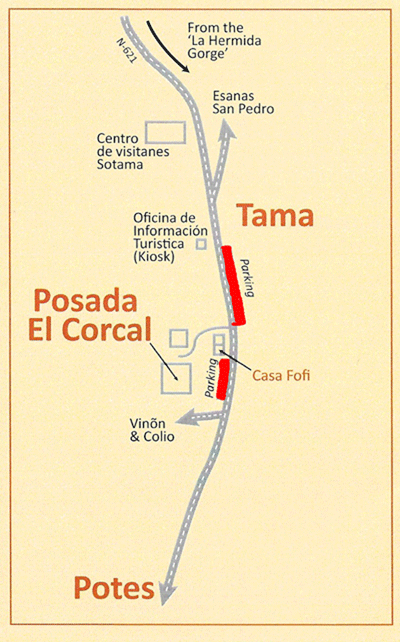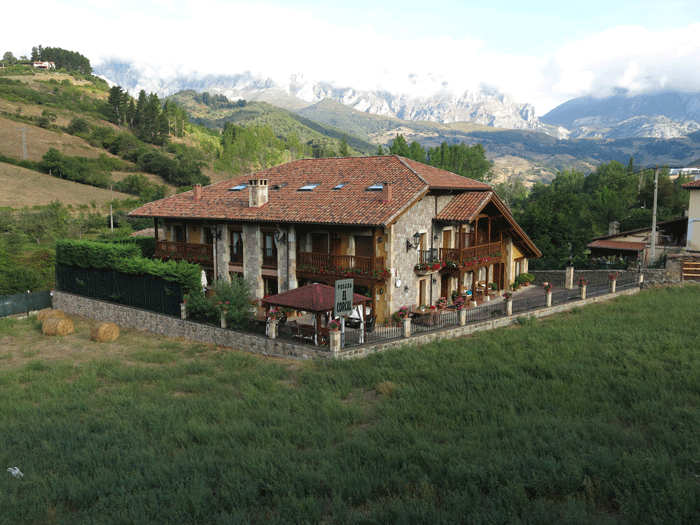 Posada El Corcal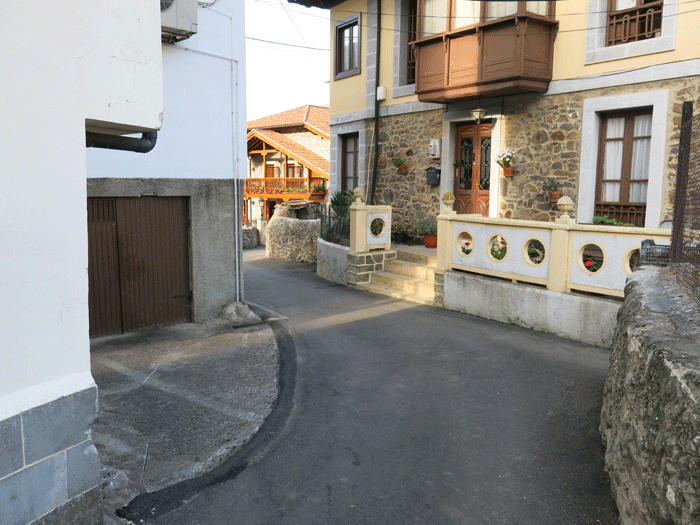 The narrow lane leading to Posada El Corcal...plenty of cars have come to grief in this twisty section!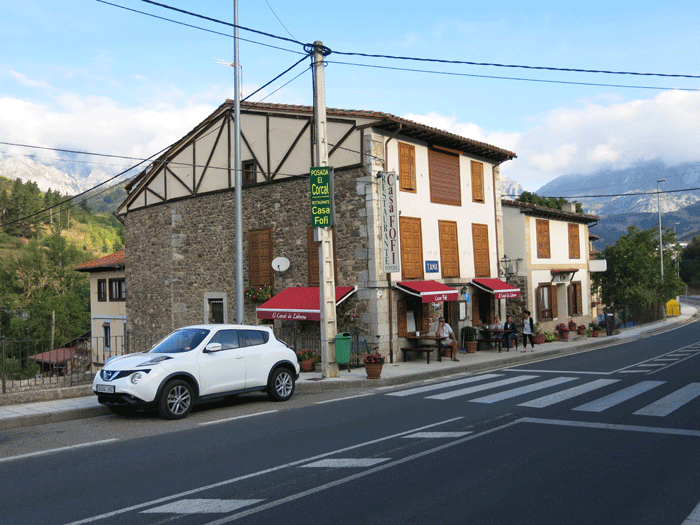 The restaurant "Casa Fofi" with the smaller of the parking areas on the main road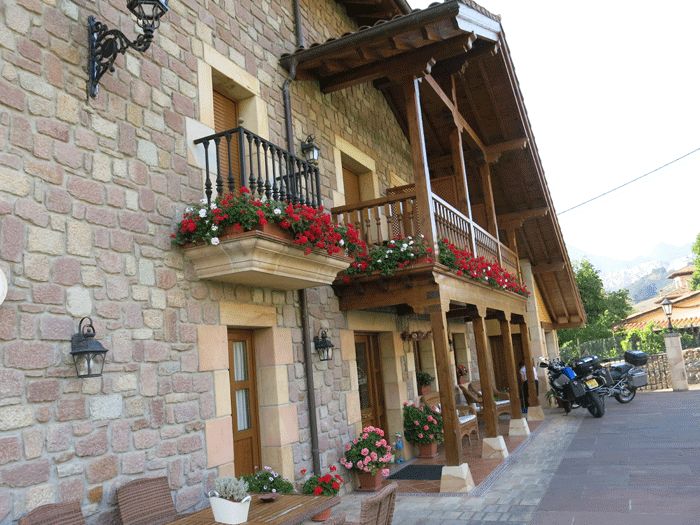 Posada El Corcal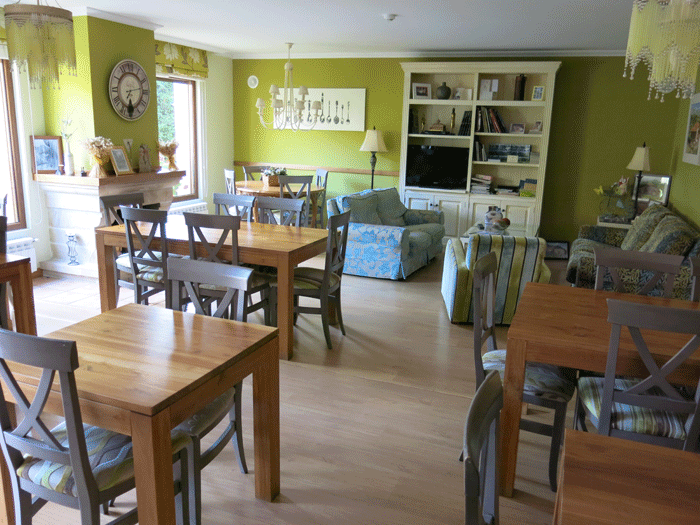 Breakfast room - Posada El Corcal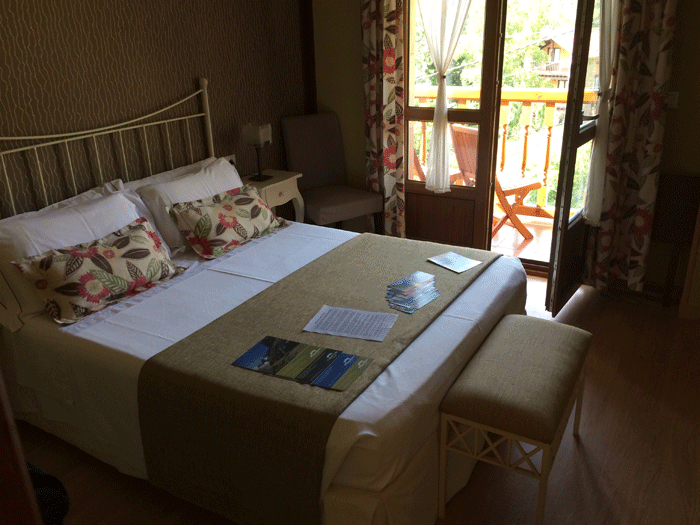 Very comfortable room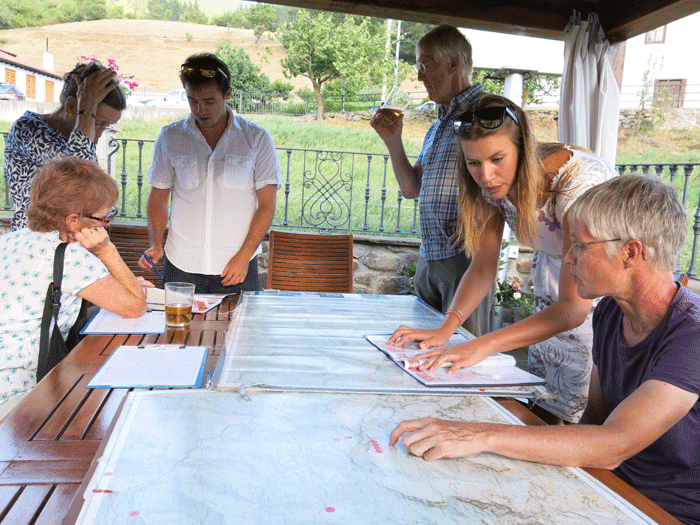 "Office Hour" in the evening, and a discussion re the routes for the following day. Left to Right: Aileen, Liz, Mike, Robin, Emma (S) and Fran.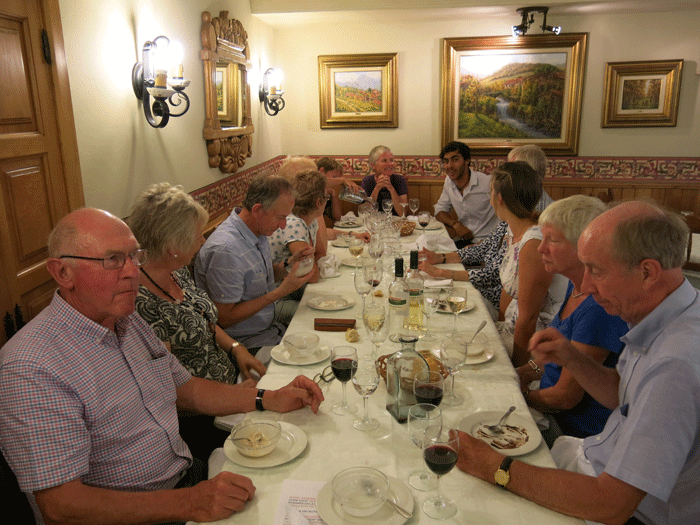 Dinner at Casa Cofi. L to R: Ian,Sue, Jim, Aileen, Lesley, Becks, Fran, Oscar, Robin, Emma (S), Jane and Bruce
Schedule of Walks
Distance
Time
Elevation in meters

Km



inc Stops

Gain

Loss

Min

Max

1

Urdón to Treviso

16.53
6H05

818

818

93

911

2

Coriscao

9.33
4H06
529
529

1690

2204

3

Peña Oviedo

13.13
4H21
678
678
820
1454

4

Cares Gorge

18

4H44

400

400

282

914

5

Horcados Rojos

12.55

5H22

550

550

1738

2377

6

Somaniezo Stroll

11.85

4H44

250

250

670

934

7

Mountain to Ocean

13.9

5H13

650

641

306

751

8

Pico Jano

10.34

4H25

589

589

909

1426

9

Brez

6.22

2H33

288

288

739

973

10

Two Valleys

17.12

5H03

519

674

1216

1858

11

Fuente Dé Classic

15.34

4H53

379

1040

1049

1944

144.33

5,650

6,457