Rifugio Sennes to Rifugio Lavarella
NOTE: THIS PAGE SHOWS COPYRIGHTED PHOTOGRAPHS WHICH I AM USING TO RESEARCH THE ROUTE AND WHICH I WILL DELETE BEFORE I POST MY WEBSITE TO THE WEB.
Distance
Time
Elevation in meters

Km
Elapsed
Hrs-Mins
Moving
Hrs-Mins
Gain
Loss
Min
Max
11.1
3H30
565
830
1,548
2,116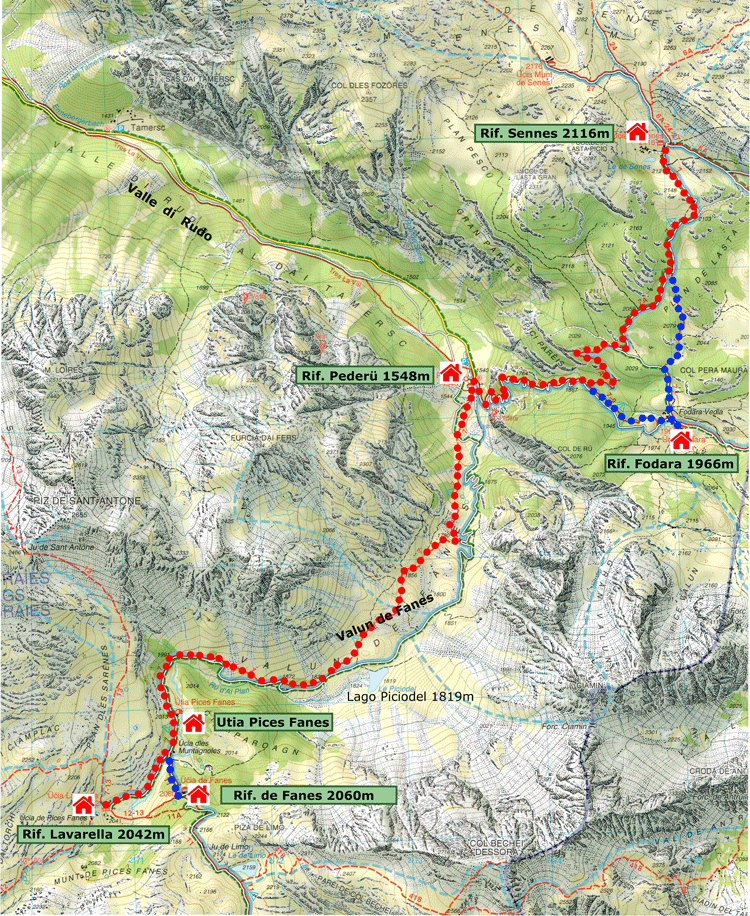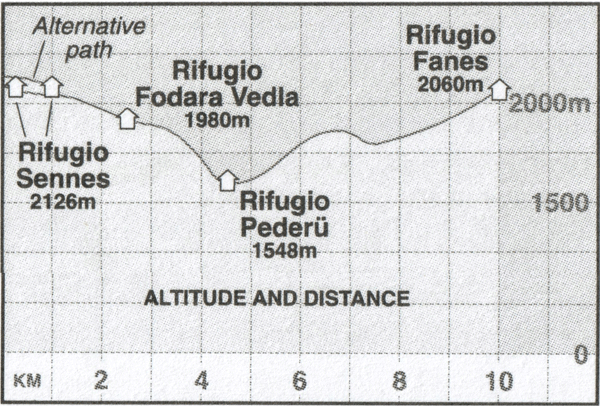 Having climbed upto 2,116m the day before, the first part of Stage 2 sees you lose all the height gain over the first hour and a half as you descend to

Rifugio Pederu 1,548m

.

The rest of the day involves climbing back up again to just over 2,000 m. Unusually this whole stage is over an old WW1 mountain track, or closely beside it, and whilst this does not give the feeling of being in the wilderness it does have the attraction of splendid views. One such view comes into sight as you traverse the many switchbacks en route to

Rifugio Pederu

, and is a view along the

Valle di Rudo

, with the

Sennes massif

to the right and the

Fanes massif

to the left.

Another rifugio,

Rifugio Fodara

, is off the track some 15 minutes and sits amongst a cluster of old wooden farm buldings.

Rifugio Pederu

sits next to the road and there are bus services to

San Viglio

,

Brunico

and

Bressanone

. The refugio offers jeep lifts from

Pederu

to

Fanes

or

Laverella

for 8 euro, which an be useful in times of inclement weather.

After

Rifugio Pederu

, the low point, the trail climbs steadily up the

Valun di Fanes

. There is an option of taking Trail 7 parallel to the road, but the road takes you next to

Lago Piciodel

, 1,819m.

Rifugio Fannes

and

Rifugio Lavarella

both share the same karstic bowl, and are similar in both design and layout.

Next to

Rifugio Lavarella

is a small and pretty chapel, the "

Picia Capela de Fanes

", built in 2003 by the architect Carljoseph Schaaf and dedicated to the saint of Val Badia Ujöp Freinademez (1852-1908.
From Refugio Sénnes, take the road marked n.7 and go southwards, firstly slightly downhill via the grassy depressions across the vast Pian della Lasta.
Then, after leaving to the left (south-south-east) the path (also marked n.7) for the Rifugio Fodàra Vedla, continue south- west , remaining on the road.
Then go into the narrow gorge between the Pici Parëis and the Col di Rü and goes rapidly down the valley in sharp bends to the flat stretch where you will find the Rifugio Pederü, 1548m.
1H30 hours from the Sénnes

From the Rifugio Pederü the route continues through the Valùn de Fànes along a fairly boring road, although the surroundings are quite interesting.
It is advisable to ask the refuge manager to take you to the Rifugio Fànes in his landrover.

If you decide to continue on foot, you can follow either the road or the shortcuts on path n.7, passing through a fascinating, desolate, almost lunar environment . The surrounding peaks are strangely coloured and have a peculiar charm.

Once past the beautiful little lake of

Le Piciodèl, 1819m

, you pass alongside the

Rü dal Plan (Torrente del Piano)

, up some bends, and at an altitude of 1988m, you turn decisively south.

At 2022m, leave to the right (south-west) the road for the nearby

Rifugio Lavarella, 2042m, go over a little bridge and reach Ücia de Fànes or the Rifugio Fànes, 2060m.
2 hours from the Pederü 3H30 hours from the

Rifugio Sennes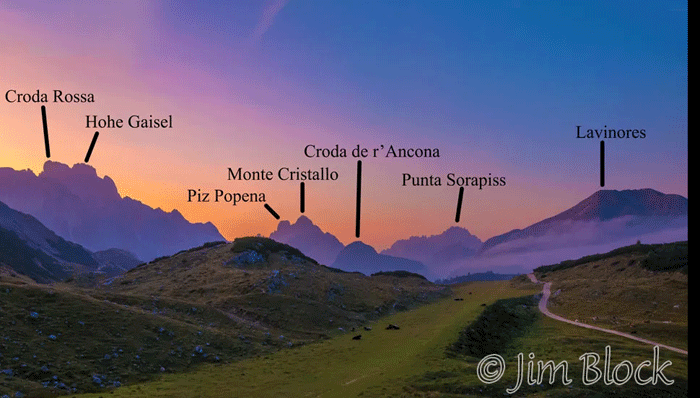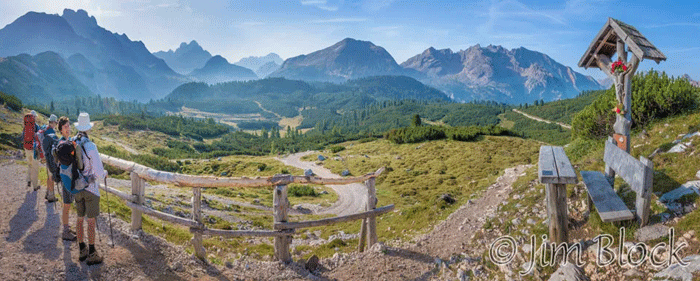 The way ahead from Sennes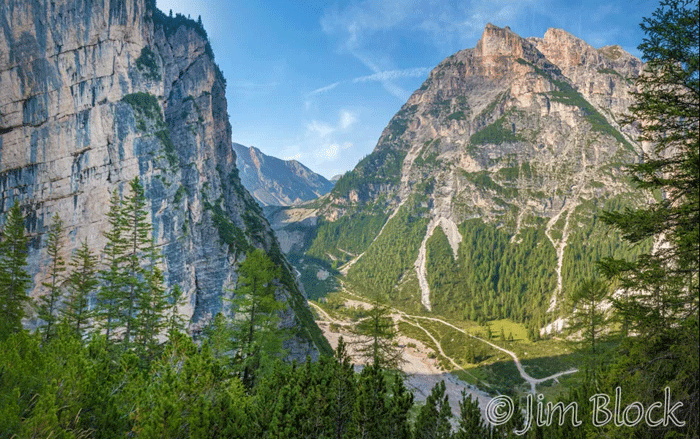 Approaching Rifugio Pederu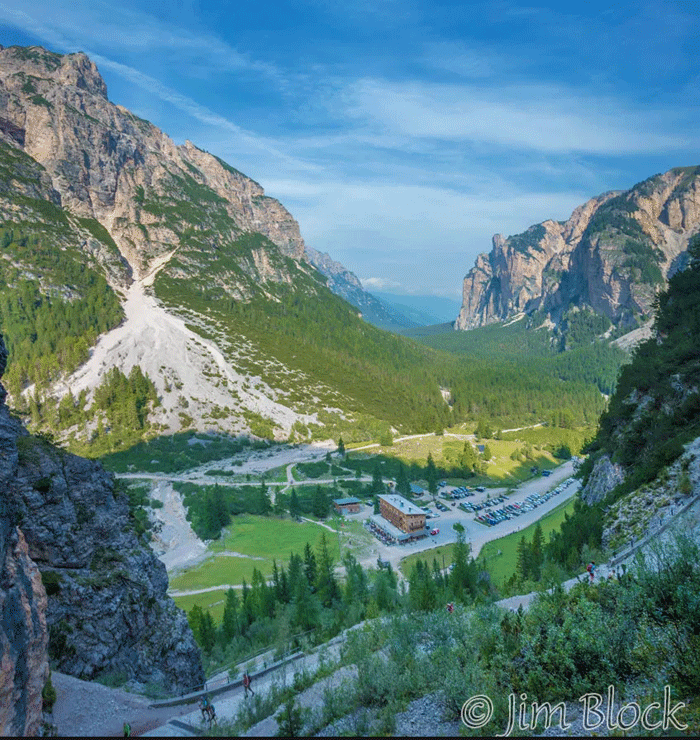 Dropping down to Pederu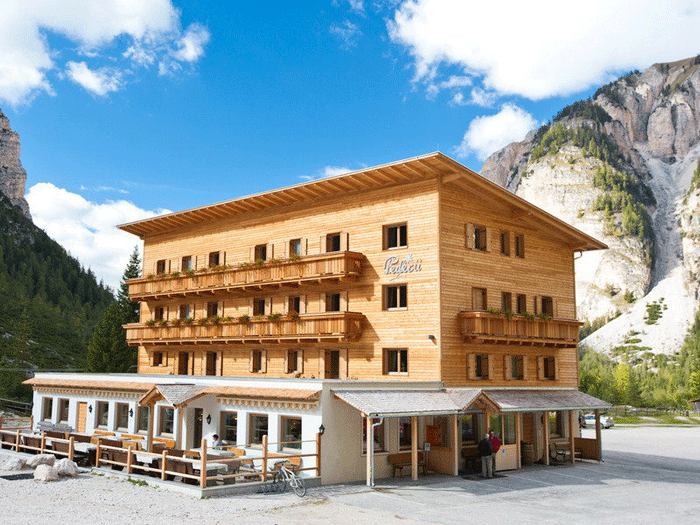 Rifugio Pederu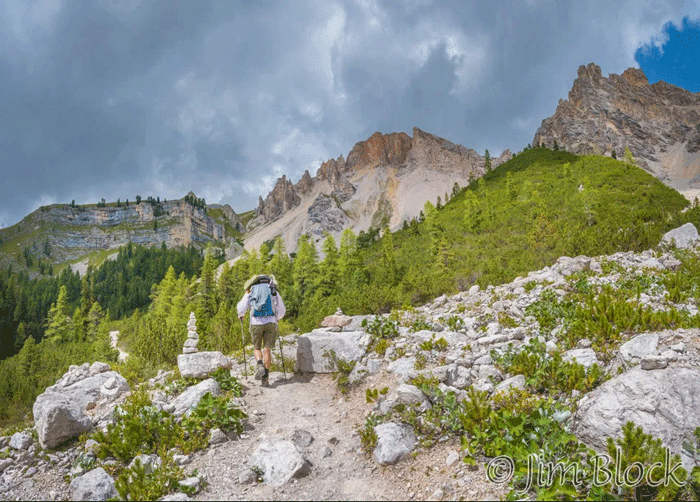 Heading towards Fanes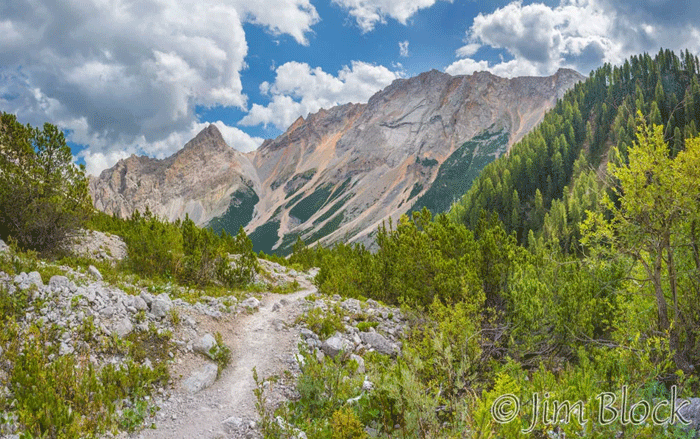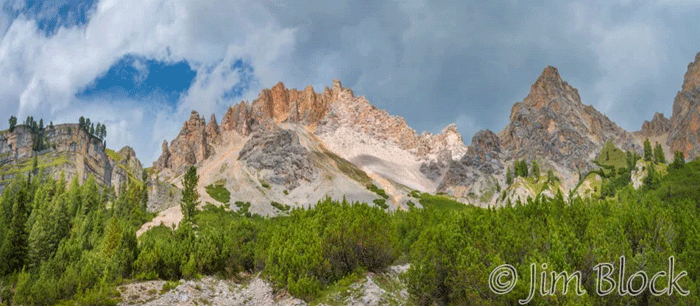 Castel de Fanes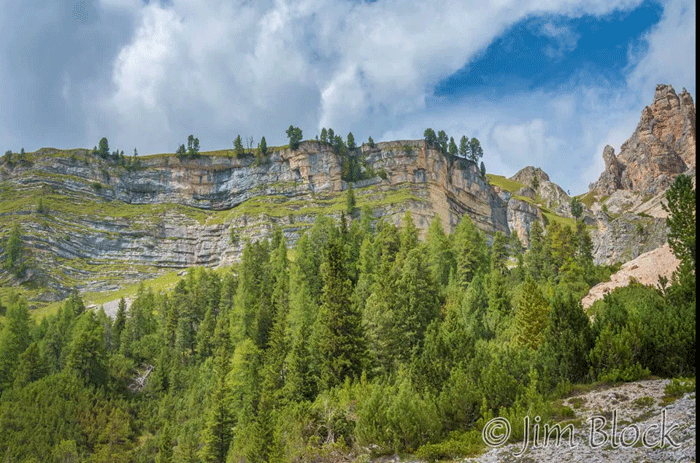 Marmot's Parliament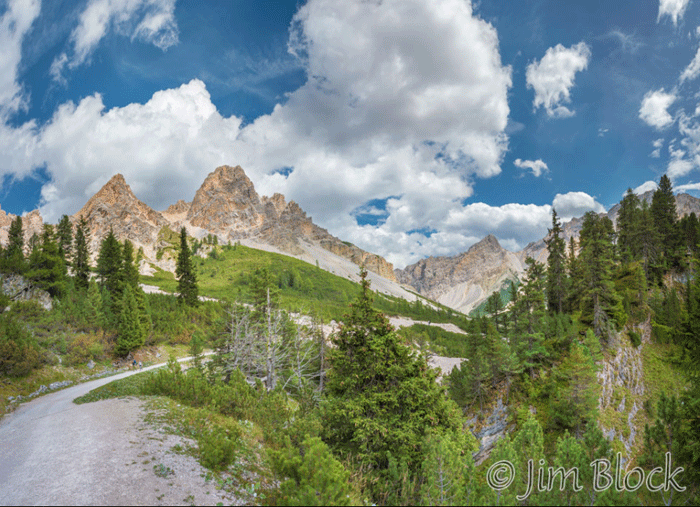 Approaching Fanes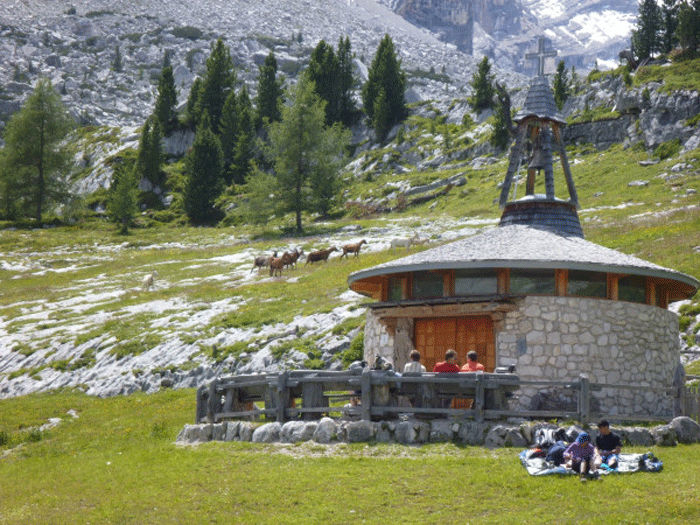 Picia Capela de Fanes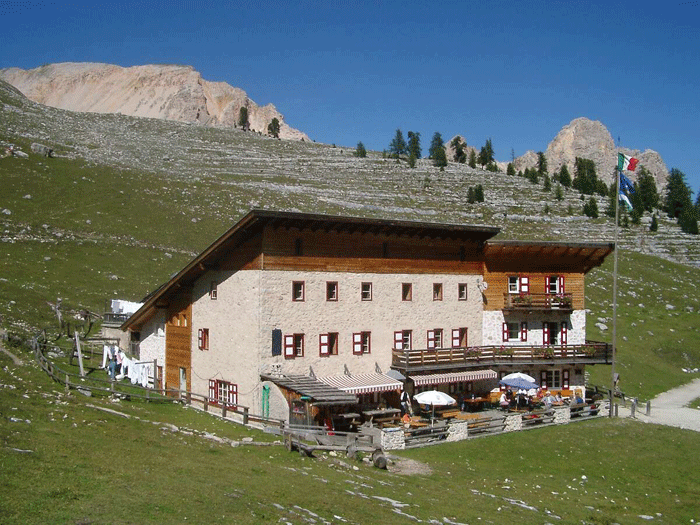 Rifugio Lavarella