Date

From

To

Miles

Time

Accommodation

Mon
4th Oct

Portsmouth 17-00 hrs

23hrs 30 min

Ferry

Tues
5th Oct

Arrive Bilbao 17-30 hrs
Drive to Lerma.


121

1H56

Parador de Lerma

Wed
6th Oct

Lerma

Ávila

141

2H38

Parador de Ávila

Thurs
7th Oct

Day trip to Segovia (41 M 52 mins each way)

82

1H44

Parador de Ávila

Fri
8th Oct

Ávila

Toledo

110

1H48

Parador de Toledo

Sat
9th Oct

Toledo

Canillas de Albaida

301

4H56

Colletts

Colletts Andalucia Programme

Sat
16th Oct

Canillas de Albaida

Toledo

301

4H56

Parador de Toledo

Sun
17th Oct

Toledo

Salamanca

177

2H46

Parador de Salamanca

Mon
18th
Oct

Salamanca

Burgos

151

2H20

Tues
19th Oct

Burgos

Bilbao 20-30 hrs (25 hrs)

109

1H44

Ferry

Wed
20th Oct

Portsmouth 20-30 hrs
Tuesday 5th October 2021 - Driving Time 121 miles 1H56
Arrive Bilbao Ferry Terminal at 17-30 hrs
Drive to Lerma, South of Burgos 121 miles 1H56
Parador de Lerma
Hotel: Parador de Lerma, Plaza Mayor, 1 09340 Lerma Burgos,+34 947177110

The amazing ducal palace at Lerma, now a Parador, is located in the upper part of the city. The hotel features a central courtyard surrounded by lovely columned galleries. The elegant majesty of this palace from the era of the Hapsburgs and its lovely interiors, with beautifully designed lighting and décor, will make your stay an unforgettable experience.

The Plaza Mayor (Main Square) is opposite the main façade of the palace. At night, the lights of the Parador make it look even more magnificent and stately. The medieval quarter, Arch, Cárcel Bridge, San Blas Convent, Santo Domingo Monastery, Pasadizo del Duque (Duke's Passage) and former collegiate church of San Pedro are just some of the treasures you won't want to miss.
Wednesday 6th October to Ávila - Driving for 141 miles taking 2H38
Ávila is a city of Spain located in the autonomous community of Castile and León. It is the capital and most populated municipality of the Province of Ávila.
It lies on the right bank of the Adaja river. Located more than 1,130 m above sea level, the city is the highest provincial capital in Spain.
Distinctly known by its medieval walls, Ávila is sometimes called the Town of Stones and Saints, and it claims that it is one of the towns with the highest number of Romanesque and Gothic churches per capita in Spain. It has complete and prominent medieval town walls, built in the Romanesque style; writer José Martínez Ruiz, in his book El alma castellana ("The Castilian Soul"), described it as "perhaps the most 16th-century town in Spain". The town is also known as Ávila de los Caballeros, Ávila del Rey and Ávila de los Leales ("Ávila of the knights", "Ávila of the king", "Ávila of the loyal ones"), each of these epithets being present in the town standard.
Parador de Ávila
Ávila City Walls
Ávila Cathedral
Thursday 7th October Day trip to Segovia - Driving Time (Return) 82 miles 1H44
Segovia Cathedral
Friday 8th October Avila to Toledo - Driving Time 110 miles 1H48
Parador de Toledo
Toledo Alcazar
Saturday 9th Toledo to Canillas de Albaida - Driving Time 301 miles 4H 56
Saturday 16th October Canillas de Albaida to Toledo - Driving Time 301 miles 4H 56
Sunday 17th October Toledo to Salamanca - Driving Time 177 miles 2H46

Parador de Salamanca
Old and New Cathedrals
Plaza Mayor
Casa de las Conchas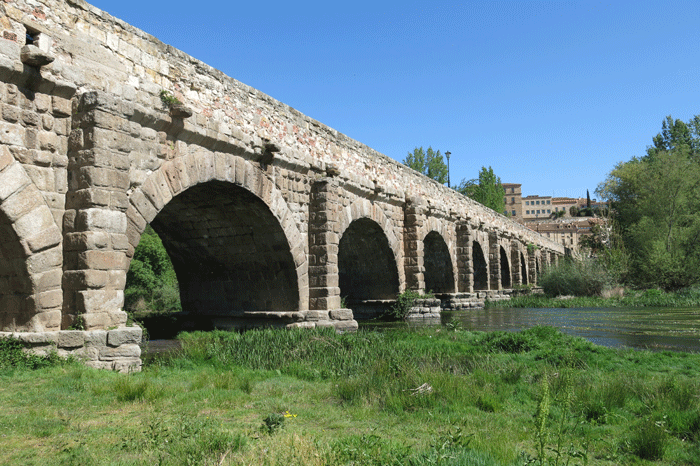 The Roman bridge from 89 AD, the era of Emperor Traianus. It was an important part of the
Roman Silver Route, because it connected Merida to Astorga. Only the first 15 arches
closest to the city are original. All the other arches were destroyed in a flood of 1626
Monday 18th October 2021 Salamanca to Burgos - Driving Time 151 miles 2H20
Burgos Cathedral
Tuesday 19th October Burgos to Bilbao - Driving Time 109 miles 1H44