Stage 10. Tarbert to Scaladale/Aline
Distance

Time

Elevation in meters


Km
Elapsed
Hrs-Mins
Moving
Hrs-Mins

Gain

Loss

Min

Max

15
290
170


Courtesy of Alpine Exploratory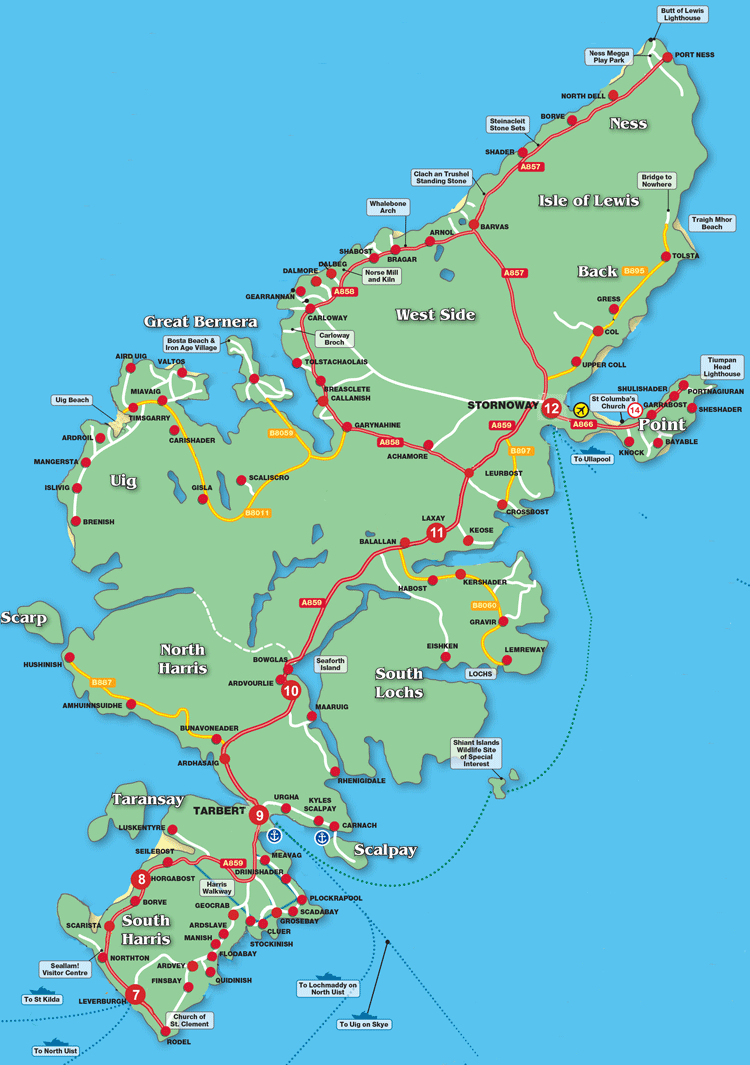 Base map courtesy of www.explore-western-isles.com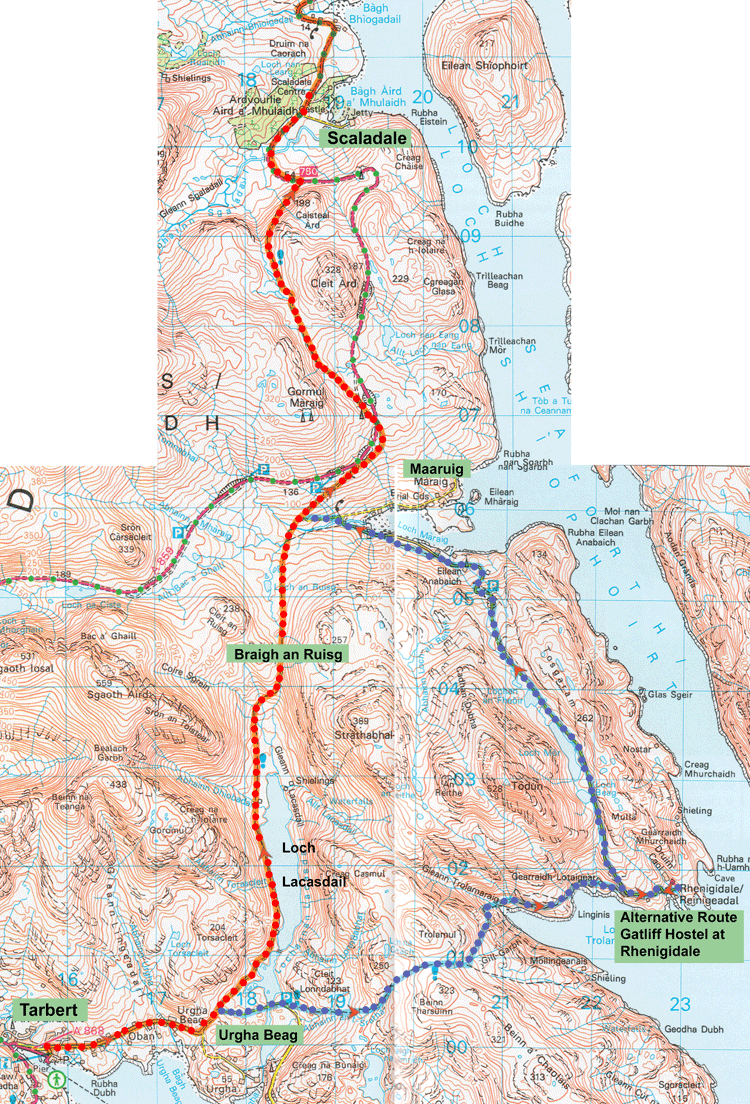 "Aline" is a bit confusing as there is no such place marked on the map.
Aline Estate and Aline Lodge are located on the boundary of Lewis and Harris, The estate covers 8,000 acres of hills, moors and lochs, including several miles of shoreline of Loch Langavat one of the most prolific salmon fisheries in the Hebrides. The lodge sits within a Scottish National Scenic Area at the head of Loch Seaforth and has spectacular views of the Sea Loch, Seaforth Island and Clisham, the highest mountain in the Outer Hebrides. Aline is not just an all round sporting estate; it is also a true wilderness experience where golden eagles, peregrines, merlins, sea eagles, snowy owls, puffins, divers, seals, otters, dolphins and whales all may be spotted, sometimes from the Lodge. The beaches of Lewis and Harris are rightly famous and the estate has sea boats that enable tenants to explore, to picnic on Seaforth Island (part of the estate), and to fish. The Lodge is next to the sea, looking onto Loch Seaforth, which because of its beauty and wildness forms part of a Scottish National Scenic Area.
Aline Community Woodland straddles the A859, and is approximately 20 miles south of Stornoway and covers an area of approximately 636ha. In 2007, the woodland was bought from the Forestry Commission by the Erisort Trust. Aline Community Woodlands has a Birds of Prey Trail. From the car park, a good track leads down to the shore of Loch Seaforth 1 mile away. Loch Seaforth, the longest, fjord like sea loch in the archipelago is a good area for white-tailed eagles. This is where white-tailed eagles first bred successfully in Lewis after their re-introduction and continues to be an attractive area for both species of eagle. Golden eagles can often be seen over the distant ridges and the woodland supports a pair of sparrow hawks.
The rugged hills of Harris, Lewis and South Uist host some of the highest densities of golden eagles found in Europe. Golden eagles are most active in bright, breezy weather conditions.
Often described as a 'flying barn door' due to its sheer size and broad wings. Since its successful re-introduction to Scotland in the 1970s the white-tailed eagle has re-colonised the entire coastline of the Outer Hebrides.