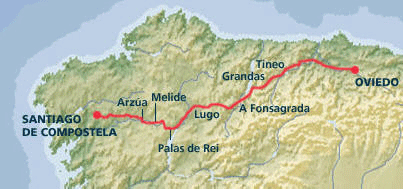 The Camino Primitivo or Primitive Way is one of the oldest pilgrim paths of the Camino de Santiago. It begins in the old Asturian capital of Oviedo and runs west to Lugo and then south to Santiago de Compostela joining the more popular Camino Frances or French Way in Melide for the last two days walking into Santiago de Compostela.
The Camino Primitivo is thought of as the "Original Way" because it is reportedly the path taken by the first reported pilgrim,Alfonso II of Asturias (c. 760 – 842), nicknamed the Chaste. The King left his capital, Oviedo, in the year 814 to travel to the present location of the city of Santiago de Compostela, at the time known as Mount Libredón. Alfonso built the original shrine to Saint James on the spot of the discovery. Until the city of León was established as both the capital of the Kingdom of Leon and the nexus of a safe route — the French Way — for pilgrims travelling across the Meseta, the Camino Primitivo remained the most frequented route for those going to Santiago for religious reasons.
The Camino Primitivo remains as a popular alternative path, which avoids most of the much heavier-travelled Camino Francés and the crowds of pilgrims there. Though incorporating a lot of climbing and descending, it allows hikers to enjoy a more stimulating journey with better views.
The route has been growing rapidly in popularity in recent years, with corresponding improvements to waymarking and to the provision of hostel accommodation for pilgrims. In 2018, 15,038 pilgrims, representing 4.6% of the total completing the Camino de Santiago and registering for a Compostela in that year, walked the Camino Primitivo. Most commenced their journey at Oviedo, with smaller numbers joining the trail at Lugo and at Grandas de Salime. The Primitivo is now the fourth most popular Camino route, behind the Francés, Portugués Central, and Norte.
Stage Statistics
(Figures based on www.douglasajohnson.com)


Km
Hrs-Mins
Gain
Loss
Max
Min
1

Oviedo

Grado
25.9
7H03
591
756
256
37
2
Grado
Salas
21.4
6H25
756
584
365
42
3
Salas
Tineo
19.9
6H32
823
419
792
244
4
Tineo
Pola de Allande
27.9
8H05
951
1,069
914
532
5
Pola de Allande
La Mesa
21.5
6H49
1,080
744
1,144
532
6
La Mesa
Grandas de Salime
15.7
4H12
995
1,301
1,043
209
7
Grandas de Salime
Fonsagrada
25.6
8H19
884
496
1,113
563
8
Fonsagrada
O Cádavo
24.5
6H32
878
1,112
1,025
670
9
O Cádavo
Lugo
30.8
8H48
569
829
867
399
10
Lugo
San Romao de Retorta
18.8
6H09
412
275
598
367
11
San Romao de Retorta
Melide
30.4
9H22
520
684
708
426

Total

262.4

9,283

8,577

Hospitales Altenative
4b
Borres
Puerto del Palo
15.5
6H00
824
308
1,217
610
Actual Garmin GPS Data
Day
To
Distance
Time
Elevation in meters

Km
Elapsed
Hrs-Mins
Moving
Hrs-Mins
Gain
Loss
Max
Min
1
2
3
4
5
6
7
8
9
10
11
12
13
14
15
16
17
18
19
20
21
22
23
24
25
26
27
20
29
30

Total