Stage 16. Orio Litta / Corte Sant'Andrea to Piacenza
From

Orio Litta

the route soon reaches the "

Guado di Sigerico

", the "

Transitum Padi

", where a ferry crosses to the opposite riverbank in

Soprarivo

(0523 771607 ferry service).

After a short section along the

Po riverbank

, stretches of straight paths along country roads lead to

Ponte Trebbia

. Soon after the river a pedestrian and cycle lane leads to the outskirts of

Piacenza.



Great care should be taken joining the main road SS Emilia Pavese in Ponte Trebbia and along the stretch of secondary road between

Calendasco

and

Incrociata

.

Outside urban centres it is not possible to access water sources".
Distance

Time

Elevation in meters


Km
Elapsed
Hrs-Mins
Moving
Hrs-Mins

Gain

Loss

Min

Max

22.1
25
35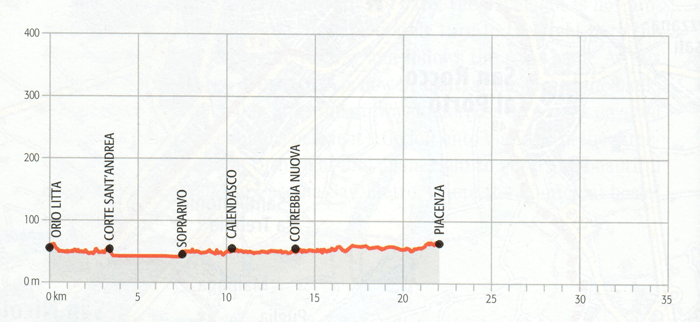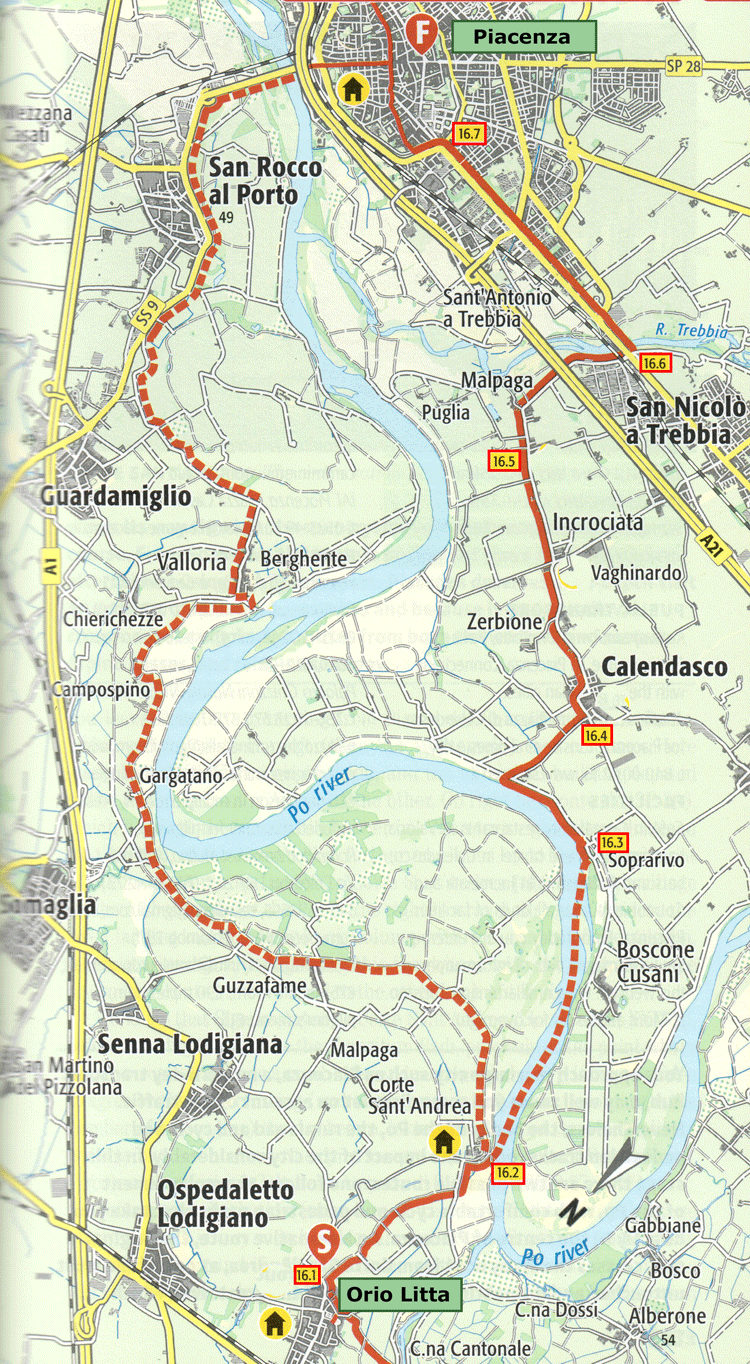 Original map courtesy of "The Via Francigena Terre De Mezzo by Roberta Ferraris ISBM978-88-6189-491-4"
| | | |
| --- | --- | --- |
| 16.1 | 0.5 Km | Turn right onto a dirt road |
| 16.2 | 3.4 Km | Continue left to Corte Sant'Andrea |
| 16.3 | 7.5 km | Soprarivo |
| 16.4 | 10.3 Km | Calendasco |
| 16.5 | 13.9 Km | Contrebbia Nuova |
| 16.6 | 16.4 Km | Go up ramp to SS10 (Dangerous crossing) |
| 16.7 | 20.1 Km | Piazzale Torino |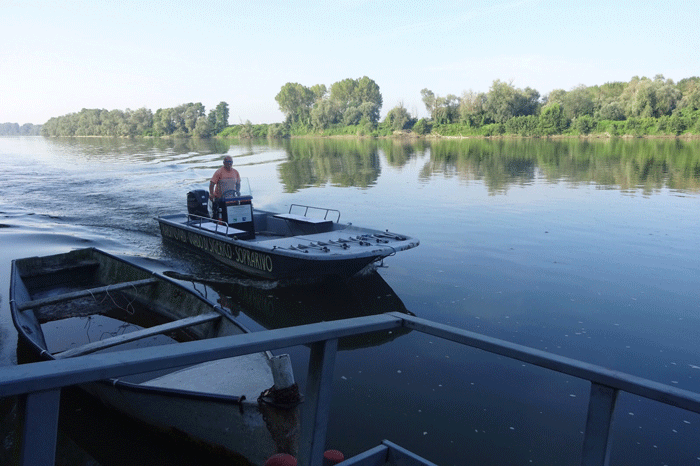 Danilo crossing the River Po
(Courtesy of www. timgreig.co.uk)
The shortest route involves crossing the River Po (Phone ahead.... typical departure time is 8-30 a.m. and Danilo likes to fill his boat with pilgrims to save cost) from Corte Saint'Andrea (3.4 km after Orio Litta) to Sopravivo. This is organised by Danilo Parisi, who lives in one of the houses at Sopravivo. Piacenza is 15 km from Sopravivo on the right hand side of the river. People stop at Danilo's house to have their pilgrim passport stamped. Danilo has been doing it for 20 years and has a huge ledger with the signature of each pilgrim he has carried.

The alternative is to stay on the left hand side of the river, and after 21 km cross over the road bridge into Piacenza. There is only one bar en route on the left hand side, and that is at the sailing club at Somaglia.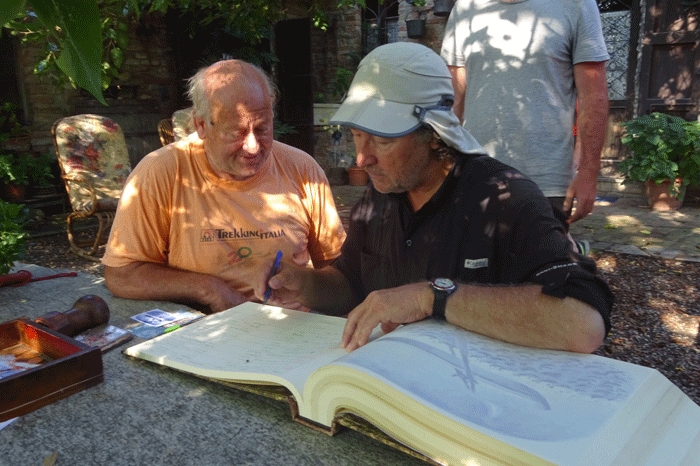 Signing Danilo's Register
(Courtesy of www. timgreig.co.uk)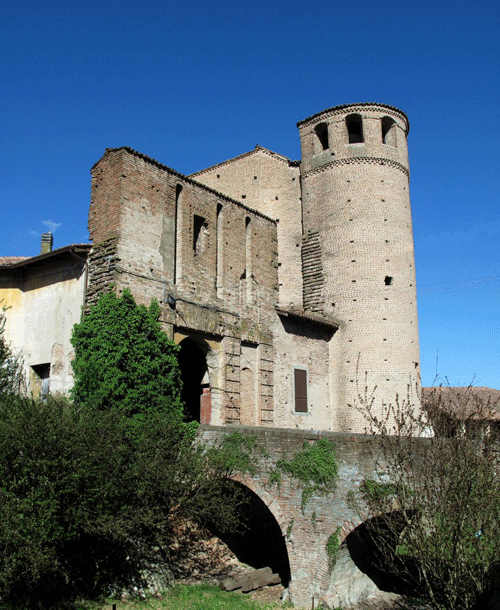 Calendasco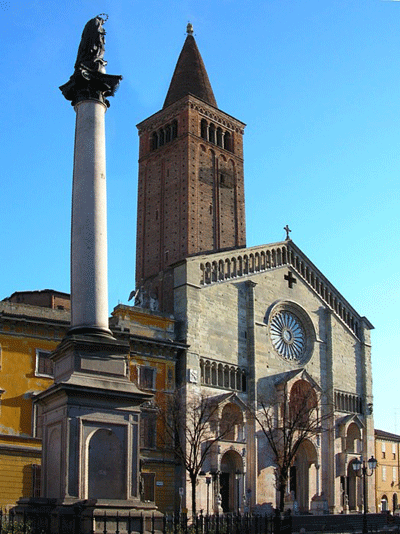 Piacenza Cathedral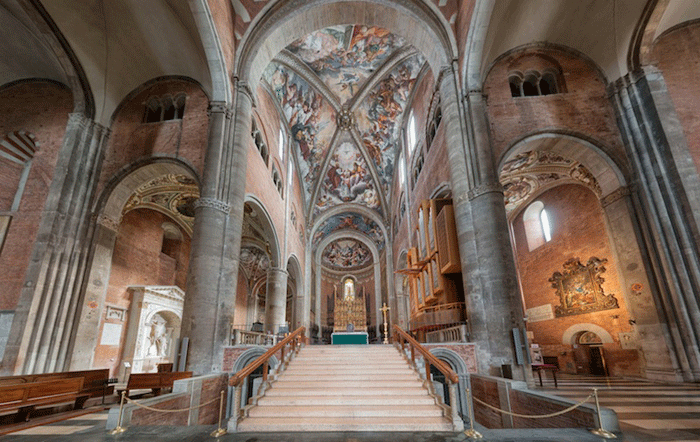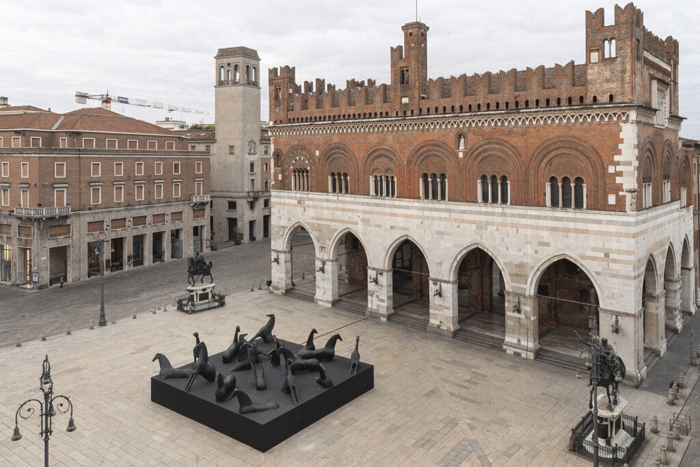 Piazza Cavalli