Stage 19. Fidenza to Fornovo di Taro
"First hill stage with panoramic landscapes, Cabriolo Pieve, the Castle of Costamezzana and the Siccomonte church, Medesano and along the Taro riverside park".

Outside urban centres it is not possible to access a water source.
Distance

Time

Elevation in meters


Km
Elapsed
Hrs-Mins
Moving
Hrs-Mins

Gain

Loss

Min

Max

34
600
530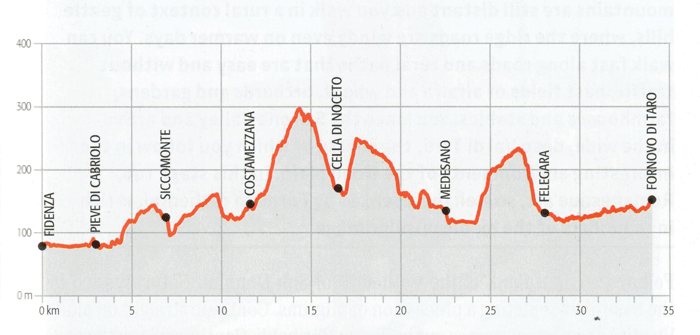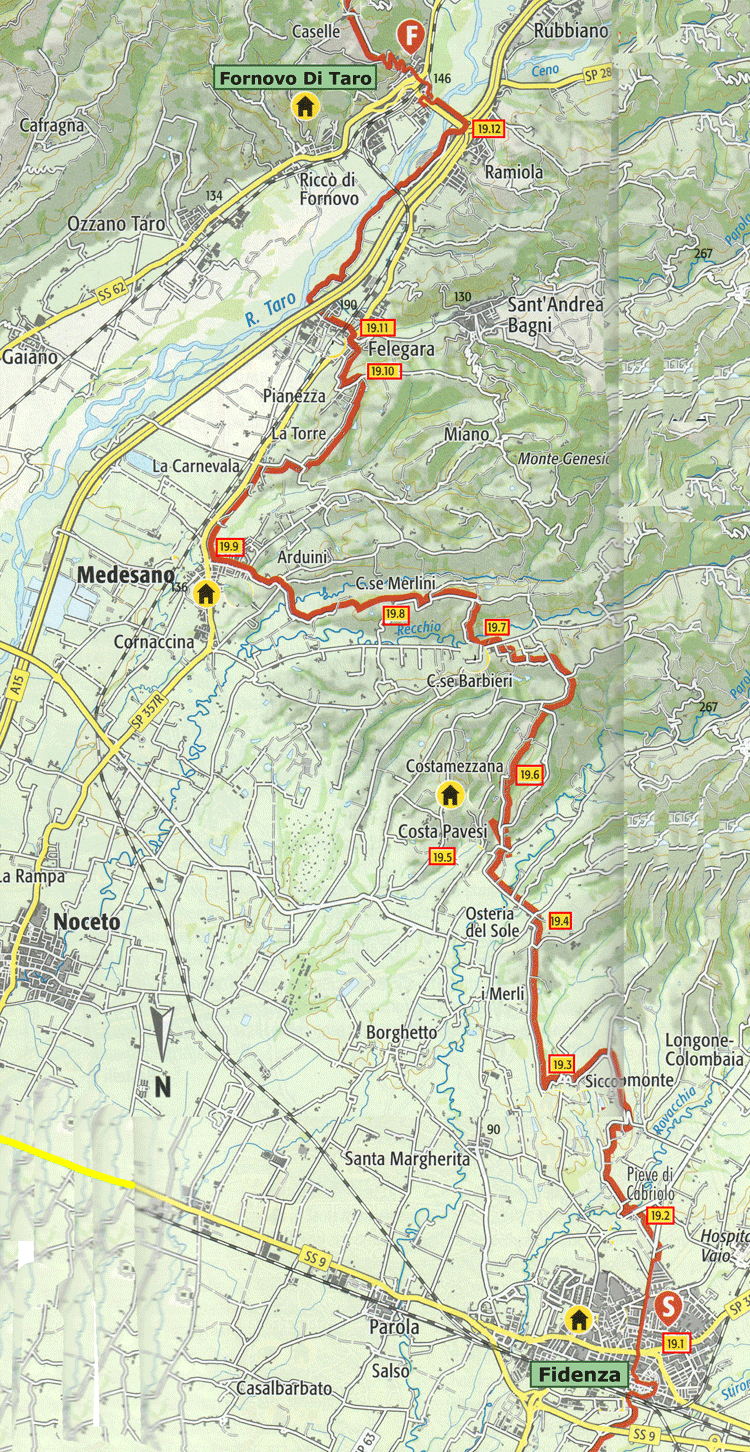 Original map courtesy of "The Via Francigena Terre De Mezzo by Roberta Ferraris ISBM978-88-6189-491-4"
| | | |
| --- | --- | --- |
| 19.1 | 0.8 Km | Tree lined avenue named after the Martyrs of Cefalonia |
| 19.2 | 2.9 Km | Parish Church of Cabriolo |
| 19.3 | 6.9 Km | Left in direction of houses of Siccomonte |
| 19.4 | 10.2 Km | Osteria del Sole inn |
| 19.5 | 11.6 Km | Continue to right at junction |
| 19.6 | 13 Km | Costamezzana Castle |
| 19.7 | 16.4 Km | Cella village |
| 19.8 | 18.9 Km | Casa Merlini |
| 19.9 | 22.5 Km | Right at junction with Via Roma |
| 19.10 | 26.6 Km | Chapel |
| 19.11 | 27.9 Km | Via Picelli |
| 19.12 | 32.8 Km | Emerge onto SP 357R at entrance to bridge |