Stage 36. San Quirico d'Orcia to Radicofane
| | | |
| --- | --- | --- |
| | The crossing of the Val d'Orcia - among the most beautiful stages of the Via Francigena - follows the old Via Cassia for some stretches; it is without much traffic and partially a dirt road in alandscape that becomes increasingly wild and solitary. As late as the 18th century travellers found the passage from Radicofani difficult, and considered it one of the toughest on the route. Even today thi slong and tiring stage is testing, but it does pass through landscapes of astounding beauty, with interesting places to stop such as "piaza d'acqua" in Bagno Vignoni. | |
Distance

Time

Elevation in meters


Km
Elapsed
Hrs-Mins
Moving
Hrs-Mins

Gain

Loss

Min

Max

32.3
7H00
950
550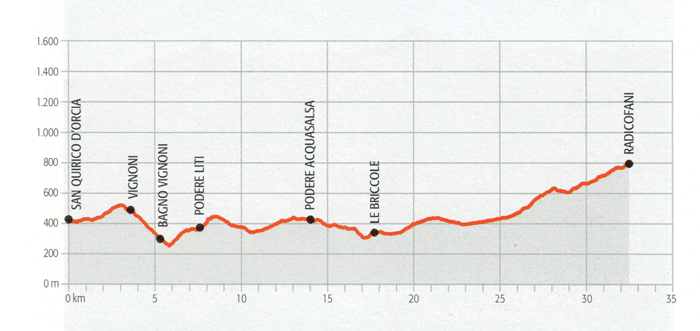 Original map courtesy of "The Via Francigena Terre De Mezzo by Roberta Ferraris ISBM978-88-6189-491-4"
| | | |
| --- | --- | --- |
| 36.1 | 3.6km | Short detour uphill to fortress of Vignoni Alto 495m |
| 36.2 | 5.3km | Go right to visit Bagno Vignoni 309m |
| 36.3 | 7.6km | Road leads to Podere Liti 362m |
| 36.4 | 12.3km | Alongside Fosso Spinella |
| 36.5 | 13.9km | Podere Acquasals 430m |
| 36.6 | 17.7km | Church of Le Briccole |
| 36.7 | 22.6km | Old postal station of Ricorsi |
| 36.8 | 25.6km | Courtyard of Podere San Gorgio |
| 36.9 | 29.8km | Dirt road that enters a wood |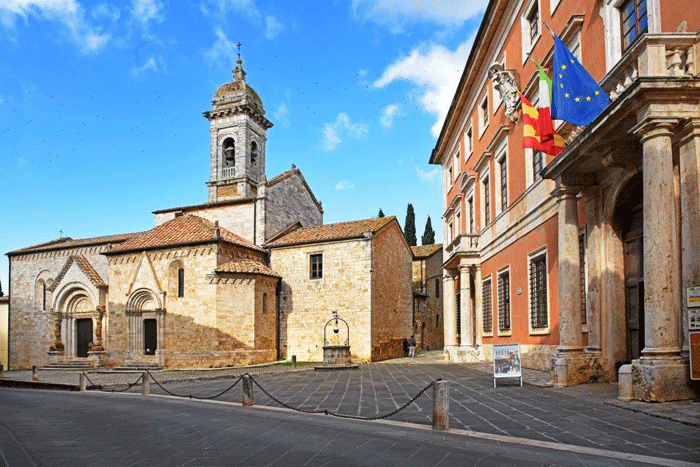 Leaving San Quirico d"Orcia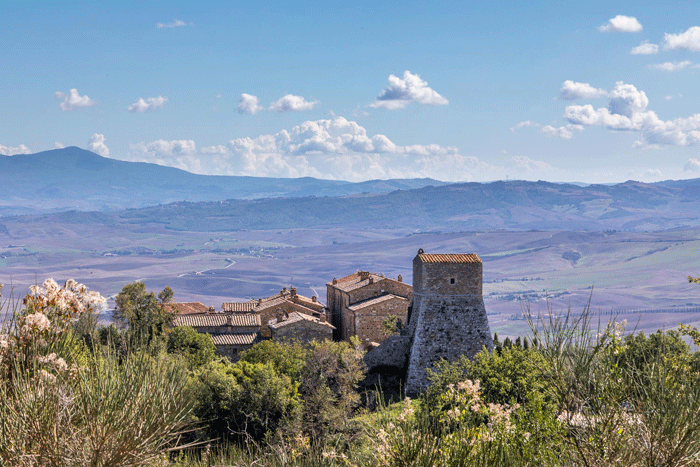 Vignone Alto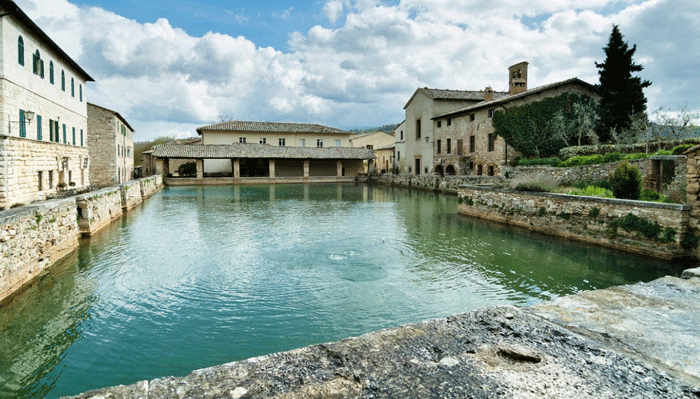 Bagno Vignoni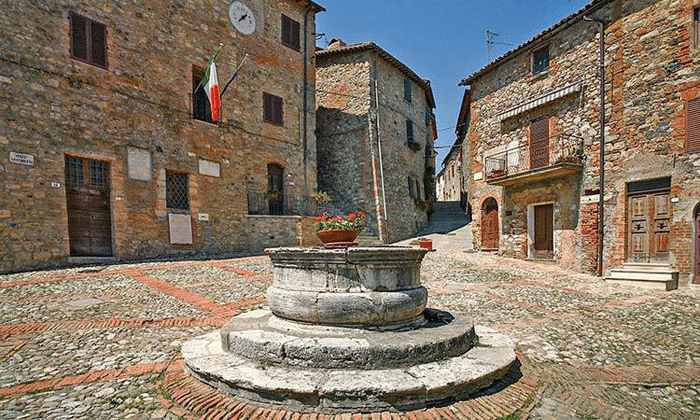 Castiglione d'Orcia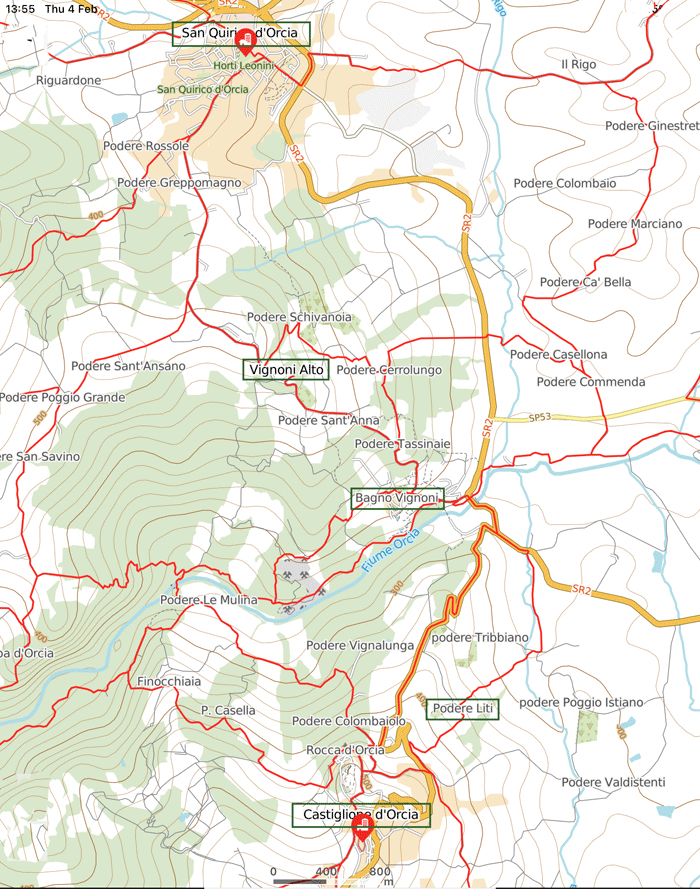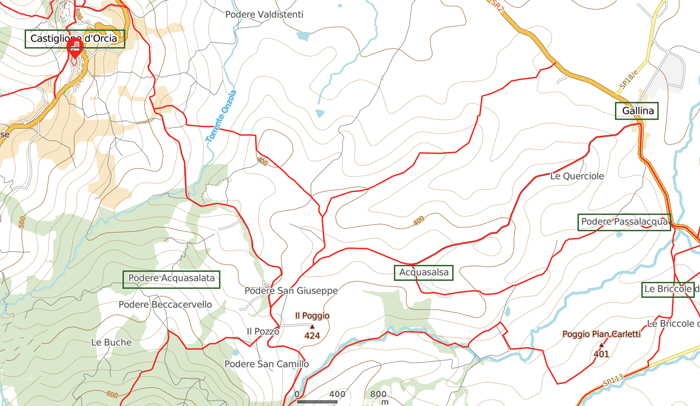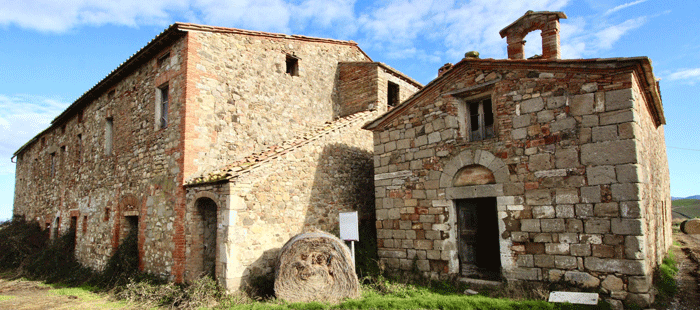 Le Briccole
Le Briccole is a group of abandoned buildings along the Via Francigena. It is where Archbishop Sigeric stayed when he walked the Via Francigena in 990 AD. But, in those days it was called Abricula. Today Le Briccole is only accessible on foot. So you have to walk to see it! And it is about half way between San Quirico d'Orcia and Radicofani.

Documentary evidence indicates that Le Briccole is the historical Abricula. The reference 'Ospitale San Peregrini de Obricolis' indicates that there was a Church of San Pellegrino at Abricula. And its ruins can be seen today. It was once a village with a long history of owners. In the tenth century, it was owned by the Viscounts of Campiglia. Later, the monks of San Salvatore's Abbey cared for it. Then, the Salimbeni family owned the village of Abricula in the thirteenth century. Today it is still privately owned sheep farming land.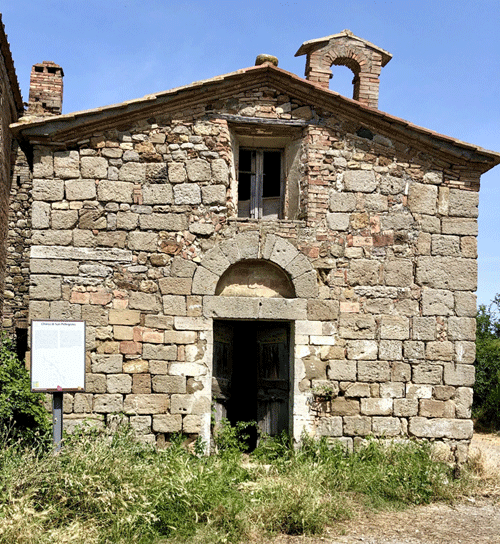 | | | |
| --- | --- | --- |
| | Today this is all that remains of remains the Church of San Pellegrino. Its Romanesque features can still be seen. The most obvious feature is the portal with an architrave supporting a rounded arch. However, less obvious is the ashlars at the base of the building. And, the precision of the finely cut stones is still evident. | |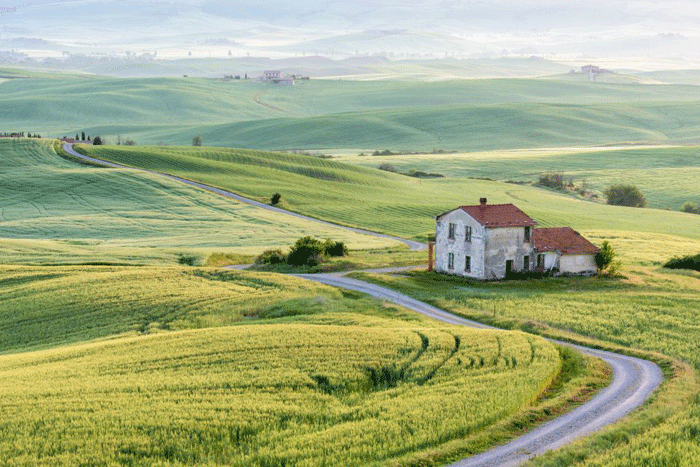 Gallina
From Gallina to Radicofani is 17 km relentlessly uphill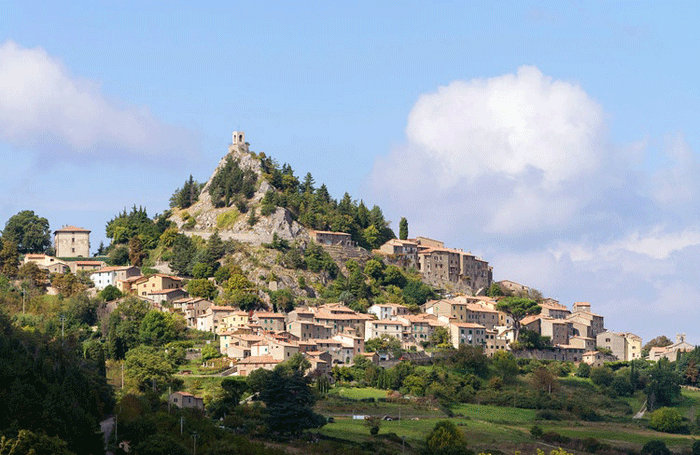 Campiglia d'Orcia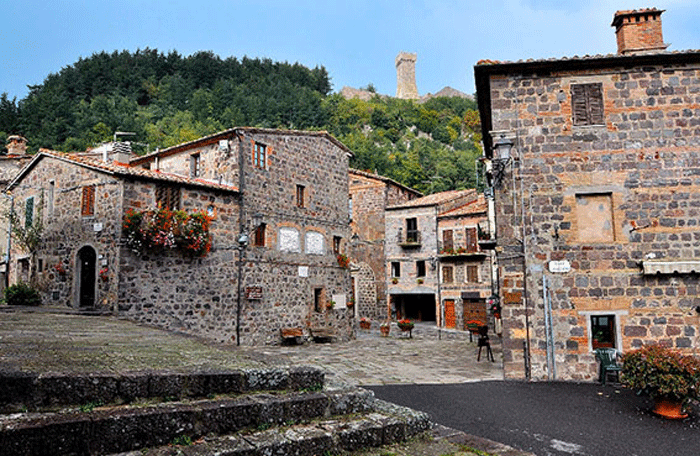 Radicofani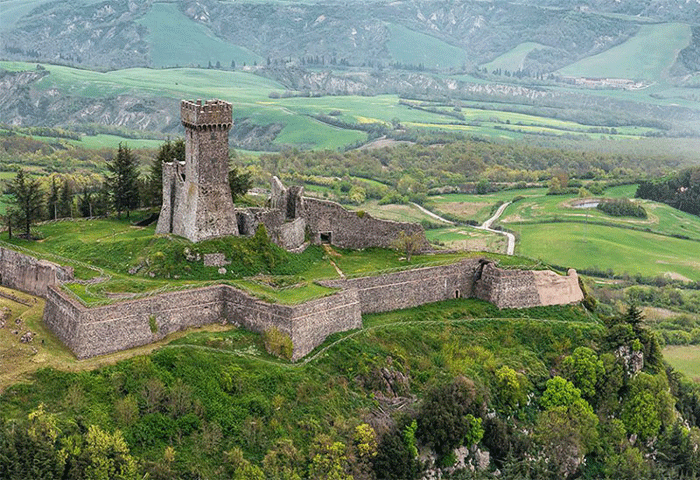 Radicofani Fortress