Stage 37. Radicofani to Aquapendente
The descent from Radicofani along the old Cassia is one of the most beautiful and exciting of the entire Via Francigena: all around, as far as the eye can see, hills and Monte Amiata, with the fortress behind.
From Ponte a Rigo the path follows the valley floor in Val di Paglia, following the Via Cassia to Ponte Gregoriano, before undertaking the last short climb towards Acquapendente.
Not to be missed: Museo della Ceramica in Acquapendente".
Distance
Time
Elevation in meters

Km
Elapsed
Hrs-Mins
Moving
Hrs-Mins
Gain
Loss
Min
Max
24
7H00
220
400
Via Centeno route; alternative Via Proceno is 31.7km with 600m gain and 780m loss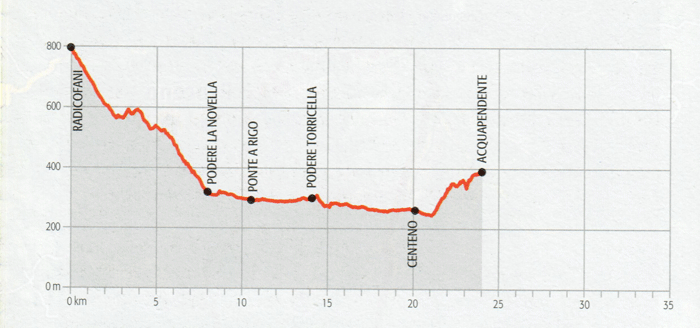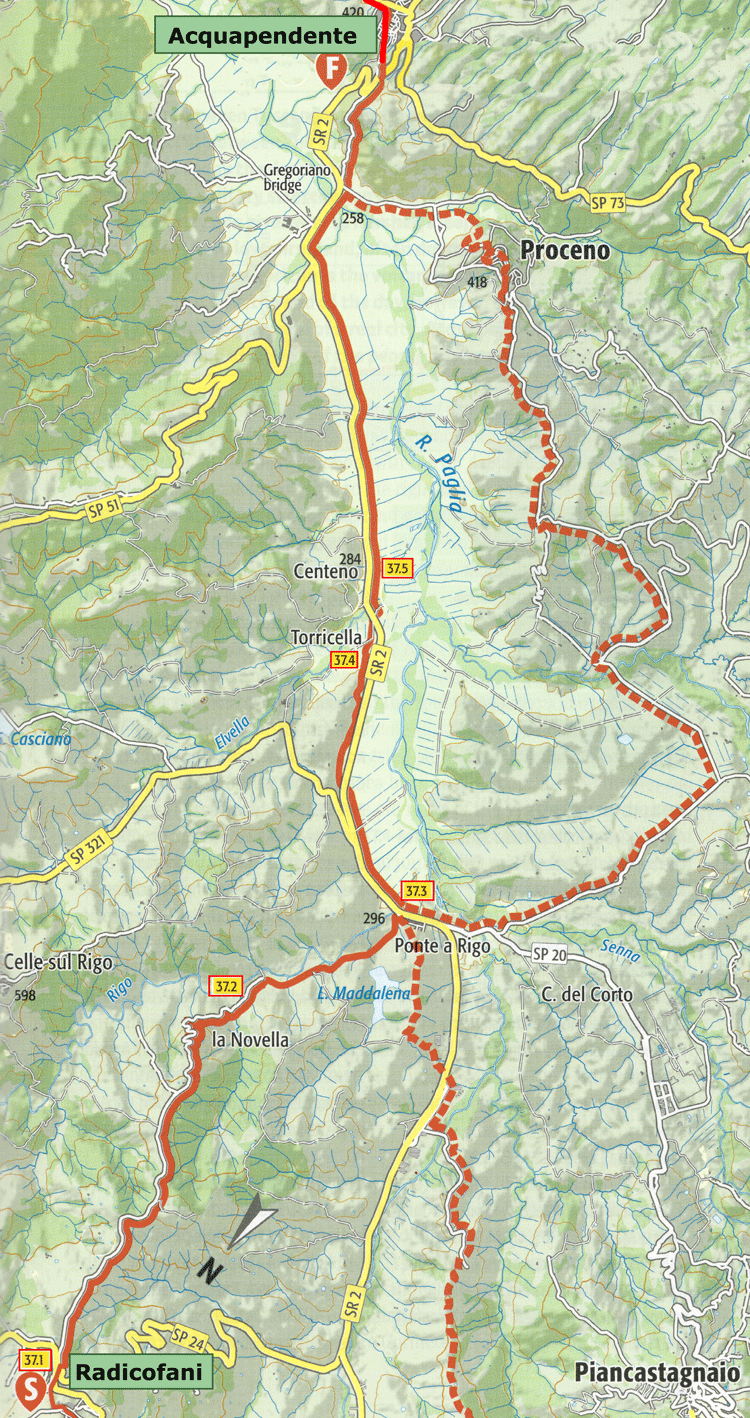 Original map courtesy of "The Via Francigena Terre De Mezzo by Roberta Ferraris ISBM978-88-6189-491-4"
| | | |
| --- | --- | --- |
| 37.1 | 1.0km | Old Via Cassia dirt road |
| 37.2 | 7.9km | Cluster of rural houses at La Novella |
| 37.3 | 10.5km | Ponte a Rigo |
| 37.4 | 14.2km | Rural settlement of Torricelle |
| 37.5 | 15.5km | Centeno |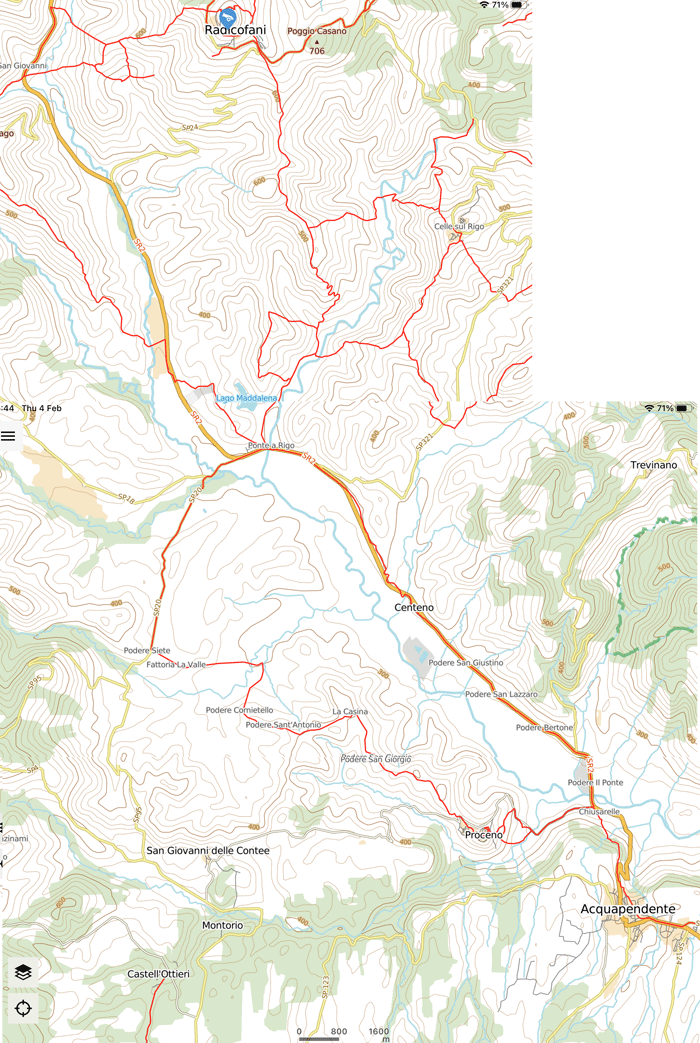 Note Pilgrim Accommodation at Pone a Rigo, 10 km after Radicofani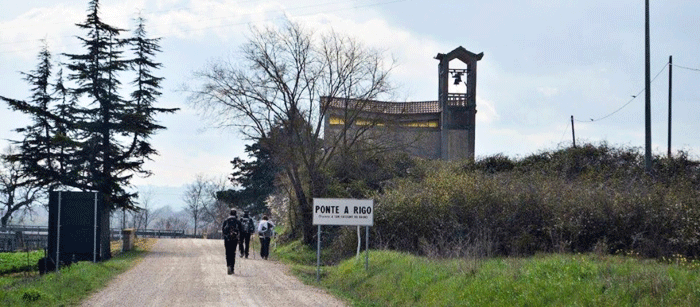 Casa del Pereigrino in Ponte A Rigo (Domativo)

Address
Celle sul Rigo, 320, 53040 Ponte A Rigo SI, Italia
Municipality
Ponte a Rigo, San Casciano dei Bagni (SI)
Parish
San Paolo Converso
Accommodation contact person
Alberto Guerrini
Telephone
334 3546142

INFO
2 Bathrooms/2 Showers
Opening hours - Always
Opening period - Open all year round
Number and types of rooms
2 quadruple rooms for a total of 8 beds

Kitchen use
The guest house has an area with microwave, electric oven, (no pans) and a kettle.
Wi-Fi - No
Backpack/suitcase transfer
Bags free, Via del castro pretorio n 32, Roma Tel 0644 55792 whatsapp: 366 2676760 francigena@bagsfree.com
Bed on the floor - Yes, 4
Tent in the garden -Yes, around ten places

https://viafrancigena.visittuscany.com/site/en/hospitality/casa-pellegrino-ponte-a-rigo/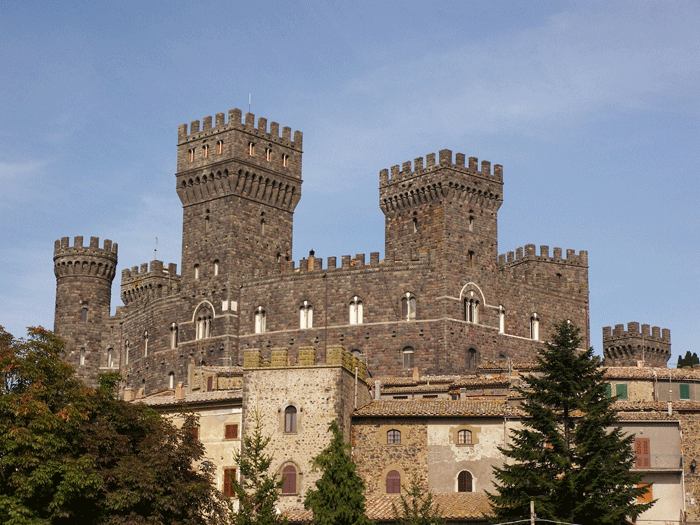 Acquapendente