Stage 40. Montefiascone to Viterbo
"The first section of the stage runs along the ancient paving of the Via Cassia, still in excellent conditions. It then passes through a hilly stretch, with nice views of Montefiascone and Viterbo.
Having descended to the plain, it is possible to relax at the Bagnaccio spa, pools of hot water, frequented by the pilgrims travelling along the via Francigena, through the ages. Once in Viterbo, a visit to the old town and the San Pellegrino district is a must.
Not to be missed: Museum of Sodalizio dei Facchini di Santa Rosa and the Tuscia Botanical Gardens in Viterbo".
Distance

Time

Elevation in meters


Km
Elapsed
Hrs-Mins
Moving
Hrs-Mins

Gain

Loss

Min

Max

18.3
150
460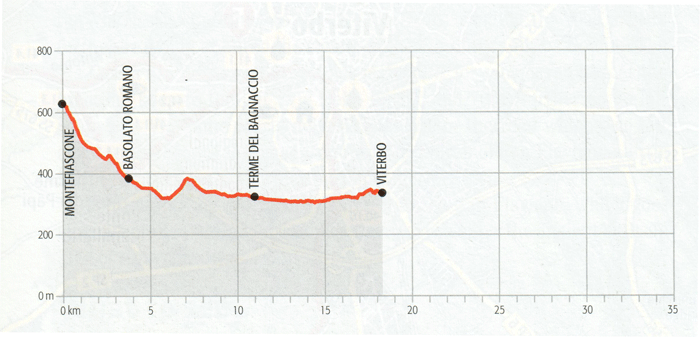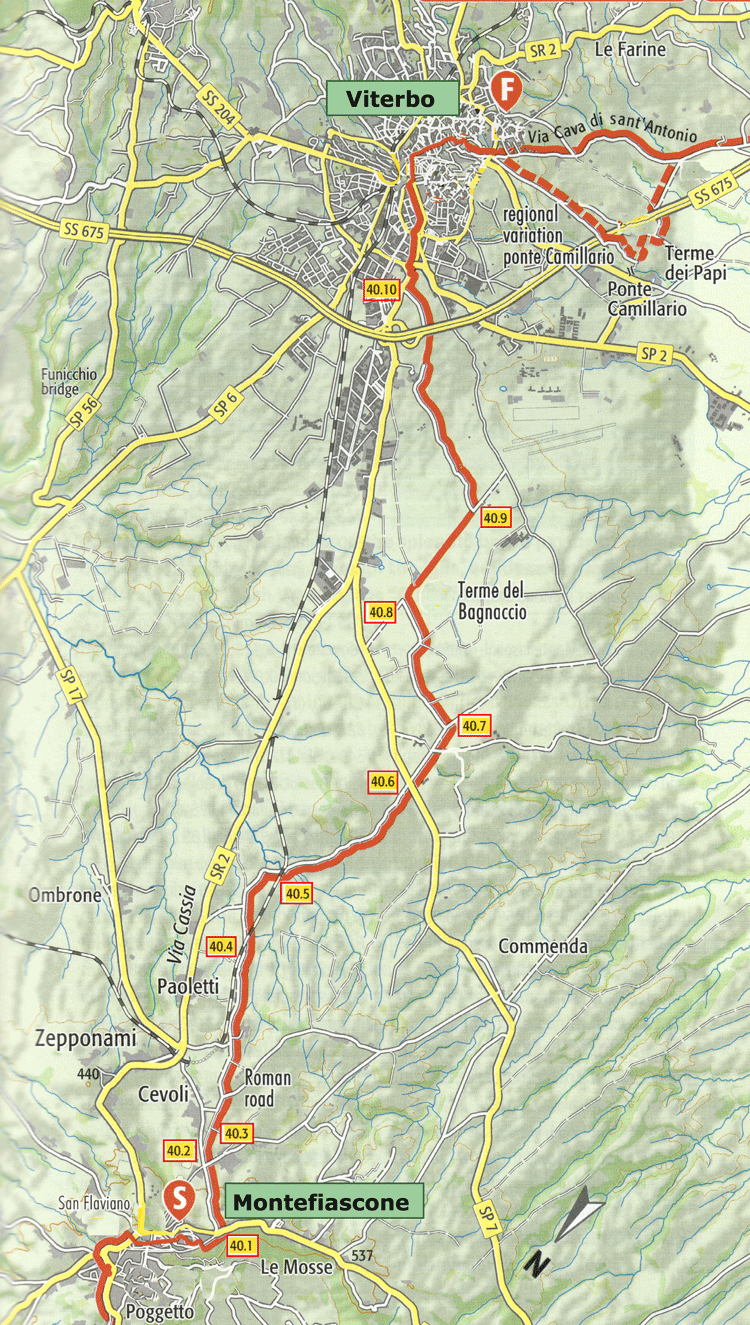 Original map courtesy of "The Via Francigena Terre De Mezzo by Roberta Ferraris ISBM978-88-6189-491-4"
| | | |
| --- | --- | --- |
| 40.1 | | Junction with Via Verentana |
| 40.2 | | Path to right 200m after ENEL center |
| 40.3 | | Marian aedicula |
| 40.4 | | Under railway line |
| 40.5 | | Under railway line again |
| 40.6 | | Cross A-road |
| 40.7 | | Dirt road to left |
| 40.8 | | Emerge on wide gravel road |
| 40.9 | | Strada San lazzaro |
| 40.10 | | Viterbo cemetery |