"Leaving Vetralla, a most picturesque path in a dense forest leads to the church of Madonna di Loreto (Our Lady of Loreto).
The path continues through an immense thicket of hazelnut bushes and majestic oak trees, passing the "Torri d'Orlando", ruins of an ancient monastery, before reaching the charming village of Capranica and further on to Sutri, a little known jewel along the Francigena, with its amphitheatre carved in the tuff stone, the Mitreo and the picturesque old town".
Distance

Time

Elevation in meters


Km
Elapsed
Hrs-Mins
Moving
Hrs-Mins

Gain

Loss

Min

Max

23.5
410
400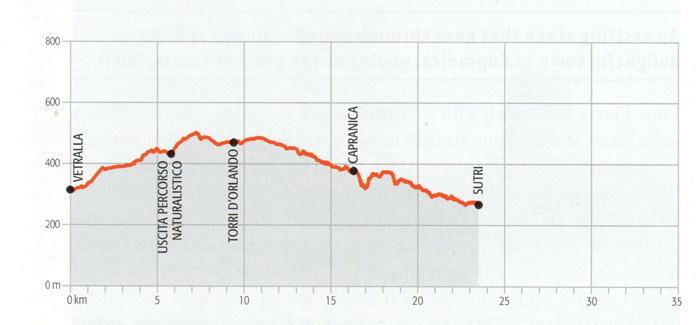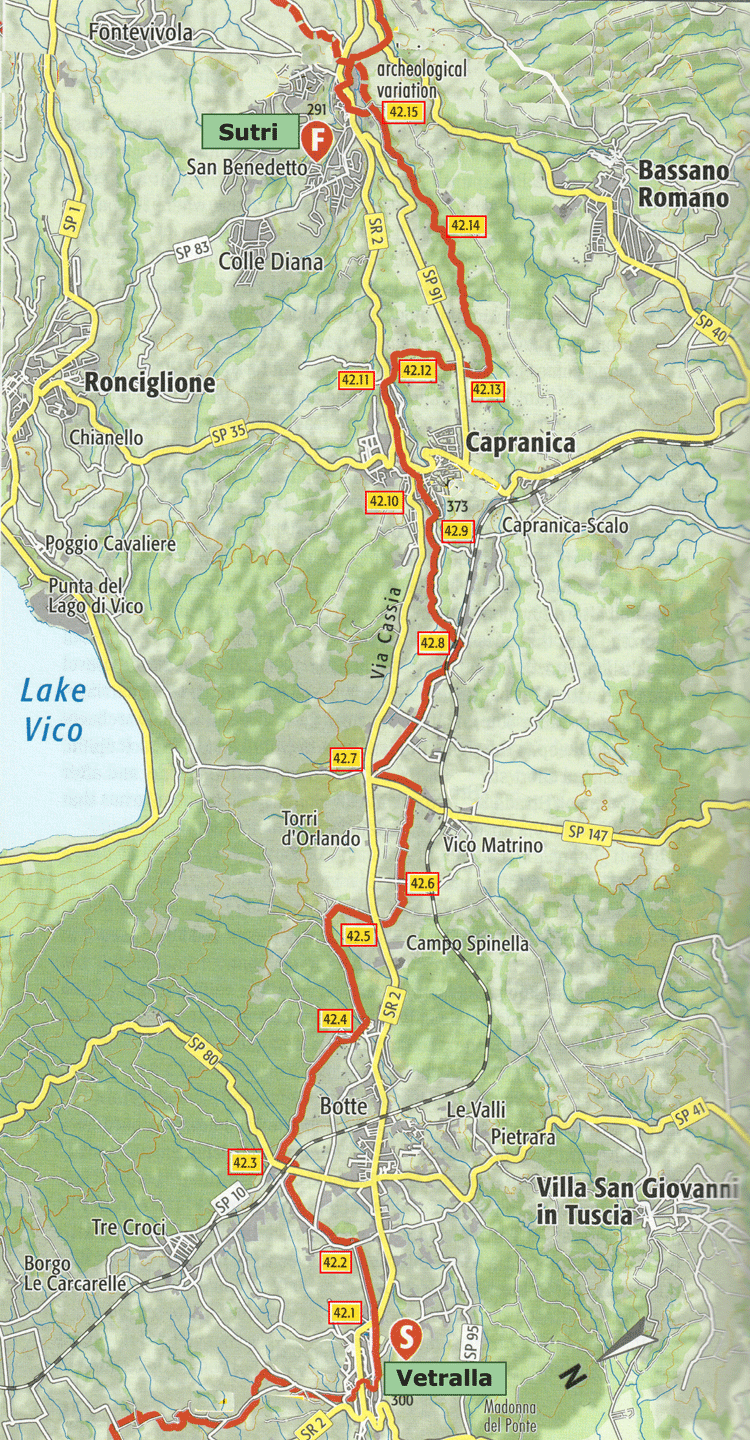 Original map courtesy of "The Via Francigena Terre De Mezzo by Roberta Ferraris ISBM978-88-6189-491-4"
| | | |
| --- | --- | --- |
| 42.1 | | Via dei Cappuccini |
| 42.2 | | Regina Pacis monastery |
| 42.3 | | Percorso mtb-trekking del Monte Fogliano |
| 42.4 | | Roundabout near modern block of flats |
| 42.5 | | On to Via Cassia by the Casale delle Capannacce |
| 42.6 | | Wide gravel road |
| 42.7 | | Wide gravel road on the right |
| 42.8 | | Gravel lane downhill to the left |
| 42.9 | | Via Formelluzzo |
| 42.10 | | Cross Viale Matteotti |
| 41.11 | | Strada Poiere |
| 42.12 | | Path to the right |
| 42.13 | | Take dirt road downhill on the left into the woods |
| 42.14 | | Emerge into a small clearing |
| 42.15 | | Gravel road just before Sutri |