Striding Edge - 8th October 2010
6 hours
The weather forcast was good so I decided to do a repeat of my Striding Edge walk of last year. Sue dropped me off at Glenridding, but due to some road repair work and lack of attention on my part, I got off on the wrong trail. This took me past Lanty's Tarn and on to the wooded knoll of Keldas. Whilst this in itself was quite a pleasant walk, if I had continued it would have taken me up the Grisedale Valley to Grisedale Tarn...... the route (in reverse) that we did on the Coast-to-Coast. I back tracked a bit, and got on to a contour route which took me across to the right trail for Striding Edge. It was a pleasant day....... sunny but a bit windy. The climb up to Red Tarn was a slow slog, but then the terrain flattens out and it is a pleasant walk to the beginning of Striding Edge. By now the wind had got up even more and reminded me that care would be needed on the Edge....... it also made me wonder what it would have been like on Sharp Edge in wind the previous day! The crossing was straight forward and I was soon scrambling up the rock scree on the way up to Helvellyn. This is not a difficult climb, but you have to scramble across rock outcrops and pick your route carefully. Soon the terrain flattened out and the shelter at Helvellyn came into view. At this point the wind strengthened even more and I talked to one chap for a couple of minutes who was planning to do the Edge in the opposite direction, but was concerned about the wind.
It had taken me three and a half hours to get to Helvellyn, only slightly more than the previous year despite the deviation. After a quick lunch and a drink I was on my way towards Dollywagon Pike. The paths ahead are quite clear from Helvellyn; on the right is the path to Thirmere via Birk Side that I did last year, but it was the middle path to Dollywagon Pike that I took. This was quite easy after the climb of Striding Edge, but I had forgotten how far it was to the top of Grisedale Tarn. Eventually Grisedale Tarn came into view, and I began the twisting descent down to the Tarn itself. Skirting the Tarn I climbed up to the hole in the wall, before the long descent down the beck to the road. By now I had been going exactly five hours eight minutes.
Once out of the wind it became quite warm. I finished off my water and headed down at a steady pace, and arrived at the Travellers Rest pub on the Grasmere road after exactly six hours of walking.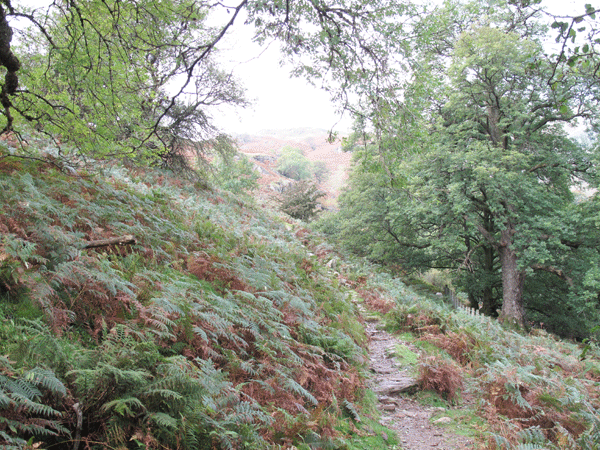 Off on the wrong trail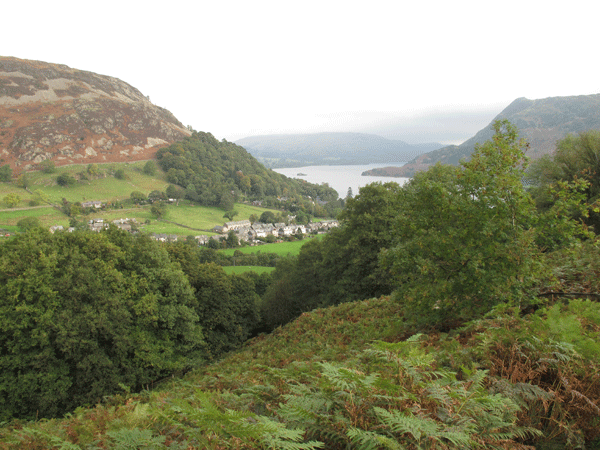 Looking back to Ullswater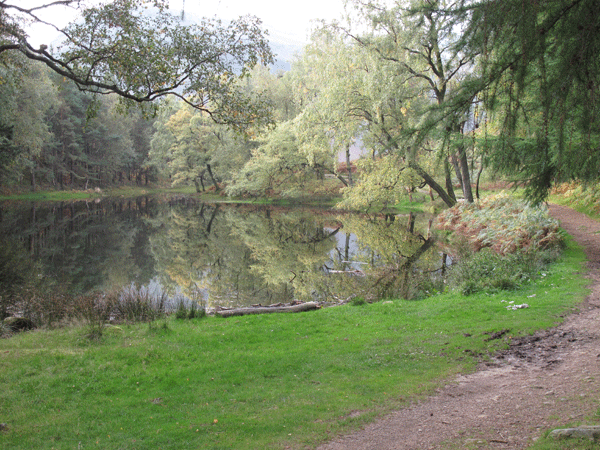 Lanty's Tarn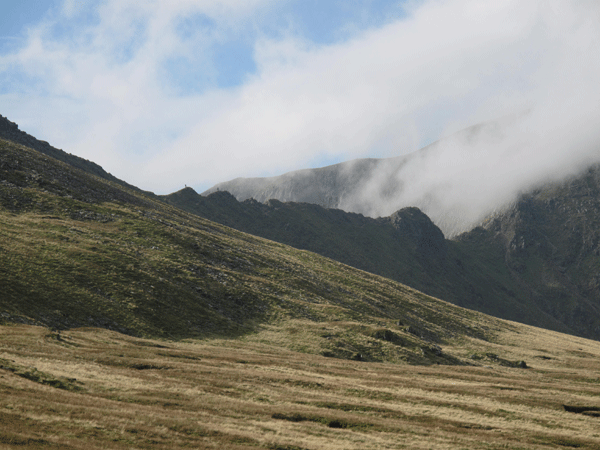 Back on the right trail and approaching Striding Edge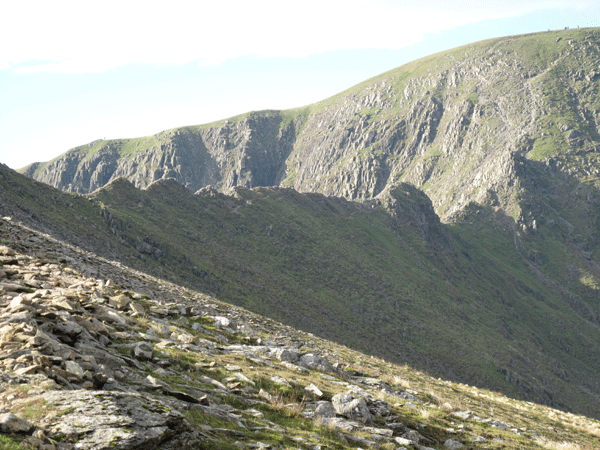 The Edge getting closer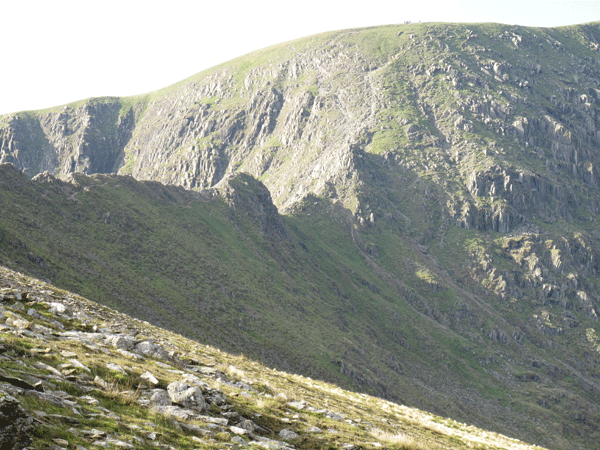 The trail climbing to Helvellyn clearly visible at the end of Striding Edge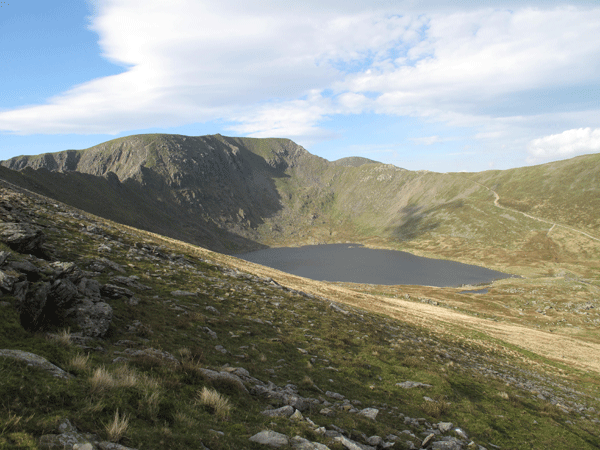 Red Tarn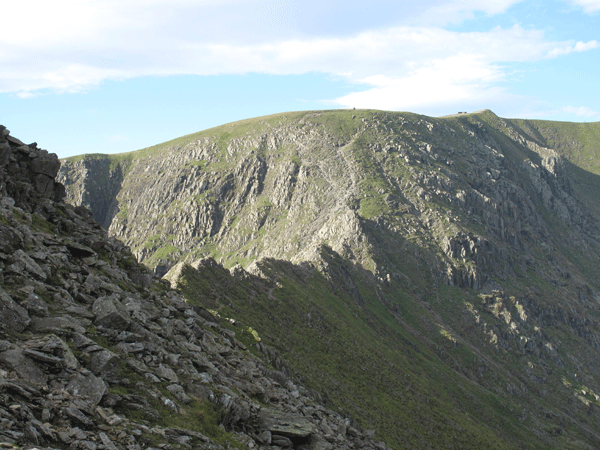 Striding Edge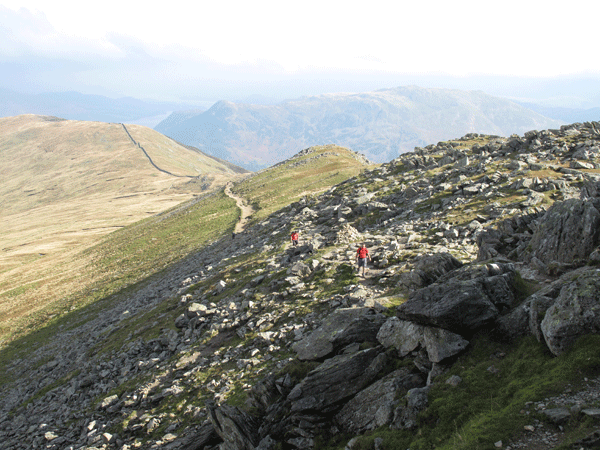 Looking back on the route up to Striding Edge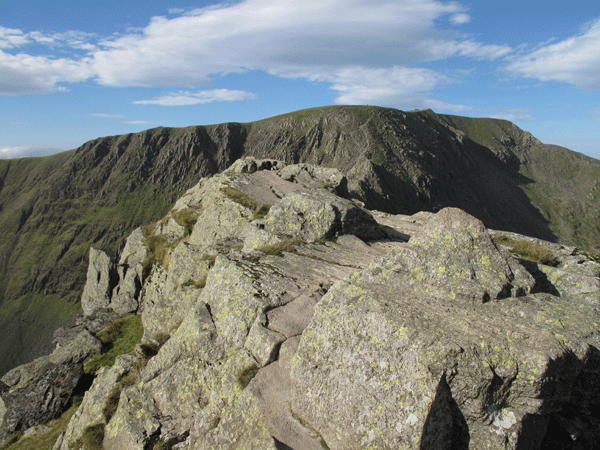 Start of the Edge proper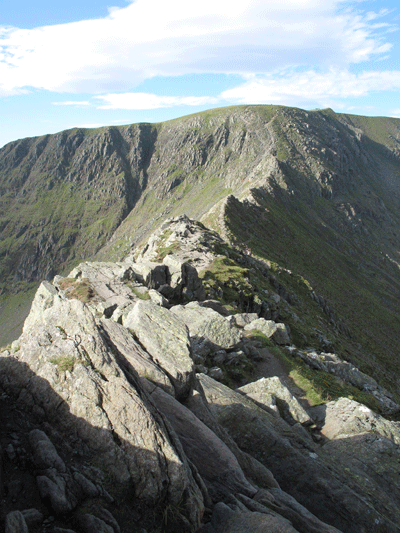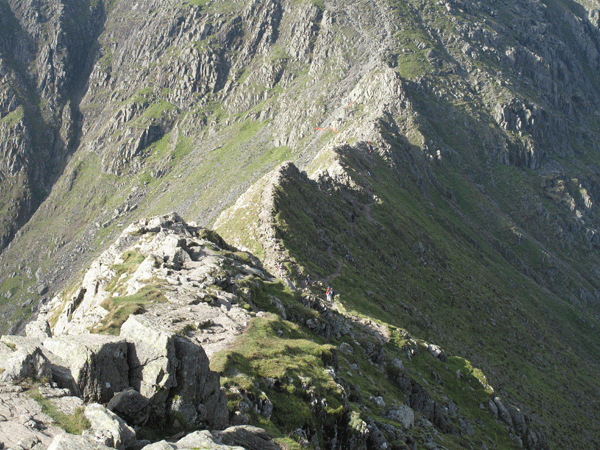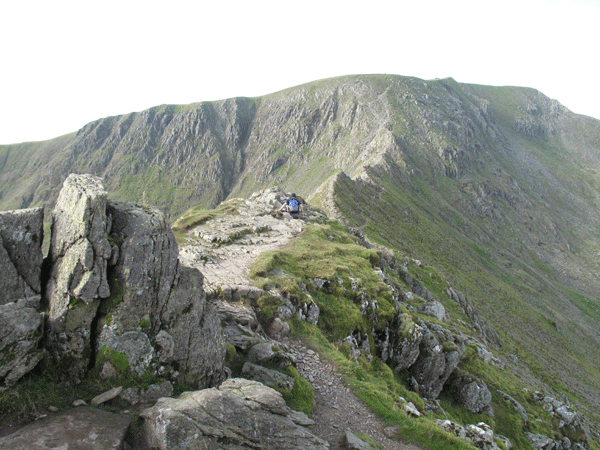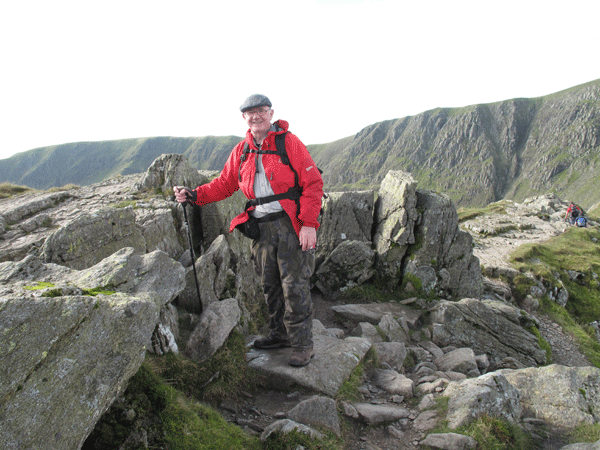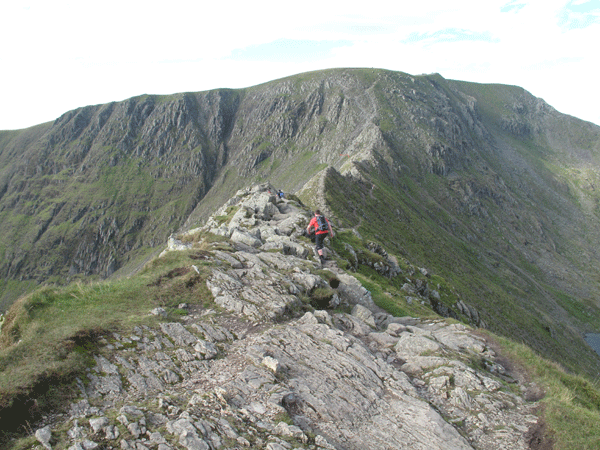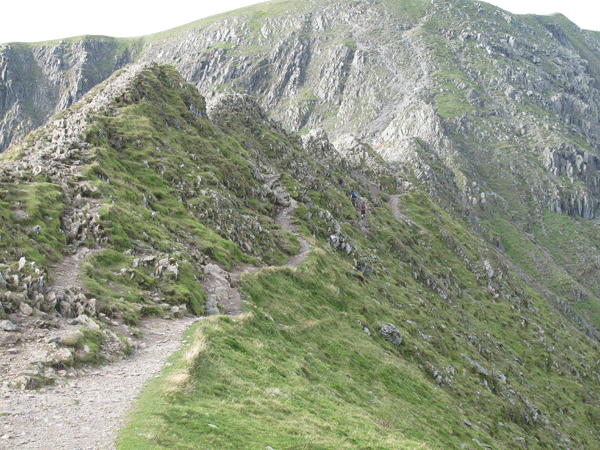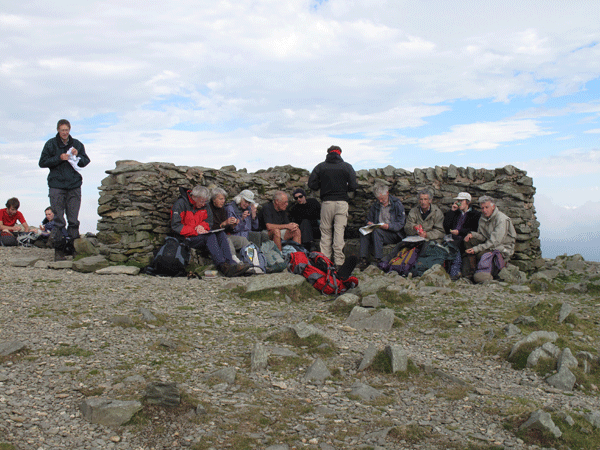 Wind shelter on Helvellyn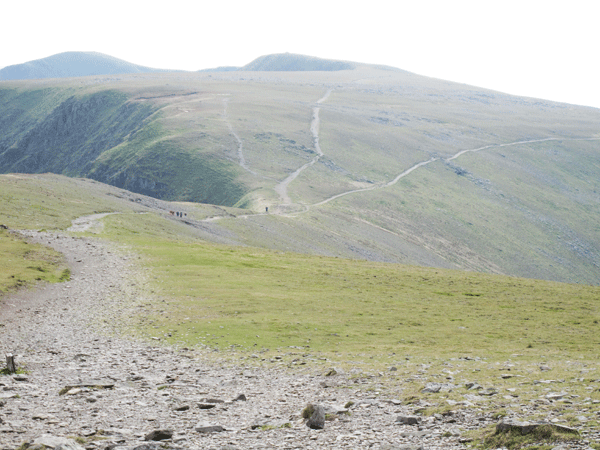 Right hand path to Thirlmere via Birk Side; middle path to Dollywagon Pike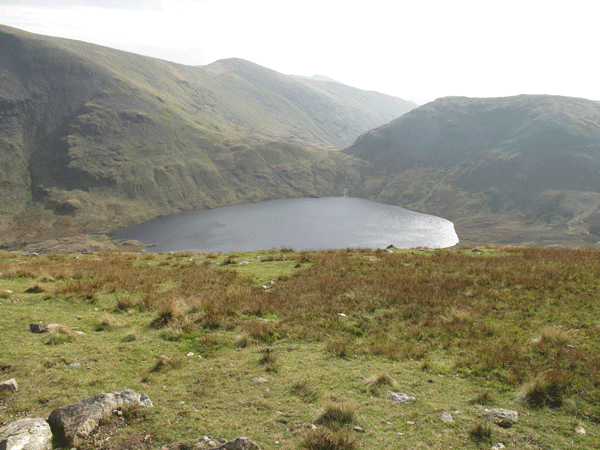 Above Grisedale Tarn with the hole-in-the-wall col dead centre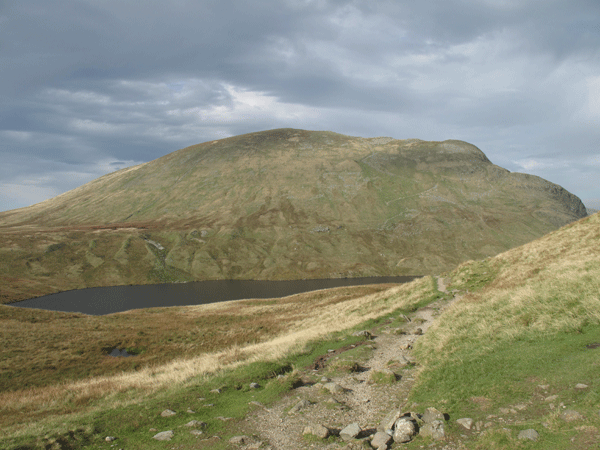 Looking back to Dollywagon Pike from hole-in-the-wall