Day 2 - Garajonay National Park from El Cedro to Chipude
Sunday 26th February 2017
KE Adventure Travel Trip Notes

After a 30 - 40 minute transfer on winding highly scenic roads into the hills above San Sebastian to El Cedro, we begin walking, gradually ascending on a trail which takes us through the Garajonay National Park. This is the green heart of La Gomera and we walk through a dense laurel wood cloud forest, which covers most of the northern part of the island. The path continues steeply up, among the twisted trunks of laurel trees, through ferns, moss and lichens to the summit of Garajonay. The forest is often wreathed with tendrils of cool mist but on a clear day, the four other Canary Islands can be seen from here: El Hierro, La Palma, Tenerife and Gran Canaria. Our first day of walking ends with a short descent to the village of Chipude, considered to be the oldest settlement on La Gomera. Situated below an impressive table mountain and surrounded by terraced field-strips, Chipude is quintessential La Gomera. After dinner there is a pleasant bar within the hotel where we can relax and share our experiences of the first day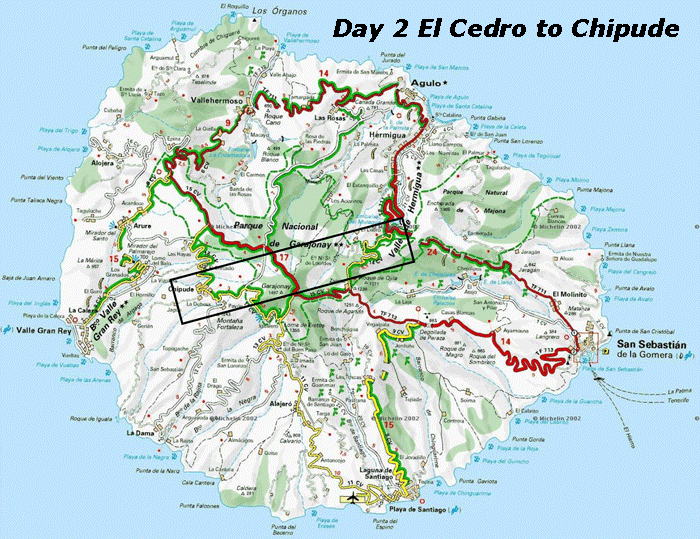 | | | | |
| --- | --- | --- | --- |
| | Garmin GPS Data | | |
| | Distance | 16.27 km | |
| | Elapsed Time | 6 Hrs 34mins | |
| | Ascent | 812 m | |
| | Descent | 554 m | |
| | Maximum Elevation | 1,468 m | |
| | Minimum Elevation | 824 m | |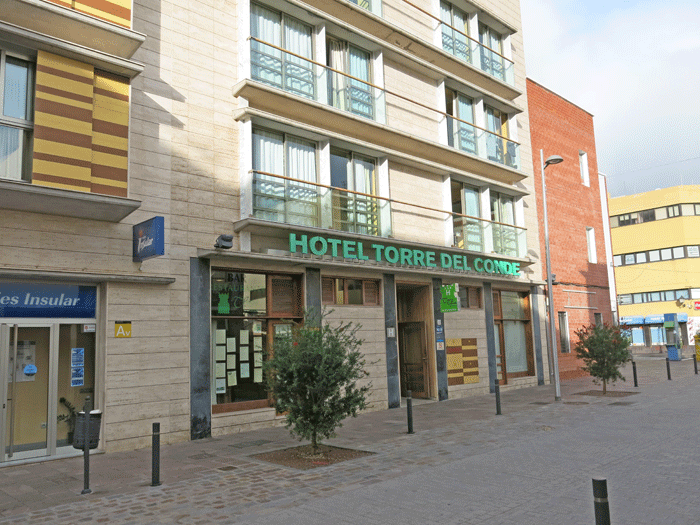 Our first glimpse of San Sebastian in daylight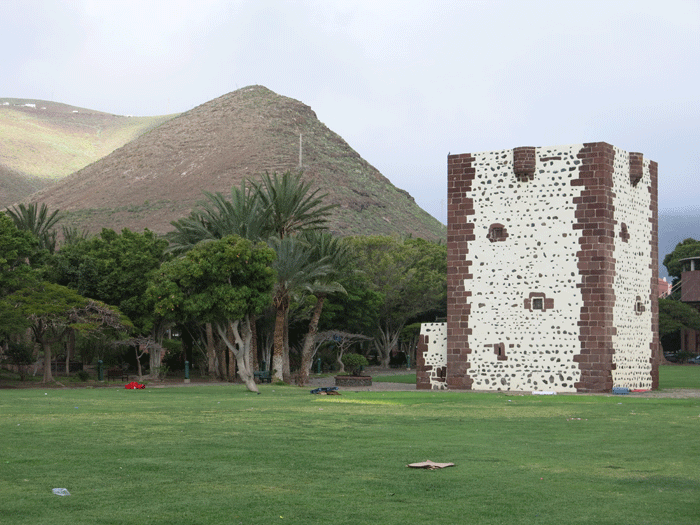 Torre del Conde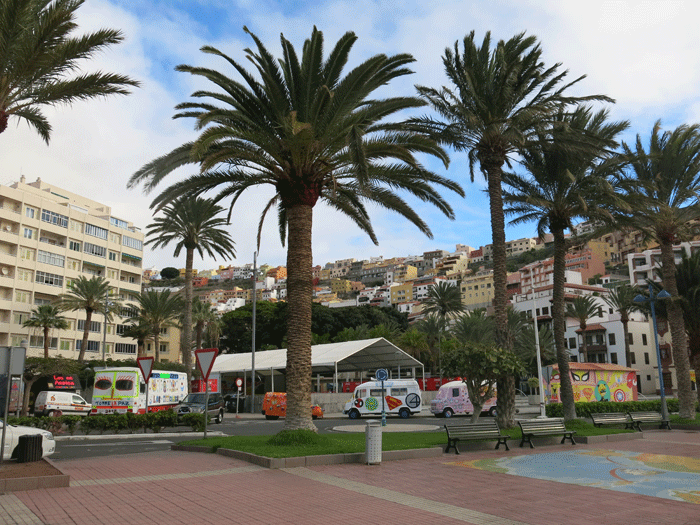 The central downtown area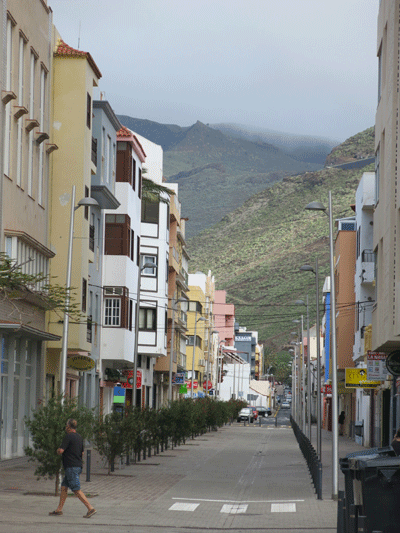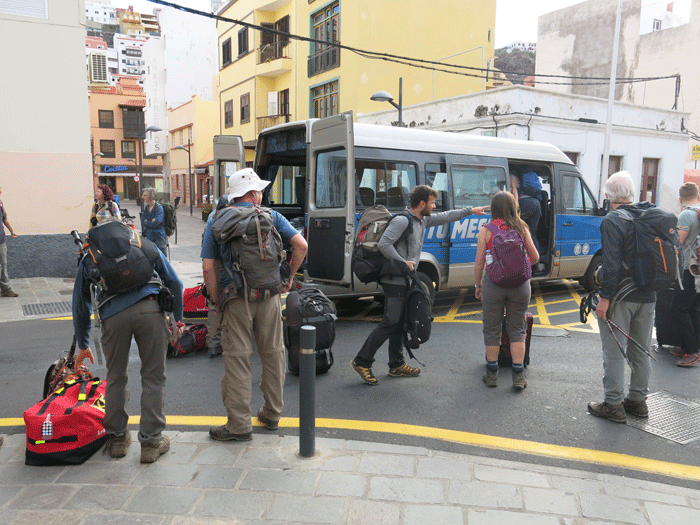 9-40 a.m. departure for El Cedro, approximately 18 km from the centre of San Sebastian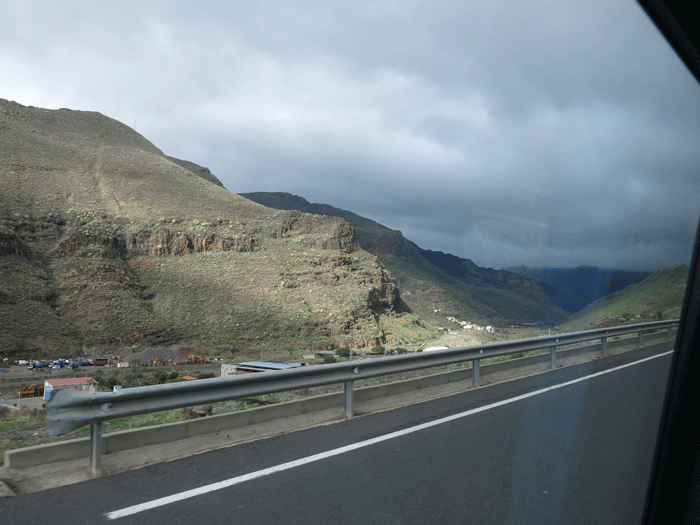 30 minute transfer to El Cedro due to good roads and relatively new tunnels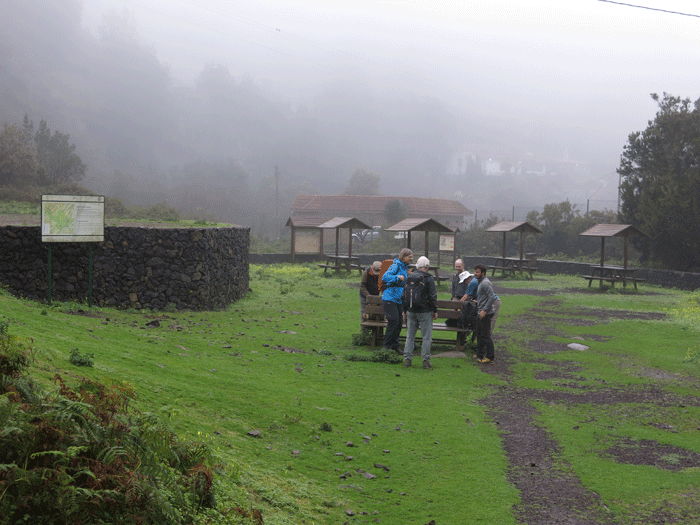 El Cedro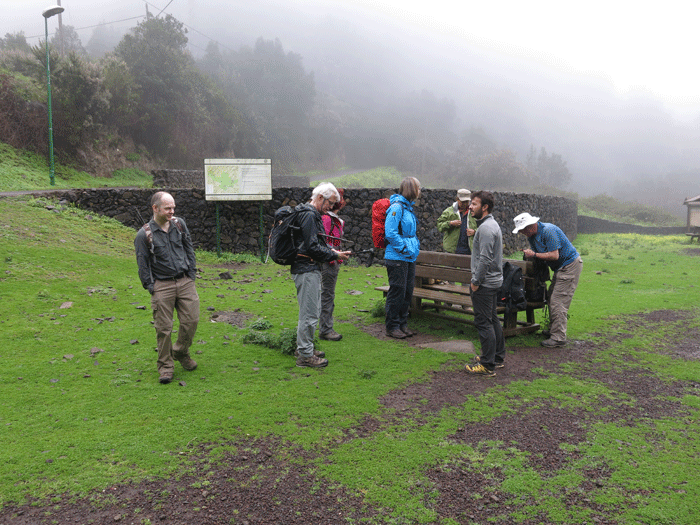 L to R: Rob, Warren, Hilarie, Christine, Sun, Enekoiz and Matt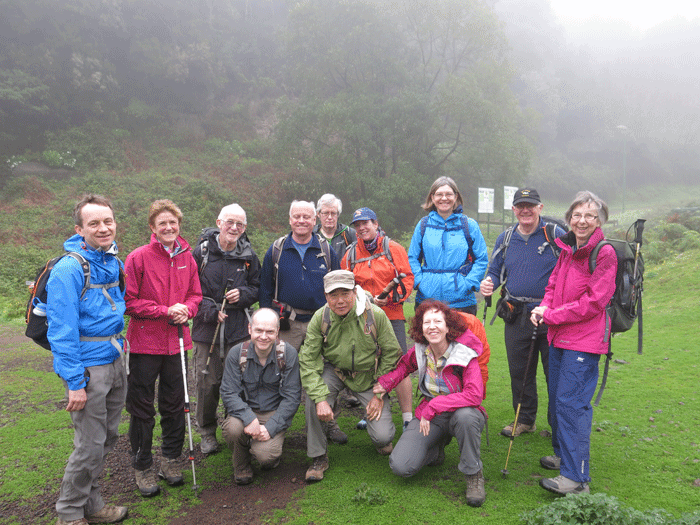 L to R: Gareth, Kathy, Geoff, Matt, Warren, Louise, Christine, Mick and Heather
Front Row: L to R: Rob, Sun and Hilarie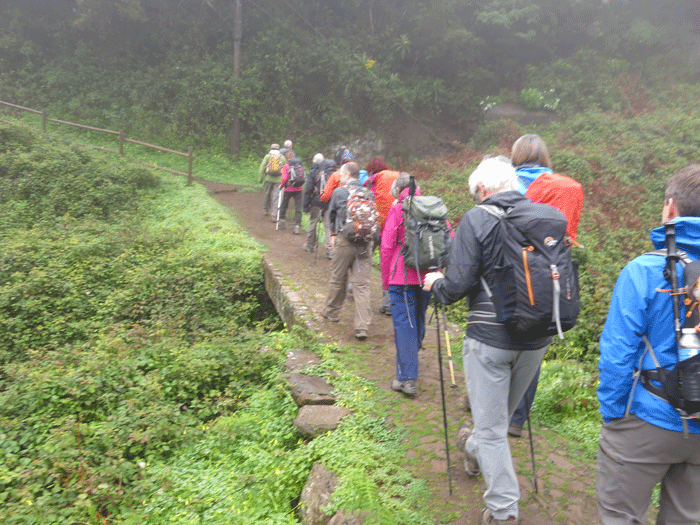 Onwards and upwards. By my reckoning the first 3 hours 30 minutes was uphill!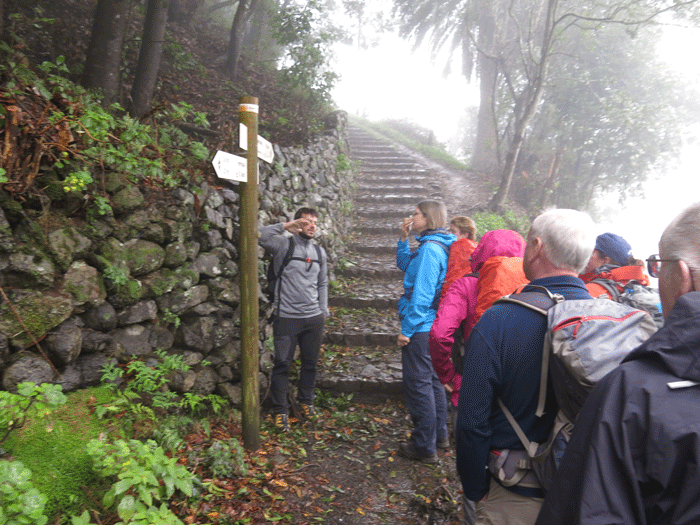 Enekoiz explaining the route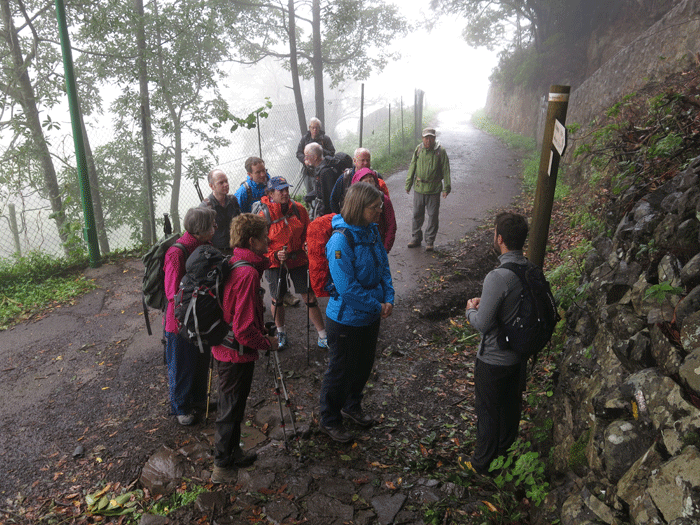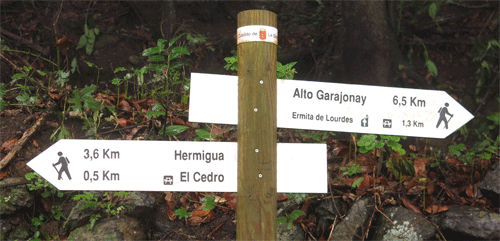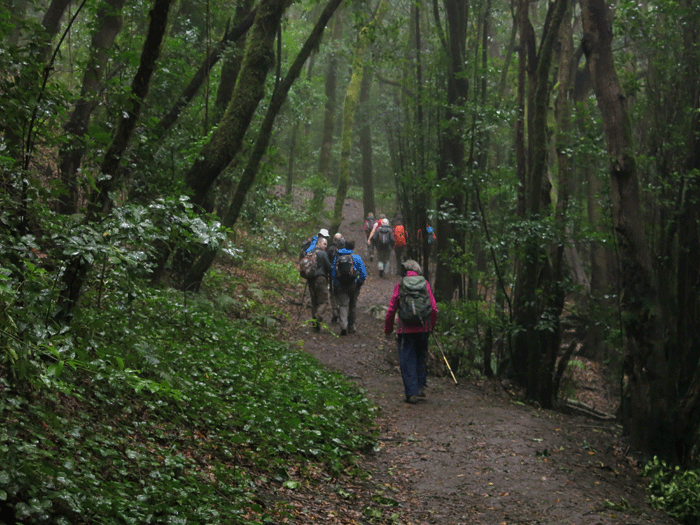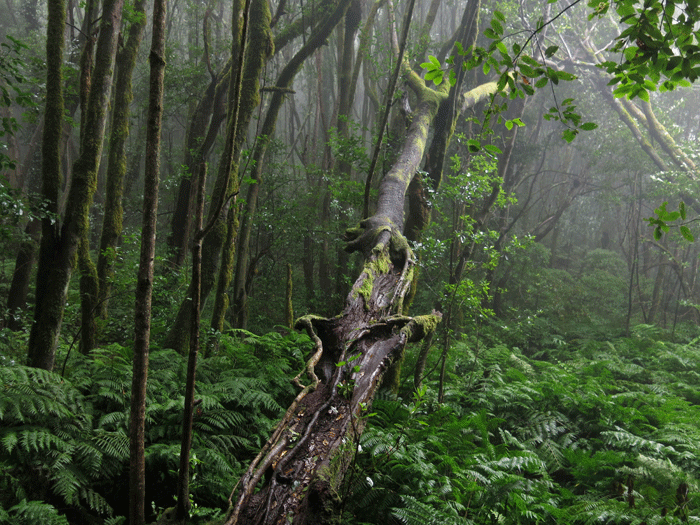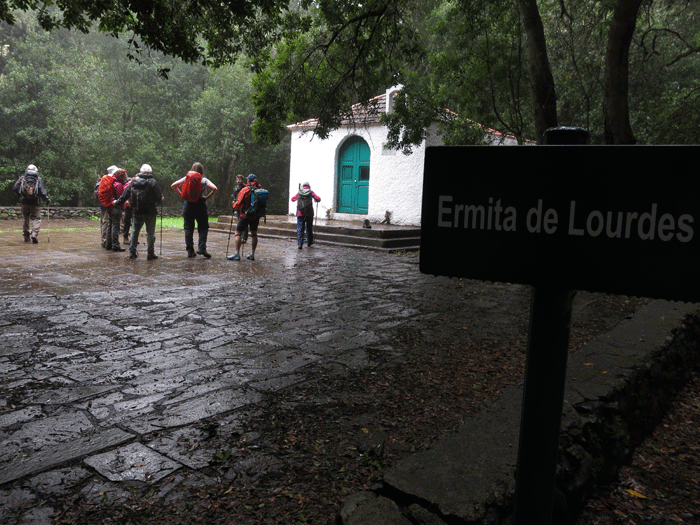 Ermita de Lourdes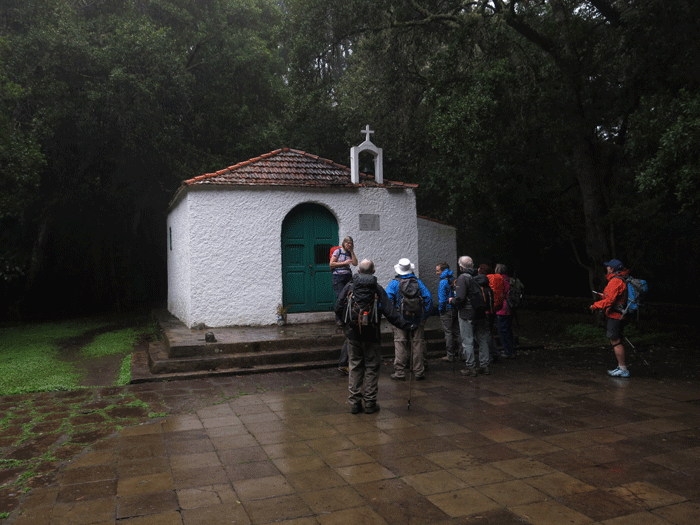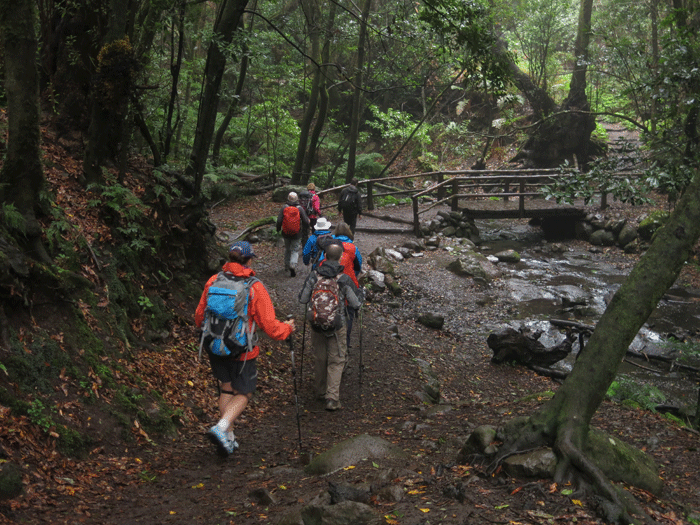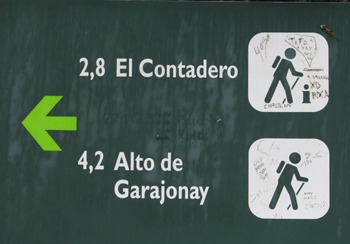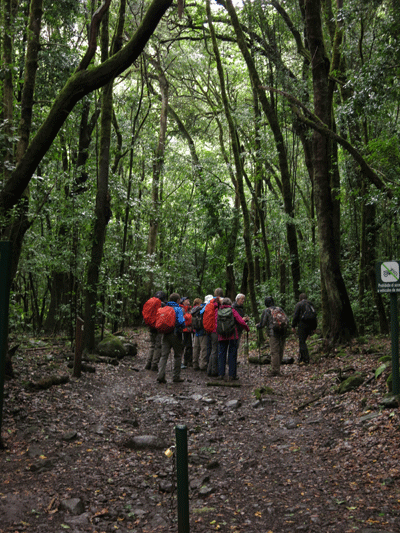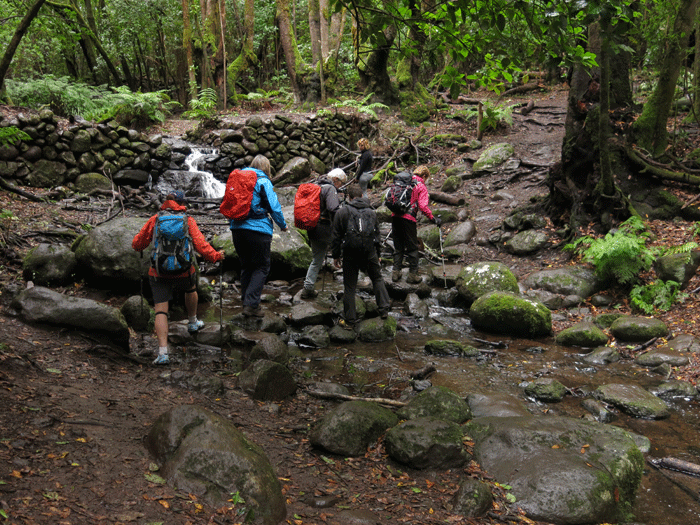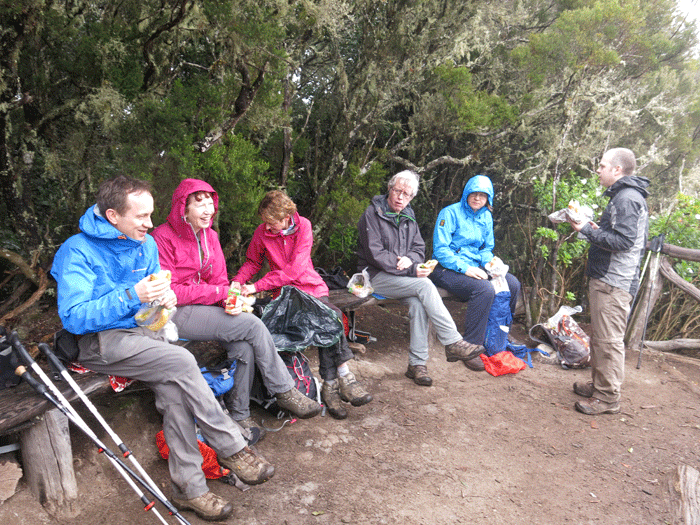 Time for lunch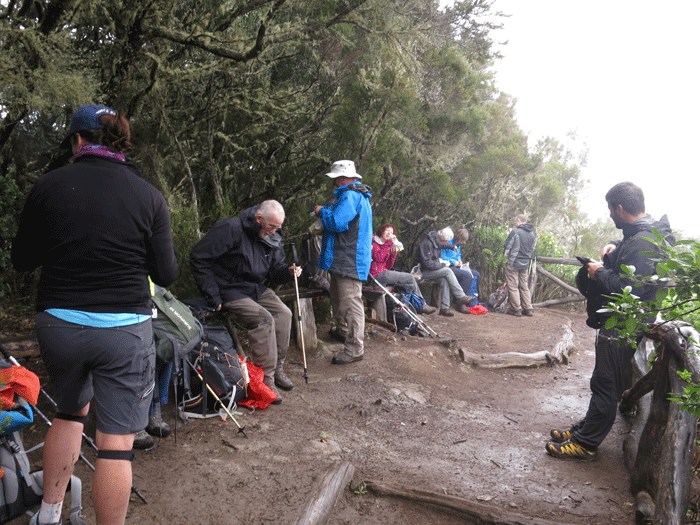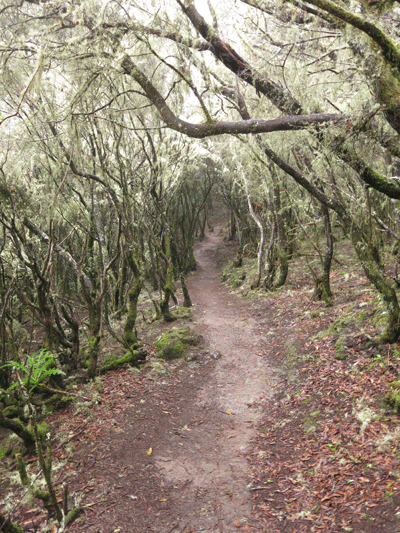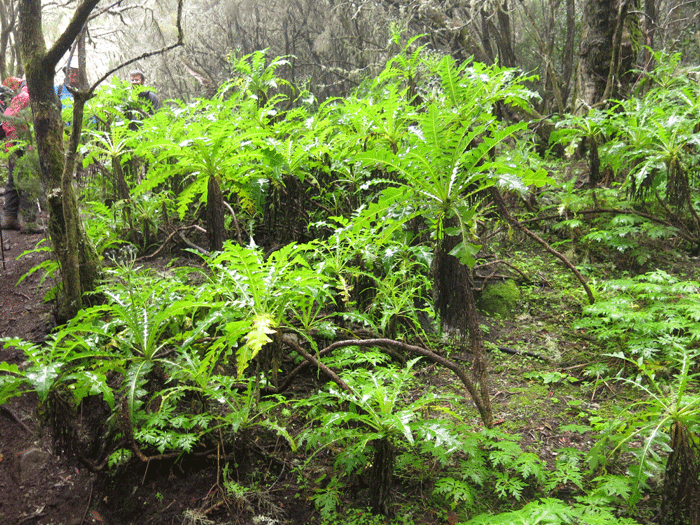 Huge dandelion plants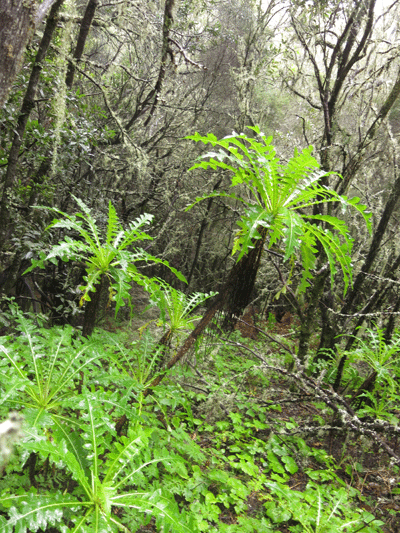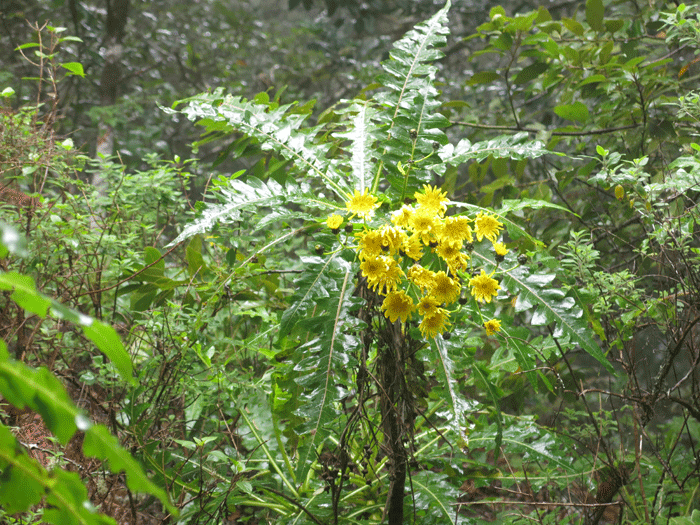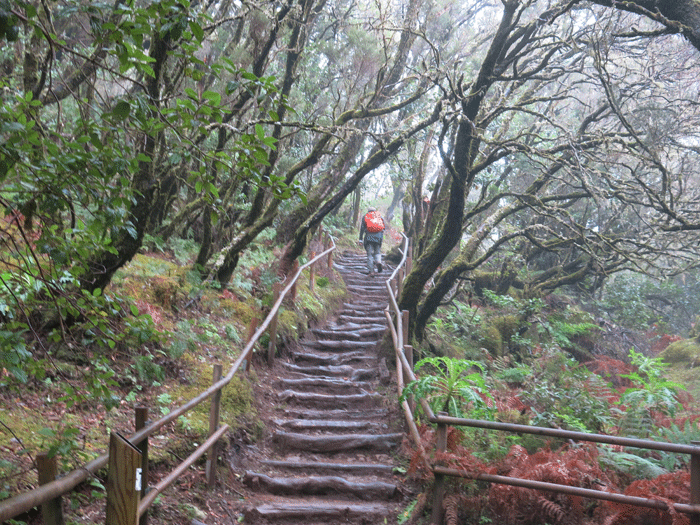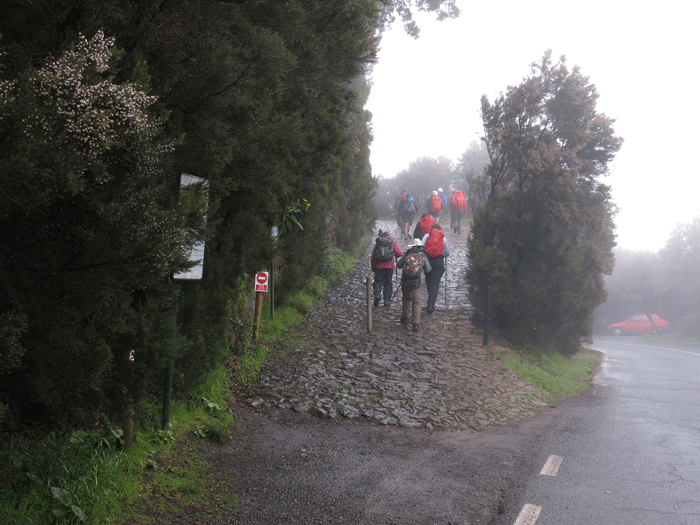 The final push to Alto de Garajonay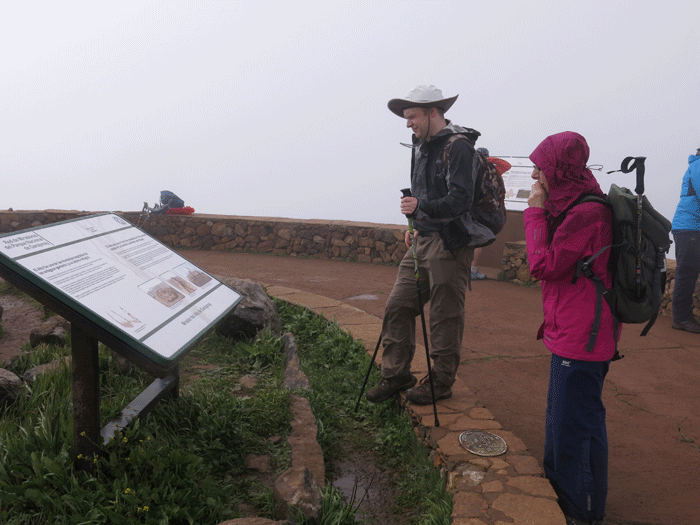 Not a lot to be seen from the viewpoint at the top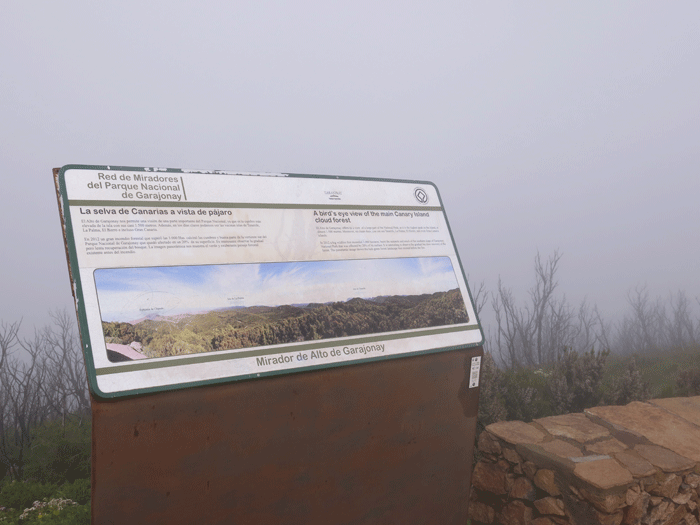 Mirador de Alto de Garajonay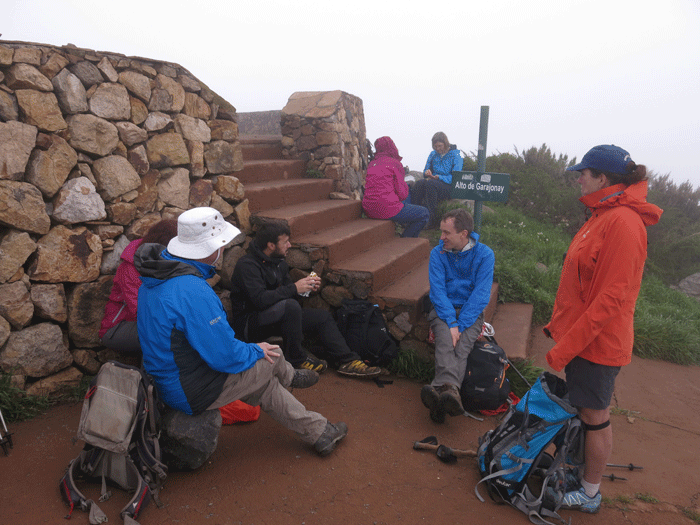 Alto de Garajonay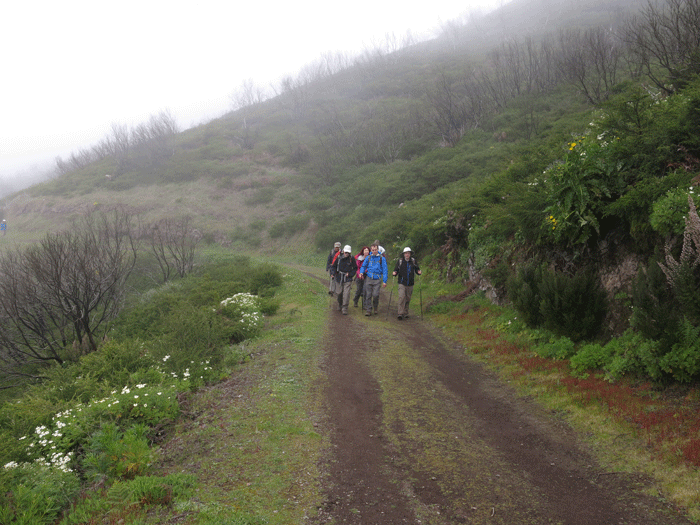 On the way down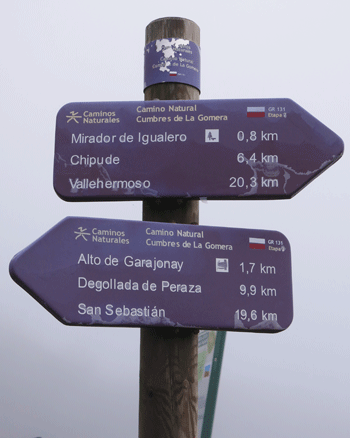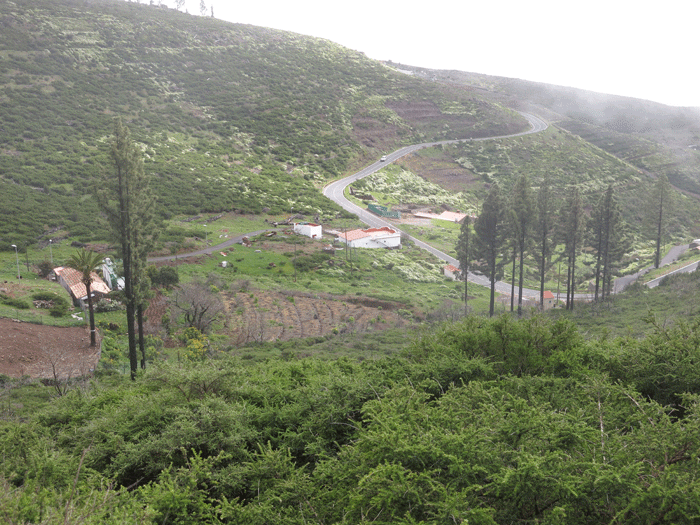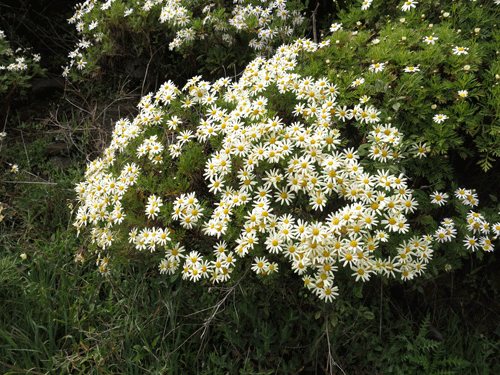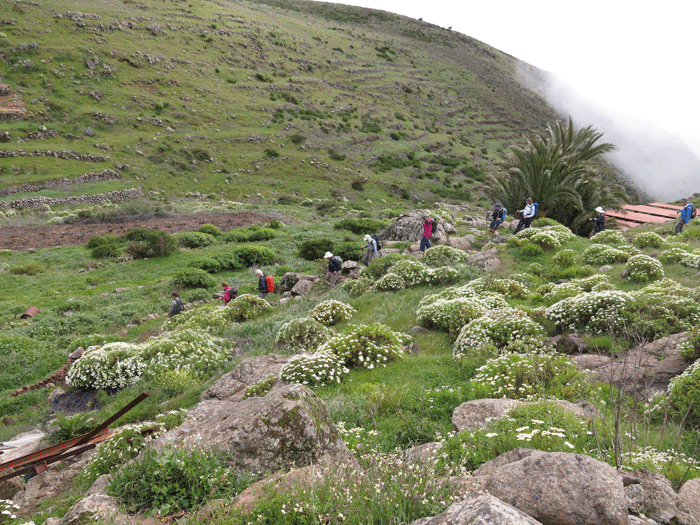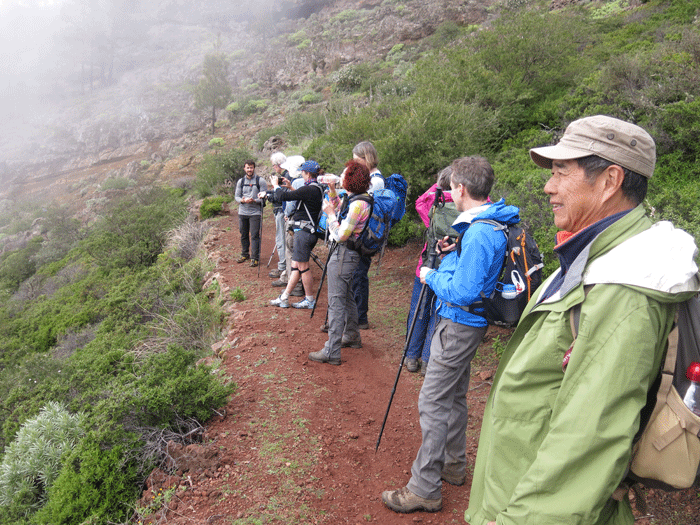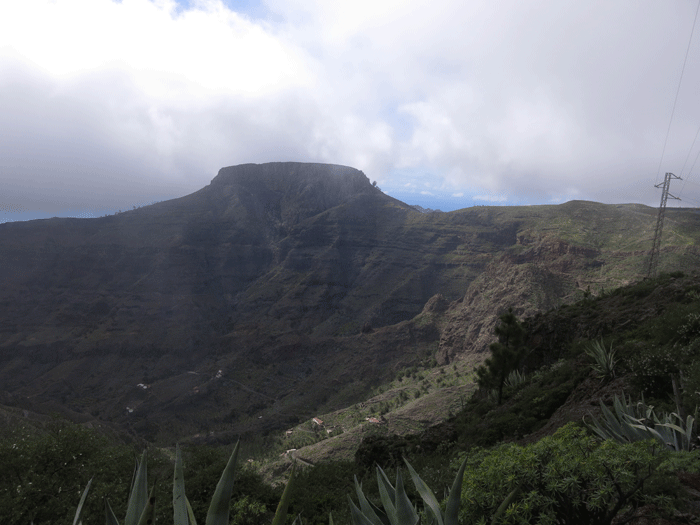 Table top mountain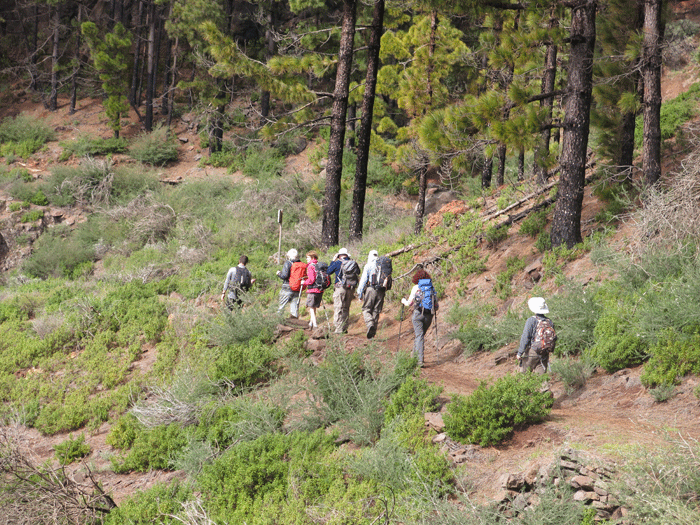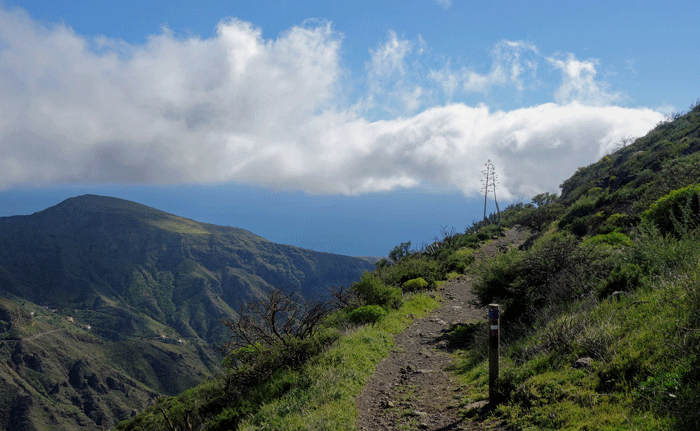 (Photo by Gareth)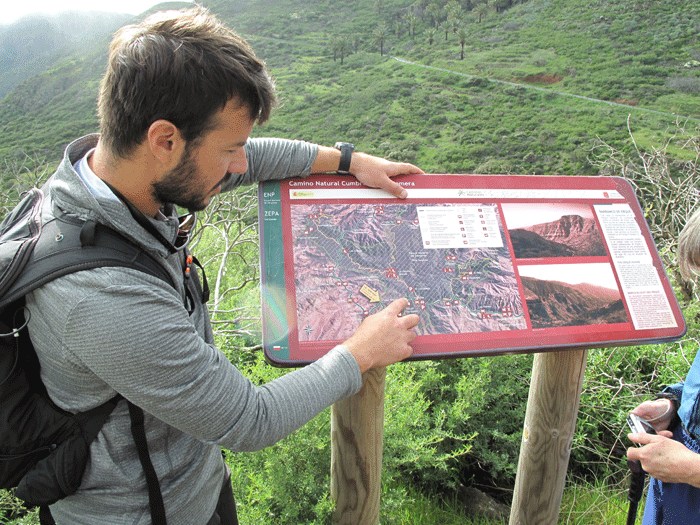 Enekoiz explaining the scenery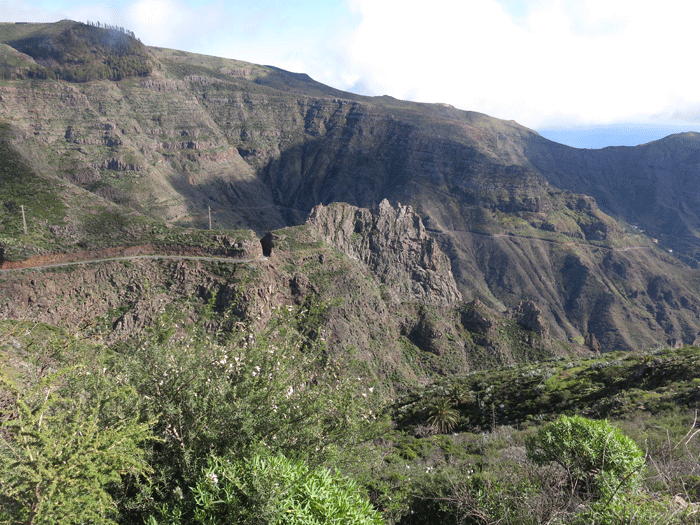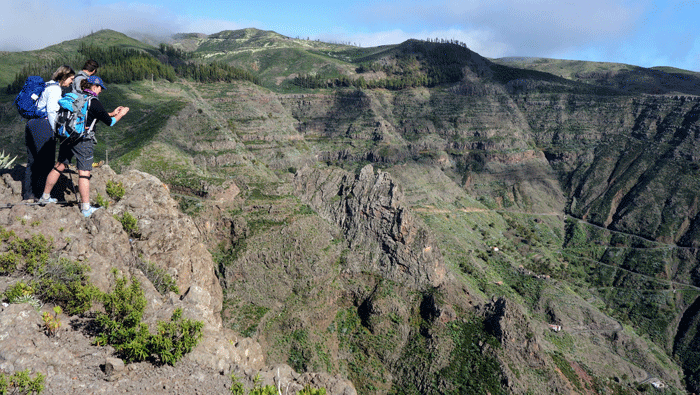 (Photo by Gareth)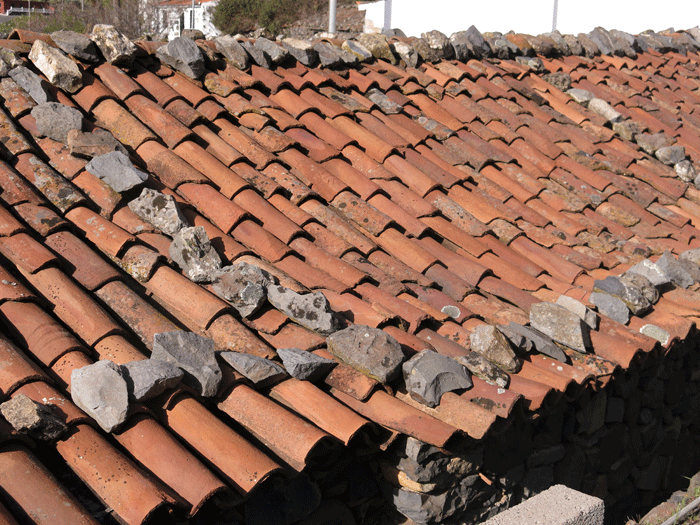 Characteristic roof line weighted against the wind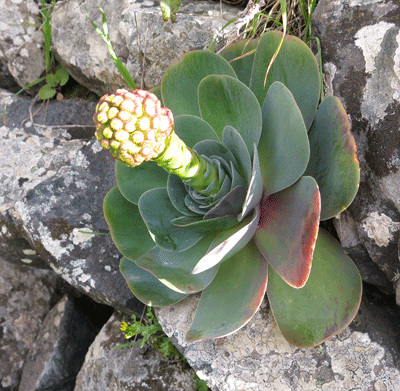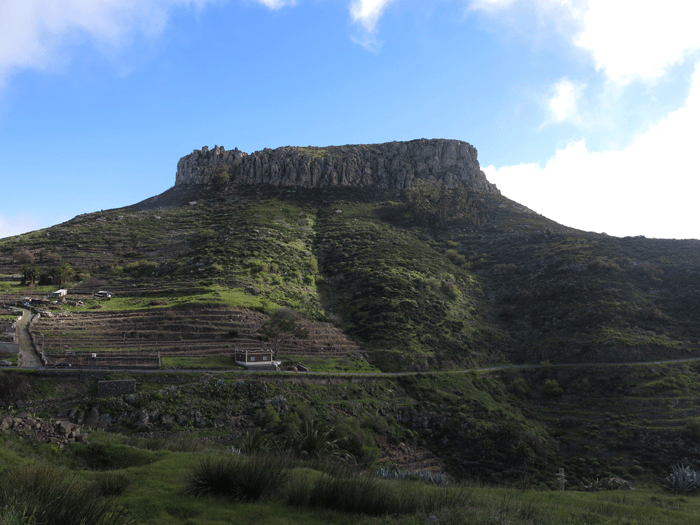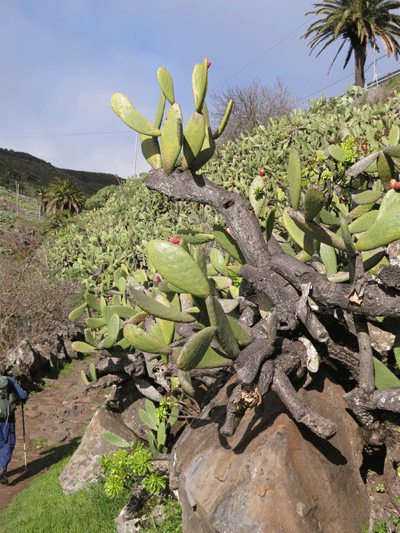 Chipude

Chipude is one of the most important villages in La Gomera, and is also located close to the middle of the island, therefore acting as a transitioning point when travelling from other places on the island. Chipude is surrounded by the Fortaleza de Chipude Natural Monument, the Garajonay National Park, the Orone Protected Landscape and the Valle Gran Rey Rural Park. The dry stone walls erected because of the need for conquering little areas of flat land on which to cultivate, avoiding the rugged terrain, converted inhabitants into genuine "landscape gardeners", overcoming the territory obstacles for survival. Talking about Chipude is talking about culture, attachment to the custom and inherited traditions, drum sounds, "chacaras" (type of castanets from La Gomera) and respect for memories. The Drum Dance, the Holy Sundays, the Romances, the New Year Celebrations and the Wake of Little Angels among others are examples of an alive musical folklore passed down by word-of-mouth and popular wisdom.

Chipude and the Fortaleza
display their beauty to the world
Begging is not an insult
when you live in poverty

The festivity of the patronSaint Muestra Señora de la Candelaria is celebrated on August 15th, when the neighbors of the village and the whole island gather around the 17th century La Candelaria Church.

Highlights of the next section of the path between Chipude and Vallehermoso are the craftwork and gastronomy of El Cercado and Las Hayas, the largest "sabina canaria" (Juniperus phoenecia var. canariensis) wood in the Canary Islands and the village of Vallehermoso, a historical center of agricultural exports.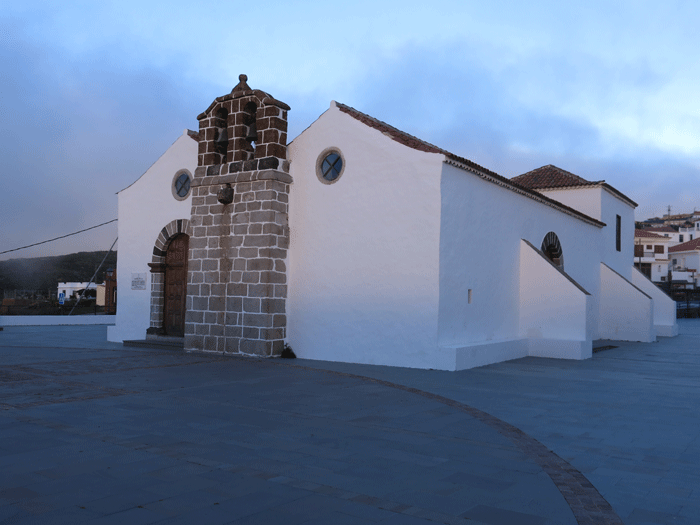 The parish church of La Candelaria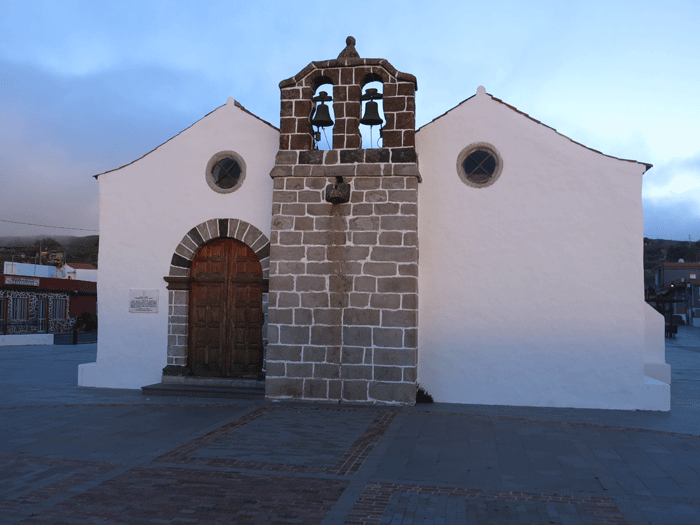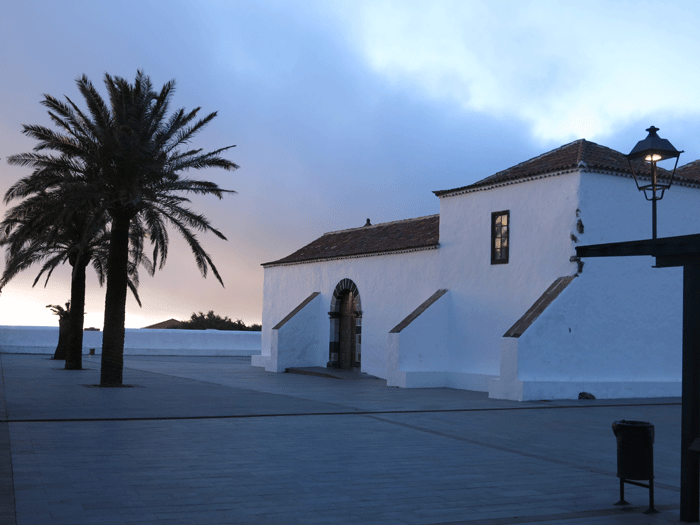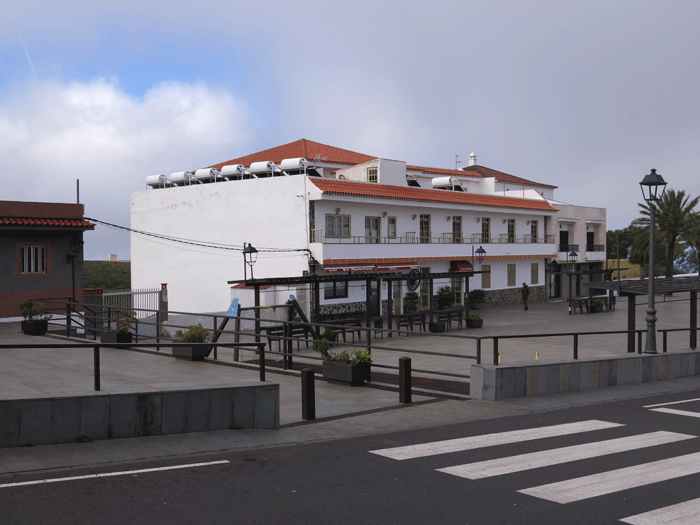 Hotel Sonia, Chipude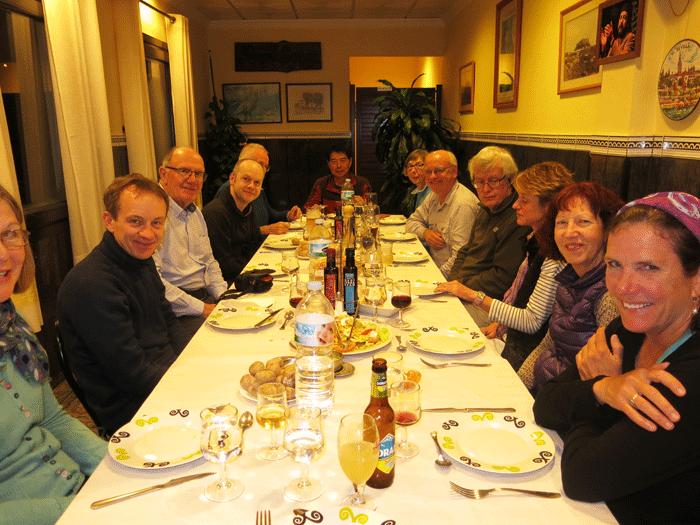 L to R: Christine, Gareth, Mick, Rob, Geoff, Sun, Heather, Matt, Warren, Kathy, Hilarie and Louise