ASHBY CANAL 25th SEPTEMBER to 1st OCTOBER 2005
7 Days, 95 Miles, 40 Locks
| | | | | |
| --- | --- | --- | --- | --- |
| Day | Miles | Locks | From | To |
| 1 | 3.18 | 2 | Barton Turns Marina | Alrewas |
| 2 | 18.20 | 7 | Alrewas | Alvecote |
| 3 | 16.10 | 11 | Alvecote | Bridge 5, Ashby Canal |
| 4 | 10.02 | 0 | Bridge 5, Ashby Canal | Sutton Wharf, Ashby Canal |
| 5 | 22 | 11 | Sutton Wharf, Ashby Canal | Bradley Green, Atherstone |
| 6 | 22.32 | 7 | Bradley Green, Atherstone | Alrewas |
| 7 | 3.18 | 2 | Alrewas | Barton Turns Marina |
| | 95 | 40 | | |

Sunday 25th September 2005
After a leisurely drive up to Barton Turns Marina, we did a few jobs on the boat ready for the trip and left the marina at 3-30 p.m. It was a short journey through Wynchnor Lock, along the river section past Wynchnor moorings, and back on to the canal proper via Alrewas Lock.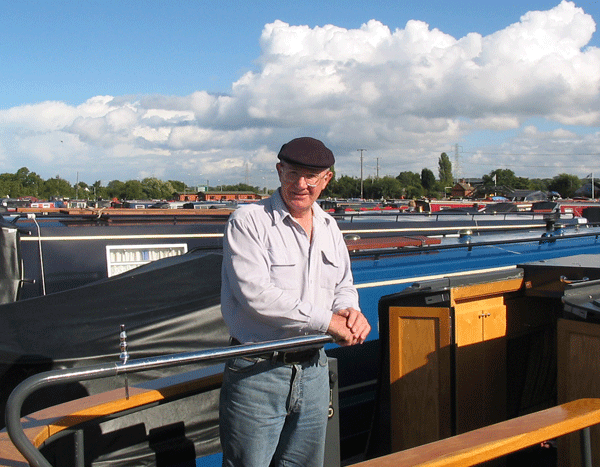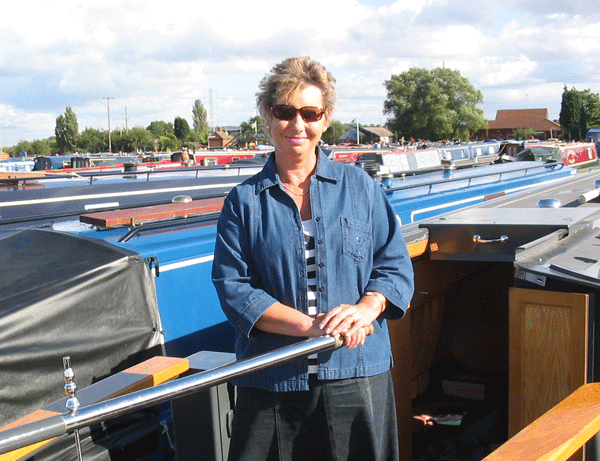 Monday 26th September 2005
Leaving Alrewas we headed for Fradley, anticipating a queue of boats waiting to pass through the Fradely Locks. There was not much of a queue, but unfortunately a boat was stuck in Junction Lock with carpet wrapped around its propeller, so we were delayed quite a while whilst they tried to remove it. Turning down the Coventry Canal after Junction Lock, we headed for Fazeley. We moore up for the night just after Alvecote Marina.
Tuesday 27th September 2005
After the 2 Glascote Locks, we passed under the M42 Motorway and past Polesworth, we came to Bradely Green at the foot of the Atherstone flight of 11 locks. After passing through Nuneaton we soon approached Marston Junction, the entrance to the Ashby Canal. We moored for the night before Bridge 5, Bulking Road Bridge, where there are good moorings.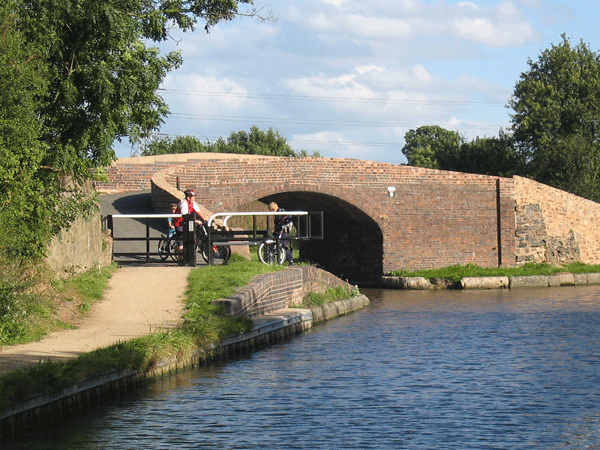 Marston Junction
Wednesday 28th September 2005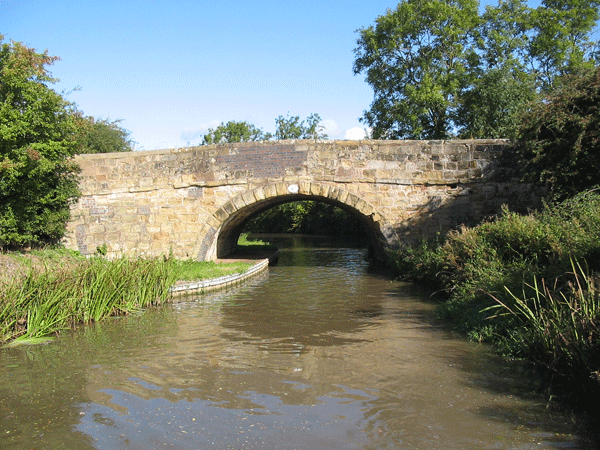 Mellow stone bridges on the Ashby Canal
The Ashby Canal is quite rural and shallow in places, making mooring difficult except for approved moorings. We went as far as Shenton, near Market Bosworth, but as the weather deteriorated we decided to turn and moor up at Sutton Wharf. We had an absolute deluge in the evening; normally this would not be a problem but I had the sliding hatch off to paint the runners and had the gap covered with tarpaulin! We survived with only a few drops of water coming in.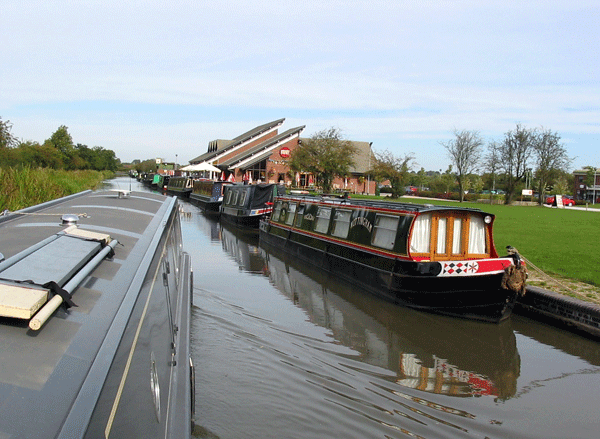 Approaching Trinity Marina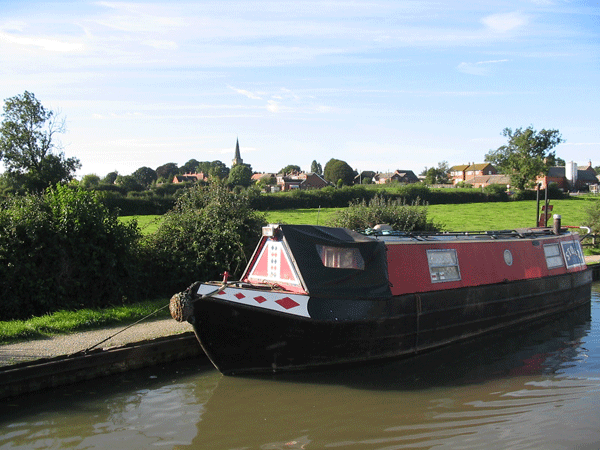 Stoke Golding
Thursday 29th September 2005
We retraced our footsteps and returned to Marston Junction, returning along the Coventry Canal to the bottom of the Atherstone Locks, where we moored for the night.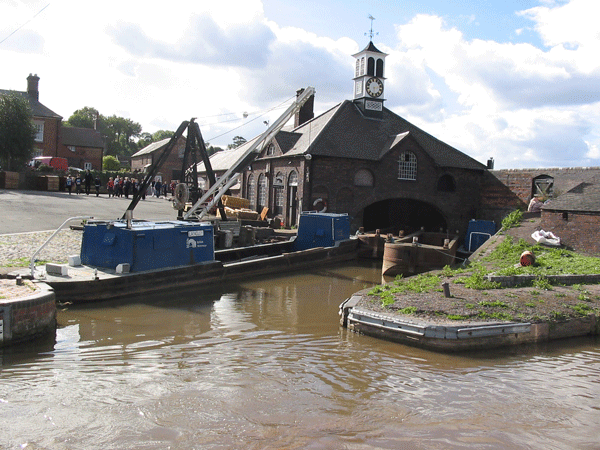 BW Hartshill Yard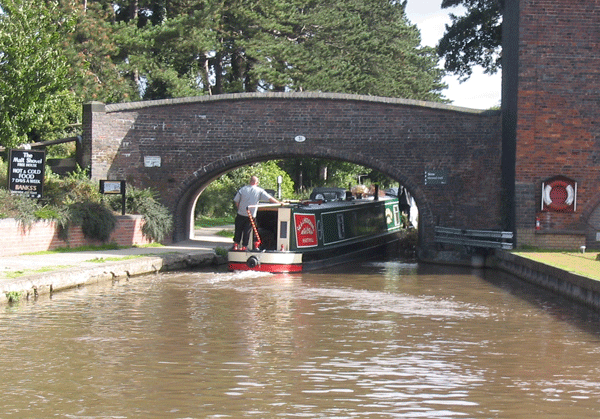 Bridge by The Malt Shovel pub
Friday 30th September 2005
We left the moorings early and headed for the Glascote Locks, where we were fourth in line. The waether was worsening so we pressed on to Alrewas where we moored for the night and made a visit to the Alrewas Fish & Chip shop, some of the best fish and chips in the country.
Saturday 1st October 2005
Back to Barton Turns Marina.