24th May - 1st June 2004
9 Days, 117 Miles, 100 Locks
| | | | | |
| --- | --- | --- | --- | --- |
| Day | Miles | Locks | From | To |
| 1 | 9.07 | 12 | Stone Boat Chandlery | Festival Park, Eturia |
| 2 | 10.63 | 18 | Festival Park, Eturia | Sunt's Bridge, Hassall Green |
| 3 | 12.0 | 15 | Sunt's Bridge, Hassall Green | Minshullhill Bridge (14) |
| 4 | 14.4 | 6 | Minshullhill Bridge (14) | After Lock 14, Audlem |
| 5 | 5.95 | 18 | After Lock 14, Audlem | Market Drayton |
| 6 | 11.16 | 5 | Market Drayton | Norbury Junction |
| 7 | 25.84 | 7 | Norbury Junction | Cross Keys Bridge, Penkridge |
| 8 | 13.05 | 9 | Cross Keys Bridge, Penkridge | Wolseley Bridge |
| 9 | 14.69 | 10 | Wolseley Bridge | Barton Turns Marina |
| | 117 | 100 | | |
Monday 24th May 2004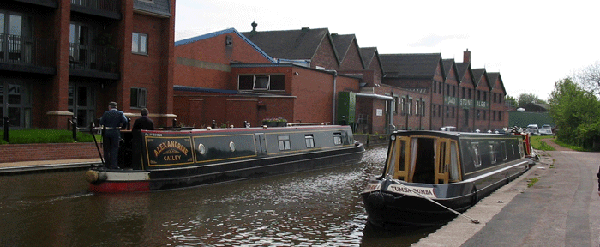 For our second cruise of the 2004 season we decided to do the Four Counties ring, a 9-day 100-lock 117-mile journey through Staffordshire, Cheshire, Shropshire and Worcestershire. Our boat was moored in Stone alongside the Joules brewery, and we started our journey from there.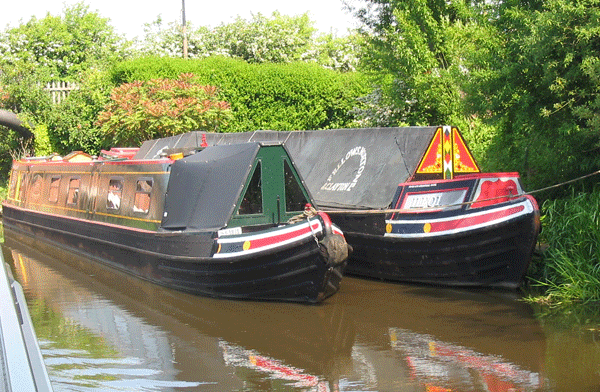 We departed at 10-35 a.m. after watering up, and headed for Stoke.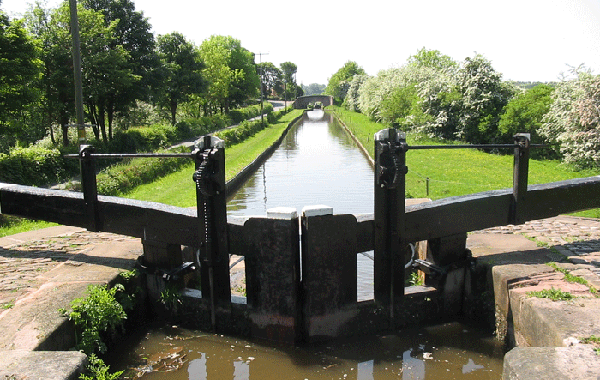 Meaford Flight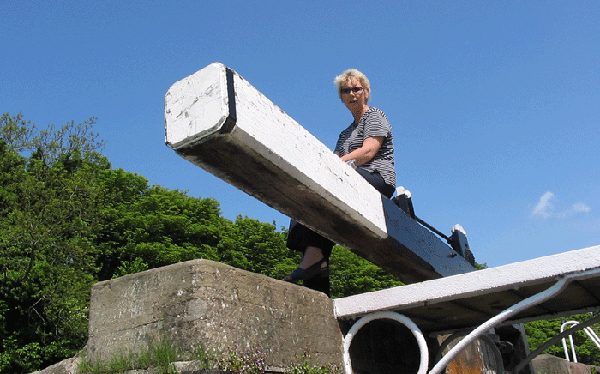 Sue having a well earned rest!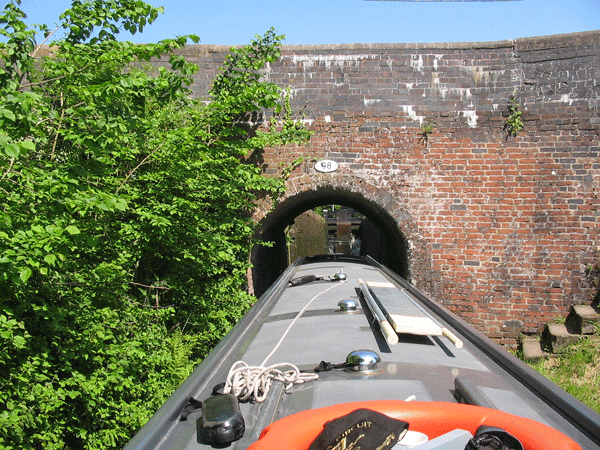 By 12-45 p.m. we had done 6 locks and were moored up near the Plume of Feathers pub for lunch.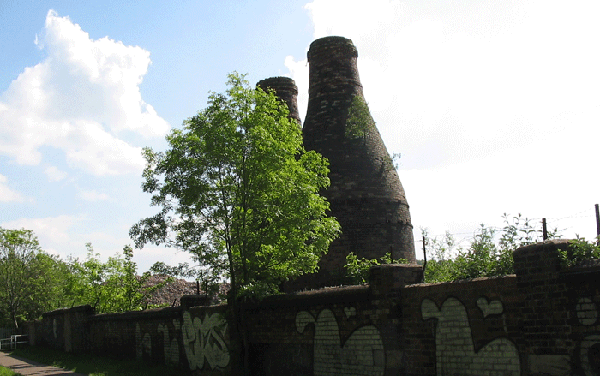 Bottle Kilns at Stoke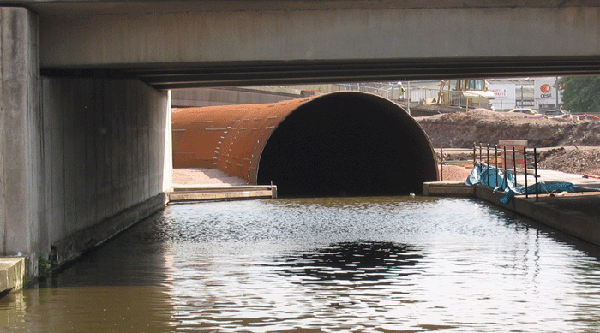 Temporary tunnel for roadworks at Stoke
By 4-45 p.m. we had reached Festival Park Marina, Etruria , where we had a drink in the Toby pub and chatted with Jackie and Clive (nb "Cleo"). They come from near Warwick and live on their boat all year, mooring near Warwick for the winter. They rent out their house to pay for their boating activities, and have been doing it for 5 years.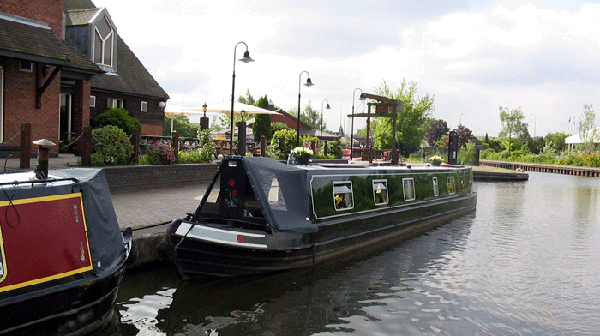 Festival Park Marina, Etruria
Tuesday 25th May 2004
Departing Eturia at 9:10 a.m. we arrived at the entrance of the Harecastle Tunnel at 10:20 a.m.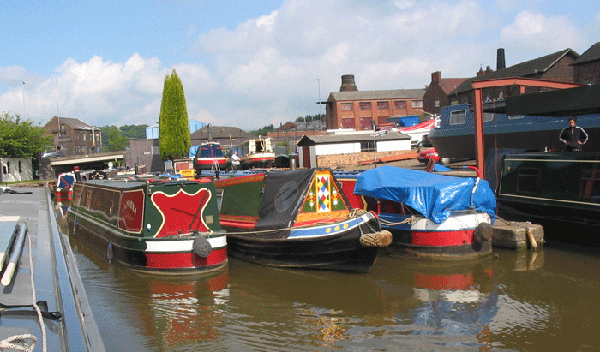 Longport Boat Yard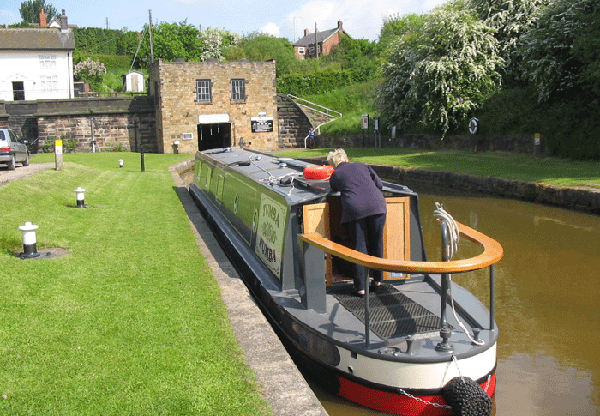 Entrance to the Harecastle Tunnel
With very few boats about we went straight in to the tunnel and emerged at the other end at 10:50 a.m., a 30 minute journey. It was quite difficult as we emerged as there was a British Waterways boat and another boat moored on the right hand side, making it very difficult to exit the tunnel and make the right hand turn required. Our passage was further hampered by a boat coming under bridge 131, meaning that we had to reverse up. We were glad to get away from the tunnel and in to open water. By late afternoon we had passed under the M6 motorway and were moored up before lock 59, at the bottom of the Wheelock flight, near Hassall Green.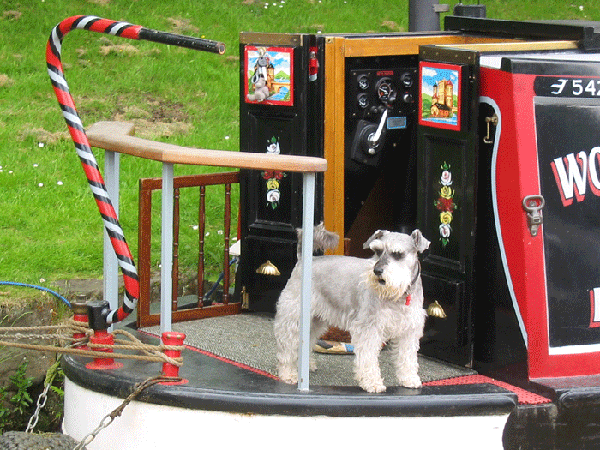 nb "Black Bess" at Red Bull Basin

Wednesday 26th May 2004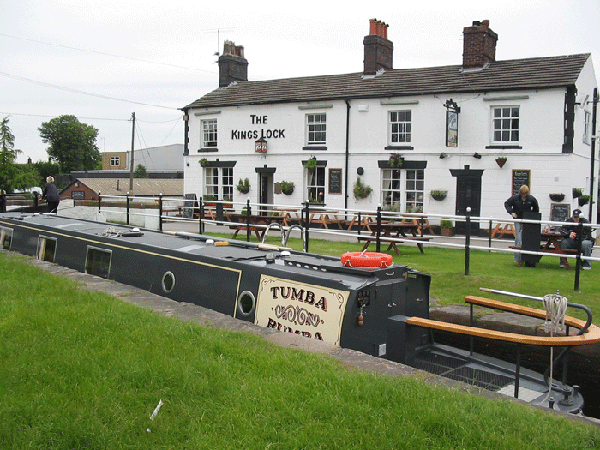 The Kings Lock Pub

Departed 09:10 a.m. and did the 8 locks of the Wheelock flight arriving at Wheelock Wharf at 10-50 a.m. Elsan/Water/Rubbish point with shops nearby. 5pm arrived Bridge 14 near Church Minshull and had dinner in "'The Badger"'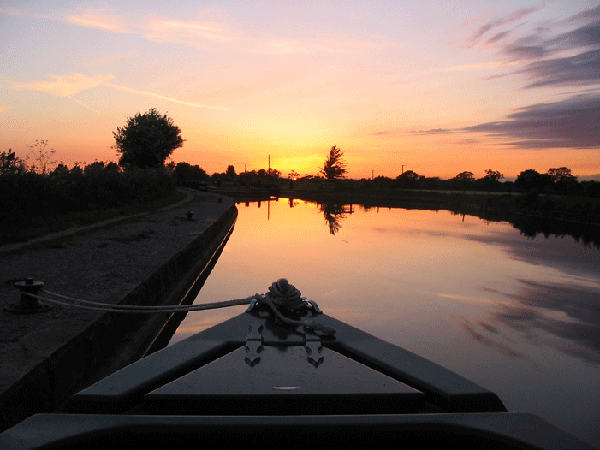 Sunset over the canal, end of another glorious day
Thursday 27th May 2004
We left Church Minshull at 9 a.m. and completed the link between Middlewich and Barbridge Junction, ascending Minshull Lock ( 11'0'') and Cholmondeston Lock (11'3''). Cholmondeston Lock is rather strange as the lock house adjacent to it appears to be trying to dissociate itself from the canal! There are no windows or doors facing the canal, and a high fence screens off the rear garden, given a "forbidden" feel to the place. A far cry from the friendly lock houses we had passed so far.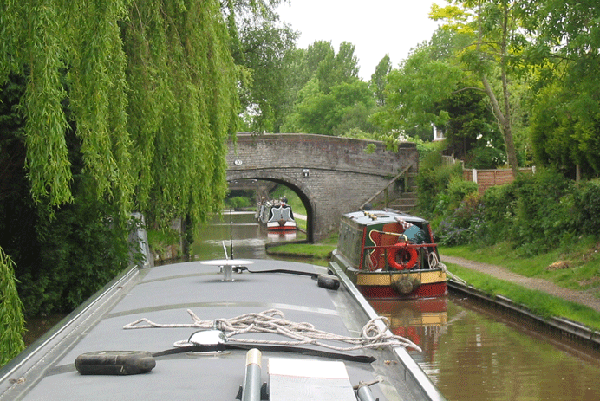 Between Middlewich and Barbridge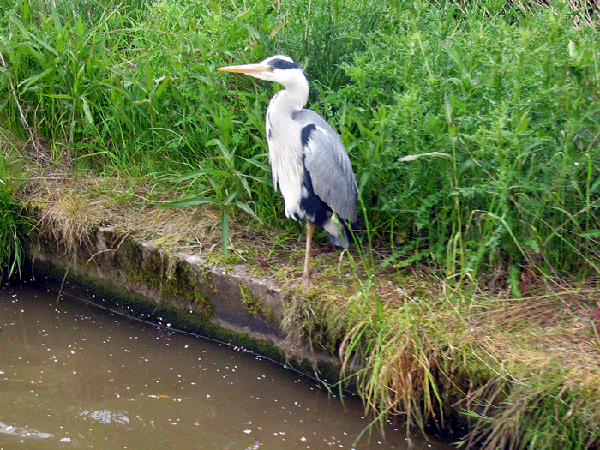 We were soon past Barbridge Junction and on our way down "the Shroppie". Hurleston Reservoir, fed by the Llangollen Canal appears on the right hand side, high above and protected by a substantial grass embankment. Then, suddenly, the entrance to the Llangollen Canal itself at Hurleston Junction. We moored up for a few minutes to look at the 4 Hurleston Locks producing a 34' rise at the entrance to the Llangollen Canal, and then continued our way down the Shroppie. Just prior to Nantwich we encountered a very old couple struggling to get their boat out of the mud, with the boat just about blocking the canal. They declined our help, and we slipped past them and out of the way. We looked back a few minutes later to see them in a head on collision with another boat, much to the disgust of the boat owner. When I spoke to him later to see if he suffered any damage, he commented that he thought that they were beginners and were both shortsighted! A fearful combination on the canal! We stopped at Nantwich chandlery for a few minutes at 12 noon, had lunch, and were then on our way again. Just as we were leaving Nantwich we spotted "Kentish Maid" at the side of the canal. This is owned by a lady named Carol who we got friendly with when we passed through Whitchurch last year. We pulled over and said hello, and she had a guided tour of our boat. We bade her farewell and continued on our way. Hack Green locks 1 and 2 (12'0'') took us close to the "Secret Bunker" tourist attraction and past the very nice moorings and barbecue area at Coole Pilate. Where did that name come from? The Genuki website tells us that "Coole Pilate is a township in Acton Parish, Nantwich Hundred which had a population of 39 in 1801 and 70 in 1951, and a Methodist Chapel built in 1850". The lack of population or the decline of religious fervour (or both) led to a planning application in August 2004 to convert the Methodist Chapel in to residential use. Then we approached the Audlem Flight of 15 locks, and decided to rest up for the night after doing locks 15 and 14 at 4-30 p.m.. Dinner and a pint in the nearby Shroppie Fly pub completed the evening, after a brief walk around Audlem.

The Shroppie Fly, Audlem

Friday 28th May 2004

Leaving our mooring just above lock 14 we ascended lock 13 and entered the pond right in front of the Shroppie Fly. That left another 12 locks to do in the flight and this took us nearly two and a half hours, with the rain getting steadily worse.

A coal-carrying narrowboat

After this came the 5 locks of the Adderley Flight. We moored for a while, and with an apparent break in the rain we decided to continue to Market Drayton. I say "apparent", because it did not last long and was soon bucketing it down. With rain gear and an umbrella, we glided into Market Drayton and decided to moor up for the night, hoping for better weather the next day.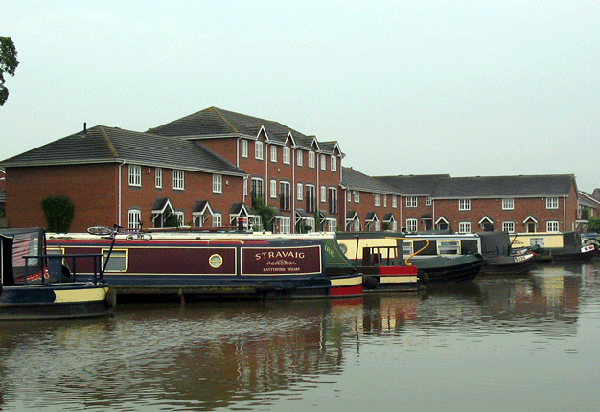 Market Drayton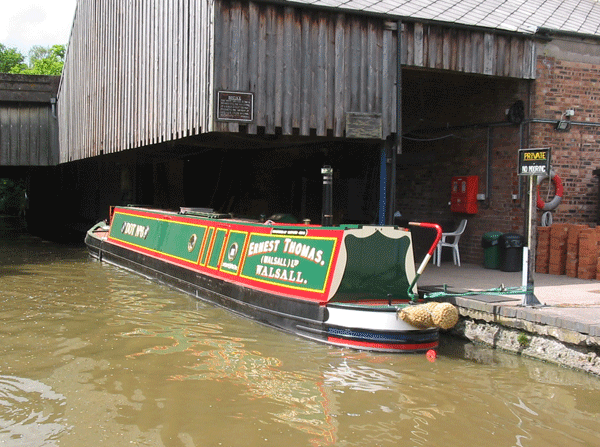 Saturday 29th May 2004
Leaving our mooring in Market Drayton we moved to the watering point to fill the tank and get rid of rubbish. By the time we had finished it was 10-30 a.m. and then we were on our way towards Norbury Junction.
We met up with Ann & Rog at Norbury, and went over to the Hand & Cleaver, Ranton, for dinner.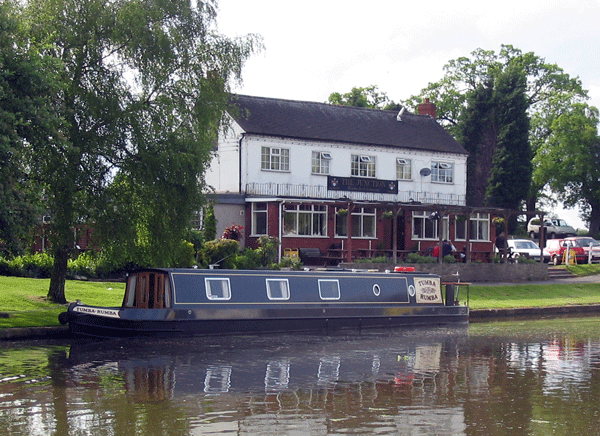 Moored at Norbury Junction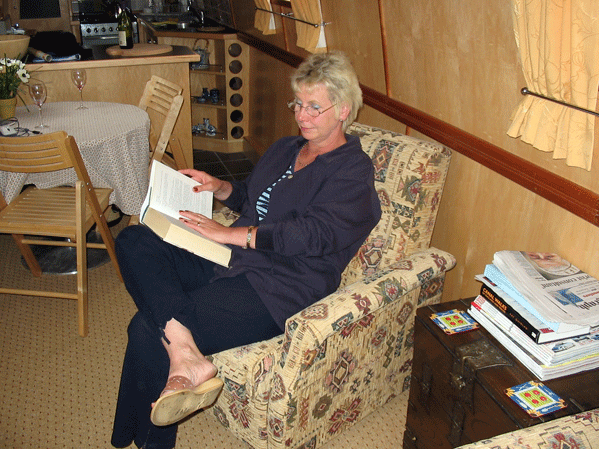 Leisure time for the first mate, after a hard day's windLASSing
Sunday 30th May 2004
This was a long day of cruising with not so many locks. Leaving Norbury Junction we passed through a series of straight cuttings almost covered by trees.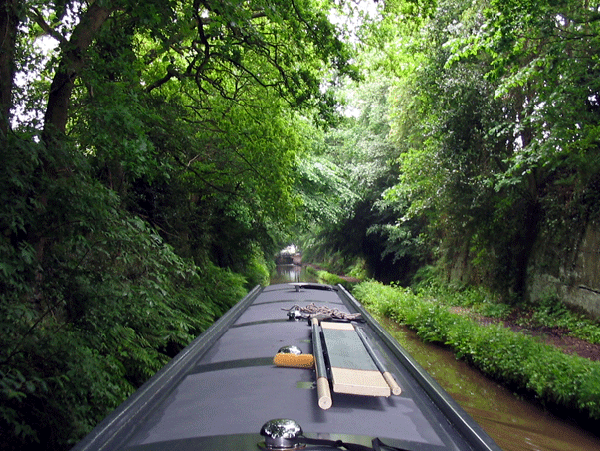 At Autherly Junction we made a left hand turn on the Staffordshire and Worcestershire Canal through a very narrow cutting in the sandstone, heading towards Coven Heath. What was Autherly Junction like? With three shopping trolleys and a burned out motorbike in the canal, what more is there to say?
We approached Gailey 5 locks just as the rain clouds gathered overhead, and we then had intermittent rain. We moored up in Penkridge near the Cross Keys pub, at bridge 83a.
Monday 31st May 2004
Departed Penkridge 9 a.m. and headed for Stafford, with the canal getting busier and busier with the Bank Holdiday weekend traffic. Through Acton Trussel and on to Wildwood and Baswich. Through Tixall and on to Tixall Wides, where we moored for lunch.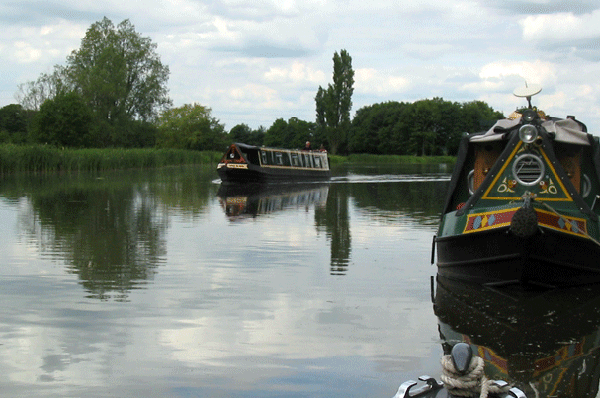 Tixall Wides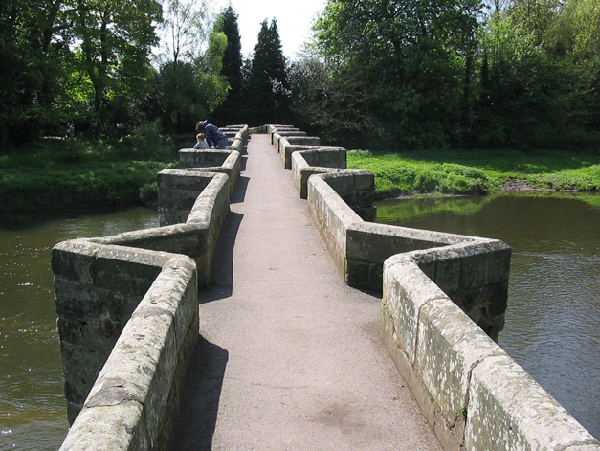 Essex Bridge, Great Haywood
Then into Great Haywood, where we re-joined the Trent and Mersey canal. Quite busy at Great Haywood locks, with plenty of gongoozellers on hand to witness the narroboats moving like pieces in a Rubic cube near the lock entrance. Then through Colwich lock and on to Wolseley Bridges where we moored for the night
Tuesday 1st June 2004
We retraced our way from Wolseley Bridges back to Barton Turns, staying overnight on the boat at the Marina.