Saturday 3rd July 2010
We arrived at Ripon Marina about midday, transferred all our gear to the boat and by late afternoon we were on our way for another epic journey on the canals. I had promised Sue that I would take her on a "Luxury Cruise" to celebrate our Ruby Wedding Anniversary........ and this was it. "Yeah, Right!" came the knowing reply from my crew mate and wife, unsure about the "Luxury" bit...... more like a working holiday!
We started off in a leisurely fashion with a two and a half hour "Cruise" down to Boroughbridge Visitor Moorings.

Leaving Ripon Marina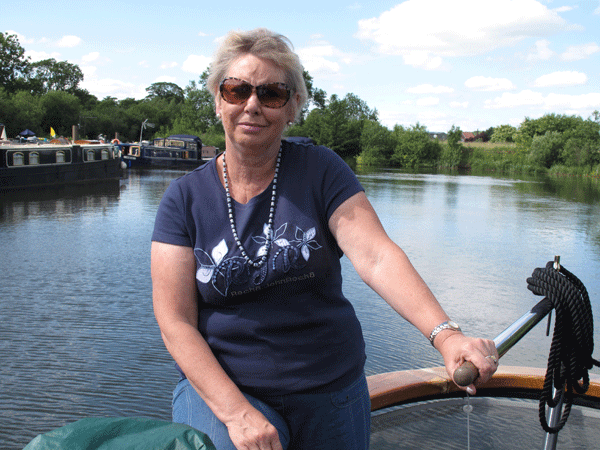 Sue at the helm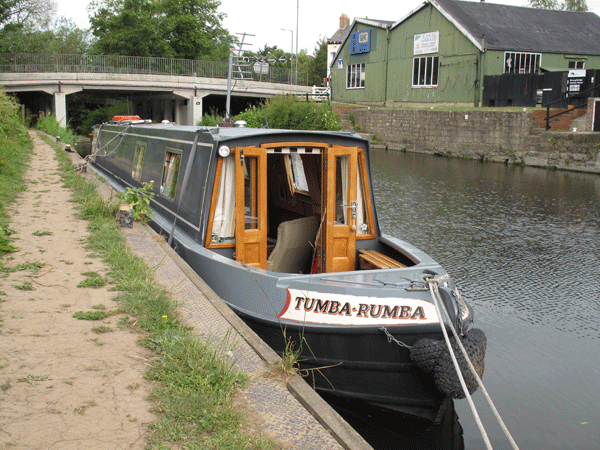 Boroughbridge
Sunday 4th July 2010
Leaving Boroughbridge we had an uneventful 5-hour journey down to York. The moorings were full on our arrival, being a sunny Sunday afternoon, and we had to butty-up to another boat. But by late afternoon a lot of the "Sunday-cruisers" had left,and we found proper moorings. We managed to shop for last minute provisions, including tow "Yorkshire Fat Rascals" from Betty's, and then ate at Pizza Express.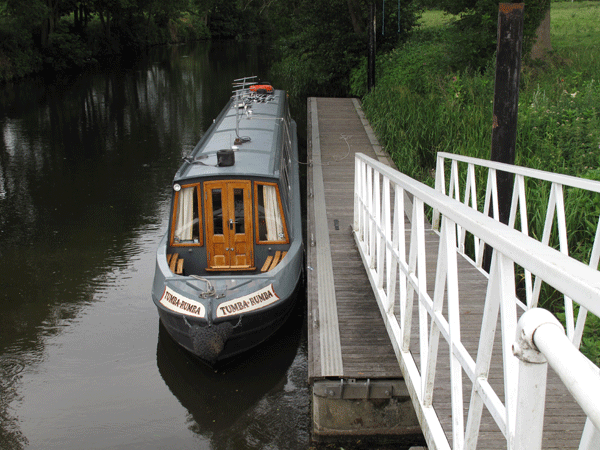 Waiting to enter Milby Lock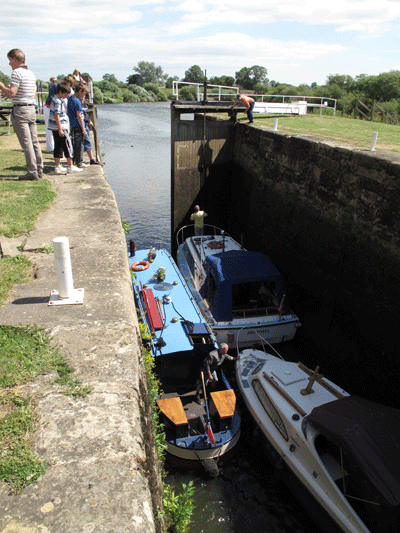 Linton Lock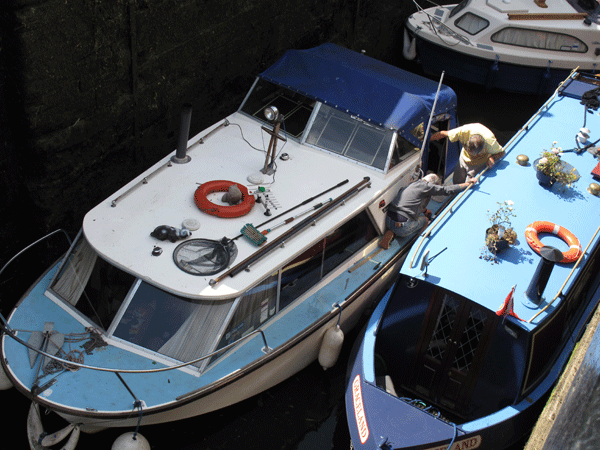 Linton Lock tapers inwards as the water drops, resulting in this
narrow boat and cruiser becoming jammed!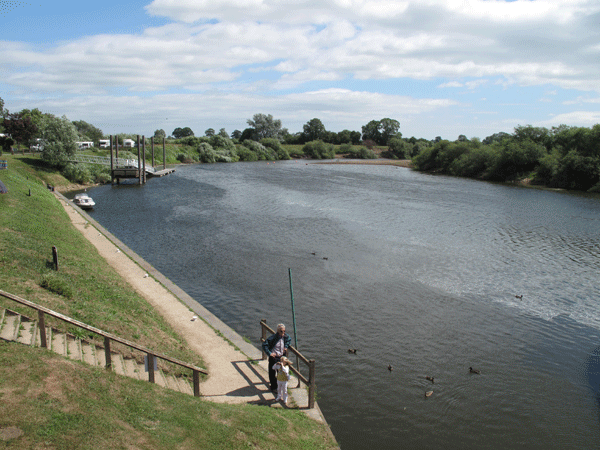 View ahead from Linton Lock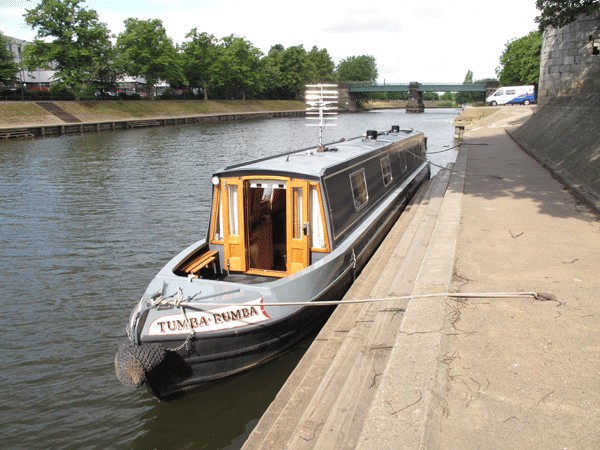 Moored at York
Monday 5th July 2010
We had heard from fellow-boaters that the locks at Naburn would open at 2-30 p.m. due to the tide, and that a booking was necessary. We phoned the BW office at Naburn twice (01904-728500) and left a message, but did not get a reply, so we phoned Selby (01757-703182) and confirmed our passage. When we arrived at Naburn Locks we were one of five boats going down, and we all went into the enormous lock at the same time. The first part of the journey down to Selby was hard going as we were working against the tide, but then the direction of the tide changed and we seemed to speed up a lot. There was a tremendous amount of debris being carried by the tide, and I had to zigzag from side to side at times to miss trees, logs, car wheels etc. Apparently no effort is made to clear this debris so it just goes back and forth with the tidal river.
It was not long before we were passing beneath Cawood Swing Bridge, one of the few features on this stretch, and approaching Selby. I approached Selby Lock from the left hand side of the river, making the usual big swing to go past the lock and back up stream, but the current was quite strong and it was a most uncomfortable feeling being across the river being carried down stream until the turn was complete. Nevertheless we entered the lock with the precision of the QE2 docking at Southampton, which was a great relief, as there were several people on the dockside watching proceedings! The moorings in Selby Basin were full, but we managed to get good moorings just after the swing bridge.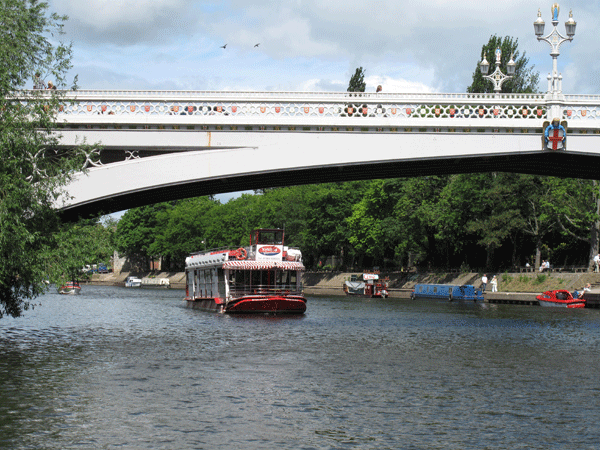 Leaving York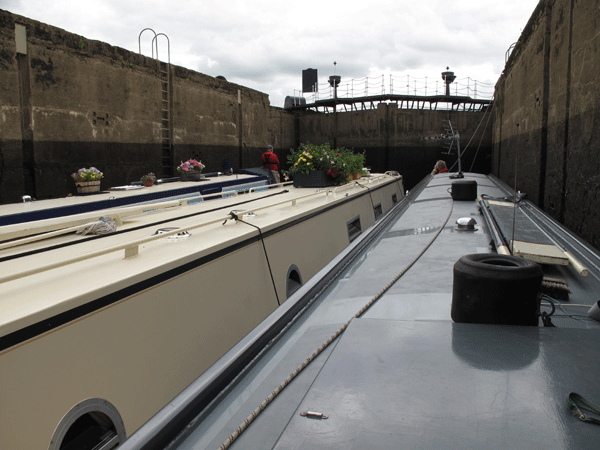 Inside Naburn Lock, three abreast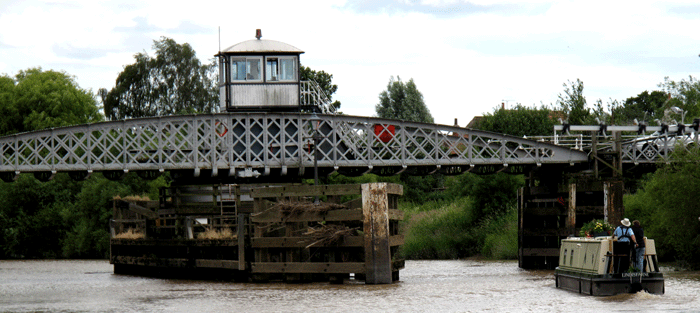 nb "Lindisfarne" approaches Cawood Swing Bridge
View from Selby Locks looking downstream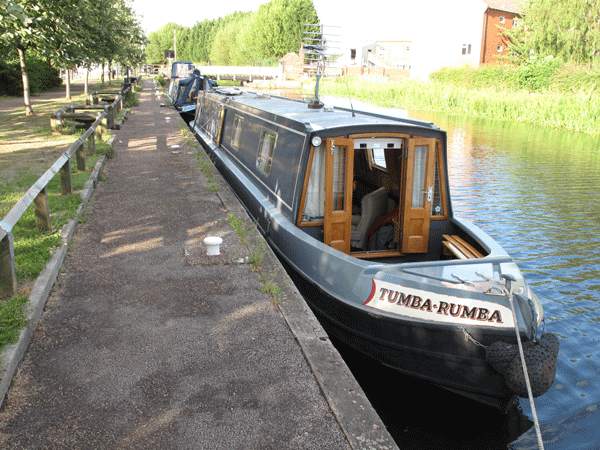 Moored after Selby Swing Bridge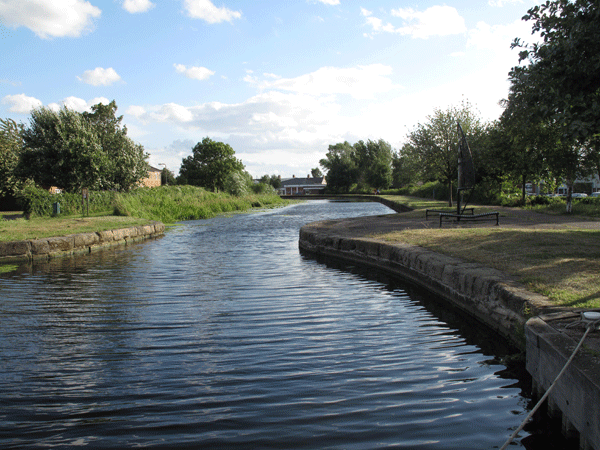 View ahead after Selby Moorings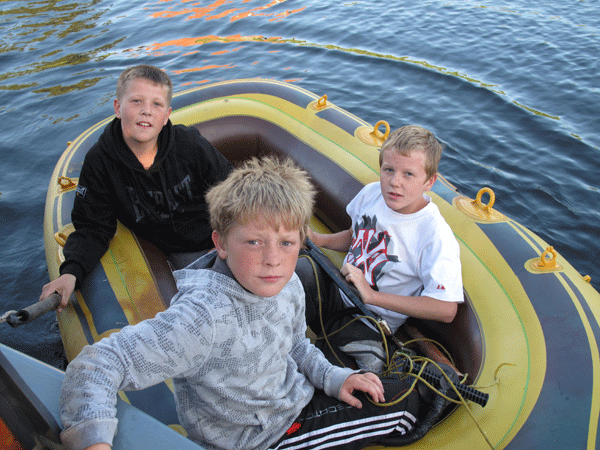 "Three-Lads-In-A-Boat" stopped by as we were moored at Selby!
Tuesday 6th July 2010
We did another 13 miles and 3 locks, cruising down to Ferrybridge Flood Lock Moorings by early afternoon. It was a glorious day and we did not feel like going any further, so we moored up. Sue walked up to the nearby Morrisons store for some retail therapy, whilst I just sat and read my book!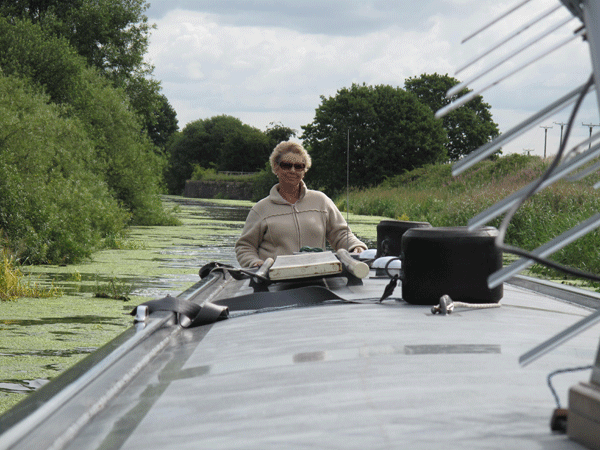 Sue at the helm on the Selby Canal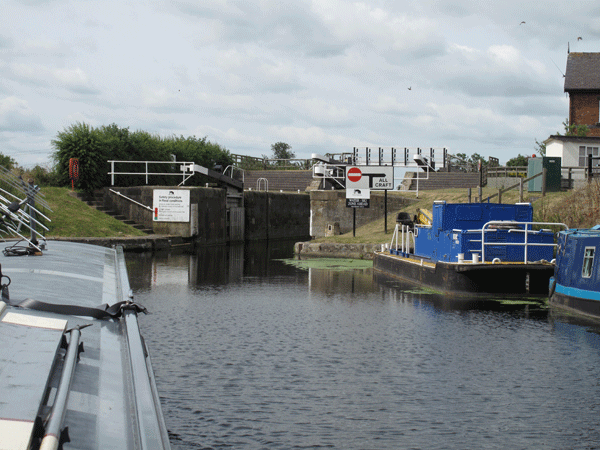 West Haddersley Flood Lock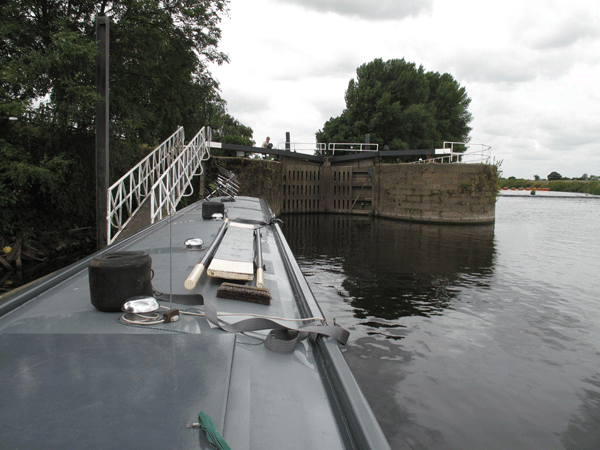 Beal Lock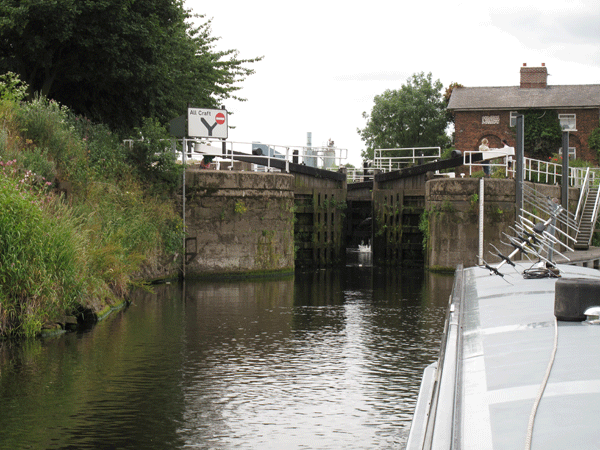 Bank Dole Flood Lock
Wednesday 7th July 2010
We tried to get diesel at Selby boatyard, but they had sold out. They did not seem to know where the next diesel point was, and the best guess was at Stanley Ferry! There was a fair bit in the tank, but it did make me realise that these days you have to watch out for diesel and buy it where you can. It appears that there is little profit in selling diesel, and the extra paperwork required to meet the EU regulations on diesel for propulsion (full price) and diesel for heating (reduced tax) is making its sale a real hassle for the boatyards.
We moved on to Castleford, avoiding a huge gravel-carrying vessel heading towards the lock as we exited. We stopped at Castleford to take on water and use the Elsan point; both the water stations were out of action, and there was no water in the Sanitary Station either! All a bit disappointing for a major locking area with a BW yard just yards away!
We carried on to Selby and found diesel at the boatyard. They have only just started re-selling diesel as the yard has changed hands, so we were relieved to get it. We moored up shortly after the boatyard in the visitor moorings, and went to the pub offering "TWO FOR ONE" meals, to have a meal and watch the World Cup football. The meal was excellent and really good value.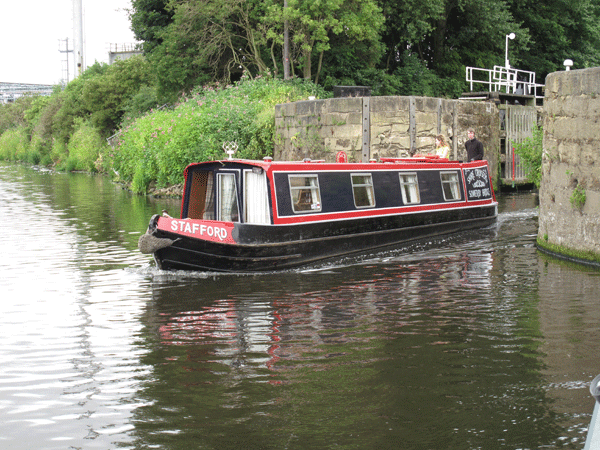 nb "STAFFORD" leaving Bulholme Lock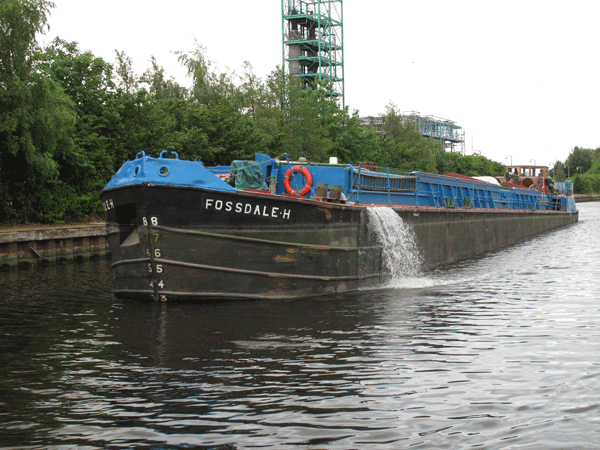 Large gravel carrier at Castleford.
Thursday 8th July 2010
We had another fairly leisurely day, doing 8 miles and 5 locks to Horbury Bridge, where we moored for the night.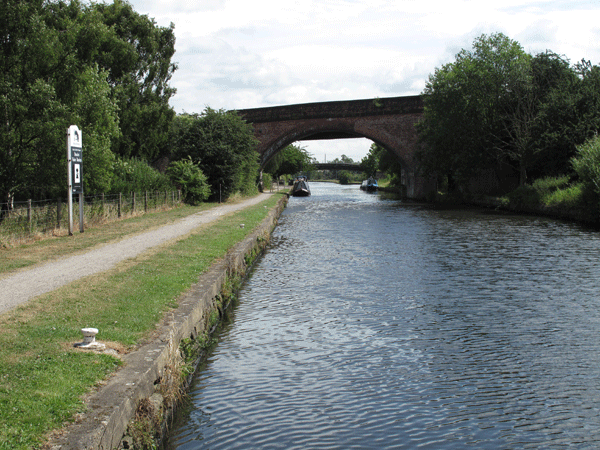 Broad Cut Moorings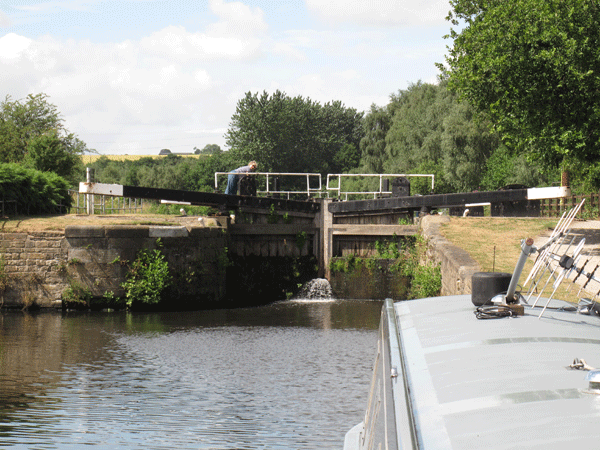 Broad Cut Top Lock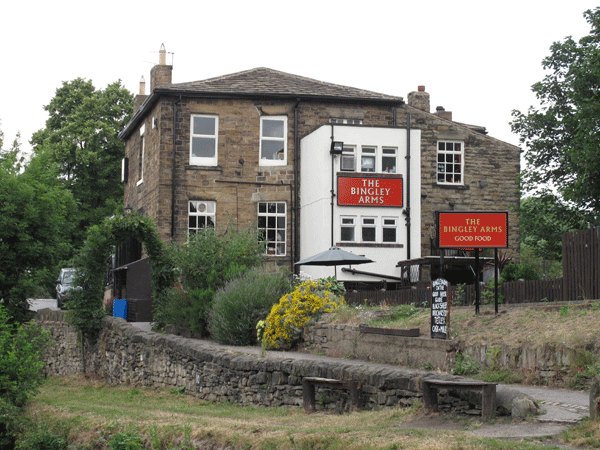 The Bingley Arms, Horbury Bridge, next to the visitor moorings
Friday 9th July 2010
Our travels took us from Horbury Bridge to Shepley Bridge (Mirfield). We thought that we might not be coming this way again, so as we had the time we went down the Saville Town Arm. It is not very glamorous, and the turning point at the end was blocked by a boat mooring out of place, so we had to do a very laborious turn in the mooring area.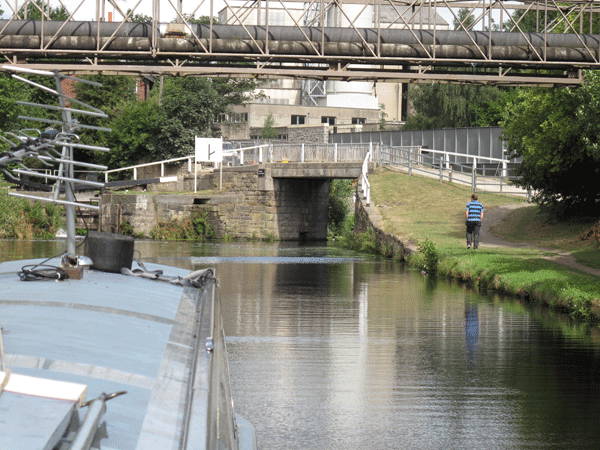 Entrance to the Saville Town Arm on the right, with the two Dewsbury locks on the left.
We had planned to spend some time at Shepley Bridge so that we could drop in on Sue's relatives in Mirfield.
Saturday 10th July 2010
Shepley Bridge to Aspley Basin, Huddersfield. Our first port of call was the visitor moorings at Legard Bridge to get the newspaper from the nearby Co-op. After that we headed for Cooper Bridge and did a 180-degree turn to the right towards the weir to enter the Huddersfield Broad Canal. We moored at Aspley Basin and had a very good meal in "The Aspley" pub next to the basin.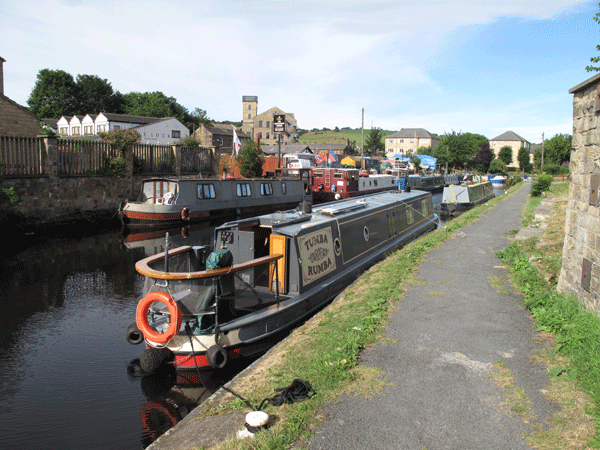 Moored at Legard Bridge for The Co-op and Lidl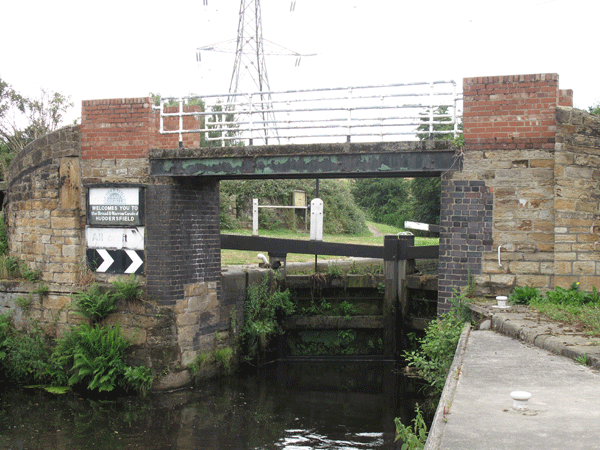 Entrance to Huddersfield Broad Canal from Cooper Bridge does not look very inviting!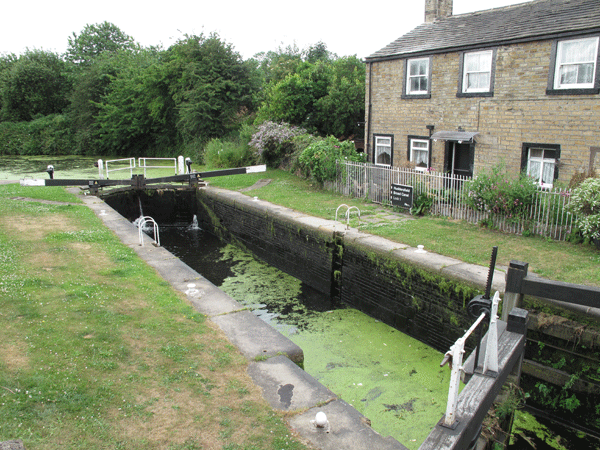 Lock 1, Huddersfield Broad Canal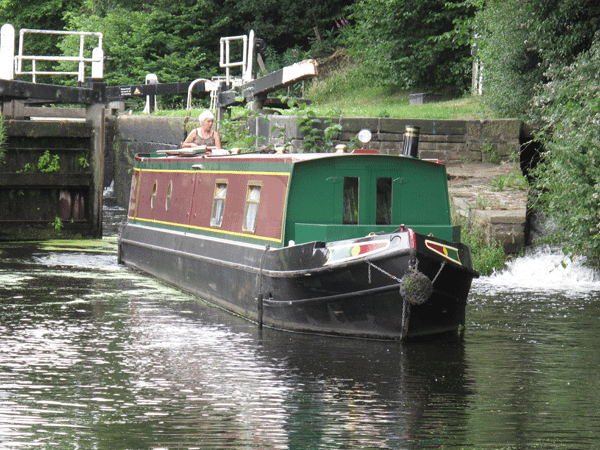 Boat leaving Turnpike Road Lock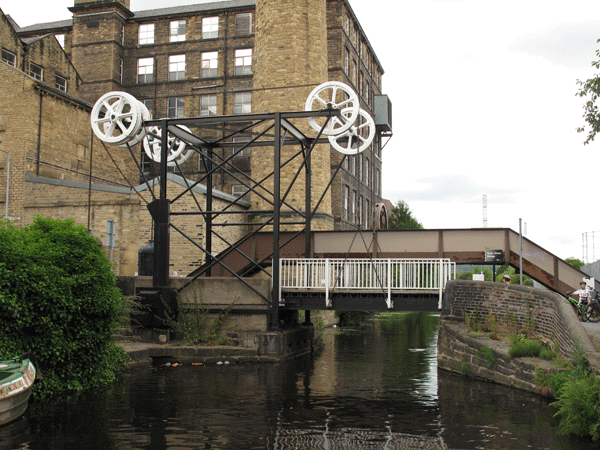 Lift Bridge at Aspley Basin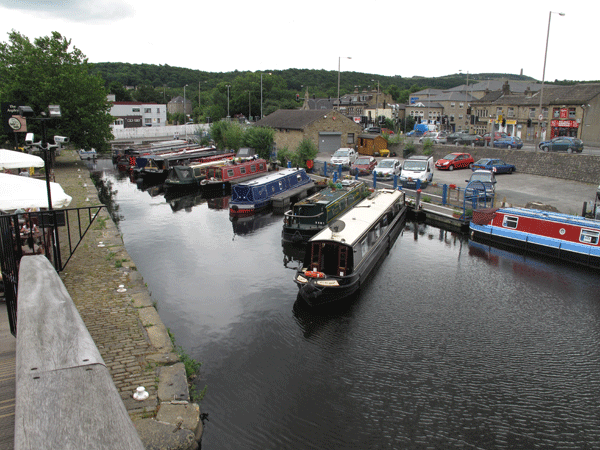 Aspley Basin, Huddersfield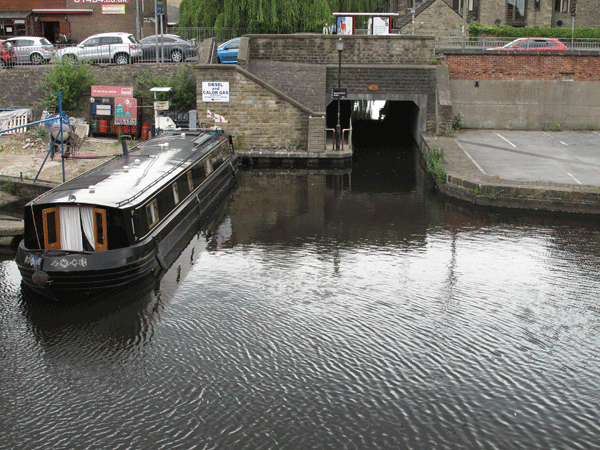 This low tunnel under the road is the exit to Aspley Basin and the
start of the Huddersfield Narrow Canal....... only for narrow boats
and not for the broad beam boat on the left!
Sunday 11th July 2010
The Huddersfield Narrow Canal - 70 locks in less than 20 miles!
We left Aspley Bridge and headed up the Huddersfield Narrow Canal.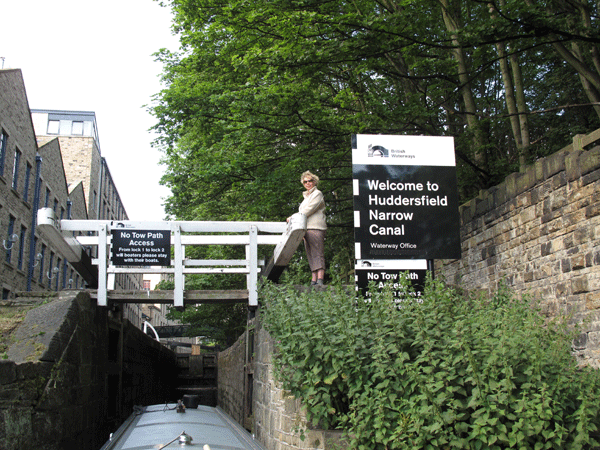 It was strange being back on the narrow locks, and in the early stages we made good progress. We reached Lock 7E in three hours and then met nb Lindisfarne, ahead of us at Lock 10E, who had taken 26 hours to get to where they were! And to make matters worse, the pound ahead of them was absolutely dry! A lot of the problems had been caused by a narrow boat called "Serendipity" which has a large draught of 3ft 3ins....... it had had a great deal of trouble getting up the canal with the low water situation, and BW had had to send down a lot of extra water to get it through the pounds. This had caused subsequent problems for other users.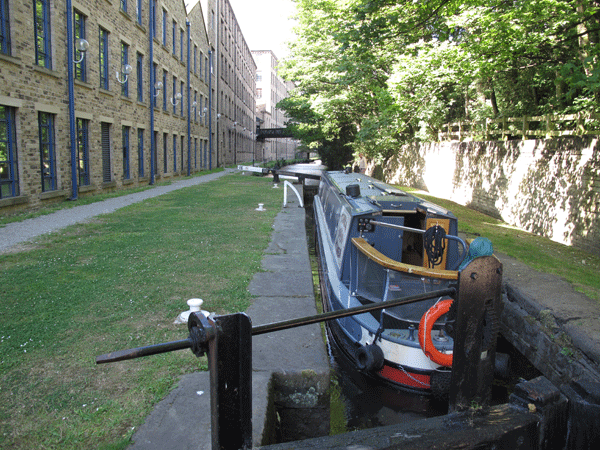 Heading up the Huddersfield Narrow Canal in Lock 1E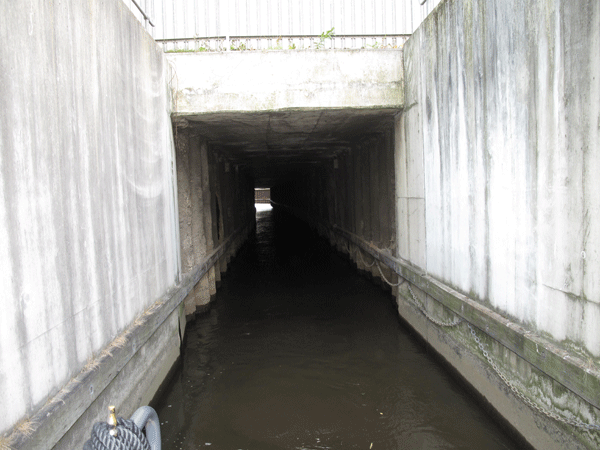 Sellers Tunnel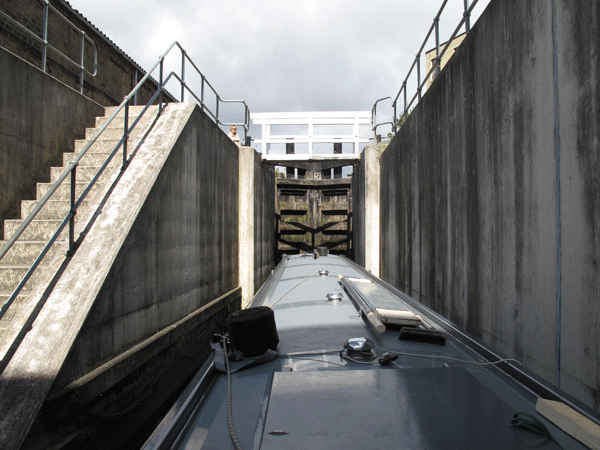 Lock 3E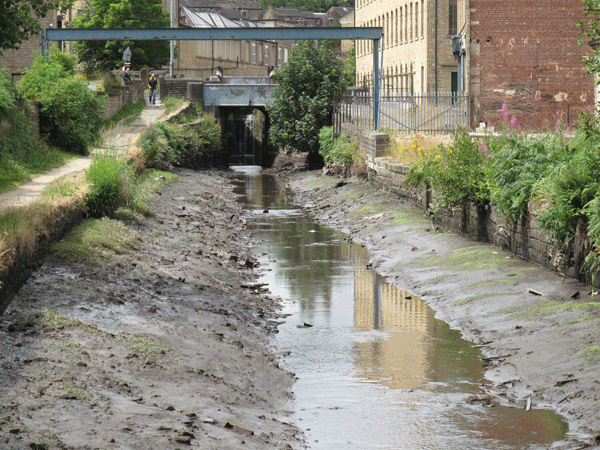 Above Lock 7E... not looking good!
Walking up the canal I realised that he pound between 8E and 9E was quite a long one, was full, and had a winding hole. I was keen to get there as it gave us the option of turning around and going back if the water situation did not improve. The temporary BW staff on duty (Sunday work) wanted me to stay in Lock 7E until another narrow boat"Olympic" came down. There was no way that we could pass Olympic in pound 7E-8E even if they sent quite a bit of water down, and they agreed I should move to Lock 8E. We eventually passed Olympic in pound 8E-9E, but just after we had passed we got a piece of carpet around the propeller which took an hour to remove! We deliberated long and hard whether to carry on, but another walk up the tow path convinced me that there was more water coming down, so we started to go up the locks. Around Locks 10E and 11E there was a great deal of debris in the canal..... at least five bikes, a shopping trolley and plastic cable wrapping were people had stripped cables for the copper and thrown the plastic into the canal. I picked up a 4 meter length around the propeller which meant another lengthy stop to clear it.
Two more boats were coming down, and I suggested that they stay until we got up a couple of locks as the pound was better for passing. However a small green narrow boat insisted on coming down and waited in pound 15E-16E for us to come out of Lock 15E. The problem was that Lock 15E was losing water from the rear gates, and after we had come out of the lock the small narrow boat became beached in the mud! We made our way into Lock 16E and then went back to try and help him as he was on his own. It took an hour to get him off the mud, but the only way was to let more water down from the next pound, which made it more difficult for us to proceed. We struggled up to Lock 17E, just above Titanic Mill, Linthwaite, and moored for the night. The construction of this mill was completed in 1911, the same year as the launch of the RMS Titanic. This fact, coupled with the building's imposing stature as one of the largest woolen mills in the Huddersfield area, meant it became known locally as Titanic Mill.
We later heard that one narrow boat had become beached in the mud under a bridge due to low water and had had kids jumping on the top at night!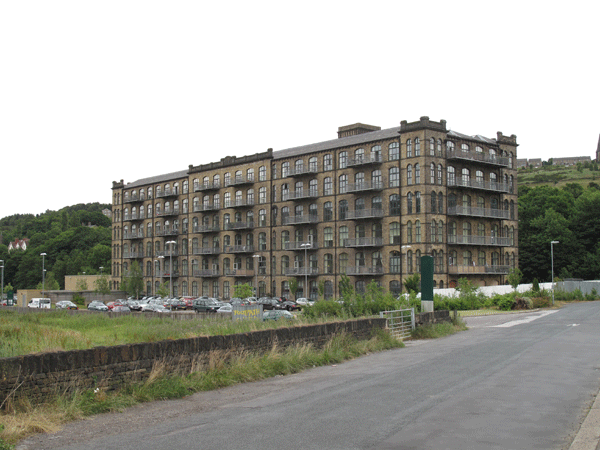 Titanic Mill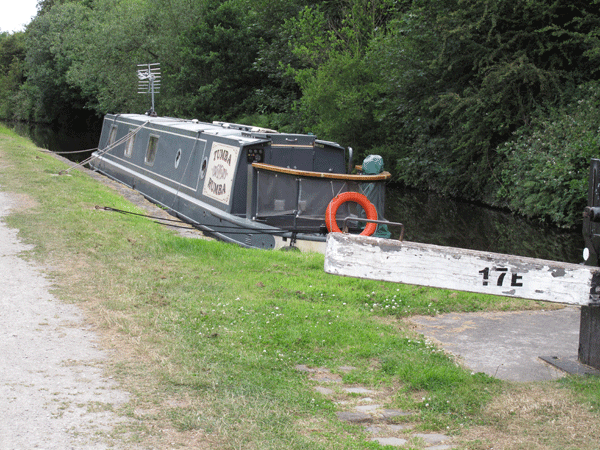 Moored above Lock 17E
Monday 12th July 2010
We carried on towards Slaithwaite....... pronounced as "Slough-Wit" by the locals.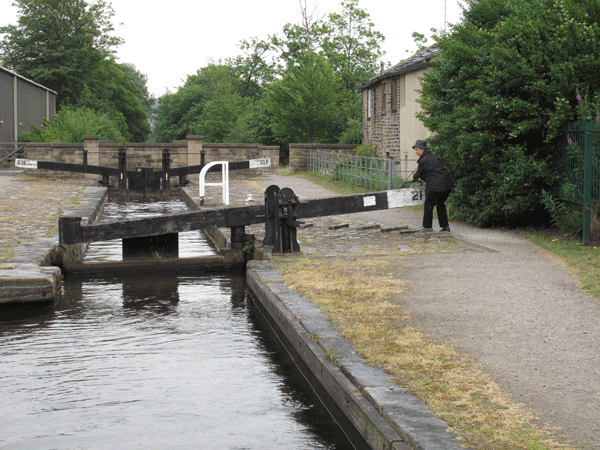 Lock 21E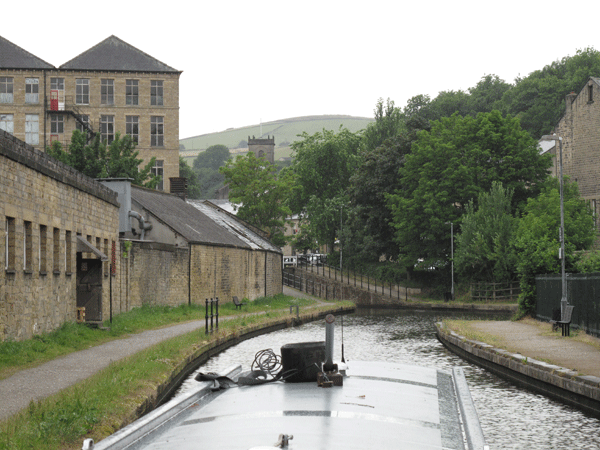 Coming into Slaithwaite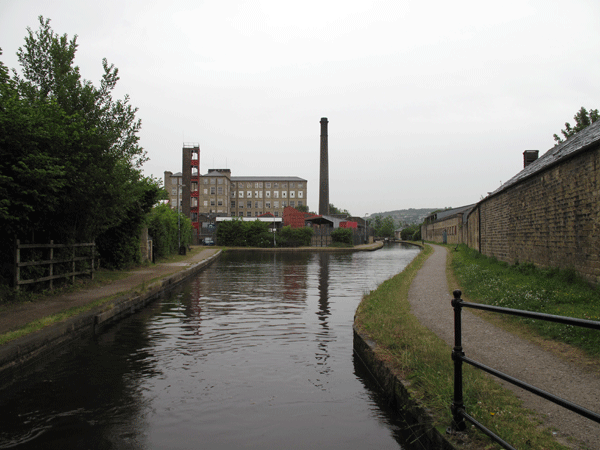 The Visitor Moorings at Slaithwaite looked quite good, but there was nobody moored there.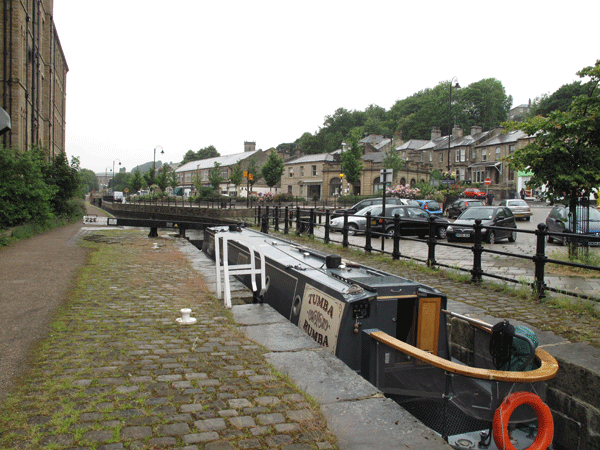 Centre of Slaithwaite
We did not really have time to stay in Slaithwaite as we had to be up at Lock 32E in time for our Wednesday morning slot to go through the Standedge Tunnel. Sue did manage a quick dash to the local bakery to buy a "Yorkshire Curd Tart", which was excellent. Leaving Slaithwaite is a pain, as you have to go through a guillotine lock. The top gate is wound up using a windlass, but the gearing on the mechanism is painfully low, and it takes an age for the gate to lift inch by inch until you can get a narrow boat under it. Further, there is nowhere for the person driving the boat to tie up and go and help raise the guillotine. BW spent £36 million on the rebuilding of the Huddersfield Narrow Canal, but definitely cheapskated this lock. It should be electrically or hydraulically operated.
We made progress but it was painfully slow as there were several boats ahead of us which had got stuck. It was a question of walking up and down the canal, assessing individual pound levels, letting water down, getting boats off the mud and dragging boats over sills etc. In the end we could not get above Lock 27E, and had to moor in the head of the lock overnight. At least we were able to have a BBQ!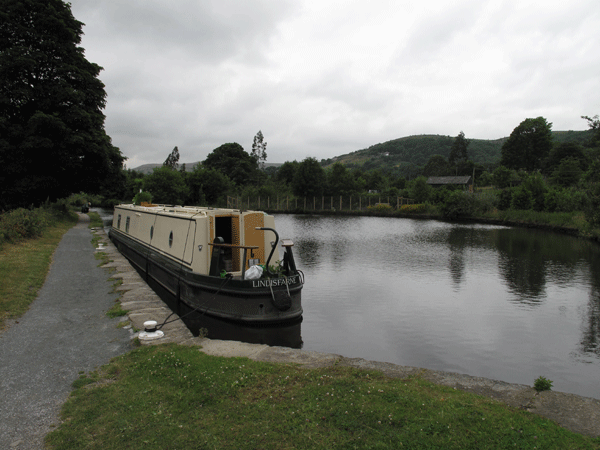 nb Lindisfarne above Lock 31E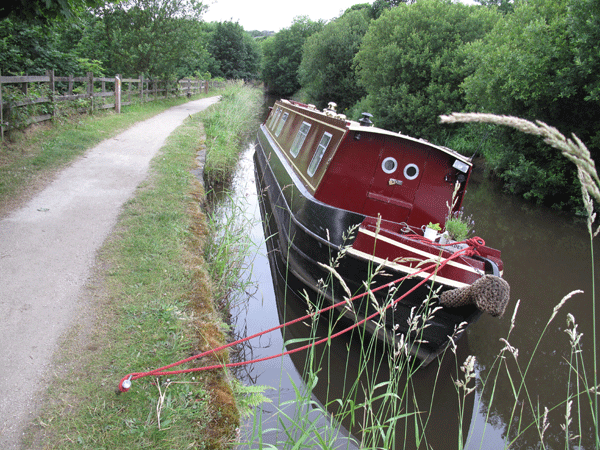 Boat above Lock 27E grounded!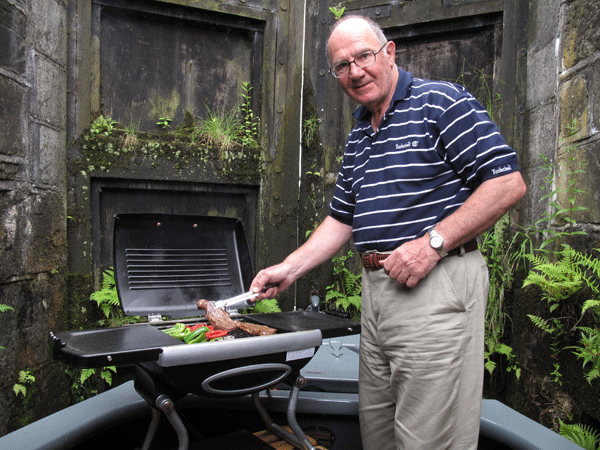 Lock 27E BBQ Steak House!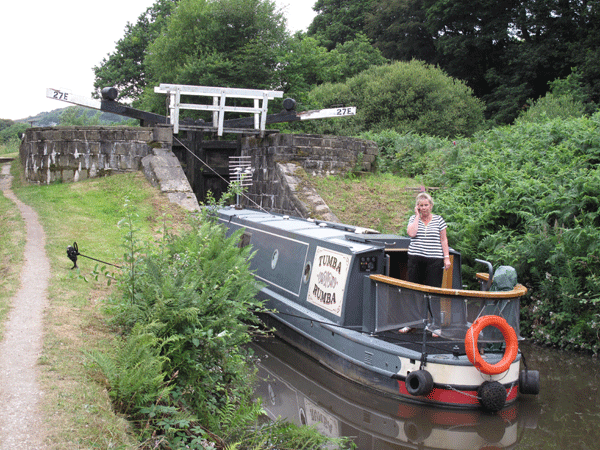 Moored for the night below Lock 27E
Tuesday 13th July 2010
We were woken up at 5 a.m. by a helicopter flying low over the canal. Initially I thought that it was BW checking the water levels down the entire route (as if!), and then perhaps that it was a TV company reporting on the low water situation. BW staff turned up at 8-30 a.m. and explained that a man had fallen into lock 39E the night before when walking his dog after having drunk a lot, and had drowned. The police had temporarily closed the canal. It turned out that it was a man in his 40's who had been made redundant two years earlier, and had become a heavy drinker. BW said that we might not move that day, and may have to proceed to Marsden the following day.
Whilst we were waiting below Lock 27E an other small narrow boat (nb The Sin Bin) came through the lock below and lowered the level of our pound even more. He got stuck on the mud in the middle of the pound but did not seem too concerned; he said that he was going to leave his boat there and catch the train from Marsden back into Huddersfield!
About midday the police gave BW permission to continue and they implemented a plan to get boats up to Marsden. Those above Lock 31E were able to move fairly early, but we were told that it would be much later in the day or possibly the next day! By 12-30 p.m. we had not heard what was happening, and I walked up the canal to Lock 33E to see where the other boats were. They were not in sight! The canal was reasonably full up to Lock 33E, and a quick phone call to nb Lindisfarne confirmed that the other boats were at Lock 35E! I felt that we had a good chance of clearing the next two locks in low water, and that after that it would be plain sailing. I spoke with BW over the phone and managed to get them to agree to my trying to get past the next two locks.
We were feeling a bit stressed, and as we started to open the paddles on the lock a dog coming up the tow path came right at me and started barking! I had not seen him coming and was shocked; I could easily have fallen into the lock. I cursed and asked the owner to put him on a lead, but unfortunately the owner became more aggressive than the dog! We could have done without this altercation!
We proceeded slowly and the first pound was O.K., but the next pound was very low. We got close to the entrance of the next lock and then grounded. Getting into Lock 29E was very difficult as there is a sand bar just before the entrance. I would have flushed another six inches of water down to help lift us over this, but the BW man did not want to send any more down at all. So, with great effort, we managed to coax the boat over the sand bar into the lock using the stem rope. Once we got past this lock there was a reasonable amount of water, and two BW men helped us lock by lock after Pig Tail Lock (32E). We slowly made our way up to Marsden, arriving about 4-30 p.m. to cheers from nb "Evolution" and nb "Lindisfarne". It had been quite a stressful day and were we glad to be at the top!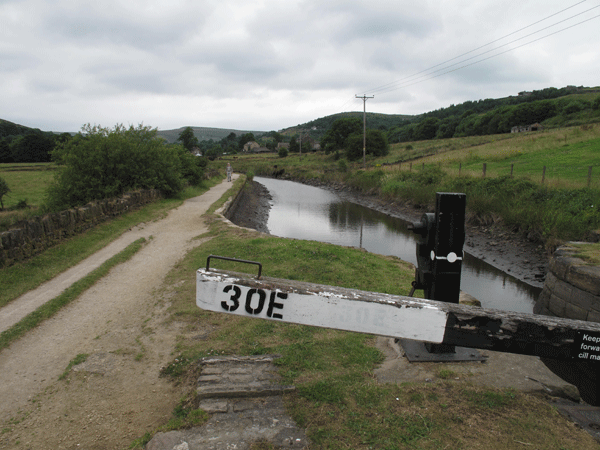 Pound quite low above Lock 30E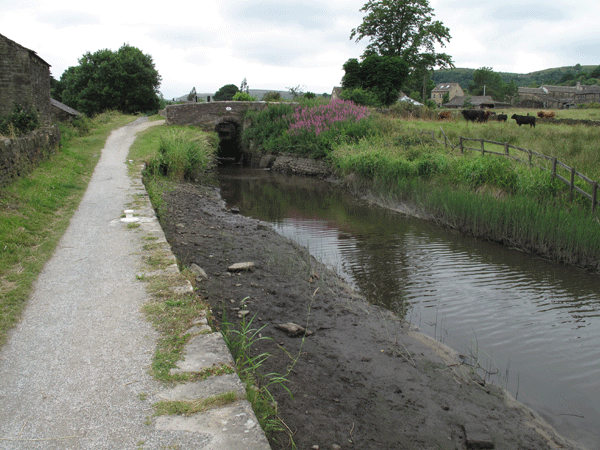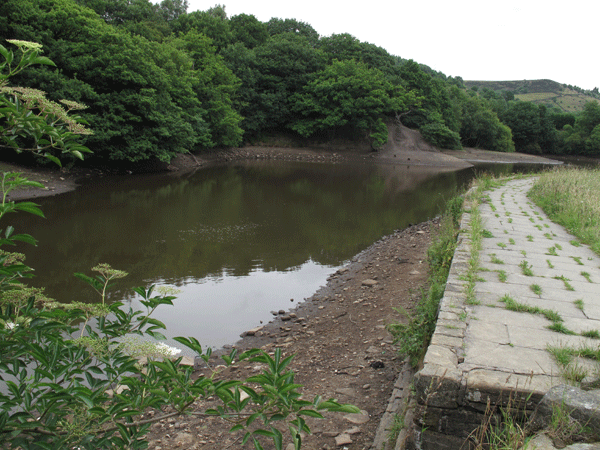 Sparth Reservoir's water level was quite low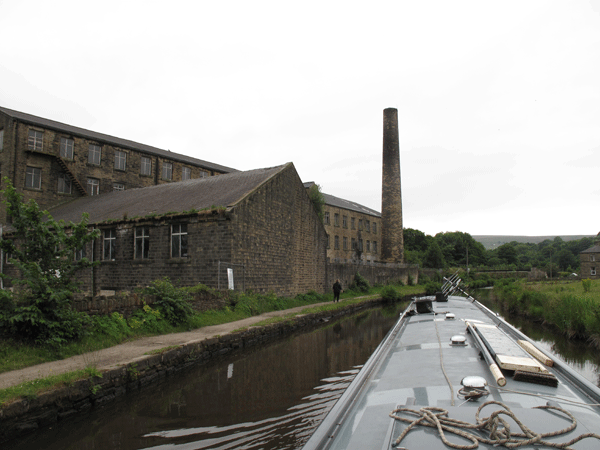 Canal side Mill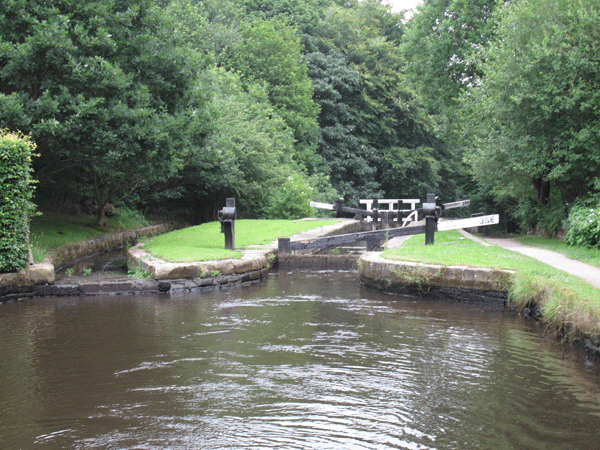 Heading up to Marsden above Lock 32E - more water here!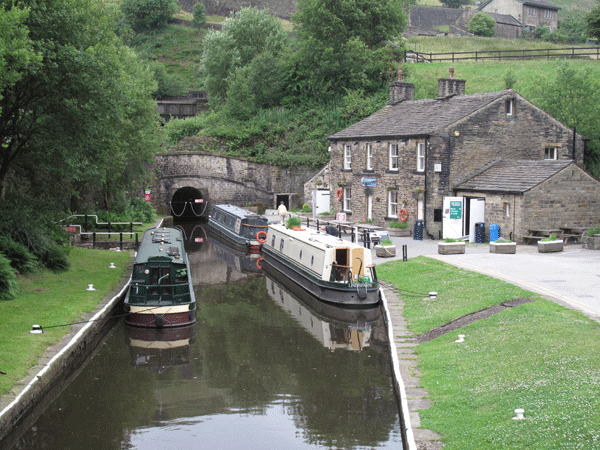 Moored at Marsden in front of the Standedge Tunnel
After a trying day we were keen to relax with a beer at The Tunnel End Inn, where they serve "Black Sheep". The landlord told us there were several "Morris" groups performing that evening, so we had to go and have a look. They were not quite what we had expected, i.e. men with bells and sticks dressed in white, but were "Border" morris men and ladies! They looked a bit "alternative" to us!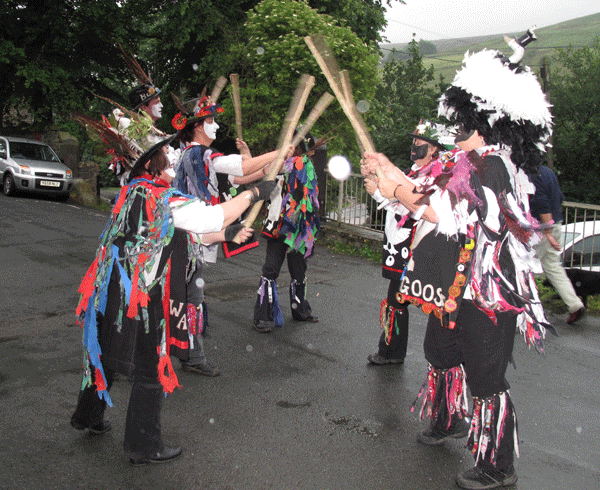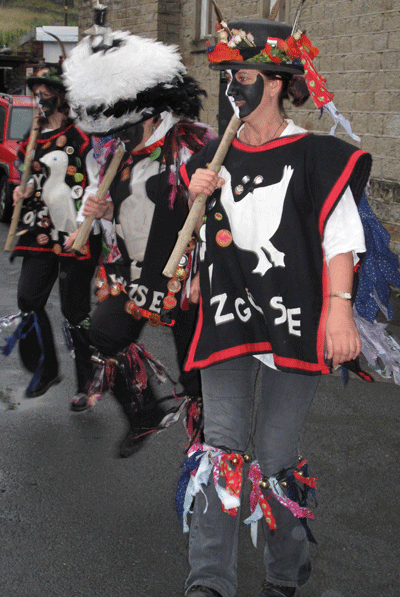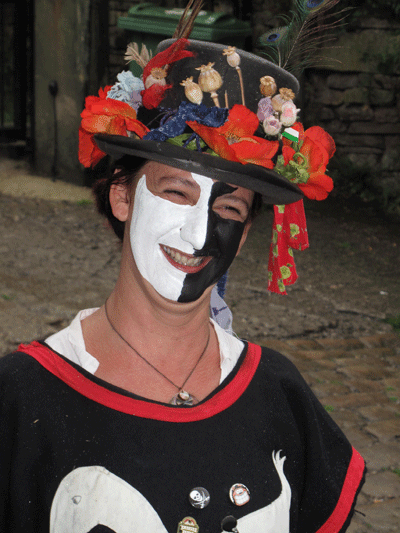 Ways Goose performer
Wednesday 14th July 2010
We were up early for our 8-30 a.m. start into the tunnel. You drive the boat yourself but are chaperoned by a BW man. Liam joined us for the passage. First of all there is quite a bit of preparation. You have to remove anything sticking up on top or at the sides. You have to wear high-viz vests, life jackets and a hard had. Liam brought with him gas monitoring meters and a fire extinguisher.
There are 4 tunnels at Standedge; the canal tunnel of 1811; the original single bore railway tunnel of 1849; a duplicate railway tunnel of 1879; and finally a double-track railway tunnel of 1894. The canal tunnel is the longest (3 miles 418 yards), the deepest (638 feet below the highest point of the moor) and the highest (645 feet above sea level). The canal tunnel lies below and between the railway tunnels. The interior of the canal tunnel is partly lined with brick arches, but the central section was cut through rock. there are linking passages from time to time to the abandoned railway tunnel, which were used to feed spoil from the railway tunnel down into boats in the canal tunnel during the construction of the former. Originally working boats were "legged" through, and passage took typically three and a half hours. The tunnel's western portal at Diggle is not the original one; in 1894 the tunnel was lengthened by 220 yards to accommodate the new double-track railway tunnel.
A second BW man goes through the old railway tunnel in a van and checks every half mile or so that things are O.K. When a train does go through the railway tunnel the pressure in the canal tunnel increases and it can become "misty" for a few seconds. Towards the end Liam asked me to "throttle back as he wanted to jump off!" I had not realised that he was going to jump into a small side hall to the tunnel where there was a phone so that he could phone in to say we were nearly through.
The passage was fascinating, but you have to concentrate for every second of the 3-mile tunnel. It is not absolutely straight, and there is a slight "s" bend in the middle where they were slightly out when trying to join the tunnels started from each end! The tunnel was complete in 1811 after 14 years work, so they can be excused for not meeting exactly!
The passage time was 1 hour 20 minutes.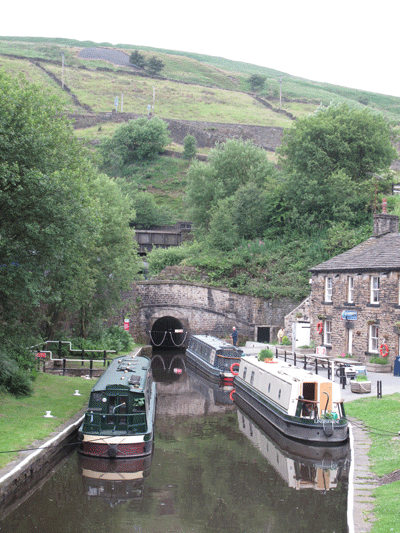 The tunnel, 638 feet below the moor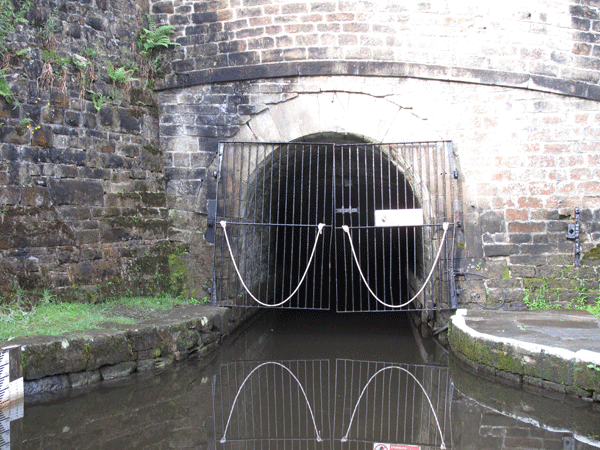 The tunnel looks like a high security jail!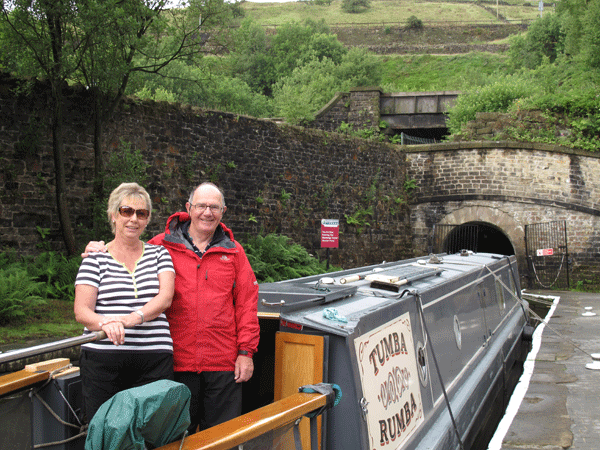 Getting ready to go.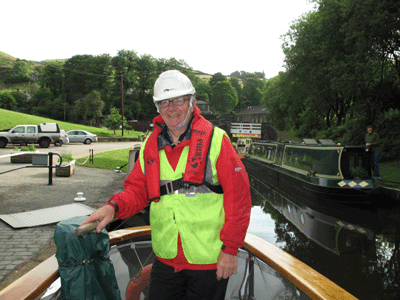 Geared up, with helmet, high-viz vest and life jacket !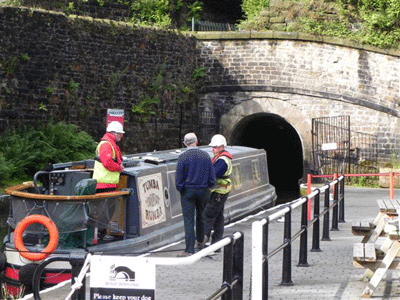 Last minute preparation (Photo: Judy Ayton)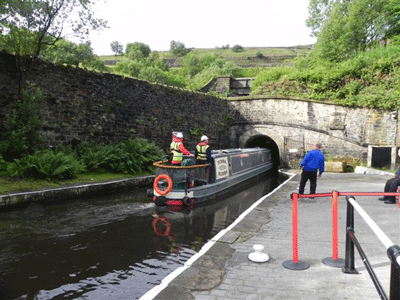 Off we go! (Photo: Judy Ayton)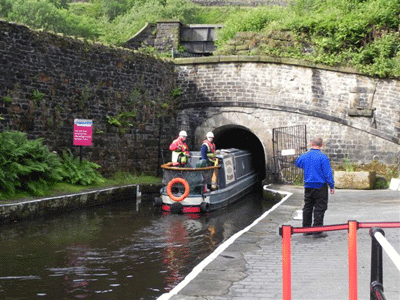 A last look back! (Photo: Judy Ayton)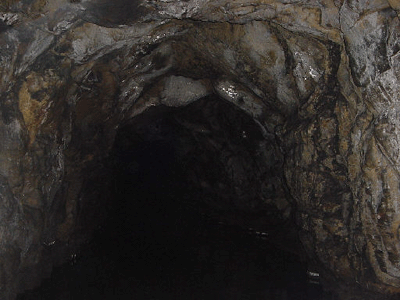 Brick-lined near the entrance, the tunnel is cut through rock in the centre.
There are plenty of outcrops waiting to inflict damage to your boat if you get slightly off-line!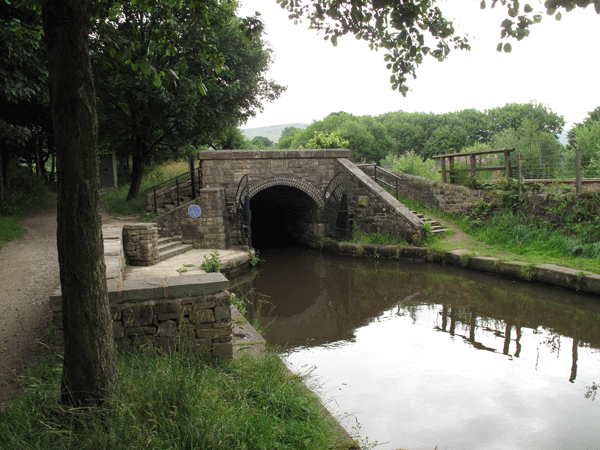 Diggle end of the tunnel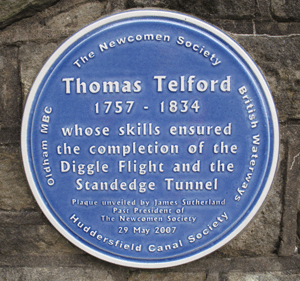 Leaving Diggle we went to the first lock on the down flight and hit a problem. The lock was locked! I rushed back to get help from the BW man, Liam, and when he walked back to look at the locks we were embarrassed to find that the paddles were not locked at all! Rather, they had hoods which fit over the windlass spikes; these had been taken off and locked in the "off-position", but we had not seen this type of lock before and did not realise! The locks on the Western side are unusual being single-gated at top and bottom.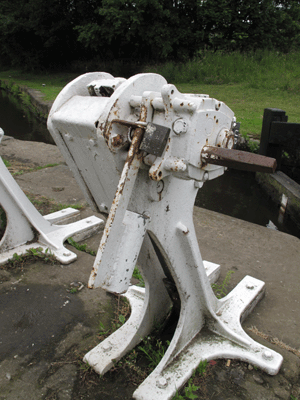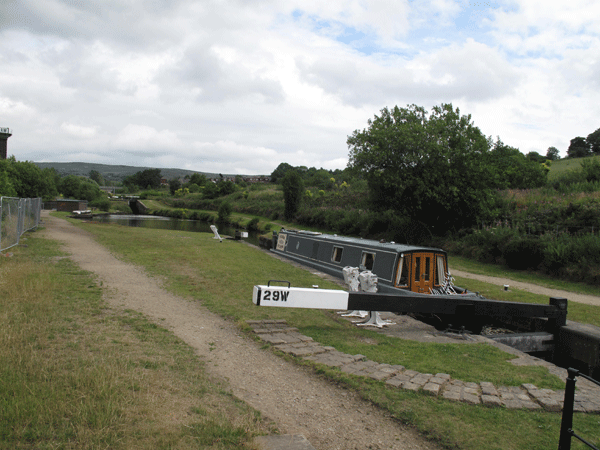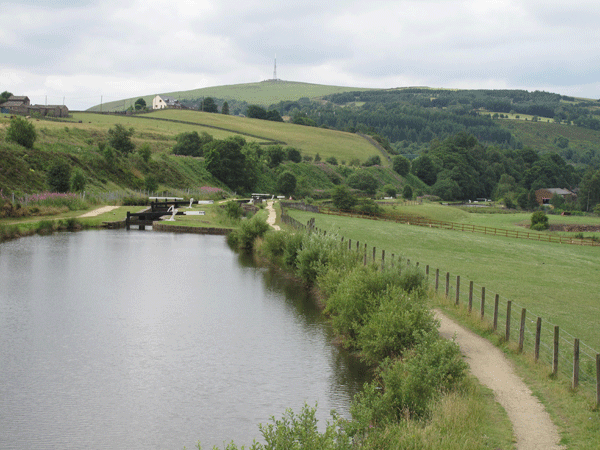 We worked our way down to Upper mill-Saddleworth and moored for the night.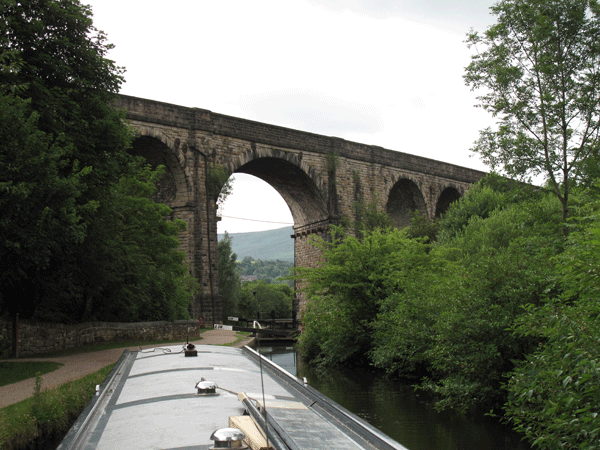 Saddleworth Railway Bridge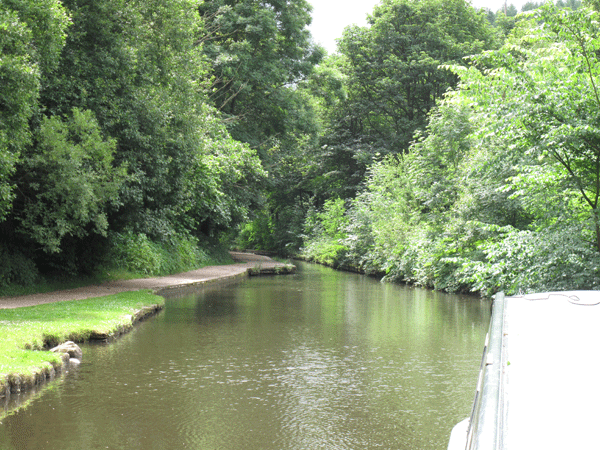 Approaching Saddleworth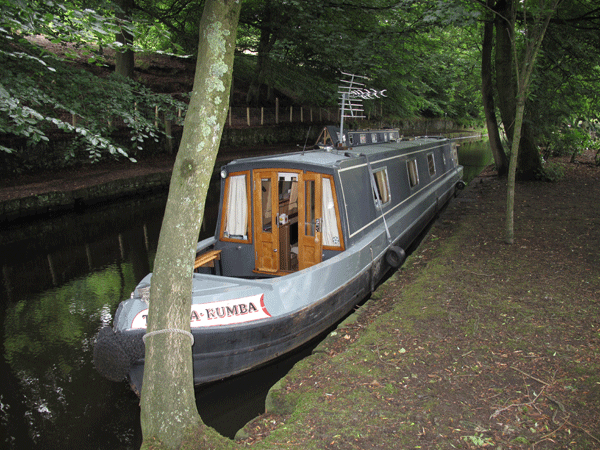 Moored under the trees at Saddleworth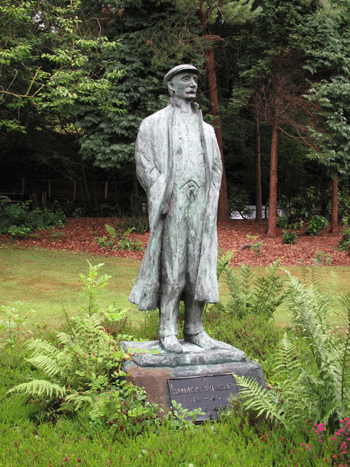 Statue of Ammon Wrigley (1861–1946) in Saddleworth
Ammon Wrigley was a poet/writer who was recognised in his lifetime as a vivid
interpreter of moorland and village life in and around Saddleworth in the local
dialect and in plain English. A self-taught artist of some competence he was
also an amateur antiquary with particular interests in Roman remains and
prehistoric microliths. Most of his long working life was spent in woolen mills.
Thursday 15th July 2010
It rained heavily overnight and being tired after the trails and tribulations of the Standedge, we had a lie in! We did not set off until 10-30 a.m. and headed for Stalybridge. We had intended to moor between Locks 5W and 4W, but the weather was miserable and we were getting cold, so we moored just above Lock 8W where there is a BW refuse station.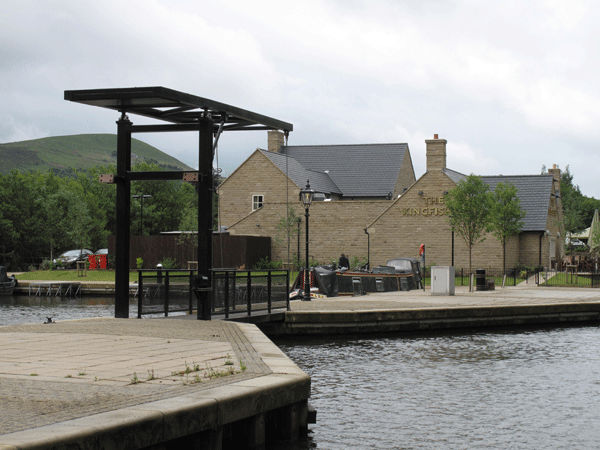 Frenches Marina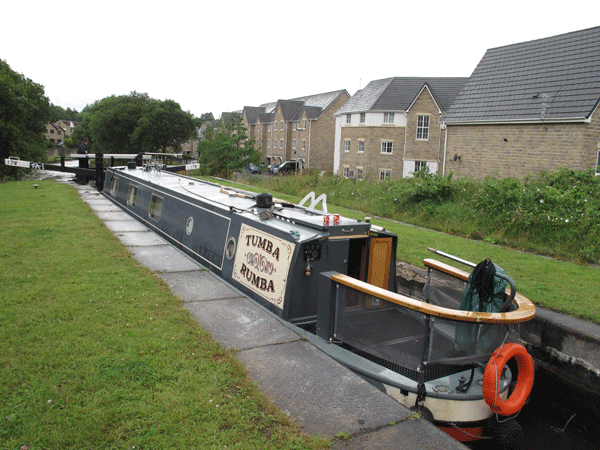 Approaching Stalybridge
Friday 16th July 2010
The weather was strange; one minute quite warm and the next pouring down with rain. We stopped off at Tesco to do some shopping, and then made our way down to Portland Basin. The area near the last lock, Lock 1W, was not very nice at all. First of all you approach the lock via a long single-boat section, and then find that the lock is separated from an adjacent garden centre with grey steel panels with barbed wire on top. Further, as there is not enough room for lock gate beams at the top lock, it is operated hydraulically using the windlass. You then have to go down a low tunnel to get back on to the boat, which is not very nice if someone is lurking around! Even the bit between Lock 1W and Portland basin does not have much going for it, with a lot of old boats moored up. We were glad to pass this area and get to Portland Basin. Here we turned left under the bridge and onto the Peak Forest canal, mooring up for lunch outside Portland Basin Marina.. We carried on until late afternoon and moored just below the Marple flight of locks.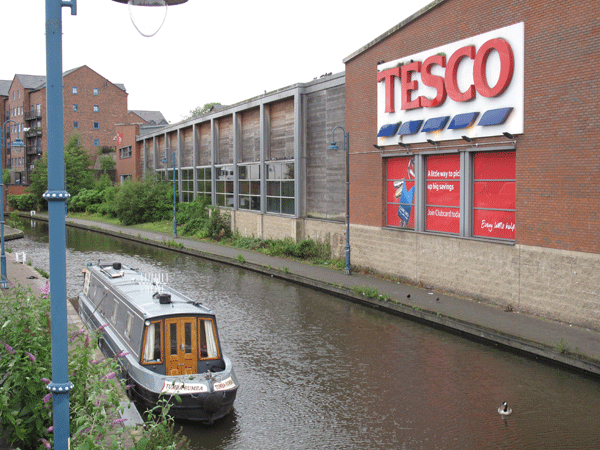 Tesco Stalybridge, handy for shopping!
But you have to take care by the side of the canal,
as the following article from The Telegraph, 21st July 2010 shows:-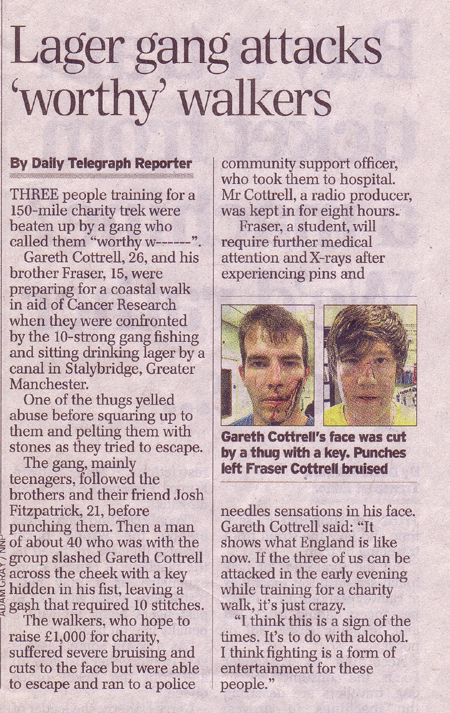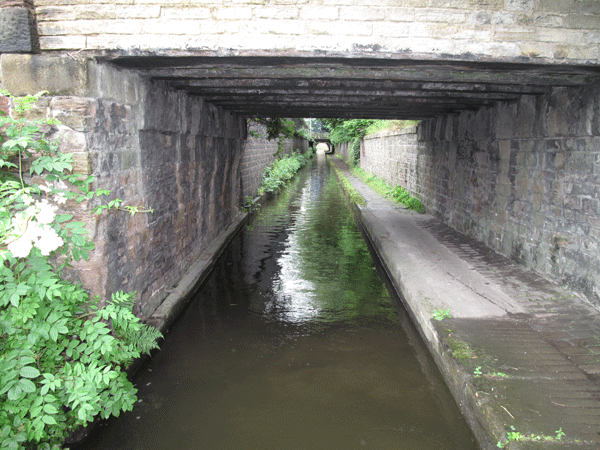 Looking back at the narrow section leading to Lock 1W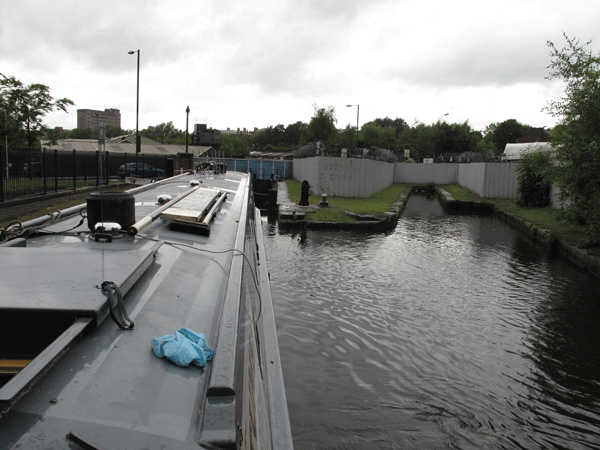 Lock 1W, a really scruffy area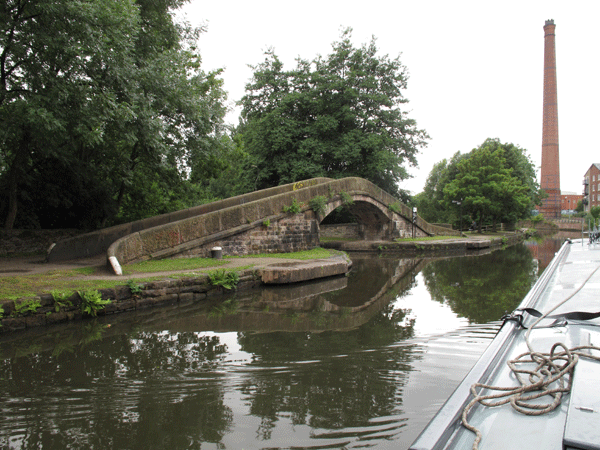 The bridge at the entrance of The Peak Forest Canal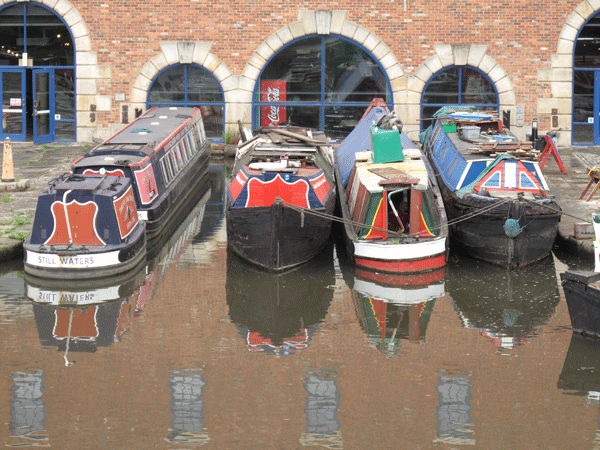 Canal Heritage Centre, Portland Basin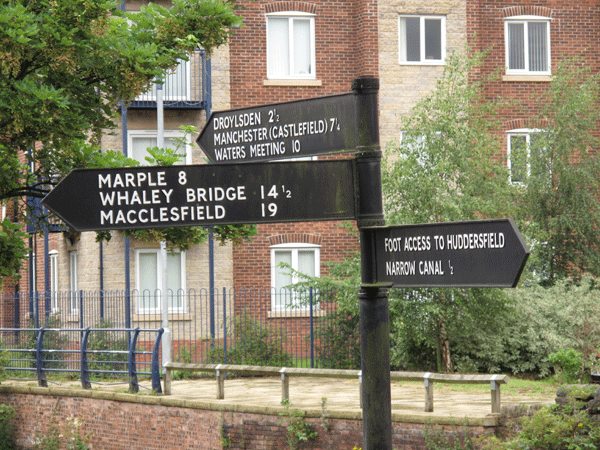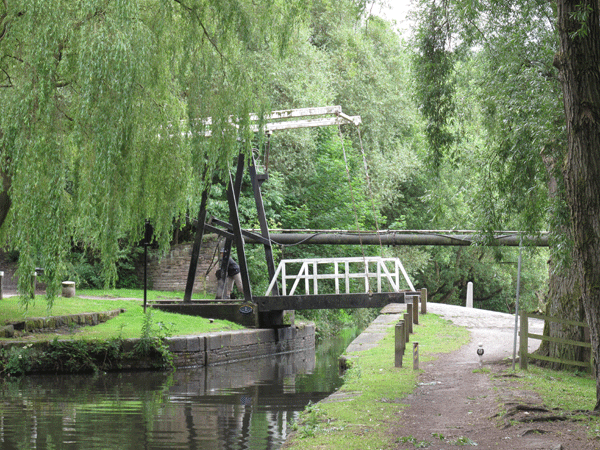 Lift Bridge on the Peak Forest Canal
Saturday 17th July 2010
We set off at 8 a.m. to do the 16 locks of the Marple flight. We were going great guns to start with but then heavy showers of rain appeared from nowhere making it quite unpleasant. We then found that pound 9 - 10 was very low and we grounded trying to get into the lock. The only way out of it was to send more water down the flight, and this took time. Lock 10 is quite slow, as the bottom paddle does not work and you have to rely on a single gate paddle. We struggled up to the top in the driving rain and moored up at lunchtime having had enough for the day!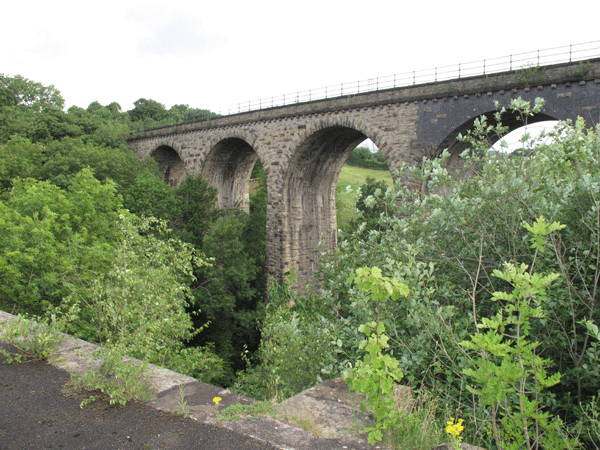 Rail Bridge next to Aqueduct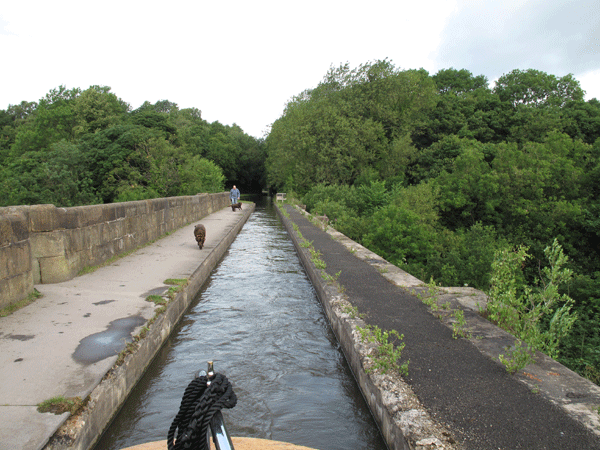 Marple Aqueduct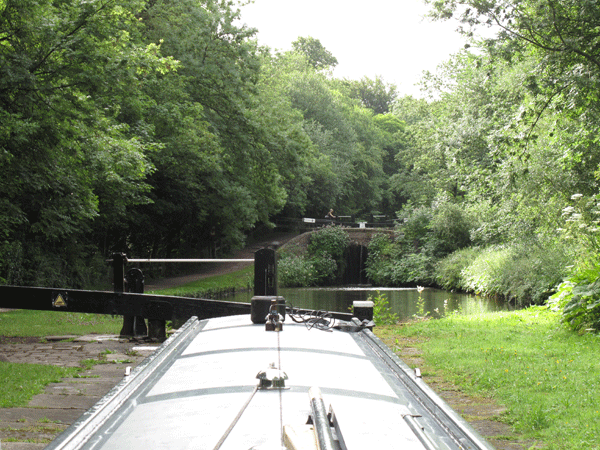 Starting the Marple Flight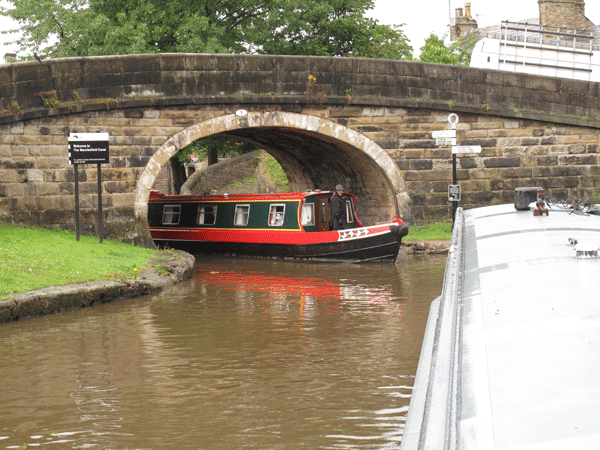 Boat emerging from the Macclesfield Canal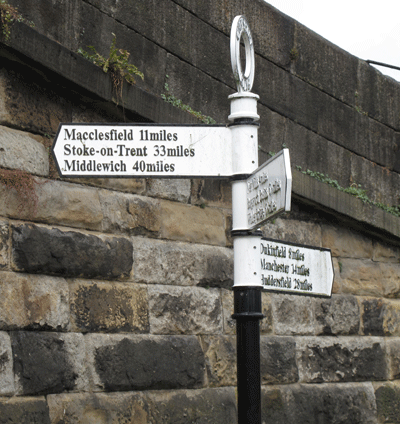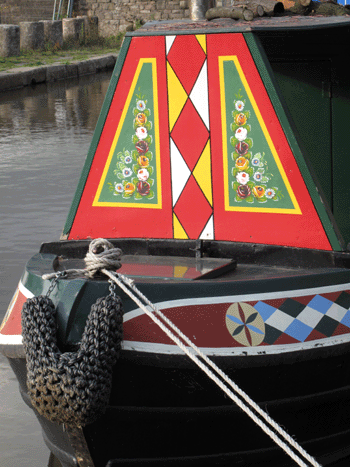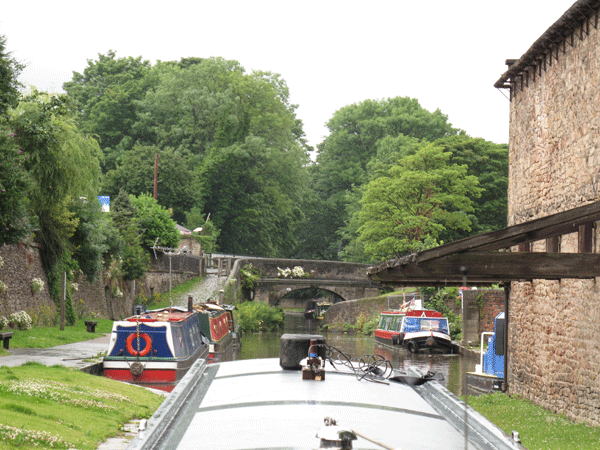 Starting down the Macclesfield Canal.
The visitor moorings are just under the bridge.
Sunday 18th July 2010
We cruised from Marple to the top of the Bosley Flight, a 16 mile stretch with no locks and just two swing bridges. We were surprised how busy it was, and were pleased to find some mooring space just before Bridge 53.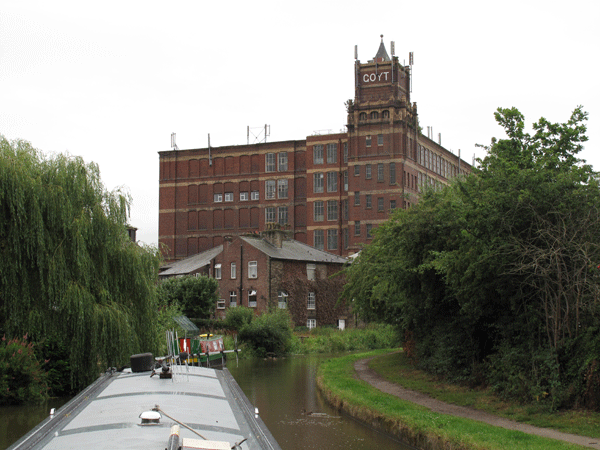 Goyt Mill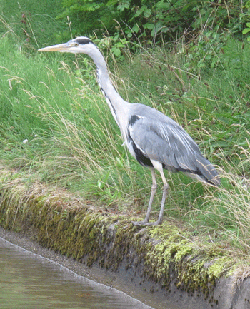 Looking for lunch!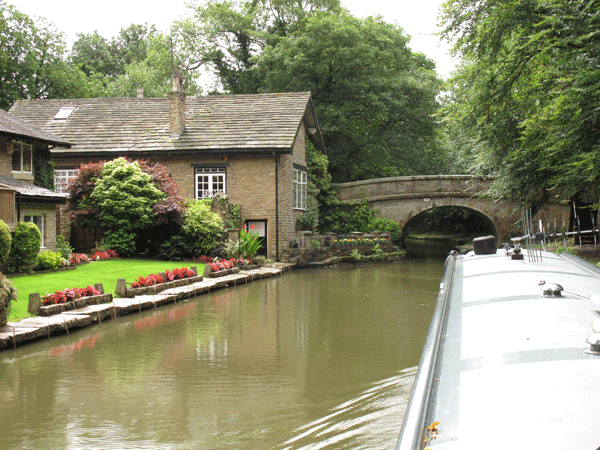 Bridge 28
Monday 19th July 2010
We took on water at the top of the Bosley Locks, and were then the first to enter the locks that day. Our progression down the flight of 12 locks went without hitch, and was aided by some locks being in our favour and three boats coming up. We stopped off at Heritage Narrow boats Marina to take on diesel, and then moored up at the visitor moorings between Hall Green Bridge and Hall Green Lock.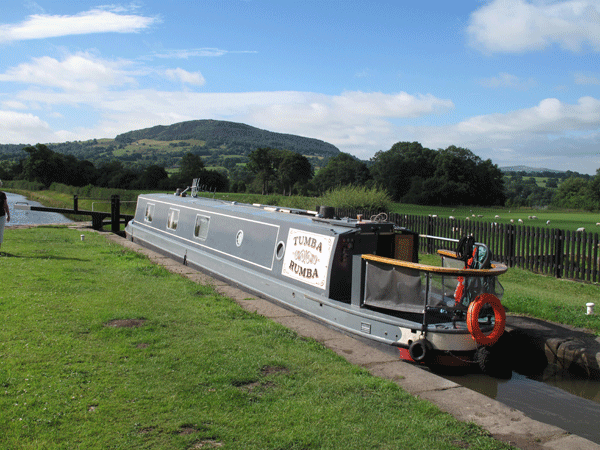 On the Bosley Flight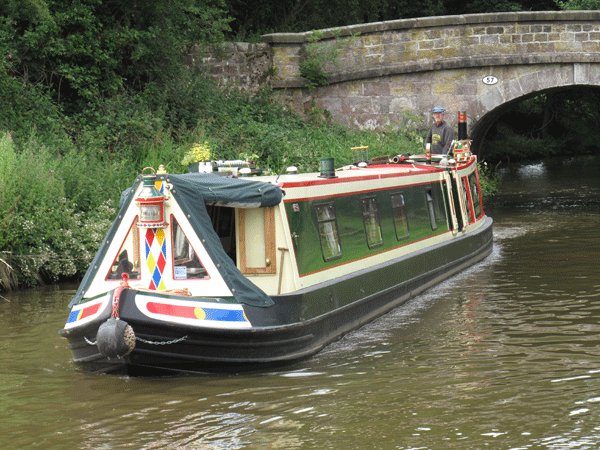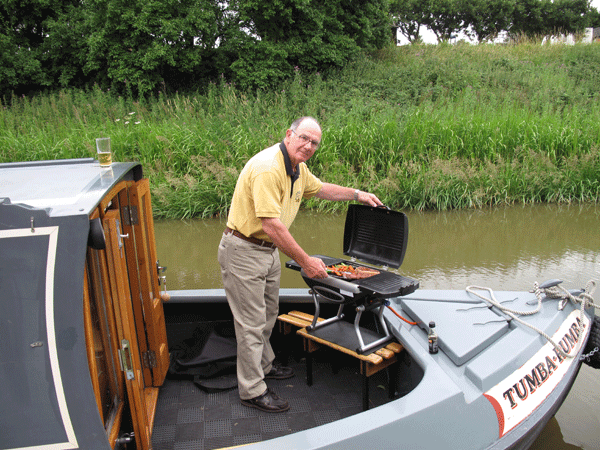 Another BBQ!
Tuesday 20th July 2010
We left Hall Green Bridge at 8-30 a.m. and did a 7-hour day to get to Wheelock, covering 8.5 miles and 27 locks. We particularly wanted to get to Wheelock so that we could go to the Italian restaurant there, but on route we learnt that it had changed to "Murat's Turkish and Mediterranean Restaurant" (01270-762030).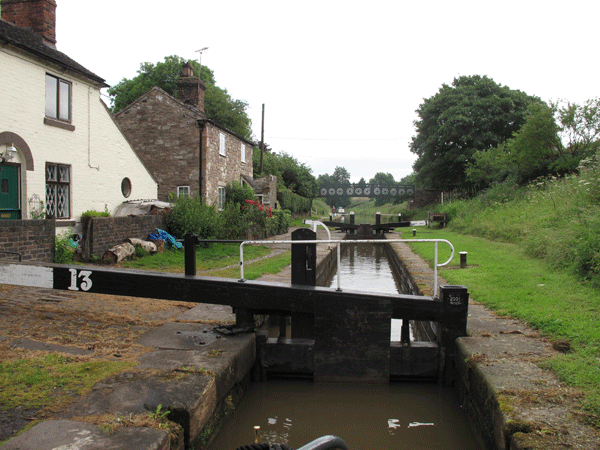 Hall Green Stop Lock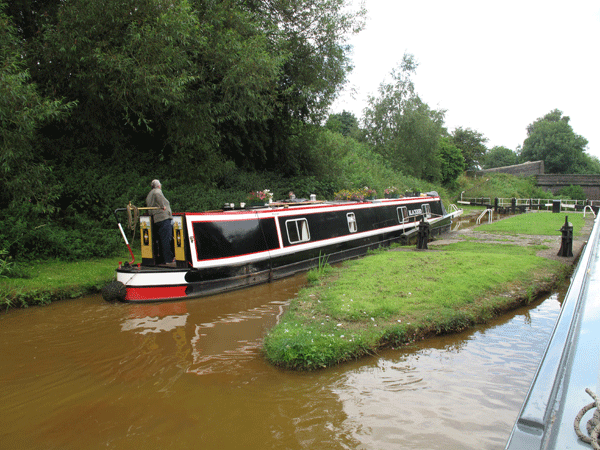 Paired single locks on the Trent & Mersey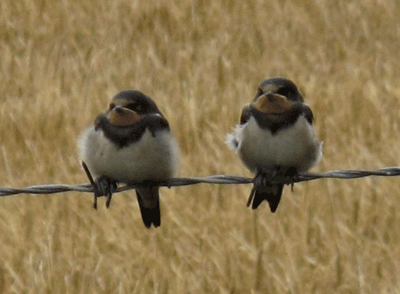 Two young swallows waiting to be fed!
Wednesday 21st July 2010
We started at 8 a.m. for the run into Middlewich, and then did a 90 degree turn under the bridge on to the Shropshire Union Canal, Middlewich Branch. The first section of the Middlewich Branch is quite nice, with lots of bridges and short sections between, with nice houses and gardens on the left. We were soon in the countryside and moored up at Bridge 14, ready for a meal in the evening at "The Badger". It was a nice sunny day, so it was nice to be moored up by 1 p.m. for a relaxing afternoon. It was amazing how many boats passed us in both directions.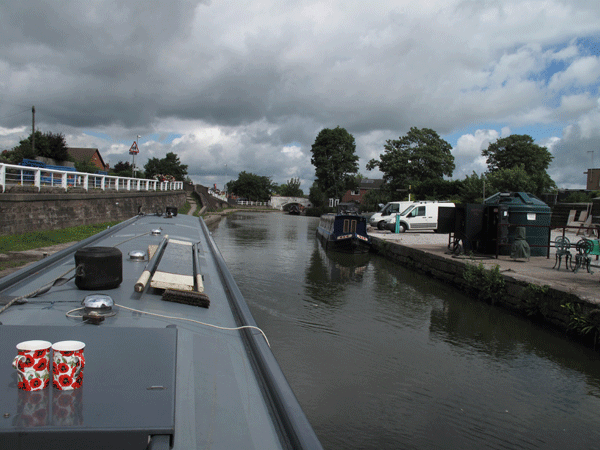 Middlewich Junction under heavy skies!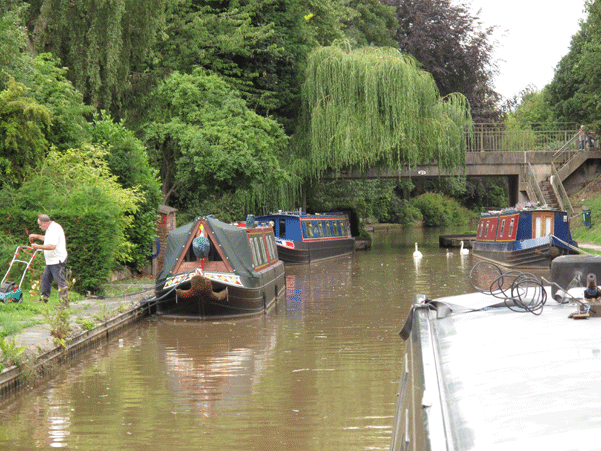 First section of the Shropshire Union Canal, Middlewich Branch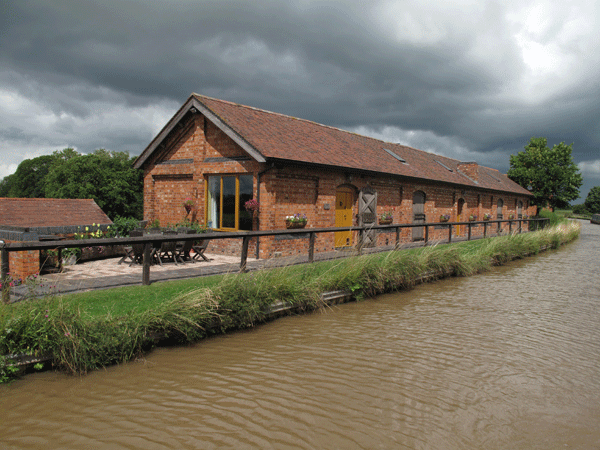 Old Canal Horse Stables converted into homes near Bridge 18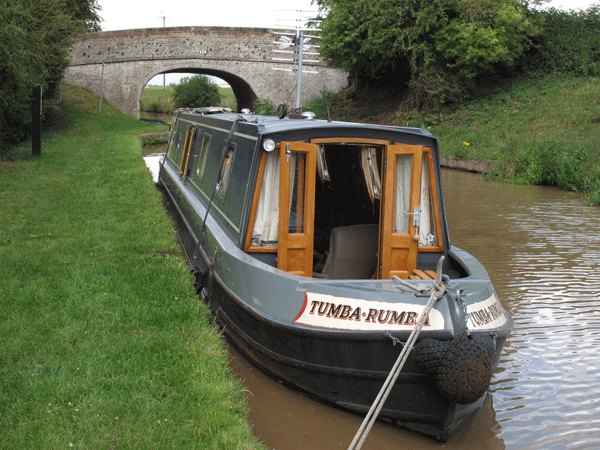 Moored at Bridge 14, ready for dinner in "The Badger" in the evening
We had promised ourselves a slap up meal in "The Badger" as we did a few years ago when passing this way, and walked down into the village around 6-30 p.m. The road into Church Minshull is quite narrow and the cars swish by quite quickly.... great care has to be taken not to get run over! And to top it all........ The Badger had been closed for may months and is due for refurbishment later this year! We returned to the boat for soup and cheese!
Thursday 22nd July 2010
We started at 8-30 a.m. with the skies looking dark and leaden. After half an hour the heavens opened up with tremendous rain, and we were forced to pull over by the new marina at Church Minshull to shelter for a while. After that we proceeded to Hurleston Locks and then up the Llangollen Canal to Wrenbury. There are two "eateries" at Wrenbury, the pub "The Cotton Arms" and a restaurant called "Dusty Miller". We went to the latter about 6-30 p.m. and were surprised that the place was almost fully booked out! Nevertheless we got a table and had a very enjoyable meal.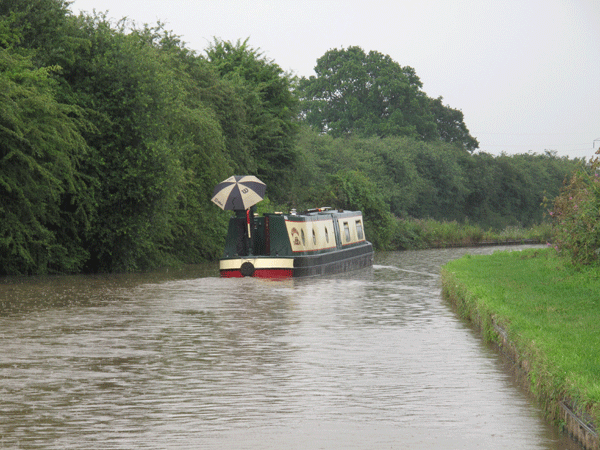 nb Keynsham braving the rain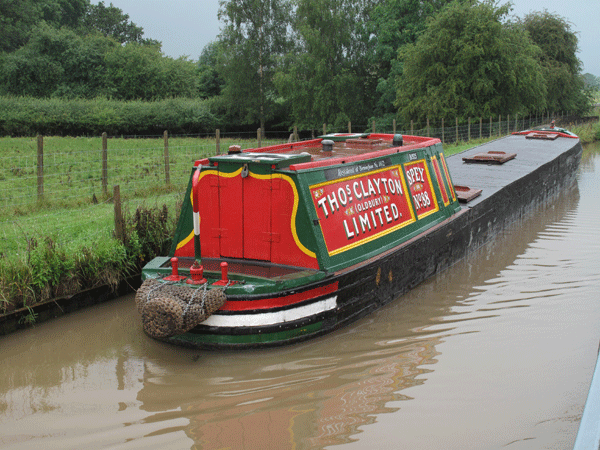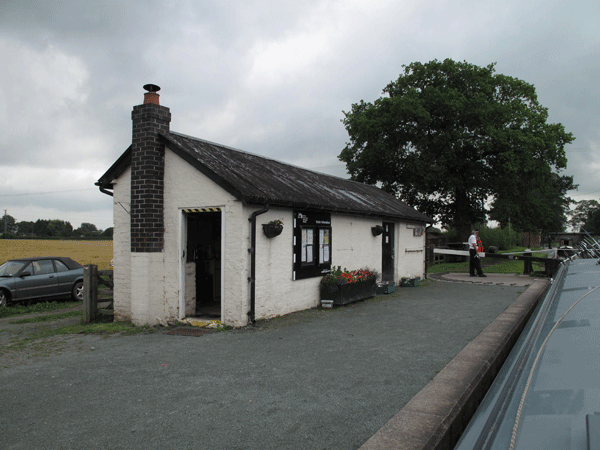 British Waterways office at top of Hurleston Locks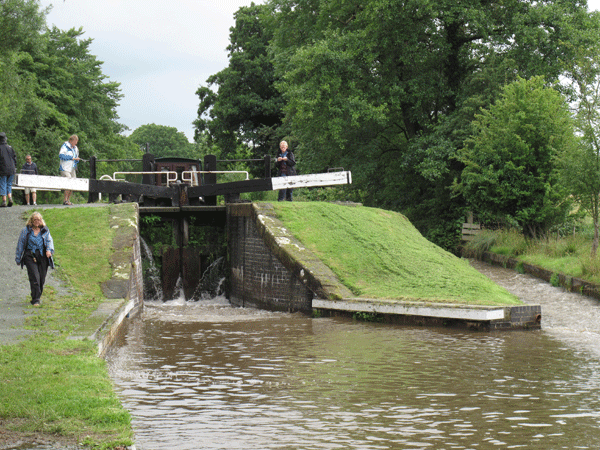 Typical lock on the Llangollen, with very strong by-wash
Friday 23rd July 2010
We got up early and decided to set off at 7-45 a.m. so that we were not in a long queue for the Grindley Brook locks, Although there were quite a few boats coming down, we were the first to go up so did not have to wait at all.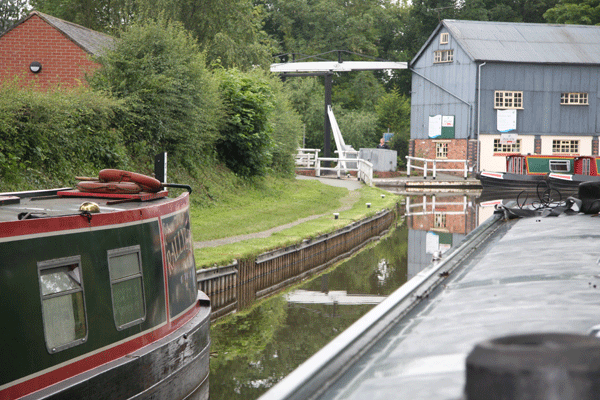 Wrenbury Wharf and the road lift-bridge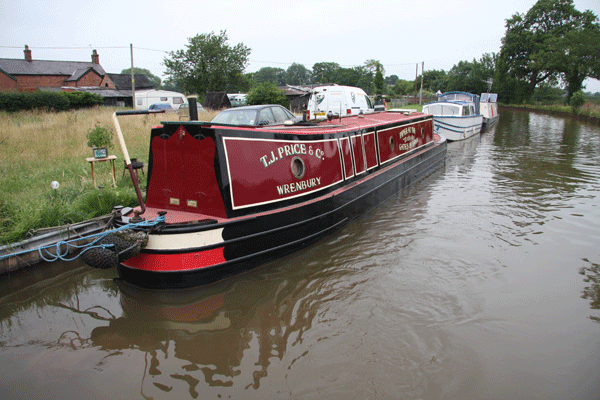 Nice maroon boat at Wrenbury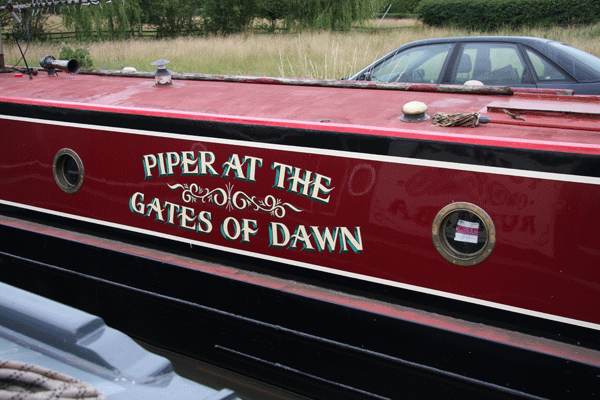 Aptly named, as it was 7-45 a.m.!
The Piper at the Gates of Dawn is the debut album by the rock band Pink Floyd,
and the only one made under Syd Barrett's leadership. The album contains
lyrics about space, scarecrows, gnomes, bicycles and fairytales, along with psychedelic
instrumental songs. The album was initially released in 1967 by Columbia/EMI.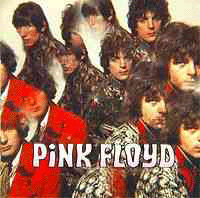 Alternatively, for those of a literary bent, it could be after the title of the 7th chapter in Wind of The Willows!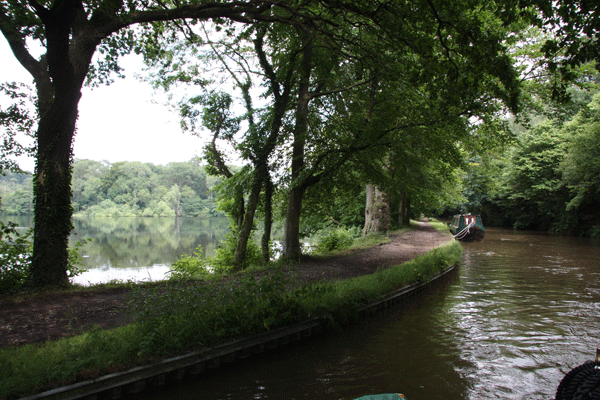 Canal runs adjacent to Blake Mere, very attractive scenery.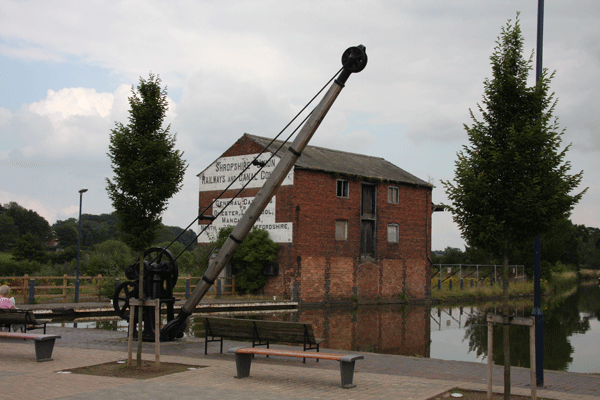 Old Canal Warehouse, Ellesmere Arm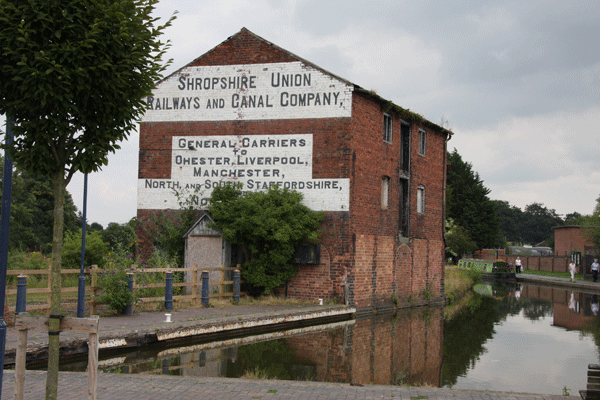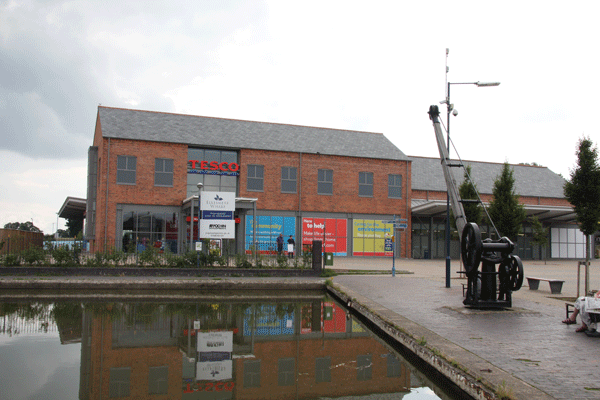 New TESCO store at the head of the Ellesmere Arm
Saturday 24th July 2010
We left Ellesmere at 11 a.m. intending to go in a leisurely fashion to Chirk. Initially we had thought about mooring up at Lion Quay, near Bridge 17, which is a pub with about 16 mooring slots where overnight moorings are free to pub users. However we got there and did not fancy it, so continued. We then passed through a very narrow section with boats moored on the tow path side; it was quite tricky especially where boats had moored on tight bends. We did not fancy mooring here so continued. Next we came to the Chirk Aqueduct and then the Chirk Tunnel. We had to moor up to wait for a narrow boat coming through the tunnel. We passed through the Chirk Tunnel but the mooring possibilities the other side were not great as there were a lot of overhanging trees and it felt very dank. So we headed for Froncysyllte, thinking we might moor up before the Pontcysyllte aqueduct. You can see where this is going! We were getting closer and closer to Llangollen, meaning that it did not make sense to moor for the night! We then went past Chirk Marina where there were lots of Black Prince hire boats about to leave the marina, so at this point we decided that we might as well go on to Llangollen, and headed over the aqueduct. Going over the Pontcysyllte aqueduct is fantastic; on the one side there is a narrow tow path with a guard rail, and on the other is........nothing! The only thing that separates your 15-ton narrow boat from a 120-foot drop down to the River Dee is about 4 inches of cast iron assembled 200 years ago! At the end of the aqueduct is a sharp left hand turn under a low bridge that leads to Llangollen.
We expected the 4-mile section to Llangollen to be plain sailing even though it is narrow, but unfortunately we came up behind a boat with 5 ladies (a hen party?) who had little experience in handling a boat in the narrow confines of the Llangollen Canal. They were swinging the tiller arm 180 degrees from side to side in a violent manner, the result being that the boat zigzagged up the canal hitting first one side then the other. And they were going so slow! At one point I jumped off and ran ahead to offer them some advice..... not to swing the tiller arm from one side to the other so violently and only to make gentle maneuvers. After that they made better progress but it was very very slow! We were glad to moor up alongside the tow path in Llangollen and did not go the further half mile to the marina, where there are moorings for 38 boats. There is a mooring charge of £6 per night in Llangollen, although this includes electricity hook-up.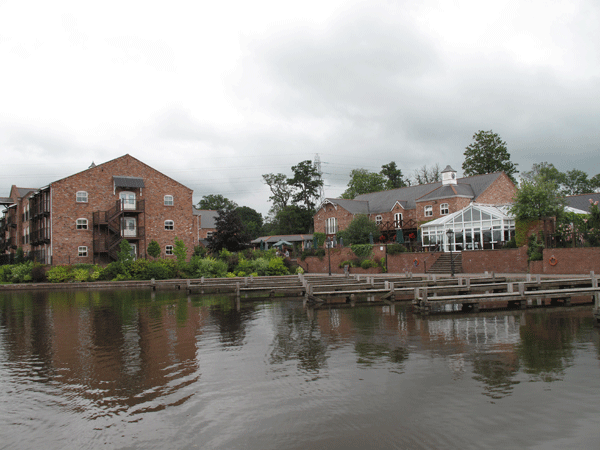 Lion Quay, next to Bridge 17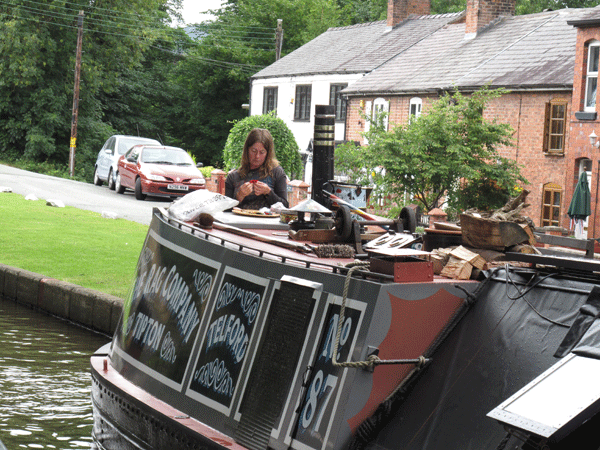 Narrow section near Chirk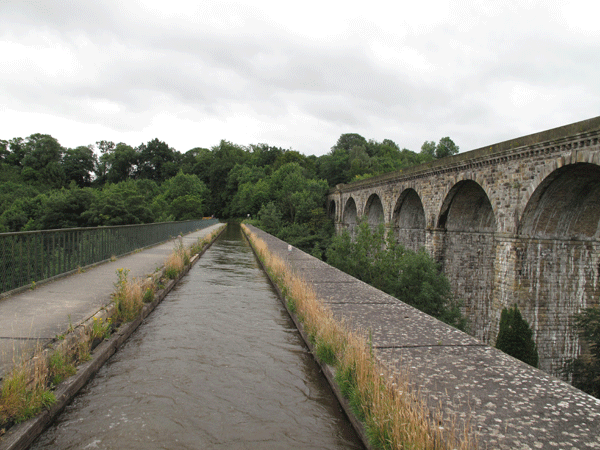 Looking back over the Chirk Aqueduct and railway bridge on the right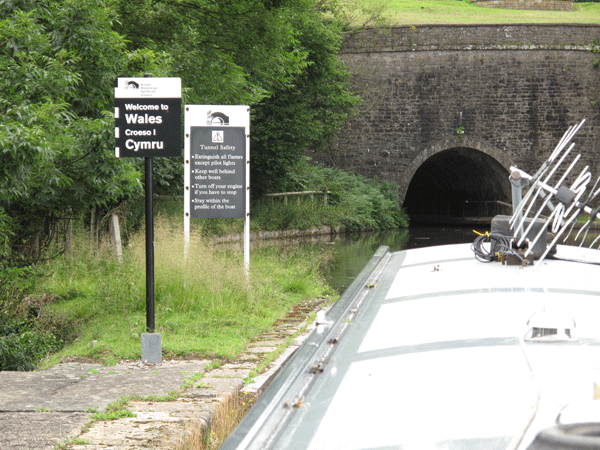 The "Welcome to Wales" sign near Chirk Tunnel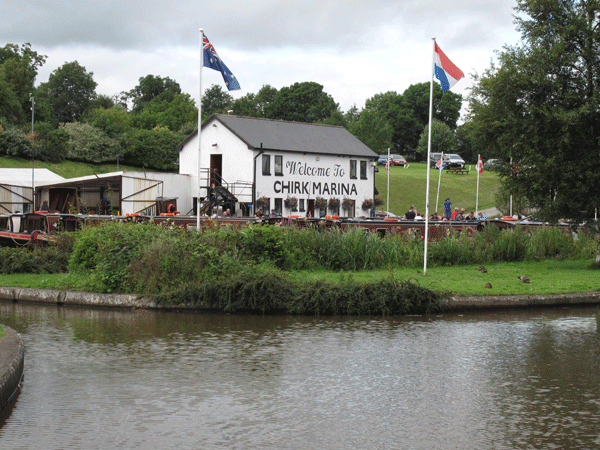 Chirk Marina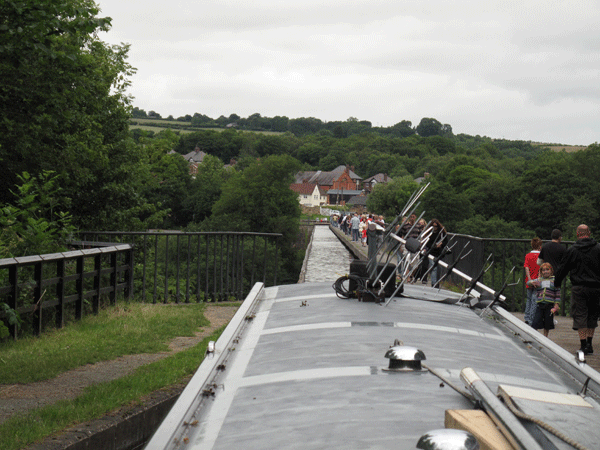 Approaching Pontcysyllte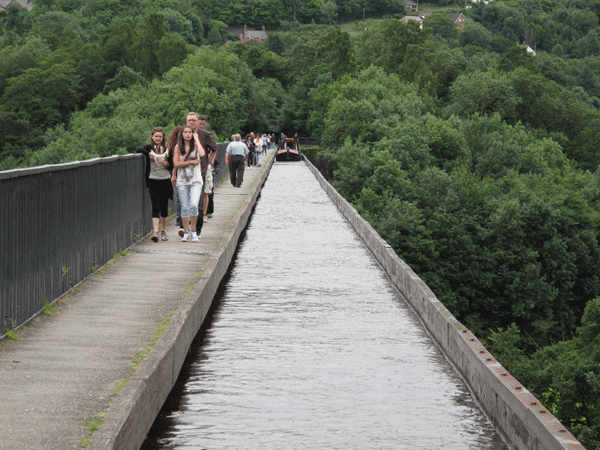 Pontcysyllte, 120 foot above the River Dee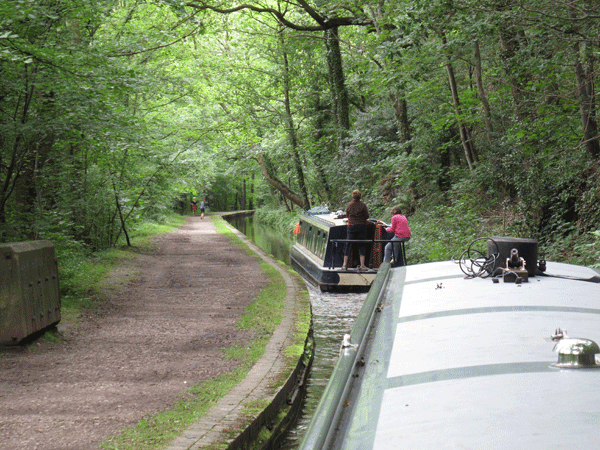 Narrow section leading to Llangollen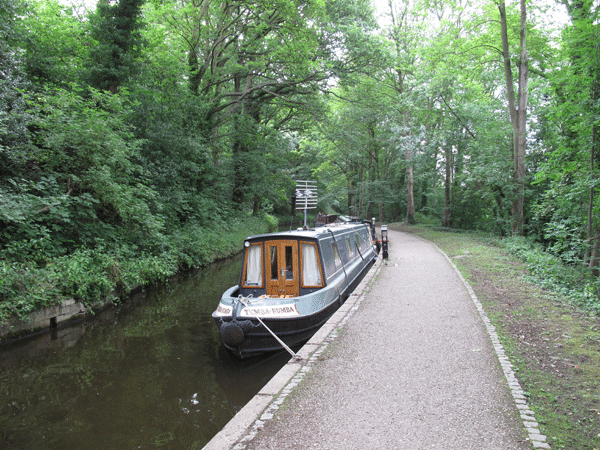 Moored at Llangollen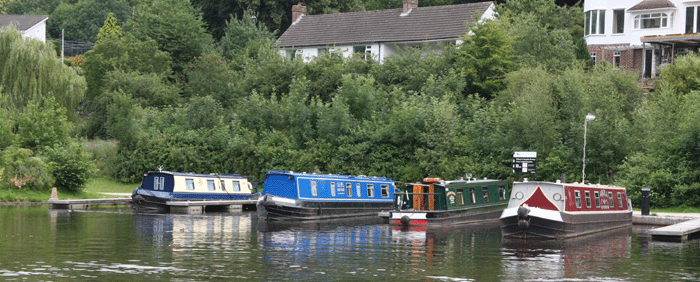 Llangollen Marina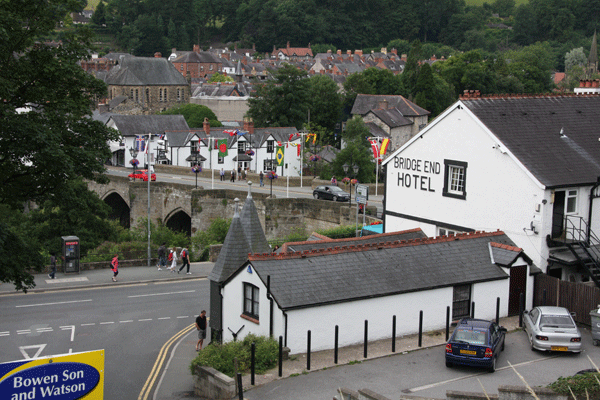 Llangollen Bridge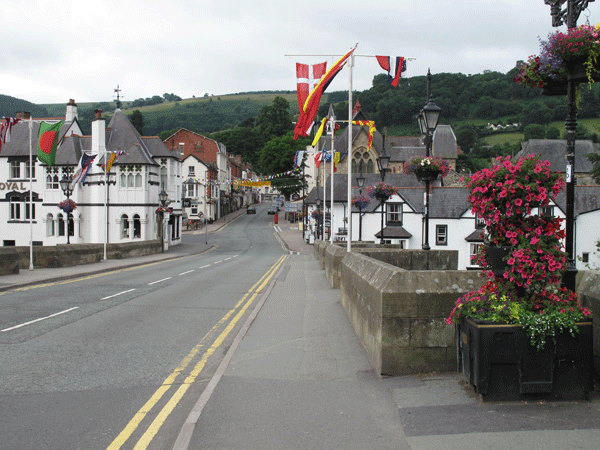 Llangollen High Street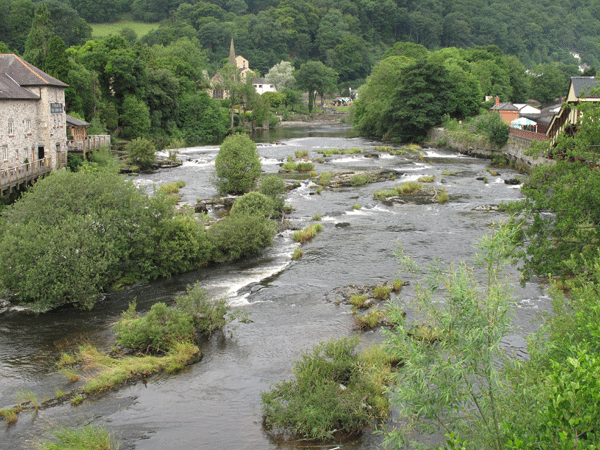 River Dee at Llangollen
Sunday 25th July 2010 (DAY OFF!)
We had a leisurely read of The Sunday Telegraph, and watched the chaos of three boats trying to get out of Llangollen through the narrow bits, with a boat coming up.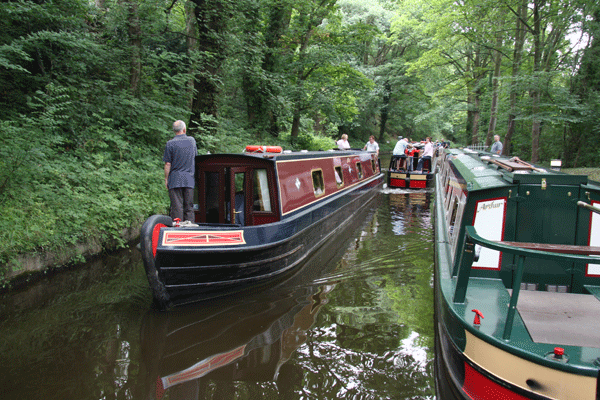 After that we walked along the Llantysilo part of the canal to the Horseshoe Falls, a walk of 2 miles each way. It was quite a pleasant walk which included sightings of a steam train, a horse drawn narrow boat, canoeists, a man fly fishing, a chain bridge across the Dee, in addition to the Horseshoe Falls.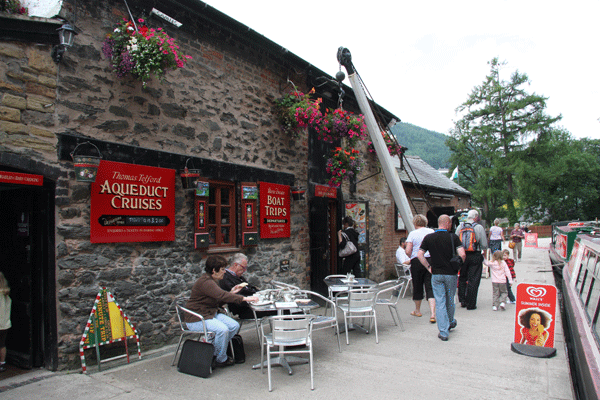 Llangollen Wharf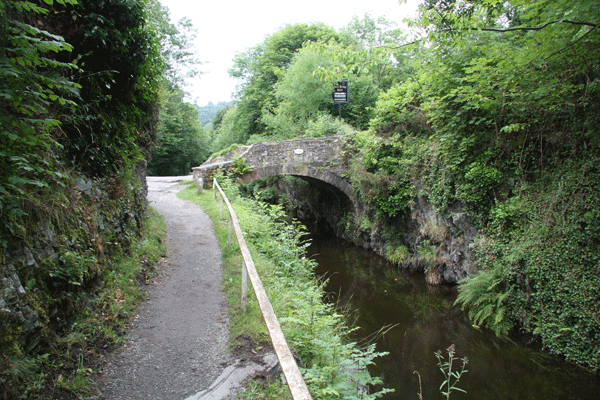 Walk to Horseshoe Falls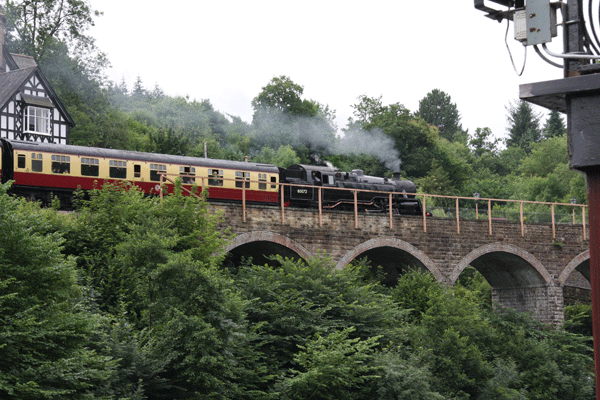 Local steam train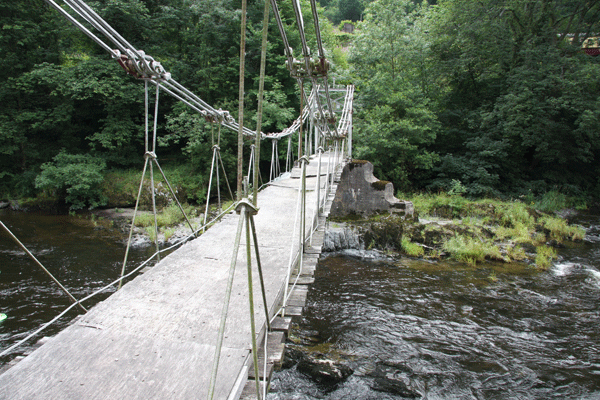 The Chain Bridge, after which the adjacent Chainbridge Hotel is named.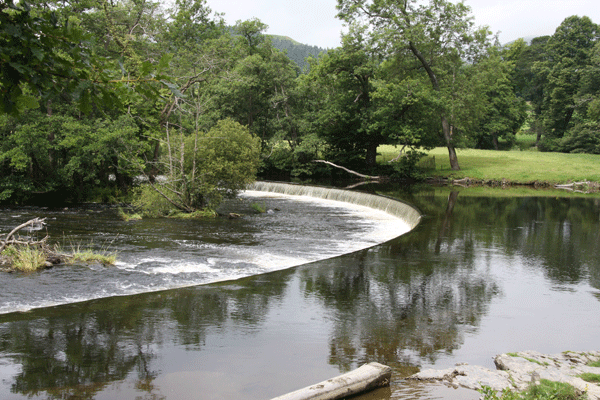 Horseshoe Falls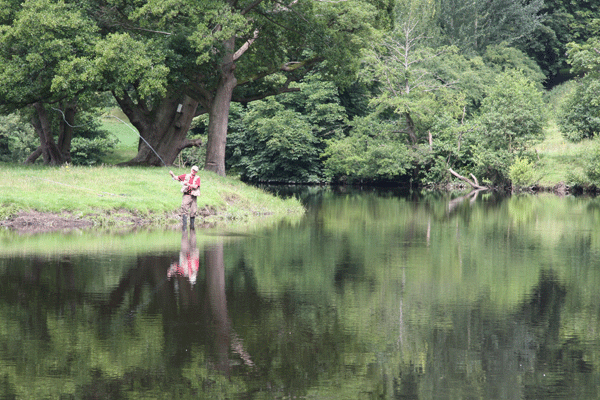 Fly-fisher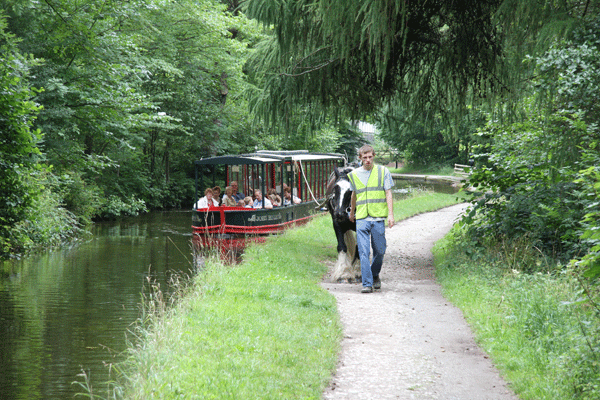 Horse-drawn boat
Monday 26th July 2010
We got up at 6-30 a.m. to get an early start on the run down from Llangollen, as we did not want to get caught in a long queue through the narrow parts of the canal down to Trevor. We started at 7 a.m. and it took nearly two hours reach Trevor, cross Pontcysyllte and moor up at Froncysyllte for breakfast. We were quite surprised how the traffic had built up over the weekend since we left Ellesmere. When we reached the two New Marton locks we had to wait a few minutes as there was one boat in front of us, but there was a queue of 11 boats waiting to come up and the waiting time was an hour and a half! We pressed on and reached Ellesmere after 7 hours.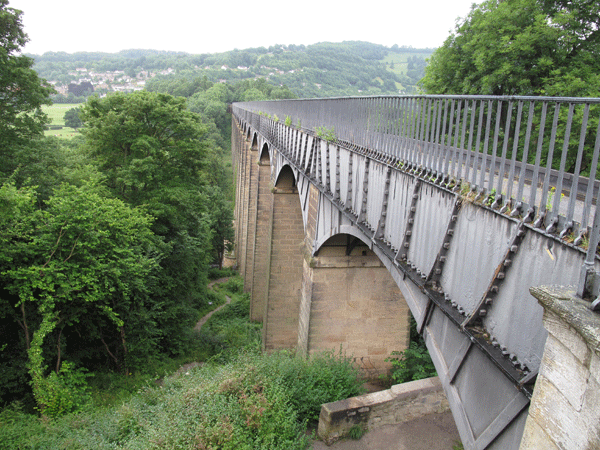 Pontcysyllte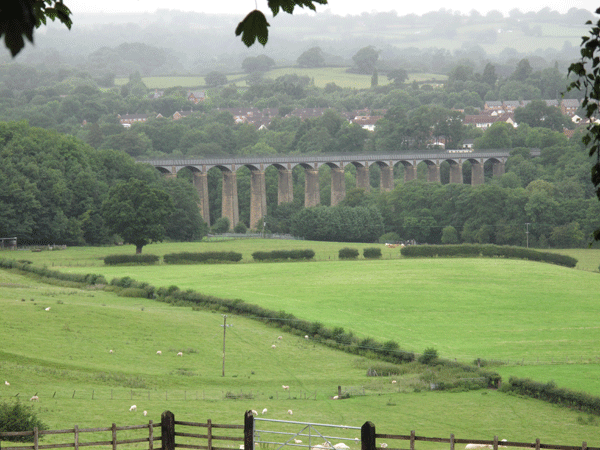 Pontcysyllte viewed from across the valley at Froncysyllte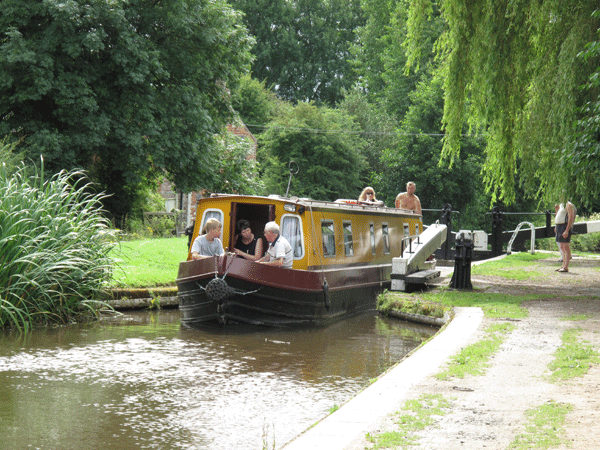 Boat leaving New Marton top lock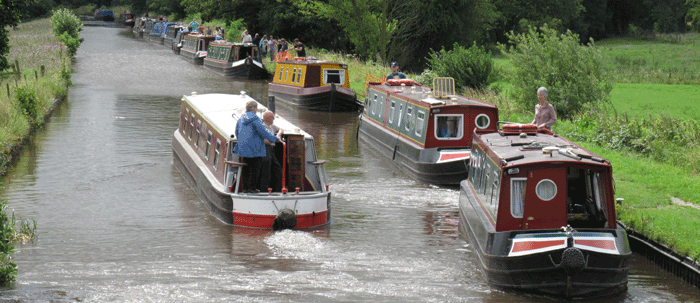 Not a pretty sight -- Queue of 11 boats waiting to go up New Marton bottom lock!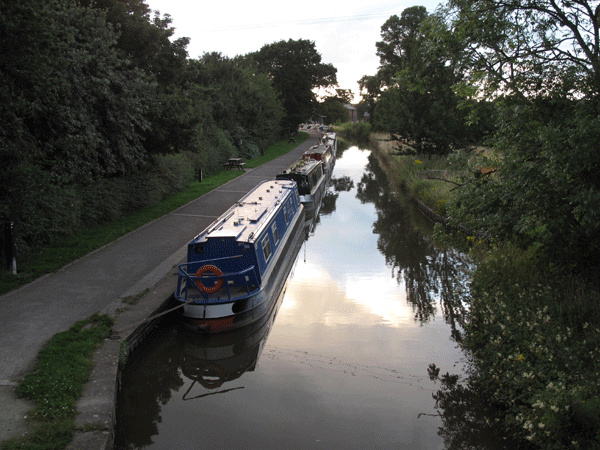 Boats moored for the night on the Ellesmere Arm
Tuesday 27th July 2010
Rest day in Ellesmere.
Wednesday 28th July 2010
We stopped at the services point at Ellesmere to take on water and then left at 8-15 a.m. to go to Whitchurch, where we planned to more for the night. Quite an enjoyable 4-hour cruise with no locks, and we were able to "share" the four lift-bridges with other boaters which made it easier.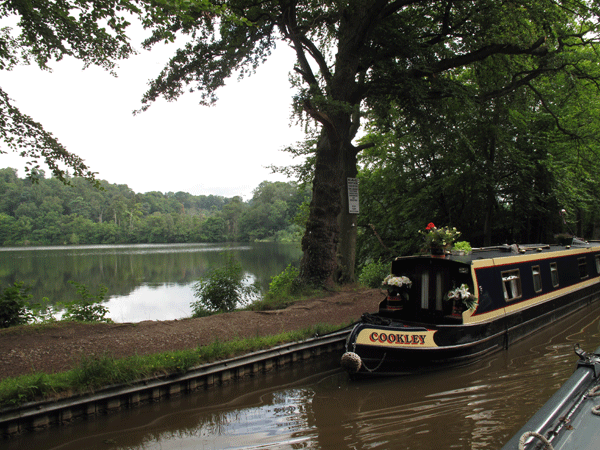 Boat moored at Blake Mere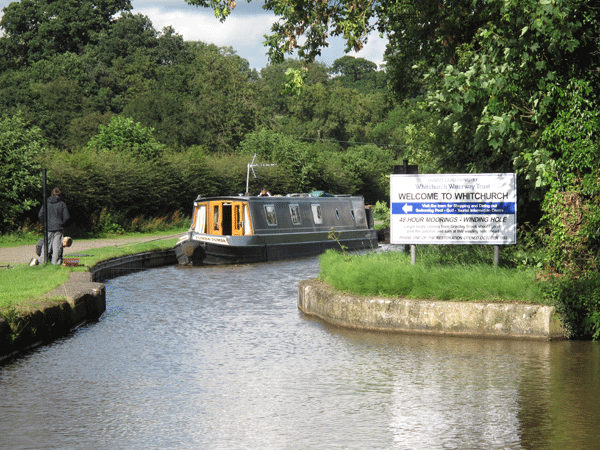 Moored in the Whitchurch Arm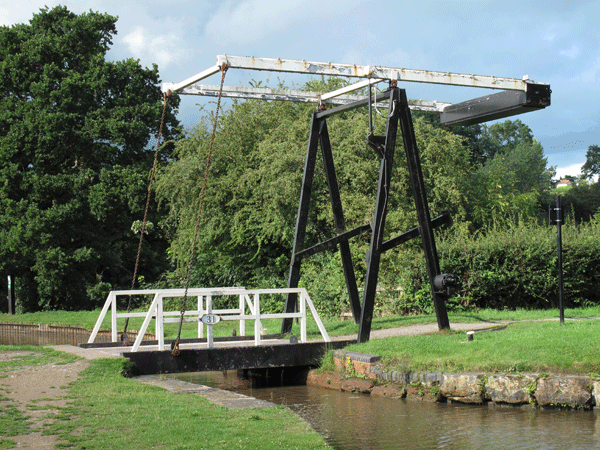 Lift Bridge, Whitchurch
Thursday 29th July 2010
We set off at 7-45 a.m. and leaving the Whitchurch Arm we went to the winding hole to turn round to head for Wrenbury. We were soon at the Grindley Brook locks and were third in line at the queue. 5 hours after departing we arrived at Wrenbury where we took on diesel and visited the chandlery. As we did not have to be at Hurleston until Friday evening we decided to moor up for the day, especially as it was looking black overhead and we thought that we would be in for heavy rain.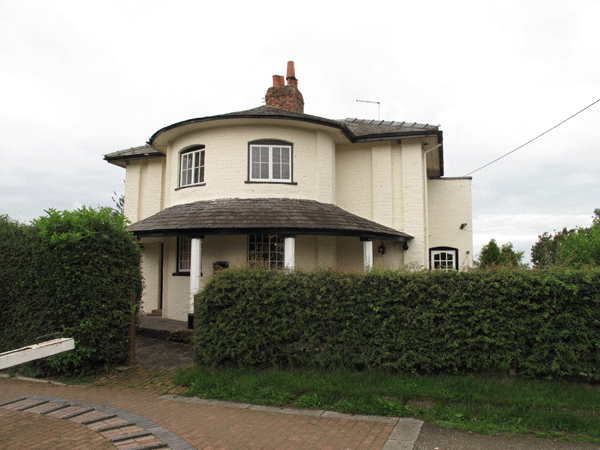 Lock keeper's house, Grindley Brook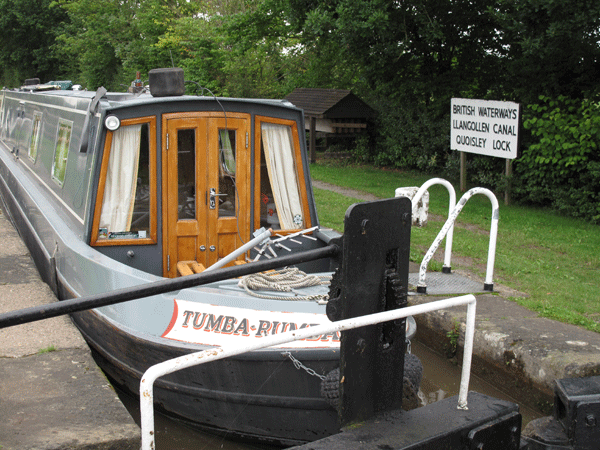 At Quoisley Lock
Friday 30th July 2010
We left Wrenbury at 8-30 a.m. and made our way down the Llangollen Canal to its junction with the Shropshire Union Canal at Hurleston Junction.

Swanley Marina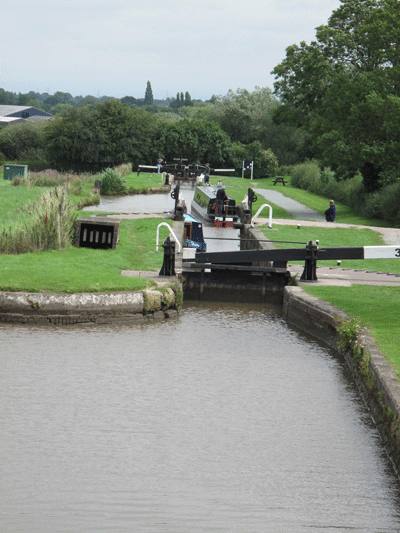 Hurleston Locks
We then did a slight deviation up the Shropshire Union towards Chester, as far as Bunbury Staircase Locks, before returning to the Middlewich Branch and mooring at Benyon's Bridge.
Saturday 31st July 2010
Rendezvous with John & Anne at Church Minshull Aqueduct Marina.