KENNET & AVON CANAL TRIP TO NEWBURY
22ND JUNE - 23RD JULY 2005
438 Miles, 267 Locks
Day

Miles

Locks

From

To

1

16

7

Barton Turns Marina

Fazeley Junction

2

12.75

13

Fazeley Junction

Anchor Bridge, Hartshill

3

20.25

1

Anchor Bridge, Hartshill

Newbold on Avon

4

17.25

3

Newbold on Avon

Bridge 111, Napton

5

10.25

9

Bridge 111, Napton

Fenny Compton

6

11

13

Fenny Compton

Banbury

7

14.75

8

Banbury

Northbrook

8

12.25

9

Northbrook

Isis Lock, Oxford

9

19

7

Isis Lock, Oxford

Shillingford

10

21

6

Shillingford

Reading

11

10

11

Reading

Aldermaston

12

8.5

10

Aldermaston

Newbury

13 - 17

18

8.5

10

Newbury

Aldermaston

19

12

12

Aldermaston

Sonning

20

27.5

9

Sonning

Eton

21

25.75

11

Eton

Kingston Upon Thames

22

31.25

12

Kingston Upon Thames

Little Venice

23

22.5

5

Little Venice

South Harefield

24

12.25

23

South Harefield

Hemel Hempstead

25

11

24

Hemel Hempstead

Bulborne

26

11.5

15

Bulborne

Soulbury

27

23

10

Soulbury

Stoke Breune

28

20

13

Stoke Breune

Braunston

29

20.75

4

Braunston

Ansty

30

18

12

Ansty

Polesworth

31

20.75

9

Polesworth
Barton Turns Marina

437.75

267

Wednesday 22nd June 2005
The weather was superb as we started on our trip, slipping out of Barton Turns Marina at around 8-30 a.m. en route for Fazeley Junction, where we moored around 4 p.m.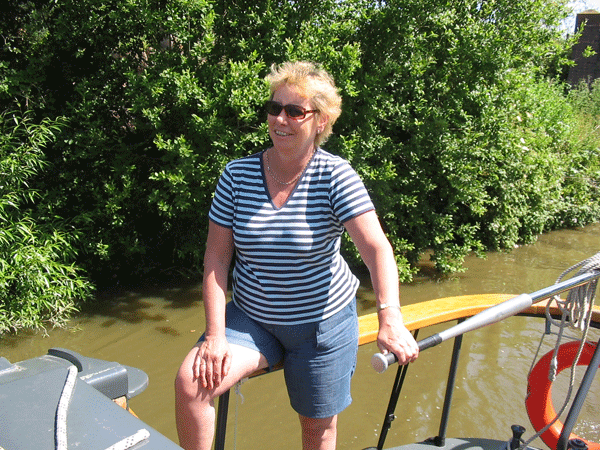 Sue at the helm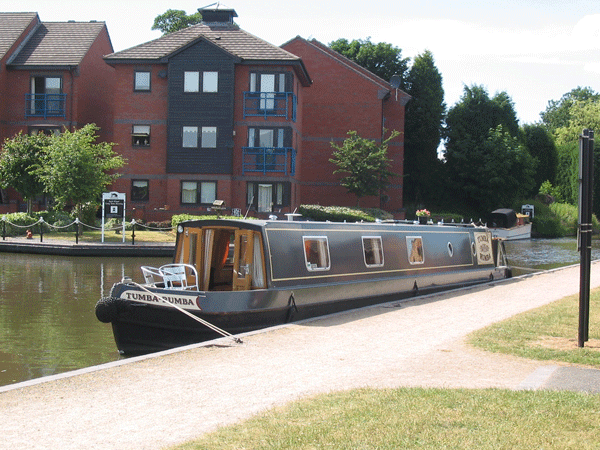 Moored at Fazeley Junction
It was still very hot even in the early evening and as we sat having dinner with the front doors of the boat open Sue shrieked as she saw a 3 foot snake on the front deck! I immediately jumped up to shut the doors, as the snake slid through the drain hole in the deck and swam away! We have a total aversion to snakes and it took quite a while to put this incident out of our minds!
Thursday 23rd June 2005
We were soon on our way again and did the two Glascote locks. There we stopped to fill up with water and then carried on to the botton of the 11-lock Atherstone Flight. It was still very hot, so we moored up at 3 p.m. and waited until it had cooled down a bit before continuing. We eventually moored up by the Anchor Pub, Bridge 29, at 7 p.m.
Friday 24th June 2005
We woke to the sound of thunder and heavy rain and the sky was streaked with sheets of lightning. A good day for a lie in, and we did not set off until 10-30 a.m. when it had cleared.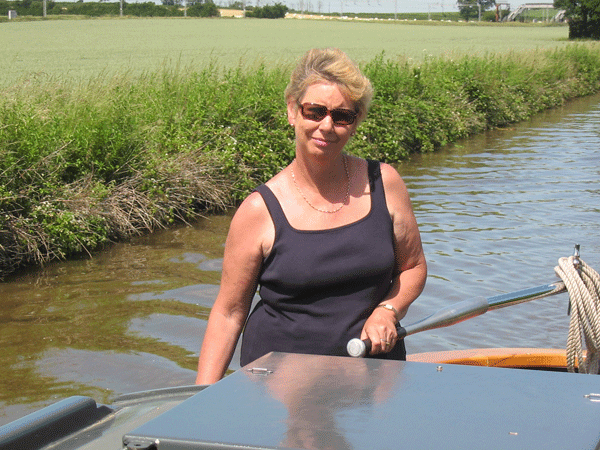 Sue at the helm... again!
We arrived at Newbold on Avon at 6 p.m. to find most of the moorings occupied, but we were able to more on pins just past the Barley Mow pub.
Saturday 25th June 2005
We headed off towards Brownsover, Bridge 58, early in the morning and stopped to do some shopping at the nearby Tesco. There was a Homebase there as well, so we popped in to buy a gas barbecue to use on the boat. We were soon on our way to Braunston, stopping at Midland Chandlers for a few bits and pieces. There was chaos in Braunston and a huge "boat-jam". A working-boat rally was taking place,The Braunston Rally & Canal Festival, with 63 working boats. They were coming out of Braunston to the triangle, going in to the triangle forwards, backing out, and then returning to Braunston. There was a procession of working boats and it was impossible to get through either towards Norton Junction or towards Napton.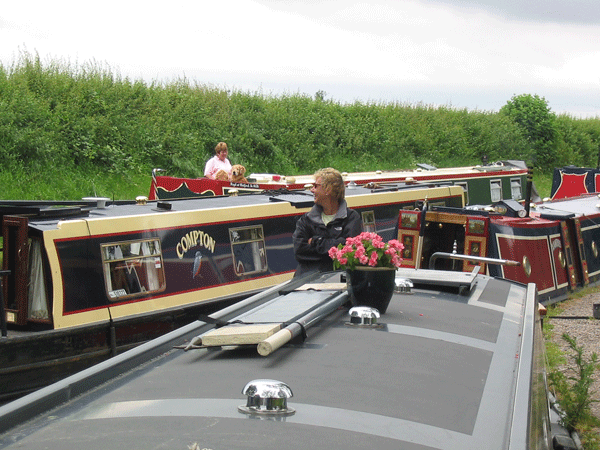 Boat-jam at Braunston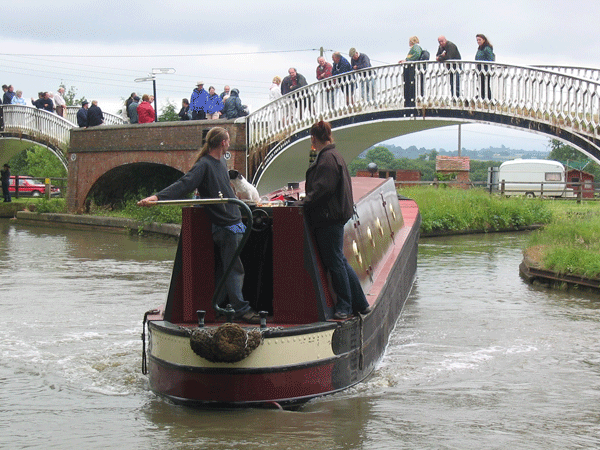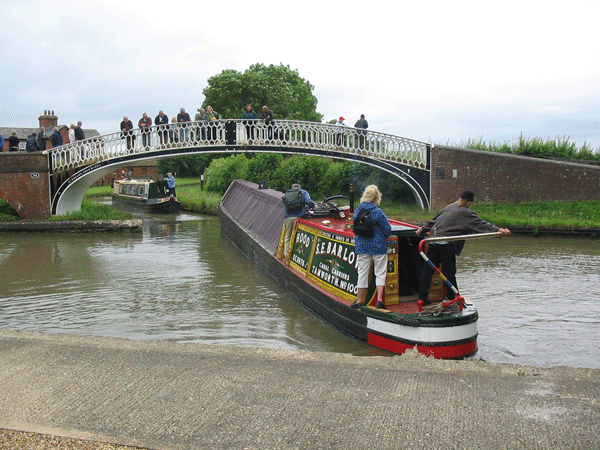 Working boat reversing out of the triangle
We spotted a gap in the procession and went for it. We just managed to squeeze through and get on our way to Napton. We moored up at Bridge 111, Napton, and went to the Bridge Pub for an excellent meal.
Sunday 26th June 2005
We departed Bridge 111 around 9 a.m., did the 9 Napton locks and arrived at Fenny Compton at 2-30 p.m. The weather was still really hot, so the gas BBQ came out for its first usage.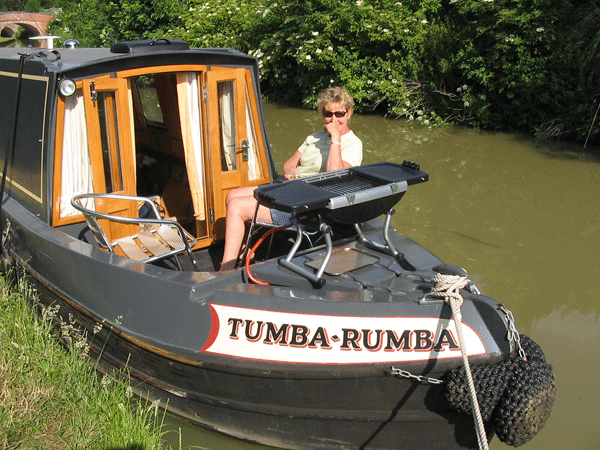 Moored at Fenny Compton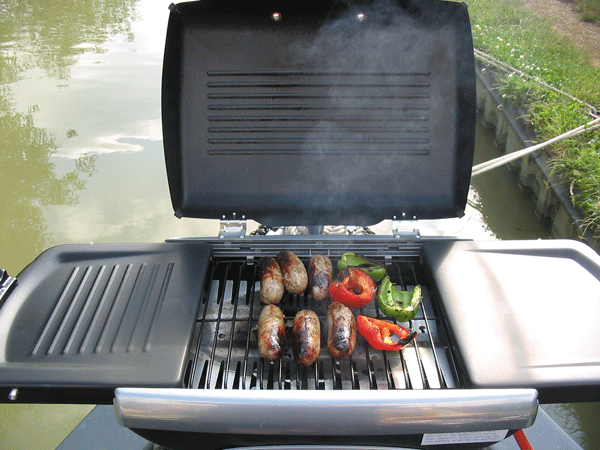 Monday 27th June 2005
We left Fenny Compton at 8-30 a.m. and arrived at Banbury around 4-30 p.m. We stopped on the way in to Banbury at a convenient boat yard selling diesel, and then moored in the centre of the town. The shopping area around the canal has been completely redeveloped and there are very nice moorings all the way through Banbury, next to the Castle Quay shopping complex. We had a walk around the town and went to Pizza Express for dinner.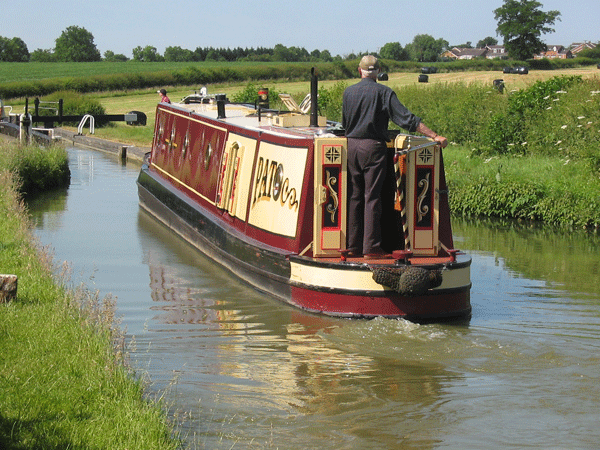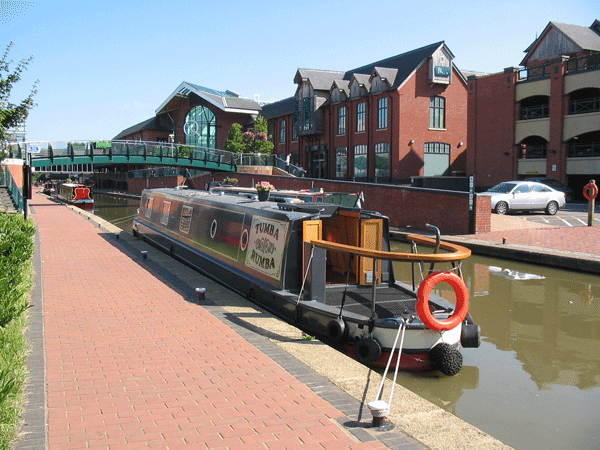 Moored outside the Castle Quay shopping complex, Banbury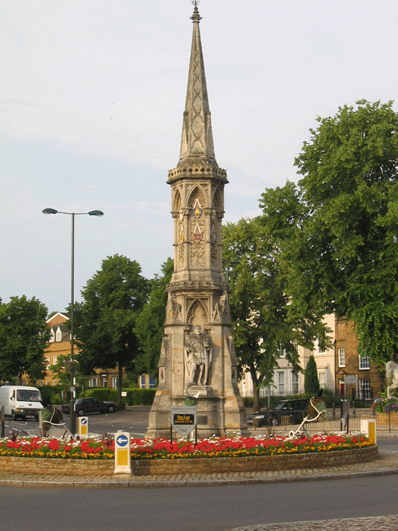 Banbury Cross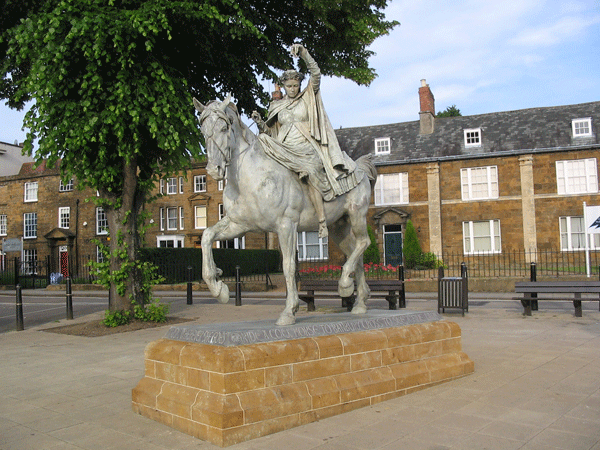 Ride a Cock Horse.....
Tuesday 28th June 2005
We left Banbury around 10 o'clock, passing under the lift bridge and through the lock outside Woolworths at the end of the shopping complex. There are good facilities immediately under the bridge on the right hand side after the lock.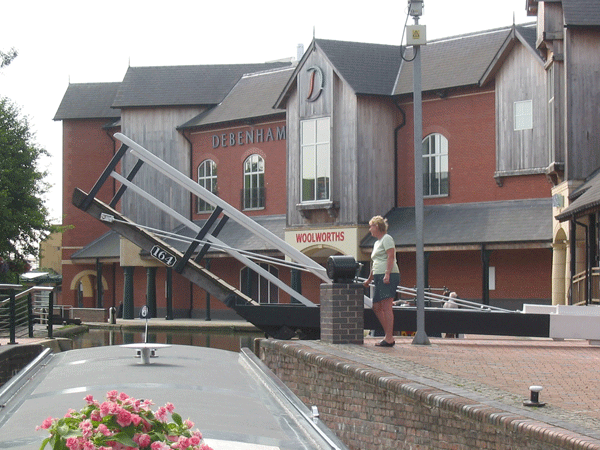 Lift Bridge prior to Banbury Lock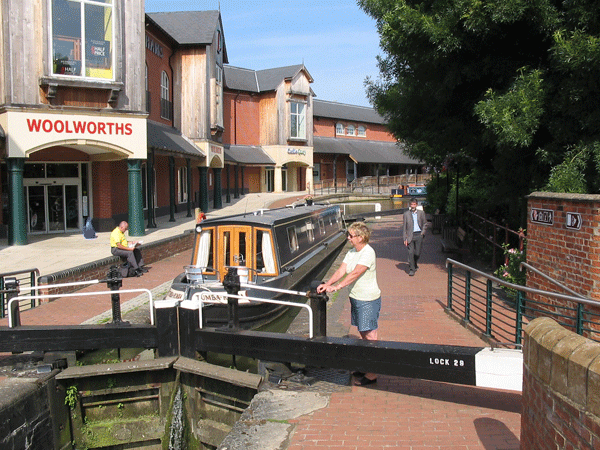 Banbury Lock, next to Woolworths
As we approached Anyo Wharf we became aware of a narrowboat "Herons Flight" which was stuck across the canal. The people on board were trying to pull it on the ropes back to the wharf. Apparently it had been there for 3 weeks having a new engine fitted, but had conked out after 200 yards! We helped them by towing the boat back to the wharf and then continued on our way. We moored for the night just after Bridge 209, Dashwood Bridge, Northbrook.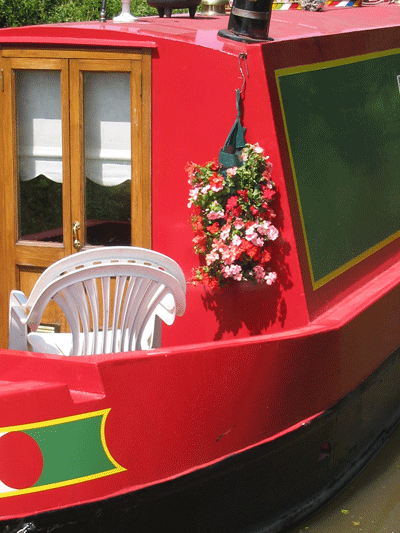 A colourful display
Wednesday 29th June 2005
We carried on towards Oxford, and had to decide whether to enter the River Thames via the shorter route, Duke's Cut, or whether to go into Oxford itself. We decided on the latter, although the stretch of canal from Duke's Cut to the centre of Oxford is a bit scruffy. We thought it strange to see a small narrowboat moored on the white tops at the lock with no one there, but understood why 20 minutes later when we saw a man running down the towpath looking for his boat which had been stolen! He was relieved when we told him where it was!
We had just arrived at Isis Lock when and almighty thunderstorm broke immediately overhead. The lightening was incredible, and I daren't carry an umbrella to try to keep dry for fear of being hit by lightening. I sheltered under the bridge at Isis Lock until it passed.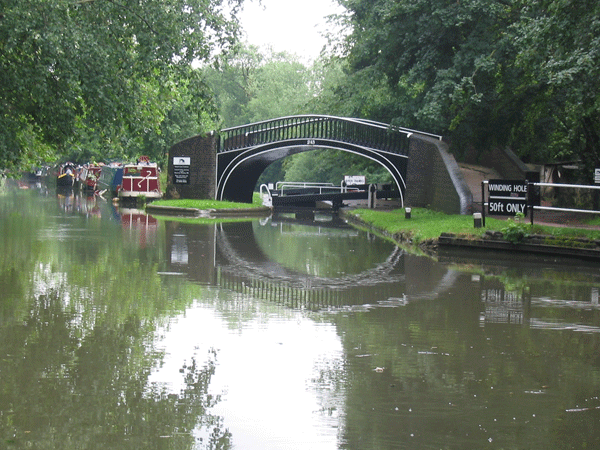 Isis Lock, Oxford
Thursday 30th June 2005
We descended Isis Lock and took the link to the River Thames. The first lock that we came to was Osney Lock, and like all the locks on the Thames operated by the Environment Agency it was large, with hydraulicly operated lock gates and with a lock keeper in attendance. The rules for using these big locks are that you have to tie up at stem and stern, and you have to turn your engine off if there is another boat in the lock .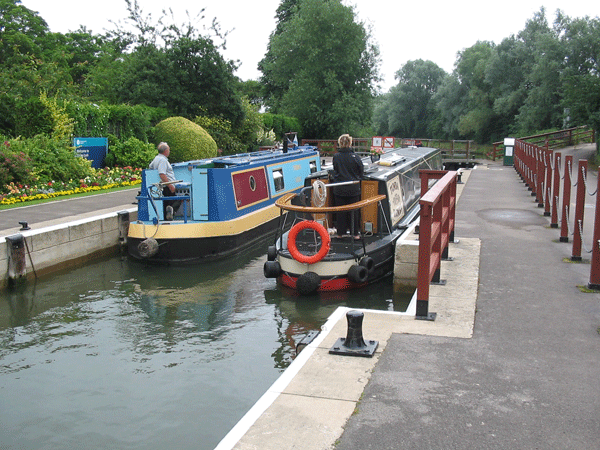 Osney Lock
To take a narrowboat on to the Thames you have to buy a licence from the Environment Agency, which can be purchased at the first lock (Osney Lock in our case). They allow three options i.e. Six 1-day, two 15-day or one 31-day licenses. You can mix and match and buy all these options to give a maximum of 67 days on the Thames in any one year. The cost depends on the area of the boat...... a 57ft narrowboatfalling into a chargeable area of 36 sq meters. A 1-day license is £24.30, a 15-day license is £86 and a 31-day license is £108.70. The locks operate from 9 a.m. to 7 p.m., and a reasonable journey time between Oxford and Reading, for entrance in to the Kennet & Avon Canal, is 2 days. Buying four 1-day licenses would cost nearly £100, but on the other hand you can buy a 31-day license for £108. The 31-day license is the obvious choice, as it gives you all the flexibility you may require and you can spend more time on the Thames with only a slight extra cost. The charge for a 1-day license seems to be out of proportion to the 31-day license.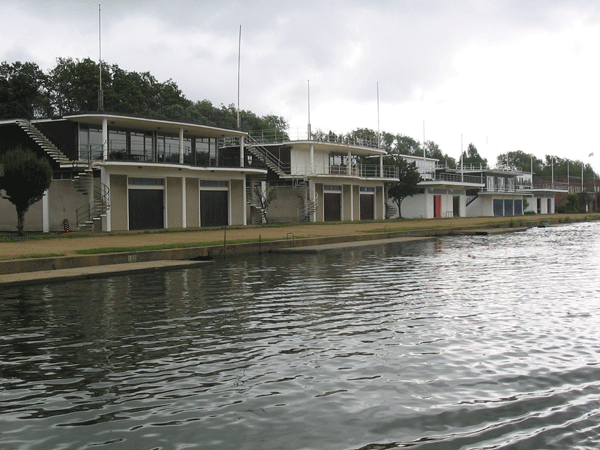 Oxford University Boat Houses
We stopped for lunch in Abingdon, and went on to Shillingford where we moored for the evening, in front of the Shillingford Bridge Hotel.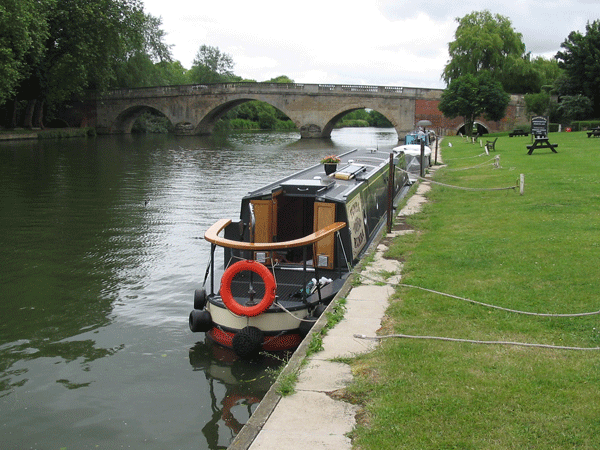 Moored at Shillingford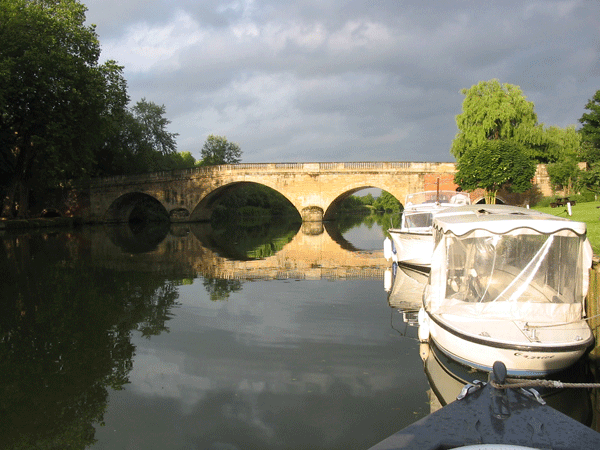 Shillingford Bridge in the evening sun
Friday 1st July 2005
Leaving Shillingford at 8-30 a.m., we arrived at Caversham, Reading, at 1-30 p.m. We moored next to Reading Bridge, but then decided to go down through Caversham Lock to have a look at the Kings Meadow area, where there are moorings and a Tesco store. The area was not so good and the moorings were poor, so we returned to Caversham to moor for the night. We met Ros and David Whittaker in the evening for a meal at a local pub, people we met in Mauritius earlier in the year who live at Wokingham.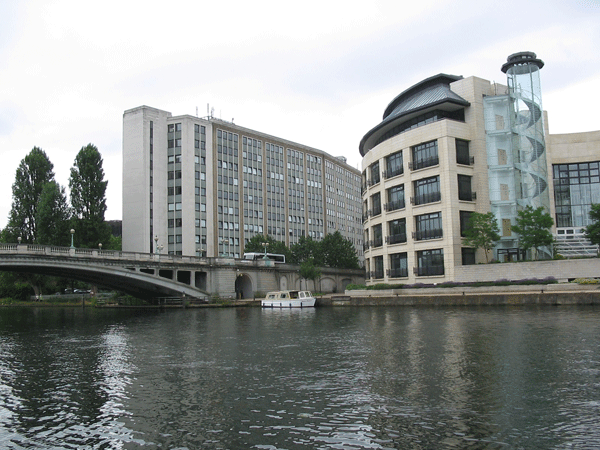 Reading Bridge, with Thames Water HQ on the right
Saturday 2nd July 2005
Retracing our steps through Caversham Lock and past Kings Meadow, we entered the Kennet & Avon Canal after passing the last Environment Agency Lock, Blake's Lock. Access to the canal through the centre of Reading is controlled by traffic lights, as it is quite narrow and twisting in the mid sections. It is rather strange pulling over in a narrowboat to press a pedestrian crossing type of button to get the lights to change in your favour!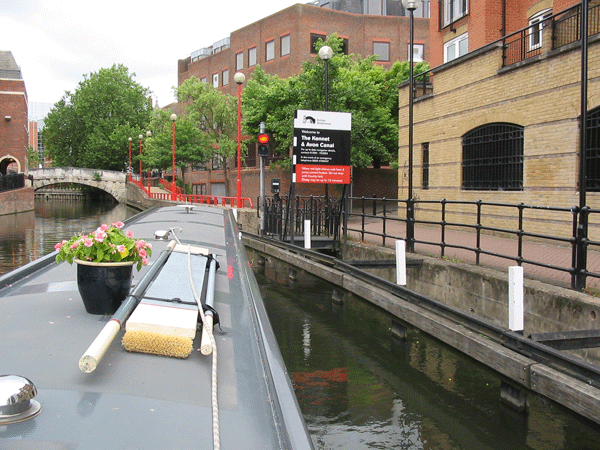 Traffic lights on the Kennet & Avon Canal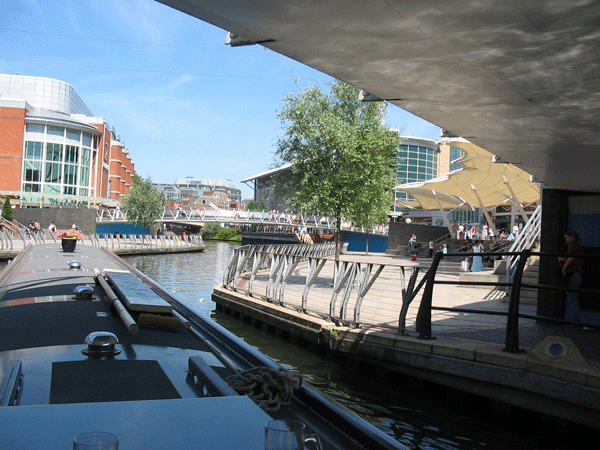 Central Reading
The traffic light section ends at County Lock, and after that you pass through a built up area with old houses backing on to the canal. The canal breaks out in to the countryside at Fobney Lock. Typical of the locks on the Kennet & Avon, Fobney lock is a double lock, quite deep, with heavy lock gates and subject to a lot of water turbulence as the lock is filled. Many of the locks only have gate paddles, which results in fierce water flows as they are filled.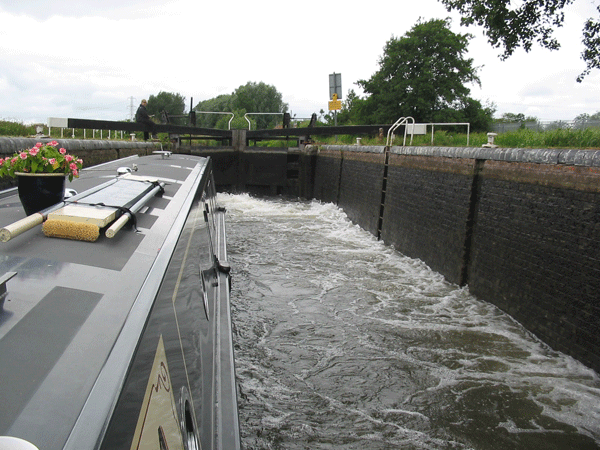 Fierce water flows in locks with just gate paddles
There are two "turf sided" locks on the Reading - Newbury stretch of the canal, and they are unusual in that the upper part of the lock consists of vegetation covered sloping sides. These locks have to be emptied after you have passed through so that the vegetation does not die.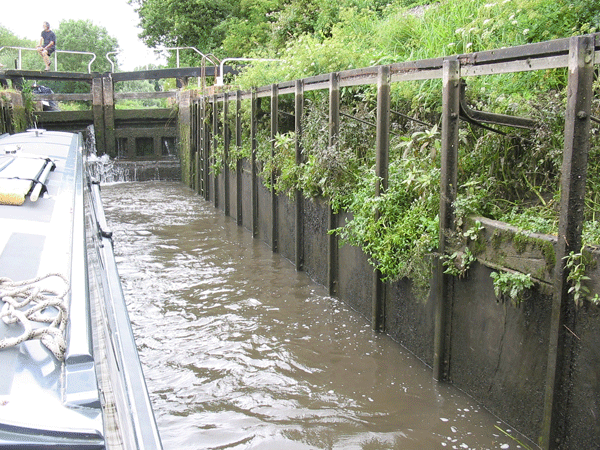 A turf sided lock
We pressed on, reaching Aldermaston Wharf at 5-30 p.m. Aldermaston Wharf is sandwiched between two locks, Padwoth Lock and Aldermaston Lock. The hire boat company, Reading Marine, takes up most of the mooring space and there are dedicated spaces for facilities, but we managed to get a mooring spot right next to Padworth Lock for the evening.
Sunday 3rd July 2005
After taking on water at Aldermaston, we pressed on towards Newbury. Our progress was halted for nearly an hour as the British Waterways staff made repairs to one of the locks, and we were quite tired as we came through the final lock, Greenham Lock, in to Newbury. Normally you can moor at Newbury Wharf, but as there was a fair ground in operation there for the weekend nobody wanted to moor there! We managed to find a good 14-day mooring spot oposite the Greenham boat yard. We had intended to go to Bath on this trip, but we found the first two days of the Kennet and Avon quite hard and decided to stay for the week in Newbury. Son Nicholas and his partner Catherine have recently bought a house next to Victoria Park and near the Wharf, and there were plenty of jobs to be done during our stay!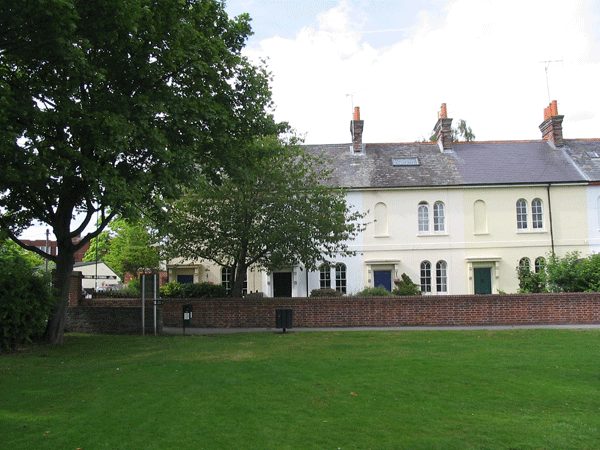 Park Terrace from Victoria Park
Saturday 9th July 2005
After spending the week in Newbury we began to retrace out steps along the Kennet & Avon Canal back to Reading. We headed for moorings at Aldermaston for the evening, but arrived late afternoon when all the hire boats from Reading Marine were on there way out. Moored behind us was the narrowboat "Miss Chief" with John & Iona on board. We met them on the Warwick ring earlier in the year when they had problems with water inside their boat from the water pump.
Sunday 10th July 2005
Leaving Aldermaston we headed back to Reading and joined the Thames again after Blake's Lock. We headed down to Sonning for moorings for the night.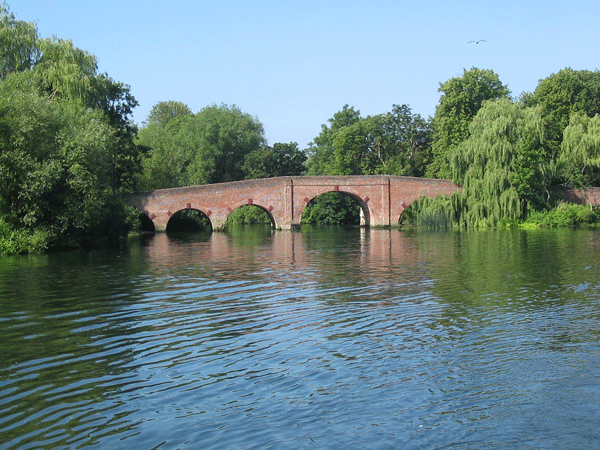 Sonning Bridge
Monday 11th July 2005
After Sonning we continued down the Thames to Henley.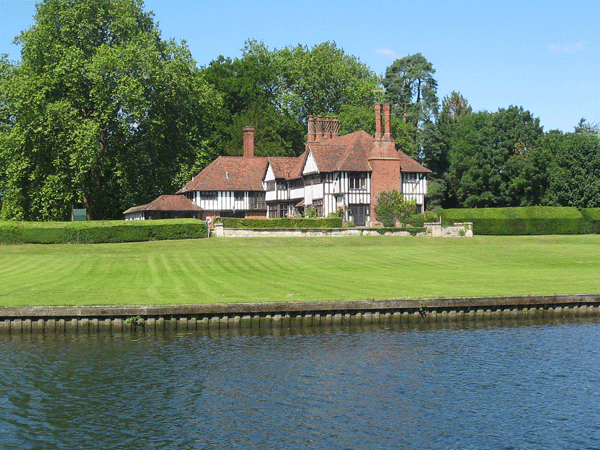 Who lives in a house like this?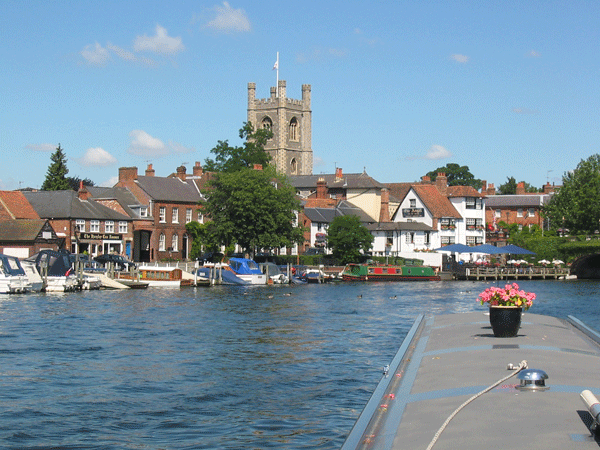 The town looks really nice from the river, but the "Henley Mile" where the regattas are held was quite something. You felt quite priveliged to be cruising down this famous stretch of the river in a narrowboat!
Henley Upon Thames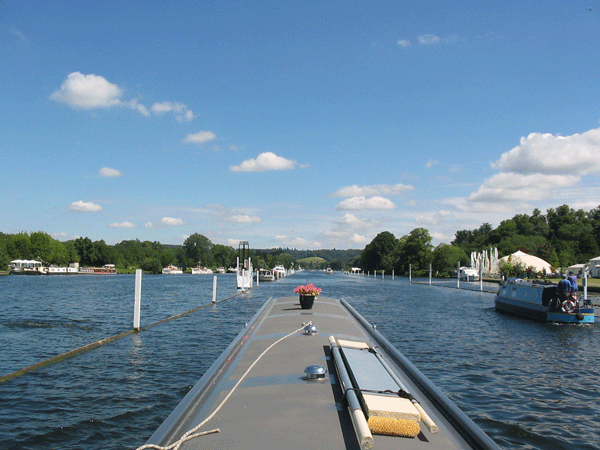 The "Henley Mile"
We moored at Eton for the night, where there are good moorings for a nominal charge of £4, which is collected by the bailif in the evening.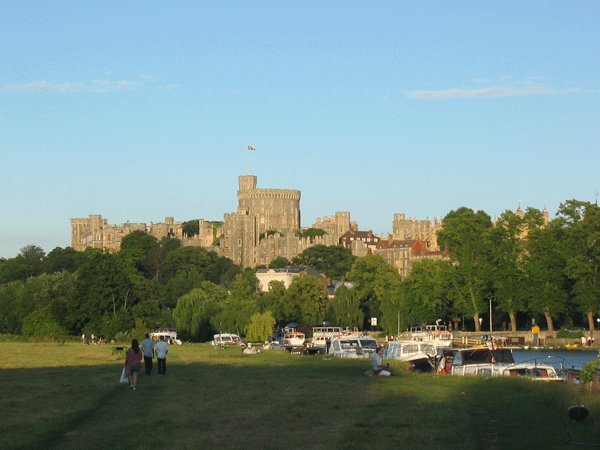 Windsor Castle viewed from our moorings
Tuesday 12th July 2005
Leaving at 9 a.m. we passed through Windsor Lock and skirted around The Home Park at the rear of Windsor Castle. This is Crown Property, and numerous signs remind you that "No Landing and No Mooring" is permitted. The banks of the river are well cared for here, with proper edging and concrete staging; no expense spared. It is a pity that mooring is not allowed. Victoria Bridge and Albert Bridge stand side by side on this stretch of the river, a testament to the love between Queen Victoria and her beloved Albert.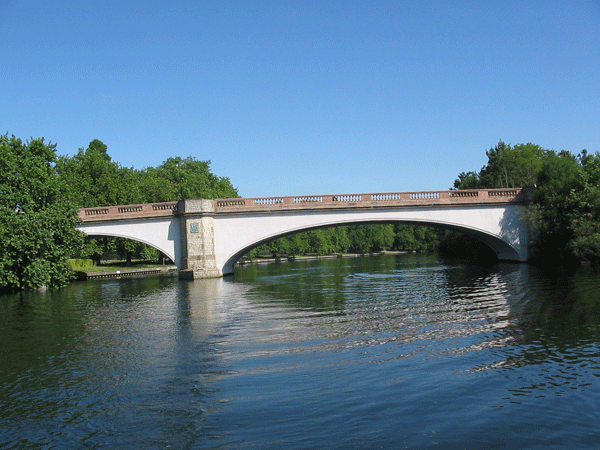 Albert Bridge
There are a couple of islands in the River down this stretch and it is not obvious which side you should go (both sides possible!). At one of these junctions we met Bill and Babs on nb "Kaydee", who had opted for one side and then changed their minds to go down the other. They moor on the Lee and Stort near Bishops Stortford, and in conversation they mentioned that they were heading for Limehouse Basin the following day, We had intended to take the tidal River Thames only as far as Brentford, but their enthusiasm for the Limehouse section encouraged us to give it a go!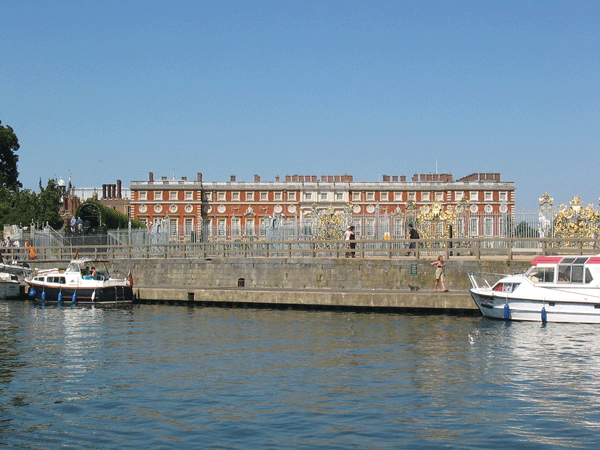 Hampton Court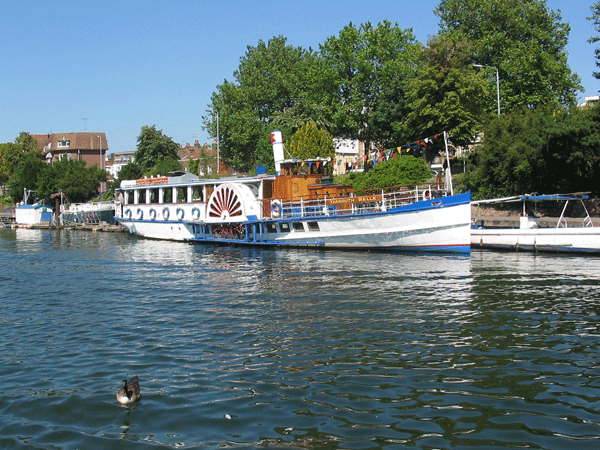 Paddle Steamer "Yarmouth Belle"
We moored up for the night at Kingston Upon Thames, on the left hand side of the river prior to Kingston Bridge where there are free visitor moorings.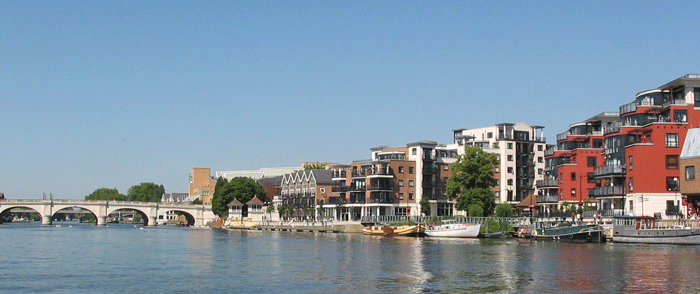 Kingston Upon Thames
Wednesday 13th July 2005
We were up early at 6 a.m. to be ready for off at 6-30 a.m. to go down to Teddington Lock. The high water point was scheduled for 7-40 a.m., but when we reached the lock we were told by the lock keeper that the tide was running late! High water was now expected at 8-30 a.m. You just can't rely on the moon these days! We entered the lock at 8 a.m. and were on our way down the tidal stretch at 8-10 a.m.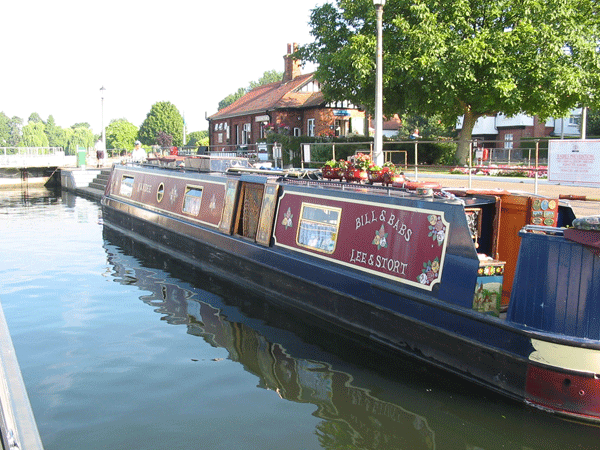 nb "Kaydee" in Teddington Lock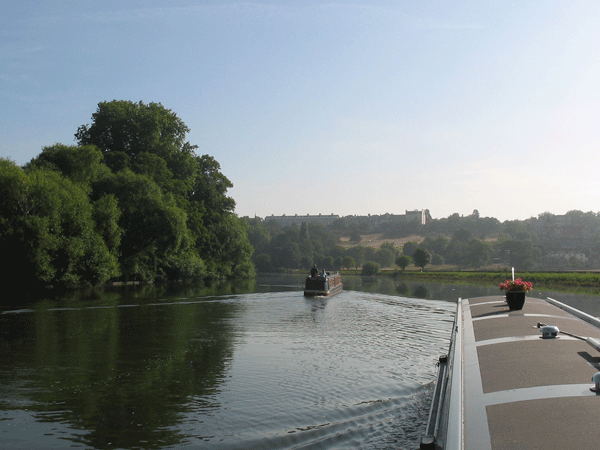 Approaching Richmond Hill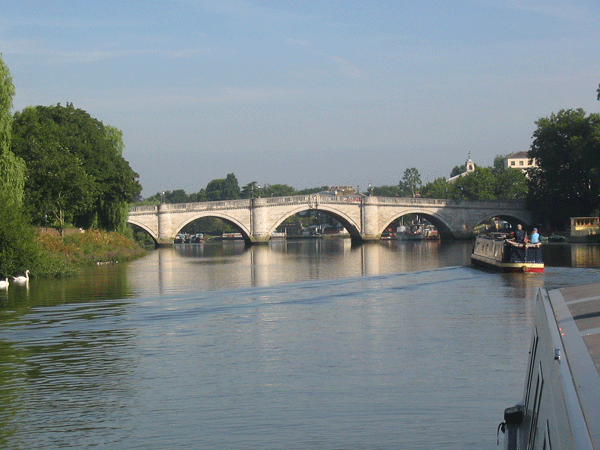 Richmond Bridge
Our progress down the river is summarised below:
8-10 a.m. Depart Teddington Lock
9-20 a.m. Kew Railway Bridge
9-25 a.m. Chiswick Bridge
9-50 a.m. Hammersmith Bridge
10-05 a.m. Putney Bridge
10-20 a.m. Battersea Railway Bridge
10-30 a.m. Albert Bridge
10-38 a.m. Chelsea Bridge
10-46 a.m. Vauxhall Bridge
10-52 a.m. Lambeth Bridge
11-00 a.m. Charing Cross Bridge
11-05 a.m. Blackfriars Bridge
11-15 a.m. Tower Bridge
12-00 a.m. Limehouse Basin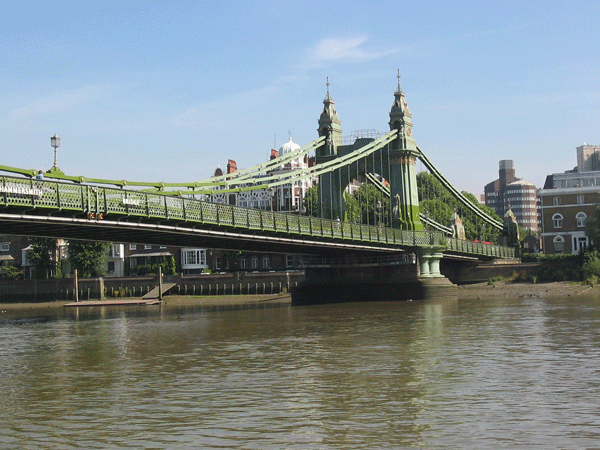 Hammersmith Bridge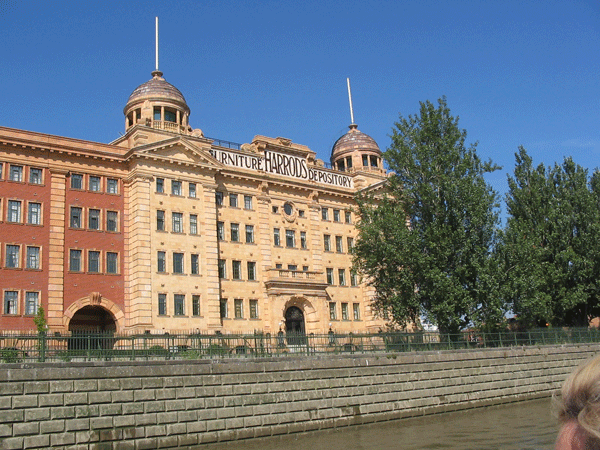 Harrods Depository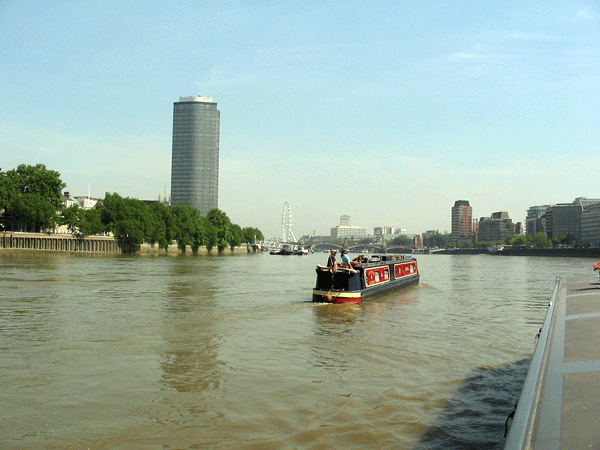 The London Eye comes into view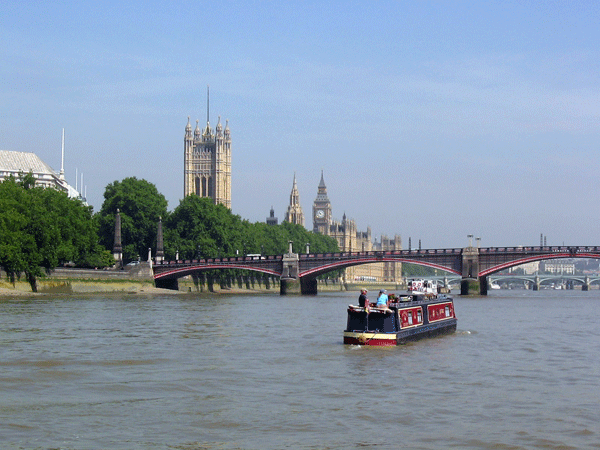 Houses of Parliament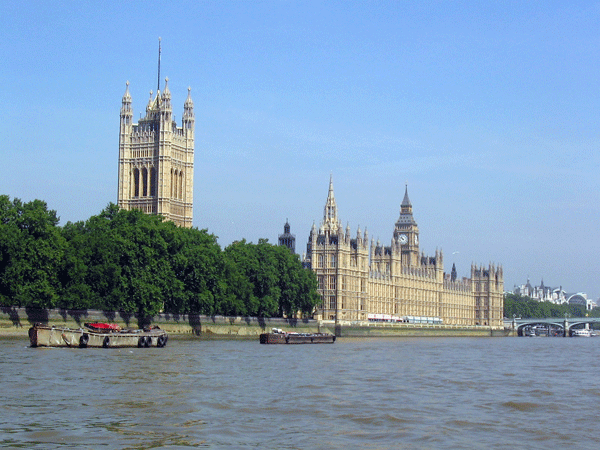 House of Commons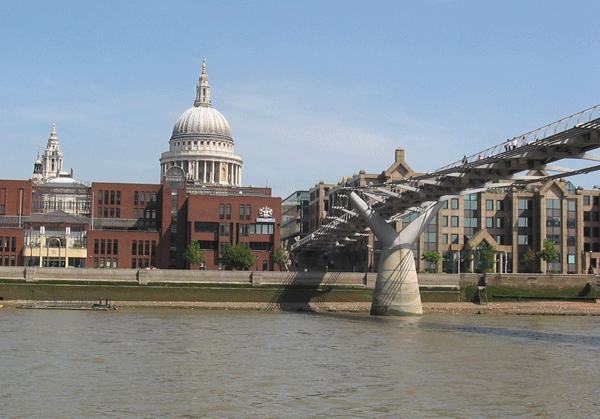 St Paul's Catherdral & the Wibbly Wobbly Bridge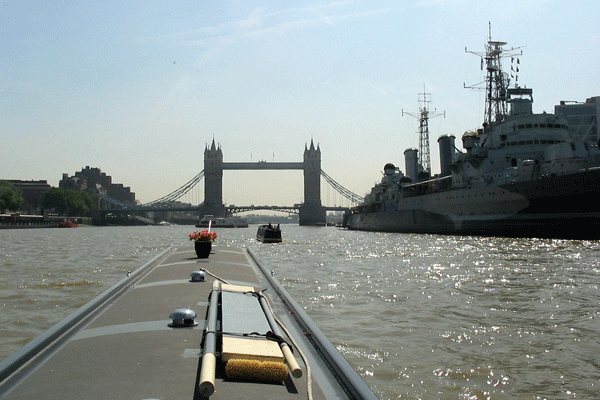 Tower Bridge comes in to view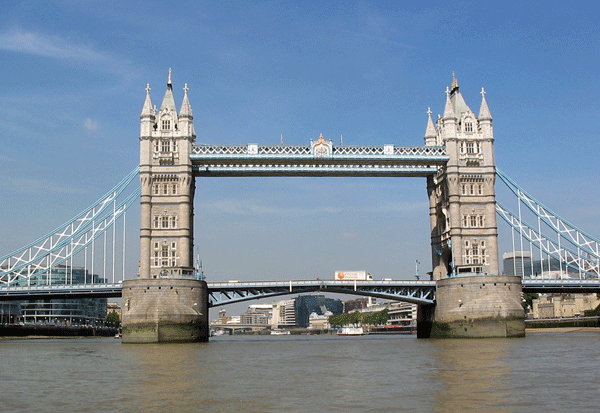 Looking back towards Tower Bridge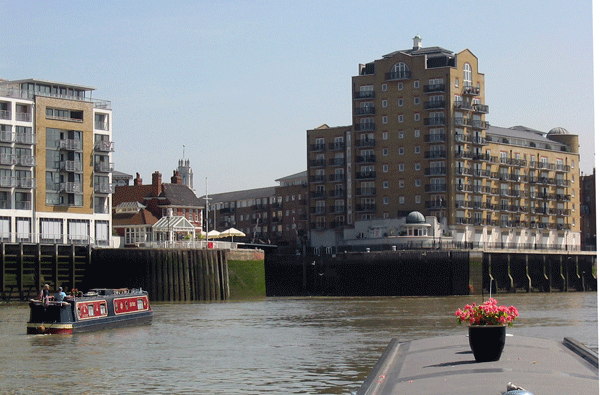 Approaching Limehouse Basin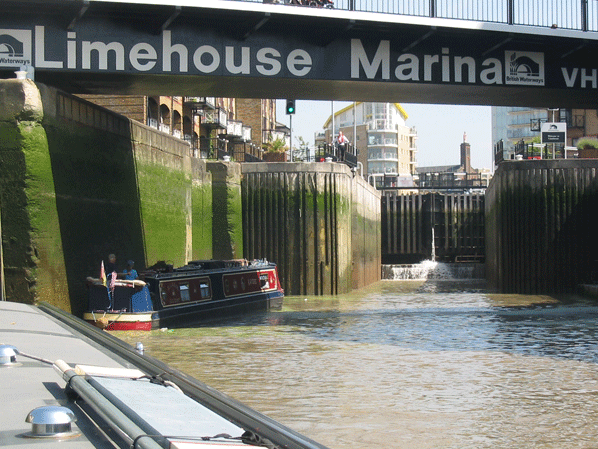 Entering Limehouse Lock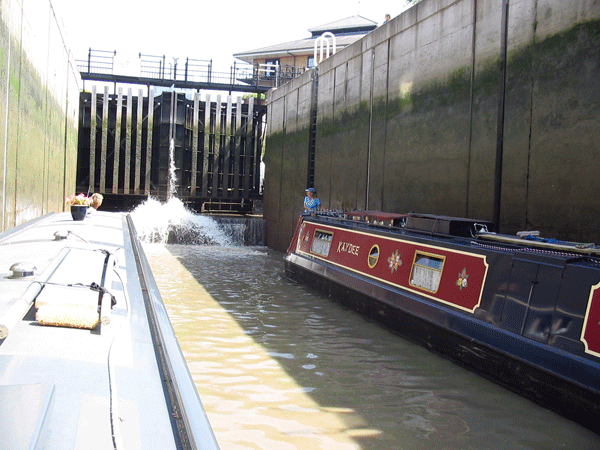 Limehouse Lock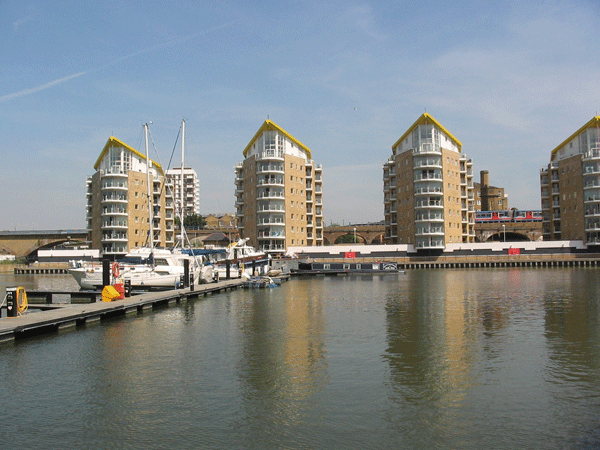 Limehouse Basin
What a fabulous trip! You certainly couldn't get a better tourist's eye view of London. It was interesting to travel between Chiswick Bridge, the finish of the boat race, and Putney Bridge, the start. On the river you get a true idea of how long and how wide the course is, and it must be exhausting to row it. Then in to Fulham, past Fulham Football Club's ground at Craven Cottage. Then in to the central section, with the London Eye and the Houses of Parliament. Here a police motor launch sped out from the House of Commons jetty to check us out, to make sure that we were not "terrorists". The river gets quite busy around this point, and also a bit choppy! Then past Blackfriars, the Embankment, St Paul's Catherdral and on to Tower Bridge. Sue was at the tiller, not too sure about the choppy waters, as I was furiously taking photographs! It was over too quickly, although we were relieved to see the Limehouse Lock come into sight. You do not appreciate the strength of the current until you approach the lock. Bill and Babs made it in first time with a minor bump on the wall. We were following, and the current took us way beyond the lock entrance. It was a strange feeling seeing the lock disappear as we were carried down stream. We soon headed back in to the current and made an easy entrance into the lock. Actually, it is the recommended proceedure to overshoot the lock and to come back up against the current, although our effort was by accident not design!
We stayed in the sanctuary of Limehouse Basin for a while, having lunch and reliving the experience, and then bade farewell to Bill & Babs as we headed for the Regents Canal and they went up the River Lee. Actually our first impression of the Regents Canal was not good, as the water was covered with bright green algae and the canal was clogged with weed.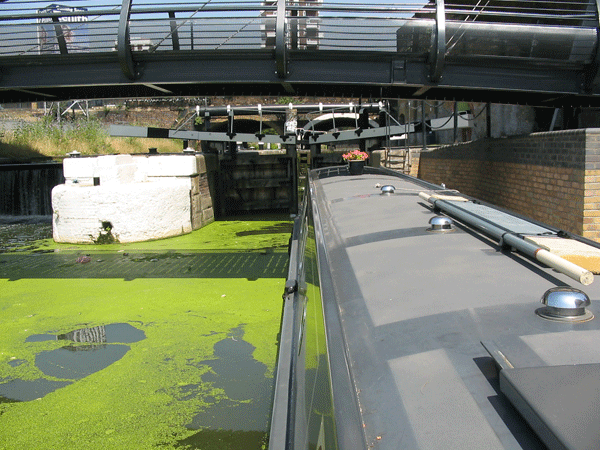 Entering Commercial Road Lock
At Johnson's Lock a British waterways man asked us where we were heading to. "Little Venice" I replied. He then said that the canal was closed and we could only get as far as St Pancras Basin. Apparently there had been a murder...... a body in a suitcase in the canal at Camden..... and the police frogmen were in the canal searching for evidence! He rang BW HQ for an update, and we were pleased to learn that the canal had been reopened!
The Regents Canal improved after about a mile, with less rubbish and weed in the water. It worked its way around North London... Hackney, Haggerston, through the 960 yard Islington tunnel, Kings Cross, St Pancras and on to Camden.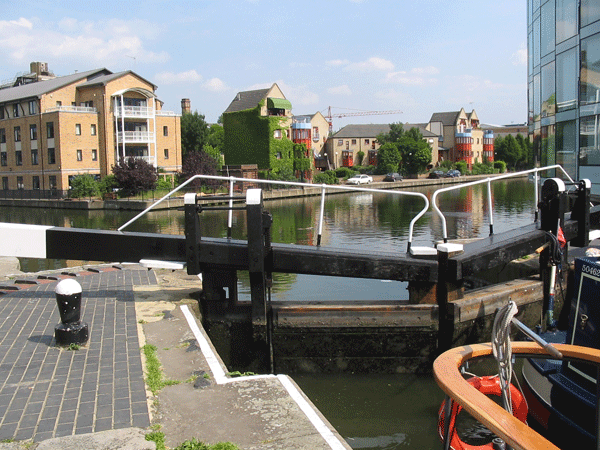 City Road Lock and Basin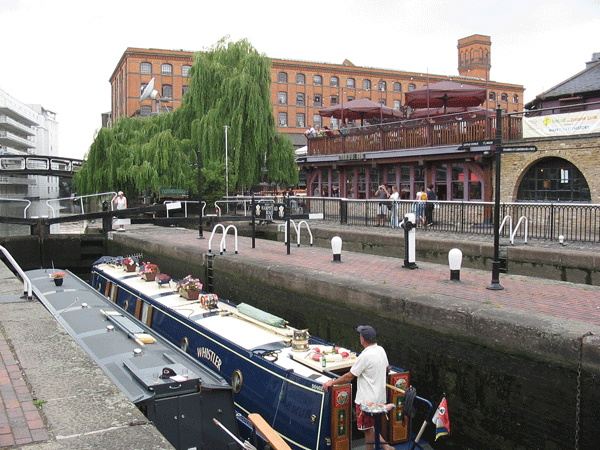 Camden Lock
After Camden the canal skirts Regents Park, past London Zoo and the Mosque, through the 272 yard Maida Vale tunnel before arriving at Little Venice.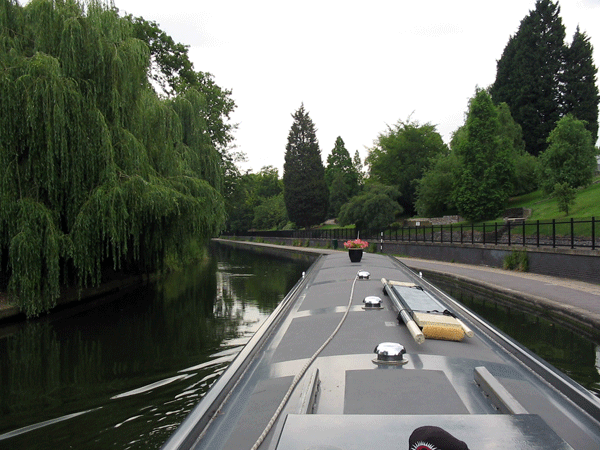 Regents Park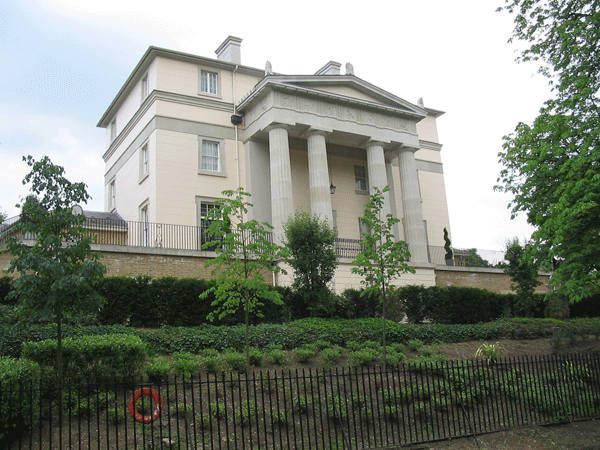 Palatial house in Regents Park backing on to the canal
At Little Venice, you pass rows of moored residential boats until you reach a wider expanse of water, the triangle area of Litle Venice. The Paddington Arm goes off to the left to Paddington Basin where apparently there are visitor moorings. We did not know what to expect down this arm, and no winding points are shown on the map, so we continued along the main route. It was now 6 p.m. and mooring spaces were few and far between. We eventually found a space big enough just behind a Dutch barge, but as we pulled in we discovered there was a youth there fishing. The signs say "No fishing when boats mooring" but he was adamant that this was his spot, and that if we moored there we would get a brick through the window at night! We did not need this, and decided to move further down, away from Little Venice towards Westbourne Green.
Thursday 14th July 2005.
We continued towards Bulls Bridge, stopping at Kensal Green Bridge where there is a Sainsbury's store right on the canal.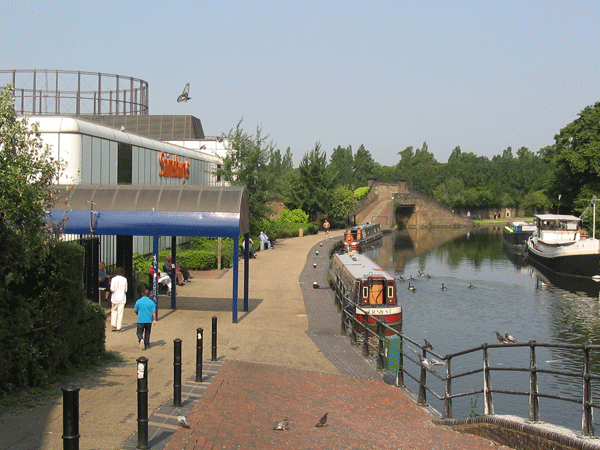 Sainsbury's at Kensal Green Bridge
Actually there are good moorings outside this store and you can stay overnight; worth remembering for the future! We passed through North Acton, Park Royal, Perivale, Northolt and Southall arriving eventually at Bulls Bridge Junction. "Miss Chief" was moored at Bulls Bridge, with John and Iona having come up a day later than us and via Brentford. We headed to Cowley Peachey Junction, and then north to Uxbridge. We had a really good view of the new Wembley Stadium with its distinctive arch. Just after we had gone past there was a huge pall of black smoke from Wembley. We thought at first that it might be a terrorist attack, but later we heard on the news that a plastics factory next to Wembley Stadium had caught fire. You see it all on the canals! We pressed on to South Harefield, where we moored for the night.
Friday 15th July 2005
We continued north, passing through Rickmansworth, Kings Langley and on to Hemel Hemstead, where we moored above Nash Mill Lock, Lock 68, at 5 p.m. We did 23 locks this day, the most in any day on the trip so far, and it was quite hard work as very often both of the top gates to the locks had been left open. You had to close these before you could start the normal locking procedure of filling the lock, and it made extra work.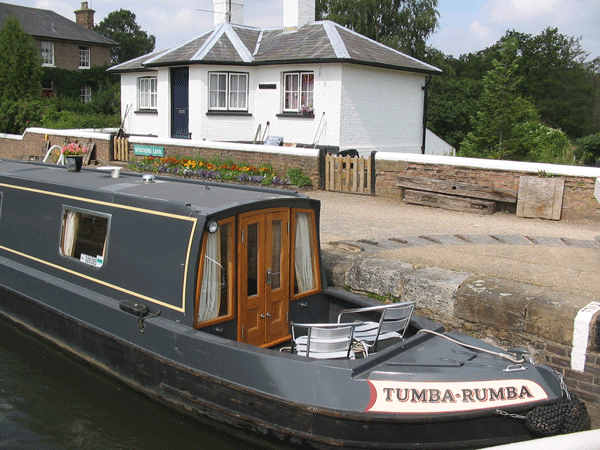 Stokers Lock
Saturday 16th July 2005
We went from Hemel Hempstead to Bulborne, only 11 miles in distance but 24 locks! We joined up with nb Miss Chief after the first lock, and having two boats progressing each lock made it a lot easier, especially as John & Iona had an addittional crew member on board.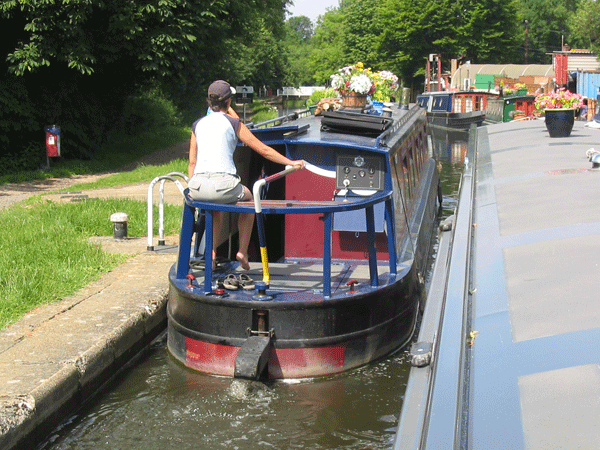 nb Miss Chief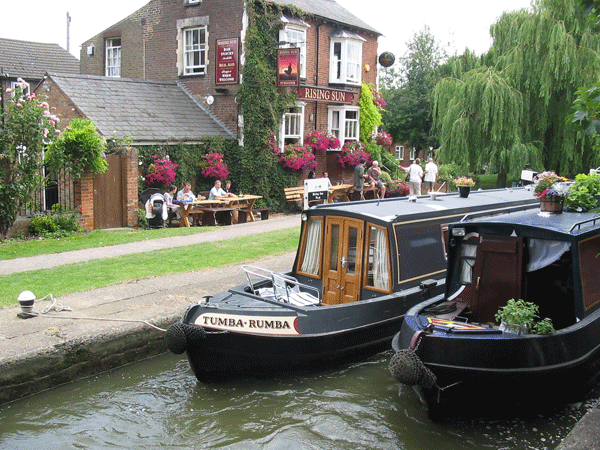 The Rising Sun at Berkhamstead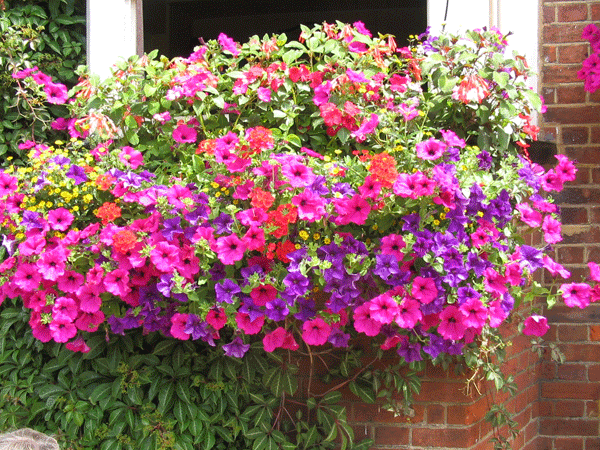 We rewarded ourselves with dinner at The Grand Junction pub in Bulborne to round off the day. Good food.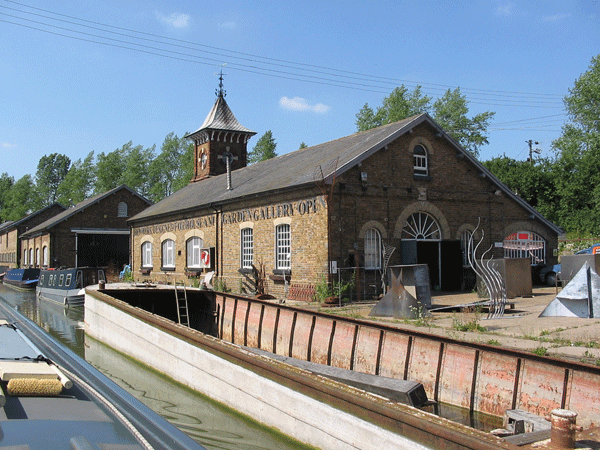 Bulborne
Sunday 17th July 2005
On leaving Bulborne we met up with Denise and Graham on "Clee Hill" in the second lock. Graham runs a marina at Milton Keynes. We travelled with them for the whole day; it was easier with two boats in the lock and Graham knows this section of the canal like the back of his hand. They were heading back to Milton Keynes, but we had had enough by 4-30 p.m. and peeled off to moor at Soulbury.
Monday 18th July 2005
Another long day, travelling from Soulbury to Stoke Breune. We left at 8 a.m. and arrived at Stoke Breune at 4-30 p.m. There is quite a lot of mooring space in the pound between locks 16 and 15 as you approach Stoke Breune, but we ascended locks 15 and 14 to get into Stoke Bruene itself. Again, mooring is tight. There were two spaces just past the locks, but these are designated "disabled moorings". We moved on a bit and found a space before the Blisworth Tunnel. Here I asked a man on a narrowboat going the other way whether the tunnel was leaky, and whether you needed an umbrella and coat. "As long as your beer is covered, mate, yu'll be right" came the reply. I knew immediately that he was an Australian and it turned out the he was from Brisbane. He had noted the name of our boat, "Tumbarumba" but I was disappointed to learn that he had not heard of John O'Grady's poem, The Integrated Adjective....... shooting Kanga-bloody-roos at Tumba-bloody-rumba. Somehow I imagined every Australian knew this poem! There are quite a few pubs and restaurants in Stoke Breune, and we ate at The Boat Inn.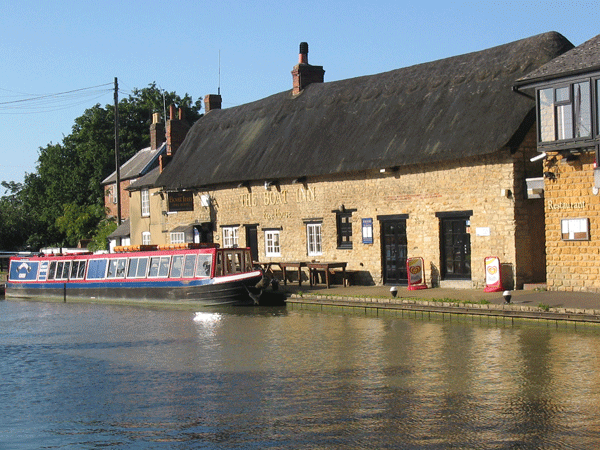 The Boat Inn, Stoke Breune
Tuesday 19th July 2005
We were soon on our way at 8 a.m. and within half a mile reached the 3057 yard long Blisworth tunnel. The tunnel takes two-way traffic, but we were on our own until the last 100 yards when another boat entered.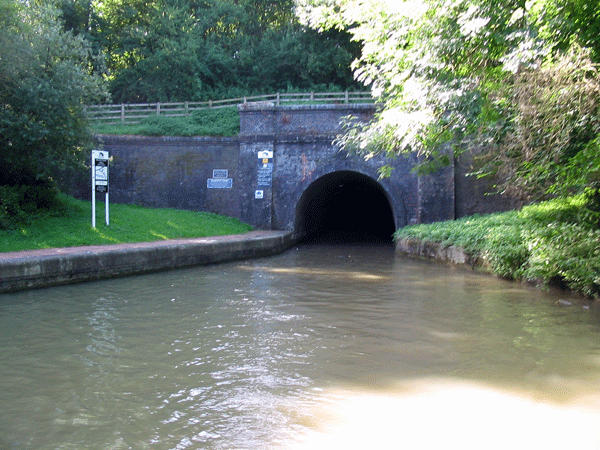 North Portal - Blisworth Tunnel
We stopped en route to butty up alongside a working boat to buy diesel. It is quite a convenient way to buy diesel as it does not involve going in to a marina, and it helps to support those making a living on the canals. The guy who served us was a goldmine of information and canal gossip. We carried on northwards, past Whilton Marina, and eventually climbed the Napton 7-locks to reach Napton. From here it was only 4 miles 6 locks to Braunston, and we joined nb "William" to do the six locks which made it easier. Owners Rod and Mary had sold their house to downsize, buying a cottage and a narrowboat from the proceeds. "William" is a rather nice Braidbar boat with high gloss paintwork, and I was very careful in entering the locks not to bash it!
Wednesday 20th July 2005
On the home stretch now retracing our way to Barton Turns Marina. We moored up at Ansty for the night at 4 p.m.
Thursday 21st July 2005
It was a cold and windy day, a complete change from the hot weather we had enjoyed on the trip so far. There was a tree down across the canal near Atherstone; someone had cut off a few branches and it was just possible to get by. We moored at 5 p.m. just after the M42 bridge near Polesworth.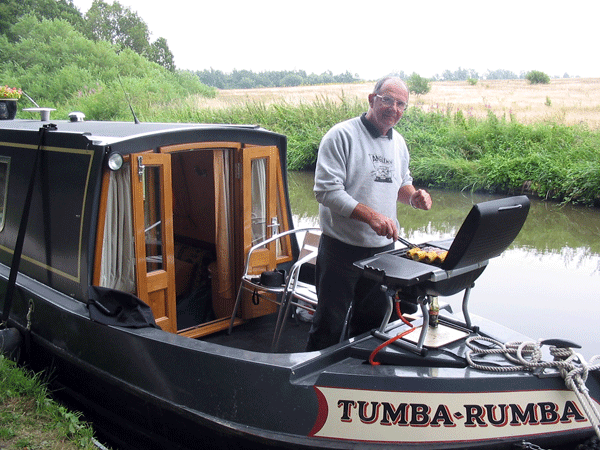 Mick cooking dinner........ again!
Friday 22nd July 2005
Leaving our moorings at 8-30 a.m. we did the two Glascote locks and made our way to Fradley via Fazeley. We were 5th in a procession approaching Junction Lock at Fradley, and it took quite a long time to get through. We had intended to moor overnight at Alrewas where we had heard that there was a good fish & chip shop. In the event we pressed on to Barton Turns Marina and went back to Alrewas by car. The fish and chip shop lived up to its reputation and they were some of the best fish and chips we have had for years. We finished off with a drink in our "local", the Shoulder of Mutton in Barton-under-Needwood to celebrate yet another successful trip. Even by our standards we were surprised what we had achieved in a month!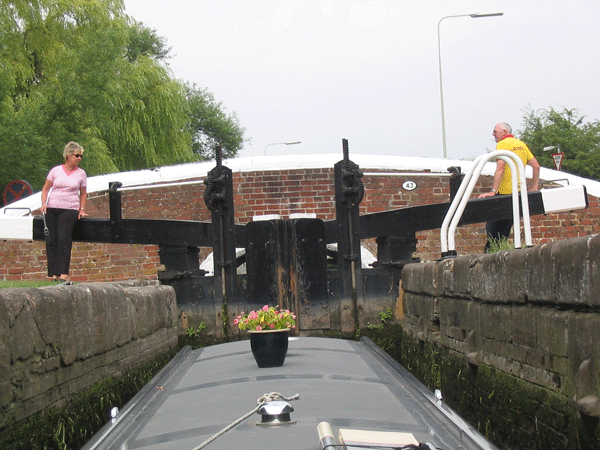 Wychnor Lock .... the 267th of the trip!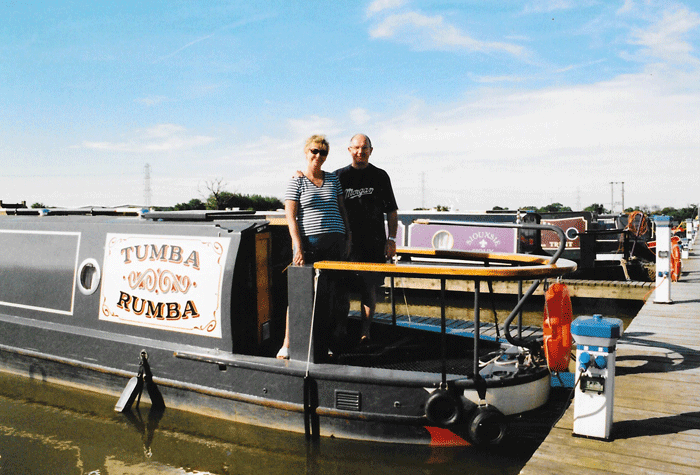 The Tumbarumba crew