RIVER WEAVER - 24 MARCH to 5 APRIL 2005
13 Days, 179 Miles , 130 Locks
| | | | | |
| --- | --- | --- | --- | --- |
| Day | Miles | Locks | From | To |
| 1 | 13.3 | 10 | Barton Turns Marina | Bridge 68, near Rugeley |
| 2 | 17.52 | 14 | Bridge 68, near Rugeley | Bridge 104, Wedgwood |
| 3 | 11.89 | 10 | Bridge 104, Wedgwood | Lock 45, Church Lawton |
| 4 | 5.87 | 22 | Lock 45, Church Lawton | Bridge 154, Wheelock |
| 5 | 16.05 | 9 | Bridge 154, Wheelock | Bridge 199, Anderton |
| 6 | 10 | 2 | Bridge 199, Anderton | Vale Royal Moorings |
| 7 | 2 | 2 | Vale Royal Moorings | Northwich |
| 8 | 16 | 6 | Northwich | Bridge 19 |
| 9 | 15 | 6 | Bridge 19 | Audlem (after Lock 14) |
| 10 | 17.5 | 23 | Audlem (after Lock 14) | Norbury Junction |
| 11 | 22 | 2 | Norbury Junction | Bridge 76 |
| 12 | 16.7 | 14 | Bridge 76 | Wolseley Bridge |
| 13 | 14.7 | 10 | Wolseley Bridge | Barton Turns Marina |
| | 179 | 130 | | |
Thursday 24th March 2005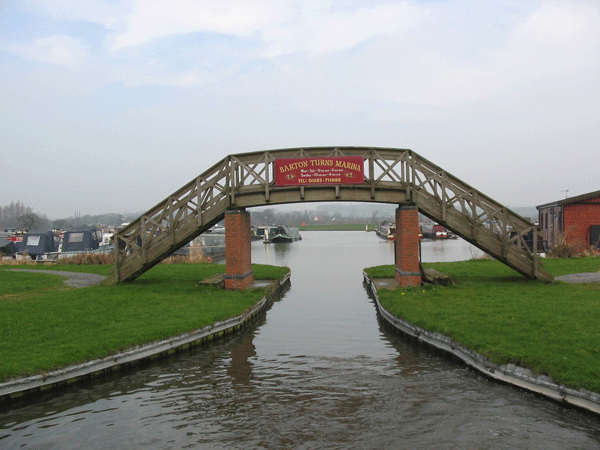 Barton Turns Marina
We departed Barton Turns Marina at 9 a.m. heading up the Trent & Mersey Canal towards Stoke. As it was our first trip of the season we were hoping for good weather over the Easter Weekend, but it did not look that promising.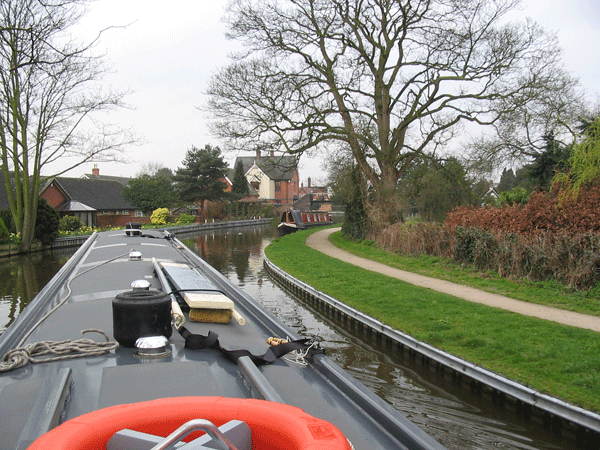 Passing through Alrewas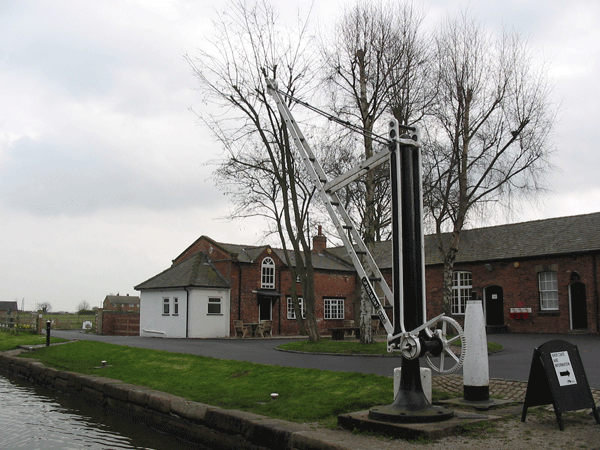 Fradley Services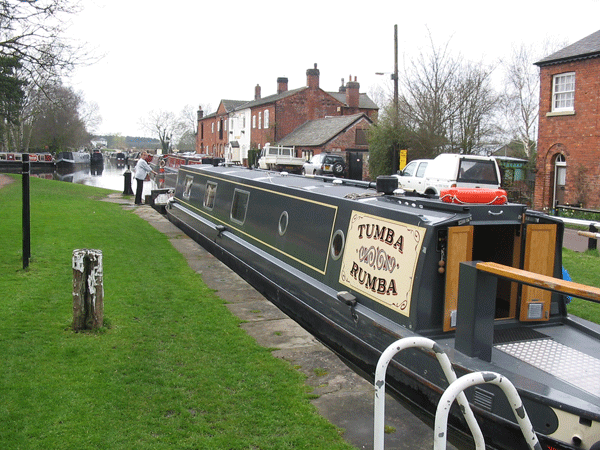 Junction Lock, Fradley
We were soon through the 5 locks at Fradley, we passed Kings Bromley and on towards the narrow section at Armitage which was previously the Armitage Tunnel. We passed through Rugeley, slowly, very slowly so as not to upset the people moored along the tow path there, and negotiated the right hand turn prior to the Brindley Aqueduct. This is quite a sharp turn and the canal seems shallow; go too fast and you don't make it round the bend! By now it was approaching 4 p.m. and getting cold, so we moored for the night just past the Brindley Bridge.
Friday 25th March 2005
We made an early morning start at 8 a.m. it being the Easter Weekend and we were approaching Great Haywood, normally a busy junction. But there were very few boats about, and we were through Great Haywood and Hoo Mill Lock by 10 a.m. with no hold ups at all, and were on our way towards Stone. We moored up for the night at Wedgwood at 5-30 p.m. (just after the Wedgwood shop had closed – what about that for timing!)
Saturday 26th March 2005
Departing Wedgwood at 8-40 a.m. we did Trentham Lock and pressed on towards Stoke. We had soon passed the temporary tunnel and the 5 Stoke Locks, and moored up outside Festival Park Marina, Etruria at 11-40 a.m. for an early lunch.

Cockshutts Lock, Stoke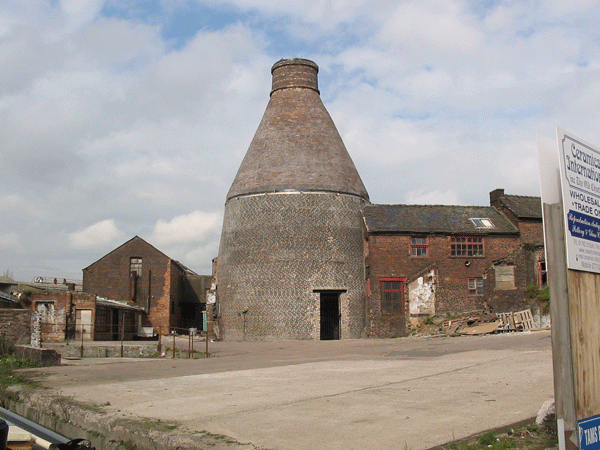 Bottle Kiln in Stoke
We joined a small convoy heading for the Harecastle Tunnel, and moored at 5 p.m. for the night just after Lock 45 and before Church Lawton. Clocks forward an hour as we went to bed!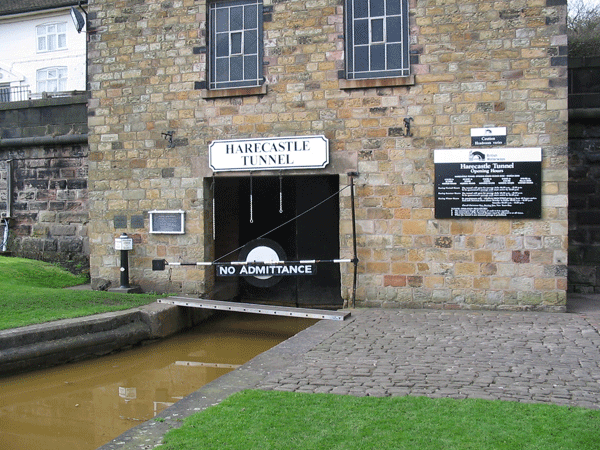 Entrance to the Harecastle Tunnel, 2926 yards long
Sunday 27th March 2005
It was raining when we woke up on Sunday morning so we had the luxury of a lie in and did not set off until 11-30 a.m. We were soon upon the first lock, Townfield Lock (Lock 46) and around a sharp bend into Church Lawton. This stretch is also good for mooring. The 2 Church Locks, the 3 Lawton Locks, the Hassle Green Locks and the Wheelock Flight followed before we turned in to Wheelock itself for our evening moorings. Wheelock is an ideal place to moor, as there is a shop, water and facilities in addition to an Italian Restaurant alongside the canal.
Here I got talking to the owner of nb "Kirki" of Hurleston, discussing boat colour schemes. Kirki was done out in Leonard Lee colours and I liked the mix of grey, black and red.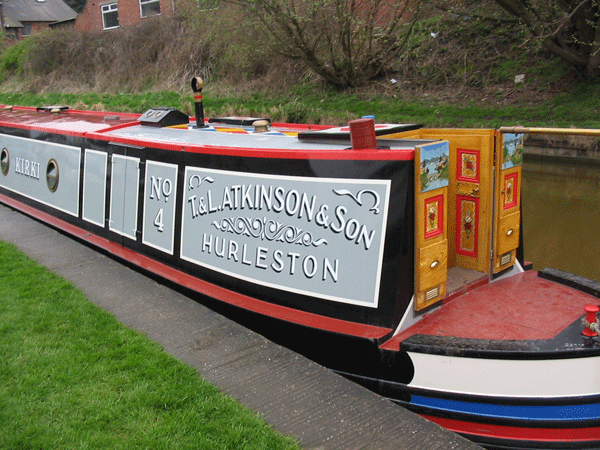 nb "KIRKI" from Hurleston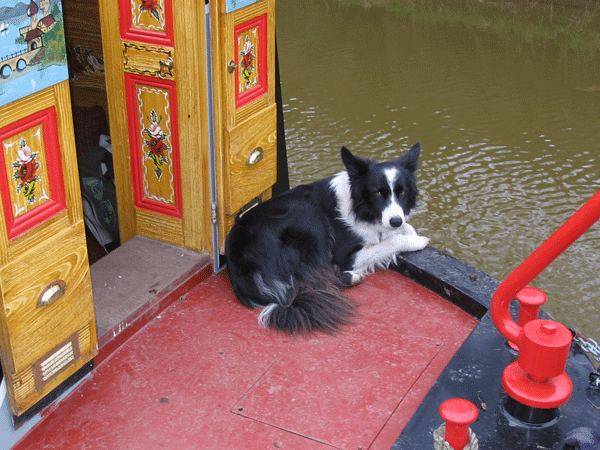 Jake aboard nb Kirki
Monday 28th March 2005
We set of from Wheelock at 9 a.m. and headed for Middlewich. We passed through an area of canal which was quite oily, and then through Crow's Nest Lock at about 10 a.m. We reached Lock 68, in front of the Albion factory at 10-30 a.m., where we met John and Sue on nb "Voyager". They had stayed in Lock 68 as they had been advised that the canal had been drained of water between Lock 69 and Rump's Lock, Lock 70.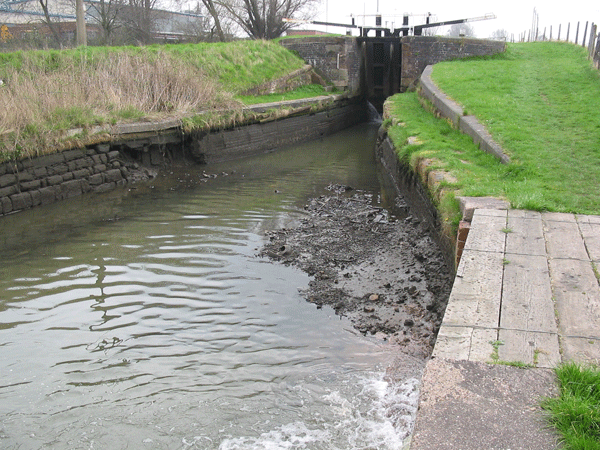 Lock 68, near the Albion Factory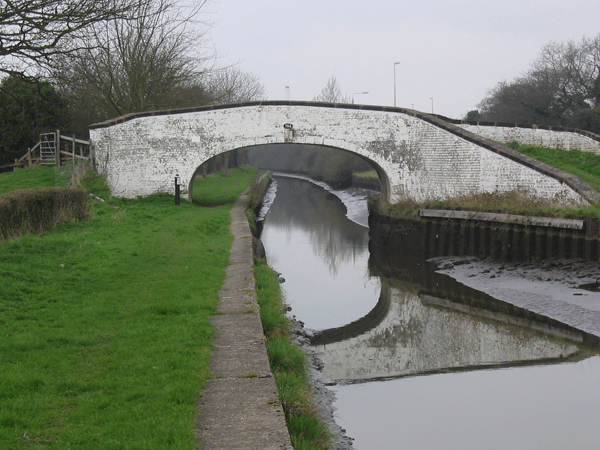 Low water at Bridge 164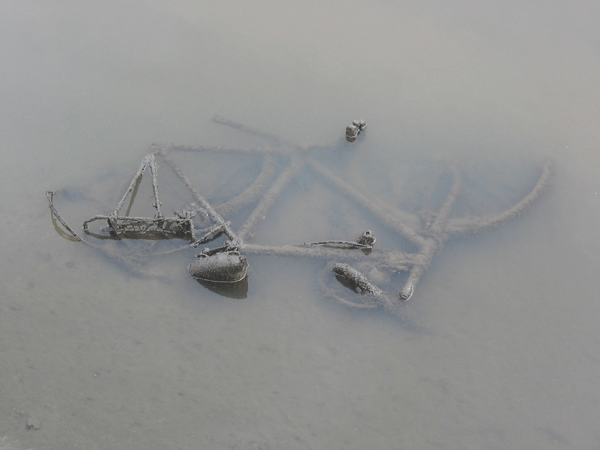 So that's where my bike went!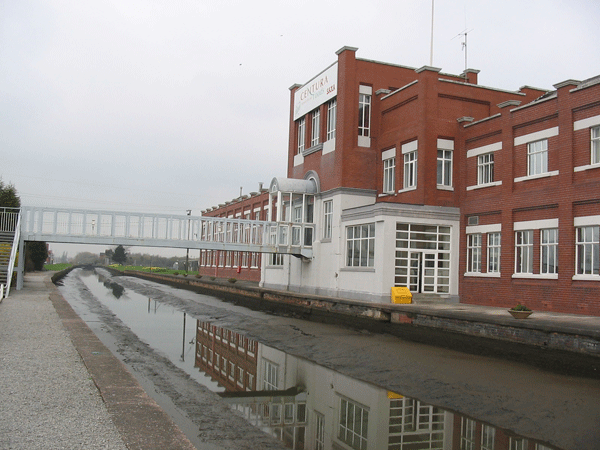 The canal by Centura Foods, sans water!
Apparently vandals had opened the paddles and let the water out the night before; British Waterways had been in attendance early Monday morning, but after they left the vandals returned and opened the paddles again. About a mile of canal had been drained leading up to the Centura Foods factory and Rump's Lock. It took until 2 p.m. for British Waterways to be able to send enough water down to re-fill the canal, by which time there was a queue of 12 boats waiting. The people on the Black Prince hire boat "Maria" behind us were doing the Four Counties ring in a week, and could ill afford this delay! After passing Rumps Lock, Kings Lock and Middlewich we pressed on to Anderton and reached there at 7-30 p.m.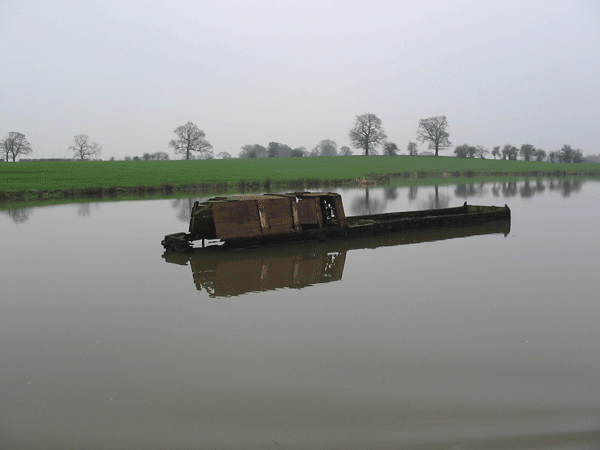 Billinge Green Flash, an area not to enter! Flashes are caused by subsidence due to brine pumping.
Tuesday 29th March 2005
We set of just before 9 a.m. and moved up to the entrance of the Anderton Boat Lift. John and Sue on nb Voyager were already in the queue for the lift, and we joined them as the second boat down. We just turned up on spec without a booking and got on straight away. We decided to come back on spec, although you can book a time for the return for a fee of £5. We were scheduled to go at 9-30 a.m., but they had some problems with the lift and it was 11 a.m. before we moved in to the caisson for the trip down to the River Weaver.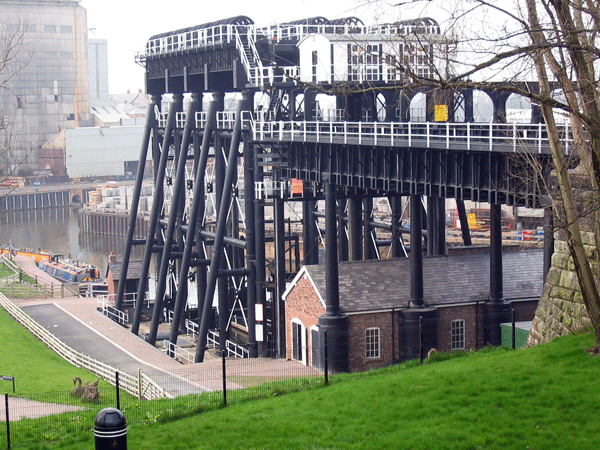 The Anderton Lift
The Anderton Lift was built in 1875 to connect the Trent & Mersey Canal to the flourishing River Weaver 50 ft below for cargoes of salt, coal and clay. Originally it was two water filled caissons each capable of taking two narrowboats and counter balancing each other and resting on huge hydraulic rams. By letting water out of one tank, it helped the steam/pump driven rams push one caisson up as the other descended. In 1908 the hydraulic rams were replaced with each caisson being counterbalanced with its own weights, and being driven by electric motors. The lift was closed in 1983 after serious corrosion was found and was re-opened in 2002 after a £7 million restoration.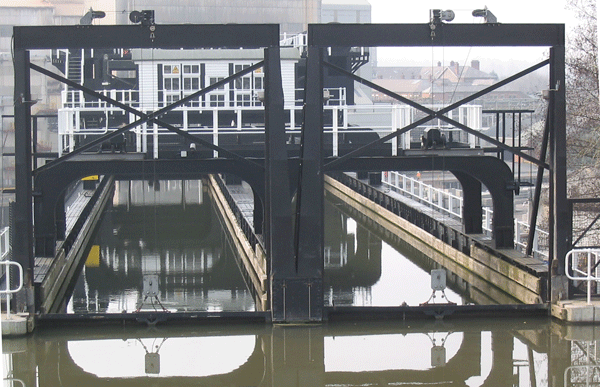 Entering the caissons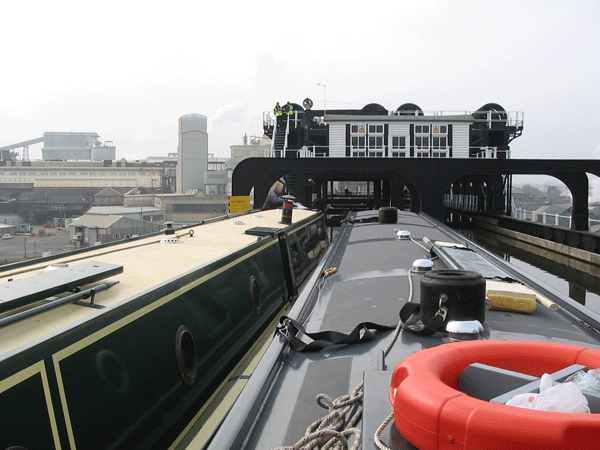 Emerging from the lift on the River Weaver, you have a choice of turning left, for the 7 miles and 2 locks to Winsford, or turning right, for the 12 miles and 2 locks to Weston Marsh. We decided to turn left and to go in to Northwich for some shopping before proceeding to Winsford. Northwich is a very pleasant little town with good moorings opposite the "Quality Hotel" and with plenty of shops, such as Marks & Spencer, Boots etc.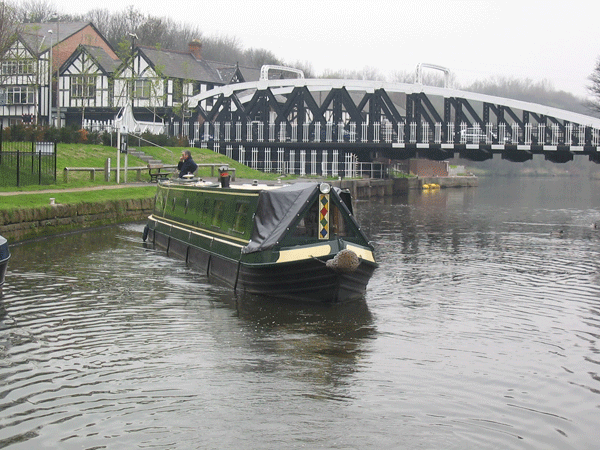 nb "Voyager" at Northwich
After lunch we started for Winsford, and soon came to the Hunt's Locks. There are two locks here; the larger one is for big boats, but even the smaller one would hold 8 narrowboats with ease. The locks are manned, and it takes two men to open them. Hunt's lock operates on the basis that they open the gates when you arrive, rather than having predetermined opening times.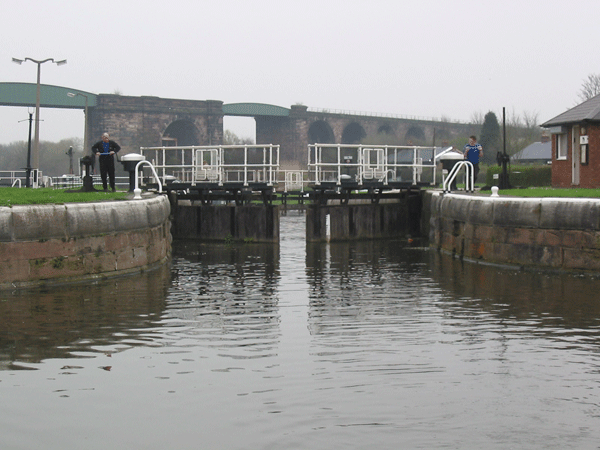 Hunt's Lock
This is not the case for the second lock, Vale Royal Locks, which have set operating times. The Vale Royal Locks are also two locks, a larger and a smaller lock, but one wall has collapsed so only one lock is operating. We had to wait ¾ hour to go through Vale Royal Lock, which was the last opening for the day. That meant that we could not return through the lock until the following day. The BW staff recommended mooring at their newly refurbished Vale Royal moorings , 10 minutes from Vale Royal Locks, rather than at Winsford.
We went down as far as the Red Lion pub at Winsford. We had expected to find the pub on the open expanse of water that is Winsford Flash, but the Red Lion is next to the canal and next to a road bridge where the canal is quite uninteresting and narrow. We were told that you can go on further into the Flash, but that the water level is shallow, hence it is at your own risk. There are moorings for a couple of boats next to the Red Lion, but judging from the number of Supermarket trolleys in the water it does not look like a good place to moor. The Red Lion has been closed for refurbishment, and although it has reopened they do not serve food. We decided to wind by the Red Lion and before the bridge, and return to Vale Royal moorings for the night. At least it was quiet there, apart from aircraft heading for Liverpool Airport.
Wednesday 30th March 2005
We were up at the crack of dawn to make the 10 minute journey back to Vale Royal Locks to get the 8-30 a.m. passage. It was a cold miserable day and was raining. We passed back through Hunt's Lock and arrived at the moorings in Northwich by 9-45 a.m. We decided to spend the day there because of the poor weather, and enjoyed dinner in a local Italian restaurant in town. John and Sue in nb Voyager headed part of the way up Weston Marsh section, but came back to report that the Anderton Lift was not operating that day due to technical difficulties.
Thursday 31st March 2005
We decided to leave the Weston Marsh section of the Weaver until another time because of the weather, and set off to be at the Anderton Lift for 8 a.m. We were able to get on the lift at 9-30 a.m. They said that it would be closed for a while after we had gone up as it required some more attention. We were quite relieved to get back to the Trent & Mersey Canal because of the weather and the question mark hanging over the operation of the lift.
We waved bye to John & Sue at 10-10 a.m. as we headed off to Middlewich.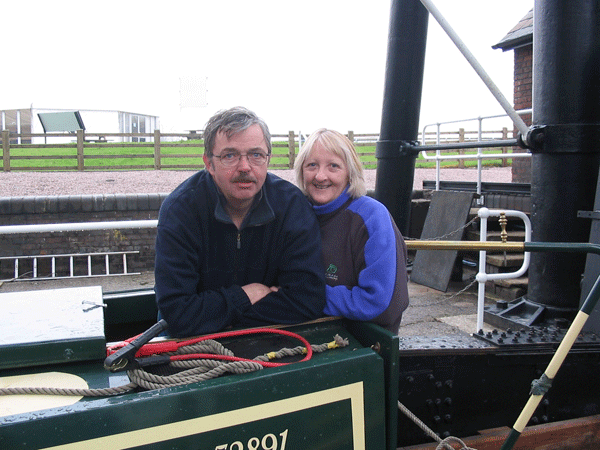 John & Sue, nb Voyager
From Middlewich we started on the 10 mile 4 lock stretch that joins Middlewich and Barbridge on the Shropshire Union Canal.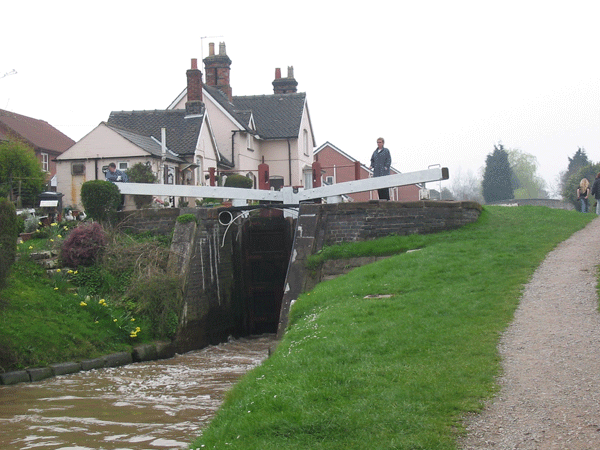 Wardle Lock
This section is quite pretty, particularly the first bit as you leave Middlewich. We moored for the night at Bridge 19. Our next door neighbours at Barton Turns Marina, Ken & Margaret on nb "Annabel" steamed past in the late afternoon; they were heading for a mooring close to the Badger Inn, in Church Minshull. We have visited this pub before and can recommend it, but for this time we were quite happy to moor near Bridge 19 as it was cold and wet.
Friday 1st April 2005
We continued on to Barbridge. The section from Middlewich to Barbridge always looks short on the map, but actually takes a long time to do. From Barbridge we joined the Shropshire Union Canal proper, passed Hurleston where the entrance to the Llangollen Canal is located and pressed on to Nantwich. Here we decided to go in to Nantwich Marina for diesel and to visit the chandlery. We will not be doing this again! It was quite tricky negotiating our way to the far end of the arm where the diesel is located; the only way of getting near was to butty up alongside a boat being fitted out. The diesel was quite pricey, and then on leaving the marina we found that we could not do a right turn along the Shropshire Union canal. We had to backtrack towards Hurleston to find a winding point. We were eventually back on our way towards Audlem, but found that passing the Nantwich embankment was quite tricky. We had to wait for another boat to pass the Nantwich Aqueduct, and as it was quite windy on the embankment it was very difficult control the front of the boat! We pressed on to Audlem and moored after Lock 14, just before the Shroppie Fly pub.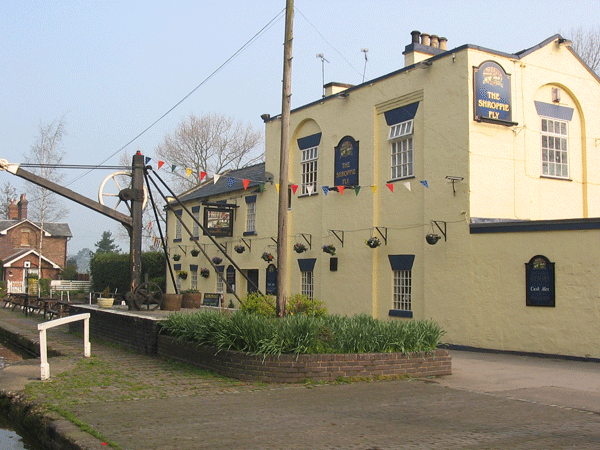 The Shroppie Fly, Audlem
Dinner and a good pint (or two!) of beer at the Shroppie Fly.
Saturday 2nd April 2005
At last good weather! In fact it was glorious all day. We set off to do the remaining 13 of the 15 Audlum Locks, which we completed in 2½ hours. Lock 12 is vicious, as it is close to Audlem Bridge and there is a very strong side wash which throws you off course as you try to enter the lock. Several of the other Audlem flight locks were the same, particularly where they were close to bridges. We pressed on through Adderley, through Market Drayton and on to Norbury Junction. We had a drink in the Junction pub at Norbury, but found it to be rather scruffy and nothing like the pub we remembered from our youth living in Stafford.
Sunday 3rd April 2005
Our destination for Monday night was Gailey. We set off from Norbury Junction on the leg to Autherley, a section of the canal which we do not particularly like.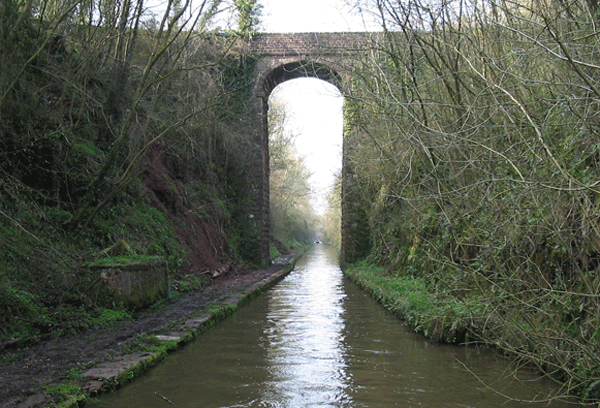 Too many dismal and damp cuttings and long boring stretches. Also a lot of moored boats requiring slow speed; you never seem to get on along this stretch. Autherley Lock is a stop lock with a height change of just 4 inches. We turned left on to the Staffordshire & Worcestershire Canal and moored for the evening near Bridge 76.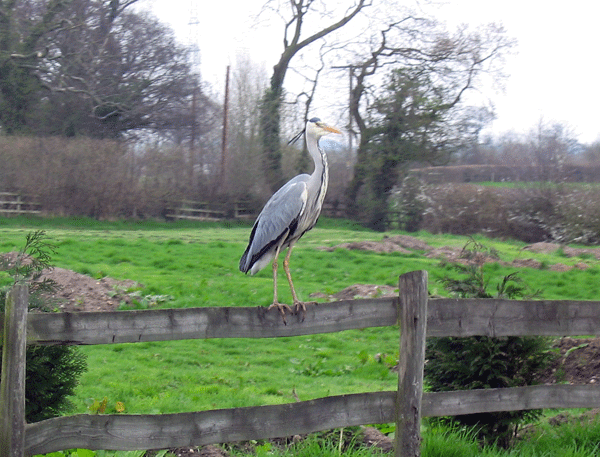 Monday 4th April 2005
We planned to get as far as Wolseley Bridges this day. We stopped for lunch in Acton Trussel opposite the Moat House, and after lunch made the short walk to the nearby church of St James. There are a lot of "Piper's" buried there but as far as I know from my family history research they are not related.
It was quite cold going around Stafford, through Baswich and on to Tixall. Quite a few boats were moored at Tixall Wides, despite it being early in the season, but we opted to continue on to Wolseley Bridges. Great Haywood was deserted and we were soon through the lock and on our way.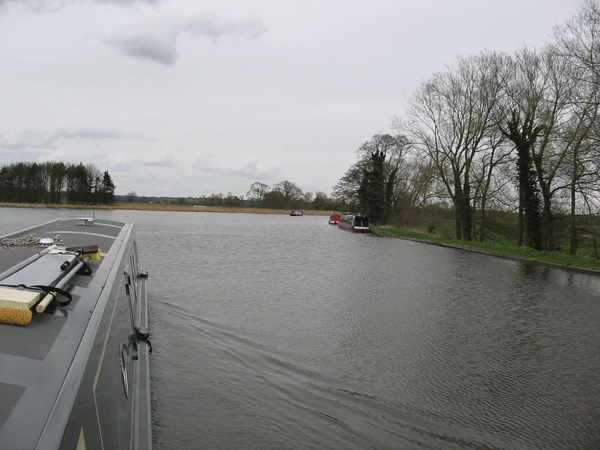 Tixall Wides
Tuesday 5th April 2005
On the last leg home now. We are getting to know the stretch between Great Haywood and Barton Turns quite well. We stopped at Fradley Junction for lunch and arrived back at Barton Turns mid afternoon. The sky was dark ahead but it was not raining or windy; that is until the very minute we passed under the marina bridge when the heavens opened up and it became very windy! This is par for the course for Barton! The Great God of The Canals sits and watches; for those who have transgressed in their travels (going too fast, causing a breaking wake, bashing lock walls etc) he turns on the rain and the wind machine just as you enter Barton Turns Marina!
Our trip was complete with dinner in The Shoulder of Mutton in Barton-under-Needwood with the odd pint of Bass! A good start to the 2005 season; all we need next time is better weather!