YORKSHIRE 12 JULY - 17 AUGUST 2004
36 Days, 392 Miles, 384 Locks
| | | | | |
| --- | --- | --- | --- | --- |
| Day | Miles | Locks | From | To |
| 1 | 14.69 | 10 | Barton Turns Marina | Wolseley Bridge (70) |
| 2 | 16.13 | 14 | Wolseley Bridge (70) | Wedgwood, Bridge 104 |
| 3 | 20.94 | 9 | Wedgwood, Bridge 104 | Bottom of Bosley Flight |
| 4 | 1.46 | 12 | Bottom of Bosley Flight | Top of Bosley Flight |
| 5 | 10.97 | 0 | Top of Bosley Flight | Lyme View Marina (Bridge 18) |
| 6 | 0 | 0 | Buxton | |
| 7 | 13.28 | 16 | Lyme View Marina (Bridge 18) | Portland Basin,Ashton Canal |
| 8 | 5.91 | 18 | Portland Basin,Ashton Canal | Telford Basin, Manchester |
| 9 | 6.67 | 19 | Telford Basin, Manchester | Rose of Lancaster, Chadderton |
| 10 | 8.68 | 15 | Rose of Lancaster, Chadderton | Littleborough |
| 11 | 3.95 | 21 | Littleborough | Walsden, Birks Hall Bridge |
| 12 | 6.45 | 20 | Walsden, Birks Hall Bridge | Hebden Bridge |
| 13 | 11.3 | 16 | Hebden Bridge | Brighouse |
| 14 | 5.85 | 11 | Brighouse | Shepley Bridge, Mirfield |
| 15 | 11.99 | 16 | Shepley Bridge, Mirfield | Stanley Ferry |
| 16 | 14.91 | 8 | Stanley Ferry | Royal Armouries, Leeds |
| 17 | 15.61 | 14 | Royal Armouries, Leeds | Apperley Bridge |
| 18 | 5.86 | 8 | Apperley Bridge | Scourer Bridge, nr Bingley |
| 19 | 14.16 | 8 | Scourer Bridge, nr Bingley | Skipton |
| 20 | 9.38 | 12 | Skipton | East Marton (Bridge 160) |
| 21 | 3.5 | 0 | East Marton (Bridge 160) | Langber Bridge |
| 22 | 9.47 | 8 | Langber Bridge | Lock 48, Borrowford |
| 23 | 17.96 | 4 | Lock 48, Borrowford | New Barn Bridge, near Church |
| 24 | 13.43 | 6 | New Barn Bridge, near Church | Top of Johnson Hill Locks |
| 25 | 13.54 | 28 | Top of Johnson Hill Locks | Wigan |
| 26 | 13.3 | 2 | Wigan | Bridge 51, Worsley |
| 27 | 15.56 | 0 | Bridge 51, Worsley | Lymm |
| 28 | 12.16 | 1 | Lymm | Bridge 213, after Preston Brook Tunnel |
| 29 | 11.25 | 0 | Bridge 213, after Preston Brook Tunnel | Near Billinge Flash |
| 30 | 10.19 | 9 | Bridge 180A, Billinge Flash | Wheelock |
| 31 | 5.43 | 20 | Wheelock | Church Lawton (Bridge 135) |
| 32 | 7.13 | 7 | Church Lawton (Bridge 135) | Festival Park Marina, Etruria |
| 33 | 9.42 | 10 | Festival Park Marina, Etruria | Hazelhurst Locks, Caldon Canal |
| 34 | 14.94 | 12 | Hazelhurst Locks, Caldon Canal | Leek/Festival Park, Eturia |
| 35 | 12.8 | 15 | Eturia | Sandon |
| 36 | 23.48 | 15 | Sandon | Barton Turns Marina |
| | 392 | 384 | | |
Monday 12th July 2004
We departed Barton Turns Marina at 9-30 a.m. and arrived at Wolseley Bridges at 5 p.m. There are good moorings close to the A51 road bridge just a short walk from the Wolseley Arms Pub. Good food there.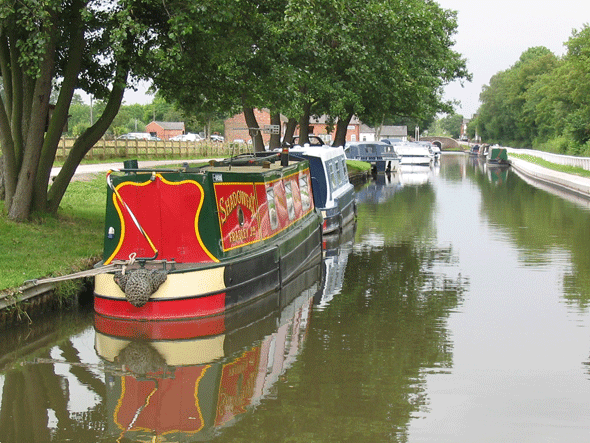 Approaching Fradley Junction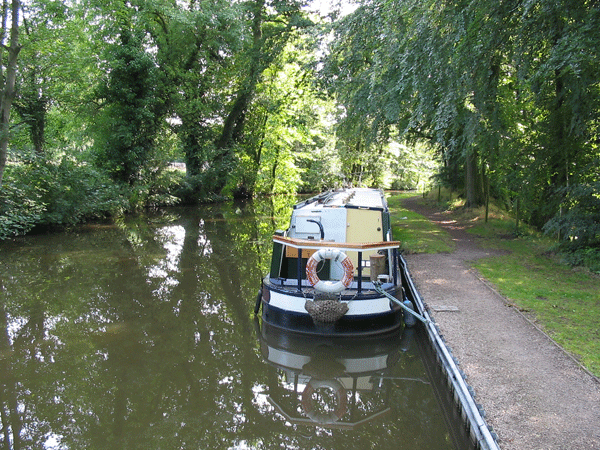 Moorings at Wolseley Bridges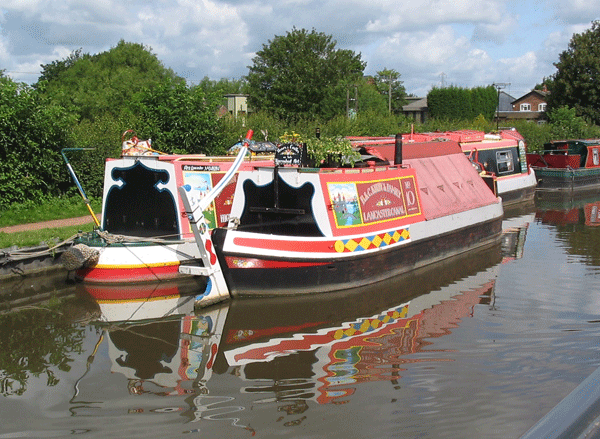 Tuesday 13th July 2004
Went though Stone. Diesel at Stone Boat Chandlery. Went on to Wedgwood to moor for the night.
Wednesday 14th July 2004
Left Wedgwood at 8-30 a.m., and went through Stoke on the way to the Harecastle Tunnel. Had an hour and a half wait before we could go through the tunnel. Moored at the bottom of the Bosley Locks for the night, near Bridge 57, Old Driving Lane Bridge.
Thursday 15th July 2004
Did the Bosley Locks (12) and moored up at the top of the locks for the night. The weather was not so good so opted for a relaxing afternoon at the mooring.
Friday 16th July 2004
Carried on to Bridge 18, Grimshaws Bridge, next to Lyme View Marina. Dinner at the Miners Arms Pub. Met our friends Rosie and Bob who arrived in the evening in their camper, and parked in the marina nearby.
Saturday 17th July 2004
With friends Jon and Christine, Rosie and Bob. Miserable weather. Went for a walk in the Dales and went to the Anglers Rest, Millers Dale for dinner.

Sue Piper with Jonathon and Christine Girling (and Usher,the dog)
Sunday 18th July 2004
Did the Marple flight of locks and moored at Portland Basin. The canal between the Marple aqueduct and Portland Basin very scruffy…. Floating fridge and arm chair, oil layer on surface of water. Not an area you want to linger in longer than necessary.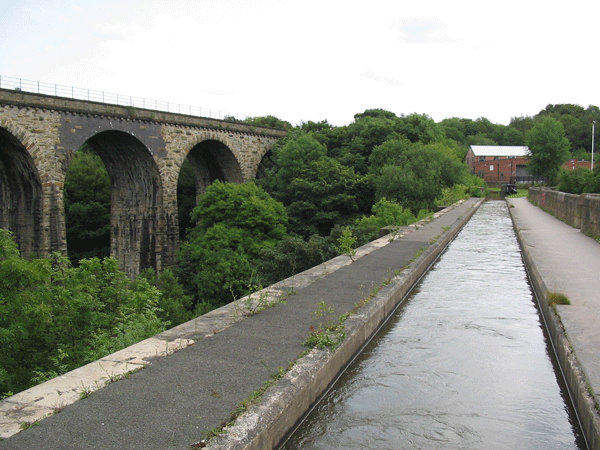 The Marple Aqueduct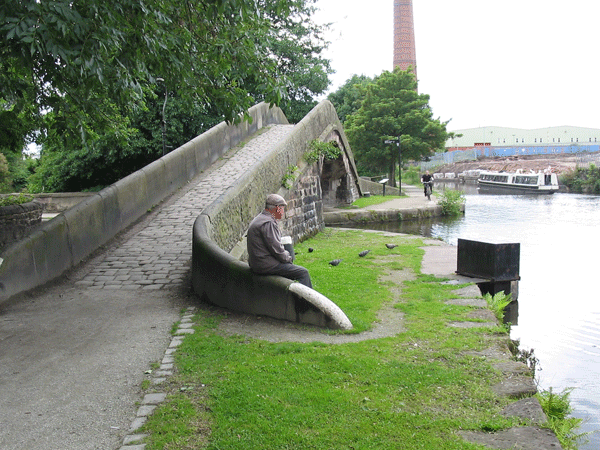 Gongoozeller at Portland Basin
Monday 19th July 2004
Portland Basin to Ducie Street, Manchester. Left Portland Basin at 6-30 a.m. and arrived in Ducie Street at 11-30 a.m. Could not enter Rochdale Canal that day as passage has to be pre-booked and the lock gates are secured after boats have gone through in the morning. Moored up in Thomas Telford Basin having reserved a place to go on to the Rochdale the next day. This area has been redeveloped and the moorings are very good.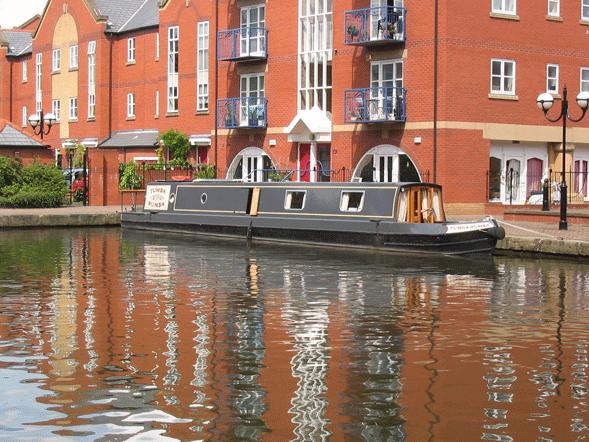 Moored in Thomas Telford Basin, Manchester.
Tuesday 20th July 2004
Departing Thomas Telford Basin at 7-30 a.m. we assembled at the bottom of the first lock of the Rochdale canal to await the arrival of the British Waterways staff. We were the second boat in line, the first being Gerald and Campbell from Edinburgh on nb "Water Meadows". It was a hard day. All the locks are double locks which meant we could go in side by side, but the canal is not used much and the locks were difficult to operate.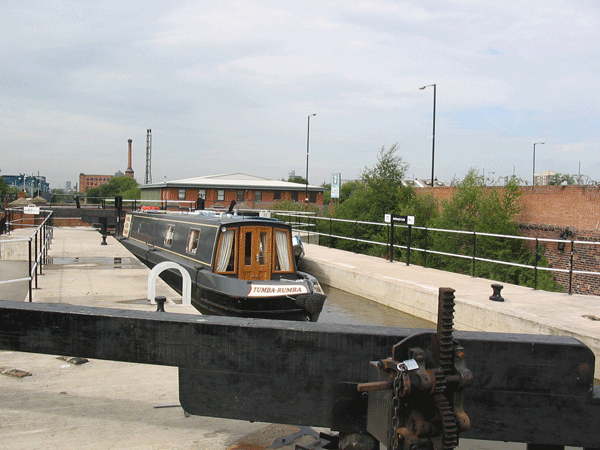 Anthony's Lock
There is a lot of rubbish in the canal along with weed, and during the day I had to check my weed hatch three times….pulling out polythene bags, string, reeds etc. After a very long day we moored up outside the Rose of Lancashire pub, Chadderton, at 4 p.m. Not a particularly good mooring place but the best available.
Wednesday 21st July 2004
We departed the Rose of Lancashire moorings around 9 a.m. Water Meadows had problems after the swing bridge, 4 miles out of Littleborough with a sheared spline key on the drive shaft. We towed them in to Littleborough, and a boat repair man came out from Todmorden to fix it. He arrived about 6 p.m. and fixed the problem in a couple of hours. You couldn't ask for better than that! Fish & Chips for dinner from the Golden Dragon Restaurant in Littleborough, a combined Chinese come Chippy. Drinks in the Red Lion pub in Littleborough. Gerald & Cambell's friend, Peter, joined their boat in Littleborough.
Thursday 22nd July 2004
British Waterway's man failed to turn up at 8-30 a.m., but the lock gates were not locked so we proceeded past Lock 48 to the Sanitary Station where we took on water etc. Continued on towards the summit. Locks very difficult and water levels low. Grounded several times and had to clear the prop shaft through the weed hatch. At Summit, water really low and scraped our bottom for half a mile across the summit and down the first lock towards Todmorden. Hard graft. Ended up at Walsden at 4 p.m. Very tired and boat looking a bit battered.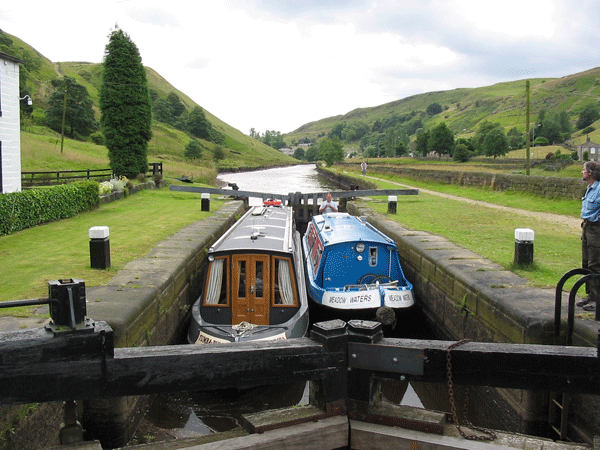 Longlees Lock, at the Summit
Friday 23rd July 2004
Walsden to Hebden Bridge. Fish and chips at Hebden Bridge. Hebden Bridge was quite a nice place but has been taken over by people with alternative lifestyles.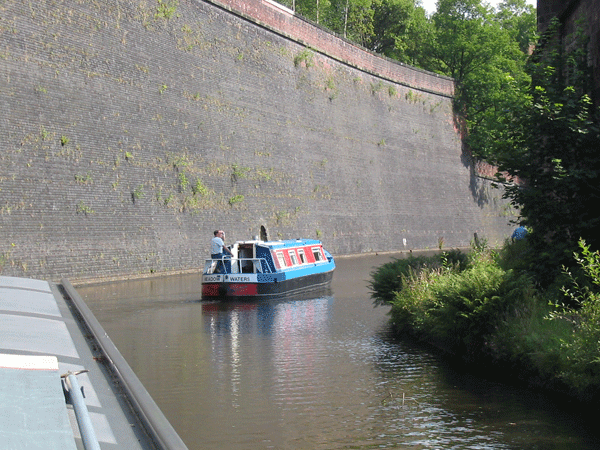 The Great Wall of Todmorden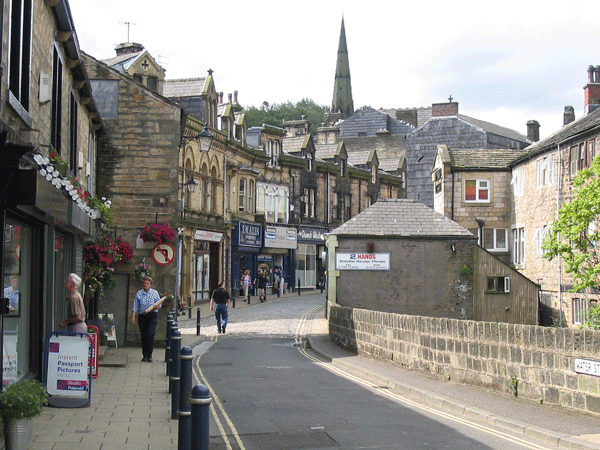 Todmorden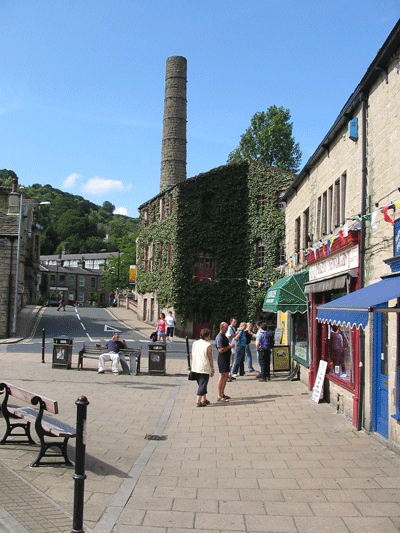 Hebden Bridge
Saturday 24th July 2004
Hebden Bridge to Brighouse. Water and diesel at Sowerby Bridge.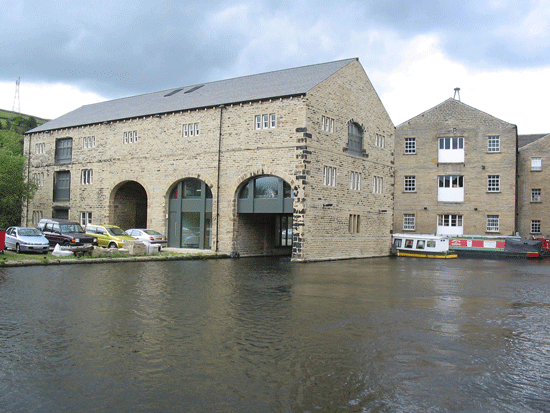 Sowerby Bridge
Difficult locks at Salter Hebble. First one at 90 degrees to the canal and difficult to get in. Also very short lock.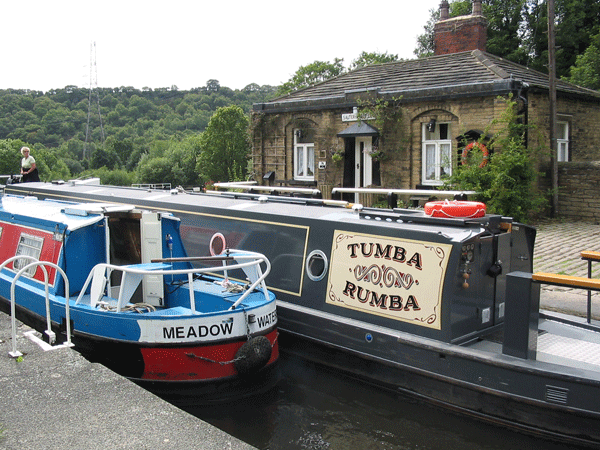 Salter Hebble Lock
Needed a wooden stave (''Hebble Spike'') to open old fashioned paddle mechanism. Fortunately Campbell had a Hebble Spike, and we were able to retrieve a piece of wood from the canal to use as a Spike!
Boat almost too long at 57 ft. Had to go across the lock to get out. Not good! Second lock also difficult to enter due to the angle and the way the wash throws you up against the side. The exit of the third lock is through a guillotine door and then a short tunnel. Moored at Brighouse. Fish & chips at Blakeley's in Brighouse with Gerald, Campbell and Peter.
Sunday 25th July 2004
Left Brighouse early morning in the rain and cold conditions, heading for Mirfield. Arrived Shepley Bridge, Mirfield 11-30 a.m. Met our relatives Donald & Dorothy, Brenda and Amanda and Richard, who live in Mirfield.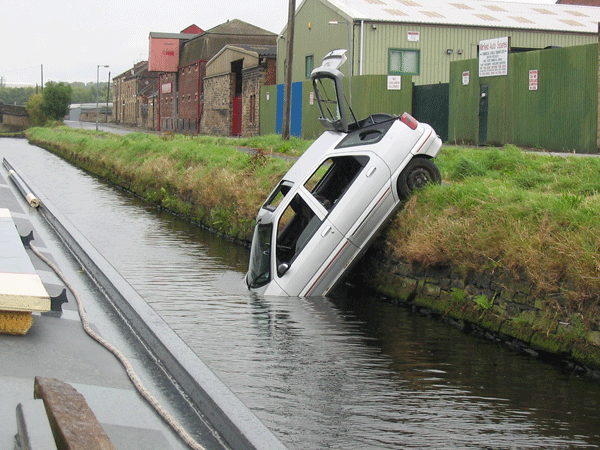 How Not To Park - Mirfield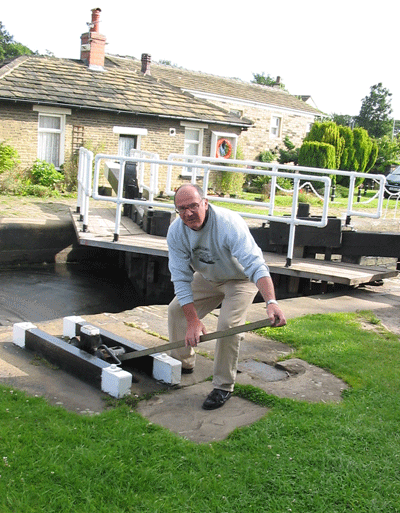 Monday 26th July 2004
Mirfield to Stanley Ferry. Meal in the pub, "The Mill House". Quite a nice place to moor as it is a very long wide stretch of canal with visitor and long term moorings.
Tuesday 27th July 2004
Stanley Ferry to Castleford (3 hrs). Went shopping in Castleford Town Centre.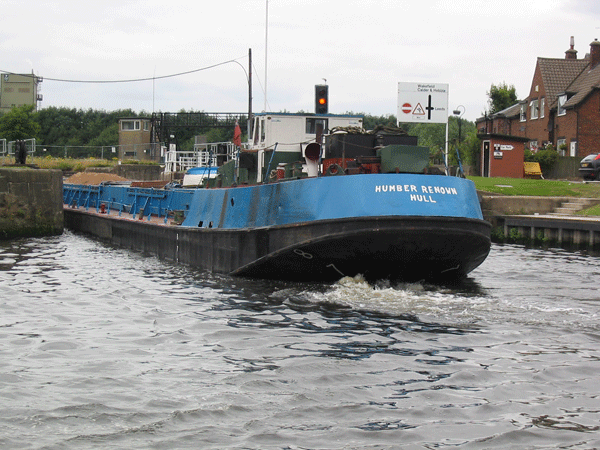 Huge gravel-carrying barge, the "Humber Renown" at Castleford on its way to Whitwood Wharf.
We continued to Leeds, mooring up at 6pm near the Royal Armories Museum. We moored on a pontoon at the side of the canal just before the Museum, but there is a basin near the museum itself.
Wednesday 28th July 2004
Left Leeds. Joined up with Joseph, Janet and their friend Nick on Barleyfirth. Moored at Apperley Bridge.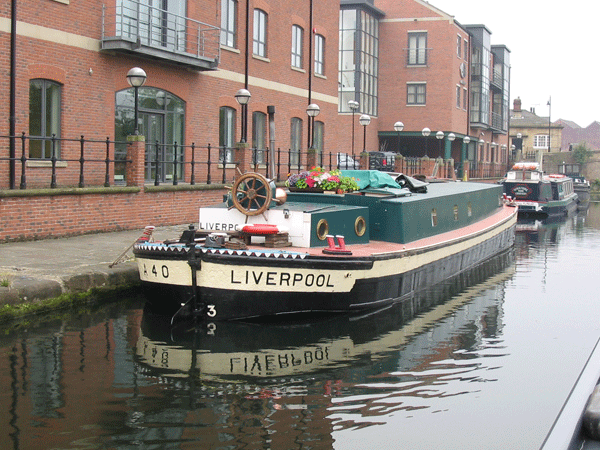 Wide beam barge in Leeds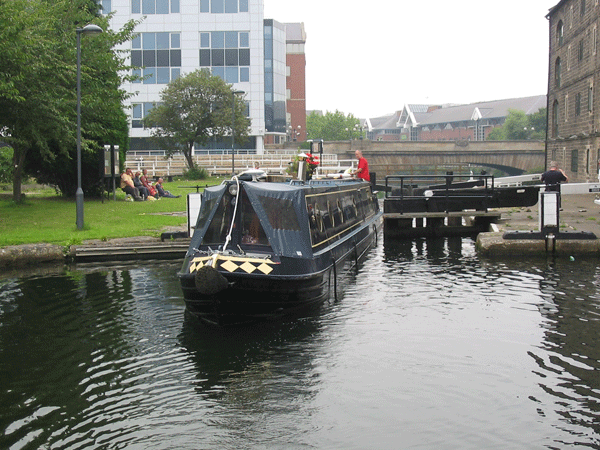 Janet & Joseph on nb "Barleyfirth"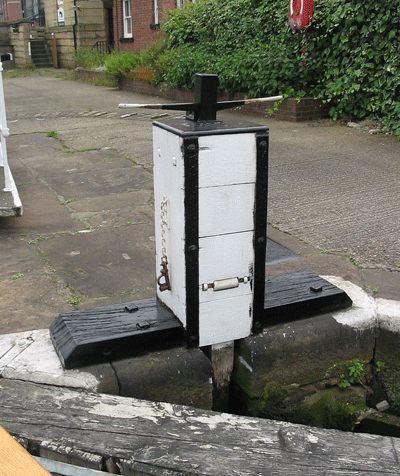 Paddle opertaing gear on Leeds-Liverpool Canal in Leeds
Thursday 29th July 2004
Traveled to Shipley and Saltaire. Did some shopping at ASDA and then walked up to Salt's Mill.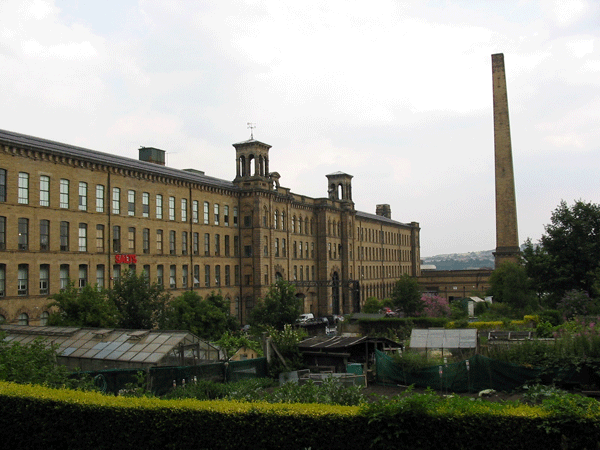 Salt's Mill, Saltaire
Had a look around the Salt's houses. Continued on our way and moored outside The Fisherman, near Bridge 205 and before the Bingley 3-rise locks.
Friday 30th July 2004
Left at 9-30 a.m. and soon reached the Bingley 3-rise and 5-rise locks. The latter was controlled by Barry Whitelock, who has been in charge of the locks man and boy. Under Barry's critical eye you did exactly as you were told, and the ascent went smoothly in just over 40 minutes.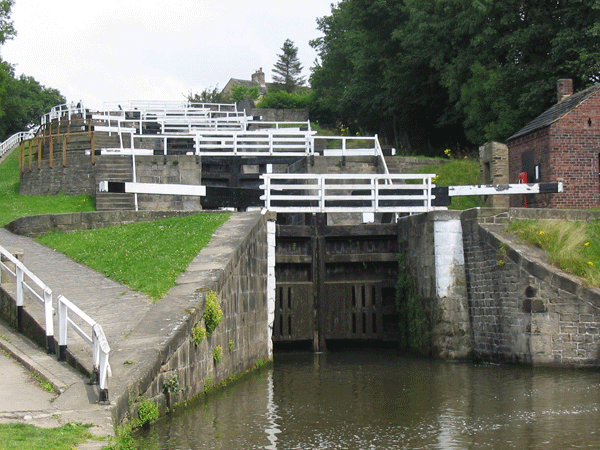 Bingley 5-rise Locks. 200 Years Old.
At the top we stopped for lunch and then Nick left to catch the train home. We set off for Skipton early afternoon and went through some beautiful countryside (and numerous swing bridges) on route. We were undecided where to moor in Skipton; there was one nice place near Gallows Footbridge leading in to the bus station but the locals advised us that the yobs use this bridge when they leave the pubs at night. We moved to a safer position. In the evening we had fish and chips at Eastwoods.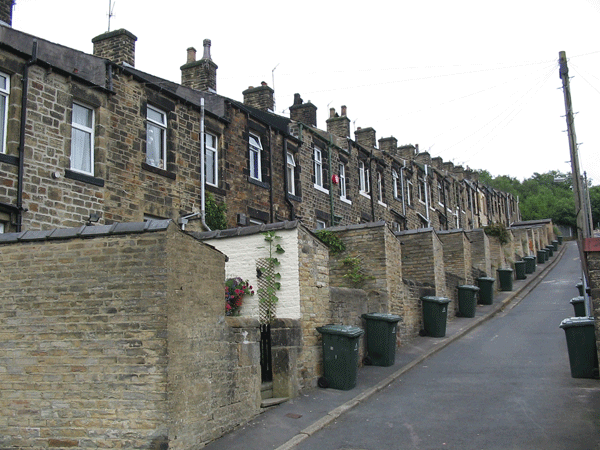 Stone Terraced Houses in Skipton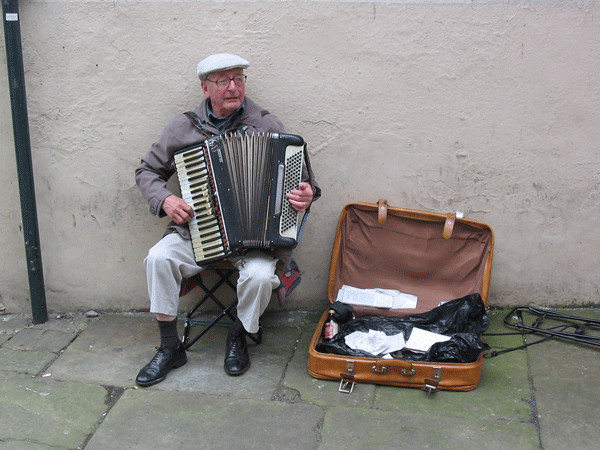 Accordian Player - Skipton Market
Saturday 31st July 2004
The first hour of the morning was spent at the launderette in Sackville Street, Skipton, catching up on 3 weeks of washing. The place was frenetic, and the lady in charge controlled the use of washers and the progression in to the driers with military precision. After doing the laundry we had a walk around Skipton's market. We then moved the boat right in to the heart of Skipton to a better mooring. A dog owner on the promenade area threw a stick in to the water for their Jack Russell. The dog was not keen in going into the canal. So they put the dog into the water to go and retrieve the stick. The dog got to the middle and disappeared under water, unable to swim properly! A passerby jumped in to try to rescue the dog, and brought it to the side. They tried for 30 minutes to resuscitate the poor animal before carrying him off dead!
We had another walk around the town along the canal near the castle, and took more photos, before returning to the boat to laze away the afternoon.
Sunday 1st August 2004
Departed Skipton and headed for Gargrave. 6 locks in the morning and then lunch. Bendy stretch of canal in the afternoon was magical. Wonderful views as canal bends back upon itself following the contours. Headed for East Marton but mooring there not so good, so we continued another mile down the cut and moored below Bridge 160.
Monday 2nd August 2004
Feeling tired we had a lie in until 9 a.m. We then decided to do the bendy bit again, so we went down the canal to near Greenberfield Bottom lock to turn around, and then headed back up towards Gargrave.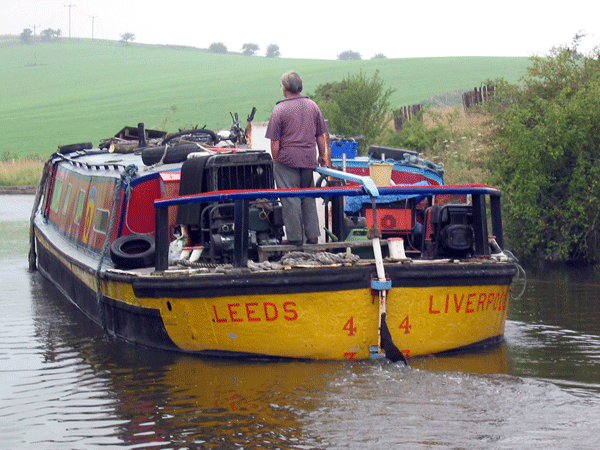 Wide Beam Barge
We turned again at the winding hole before bridge 164, and moored up for the day with a spectacular view over the rolling Dales. A walker came along the path and commented on the name of our boat. I explained the Australian connection. He then informed me that his name was ''Mr Tumber''…….. you couldn't make it up if you tried!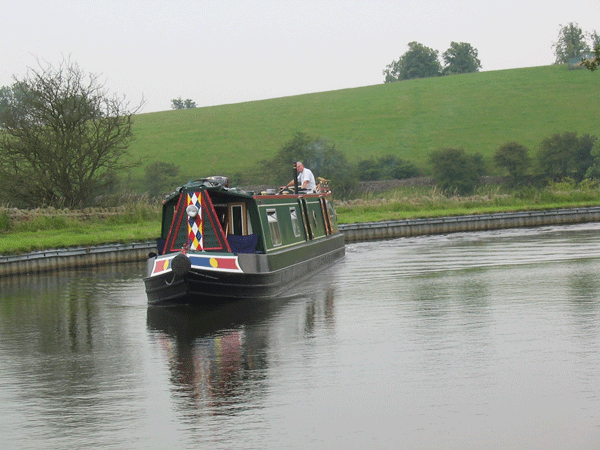 Near Langber Bridge
We headed back to East Marton and onwards, soon reaching the Greenberfield Locks. These were immaculately kept and had a very clean and tidy service area, as well as camping. The lock keeper told us that there were kingfishers in the area, and that he also had a resident woodpecker, but we saw neither! We carried on top Barnoldswick, just past the Rolls Royce Aerospace factory, where we moored up due to heavy rain. The rain eased up, and we continued on to the Foulridge Tunnel. We were fortunate enough to get a "green'' light on arrival at the tunnel entrance, and went straight in for the 30 minute passage. On exiting we did the first 3 of the Barrowford Locks, and then moored up rather than approaching Burnley in the late afternoon. Just as well that we did, as we had a thunderstorm shortly after mooring. There were still boats going by, but everybody looked a bit soggy!
Wednesday 4th August 2004
We completed the Borrowford Locks. As we approached Burnley the crap started! All sorts of rubbish in the canal. Across the Burnley Embankment, high above Burnley town. It should be an excellent place to moor up but we did not feel comfortable in the area and continued. Through the Gannow Tunnel and on. Stopped at the British Waterways yard for water and Elsan point. On to Hapton. Stopped for diesel. And on. Moored near the golf course near bridge 109, which were the first pleasant moorings we had come to.
Thursday 5th August 2004
Left moorings and headed through Blackburn.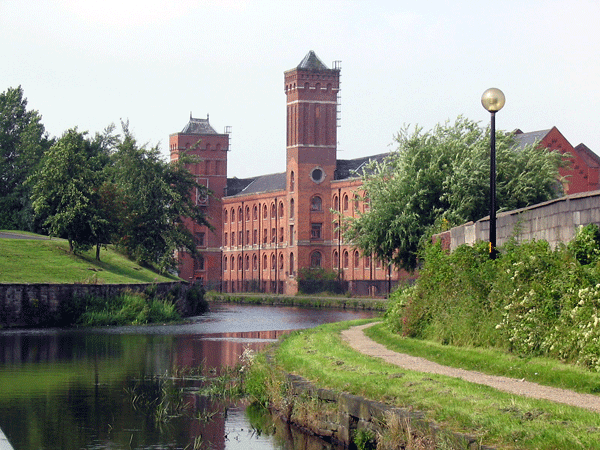 Daiseyfield Mill, Blackburn
Did the Blackburn locks and moored at Cherry Tree for lunch. Carried on and moored at the top of Johnson Hill locks. Dinner in "The Top Lock" pub.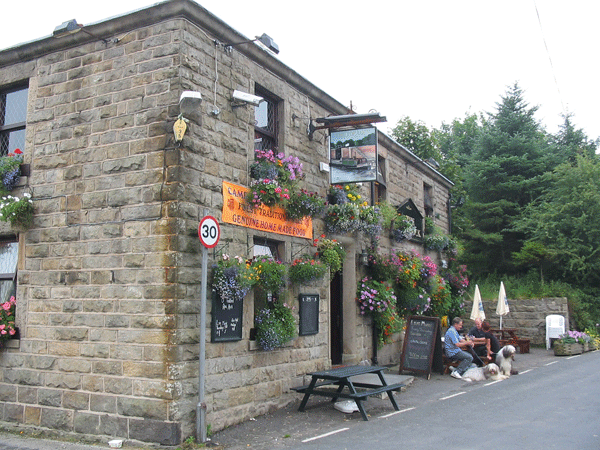 The Top Lock pub
Friday 6th August 2004
Did the 7 Johnson Hill Locks. Went on to the top of the Wigan Flight intending to do half. Met Barry and Jan Tiffany on ''Edith Tindal'' and decided to do the whole Wigan Flight in one go. Ended up mooring at the bottom of the Wigan Flight around 5-30 p.m. We noticed lads with Wigan Rugby League shirts walking towards the JJB stadium. We enquired and found out the Wigan were playing Hull at 8 p.m. A quick shower and a bite to eat and then off down the canal to the JJB. Easy to get tickets to see the game, which was quite exciting. A draw, 13-13.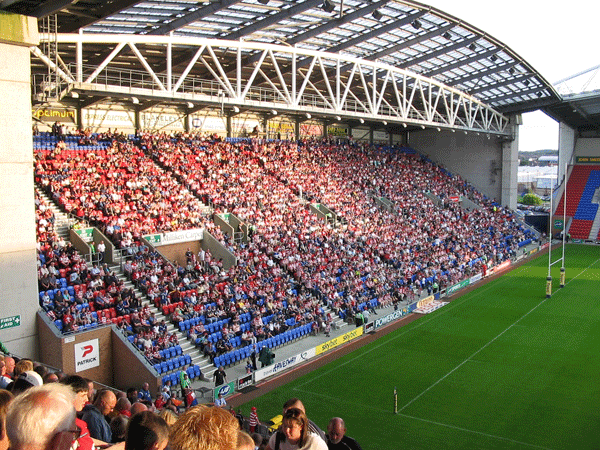 The JJB Stadium, Wigan
Walked back to Wigan Pier and went for a drink in "The Orwell". Got to bed about midnight. A long day!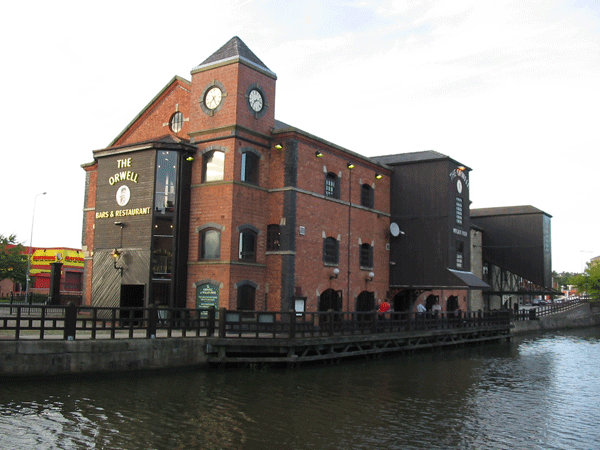 The Orwell Pub, Wigan Pier
Saturday 7th August 2004
Did the two locks on the Bridgewater Canal and headed for Plank Lane swing bridge. This manned bridge sometimes closes at noon on Saturday, so we wanted to make sure that we got past it in time.Went on to Leigh and did some shopping at Kwik Save. Continued on in glorious sunshine and moored up at Worsley at 4 p.m.
Sunday 8th August 2004
Departed Worsley and headed for Barton Upon Irwell, where we crossed over the Manchester Ship Canal on a swing bridge. On to Waters Meeting, where we turned right for Stretford and Sale. On to Lymm, where we moored for the night. Very hot and sticky weather.
Monday 9th August 2004
Raining all morning so we stayed moored in Lymm, visiting Safeway to stock up with food. Departed at lunch time, passing a fishing competition with about 40 anglers on the bank. Soon reached two hugh MSC barges and had to pull over to the side to let them through, and arrived at the Prestbrook Tunnel at 4 p.m. Went through at 4-30 pm and moored for the evening just the other side.
Tuesday 10th August 2004
Very heavy rain in the night and throughout the morning. Stayed at our moorings and relaxed. Brightened up in afternoon so set off towards Middlewich. First tunnel a bit tricky…. Not straight and difficult to see if any one coming. Boaters in front of us told us that three boats had had to back out of the tunnel. We made it through OK. Did the second tunnel and on to the Anderton Lift. Moored just after Billinge Flash.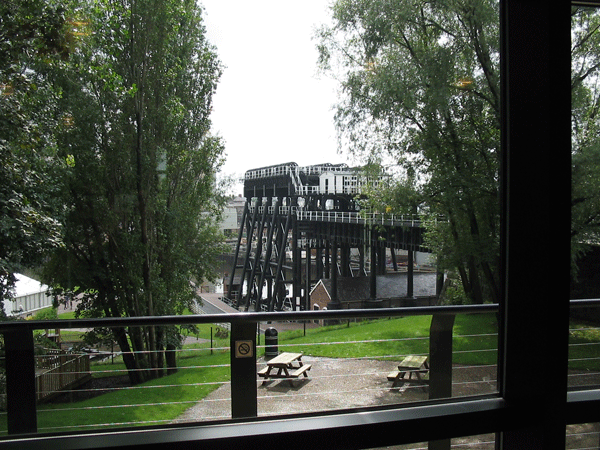 The Anderton Lift
Wednesday 11th August 2004
Departed Bilinge Flash and headed for Middlewich. Did the last of the double locks as we entered Middlewich, and then back on to single narrow locks again. What a joy. They are so much more friendly and easier to use. Stopped for lunch in Middlewich and then continued on to Wheelock for the night's mooring. Dinner at Venezia Italian Restaurant alongside the canal.
Thursday 12th August 2004
Departed Wheelock and did 18 locks, mooring for the night at Church Lawton, between lock 47 and lock 46. Ready for 6 locks and the Harecastle Tunnel to take us to Stoke Upon Trent.
Friday 13th August 2004
Arrived Etruria late Friday
Saturday 14th August 2004
Nick and Cath joined us at 1-30 p.m. and we took off down the Caldon Canal. Moored up near Hazelhurst Locks and went to the Holly Bush pub for dinner.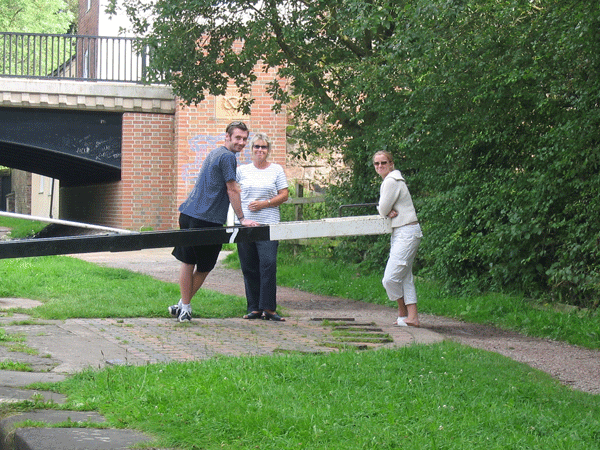 Nick, Sue and Cath
Sunday 15th August 2004
Continued down towards the end of the Leek branch of the Caldon Canal and went through the tunnel. Returned to Etruria and went to the Toby Carvery.
Monday 16th August 2004
Nick and Cath left and we departed around 10 a.m. and we left Etruria. Moored near Sandon for the night.
Tuesday 17th August 2004
Pressed on and reached Barton Turns around 6-30 p.m. ….. in a rain storm! Trent flooded and caution signs in place.