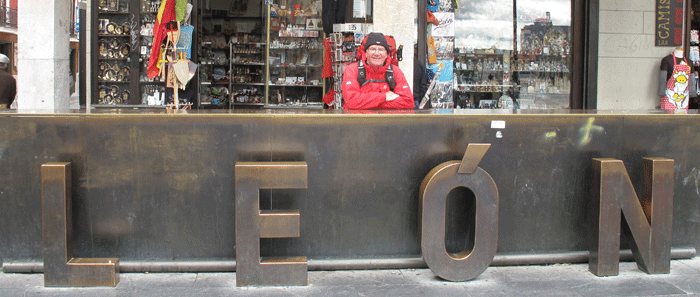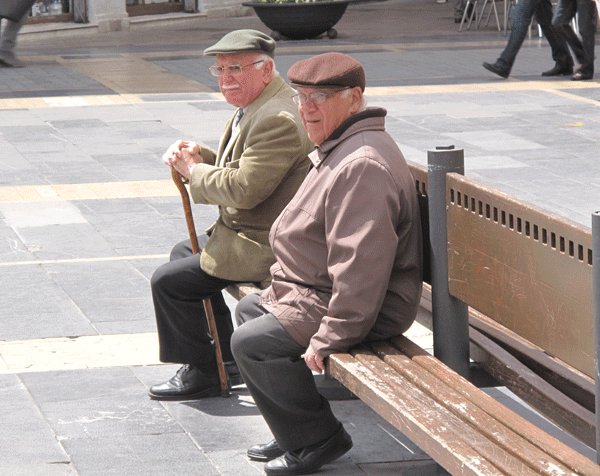 Just watching the world go by.
The Cathedral
León Cathedral (Catedral de Santa María de Regla de León) is a French-style Gothic cathedral built in the 13th century over the ruins of ancient Roman baths. Intricately carved portals, glorious rose windows, one of the oldest choirs in the country, and beautiful sculptures such as the Virgen de la Esperanza are just a few of the cathedral's many impressive features.

A Christian community is first recorded in León in 254, but no bishop is recorded in Visigothic times. The bishropic of León was established in 860, after King Ordono conquered the city from the Moors. It was subordinate to the diocese of Toledo until 1105. The present incarnation of León Cathedral was begun by Bishop Martin Fernandez, with funds from King Alfonso the Wise, in 1255 over the ruins of 2nd-century Roman baths. The first recorded master builder was one Simón (from 1261), followed soon after by Enricus or Enrique (d.1277), who was also the master builder at Burgos Cathedral.

The cathedral mostly dates from the 13th century, but not fully completed until the 19th century (when it was also extensively restored) due to periodic problems with funding and structural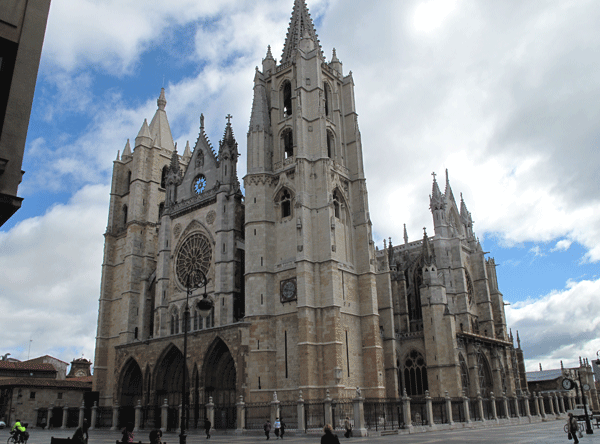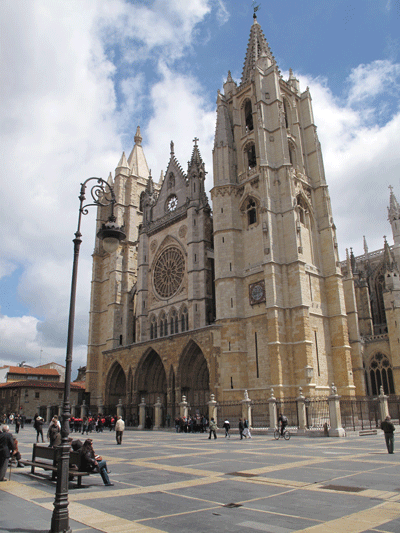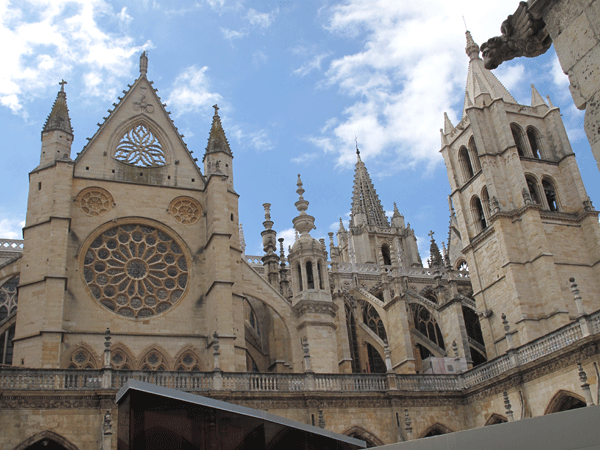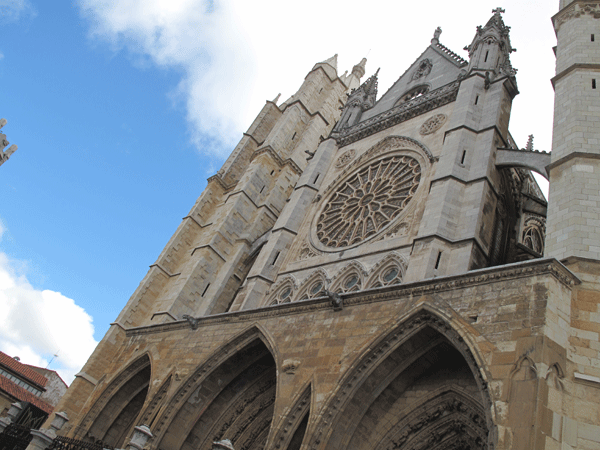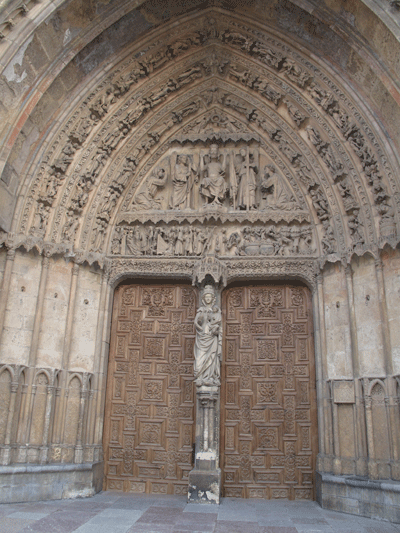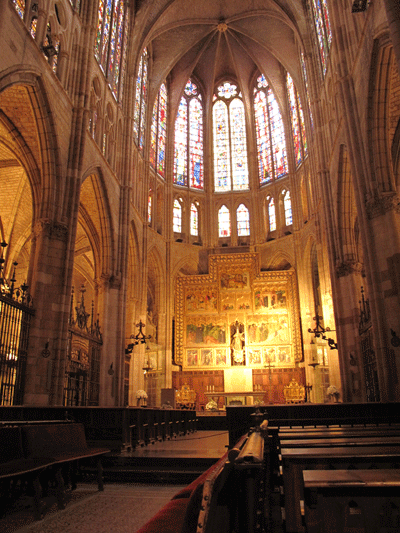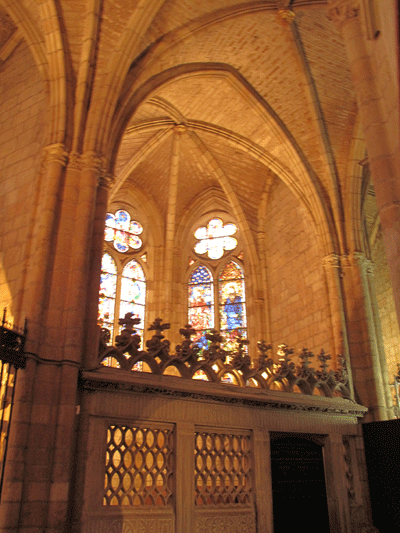 Gothic roof structure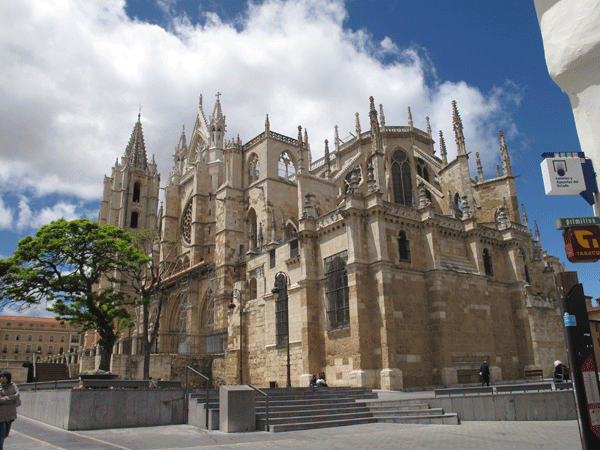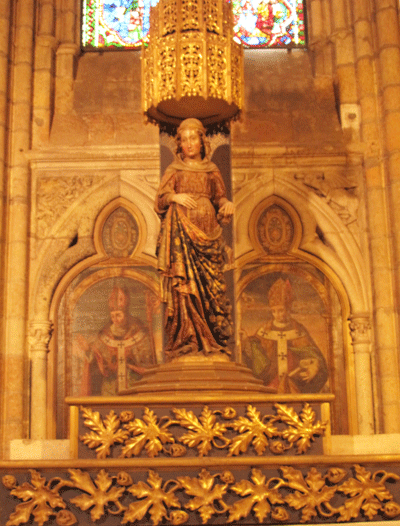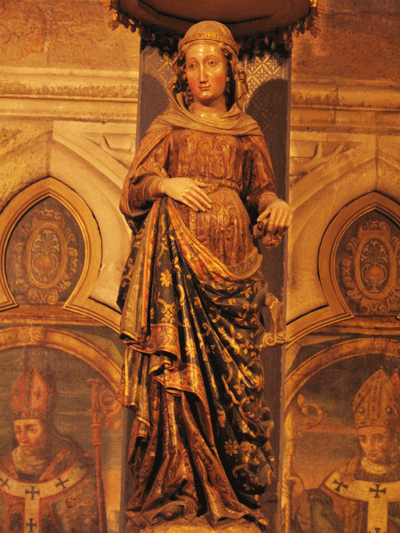 Virgen de la Esperanza
The much-revered statue of the Virgen de la Esperanza, depicting the Virgin
Mary when she was pregnant with Jesus, dates from the 13th or 14th century and
is displayed in a side chapel off the choir.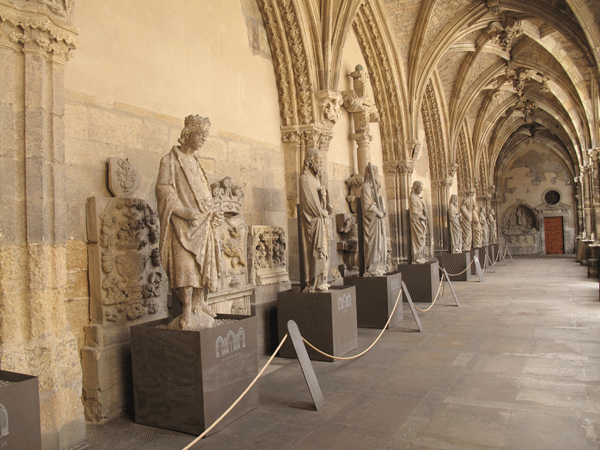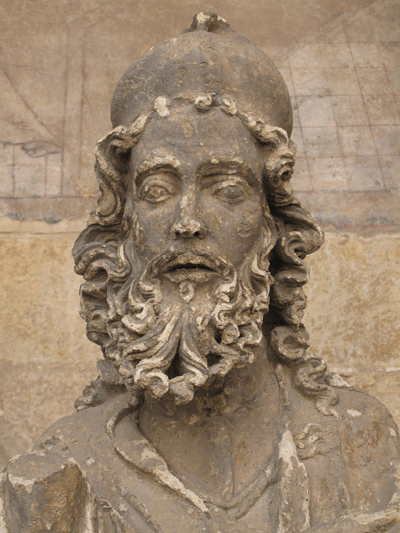 Anciano Simeon
Casa Botines
One of only three Gaudí buildings outside of Catalonia, Casa Botines (or, Casa Fernández y Andrés) is located in the center of León. This neo-gothic, granite building consists of four floors divided into apartments plus a basement and attic. The building has an inclined slate roof with six skylights and four corner towers. A trench around two sides of the building allows more light and air into the basement. The windows on all four sides of Casa Botines are identical. They decrease in size as they go up the building. Exterior moldings differentiate between the floors and emphasize the width of the building.

The construction of Casa Botines took only ten months, despite Gaudí's troublesome relationship with the people of León. Some local engineers didn't approve of Gaudí's use of continuous lintels for the foundation. They considered sunken piles the best foundation for the region. Their objections led to rumors that the house was going to fall down, so Gaudí asked them for a technical report. The engineers were unable to come up with anything, and were thus silenced. Today, Gaudí's foundation still appears perfect. There are no signs of cracks or settling.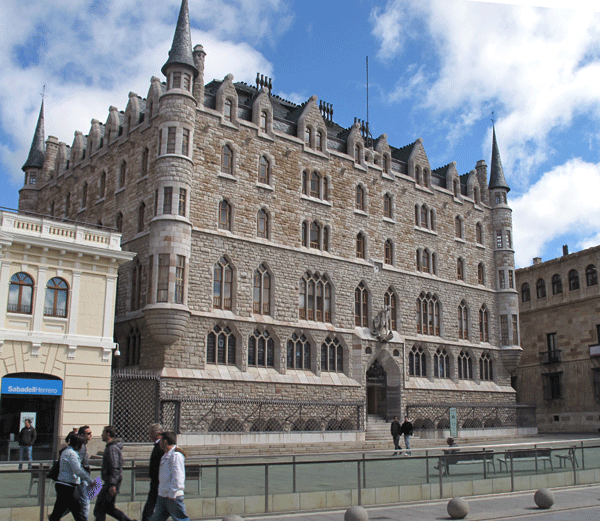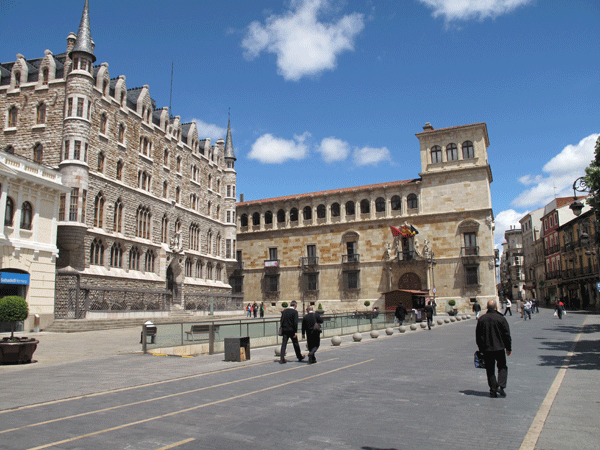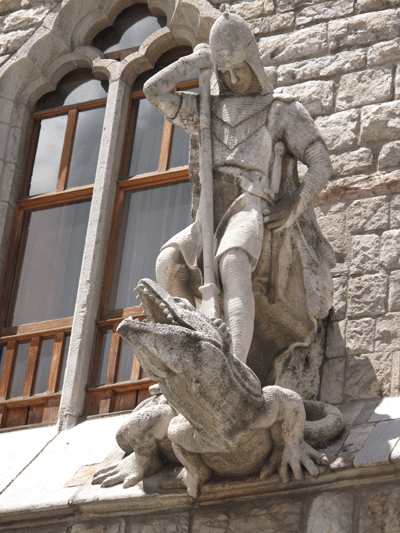 The Old Town Walls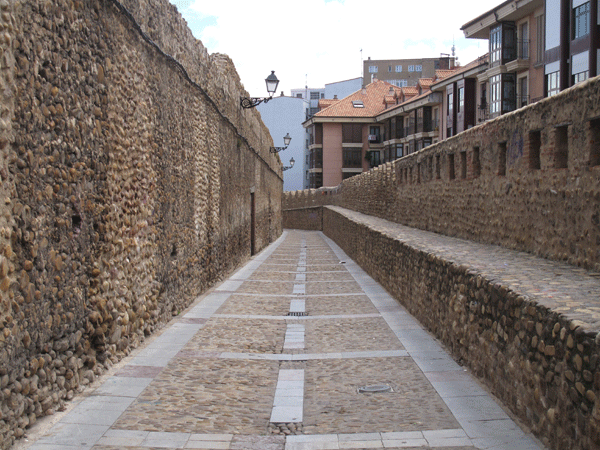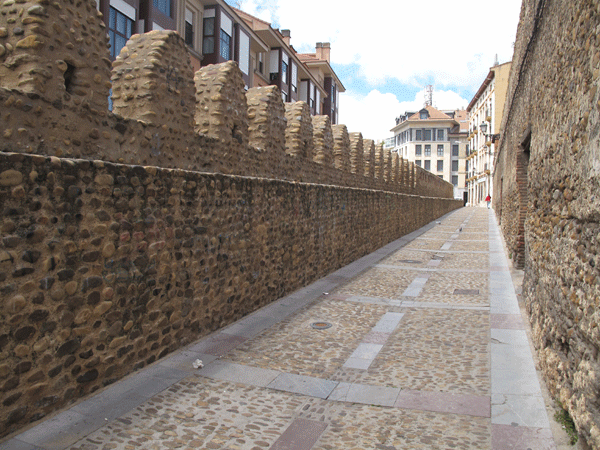 Palacio De Los Guzmanes
The Palacio de los Guzmanes is a Renaissance building in the city of León; it is the seat of Provincial Government of León.
The architect Rodrigo Gil de Hontañón built the palace in the 16th century, commissioned by the aristocratic family of Guzman, one of the city's powerful and influential families. It is three-storey high with square towers at the four corners and is arranged around a two-storey courtyard. The façade has a round arches gallery on the top floor. (Wikipedia)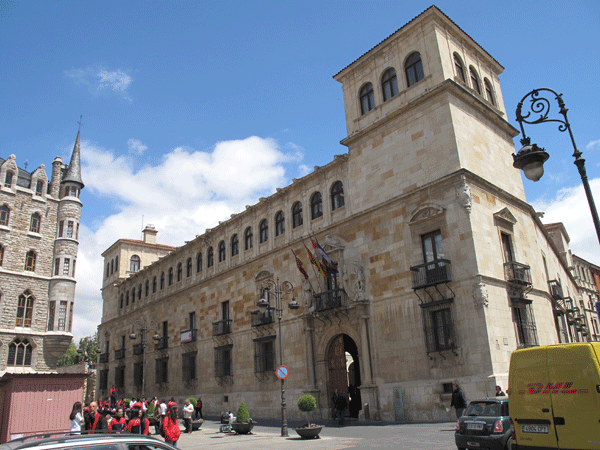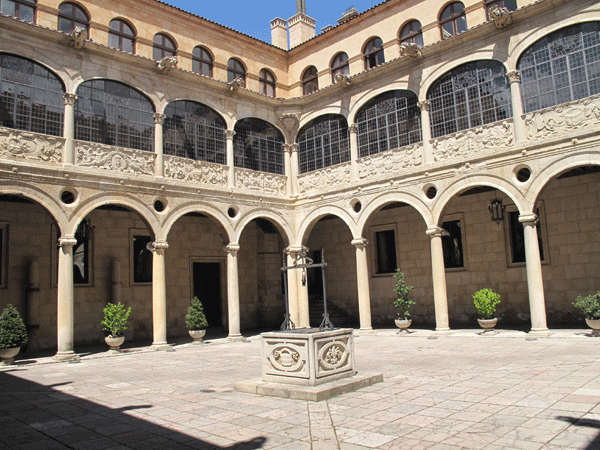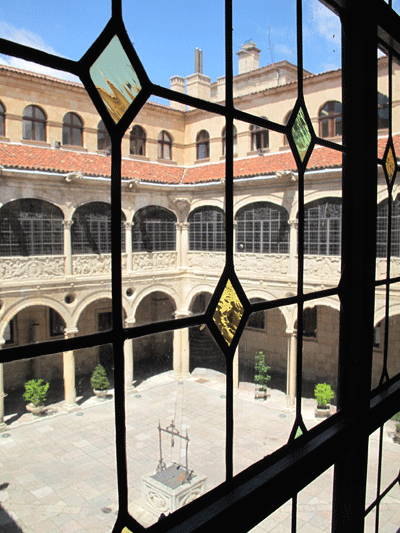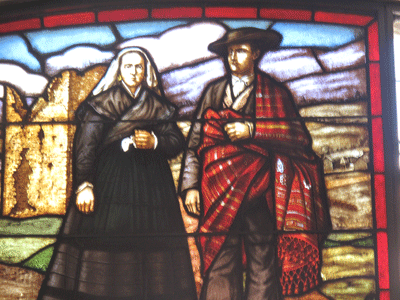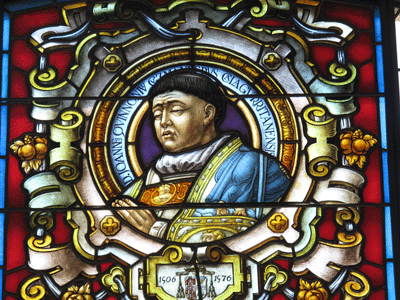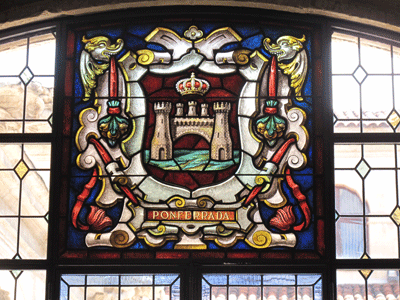 General