Day 0 Travelling to Ponferrada
Thursday 25th April 2019
I headed down to Santiago Station clutching my "Trainline" ticket that would get me from Santiago to Ponferrada, via Ourense and Monforte de Lemos.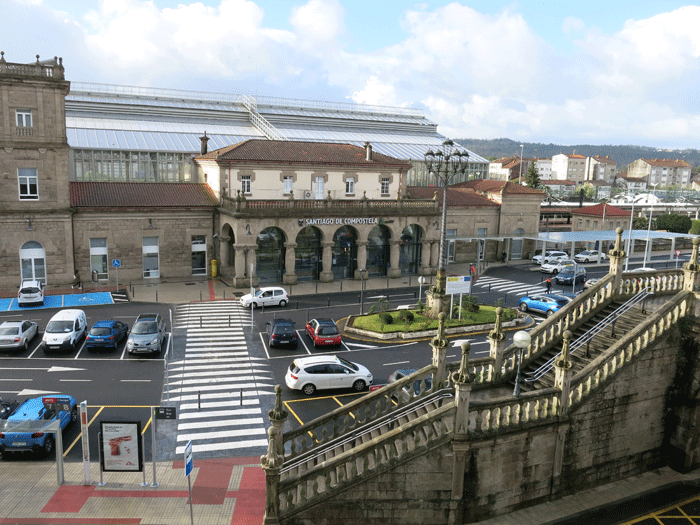 Santiago de Compostela Station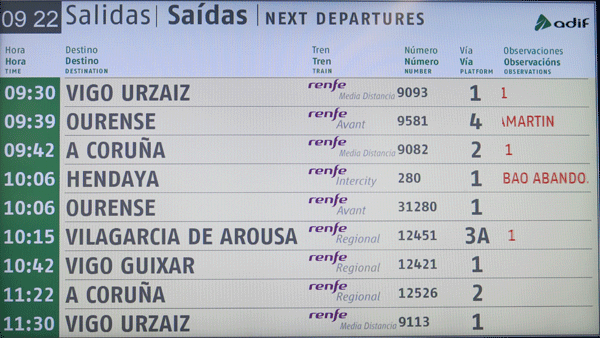 It was still quite cold ....... only 8 degrees C. This is a journey of 3 hours 30 mins, excellent value at just under £25. Check in is airport style. First your bags have to be scanned as you go onto the platform (although because of the bright sunshine I am not sure how thorough the inspection actually is). Then you present your ticked to be scanned by comuter. The bar code on my paper print out did not work; no matter, as I had the ticket on my phone anyway. But that did not work either! The lady had to type in the number by hand and eventually I was accepted. It reminded me of a cartoon Dianne had showed me on an earlier pilgrim's walk; this chap died and went to heaven where he found St Peter sitting at a desk behind the Pearly Gates at a desk with computer screen and keyboard. "Next" shouted St Peter. The man presented his informstion and St Peter rattled away on the keyboard. "Sorry, you can't come in" said St Peter "Your Usename and Password don't match! Next!". This just about sums up my brush with technology so far on this trip!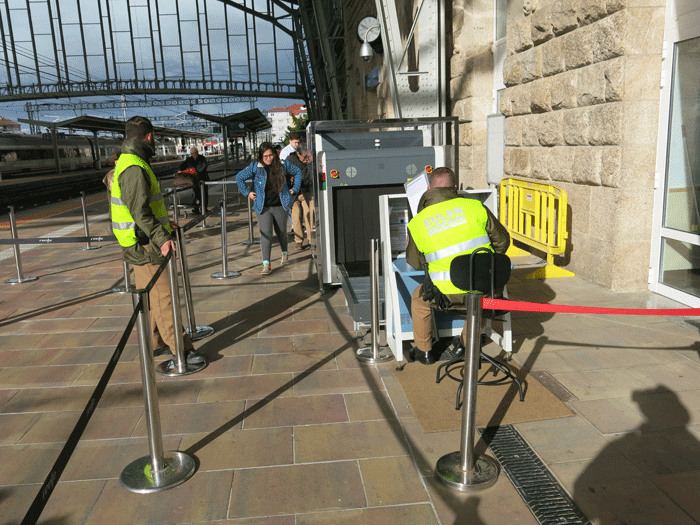 Luggage X-ray airport style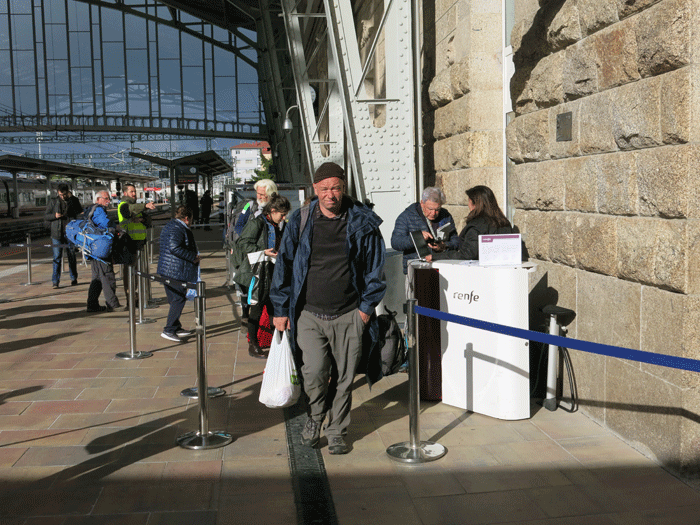 Computerised ticket check in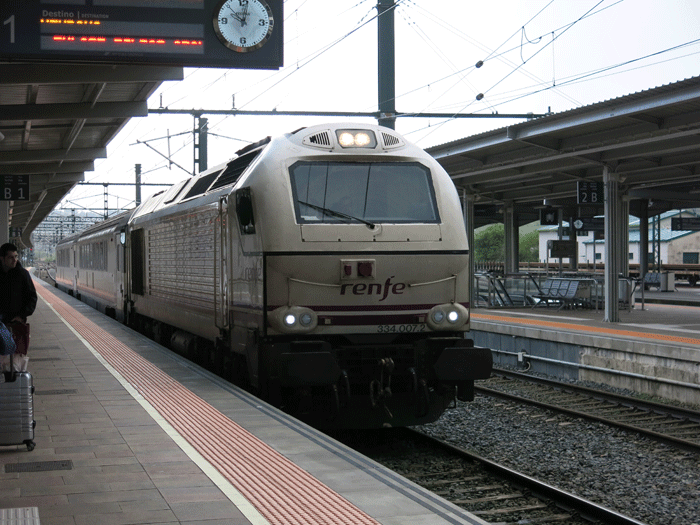 The train to Ponferrada, with just two carriages at this stage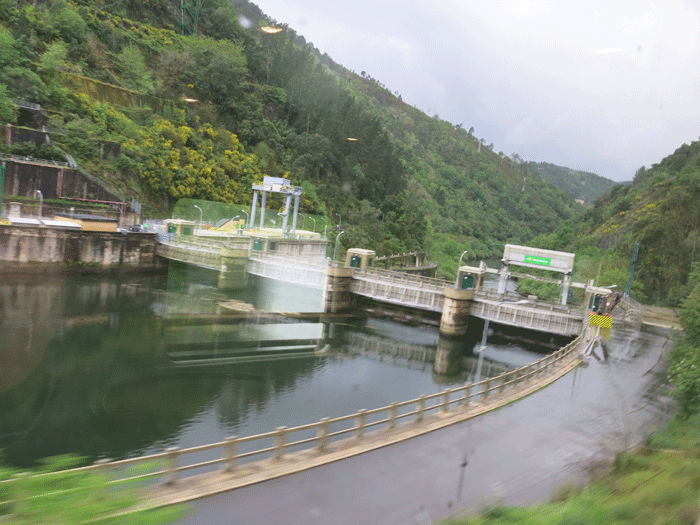 Speeding along the Sil gorge
The train came in on time....... Just two coaches. I had a window seat and was looking forward to the view, but a rather large gentleman had already bagged that seat when I got on. No worries, I thought ........ Just to difficult to insist on my rightful seat.
The train left at 10-06 and we arrived at Ourense at 10-48. Here the engine was decoupled, more carriages were added and the engine repositioned, so it was 10-32 before we pulled out of Ourense Station. We had not gone a couple of hundred meters and the train stopped and reversed back into Ourense again. The driver has forgotten his sandwiches, I thought!
We got to Monforte de Lemos at 12-10, and again they repositioned the engine for the Monforte to Ponferrada leg. We left Monforte at 12-30.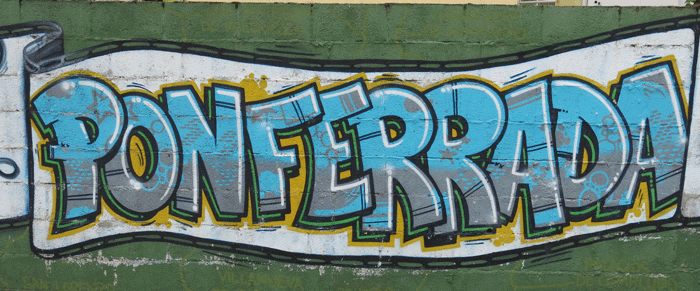 .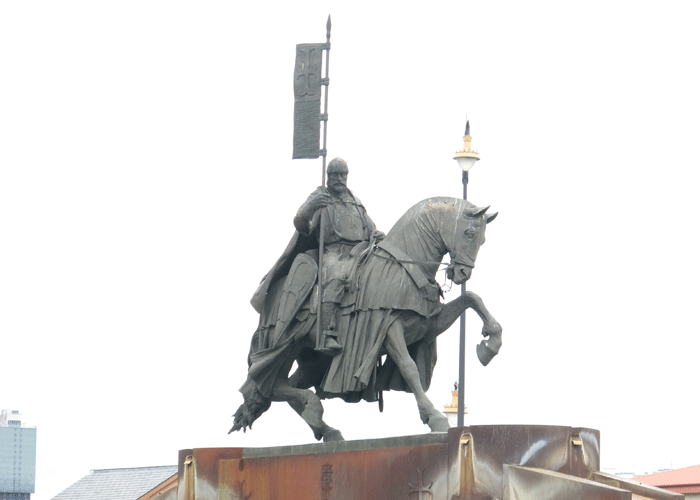 Equestrian statue of a Templar Knight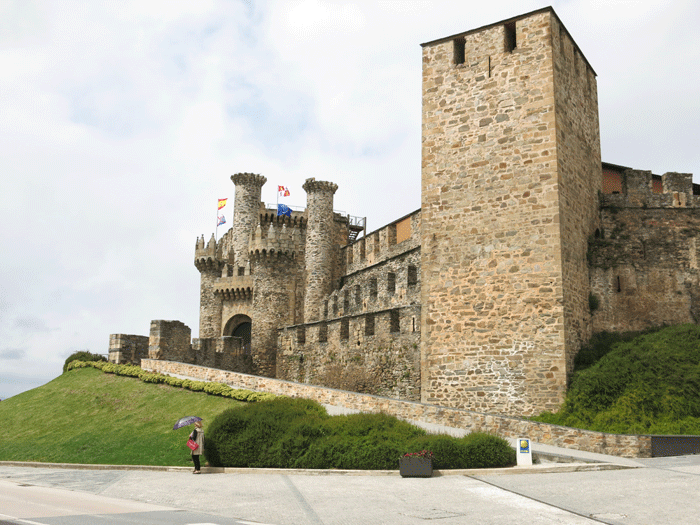 The Templar Castle
At Ponferrada, as I left the station to look for my hotel, El Castilo (there is a clue in the name, as it is near the Templar Castle) I noticed a Decathlon store and a McDonalds. Since I got another soaking as I walked to El Castilo and my Goretex jacket seemed to be "wetting out", I dropped my bag at the hotel and headed back to Decathlon to buy extra rain gear. I sat drinking coffee in McDonalds waiting for the rain to stop.
Returning to the hotel I found the start of the Camino de Invierno....... Literally 200 meters from the hotel. Opposite was an information shack; I went over and introduced myself to Roger, the guide. He was just leaving for lunch, but said he would be back at 6 pm. I went back at 6 and stayed until 6-30 pm, but he did not show. At 9-15, by which time I was in bed, he phoned the hotel to say he was back in the information booth. Regrettably too late for me as I needed sleep for an early start.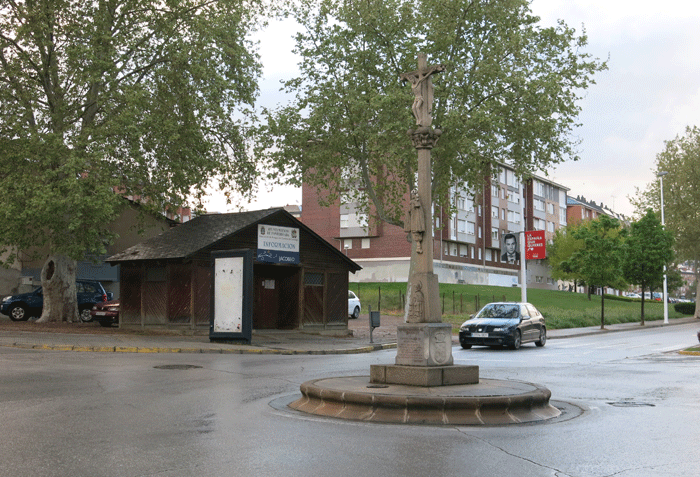 Information shack at the start of the Camino de Invierno.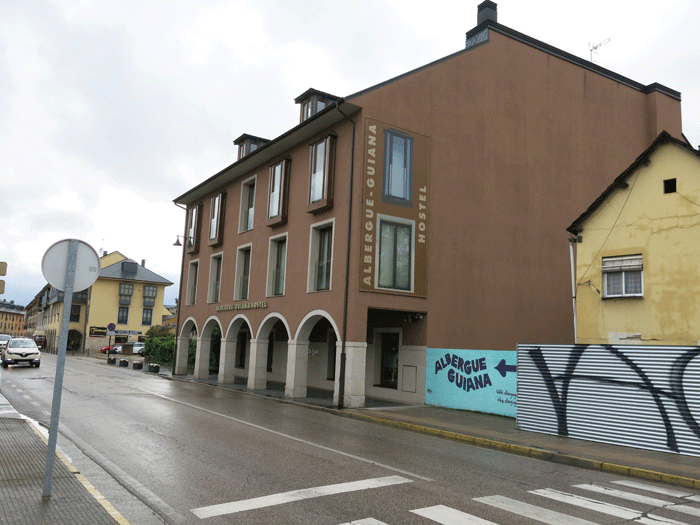 On the opposite corner is a very nice, modern albergue "Albergue Guiana" which as 90 bunk spaces (14 rooms for 6 or 7 people), two full apartments for 3 and 4 persons, and 4 double rooms with the possibility of an extra bed. They also cater for cyslists and have proper bike storage facilities.
(www.albergueguiana.com)
Accommodation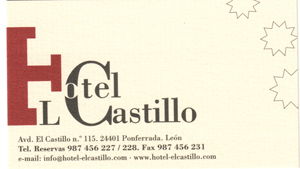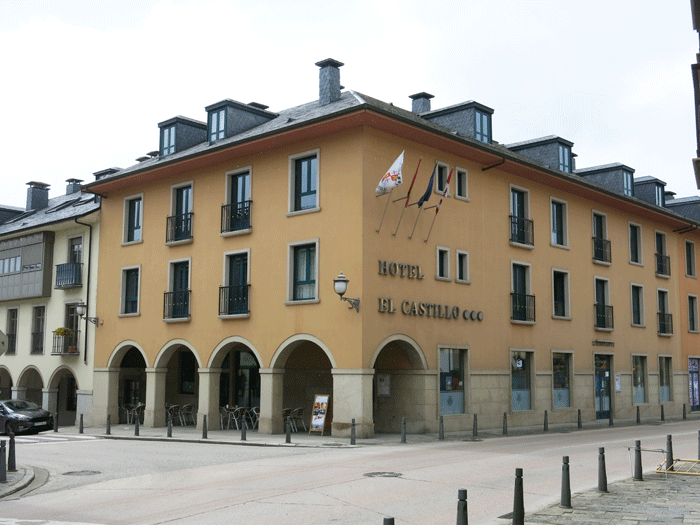 Hotel El Castillo