St Bees to Kirkby Stephen
July 2009
t-to-Coast (West) - St Bees to Kirkby Stephenth - 11th July 2009

| | | | | |
| --- | --- | --- | --- | --- |
| | | | | |
| 1 | 14.5 | 7 | St Bees | Ennerdale Bridge |
| 2 | 14.5 | 8.5 | Ennerdale Bridge | Rosthwaite |
| 3 | | 5.5 | Rosthwaite | Grasmere |
| 4 | | 6 | Grasmere | Patterdale |
| 5 | | 7 | Patterdale | Brampton Grange |
| 6 | | 6 | Brampton Grange | Orton |
| 7 | | 6 | Orton | Kirkby Stephen |
| | | | | |
Jim, Lesley and myself drove up to Kirkby Stephen on Saturday 4th July and stayed overnight at Fletcher House, a nice B&B in the tow

n.


Fletcher House, Kirkby Stephen (Photo: J. Knight)
We were up early the next day to report to Packhorse at 8-15 a.m. at the Pennine Caravan park, to get fellow walkers and bikers into the minibus for the ride to St. Bees. We arrived at St. Bees around 10-30 a.m., and after the obligatory photographs and the dipping of the toe in the sea there we were off along the cost towards the lighthouse. The coastal path was quite pretty, but you do wonder why you go that route when there is a perfectly good short cut to Sandwith. Still, must follow in the spirit of Wainwright! It is the most Westerly point!
Day 1. Sunday 5th July St. Bees to Ennerdale Bridge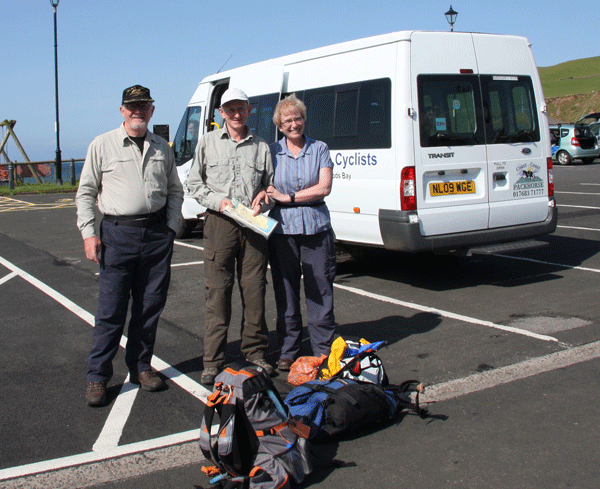 Ready for off. Mick, Jim & Lesley at St Bees.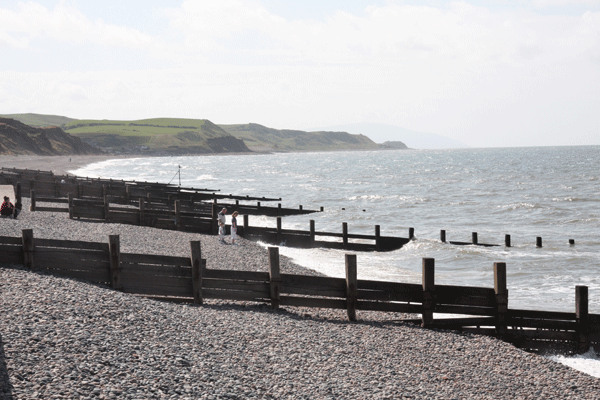 Chance to dip your toe in the sea and pick up a pebble before setting off.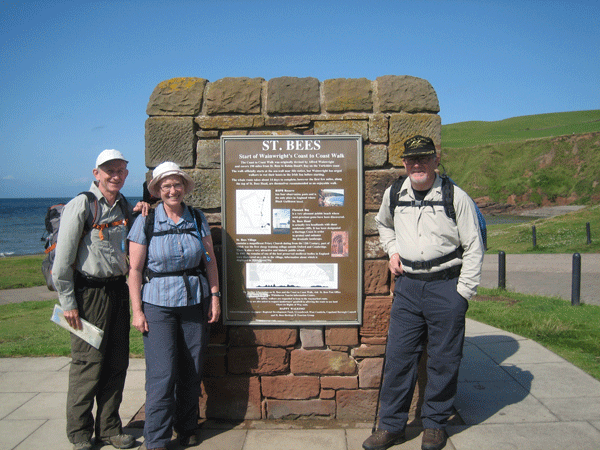 Jim, Lesley & Mick (Photo: J Knight)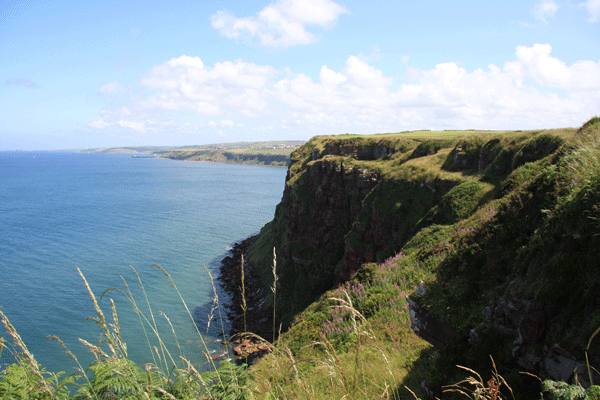 On towards the most Westerly point.
After completing the coastal stretch and passing the red sandstone quarry, we headed directly east towards Sandwith, Moor Row and Cleator. The weather was really hot and by the time we reached Cleator we had a raging thirst. The Three Tuns pub is conveniently situated on the route through Cleator, and advises that "C to C Walkers" are welcome and teas are served. We went in with the firm intention of a cup of tea but once inside the attraction of a pint of shandy was too much! Leaving Cleator we passed through a farm yard and up towards the start of the climb of Dent. Dent is best described as a "pudding of a hill" but being the start of the walk and the fact that it is moderately steep, we puffed a bit going up. The down stretch was also quite hard on the legs, and at one point we had to climb over an exceedingly high style to get over a deer fence. At the foot of Dent the route forward was unclear, but fortunately we were able to take advice from a local who pointed the way to Ennerdale Bridge. Rather than walk on the road we kept to the very narrow overgrown path parallel to the road, and soon came to the centre of Ennerdale Bridge and the Shepherds Arms pub where we were to stay. It was nice to see that Packhorse had delivered our bags there to wait our arrival, and we were soon showered and ready for dinner. Total walking time on the first day was 7 hours, and the distance about 14.5 miles.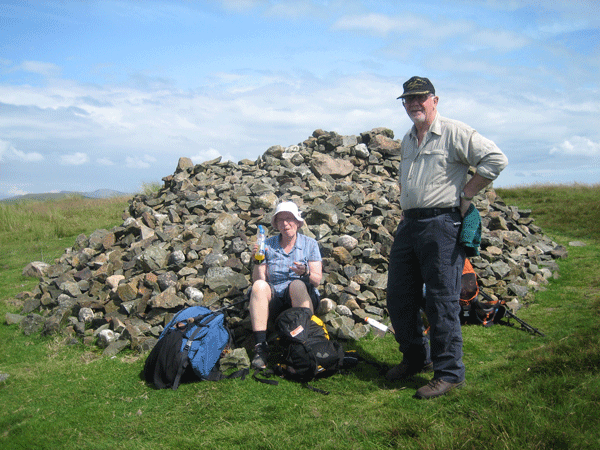 Lesley & Mick near Ennerdale Bridge (Photo: J. Knight)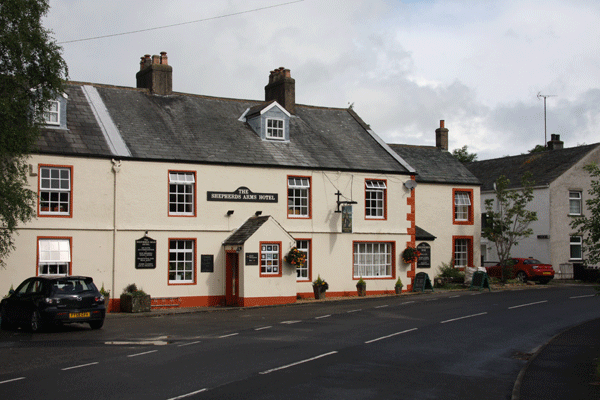 The Shepherds Arms in Ennerdale Bridge.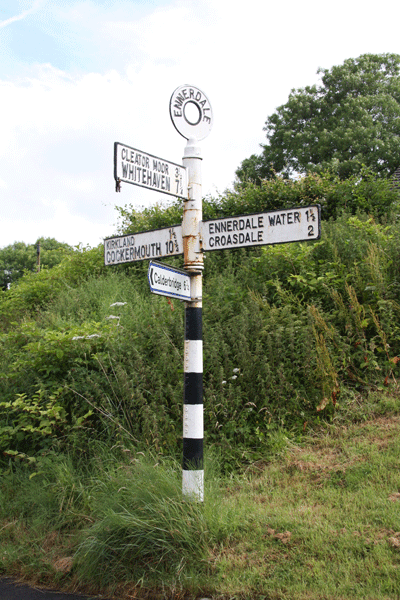 Day 2. Ennerdale Bridge to Rosthwaite
At breakfast I got talking to fellow Danish walkers Torben and his sister who we met up with on several occasions on the walk. The start of the second day was a leisurely walk along country lanes until the beginning of Ennerdale Water, and then a long hike up Ennerdal Valley towards Black Sail YHA. At the end of the lake we crossed to the other side, and looked wistfully at the alternative route via Red Pike, High Stile and High Crag, but as this would have entailed a lot of climbing and would have put a couple of hours on what was to be a long day anyway, we decided to compromise and go via Haystacks.Two other walkers, Claire and Hilary joined us here, and were to be walking companions on various legs of the Coast-to-Coast. The path to Haystacks peels off the the left and climbs gently until Scarth Gap is reached. From there the scramble/climb of Haystacks proper begins. Haystacks is one of my favourite spots in The Lakes, and is a series of peaks and tarns, including Innominate Tarn where Wainwright's ashes were scattered.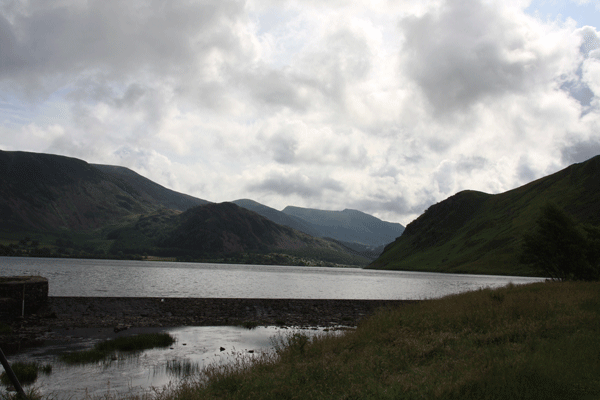 Ennerdale Water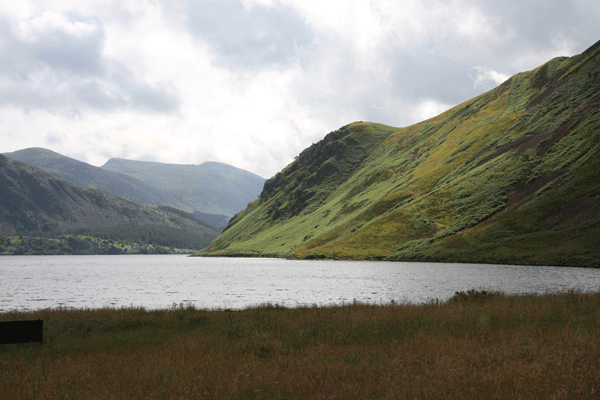 Ennerdale Water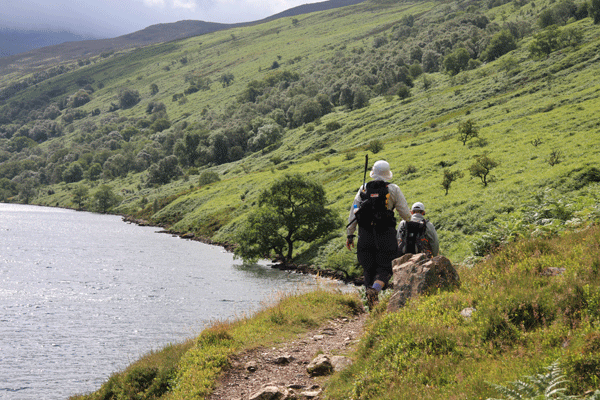 Path along the side of Ennerdale Water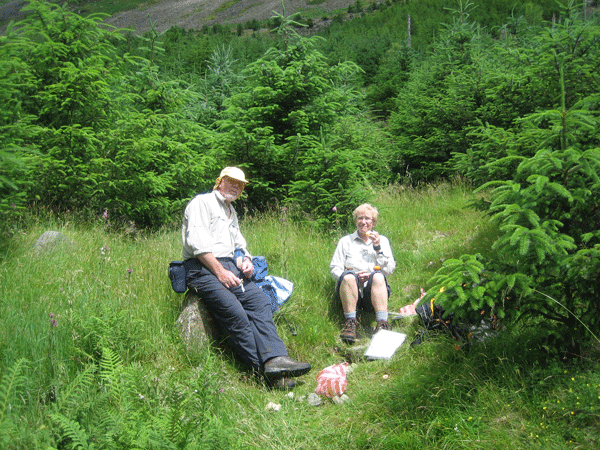 Having a break prior to climbing Haystacks (Photo: J. Knight)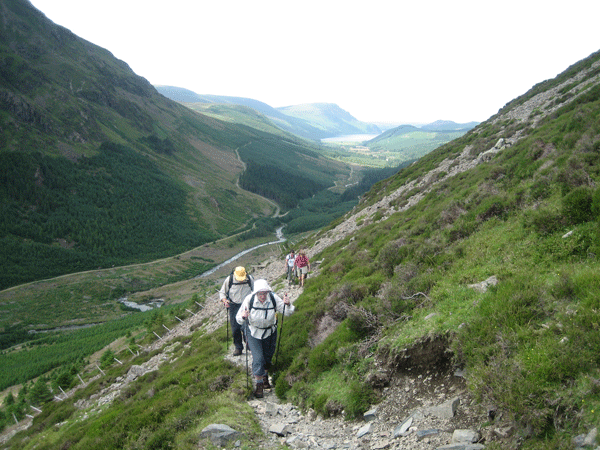 The trail from Ennerdale Valley leading towards Haystacks (Photo: J. Knight)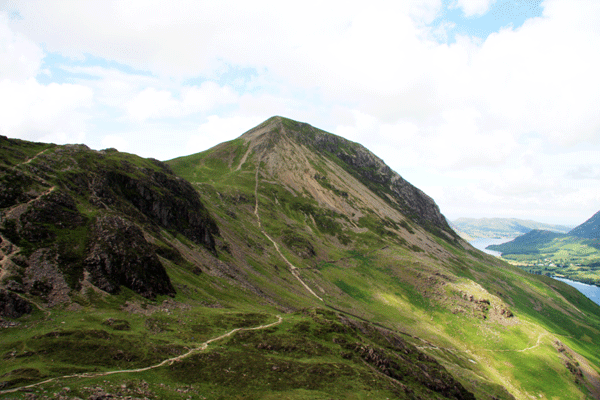 High Crag, viewed from the foot of Haystacks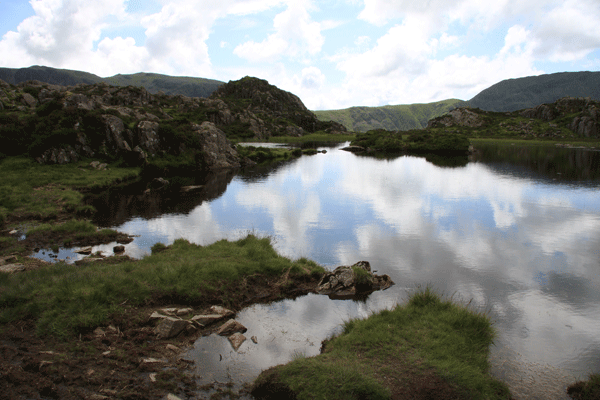 Innominate Tarn, Haystacks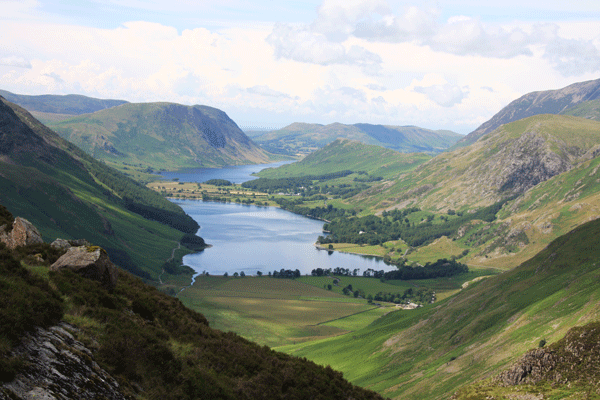 Buttermere from Haystacks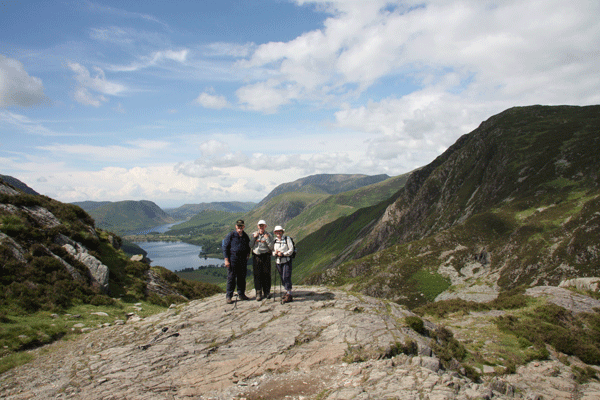 Mick, Jim & Lesley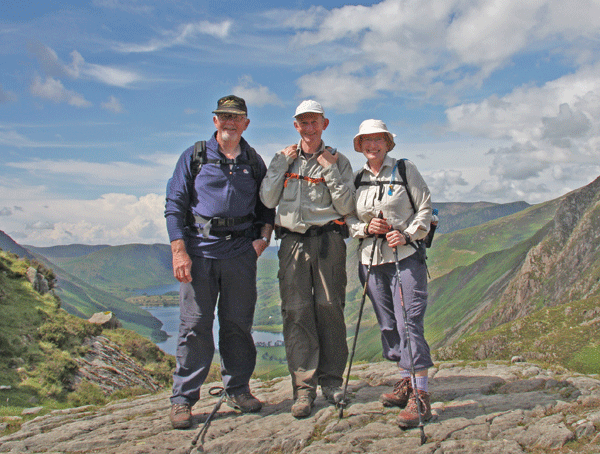 The weather was really good and we had splendid views down the valley to Buttermere. After coming down off Haystacks we cut across along the route of an old tramway towards Honister Slate mine, where we stopped for tea and chocolate brownies, and a well earned break. It was then a leisurely walk down in to Rosthwaite to the B&B, Gillercombe, Stonethwaite Road End, where we were staying. And what a nice B&B it was too. The lady who ran it, Mrs Rachel Dunkley, was extremely knowledgeable about routes across the lakes, and advised us on the best route to take the next day. She recommended the high route via Gibson Knot and Helm Crag, with the proviso that good weather was needed for this route.Our walking time on this, the second day, was just over 8.5 hours and the distance approximately 14.5 miles.As the B&B did not do food in the evening we had pre-booked at the Scafell Hotel for dinner. We ate in style in the main restaurant, whilst the more reasonable Riverside Bar seemed to be the favourite haunt of Coast-to-Coasters wanting a bar meal and a beer.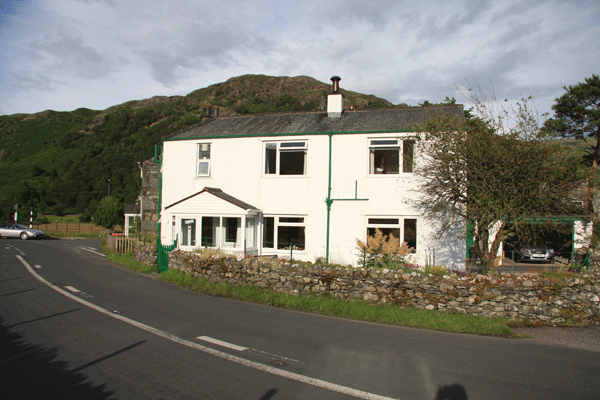 The B&B in Rosthwaite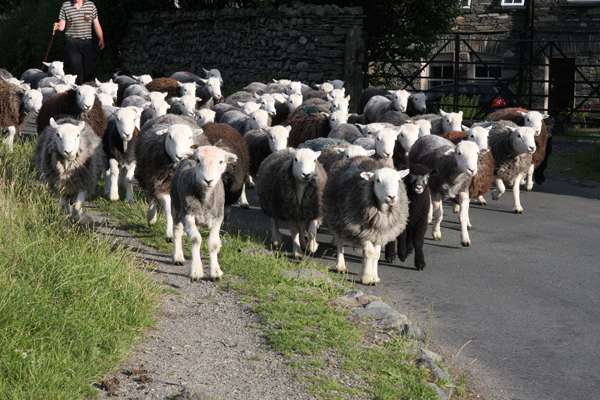 Sheep on't road
Day 3. Rosthwaite to Grasmere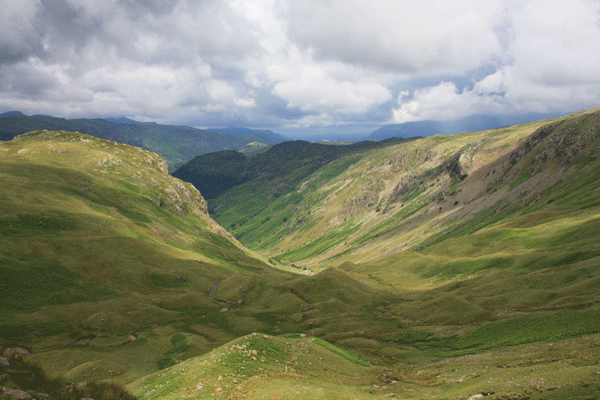 Looking back down the valley to Rosthwaite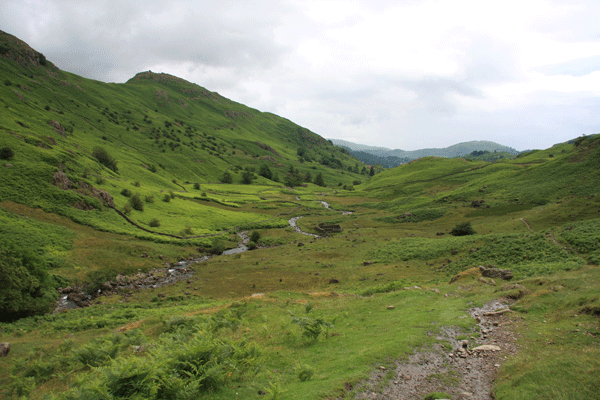 The Easdale Valley down to Grasmere, with Gibsons Knot and Helm Crag to the left.
We set off up Stonethwaite Fell until we reached the col, and then had to decide which route to take. The weather seemed to be closing in with dark storm clouds following close behind us, and as it started to rain we decided to take the low route down the Easdale Valley. We soon came to Glenthorne Guest House, the Quaker run B&B where we were staying and checked in. In the evening we went in to Grasmere to meet Tony and Pam, and ate at The Lamb. The days walking covered 9 miles, but was a nice respite after the first two days which were quite hard. We could have continued through to Patterdale on Day 3, but the climb from Grasmere to Grisedale Tarn is quite hard and not the sort of thing that you want to be tackling late afternoon when tired. It was nice to have a relatively easy day.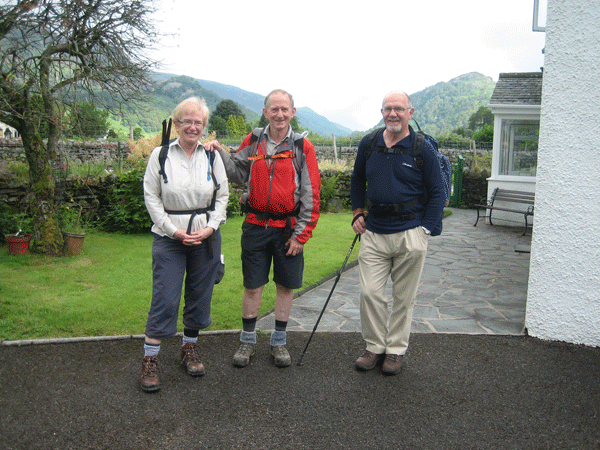 Lesley, Jim & Mick at Glenthorne Guest House (Photo: J Knight)
Day 4. Grasmere to Patterdale
With Tony being incapacitated and on crutches, Pam decided to join us on the climb to Grisedale Tarn. Pam set a hot pace on the climb, which was for her a walk in the park, and we trudged up behind puffing and panting. Once we reached Grisedale Tarn we were hit by a really cold wind and had to put outer shell suits on; after a quick bite to eat we headed off down the valley in to Patterdale. It was quite nice arriving in Patterdale in the afternoon sun; we stopped off at a coffe shop for a drink and cake, and chated again to Torben who had arrived there quite a bit earlier than us. Then we wandered round a local Mountain Equipment shop and then made our way to our B&B, the Old Water View run by Ian Moseley. It was a really nice place, and Ian was a pleasant host telling us of his John O'Groats to Lands End walk, and his walks in the Appalchian Mountains in the USA. The room allocated to me was "Place Fell", and it turned out that this was Alfred Wainwright's favourite room when he stayed there in the 1940's, as a copy of the guestbook framed on the wall testified.In the evening we ate at the White Lion, the only place to eat, where we sat and chatted again with Torben and another couple doing the Coast-to-Coast.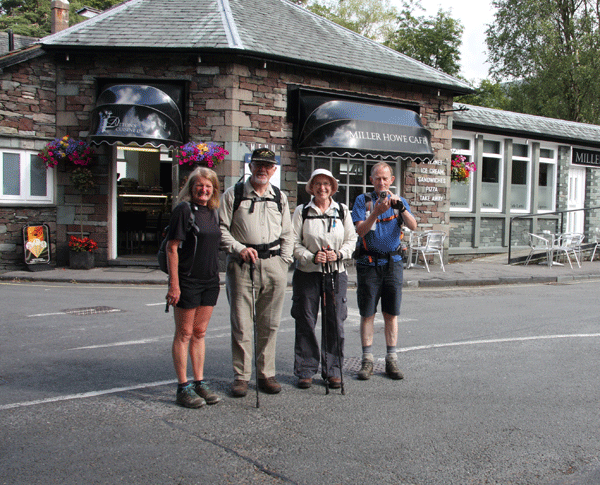 Pam, Mick, Lesley & Jim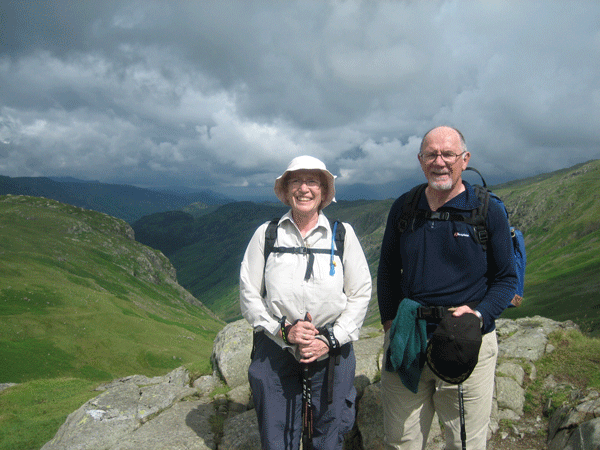 Lesley & Mick (Photo: J Knight)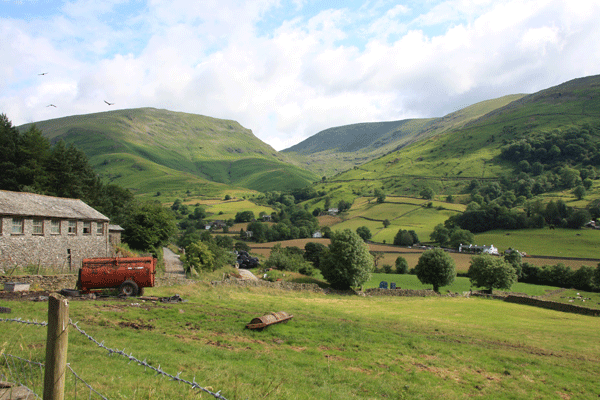 Looking towards the track to Grisedale Tarn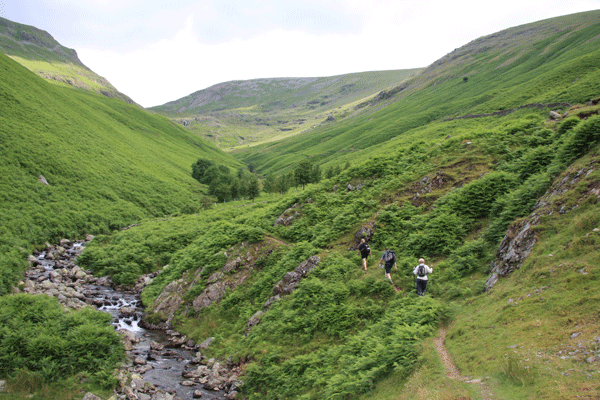 Heading to Grisedale Tarn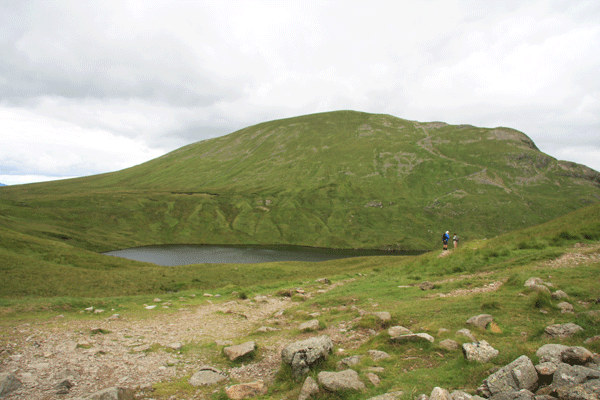 Grisedale Tarn with Dollywagon Pike in the background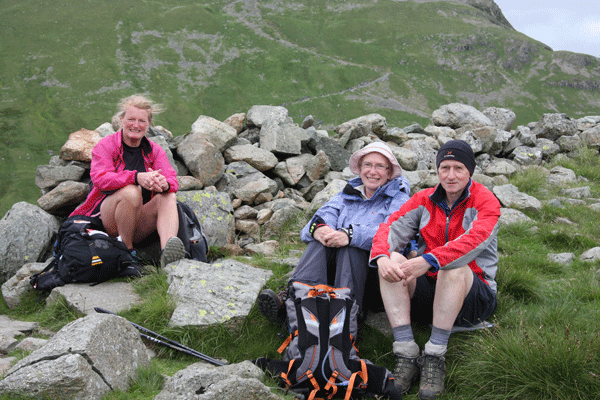 Pam, Lesley & Jim resting near Grisedale Tarn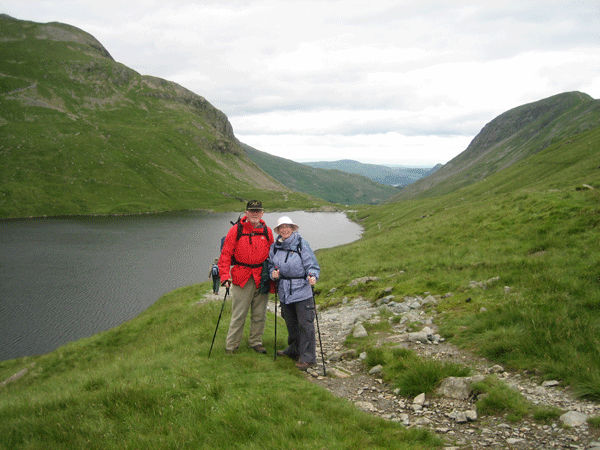 Mick & Lesley at Grisedale Tarn (Photo: J. Knight)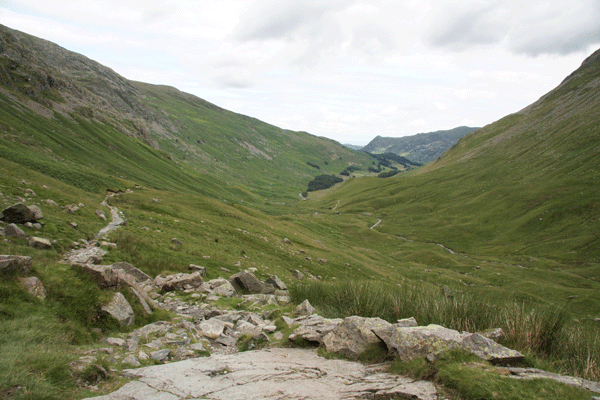 Route down to Patterdale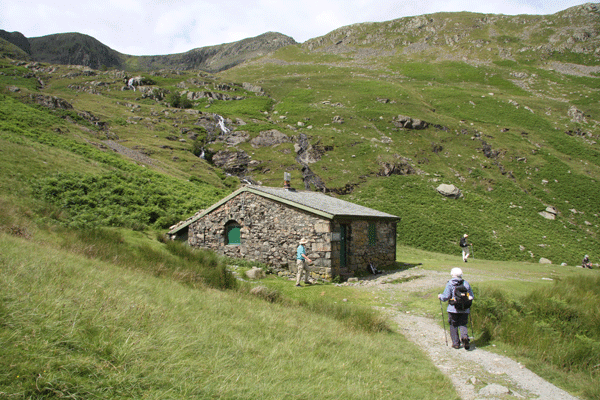 Ruthwaite Lodge Outward Bound hut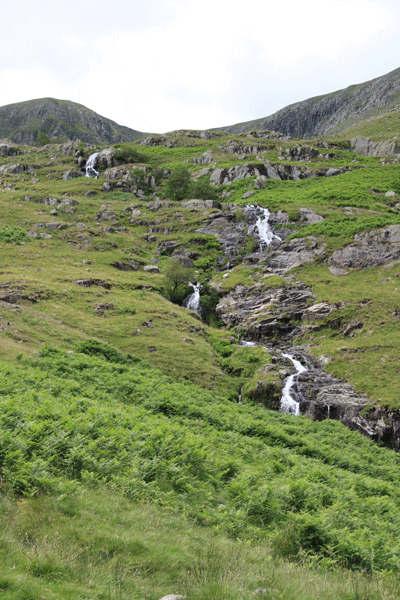 Waterfalls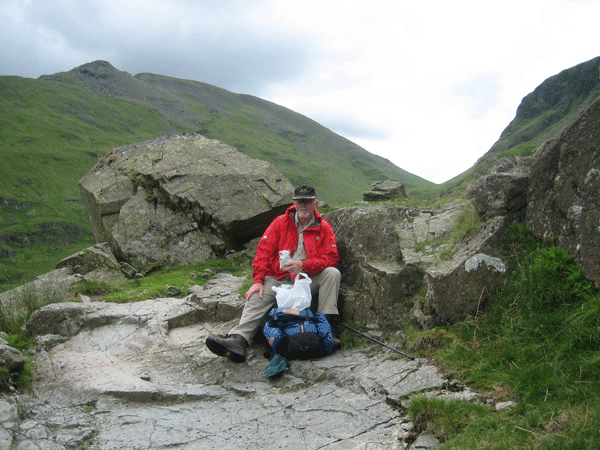 Mick having a breather! (Photo: J Knight)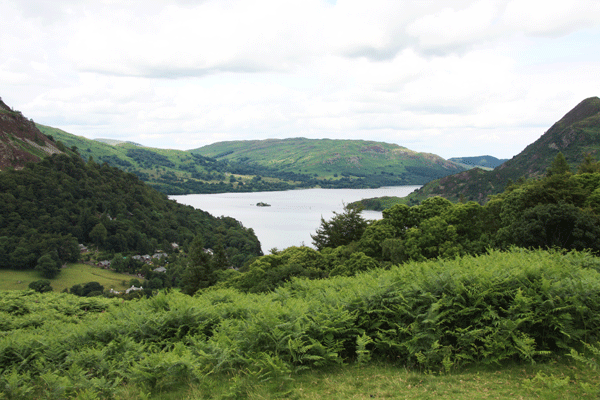 Approaching Ullswater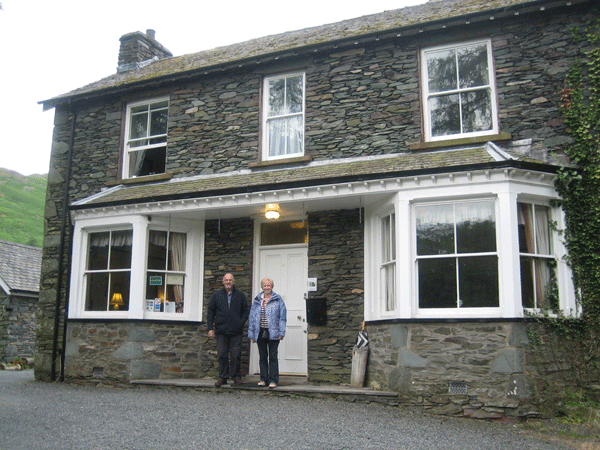 Old Water View, Patterdale (Photo: J Knight)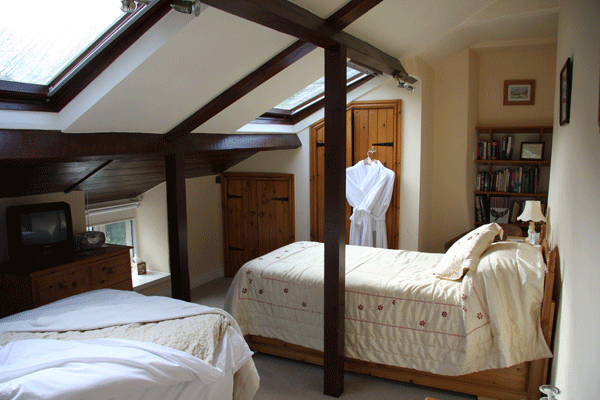 Wainwright's favourite room at Old Water View B & B in Patterdale
Entry from the 1942 visitors book
Day 5. Patterdale to Brompton Grange
We set off fairly early and met up with Claire and Hilary again on route. We were heading for Brompton Grange and as we climbed the views got better and better. You could look back across Patterdale and Ullswater, and then Brothers Water came into view. We climbed higher and came to Angle Tarn, where we had lunch on a high spot with even better views.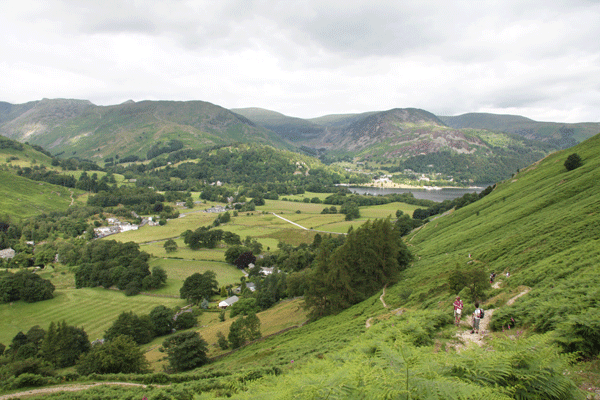 Looking back to Patterdale and Ullswater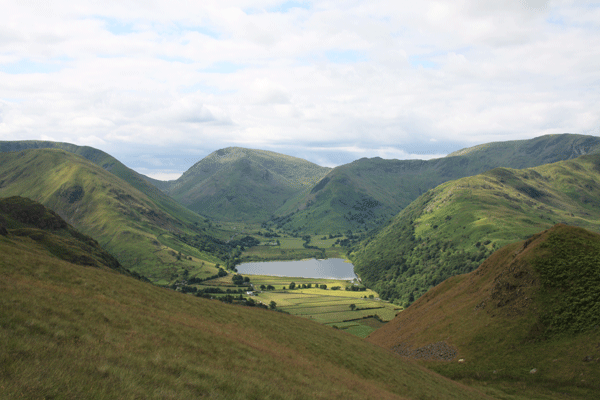 Brothers Water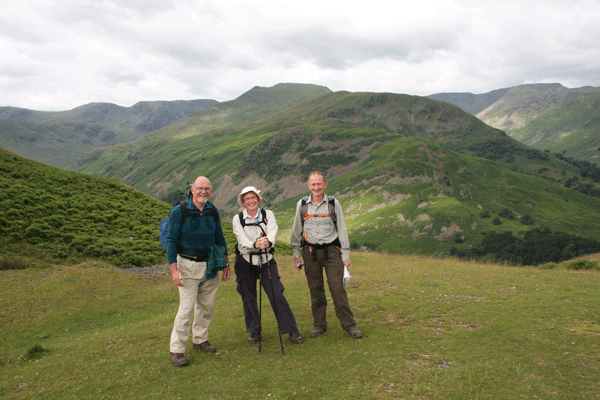 Mick, Lesley & Jim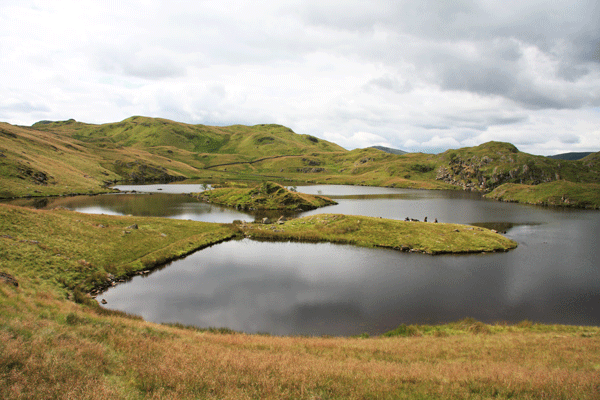 Angle Tarn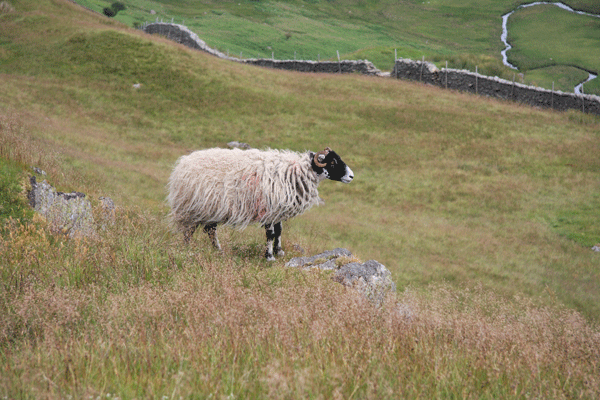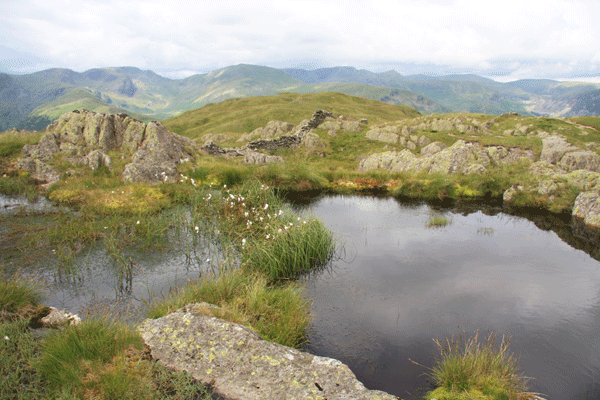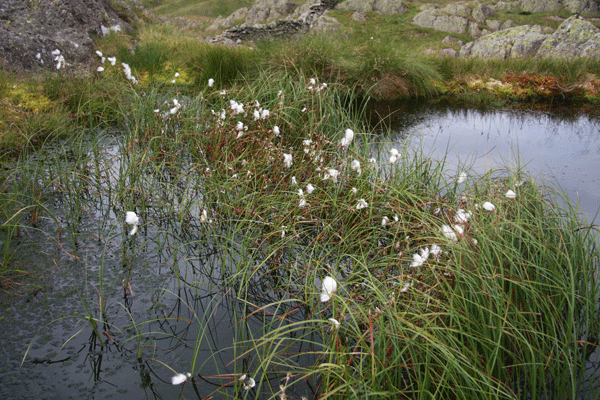 Cotton Grass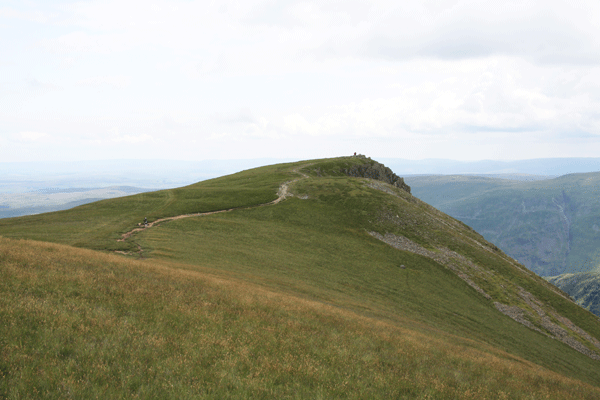 Kidsty Pike
We had decided not to do the conventional route...... to Kidsty Pike and down its steep slope to Hayeswater. We had been told that the descent from Kidsty Pike was quite steep and hard on the legs, and that the walk along the lake was up and down and went on for ever. We decided to do the high route across Brompton Moor. Claire and Hilary decided to join us on this departure from the standard route. It was a pleasant walk and the views across the lake were excellent. We eventually came to a farm and faced a problem; the right-of-way went across a field next to the farm yard, and the farmer had put a huge bull in the field! Having seen in the press recent stories of people being charged by bulls and cows, we were not to keen to risk going across the field. We took and alternative route along the road. The farmer's wife was not too happy about this as she said that they were trying to keep the road private; but after some conversation she reluctantly agreed that we should pass down the road. You have to have sympathy for the farmers, and it seems logical that they should have the opportunity to provide an alternative path to the right-of-way, but this seems to be a legal minefield.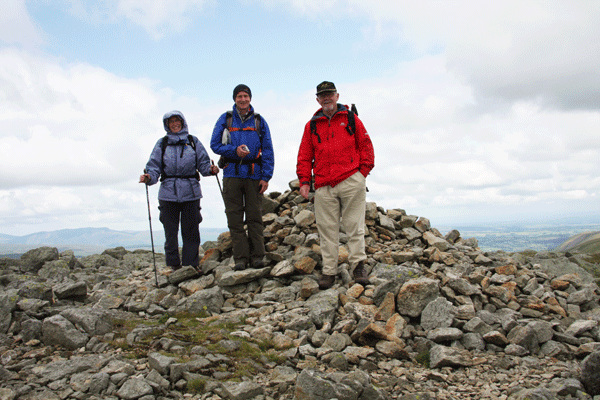 Lesley, Jim & Mick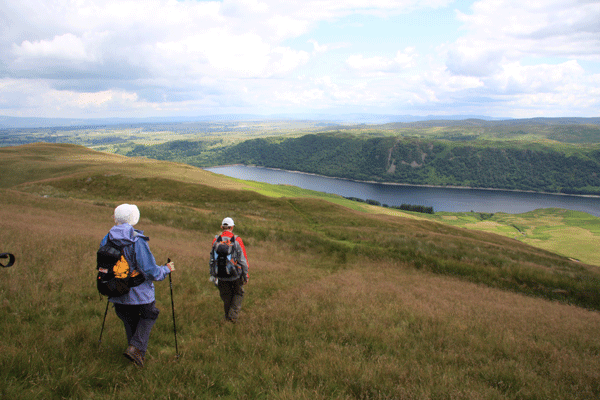 Bampton Common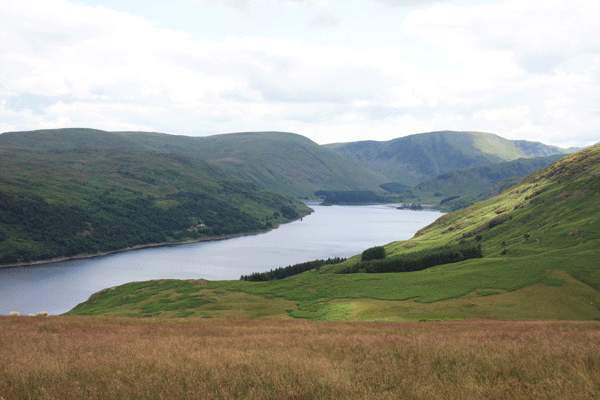 Haweswater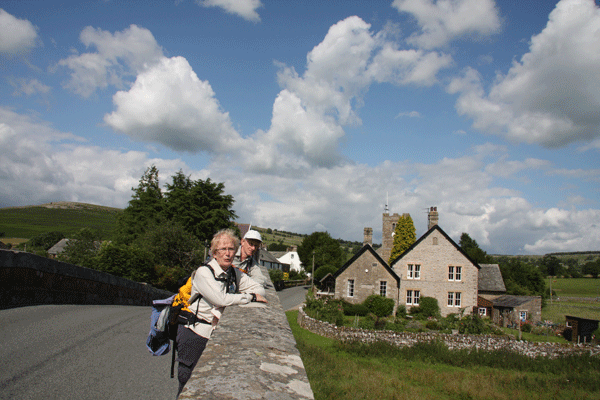 Entering Brompton Grange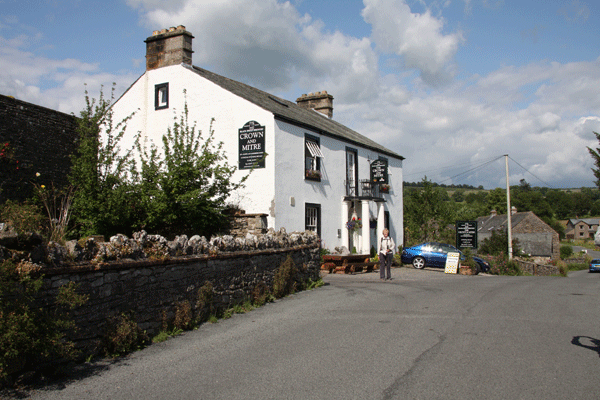 Crown & Mitre, Brompton Grange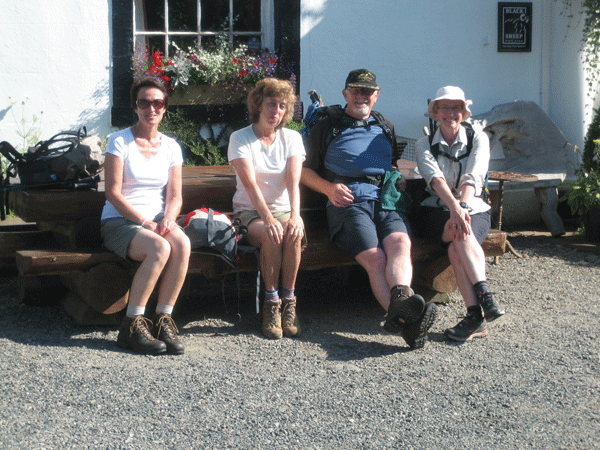 Hilary, Clare, Mick & Lesley at the Crown & Mitre (Photo: J Knight)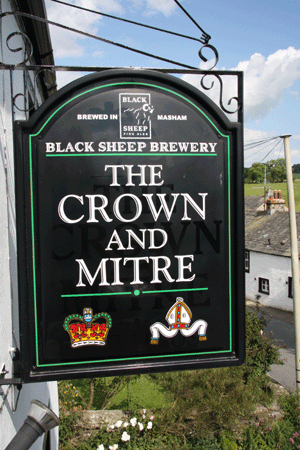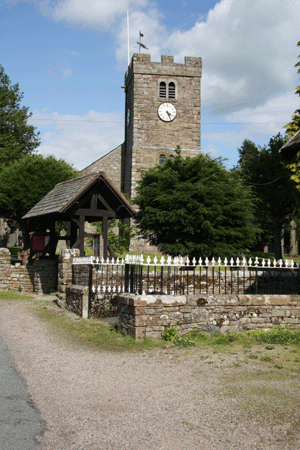 We arrived in Bampton Grange mid afternoon and as the pub was shut we had to go off and find Wendy to open up for us. She was busy making 200 cornish pasties for a village do, but downed tools to open the pub for us. Dinner was in the pub, the Crown & Mitre, and again we joined Torben and his sister for a few beers.
Day 6. Brompton Grange to Orton
We were well out of The Lake District now and it was obvious from the scenery. Whilst it was attractive rolling hills and moors, it lacked the drama of The Lakes. We left Brampton Grange and headed to Orton, passing the ruins of Shap Abbey and the Shap Viaduct on route. In this section of the walk the dry stone walls are particlarly pretty and go on and on for miles. We stopped off in Shap to go to a local supermarket and to have a coffee, and then carried on to Orton. I was staying at the George Hotel, the main pub in Orton, and Jim & Lesley had a little further to go to a very nice B&B, The Barn House. I had a couple of beers with Torben on arrival at The George, and we all ate together again in the evening.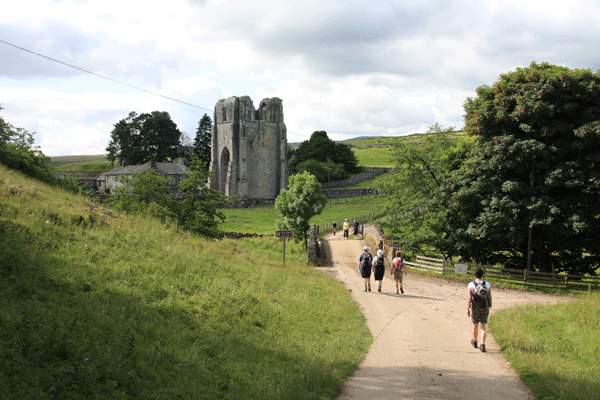 Approaching Shap Abbey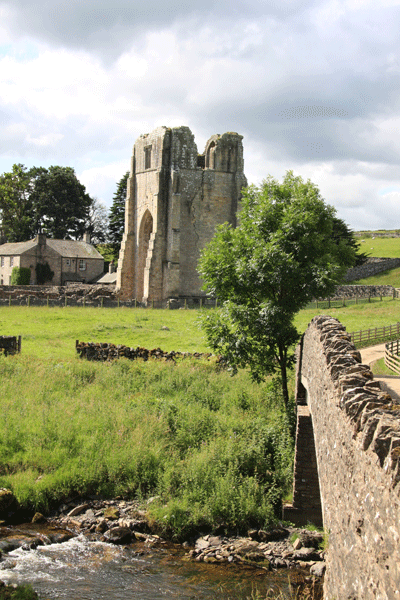 Shap Abbey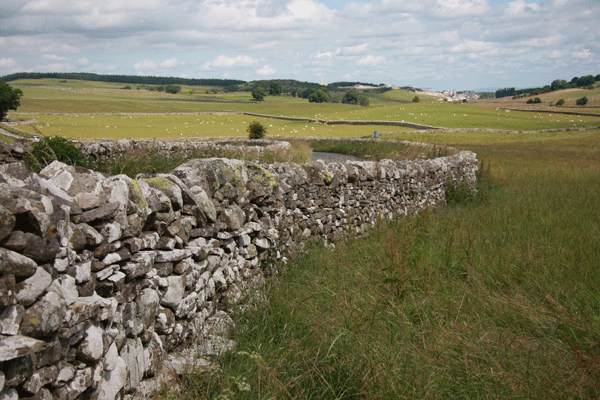 Wonderful stone walls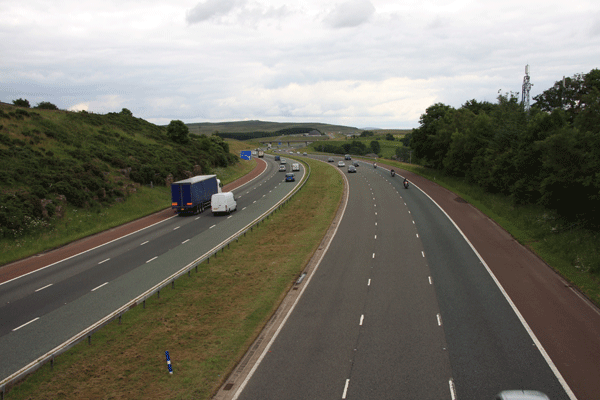 Back to reality - crossing the M6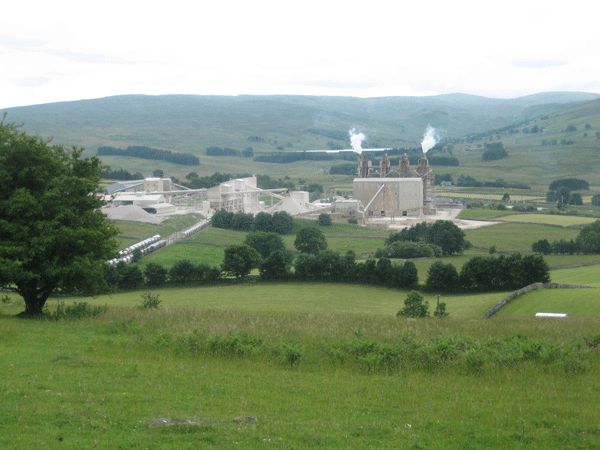 A blot on the landscape - the cement works near the M6 (Photo; J Knight)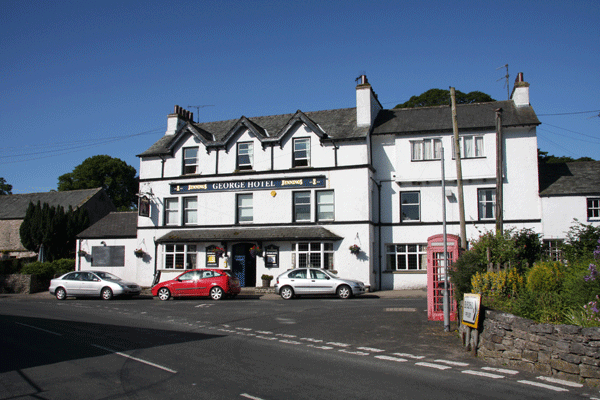 The George Hotel - Orton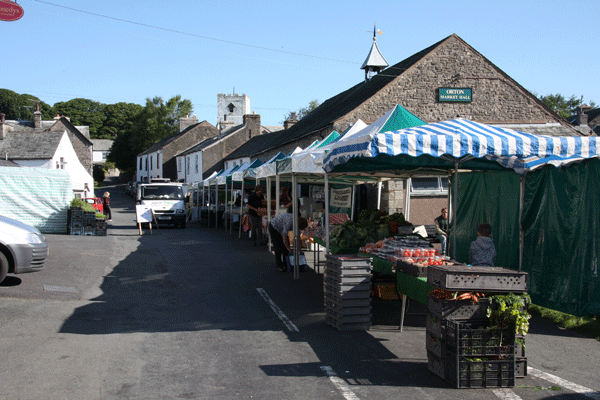 Orton Market
Day 7. Orton to Kirkby Stephen
So, the last day for those of use doing the Coast-to-Coast west as far as Kirkby Stephen. Quite a long walk over open moorland in total contrast to the earlier part of the walk. At one point we came across a young lady riding a horse on the open moors; she had riden two or three miles to a nearby village and was heading back....... it seemed incredible that she should be able to ride in such wild and open country in what is otherwise a highly populated island!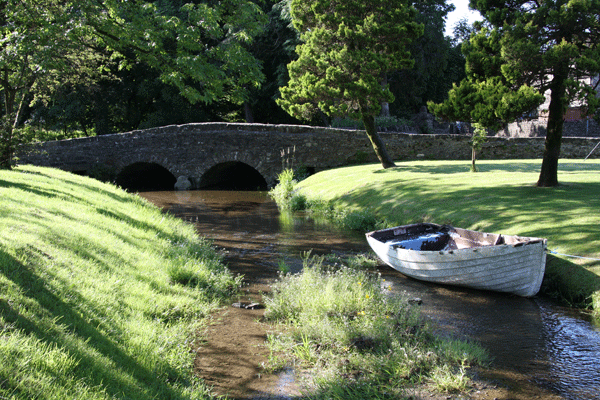 Orton, a pretty village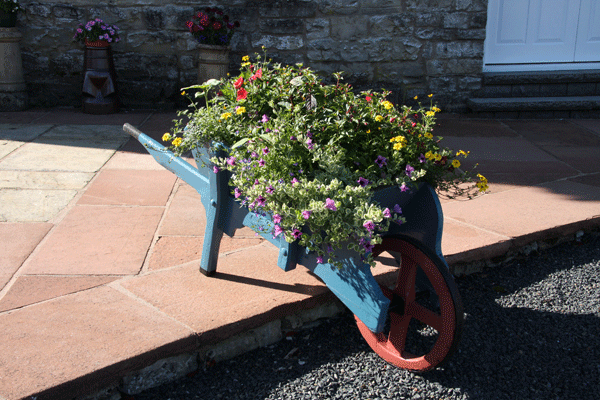 The Barn House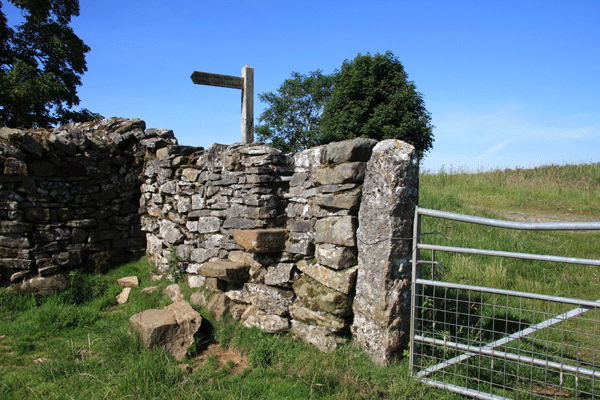 Unique stone styles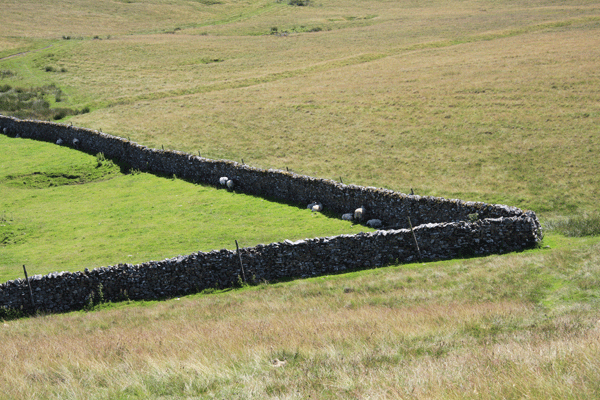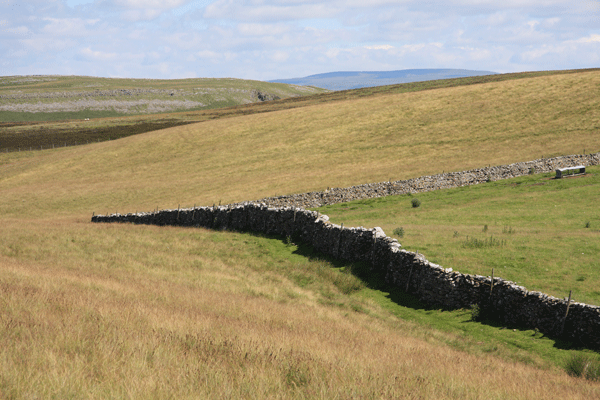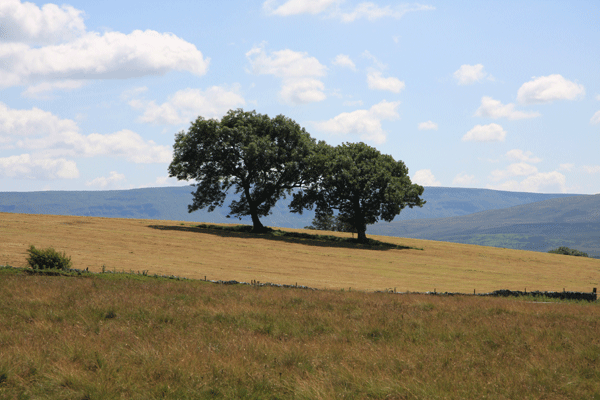 Limestone Outcrops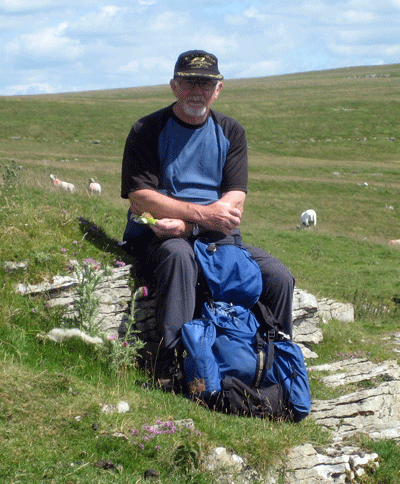 Mick (Photo: J Knight)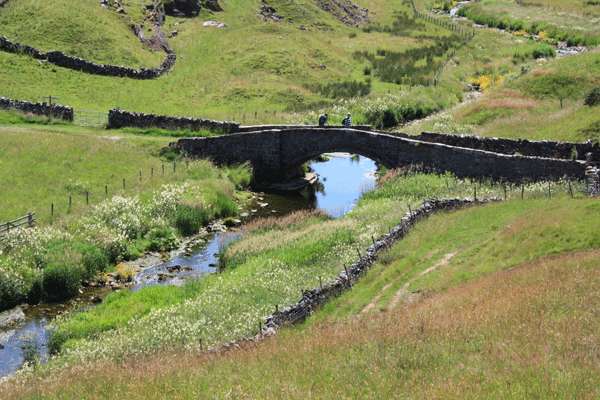 Smardale Bridge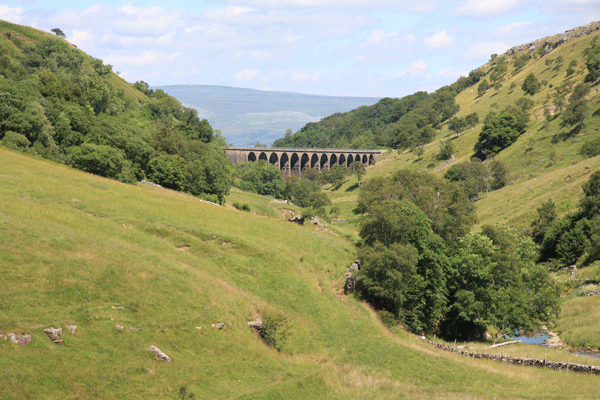 Shap Aqueduct
We eventually came off the moor and headed down into Kirkby Stephen. Torben and his sister had arrived there a bit earlier than us and was enjoying a drink outside the pub; we soon joined them with a pint of shandy to celebrate the completion of "Half Coast-to-Coast".Jim,Lesley and I stayed in the Old Croft B&B and had made a prior booking for dinner there. What an excellent meal and a fitting end to the first half of the Coast-to-Coast. Jim & Lesley had hired bikes to do the mid-part of the route, and I was off to meet Sue at Richmond for a narrowboating holiday starting from Ripon.