Duration:
3 days 2 nights
Transportation:
Train: Shinjuku - Hakuba Oike Station 4hrs 22mins
Bus: Hakuba Oike Station - Tsugaike 1hr 2mins
Walk Duration:
DAY 1.
Tsugaike - Tenguhara 1hr 20mins
Tenguhara - Norikuradake 1hr
Norikuradake - Hakuba Oike Lodge 1hr
DAY 2.
Hakuba Oike Lodge - Korenge 2hrs
Korenge - Mikunisaki 1hr 30mins
Mikunisaki - Mt. Shirouma 1hr 30mins
Mount Shirouma - Hakuba Lodge 15mins
DAY 3.
Hakuba Lodge - Sarukura 2hrs 30mins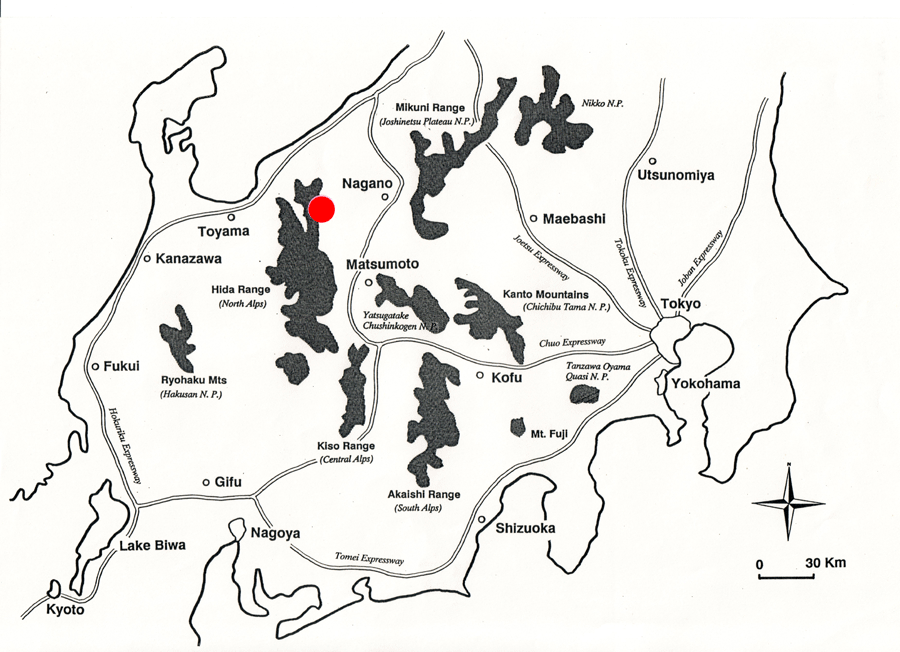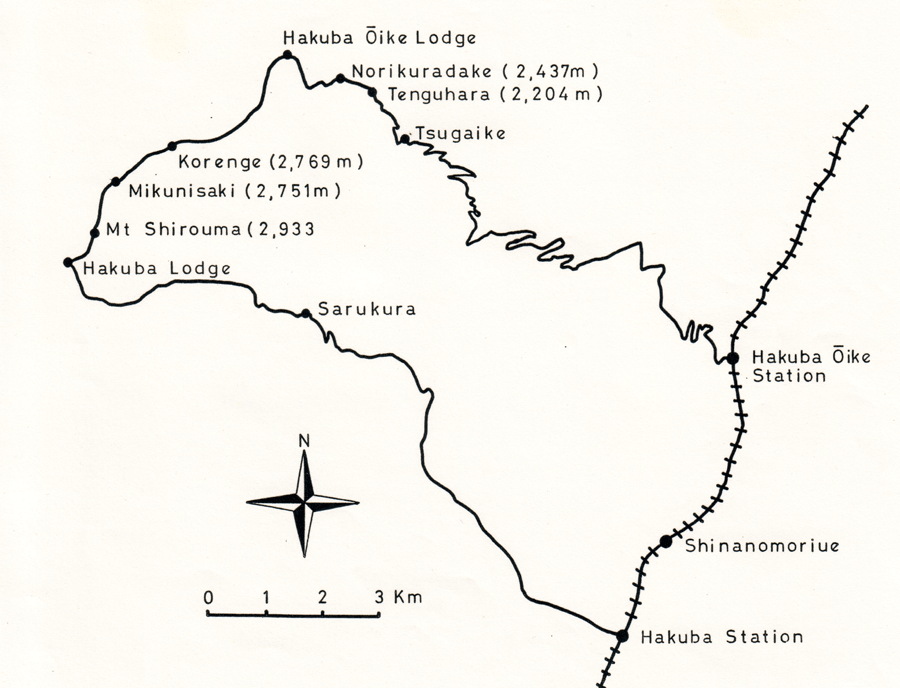 The Hakuba Oike - Mount Shirouma hike was the first major hike that I did in Japan and was organised by Phil Rowcliffe's workmate at AIU, Ishikawa san. Seven of us did the walk; Ishikawa san and his wife, Phil's secretary Tazawa san, Ishikawa san's friend Uchida san, Nakakuki san, Phil and myself. Takai san had been going to join us, but for some reason he did the walk on his own in the other direction and we passed each other near the mist shrouded peak of Mount Shirouma.
The day started early as we assembled at Shinjuku Station, Tokyo at around 6-30 a.m. to join the queue for Azusa No. 1 Limited Express train which left at 7 a.m. for the North Alps. It was a long journey, taking the Chuo Line through Kofu to Matsumoto and on to Hakuba, famous for its skiing. We alighted two stations past Hakuba, at Hakuba Oike, where we picked up a bus to take us to Tsugaike, the starting point of the hike. It was lunchtime by the time we arrived at Tsugaike, so we stopped at a small lodge for some food. There was not a lot of choice, but after the long journey a bowl of noodles tasted good!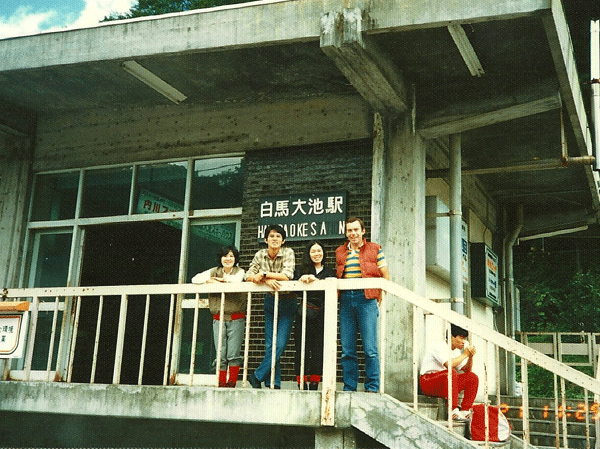 Hakuba Oike Station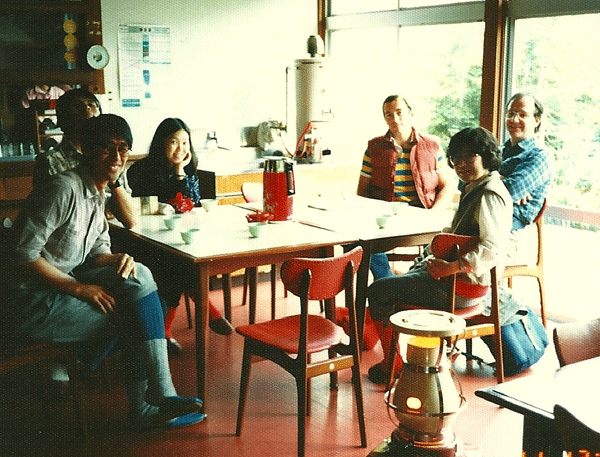 Tsugaike, an hour from Hakuba Oike Station, is a good place for lunch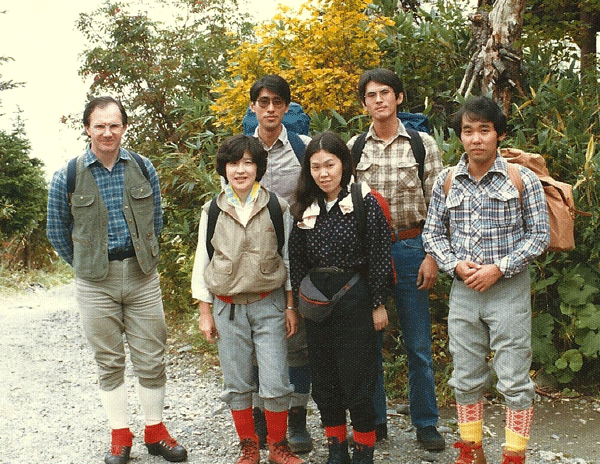 Messrs Piper, Ishikawa, Uchida and Nakakuki with Mrs Ishikawa and Tazawa san in the foreground.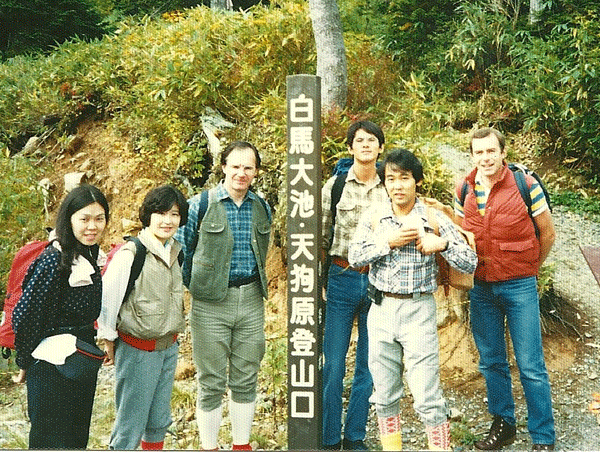 Ready for off
Leaving Tsugaike the path climbed fairly steeply over a wooden staircase though thick foliage until it eventually leveled out as we reached Tenguhara.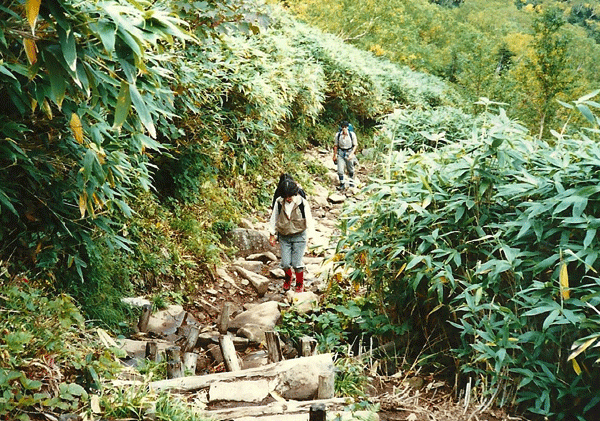 Tenguhara is a small marshy plain where you are forced to walk along a log trail, and is noted for its brilliant reds and yellows of the foliage in autumn. Here we stopped for our first major break and to admire the view.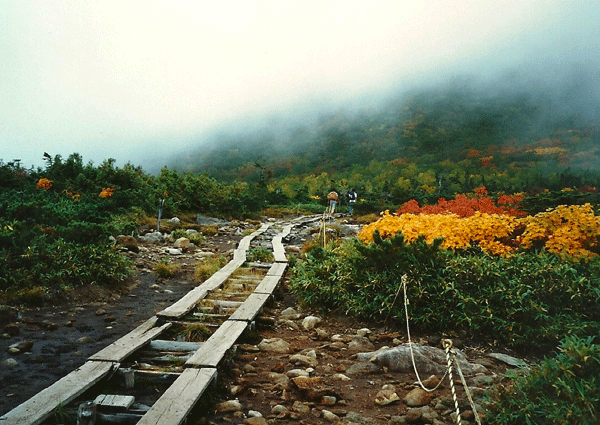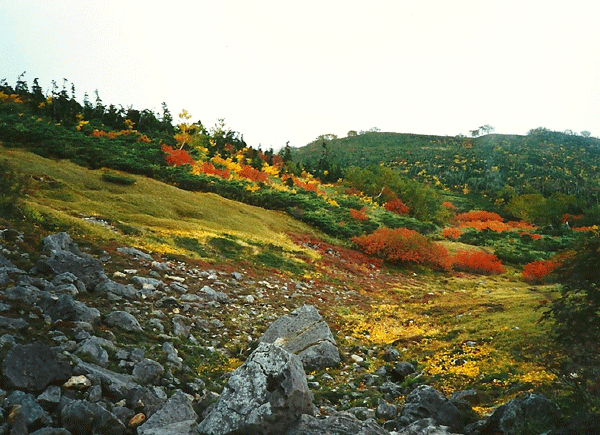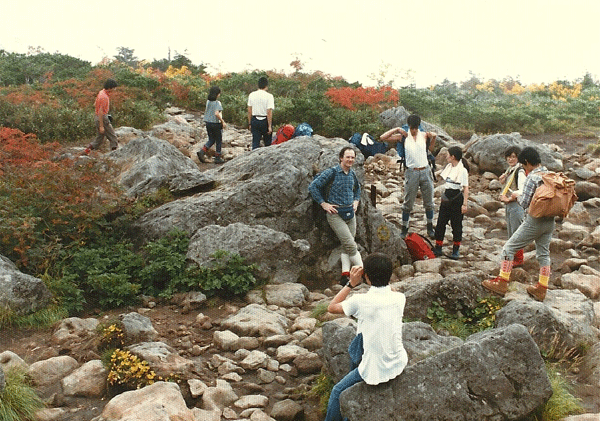 Leaving Tenguhara we climbed further and crossed a huge boulder scree field, which was great fun as we scrambled from one large rock to the next. Climbing up the other side of the boulder field we came to another flat area, with a cairn marking Norikuradake, at 2,347 meters.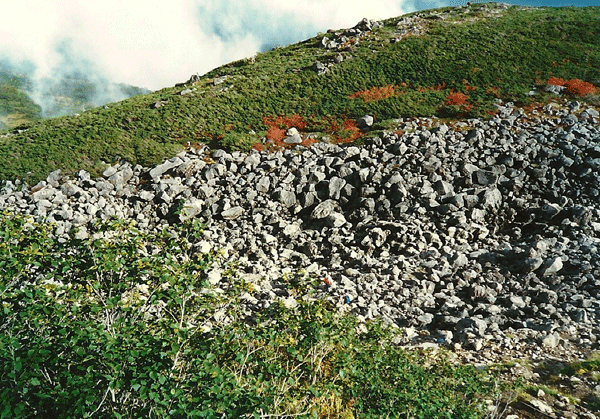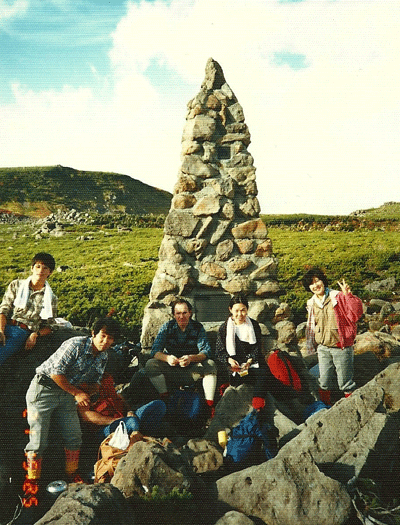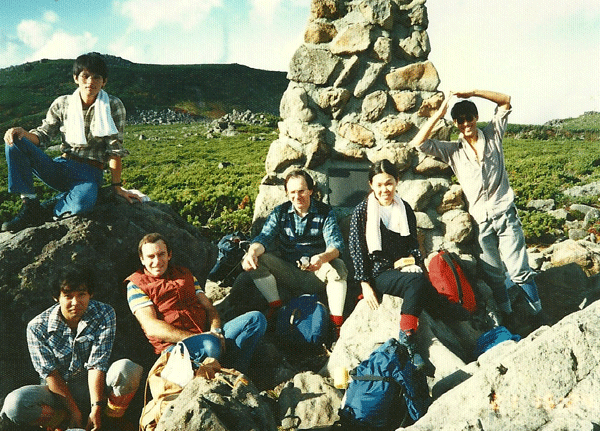 Norikuradake
By now it was getting to be late afternoon, and whilst we stopped for a rest and a brew we were all anxious to get to the Lodge at Hakuba Oike. The Lodge soon came in to sight as we left Norikuradake, but it took some time to reach it skirting around the right side of the pond over a rough boulder field.

Approaching Hakuba Oike and Hakuba Lodge
The Lodge at Hakuba Oike was spartan but clean, and the accommodation consisted of "bunk rooms", that is it was rather like sleeping in a bunk bed except that each "bunk" comprised a small room curtained off from the corridor that had tatami mats and slept four to five people. Not that it mattered, for after the long day and the hard climb we were all ready to sleep the sleep of the dead!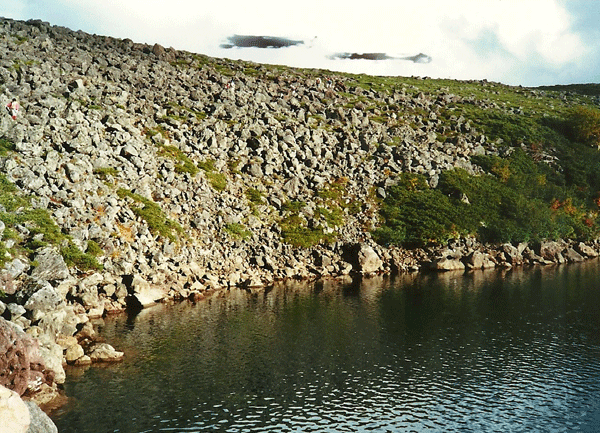 The rugged terrain surrounding Hakuba Oike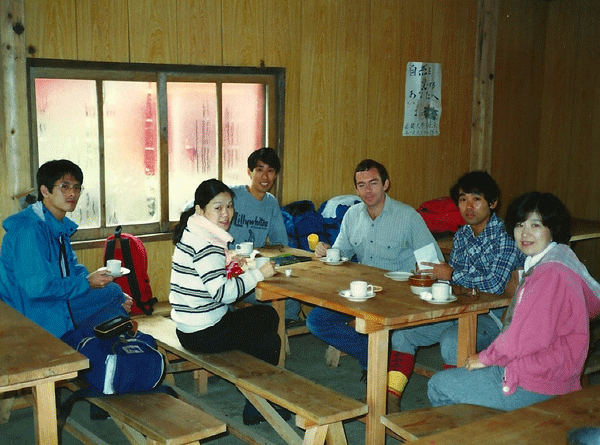 Dining at the Lodge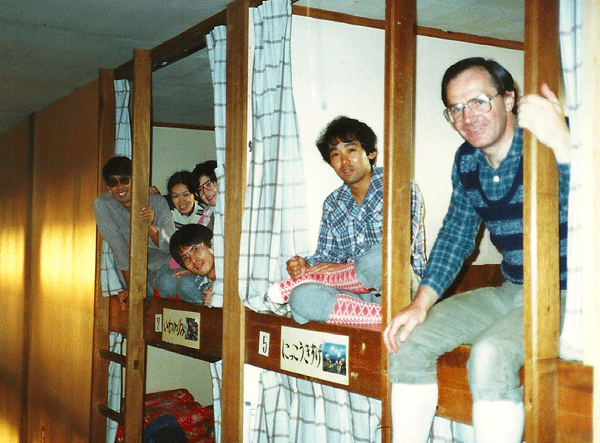 The "Bunk Rooms"
The next day we were up early and off walking at 7-30 a.m. The path from Hakuba Oike climbed quite steeply away from the pond up through thick foliage, end eventually broke out on to an exposed ridge. Looking back towards the pond we had our last clear view of the Lodge as the mist started to come in and it began to rain quite heavily.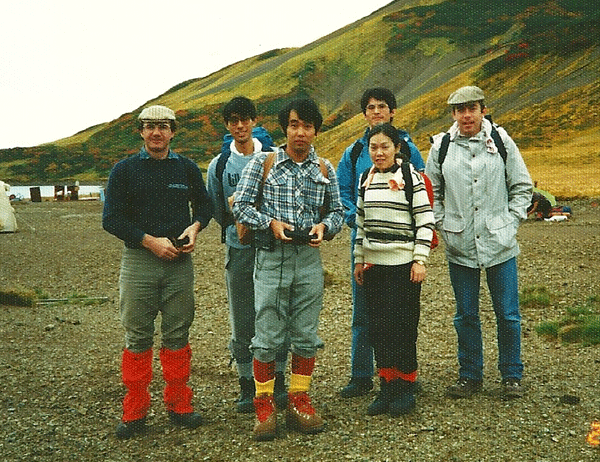 Leaving Hakuba Oike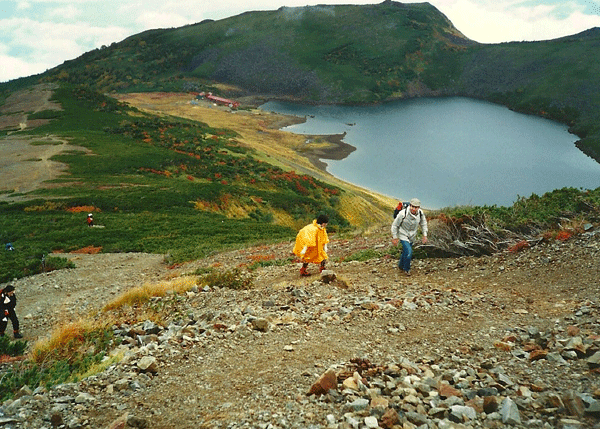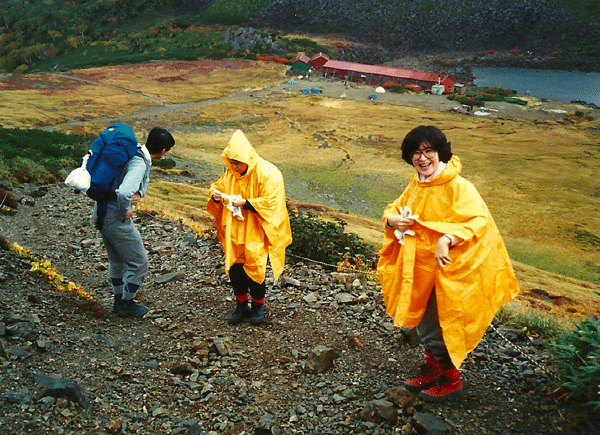 The path got quite rocky at this stage, and we pushed on to Korenge (2,769 meters), and on to Mikunisaki (2,751 meters).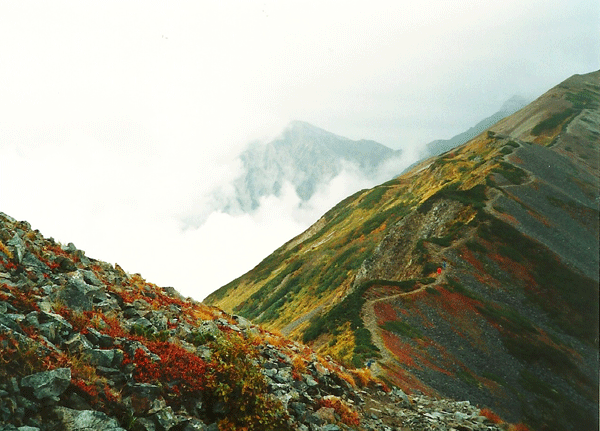 We rested again before making the big push to Mount Shirouma at 2,933 meters. This was to be the highest point of the hike, and with the heavy rain and the physical exhaustion of climbing, we were pretty wet and bedraggled by this time. It was a pleasure to drop down to Hakuba Lodge and to get warm around the kerosene stove there, and to dry off our clothes.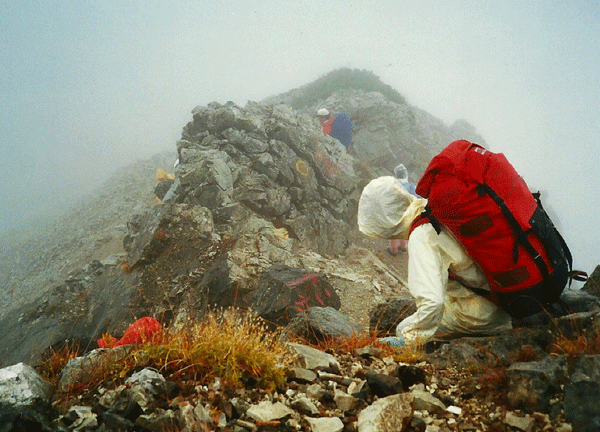 The dedicated, i.e. Messrs Rowcliffe, Ishikawa, Uchida and Nakakuki went off to climb another nearby peak, but with the weather worsening by the hour they were soon back seeking the warmth of the fire and the pleasures of a can of beer! That is one thing to be said about mountain walking in Japan - you never fail to find a warm lodge and they always have cans of beer available, at a price!
The next day the weather was no better, so we decided to make our way down off the mountain.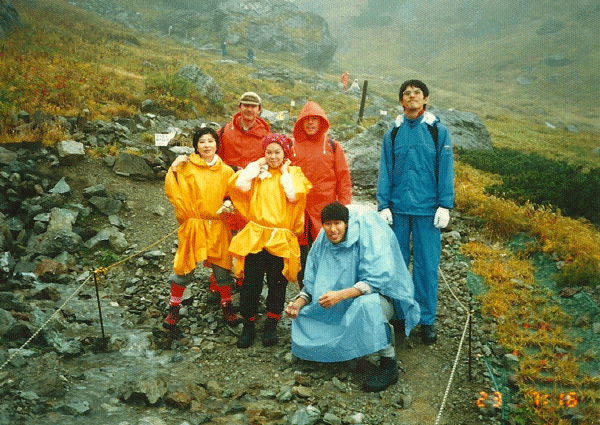 We started descending over rock scree, and eventually came to the glacial snow that fills the valley for most of the year. Walking parallel with this for a long time we eventually crossed it to follow the path down on the other side.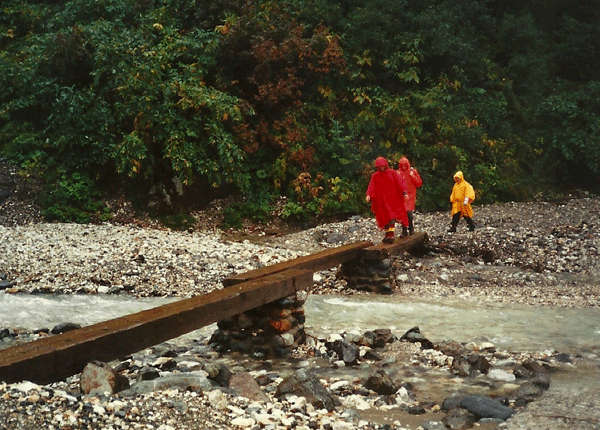 Soon we came to a small lodge where we were able to dry off in front of a kerosene hot air blower, and then made our way down to Sarukura where we were to catch the bus back to Hakuba Station. We were so wet at this stage that I had to buy a pair of track suit bottoms at a local shop so as to have dry clothes to travel home in! Believe it or not, I still use these track suit bottoms for walking some 24 years later!!