This trip was quite a "Go/No Go" event even before we got on Azusa #1 train leaving Shinjuku at 7 a.m. on 10th September 1988. At one stage the list of participants reached 14, only to dwindle to 4 or 5 a couple of days before the walk. I was pleasantly surprised to see 8 hikers, including Alan Kingsley who just managed to hop on to the train as the doors were about to close. The participants were Karen & Chris Sanford, Karen Holt, Mary Sipple, Tim Herrmann, Yoshi Minegishi, Kate Fickle, Alan Kingsley and myself.
We soon got to know each other as the train sped on its way to Kofu, which we reached in an hour and thirty six minutes. Here we changed to Platform 3 and took the slow train 5 stops to Anayama, arriving at 9-12 a.m. I had arranged for a microbus to meet us for the 40-minute drive to the start of the walk, Gozaishi Kosen, and as we got off the train I repeated to myself "There WILL be a microbus here, there WILL be a microbus here!" Sure enough there was, as in general arrangements such as these go like clockwork in Japan.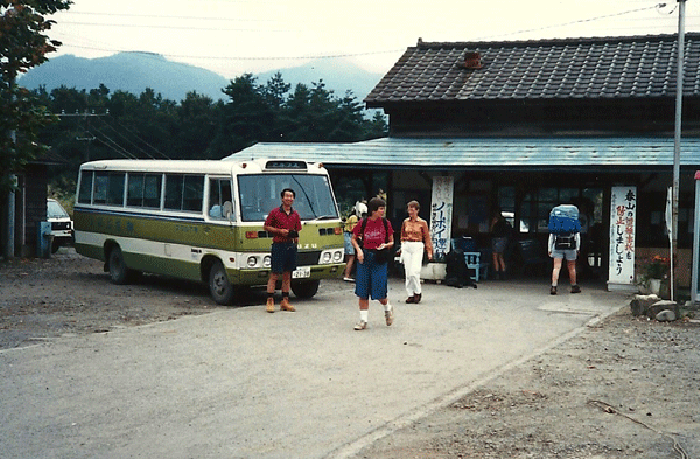 Anayama Station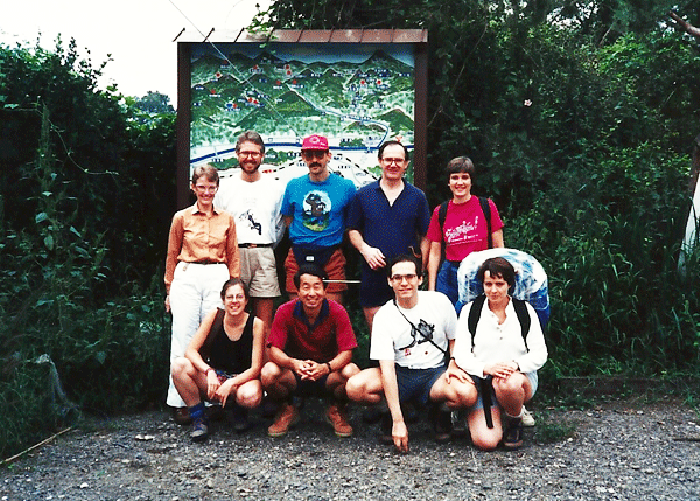 Back Row L to R: Kate Fickle, Alan Kingsley,Tim Herrmann, Mick Piper, Mary Sipple
Front Row L to R: Karen Holt, Yoshi Minegishi, Curtis & Karen Sanford
We reached Gozaishi Kosen by 10-05 a.m. and after the second group photo of the day we were ready to start walking by 10-30 a.m.

Gozaishi Kosen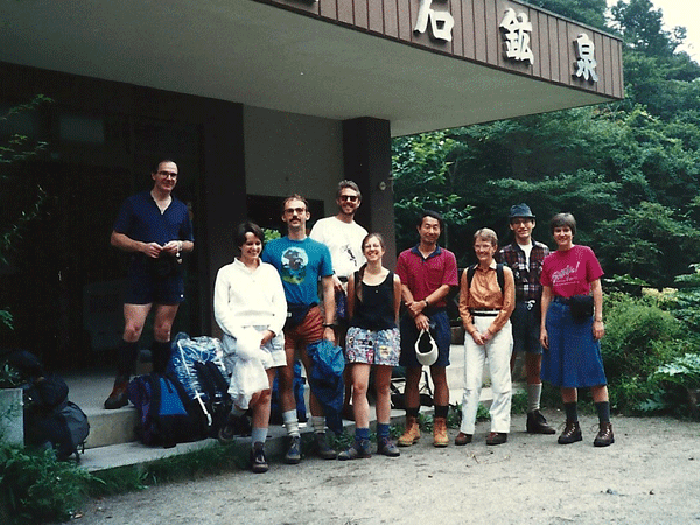 The climb was fairly tough going and fairly steep for the first 3 hours, and as we were walking through trees for most of the time it was humid. Although the group began to string out quite a bit, with Tim and Yoshi blazing the trail up ahead, everybody moved forward at their own pace without complaining, making it a joy to lead the group. We passed Asahigoku Chogo at 12-40 p.m. and reached Tsubakuro Atama at 1-25 p.m. after exactly 3 hours walking. Tsubakuro Atama is a really pleasant spot under trees and surrounded by dense bamboo foliage. It is an ideal resting place for lunch after the 3 hour climb. Also it is a landmark in that the trail gets infinitely more interesting after that point, and apart from not being too steep, there are several features which are picturesque and attractive.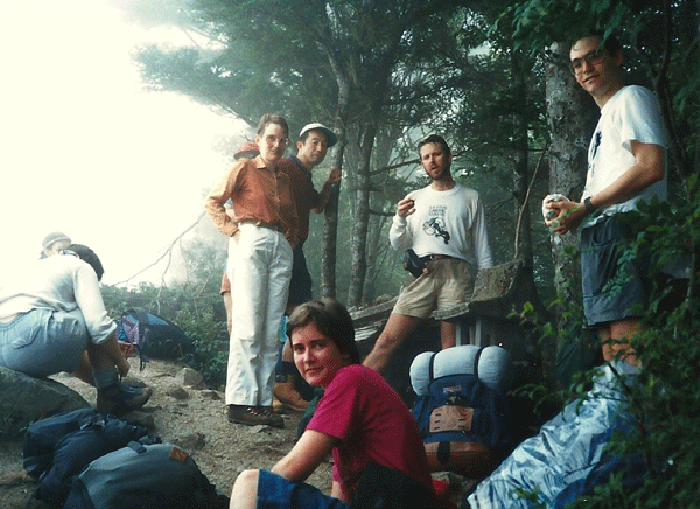 Resting at Tsubakuro Atama
The sandy sadle, soon reached after leaving Tsubakuro Atama, was perhaps the most challenging feature, and several members of the group felt quite nervous as they traversed it. In reality, however, there is little danger here.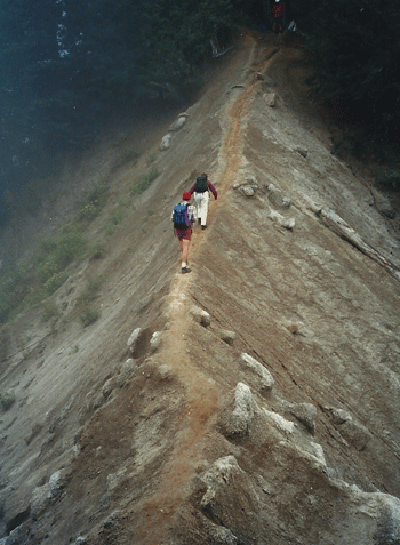 The Sandy Ridge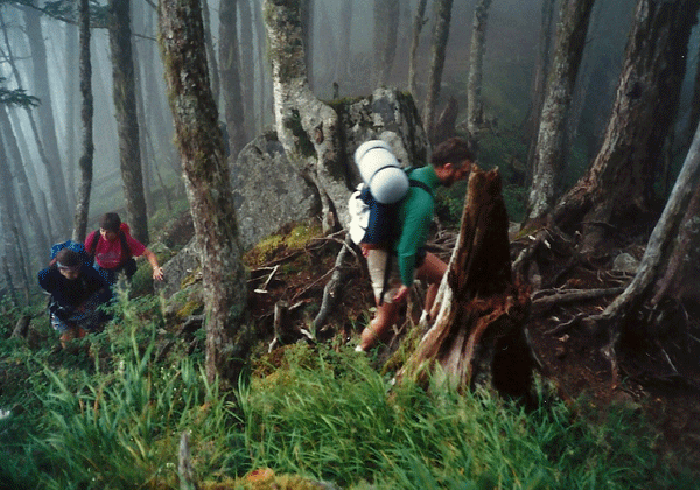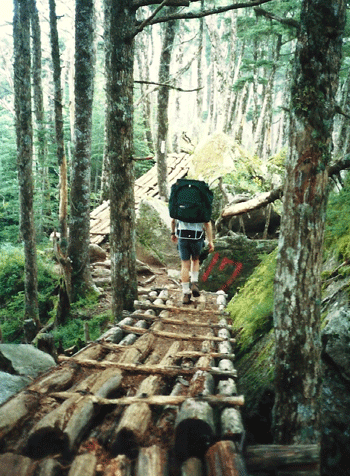 Approaching Ho-o Lodge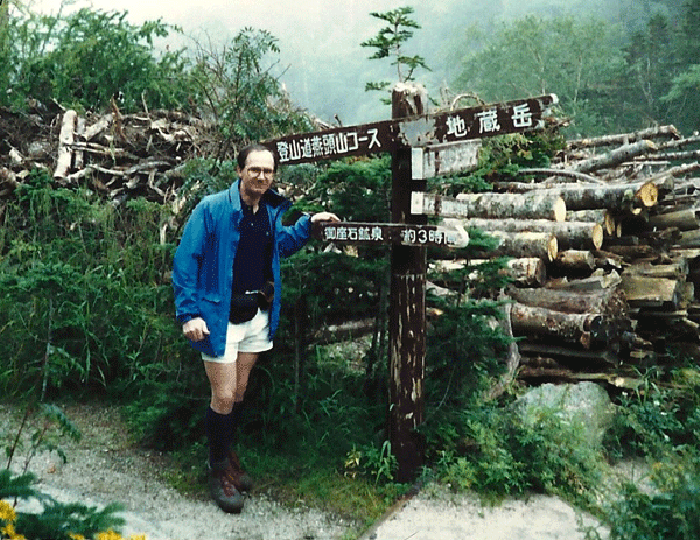 We eventually reached Ho-o Lodge at 3-45 p.m., just in time to sample some mushrooms prepared on an open fire by lodge keeper Hosoda san. These mushrooms were gathered from around the lodge, and the combination of the smokey flavour and the soya sauce made them really tasty, complementing the first cold beer of the day!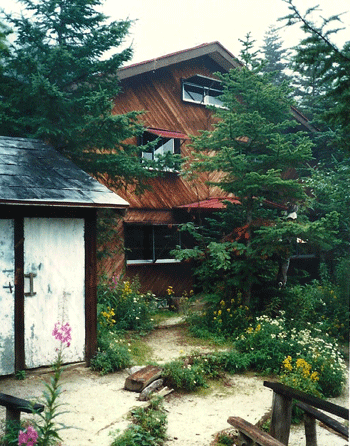 Ho-o Lodge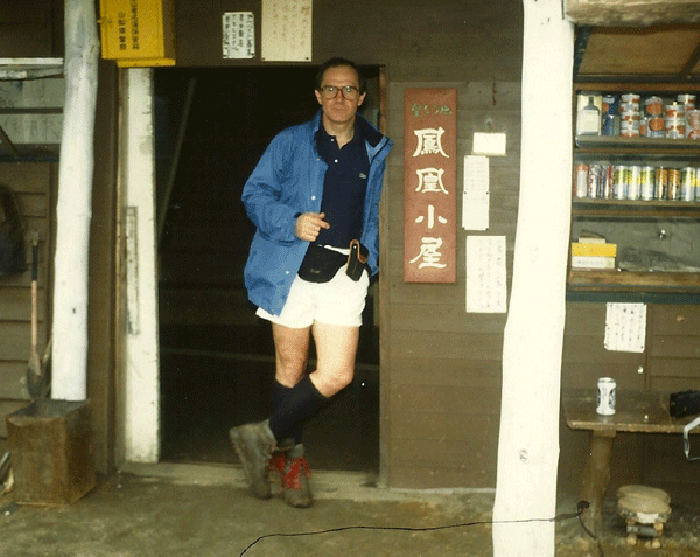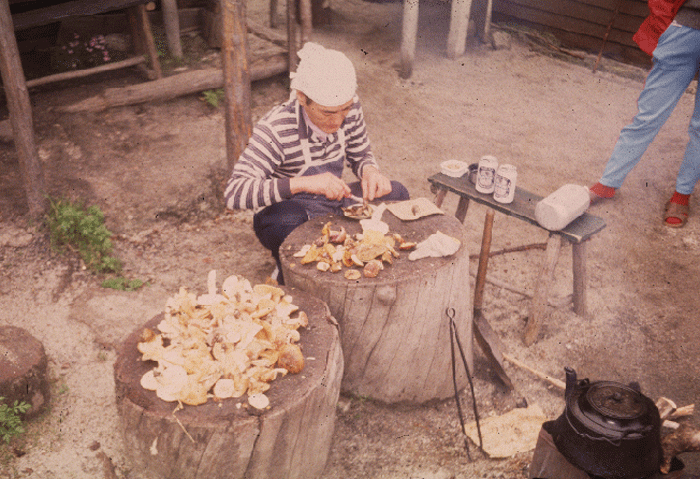 Hosoda San preparing mushrooms
It was most pleasant sitting around in the entrance of the lodge during the late afternoon, talking amongst ourselves and with other hikers as the rain started to fall, and then became heavy. We were joined by Hiroshi Ito, a Professor at the Department of Physiology, Kyorin University School of Medicine, who had arrived at Ho-o Lodge from the Yashajin Toge end, our destination the following day.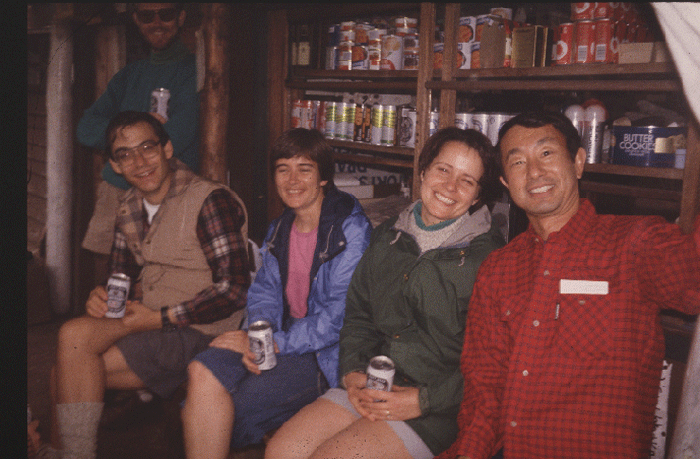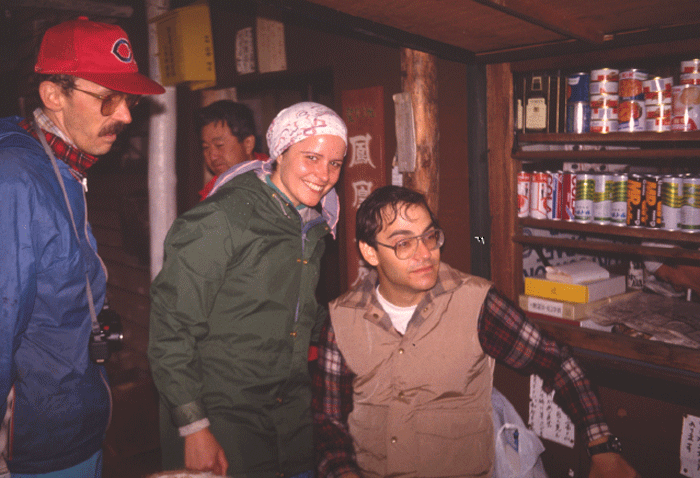 After a curry dinner in the evening, Hosoda san was kind enough to allow us to use his private room for the evening's revelry, and we sat drinking beer, whisky, Kate Fickle's Thai whisky and Yoshi's hot-can sake.

Professor Hiroshi Ito on the left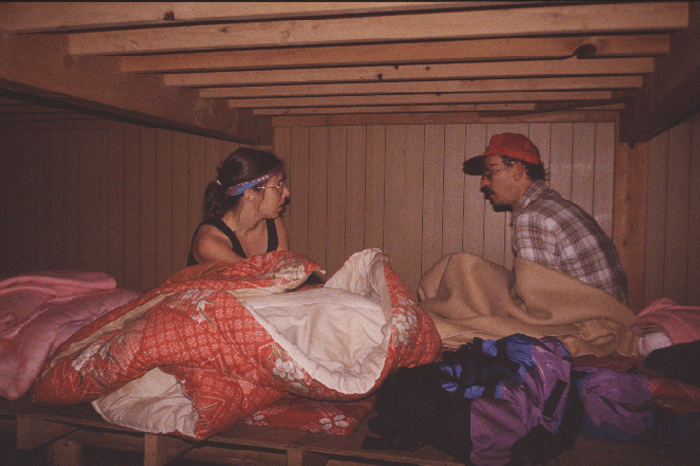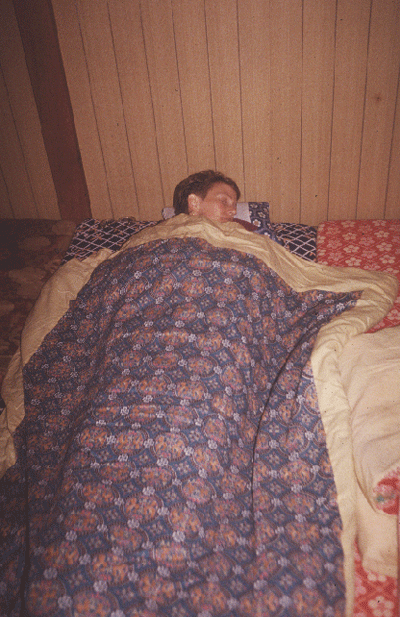 Not surprisingly most people slept well that night after the strenuous excercise and the booze!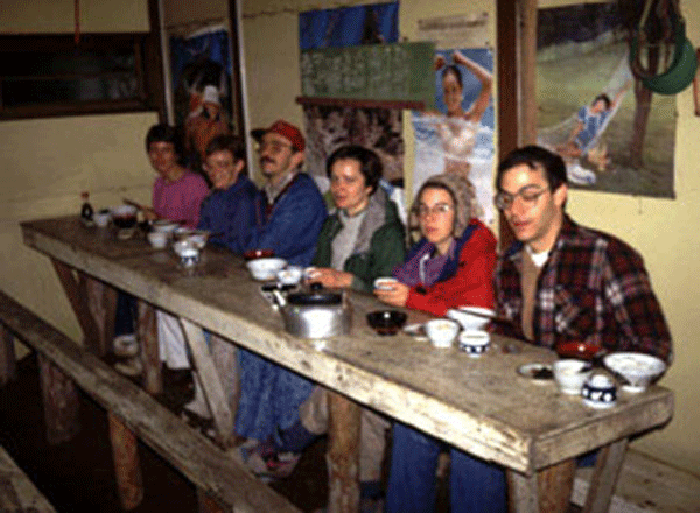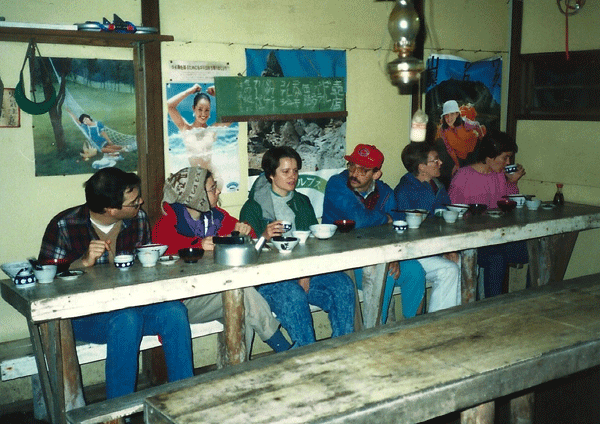 Six hangovers waiting for breakfast!
It rained most of the night and was raining quite heavily the next day when we got up. After breakfast we left the lodge at 6-45 a.m., and started the long slog up the sand slope towards Jizo. It was quite hard work, and the wet conditions did not make it any easier. We arrived at Jizo at 7-45 a.m. and Karen Holt, Tim Herrmann and myself climbed the obelisk as far as the base of the final block. At this point it was quite windy and we did not feel inclined to risk climbing up the slippery crack to the top.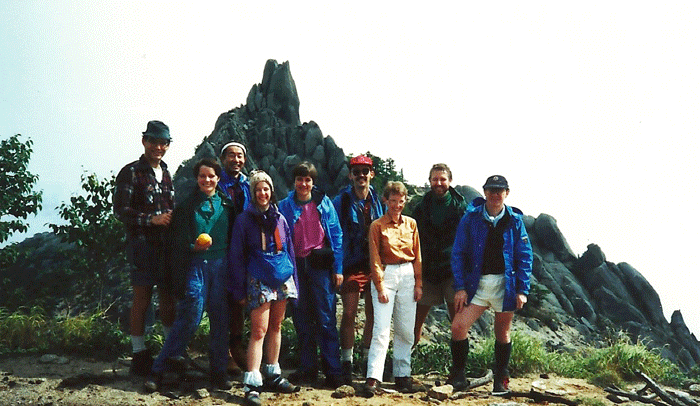 Mt. Jizo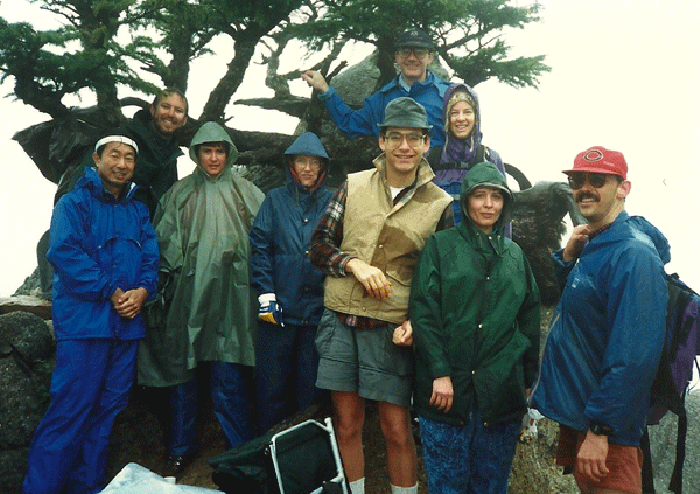 Yet another group photo
Leaving Jizo at 8-10 a.m. we climbed to an intersection with a sign pointing to Kannondake to the left and Hayakawa Ridge to the right. For some unexplicable reason I led the group off to the right, and it was not until we had been going for half an hour or so that we realised that we were heading in the wrong direction. I felt that the excursion was well worth while, if accidental, as the trail along the Hayakawa Ridge was quite pretty and well worth another trip.

Kannondake left; Hayakawa Ridge right; if only the sign had been in English!
Nevertheless we had to backtrack, and got back to the intersection by 9-15 a.m. The detour did bring one benefit to us, and that was that the mist had cleared and Jizo was now clearly visible. We were able, after all, to get a group photo with Jizo in the background.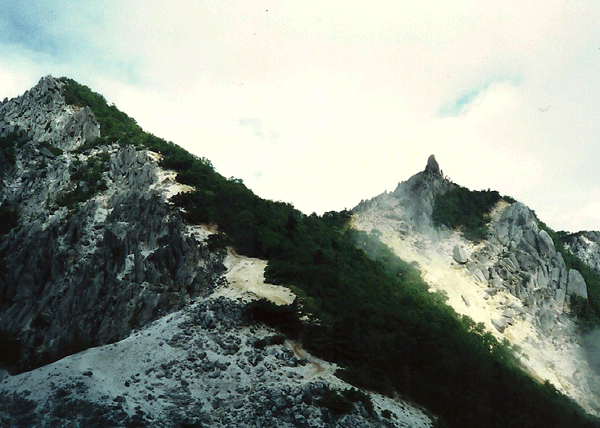 Looking back along the ridge towards Mt Jizo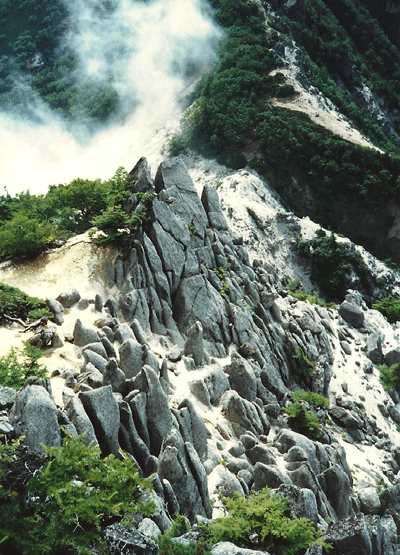 The climb to the top of Kannondake was perhaps the most tiring part of this route, as most of the group were waiting to see the long downward ridge that I kept promising was "just beyond the next rise". Kannondake stands at 2,840 meters high, and as the time was now 10-22 a.m. it was a good point for a long break.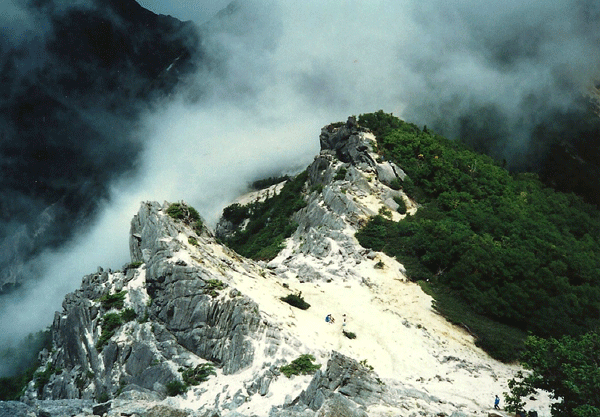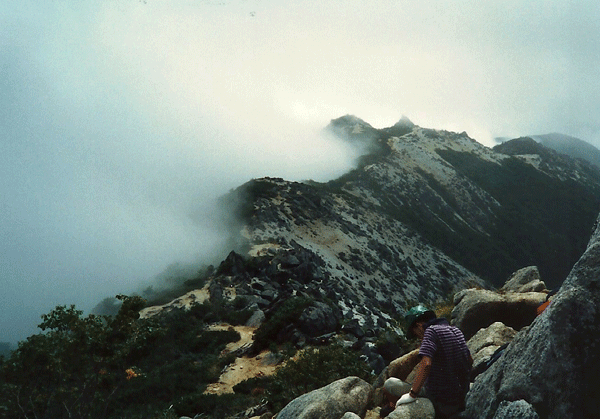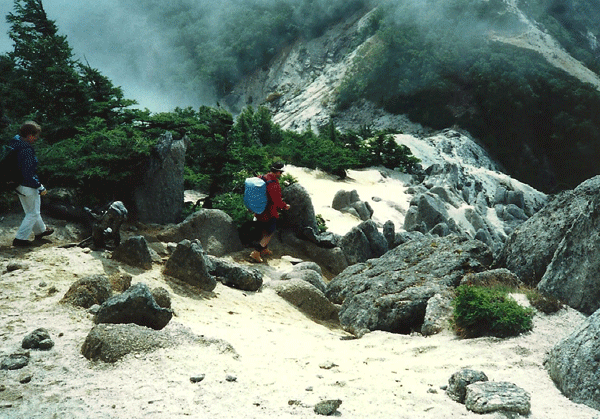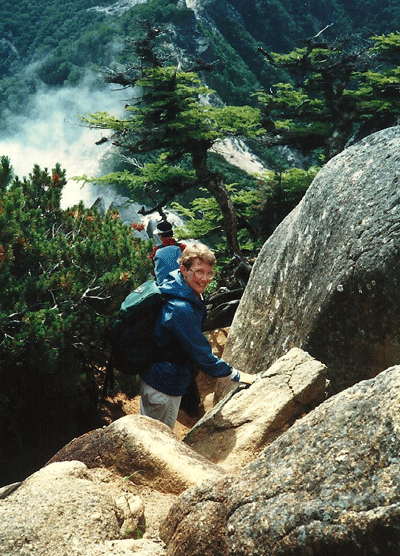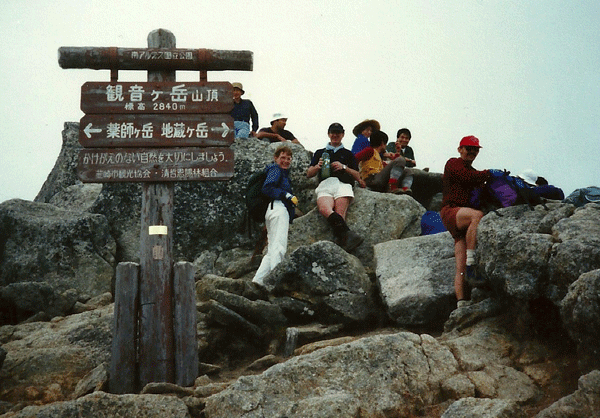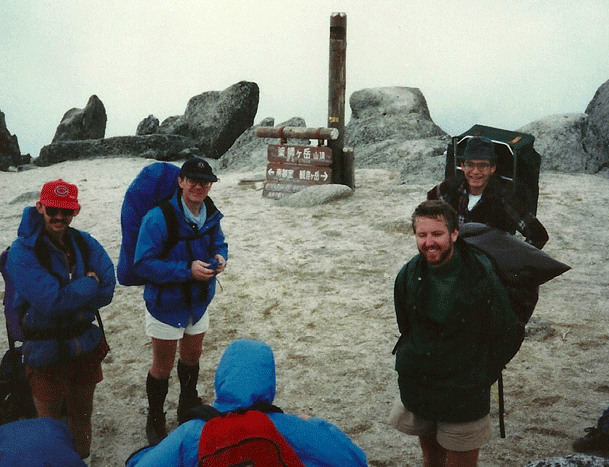 Our pace quickened along the ridge as we left Kannondake and we reached Yakushi just before 11 a.m. We carried on for almost another hour, and decided to have lunch on reaching Minami Omuro Goya.Leaving Minami Omuro Goya the path climbed for 30 minutes or so until we reached Ichigodaira, and then began the long descent towards our destination, Yashajin Toge. By now the group was beginning to show signs of wear, with boots coming off at each rest stop to examine sore feet and potential blisters, but no one complained and we reached Yashajin Toge Goya at 2-50 p.m. We were within 40 minutes of the bus stop at Yashajin Toge Iriguchi, and by now most of the group were relieved that the end was in sight. Arriving at 3-40 p.m. we rested in the local coffee shop until the 4-22 p.m. bus arrived to take us back to Kofu Station.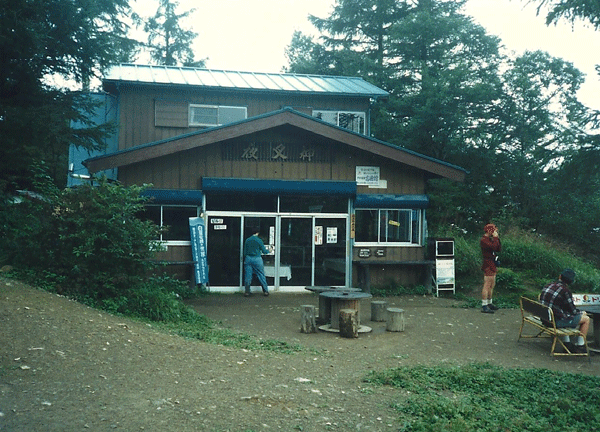 Yashajin Toge Lodge