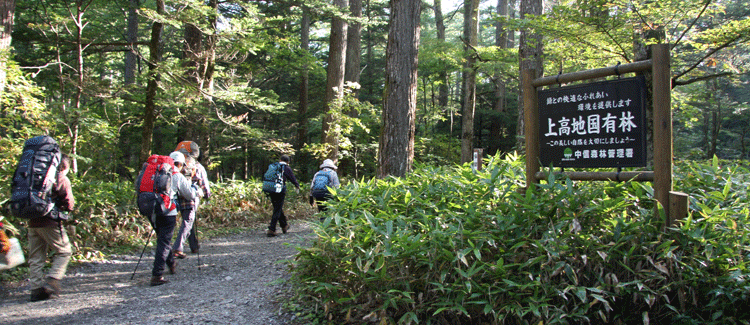 After the success of my Komagatake trip, I fancied another day trip to the mountains, but this time closer to Matsumoto. I had noted that they were running an extra early morning train to Shinshimashima for Kamikochi, and whilst I realised that it would be busy up there I decided it was a chance not to be missed.

I woke at 4-00 a.m. and by 4-35 a.m. I had my yen 680 ticked for Matsumoto – Shinshimashima and was on the train. I had expected it to be half empty, but it was absolutely heaving and I more or less got the last seat on the train.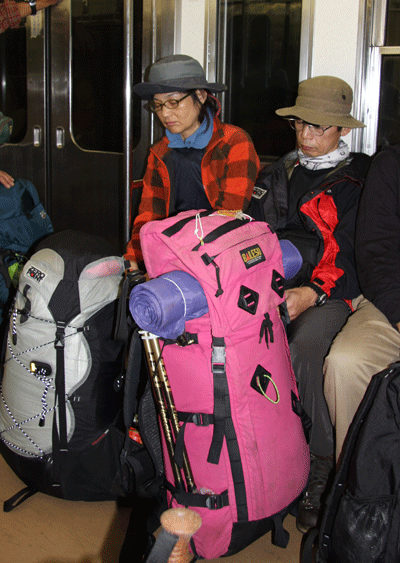 We reached Shinshimashima by 5-07 a.m. and there was a big scramble as everyone ran for the bus to Kamikochi. I got in the queue quite early as I was at the front of the train, but I had not realised that you had to buy a ticket at the station from an automatic vending machine. I left my spot in the queue and headed back to the vending machine. This only sold single tickets at Yen 1,900, and as a return was only Yen 3,300 I had to go to another window to buy a ticket.

Seats fold down into the aisle on Japanese buses so they can get more people on! Not sure about the
Health & Safety implications of this in the event of an accident!
The bus left at 5-20 a.m. and by 6-20 a.m. we were pulling in to Kamikochi Bus Terminus. Since we were the first bus up that day I had expected the Terminus area to be quiet! Wrong! It was absolutely heaving! I checked on return buses and discovered that as well as having a ticket you also had to have a pre-arranged boarding pass, so I booked a pass for 4 p.m. that day just to be sure.

Lots of people at Kamikochi Terminus even at 6-20 a.m.
I had decided on a 6-hour hike from Kamikochi to Yokoo and back; it was difficult to do much more as the next legs on the hike involved a lot of climbing and would have added 3-hours each way on to the time. There was a constant stream of people on the trail and it was difficult to get past those walking slowly.

Too many people on the trail for my liking!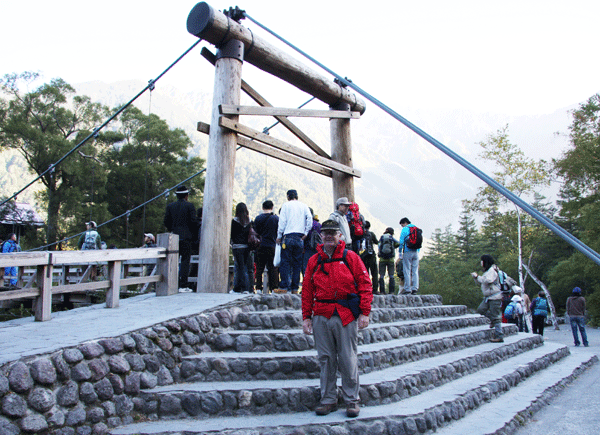 At Kappabashi
I have never seen so much new hiking gear in one place and it was almost as though everyone had been to Ishii Sports and ordered a new gear! There must have been a "Silver Week" boom in mountain equipment sales!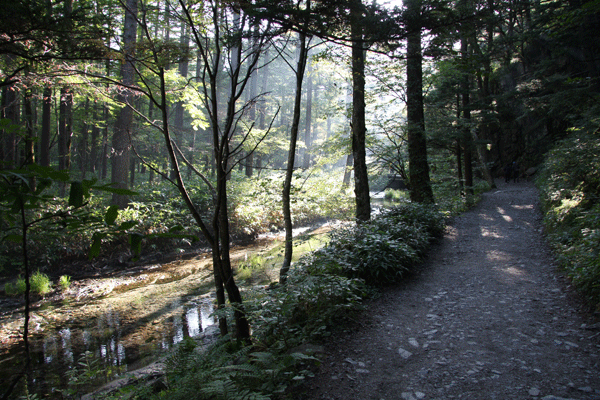 A wonderful trail when there are not so many people!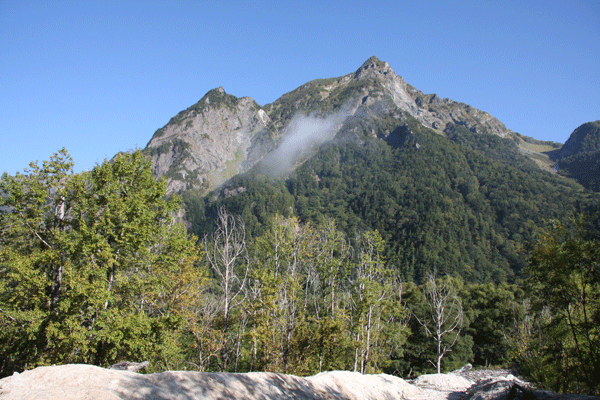 Myojin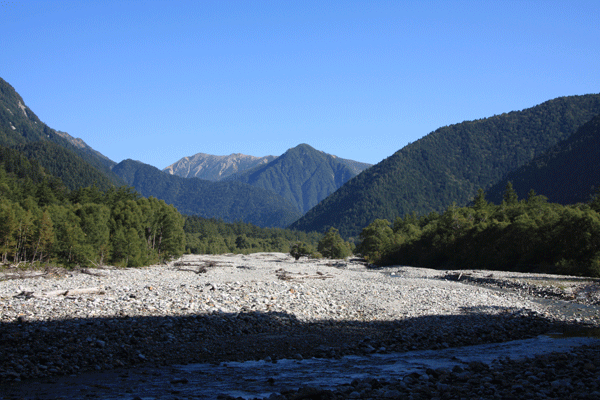 I reached Tokusawa at 8-30 a.m. and headed towards Yokoo.

Camping at Tokusawa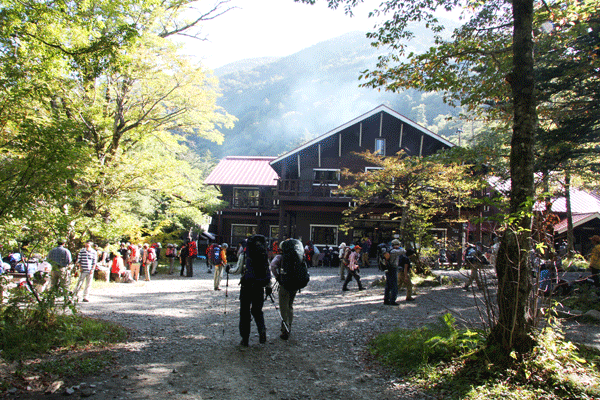 Tokusawa Lodge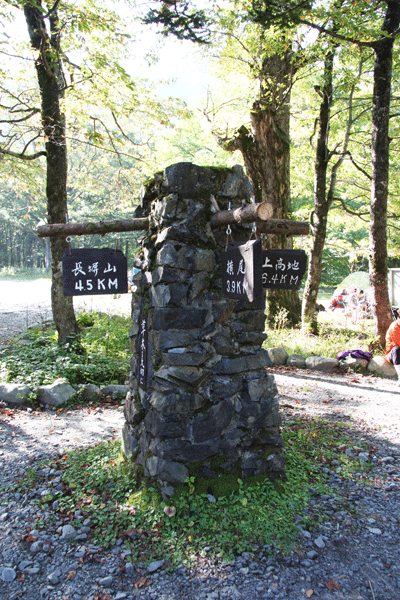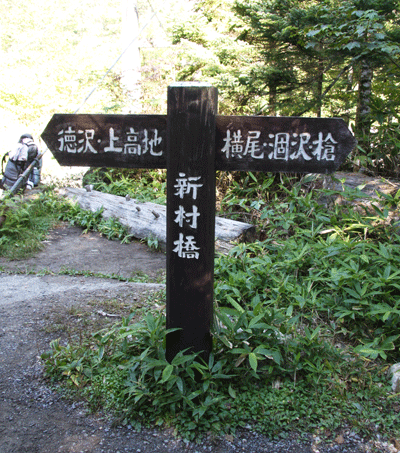 There has been a lot of erosion and at one point there were bull-dozers repairing the trail due to falling rocks. At this point they had diverted the path in to the middle of the dry river and had created an artificial road. I suppose that it was necessary but itcertainly detracted from the beauty of Kamikochi.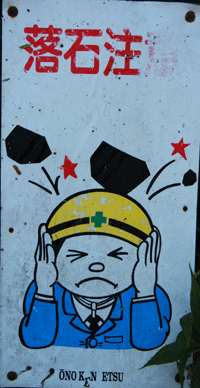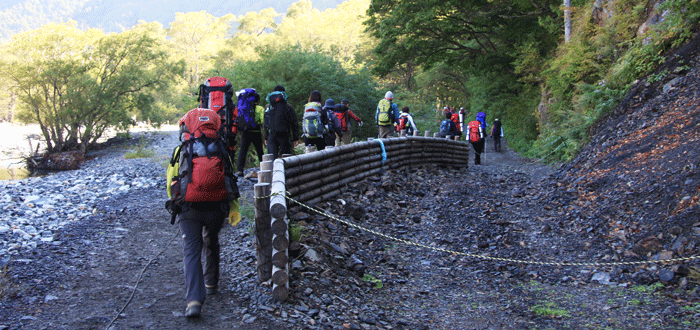 I reached Yokoo at 9-30 a.m. and took the obligatory photo by the totem sign post there. It was crowded. Really crowded. There was a small outside toilet near the lodge, but the queue outside was 25-long for the men's toilet and even longer for the lady's! How can you be 11 km in to the "wilderness" of Kamikochi and have such a queue for a toilet? And to top it all they expected you to put yen 100 in the honesty box!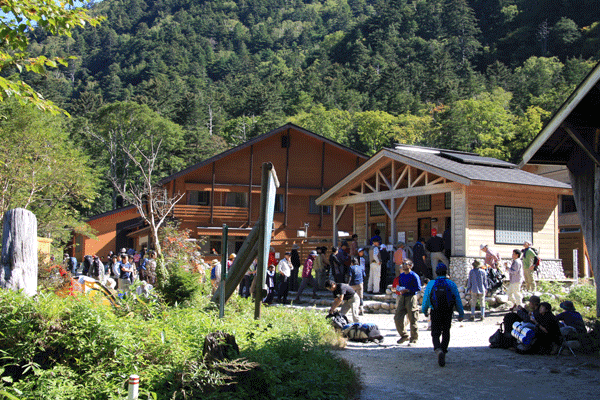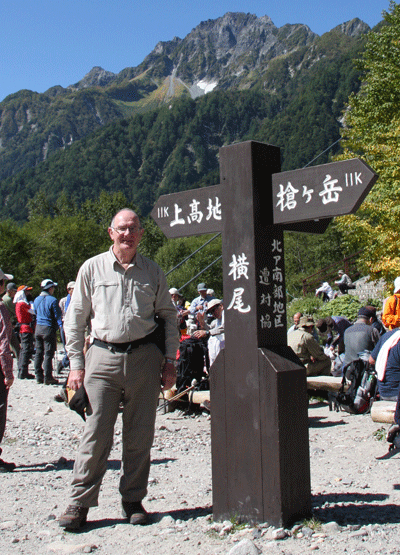 Yokoo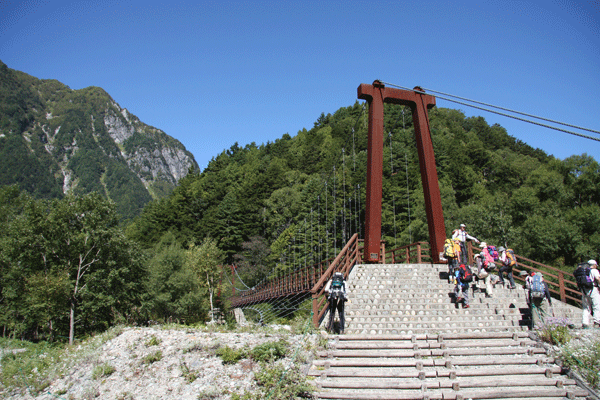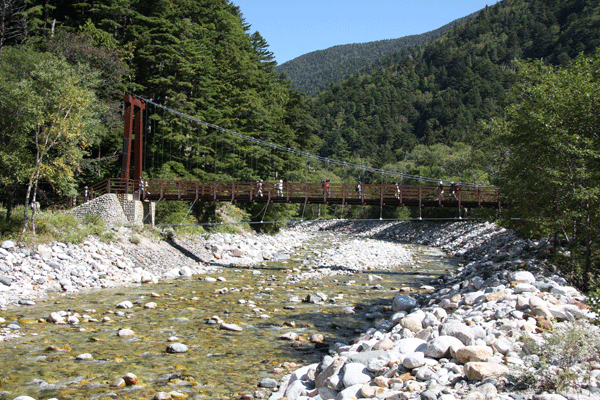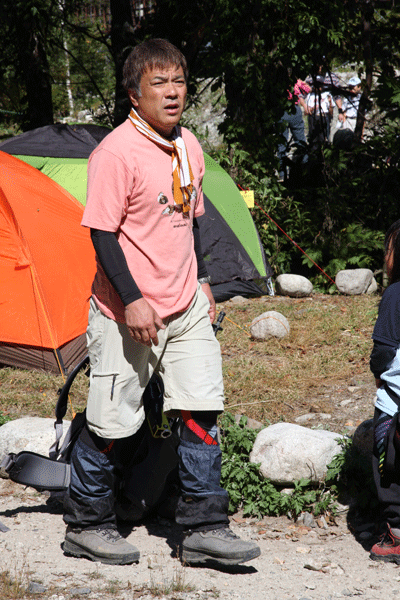 A cool dude with all the gear you need for a hot day! Thermal undershirt, long johns,
T-shirt, neckerchief, shorts and gaiters!!
Leaving Yokoo at 10-10 a.m. I returned along the same path as far as Myojin Lodge (12 noon) , and then crossed the river to the other side. From here I continued back to Kamikochi Terminus, crossing back over the river at Kappabashi, which I reached at 1-15 p.m.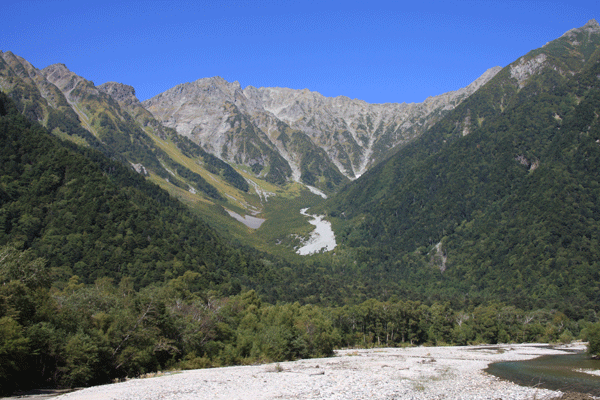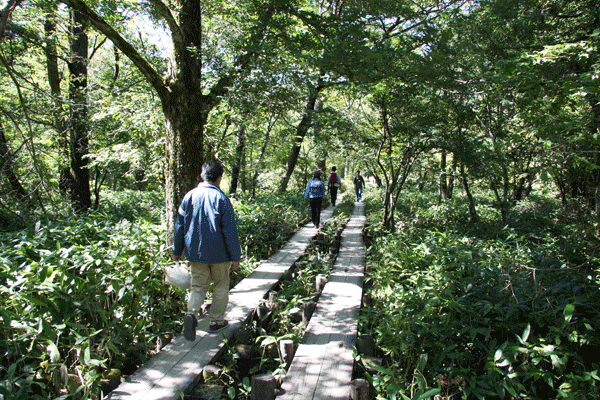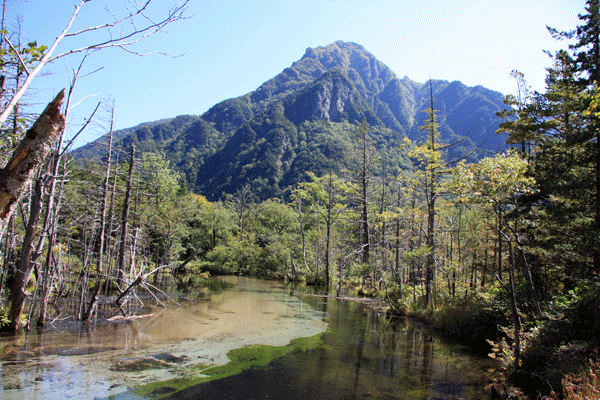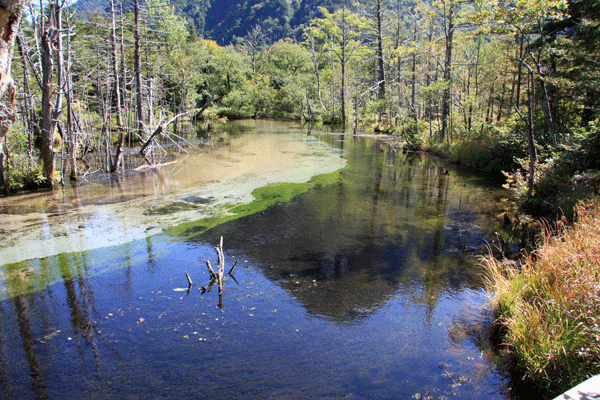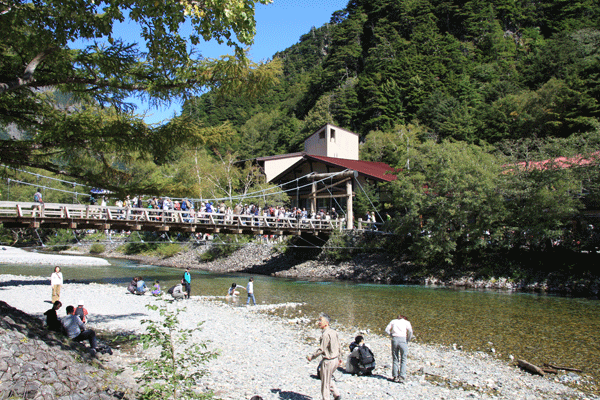 Kappabashi
The queues for the buses were already enormous, so I decided to change my boarding card time to the 2 p.m. bus, and headed out of the valley.

The bus queue at 1-30 p.m.!
The run down the mountain back to Shinshimashima was very slow, and there was a 25 km backlog of cars, buses and taxis trying to get up the mountain to Kamikochi. Was I glad that I had left early! I took the 3-25 p.m. train from Shinshimashima and was back in Matsumoto by 4 p.m.

I suppose that I had to go to Kamikochi, which is often described as Japan's Yosemite, but I knew that I would be disappointed even before I got there. When we used to go camping there in the 80's only 250,000 people a year went there and you could drive right up to Kamikochi Terminus and park. Nowadays over 5 million go there, and private cars are not allowed in to the valley. Everyone has to park at Sawando, but due to Silver Week this car park was full even at 6 a.m.!