Komagatake - July 1989

As we had the use of the Company cottage in Kawaguchiko for the week end, Gary Henderson and myself decided to climb Komagatake, 2,956m, in the Central Alps. Leaving Kawaguchiko at 8-30 a.m. we took Route 137 for Kofu and picked up the Chuo Expressway. This took us North-West to Lake Suwa, and then South-West as the road headed for Nagoya. Exiting at Interchange 24, Komagane, we turned right and went 3 km up the valley. There are several parking lots and a bus service up the narrow twisting road to the cable car station at Shirabidaira, and we crossed over the large bridge spanning the river and parked. Private cars are not allowed to go up to Shirabidaira, which is understandable when you experience the narrow hairpin bends on the way up.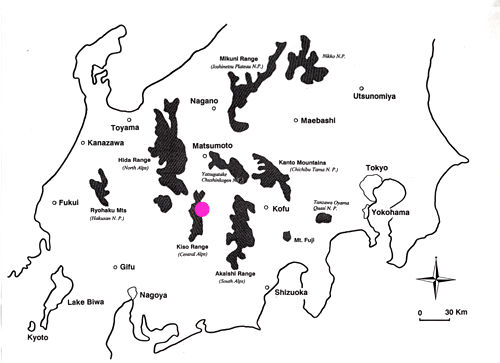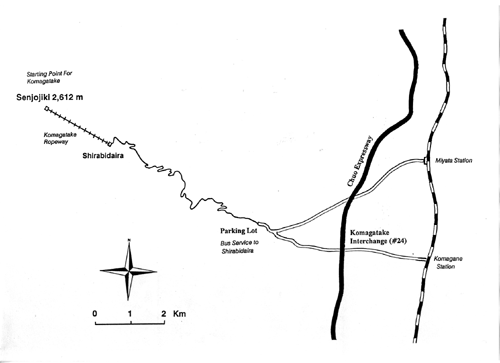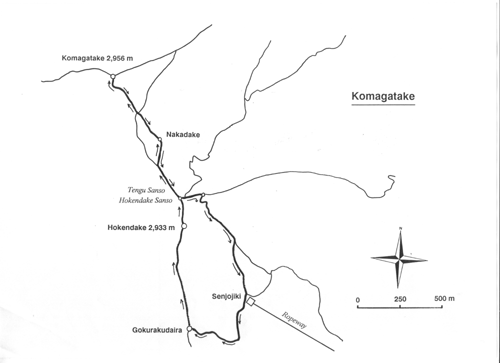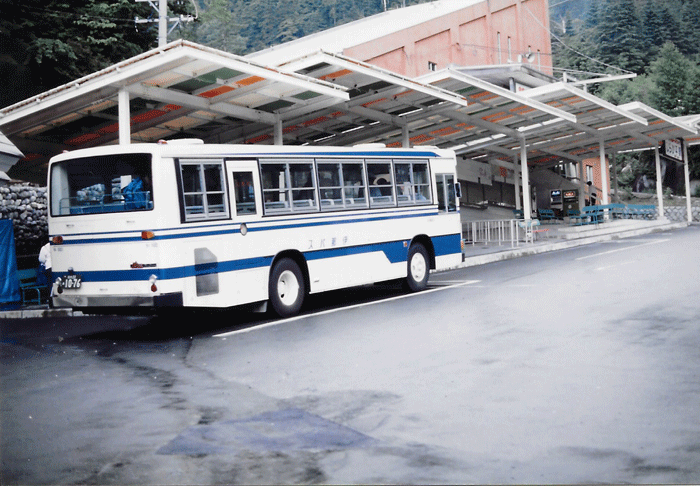 Arriving by bus at Shirabidaira Cable Car Station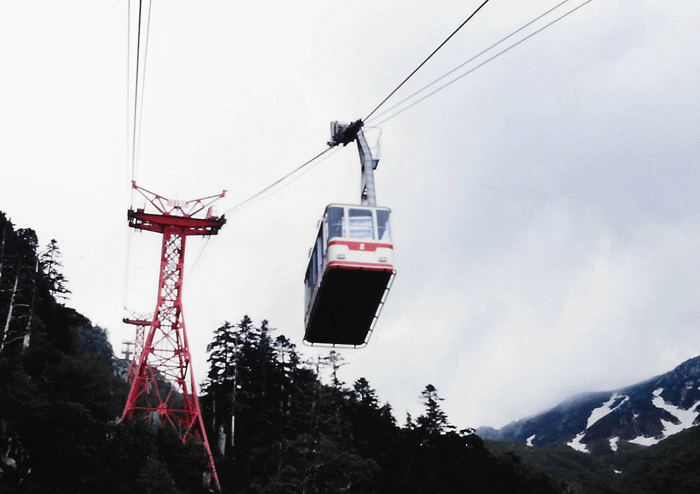 After paying the parking charge of Yen 300 for the day, we purchased a combined bus/cable car ticket for Yen 3,000, and within 30 minutes we were at the cable car station at Shirabidaira. The cable car, built in 1967, carries passengers up 950 meters to a height of 2,612m at Senjojiki, which is at the foot of a cirque surrounded by a mountain ridge of 2,700m to 2,900m. This is a spectacular spot and is the destination of many of the "mountain viewers" who come up in "city clothes". Surprisingly many people dressed in such ordinary clothes also climb the ridges, which is not a great idea bearing in mind that there is still snow around even in July!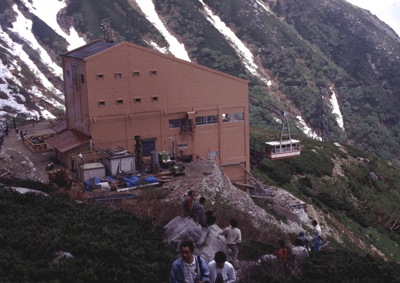 Top of the cable car, Senjojiki 2,612 m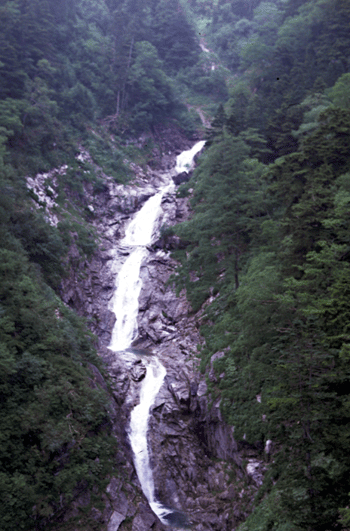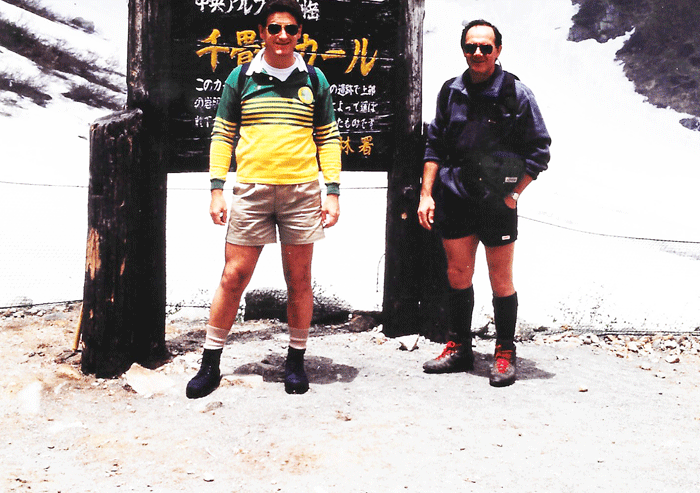 Senjojiki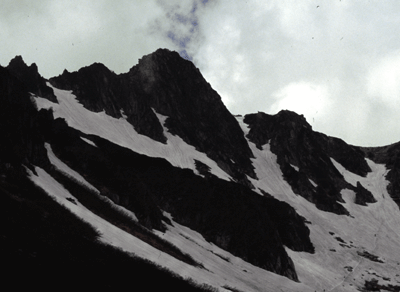 We started our climb at 12 noon, heading off to the west from Senjojiki. We traversed a snowy slope until we reached the ridge at Gokurakudaira at 12-40 p.m. after a leisurely climb.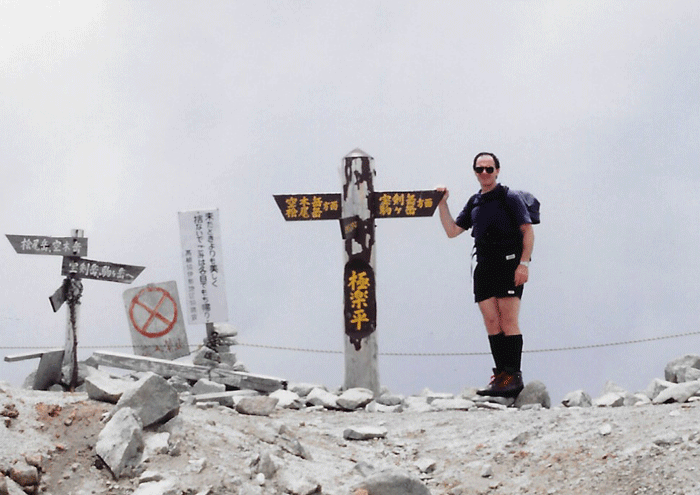 Gokurakudaira
Skirting along the ridge we came to a stone cairn where we had our first rest, arriving at 12-55 p.m.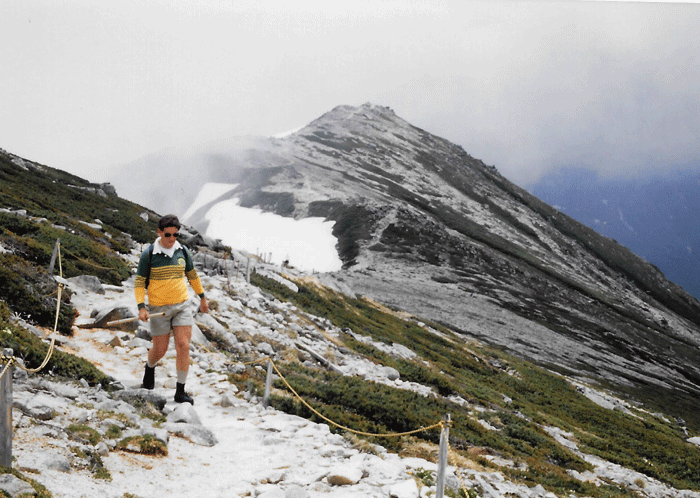 Heading away from Gokurakudaira towards Hokendake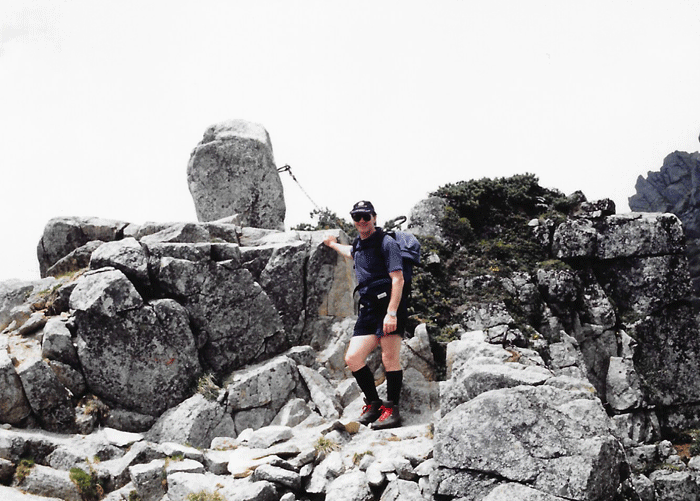 .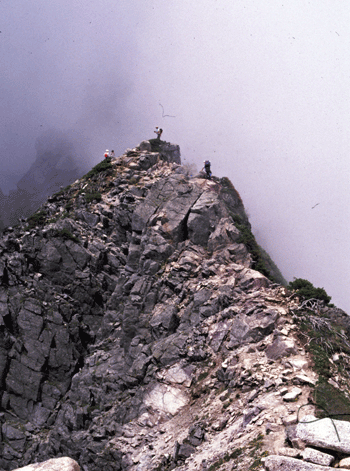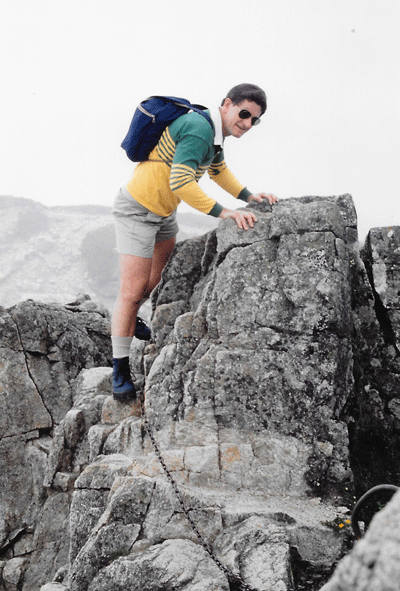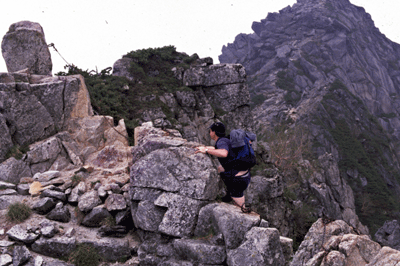 Heading towards Hokendake, 2,931 m
The track is well defined and ropes keep climbers off areas to either side to protect the tiny alpine flowers that cling on to the barren rocks. The climb had been easy so far, but the next stretch to Hokendake, 2,933m, was quite tricky traversing over a steep broken ridge aided by ropes and chains. It was not particularly difficult, but enough to remind you that great care has to be taken in the mountains at all times!

Quite a few people were resting at Hokendake, and we had it in turns to climb on top of the highest chunk of rock. This was not dangerous as it was not exposed, but it does make you feel a bit nervous without any support.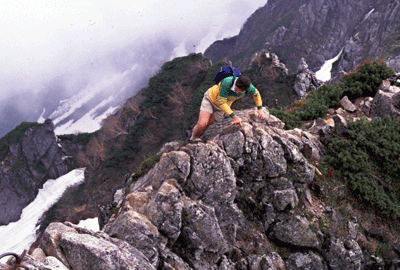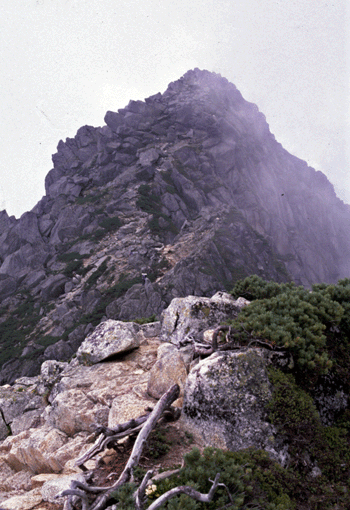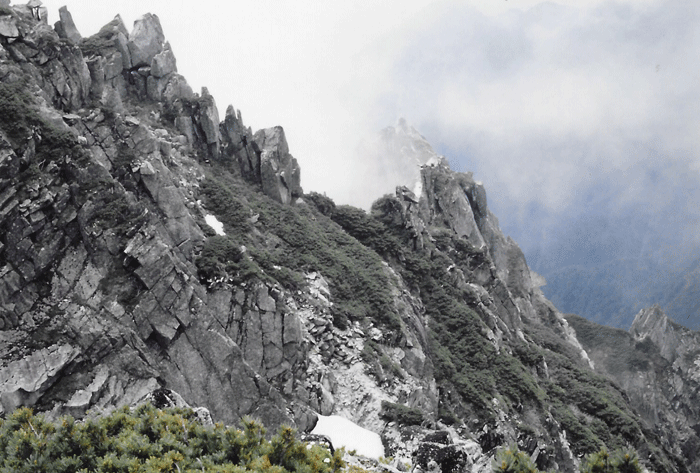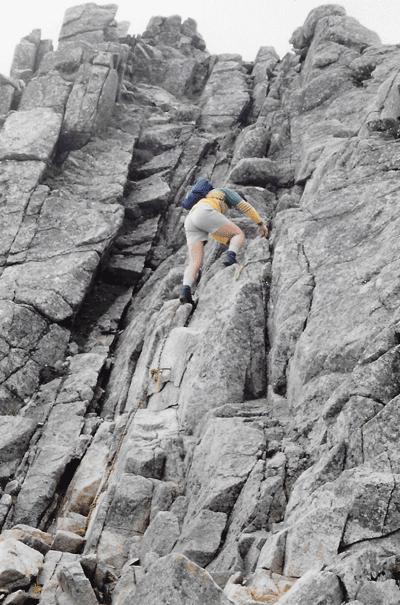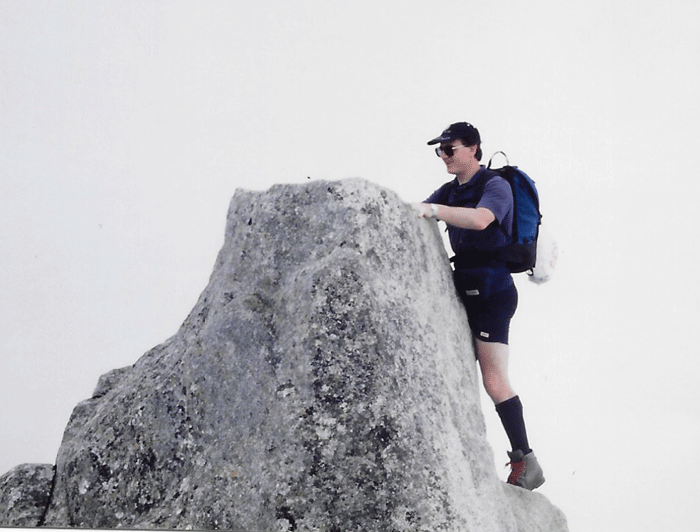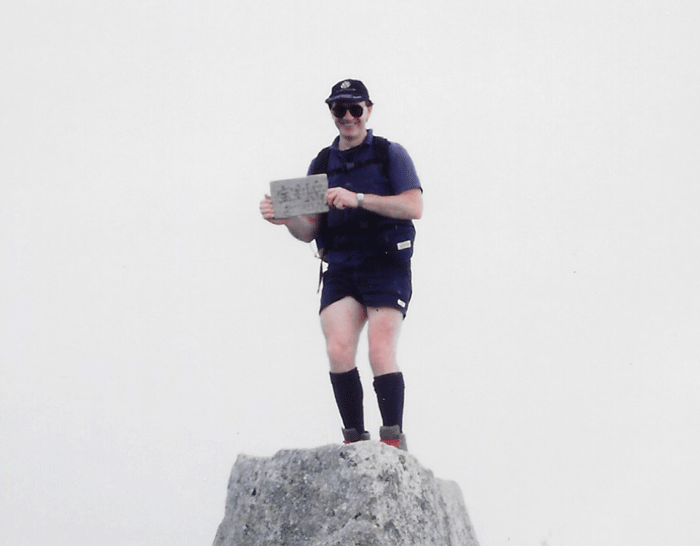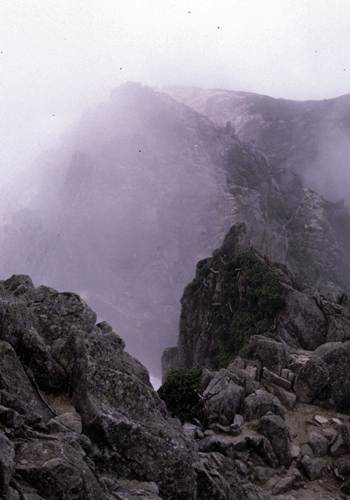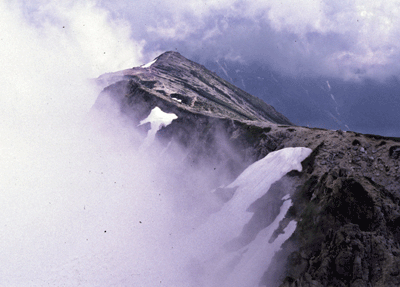 Dropping down from Hokendake we reached the two lodges on the saddle, Hoken Sanso and Tengu Sanso, at 2 p.m. The trail leads up hill again to a small peak called Nakadake at 2,925m from which Komagatake can be seen up ahead. Bewteen Nakadake and Komadake there is another saddle with a lodge and a camping area. We quickly covered the last part of this hike and reached our target, Komagatake, at 2-45 p.m.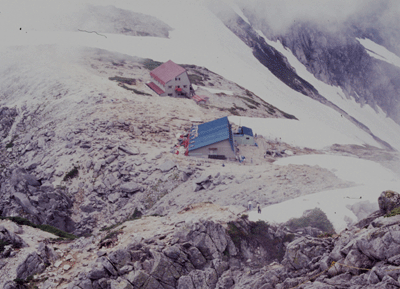 Hoken Sanso and Tengu Sanso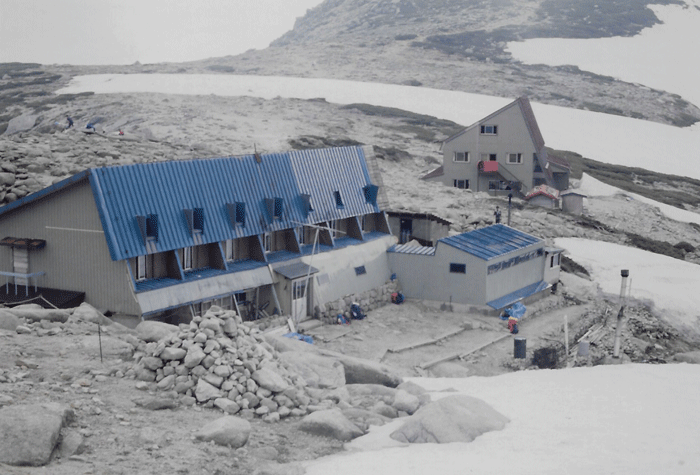 Hoken Sanso and Tengu Sanso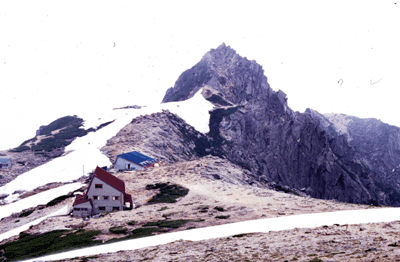 Looking back to Hokendake from Nakadake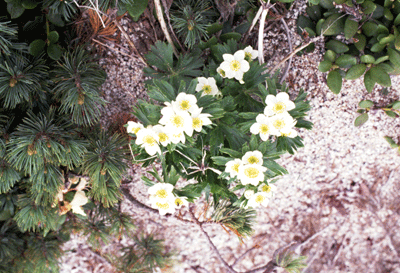 Komagatake was somewhat of an anticlimax after the exciting ridge climbing around Hokendake. It is a rather flat peak with two small shrines on the top, and as the sky above was turning ominously dark we did not dwell there too long.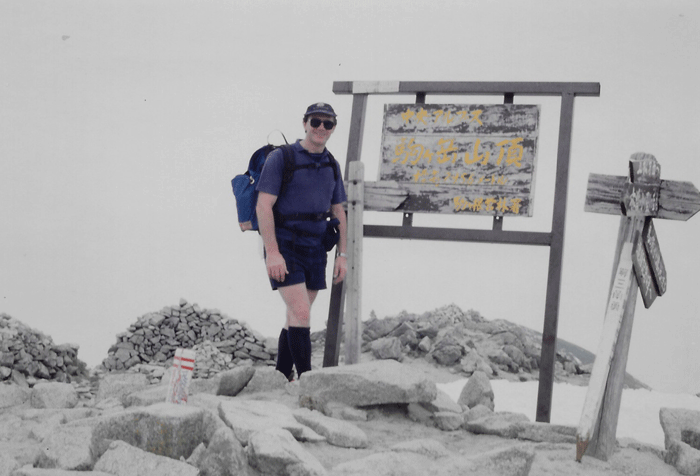 Komagatake 2,956m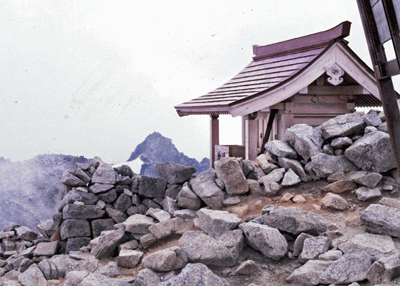 Shrine at Komagatake with Hokendake in the background
Returning to the lodge via Nakadake we struck off along the easterly ridge. After 2 minutes we came to a red marker with a trail going off due South signposted Senjojiki. The first part was a zig-zag path descending over broken rock which had been supported most of the way by wire mesh cages of rocks to build up the edges. Soon, however,we reached the top of a very long tongue of snow which led right down to the cable car at Senjojiki.

Several people were waiting here, trying to decide how best to get down this rather steep snow slope without slipping. The well prepared had crampons to attach to their boots, but the descent was not too bad if you carefully followed the boot prints of previous climbers. About half way down it began to rain heavily making the remainder of the descent very unpleasant. Back at the cable car station by 4 p.m. we were able to change out of our wet shirts and were soon heading back down to Shirabidaira for the bus ride back to the car.
Although Komagatake is a long way from Tokyo, the ease at which you can get up to Senjojiki at 2,612m and the beautiful scenerey around the cirque make sit well worth while.