Japan
Oze Marsh (2) - July 1988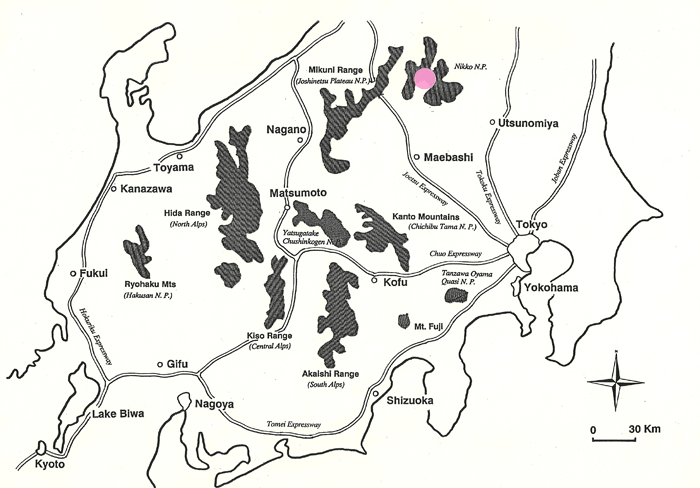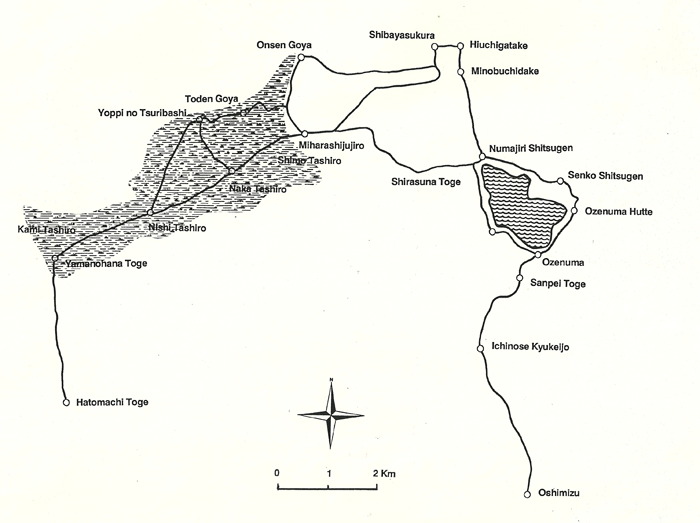 Having enjoyed Oze so much earlier in the month I decided to make a return trip whilst the flowers were still in full bloom. Phil Rowecliffe joined me, and due to the fact that he had to work on the Saturday morning our departure from Tokyo was delayed until 2-15 p.m, Saturday afternoon. We joined Yamate Dori heading out towards Shinjuku and then on to the Kanetsu Expressway. Due to heavy traffic we did not reach the entrance to the Kanetsu until 4 p.m. Traffic moved quickly from there on and by 5-30 p.m. we were exiting at Numata, having covered 148 km since we left. Heading down Route 120 towards Nikko, we eventually turned off on Route 401 for Togura and Oshimizu. We arrived at Oshimizu car park at 6-35 p.m.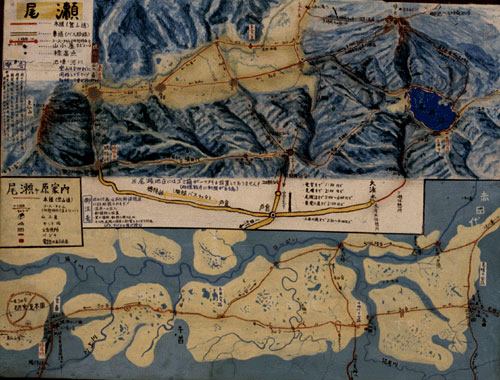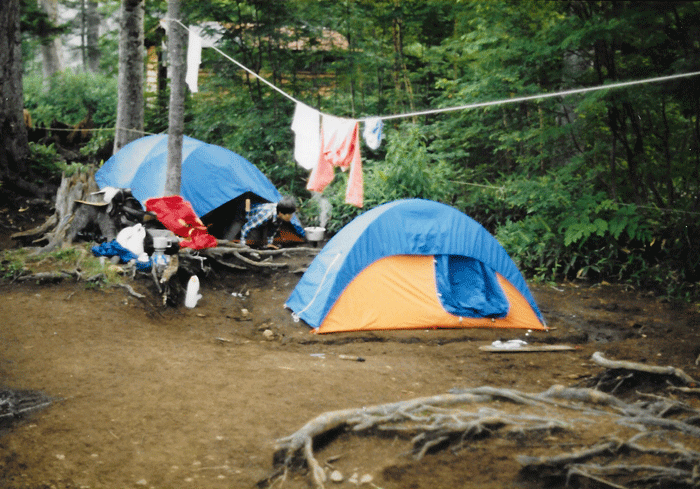 The camp site at Ozenuma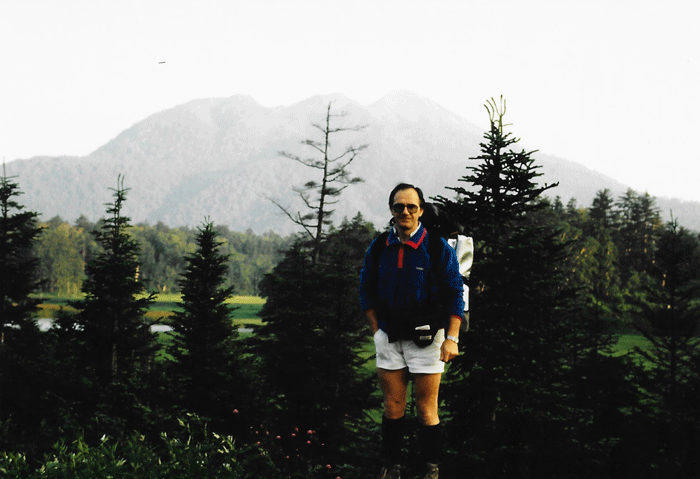 Across the marsh to Hiuchigadake
By the time that we were organised and had bought a few extra supplies from the local shop it was nearly 7 p.m. and was beginning to get dark. Climbing by torchlight we reached Sanpei Toge by 8-25 p.m. and then dropped down towards Ozenuma Lake. A further 20 minutes took us to the camp site (Yen 600 per night for tent and 2 persons) and we were ready for sleep by 9-30 p.m.!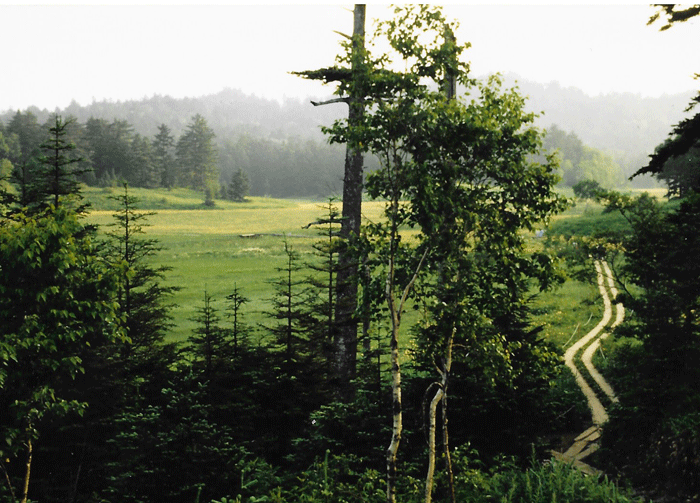 There was considerable activity around 4 a.m. with campers waking up and preparing breakfast and hikers already on the move. We were ready to walk by 5-30 a.m. and reached Chozo Goya, our first rest point, by 6-40 a.m. It is worth the effort to get up early as the morning light shining on the lush grass of the marsh and the beautiful carpet of yellow flowers shows the whole place off in a special way.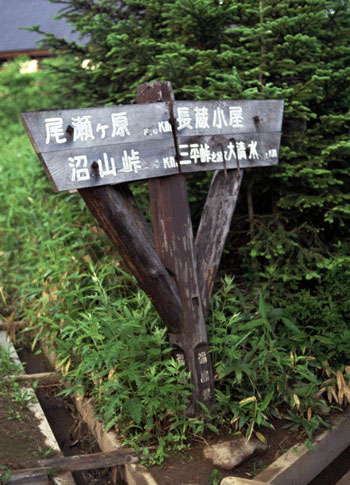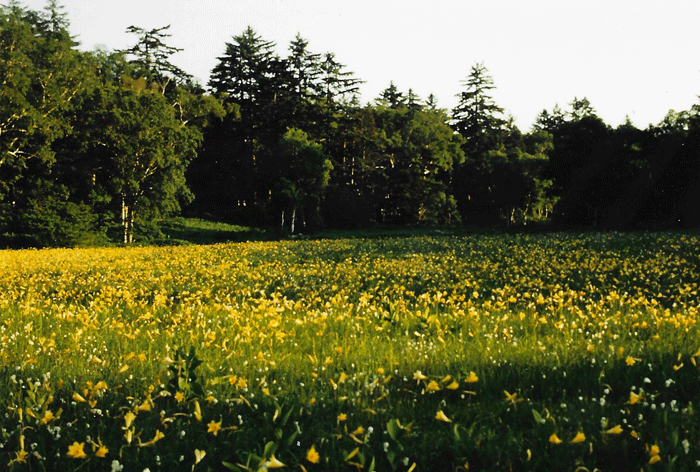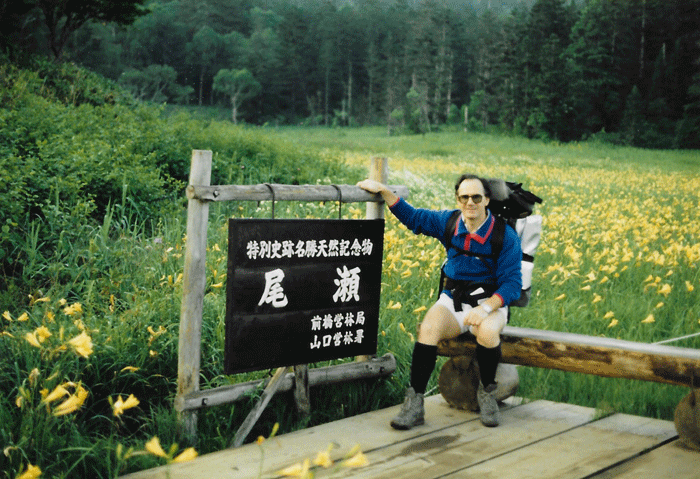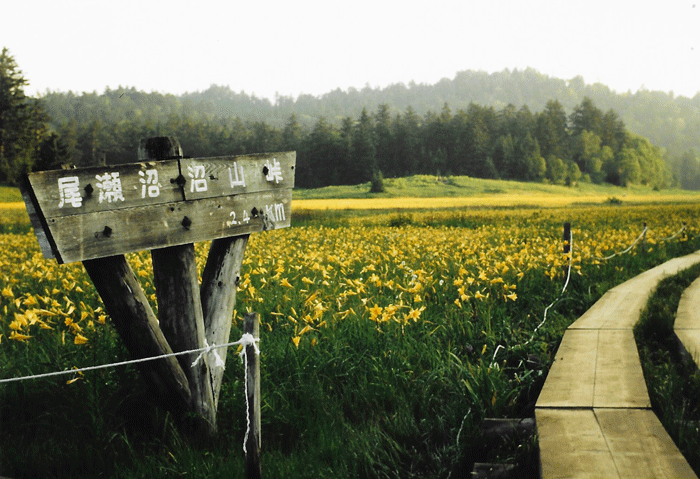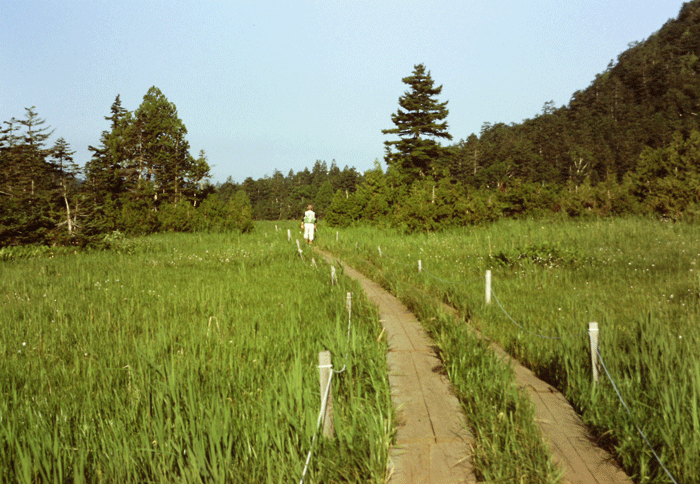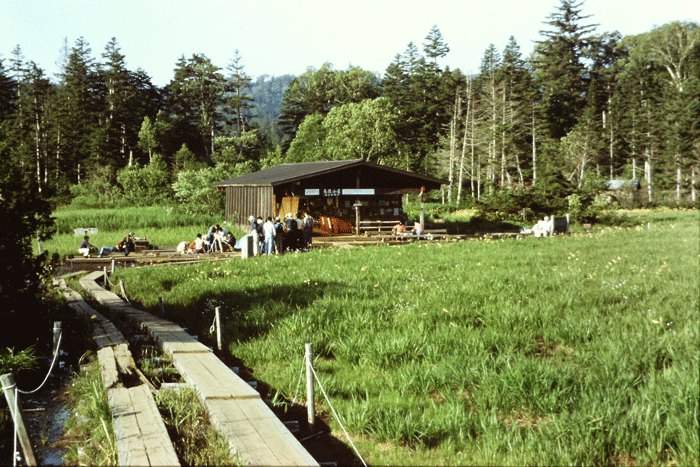 Chozo Goya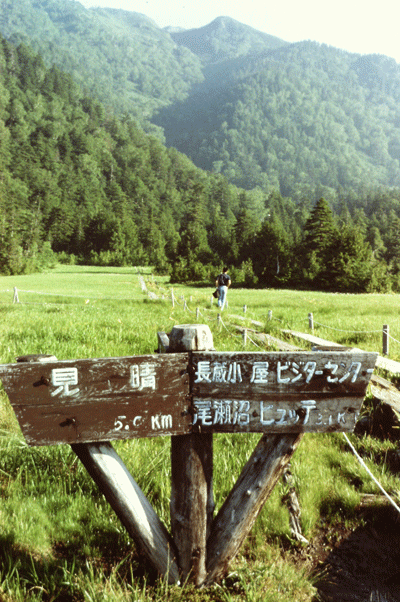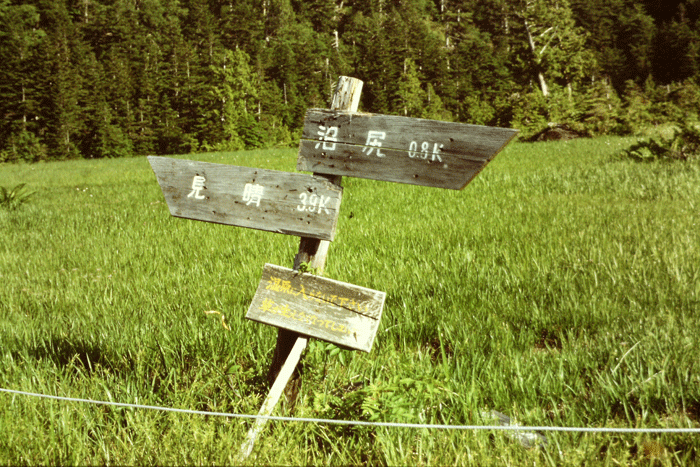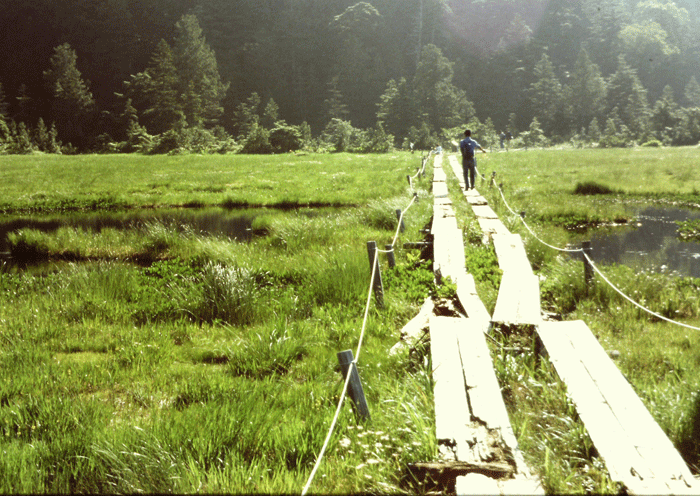 We rested at Chozo Goya for 20 minutes, enjoying the view and having a mizo soup and a coffee for refreshment. We started again at 7-00 a.m. and soon reached a sign saying "Numajiri 0.8 km Miharashi 3.9 km".

Lodges at Miharashijujiro
The walk to Miharashi is down hill most of the way and we reached Oze Goya Lodge at 8-30 a.m.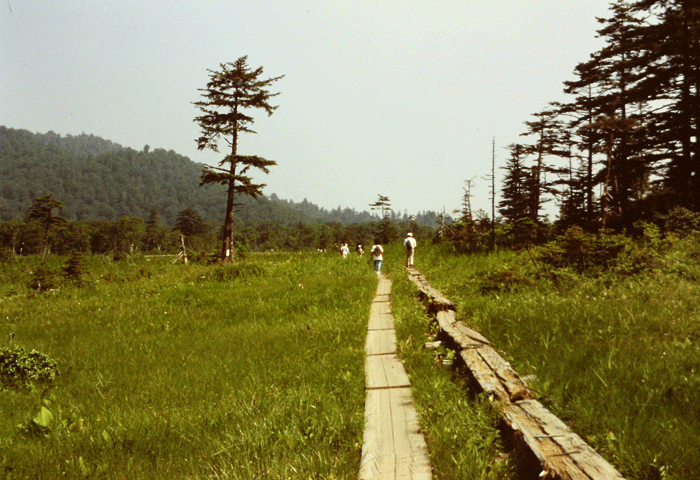 Resting again for half an hour, we decided to cross the Ozegahara marsh by the North route passing by Toden Goya, eventually arriving at Yamanohana Toge at 10-40 a.m.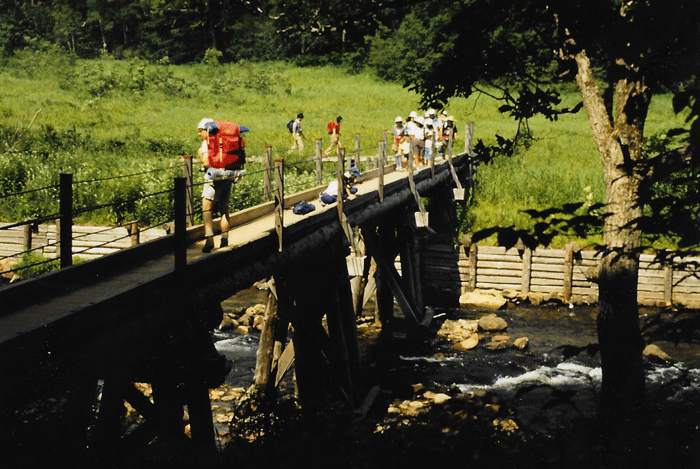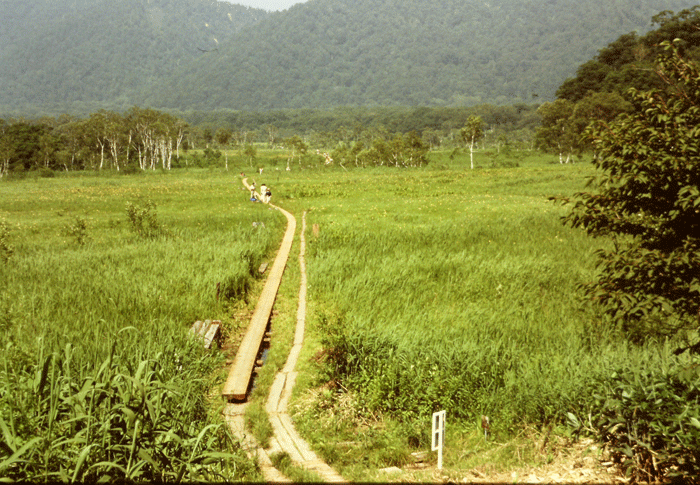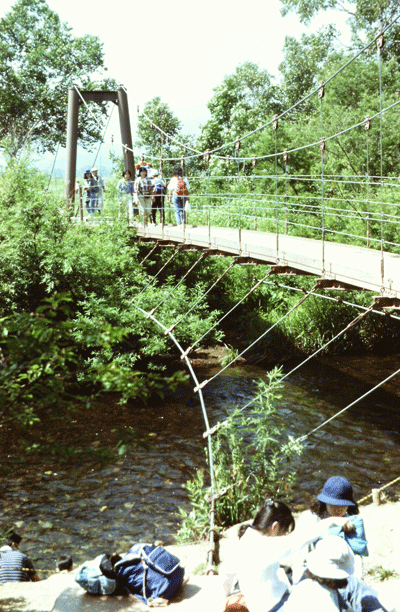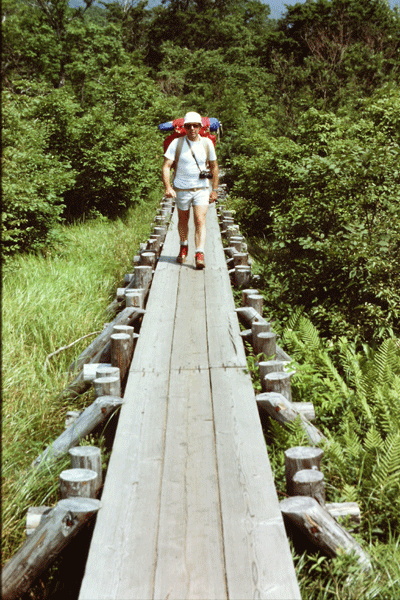 Phil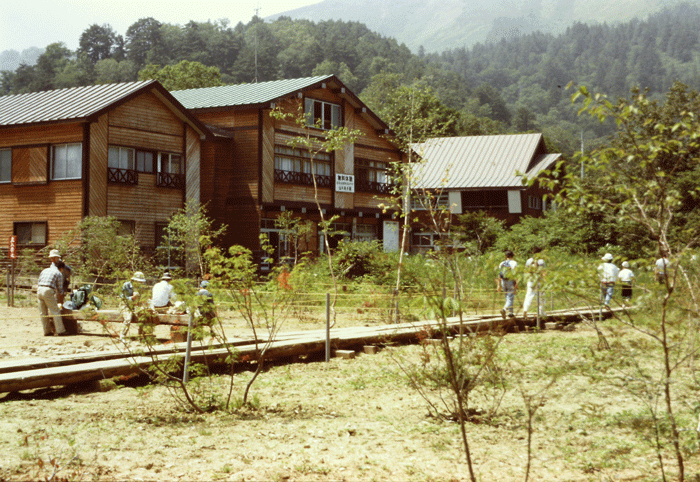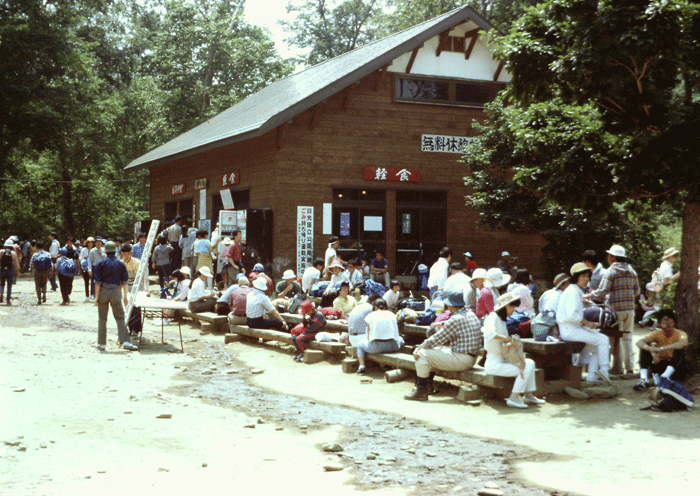 After yet another 30 minute rest we started up the valley for the 3.3 km walk to Hatomachi Toge which we reached by 12 noon.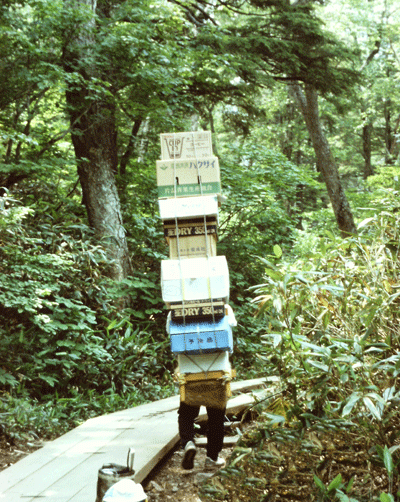 Food being carried in to the lodges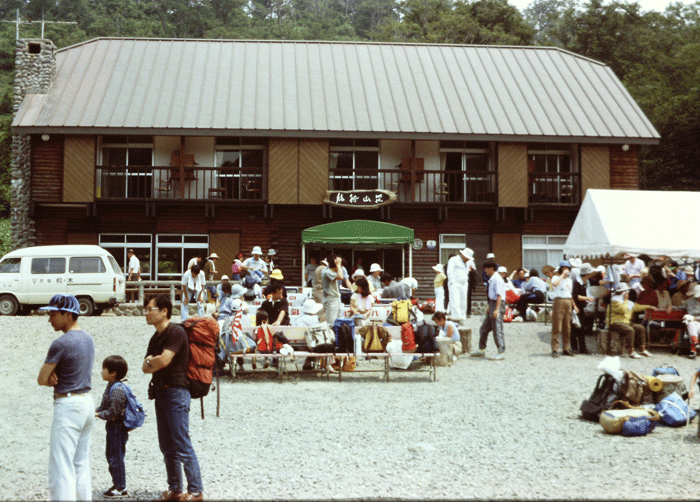 Hatomachi Toge
A Yen 4,710 taxi ride took us back to Oshimizu to pick up the car and we were back in Shibuya by 4-30 p.m. that afternoon feeling that we had made the best of a short weekend!