Tanigawadake - July 1989
I planned this one day trip to Tanigawadake with Etienne Hubert, a fellow Tokyo American Club member who had joined me on one of the TAC hikes to Odake. We went on Saturday 22nd July, and were looking forward to good weather as the rainy season had just offically ended. Meeting on Platform 8 at Ueno Station at 7 a.m., we took the Express train Tanigawa #1 departing at 7-10 a.m. and arriving at Minakami at 9-32 a.m. At Minakami we changed to a local line and took the 9-44 a.m. train alighting at Doai at 9-52 a.m. Doai is an incredible station being located in a tunnel deep under the mountains, and as you leave the train you are met by a long upward shaft of some 486 steps leading to the surface. On this particular day the scene was made more eery by the presence of mist in the tunnel, and as we started to climb the steps we could not see the top at all.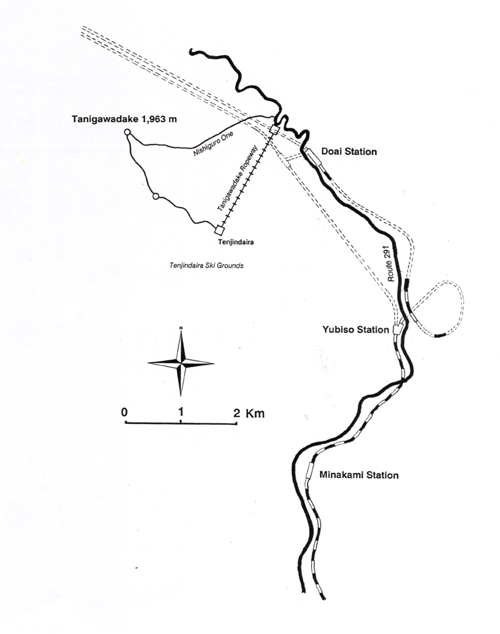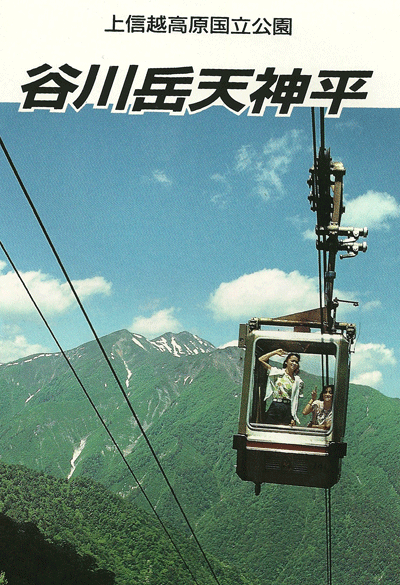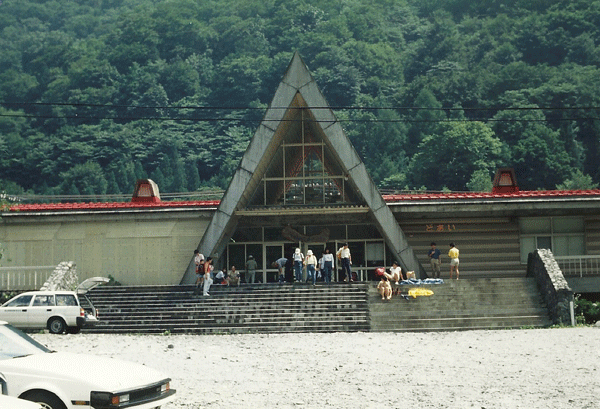 Doai Station
Breaking out in to daylight from the station we turned right and followed Route 291 for twenty minutes until we reached the terminus of the Tanigawadake Ropeway. This is a cable car which lifts passengers up to Tenjindaira, a vertical lift of 750 meters. At Tenjindaira there are several lodges and ski slopes, and it is certainly their presence that justifies the ropeway. As it was a hot and sultry day we were glad for the ride on the cable car and did not have to walk up.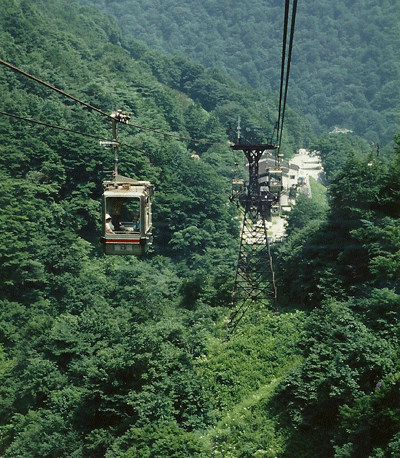 Tanigawadake Ropeway
Leaving Tenjindaira at 10-35 a.m. we began the climb over muddy paths supported by logs, passing through low foliage and trees. As this range of mountains is not so high, we were not above the tree line and this made for very humid conditions.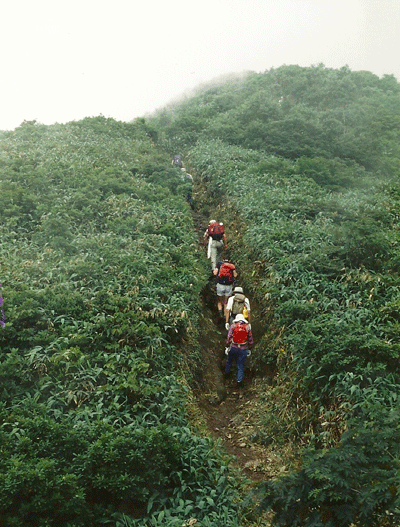 After a while we passed a small hut and the trail began to break out in to the open with Tanigawadake up ahead. The path changed to brocken rock and scree, and was quite steep in parts. Etienne set a cracking pace, and by the time we reached the top I had consumed nearly 2 litres of Pocari Sweat sports drink!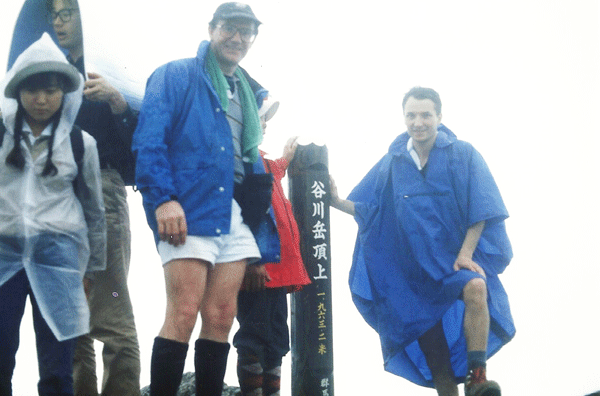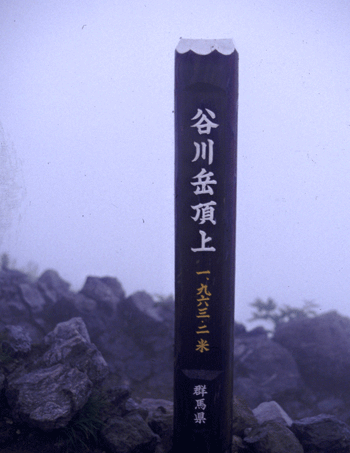 Tanigawadake stands at 1,963 m and on this particular day was not very inspiring due to the swirling mist. Very little could be seen from the top, and within 5 minutes of our reaching the peak a thunderstorm, which had been threatening in the distance, suddenly hit the mountain.The rain was tremendous, and huge flashes of lightening were accompanied by loud claps of thunder that reverberated off the mountain walls. We donned rain gear, and decided to get off the mountain as quickly as possible. We set off along the route for Nishiguro One, but having gone less than 30 yards we had to return to a stone marker to recheck compass bearings. We started off again as the rain got even heavier, and we practically ran down the first couple of hundred meters of the descent.The lightening was quite frightening, so we decided to "hole up" for a few minutes until it had passed. Keeping our heads as low as possible, we sat on the side of the mountain in the heavy rain for at least 15 minutes.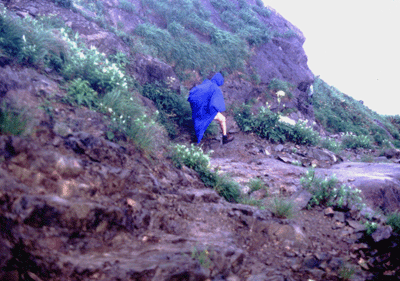 Gradually the storm abated and we were able to continue our descent along the ridge. Looking back up towards Tanigawadake the view was quite magnificent, with rock walls and heavy streams suddenly sprouting from nowhere due to the heavy rain. The ridge got quite tricky in parts, and at times we had to rely on the chains provided for the descent.The rocks were quite slippy due to the rain. We eventually got off the ridge and entered a wooded area, finally descending on to the road at about 3 p.m. some 200 meters above the Ropeway Station.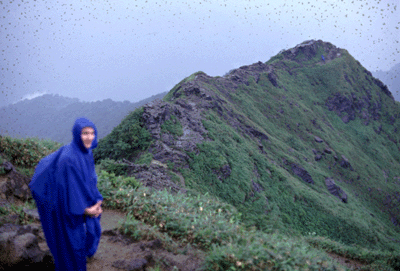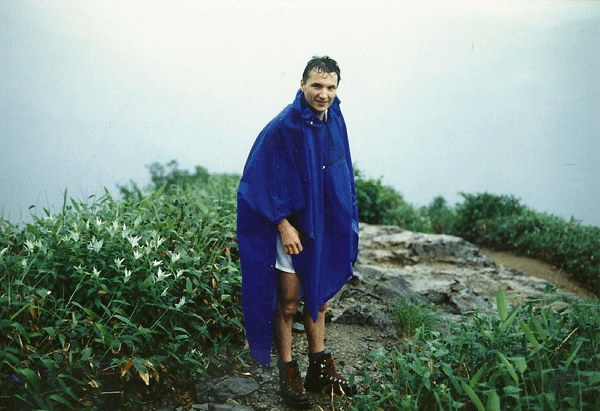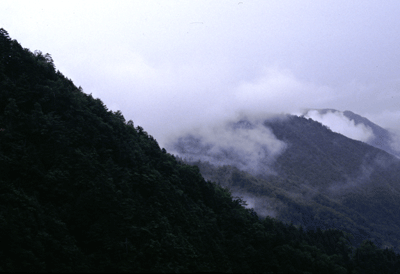 By now we were absolutely soaking wet and were covered in mud to boot! We were soon drying off at the Ropeway Station and refereshing ourselves with a cold beer. We sat at the Ropeway Station and had lunch, and then decided to see if we could find an Onsen nearby to go for a hot bath. Etienne chatted with a local taxi driver and we were soon on our way to a Ryokan in Minakami which had a rotenburo, or outside hot spring bath. We had a few anxious moments on arrival at the Ryokan whilst the taxi driver negotiated with them to see if it was possible for two wet and dirty "gaijin" to enter the hallowed bath, but eventually they agreed. After peeling off our wet clothes and showering, we stepped outside into the rotenburo and luxuriated in the hot water. On the side of a gorge, the rotenburo overlooked a stream with fir tree covered mountains in the background amidst swirling mist.
By the time we had got in to dry clothes and had another beer in the hotel lobby we were completely relaxed and ready for the train ride home. A short taxi ride took us to Minakami Station where we arrived just in time for the 6-09 p.m. train back to Ueno. We finally arrived at Ueno at 8-30 p.m. well satisfied after an interesting day out.
| | | | |
| --- | --- | --- | --- |