Japan
Mt. Yari via Kamikochi Valley Route
August 1987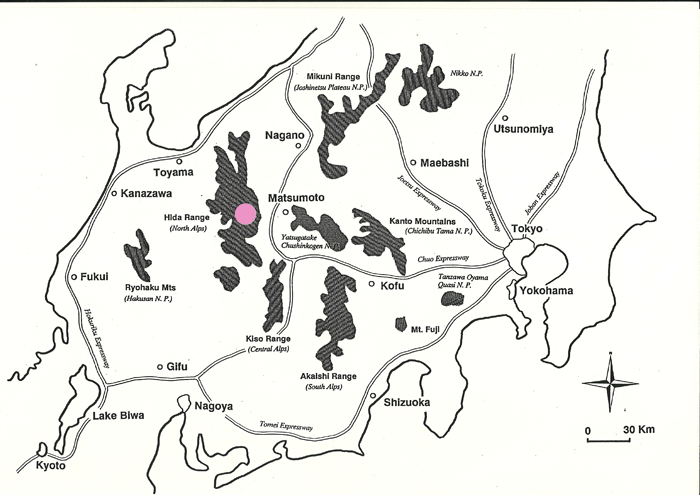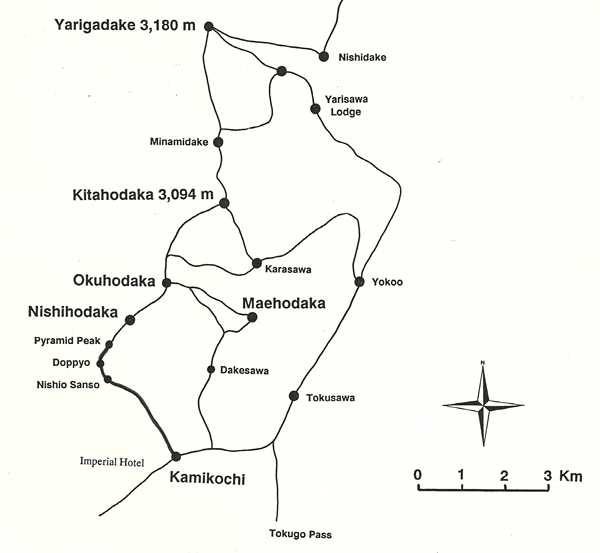 With Sue and Nicholas away on holiday in the U.K. I decided to do Yarigatake via the Kamikochi Valley route. Leaving Tokyo on Friday evening I drove to Matsumoto, stopping for a prawn pizza before carrying on to Shinshimajima. I slept for a few hours on a futon in the back of the car, and got up around 5 a.m. on the Saturday morning to catch the 5-35 a.m. bus in to the Kamikochi valley. It was a beautiful day and by 7 a.m. I was on my way up the valley past Tokuzawa and on to Yokoo. The approach to Yari is really long, and the valley seems to go on and on.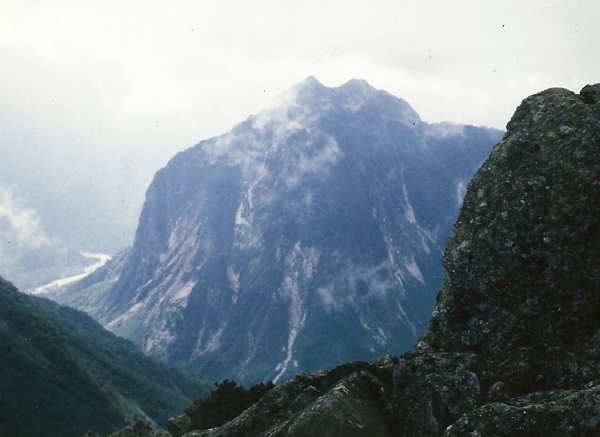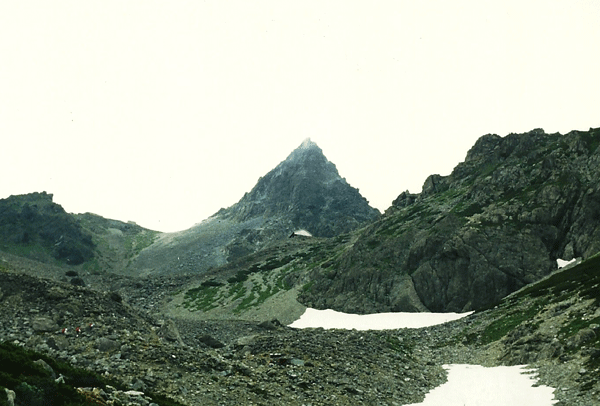 First glimpse of Yarigatake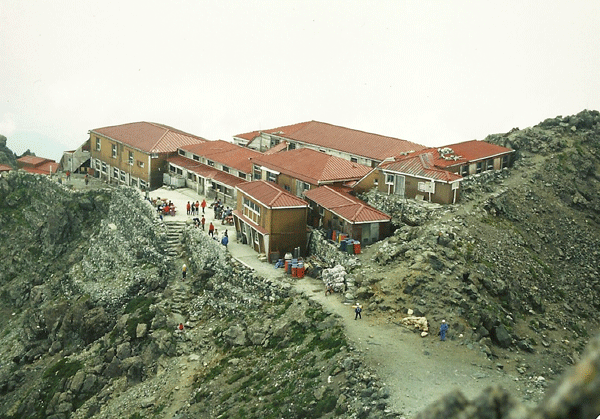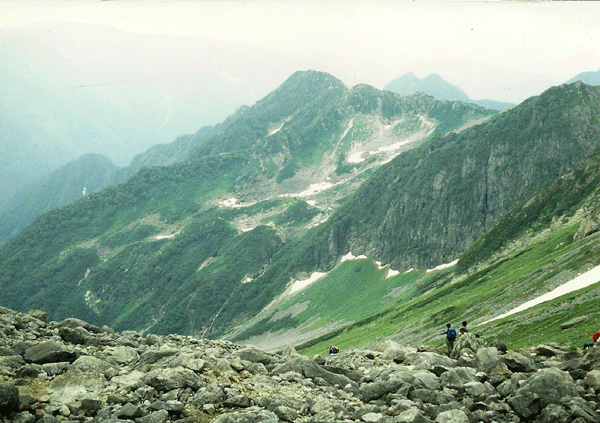 Looking back down the valley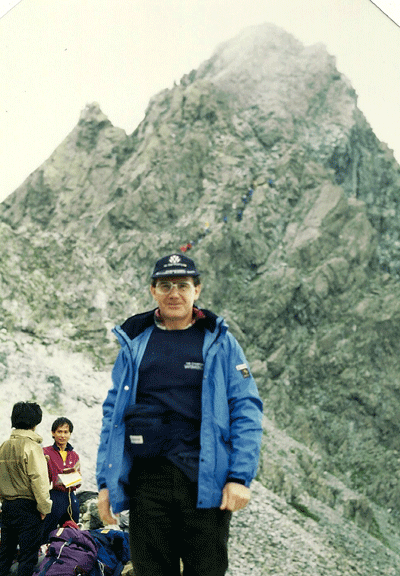 Yarigadake Peak, 3,180m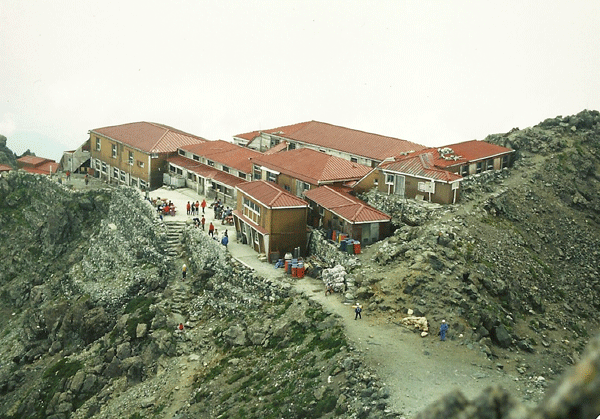 Yarigatake Sanso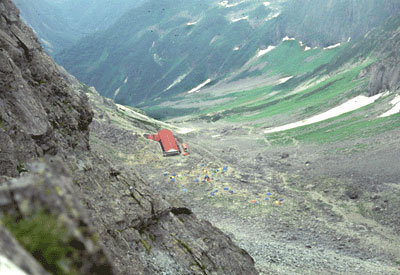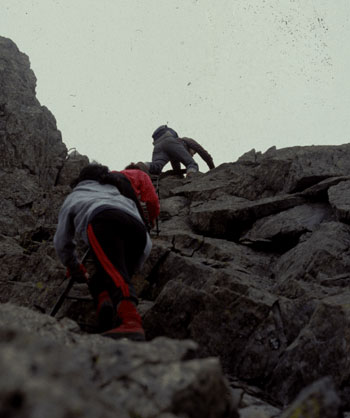 Climbing Yari Peak using iron ladders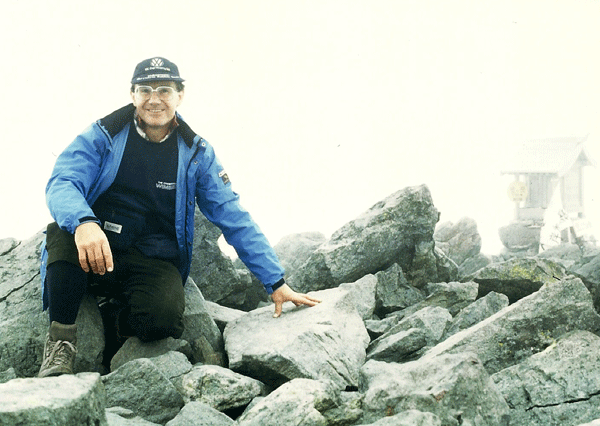 Yarigadake Peak
Yari has a spectacular shape, but it is not until you have been walking for nearly six hours that you get your first glimpse of the peak. The last part of the climb is tough, and after about seven hours walking I reached Yari Lodge. This is a really big lodge nestled on the side of Mt. Yari itself, and must sleep over 1,000 people when full. From the lodge it is a 30-minute climb to the top of Yari, but it is fairly steep and requires the use of chains and metal spikes in the rock. Since so many people climb Yari it is organised so that you go up one route and down another i.e. a one-way system!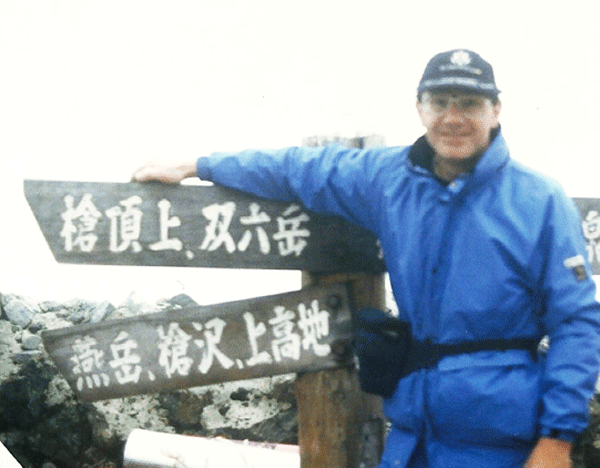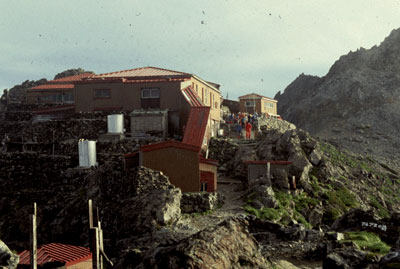 Yarigadake Sanso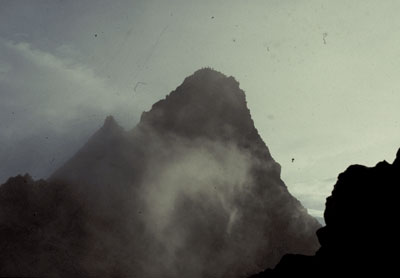 Ghostly Yarigadake Peak
I had a restless night in the lodge in my sleeping bag, tossing and turning becoming successively boiling hot and then shivering. After a while I got up to find the toilet, which was a Japanese style hole-in-the-floor and was pretty primitive. With a torch on my head miners-style I had a dilemma as I was as sick as a dog and had terrible diarrhorea. After half an hour I staggered back to my sleeping bag feeling pretty wrotten. At this stage I seriously thought that they would have to send a helicopter to get me off the mountain, and having no climbing companions on this trip I was not feeling very happy about the situation! As morning arrived I was feeling a bit better and some Japanese climbers kindly gave me some medicine which helped. It had been my plan to go along the ridge to Kitahodaka and to make a 3-day trip of it, and whilst I did go as far as Minamidake I decided to go back down and return to Tokyo. I have not had a prawn pizza since that day!!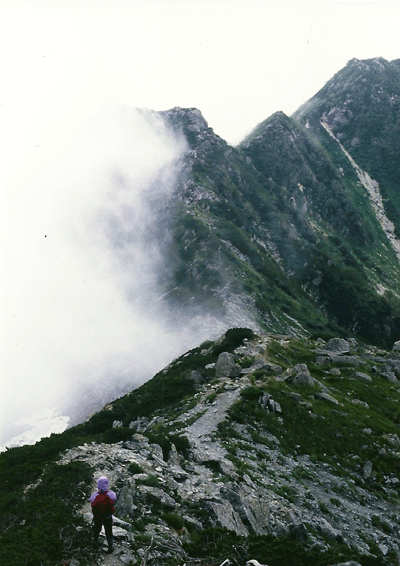 Route away from Yarigadake towards Kitahodaka