Yatsugatake
October 1988.
Location: Yatsugatake Chushinkogen National Park
Duration: 3 days 2 nights
Transportation to Start Point:
Train: Shinjuku - Chino 2hrs 25 mins
Bus: Chino - Mugikusa Toge 1hr 10 mins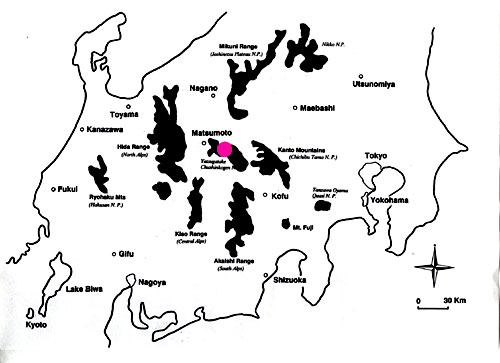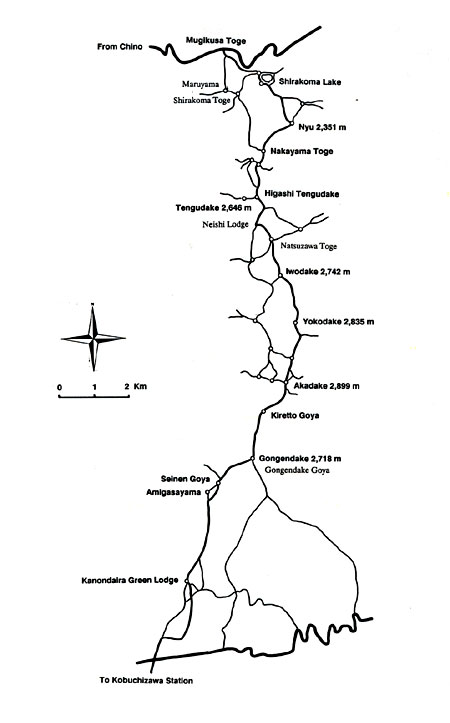 Several people expressed interest in coming on this 3-day hike, and eventually it was Phil Rowcliffe, David Fayle and myself who turned up on the day. We departed platform 4, Shinjuku Station, at 7 a.m. on Saturday 8th October on Azusa #1. Being a long weekend the train was already full as we arrived at the platform at 6-35 a.m. and there was no chance of a seat. The Yen 4,950 train ride took us to Chino, where we arrived at 9-25 a.m. Chino is a very pleasant, modern station with bus ranks right outside. The Suwa Bus Line serves many of the resort areas nearby, and we took the 10-10 a.m. bus for Mugikusa Toge. The Yen 1,350 bus ride took us through some beautiful countryside as we passed through Tateshina, famous for its ski slopes, on the way to Mugikusa Toge. We arrived at Mugikusa Toge at 11-20 a.m. and had lunch at the Mugikusa Toge Hut. The menu was rather spartan, with a choice between Ramen at Yen 500 and Curry Rice at Yen 600.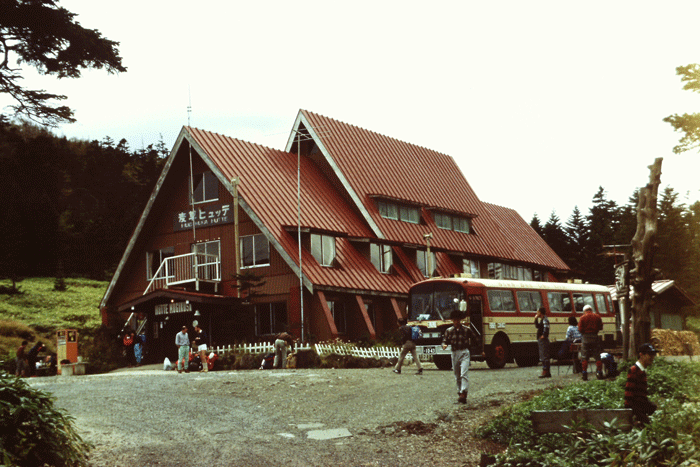 Mugikusa Toge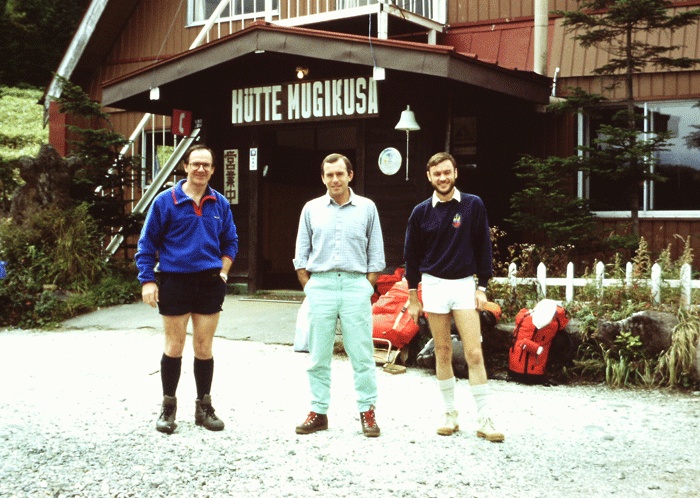 Mick, Phil & David at Mugikusa Hutte
Leaving Mugikusa Toge at 12 noon, we started climbing up the slope away from the Hut. The path to Shirakoma Lake goes off to the left a few hundred yards from the Hut, and passes through some very pleasant forrested areas before dropping down on to the main road again, where there is a large car park.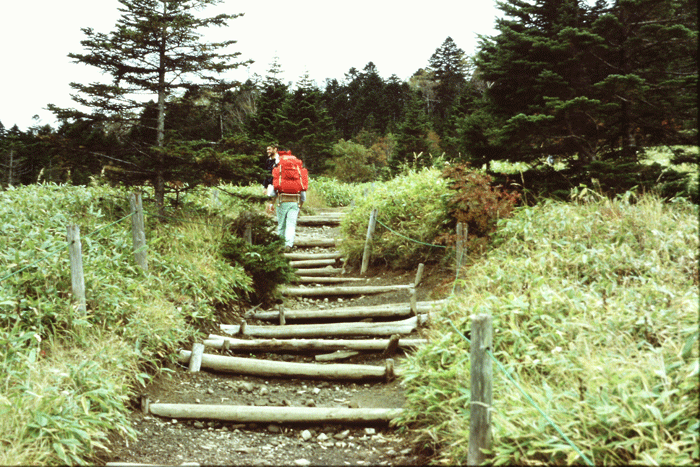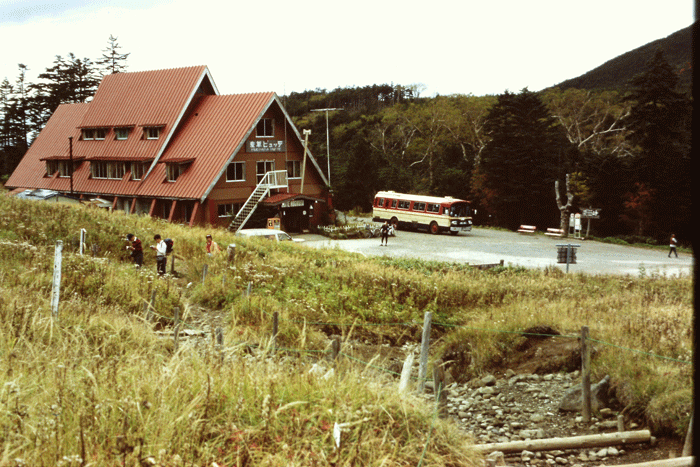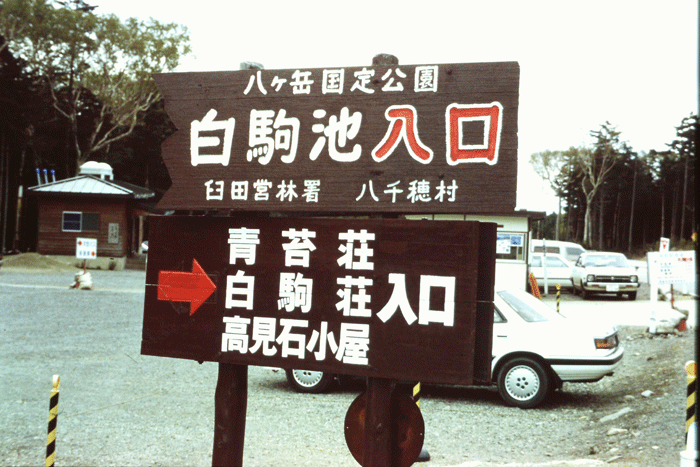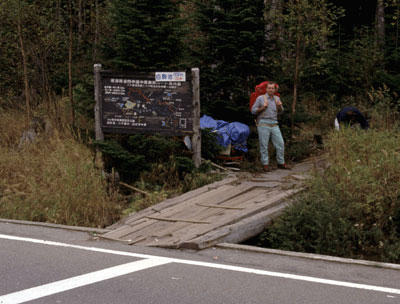 From this area the path re-enters the wooded area and winds its way towards Shirakoma Lake, which we reached at 12-40 p.m. The first glimpse of the lake was magnificent, as at this time of the year the leaves of the trees around its edges were all turning bright red. With the lodge at the end of the lake and rowing boats out on the lake itself, it was an ideal setting for a rest at the side of the trail.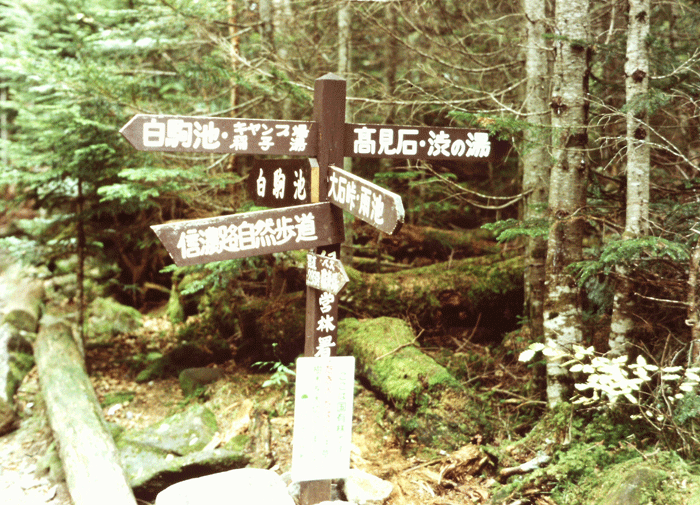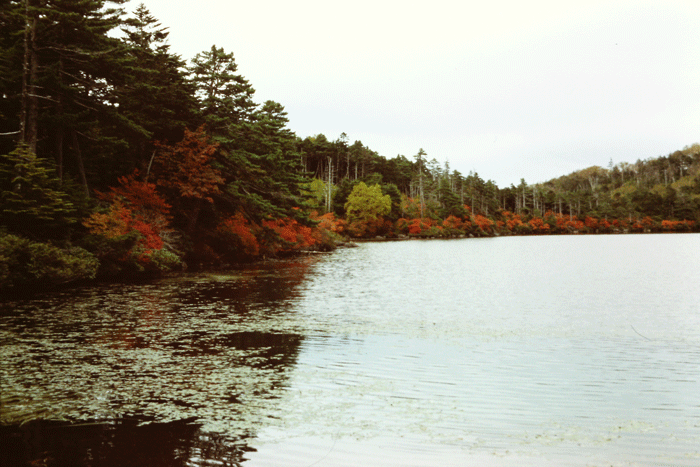 Lake Shirakoma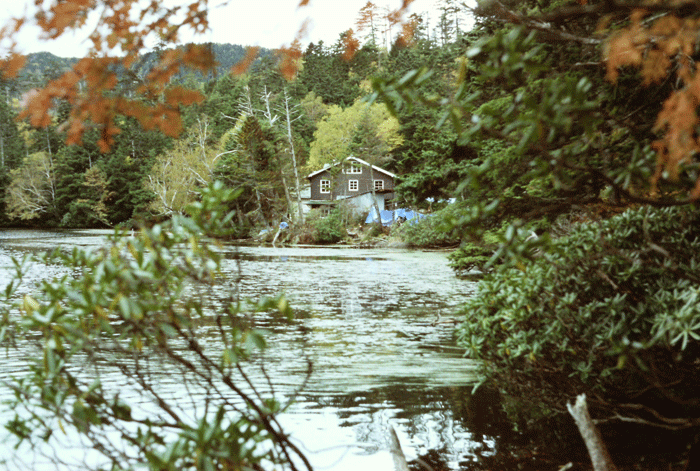 Shirakoma So Lodge viewed acroos the lake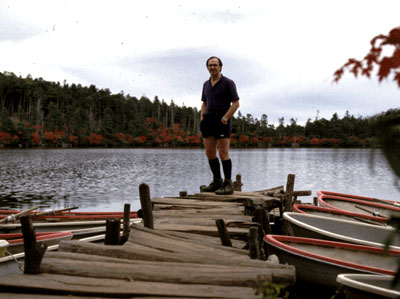 Leaving the lodge at 12-55 p.m. we skirted around the lake before taking a path heading south-east up the wooded hillside. This part of the trail climbs quite steeply, passing through a wooded area where all the roots of the trees are moss covered, before breaking out on to the ridge just below Nyu.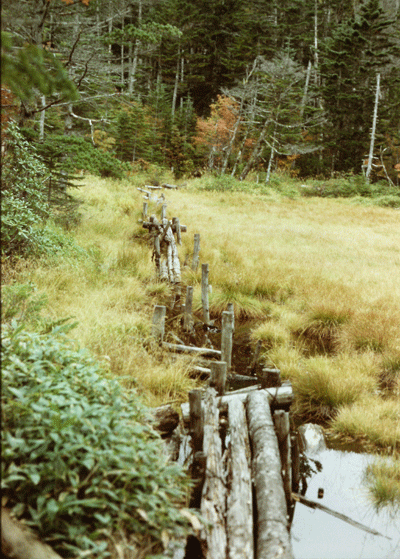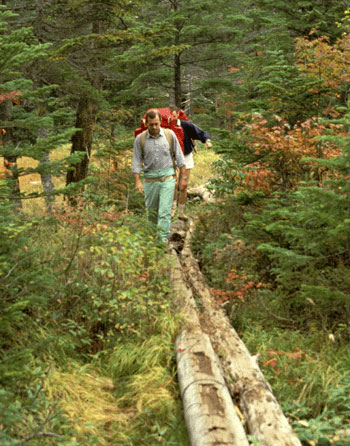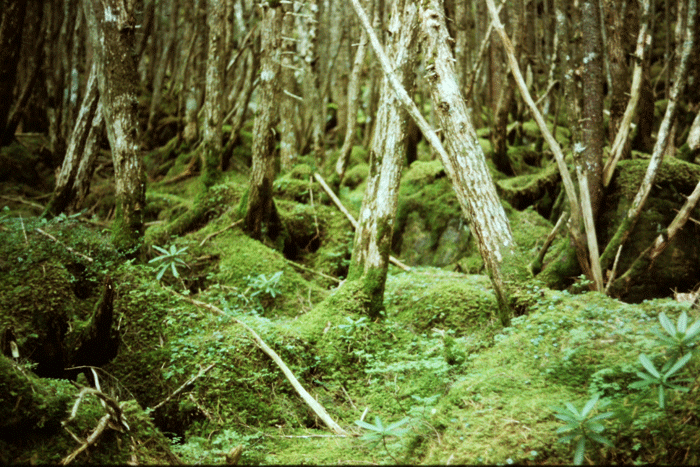 We left our rucksacks on the ridge, and climbed the short distance to the peak at 2,351m This is a really nice peak with spectacular views in all directions. The mountains above Kamikochi, including the distinctive peak of Mt. Yari, being clearly visible in the north-west.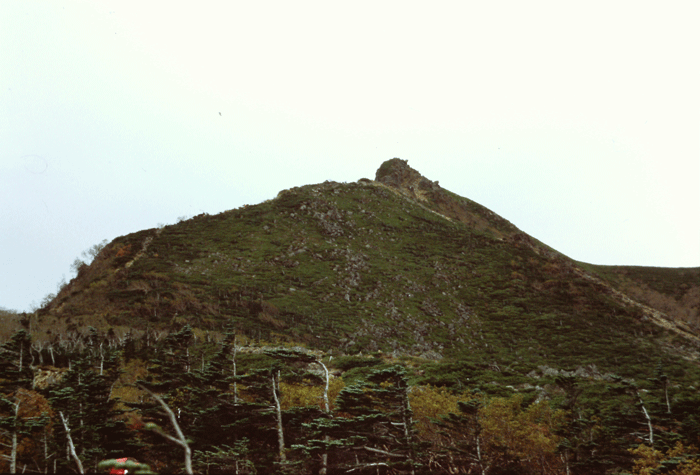 Nyu 2,352 m, visible as we left the forrest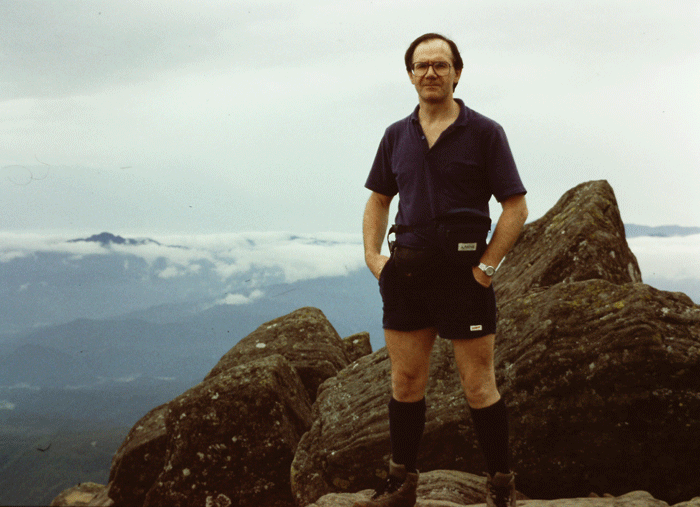 Nyu Peak
Leaving Nyu at 2-15 p.m. we continued along a very attractive narrow wooded ridge until we reached a T-junction in the trail at 3-15 p.m. The right hand path heads back towards Takami Ishi Lodge and Lake Shirakoma, and we took the left hand trail towards Nakayama Toge and Higashi Tengudake. We reached Higashi Tengudake at 4-35 p.m. Higashi Tengudake is separated from its twin, Nishi Tengudake 2,646m, by a saddle, but we were not tempted to climb both as time was pressing. During the climb of Higashi Tengudake we had realised looking back down the trail that we had missed the lodge nestled in the trees (Kuroyuri Lodge) where we had intended to stay. Being reluctant to go down and climb Tengudake again the next day, we decided to press on and find another lodge. We soon dropped down the other side of Higashi Tengudake and came upon Neishi Lodge, sheltered in the lee of a saddle.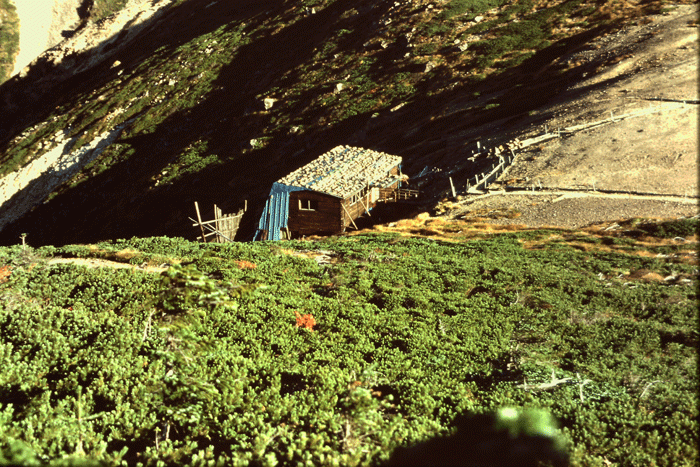 Neishi Sanso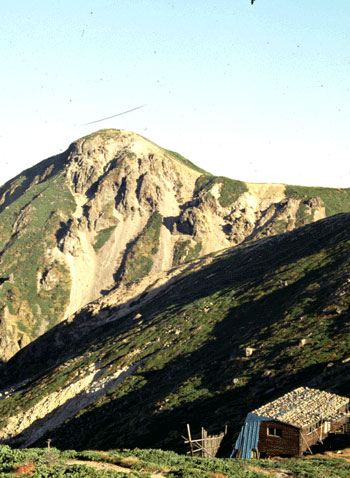 Neishi Sanso with Iwodake in the background
At first sight this lodge did not look very appealing and there was little sign of life, but we were tired and decided to stay anyway. It was 5 p.m. and the light was beginning to fade. The lodge turned out to be better than we had expected and we enjoyed our night there. At one point, the sun broke out from behind the clouds and the whole mountain was bathed in an incredible yellow light, with a colourful rainbow in the sky. It is often amazing how the light changes suddenly on the mountain.
On Day 2, Sunday 9th, we left the lodge at 7-10 a.m. and headed south along the ridge. Shortly we came to a fork in the trail with the path heading towards Oren Goya. We took the left hand trail at this point, leading to Natsuzawa Toge, which we reached at 7-45 a.m.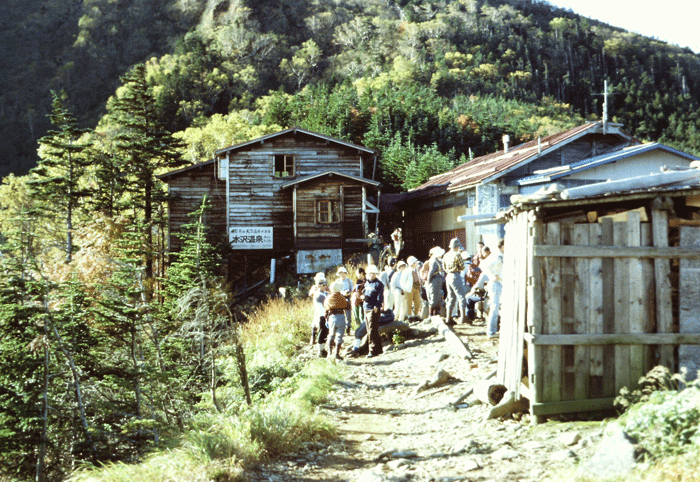 Yamabiko So
From here we had quite a tough climb to the top of Iwodake 2,742m, arriving at 8-30 a.m. Iwodake is an interesting spot, with a curved rockface leading off to the east and spectacular views of the ridges leading to Akadake and beyond. Mount Fuji cannot be seen from Iwodake itself, as the view is blocked by Akadake and the other mountains, but it can be seen if you walk along the curved path above the rock wall.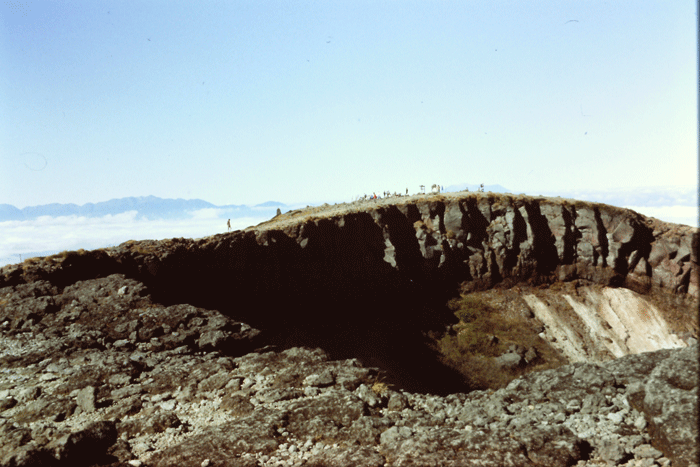 Curved rockface leading eastwards from Iwodake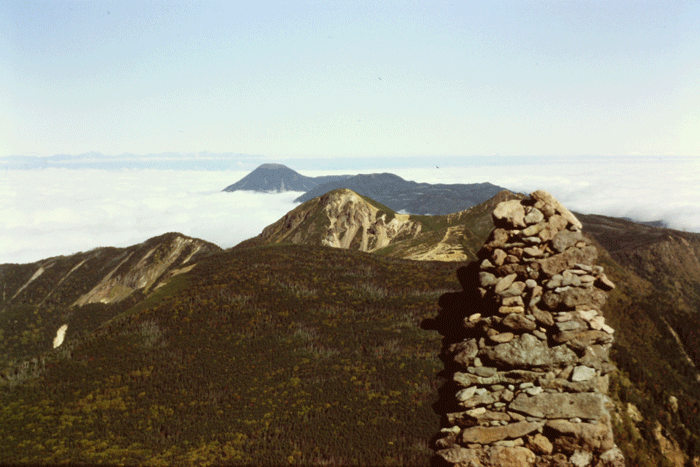 Looking North from Iwodake, with Higashi and Nishi Tengudake just behind the cairn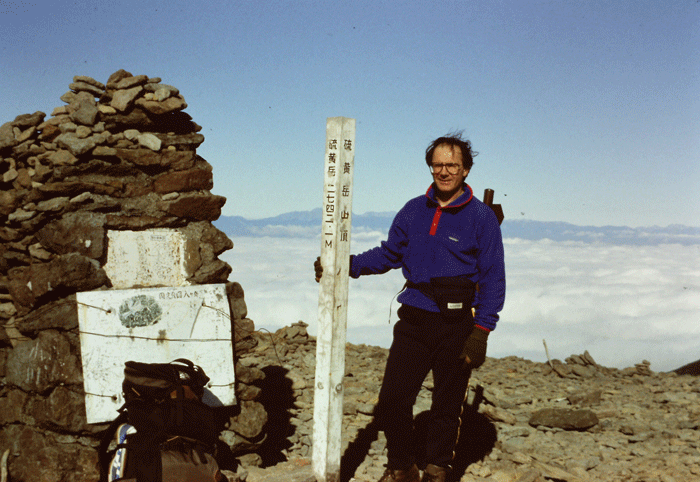 Mick at Iwodake peak, 2,742m
We rested at the peak for 30 minutes, leaving at 9-00 a.m. for our next objective, Yokodake at 2,835m. We reached the peak at Yokodake at 10-00 a.m, staying ther for some 40 minutes before dropping down to the ridge for the final climb to Akadake. At 2,899m Akadake was the highest point on our route.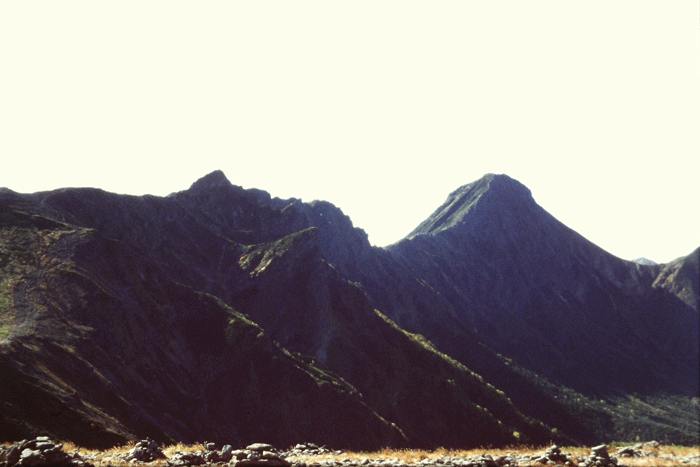 Yokodake, with Akadake in the background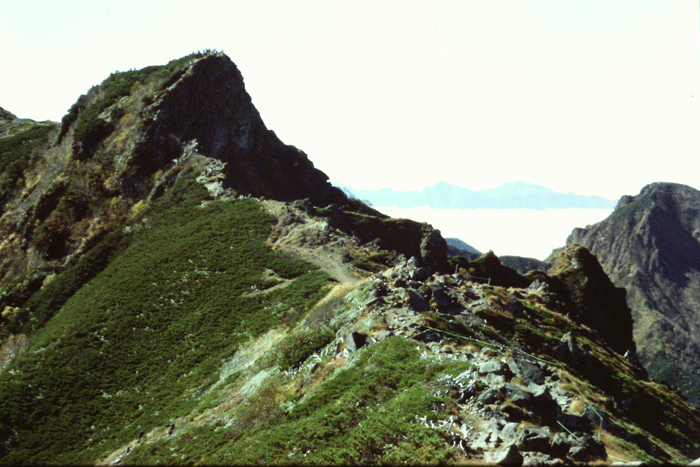 Looking northwards to Yokodake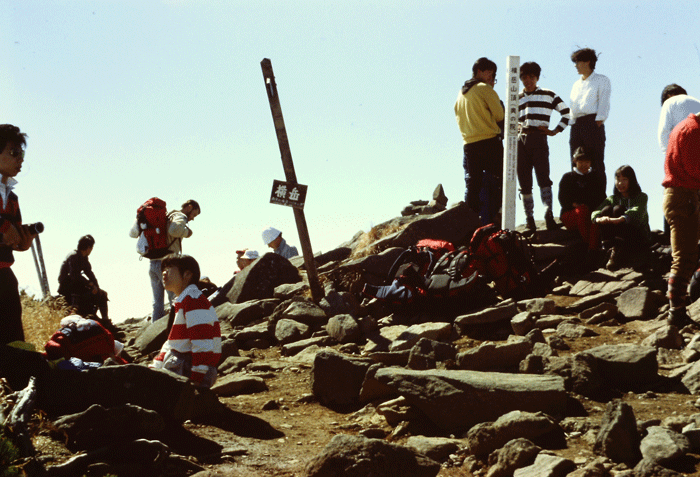 Yokodake 2,835m
On the way up Akadake there are some quite rugged parts requiring the use of ladders and chains to help you up. We were pleased to get this part of the hike over and done with, and we arrived at Akadake peak at 12-05 p.m.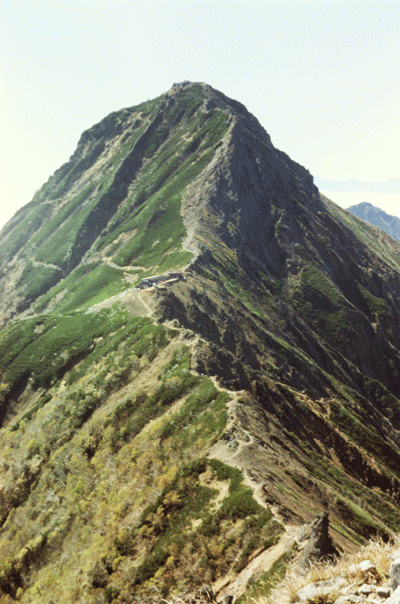 Akadake Lodge in the saddle on the approach to Akadake 2,899m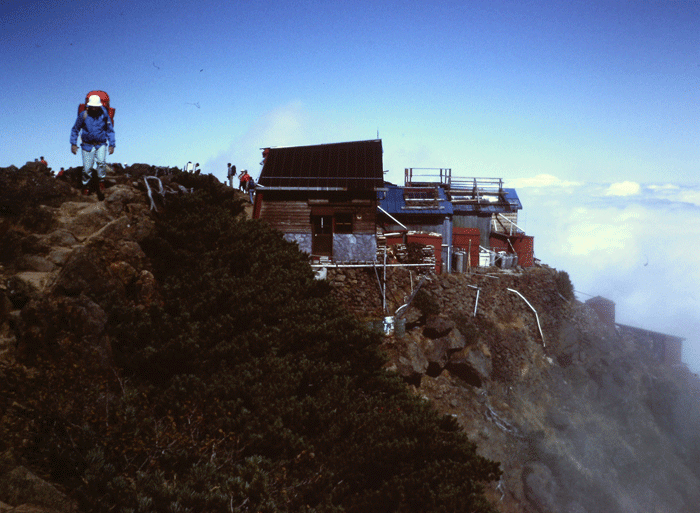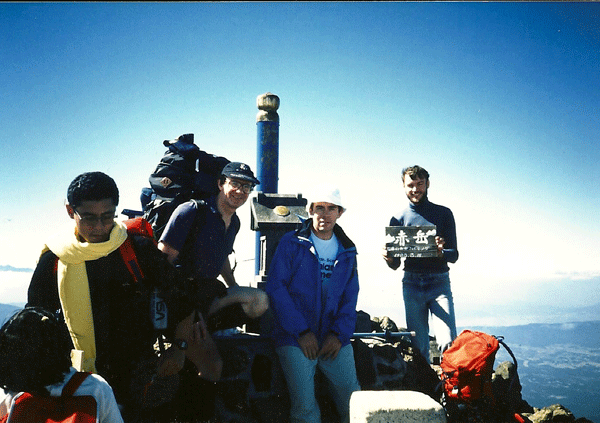 Akadake 2,899m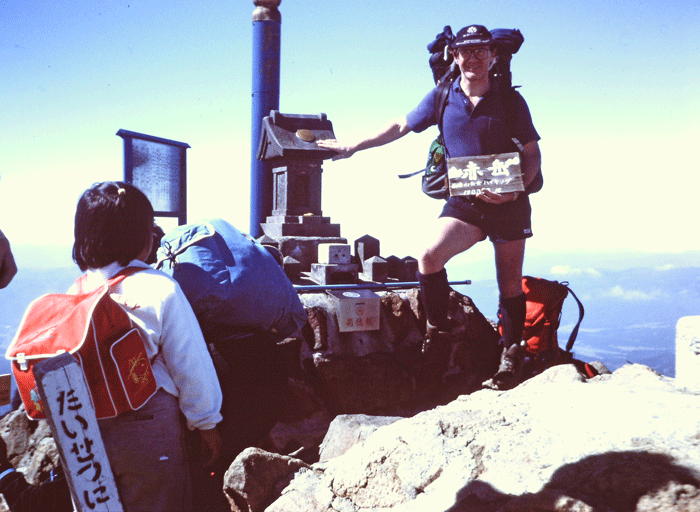 Leaving Akadake at 12-30 p.m. we dropped down to Kiretto Lodge, arriving at 2 p.m. Again we had a fairly long rest, enjoying the sun and having lunch, before going on to Gongendake.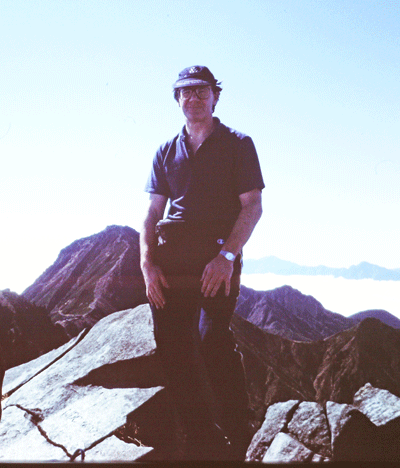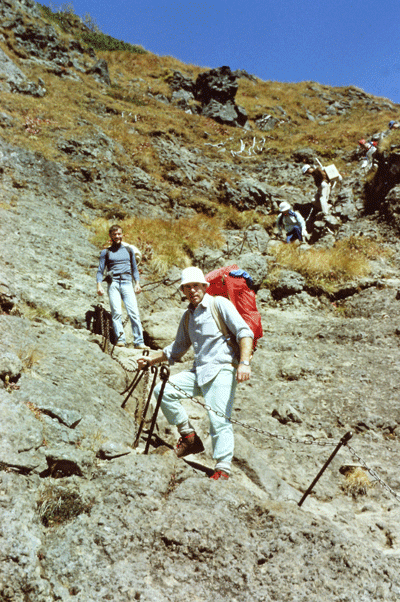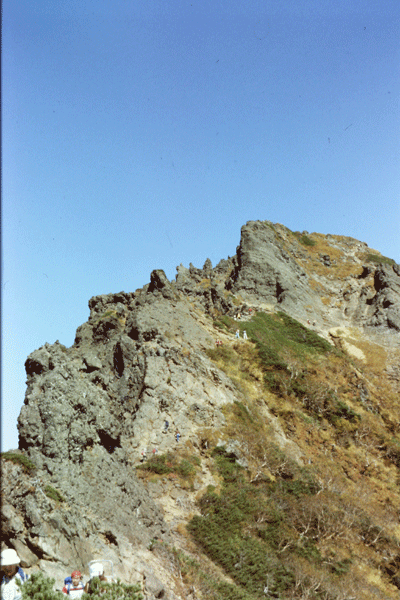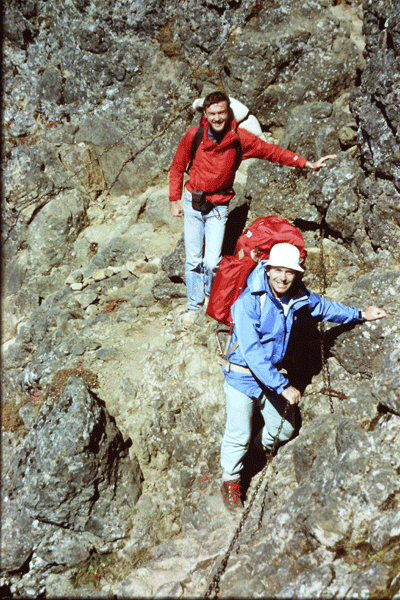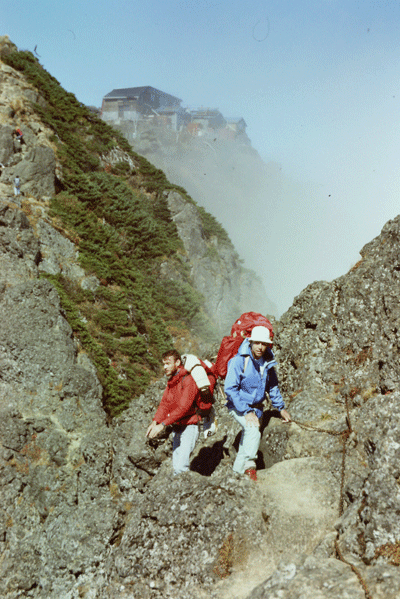 Descending from Akadake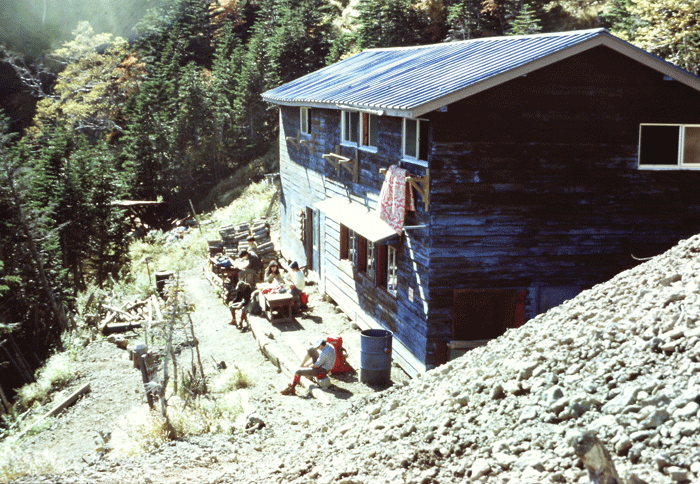 Kiretto Lodge
Leaving Kiretto Lodge at 2-40 p.m. we began the long climb to Gongendake 2,718m, which in parts was quite tricky. At one point, just below the summit, we had to climb a 60-foot metal ladder up a near sheer rockface! Not particulalry dangerous in fine weather, but it could be quite hazardous in wind and rain. We arrived at the top of Gongendake at 3-50 p.m. and were pleased to see the lodge nestled on the side of the mountain just one minute's walk from the peak. It had been a long day's climbing and we were relieved to arrive at the lodge. Again not a particularly well equipped lodge, having no electricity and relying on oil lamps, but it was marvellous to sit at the kotatsu with a beer and rest our weary legs. A few Beatles cords from Phil on the guitar that was lying nearby made the whole thing rather relaxing!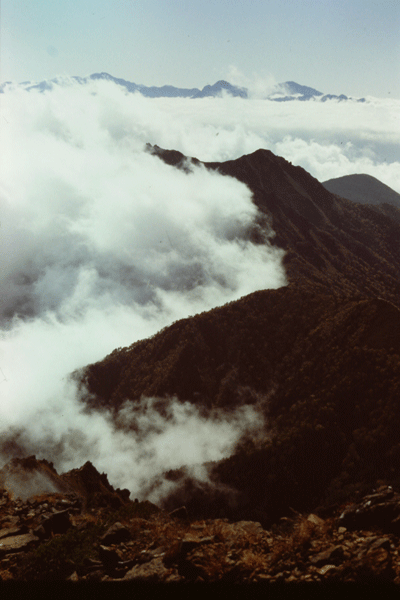 On Day 3 we left Gongendake Lodge at 6-30 a.m. and climbed across broken rock helped by chains. Eventually the trail fell away down to a saddle before Amigasayama, where the Seinen Goya Lodge is situated. This seems to be a much better lodge and has facilities for camping. Fresh water is available from a stream some 5 minutes walk away.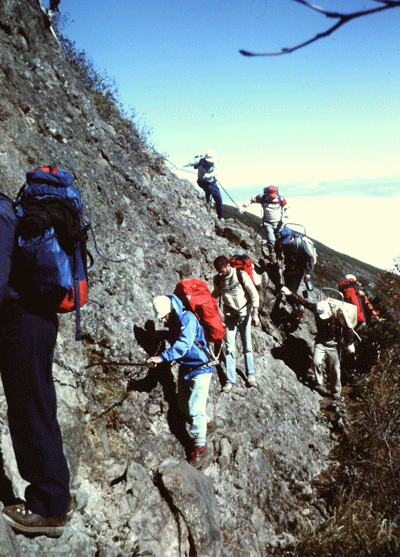 We arrived at Seinen Goya Lodge at 7-15 a.m. and rested until 7-50 a.m. before leaving on the final descent of the mountain. We decided to take the trail to the left rather than climbing Amigasayama, and reached Green Lodge at Kannondaira at 9-20 a.m.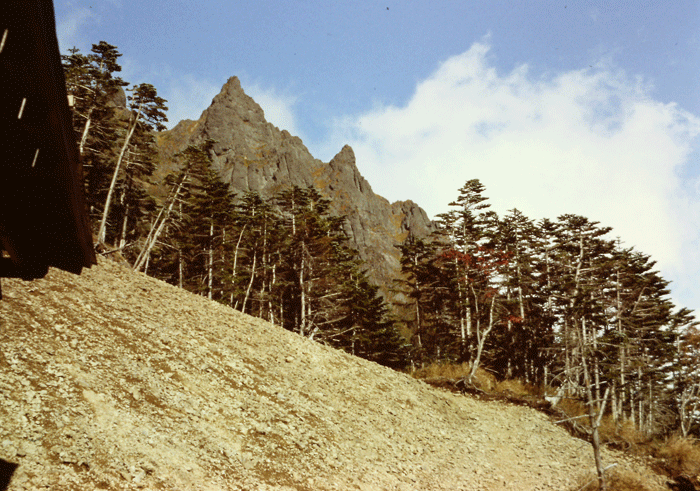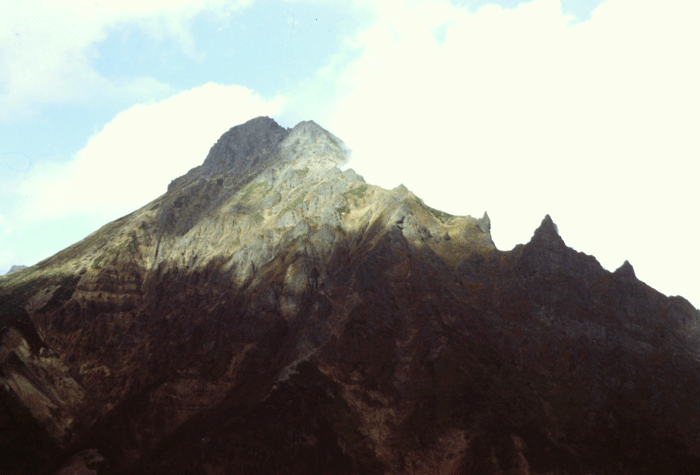 Getting a taxi was not that easy, so we decided to walk down to Kobuchizawa Station arriving at 11-40 a.m., just in time for the 11-56 a.m. Express to Shinjuku. This time we were lucky and were able to get seats, and had a relaxing ride back home arriving at Shinjuku around 3-30 p.m.