Lake Ogwen - Tryfan - Bwlch Tryfan - Glyder Fach - Castle of the Winds -
Glyder Fawr - Devil's Kitchen - Lake Idwal - Lake Ogwen
Saturday 10th August 2013
Distance

Time

Elevation in meters


Km
Elapsed
Hrs-Mins
Moving
Hrs-Mins

Gain

Loss

Min

Max

11.57
7H50
3H34
1,053
1,053
307
1,000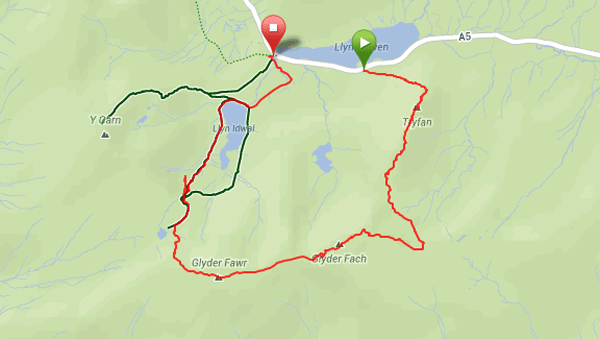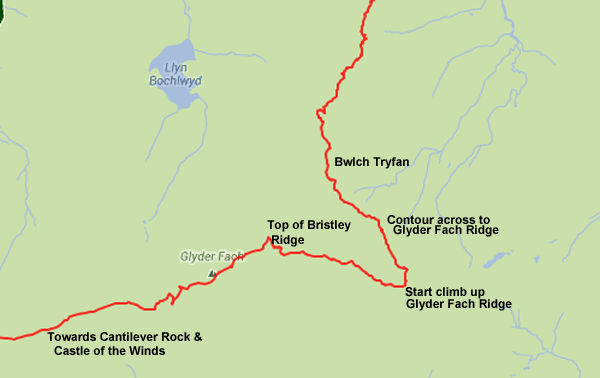 For our first walk we had intended to do the Snowdon Horseshoe, but when we arrived at the car park at Pen-y-Pass at 8-30 a.m. it was full, and every conceivable space to park within 2 miles was already taken! At 8-30 in the morning!! It is possible to use the park-and-ride in Llanberis, but we were somewhat put off by the state of affairs and decided to do Tryfan and the Glyders instead. What a difference. The area around Lake Ogwen was virtually deserted and there was no problem parking at all. We parked in the off-road car park at the foot of the north face of Tryfan, and started our walk diagonally to the "stile over the wall"..... well known to anyone that has climbed Tryfan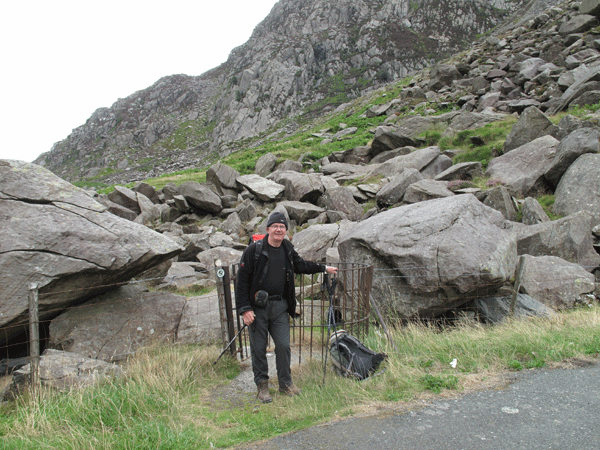 Mick ready for the off - the obligatory pre-walk photo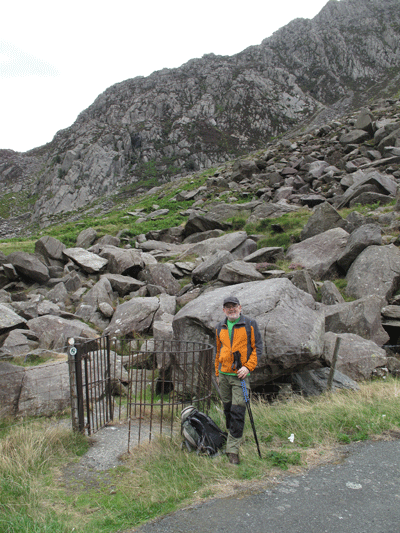 Torben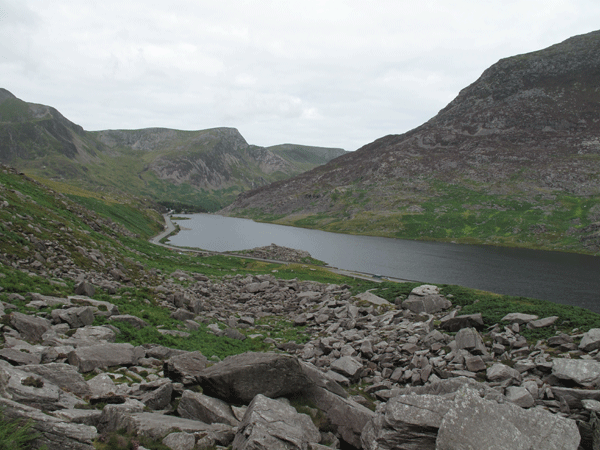 Climbing away from Lake Ogwen at around 1,000 feet elevation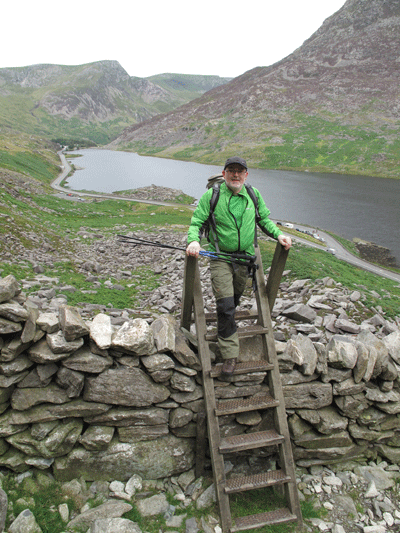 The "stile over the wall"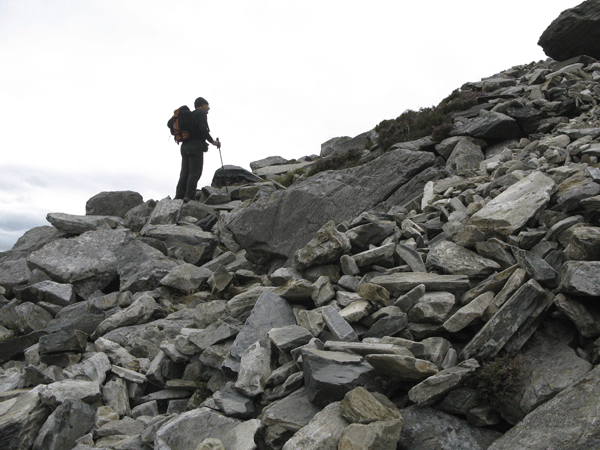 There must be a route up here somewhere! (Photo: Torben)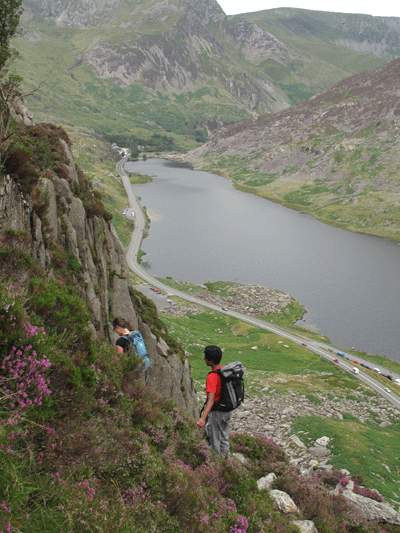 It soon starts to get steeper!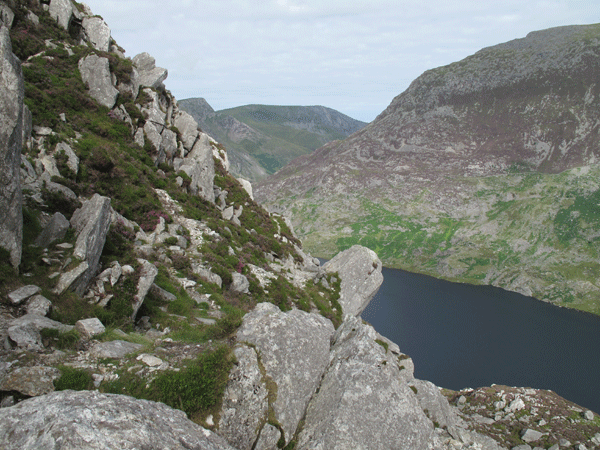 Looking back down to Lake Ogwen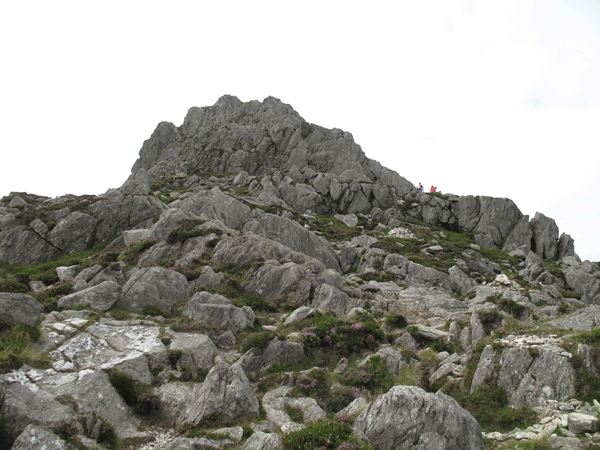 The way ahead, but don't be fooled as this is not the top you can see!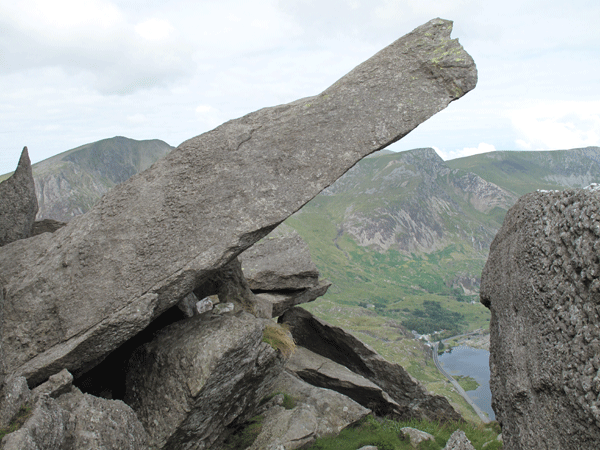 Cannon Rock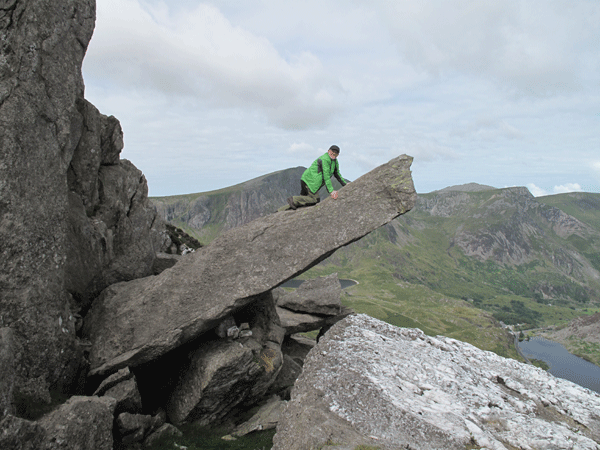 Torben edging up Cannon Rock. I wanted him to do a handstand at the end but he wasn't too keen!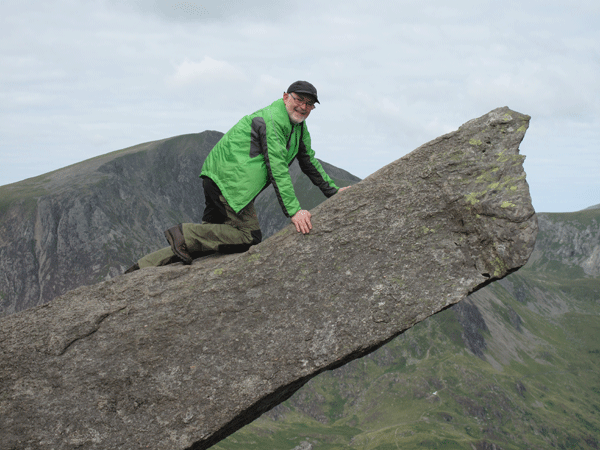 Did I go on the rock? No, I just take the photos!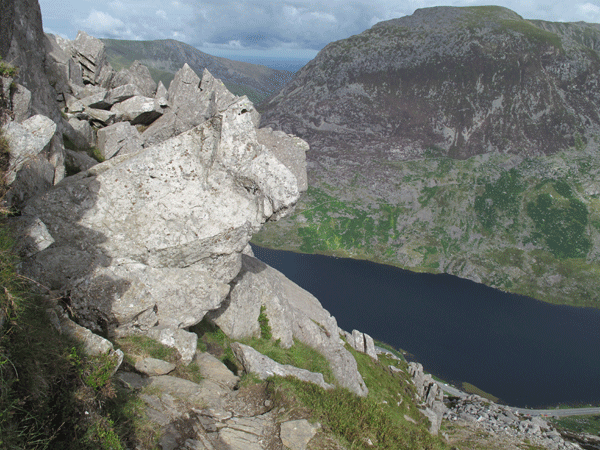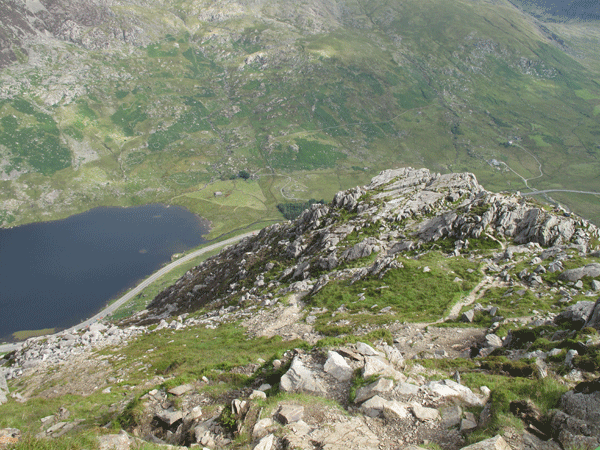 Looking back over the route we have come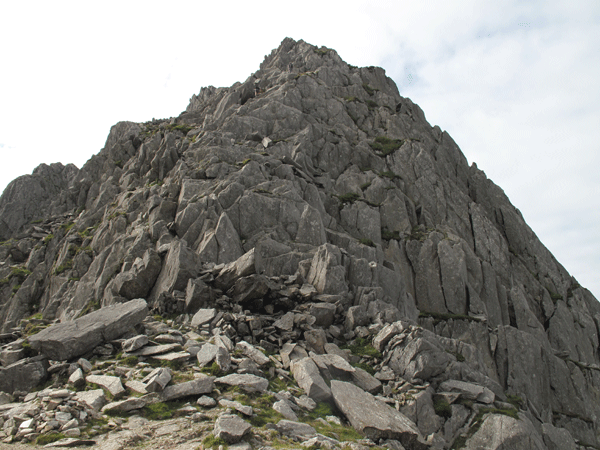 The way ahead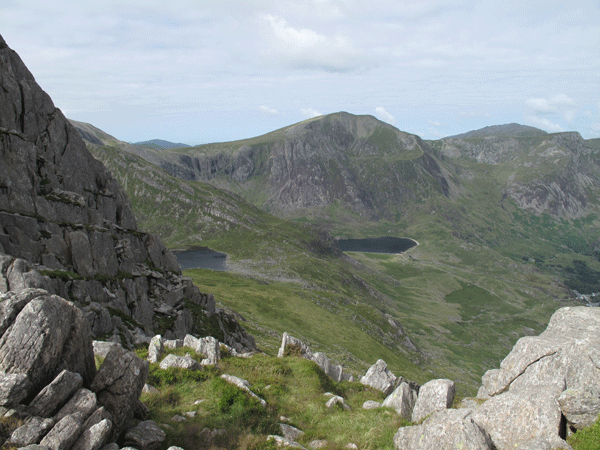 Looking across to Y Garn with Lake Idwal in the centre and Lake Bochlwyd partially showing on the left.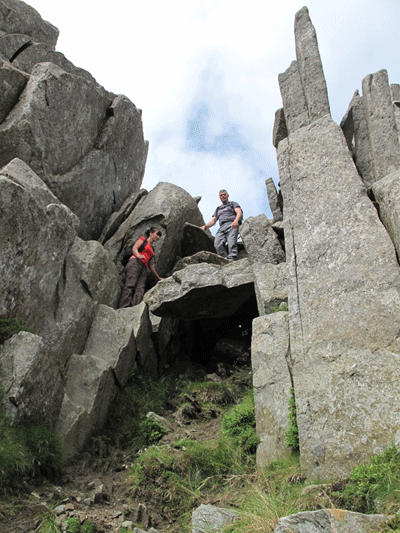 The next bit gets a bit tricky, as you go up a funnel on the left hand side and cross over
on a delicately balanced slab of rock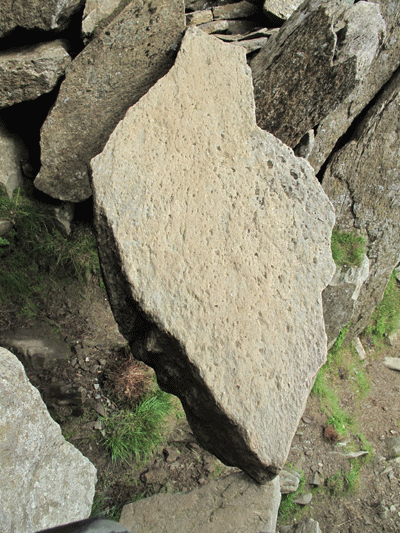 The delicately balanced rock footbridge.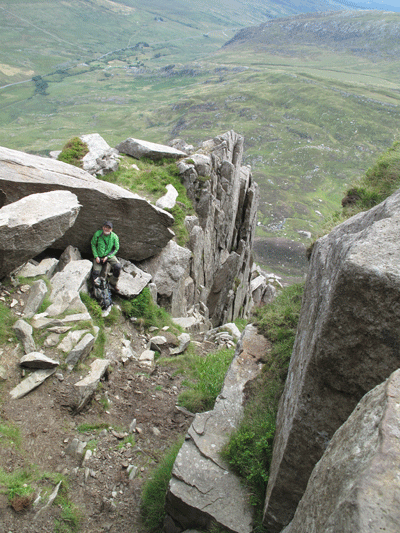 The view down as Mick ascends; Torben watches from down below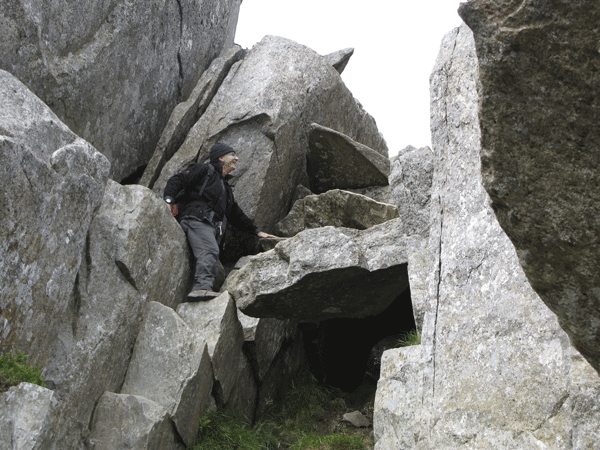 Mick about to tip-toe over the rock bridge (Photo: Torben)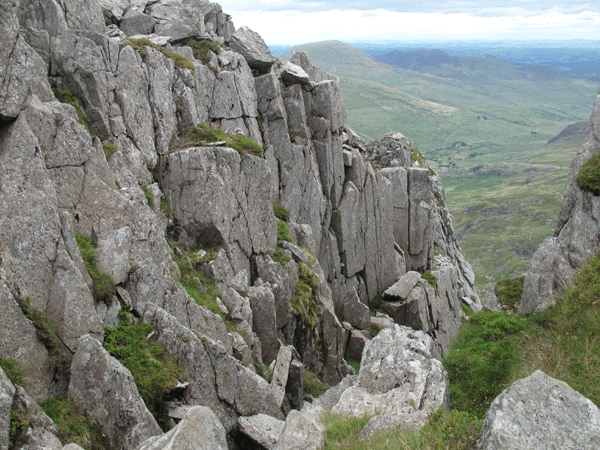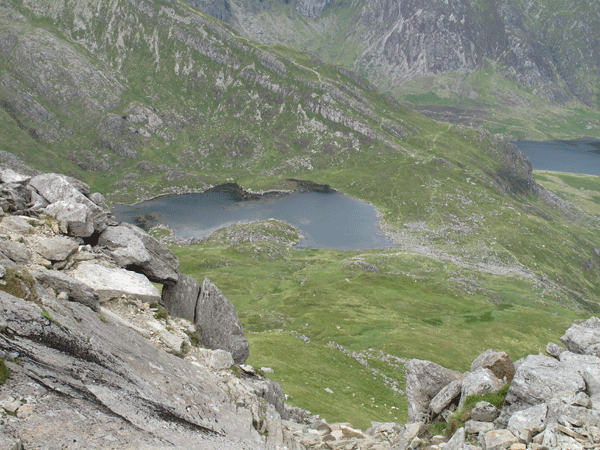 The view down to Llyn Bochlwyd, or "Australia Lake" as it is commonly called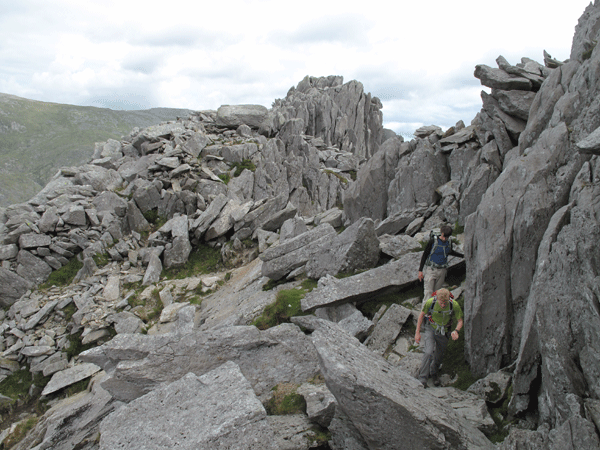 Looking back on our route from the top of the funnel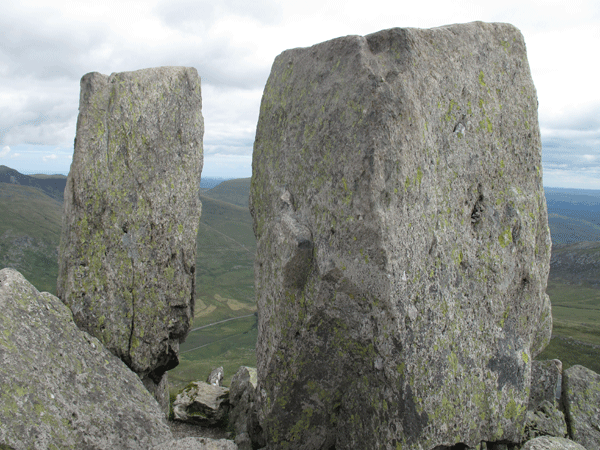 Adam and Eve, the two large rocks at the top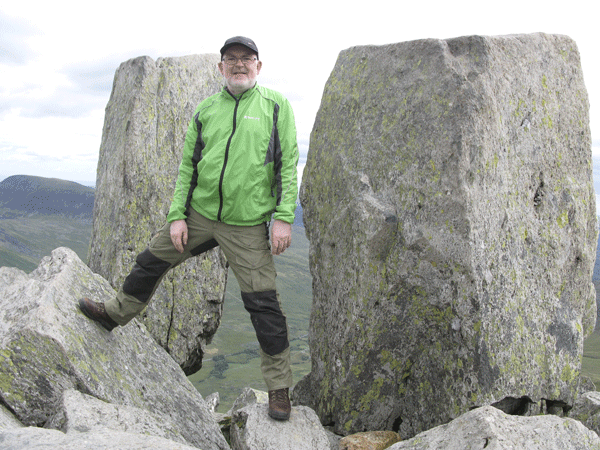 Torben at the top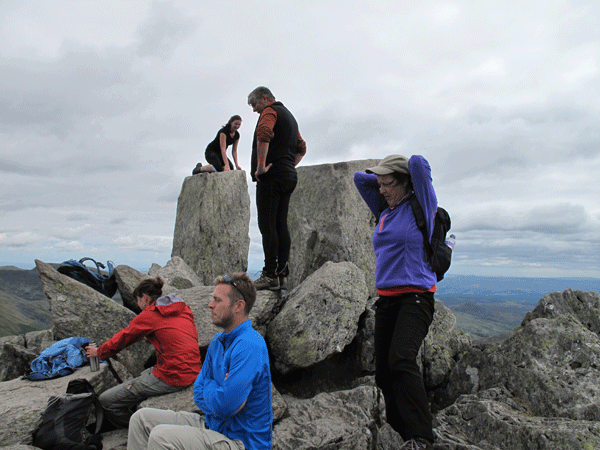 The top of Tryfan, 915 m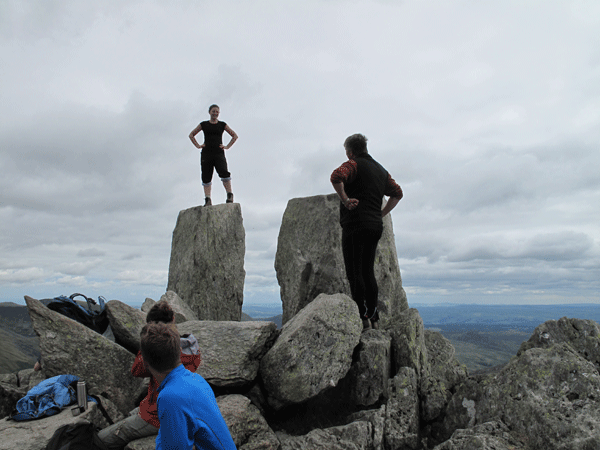 The jump from Adam to Eve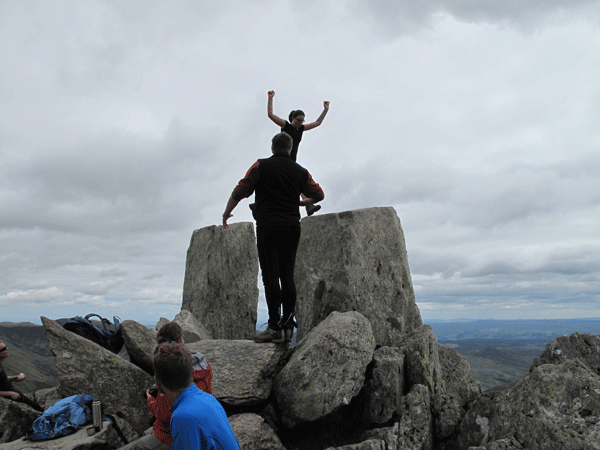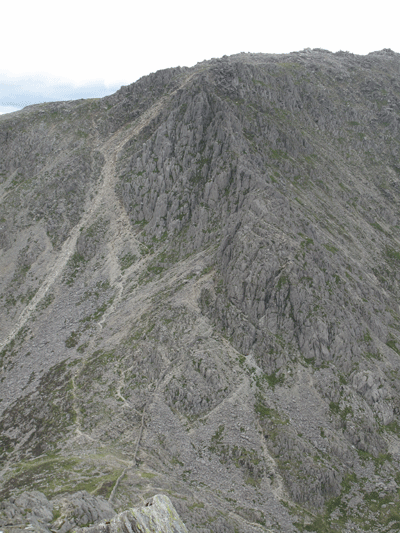 The view from Tryfan across to Bristley Ridge, a tricky climb, although
the scree field to the left is accessible.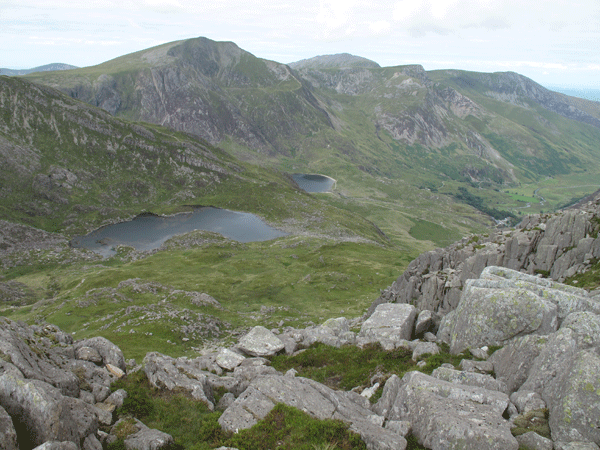 Looking down the valley from Tryfan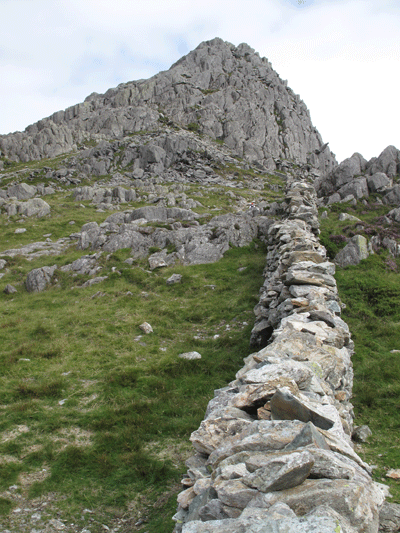 Looking back at Tryfan on the way down to Bwlch Tryfan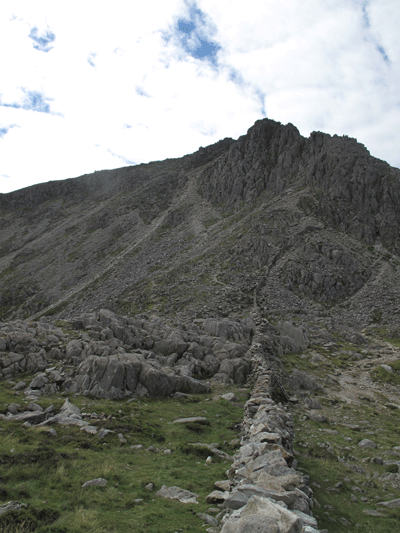 Looking ahead to Bristley Ridge and the scree field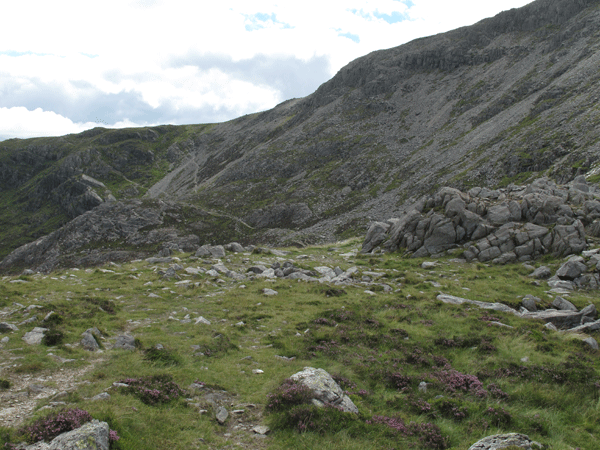 The alternative route we took, by contouring to the left and joining the Glyder Fach ridge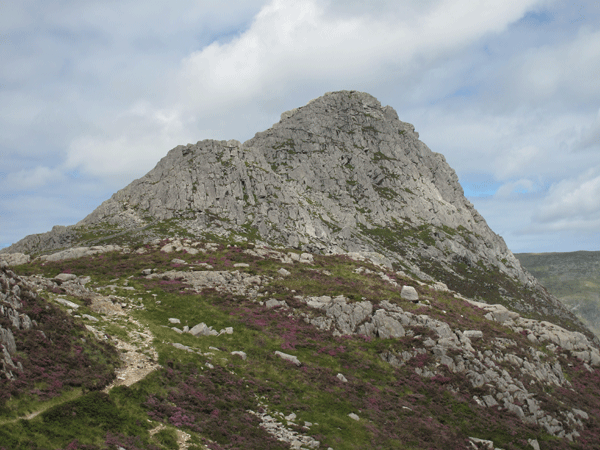 Looking back at Tryfan as we traversed to the Glyder Fach ridge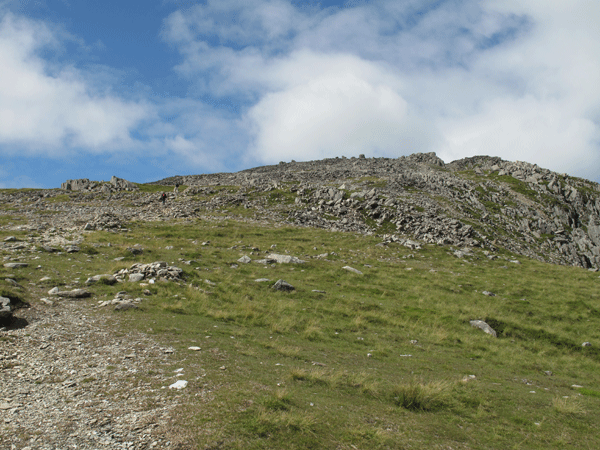 Looking up the Glyder Fach ridge to the top of Bristley Ridge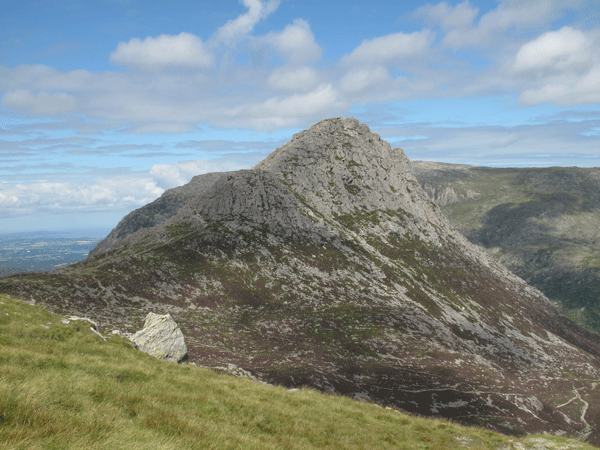 Another view across to Tryfan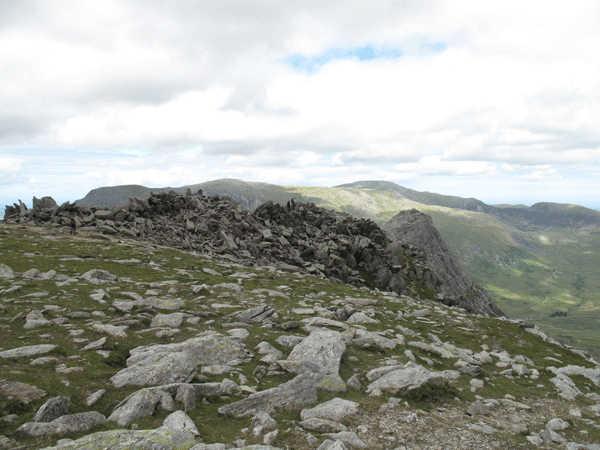 The top of Bristley Ridge and the scree field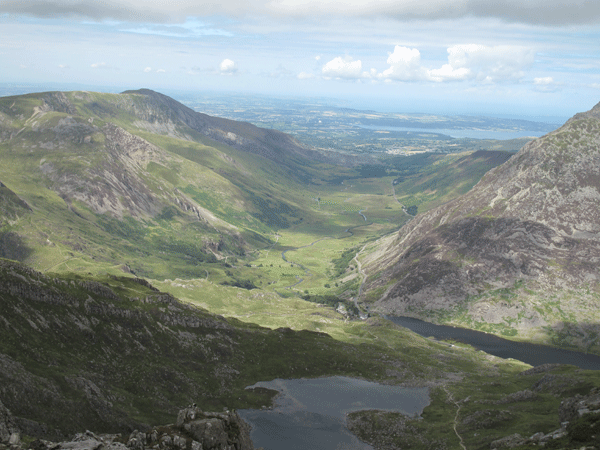 Looking down the valley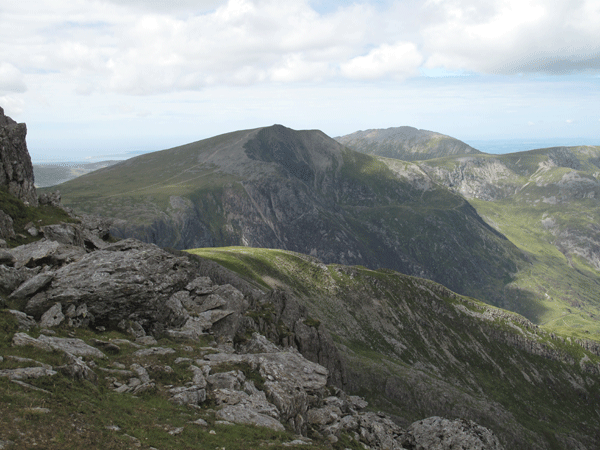 Y Garn in the distance (centre of photo)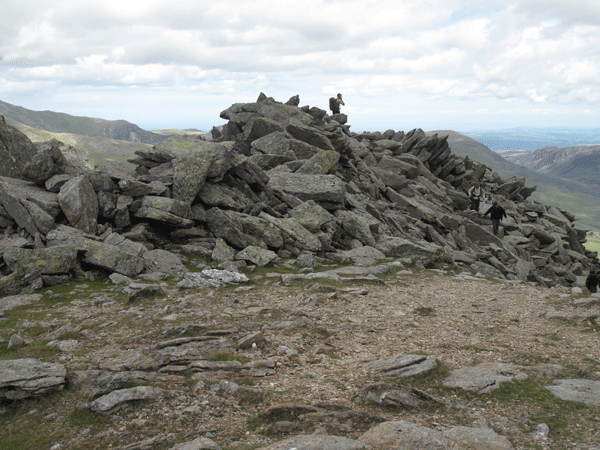 The top of Bristley Ridge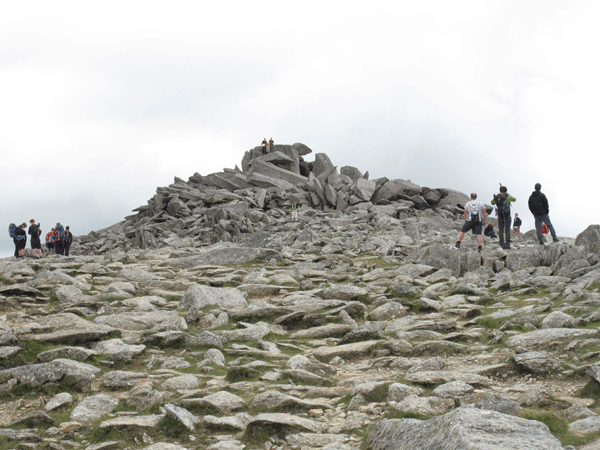 Glyder Fach 994 meters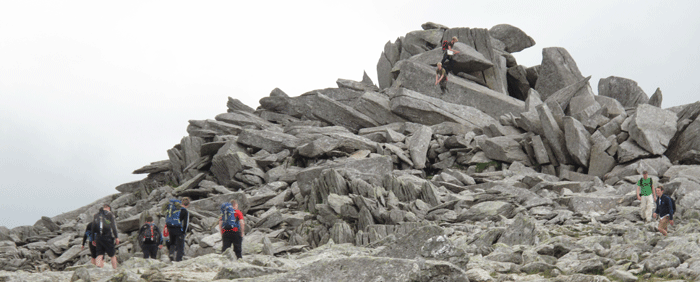 Glyder Fach from the north-east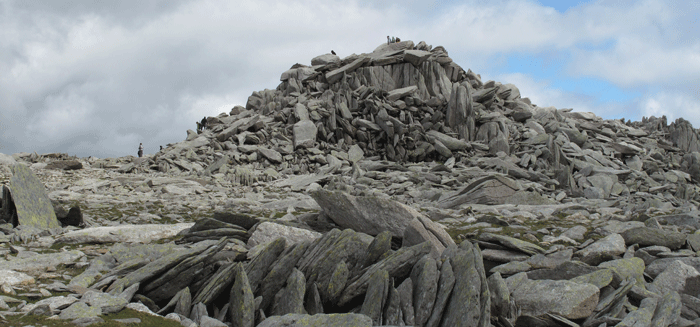 Glyder Fach from the south-west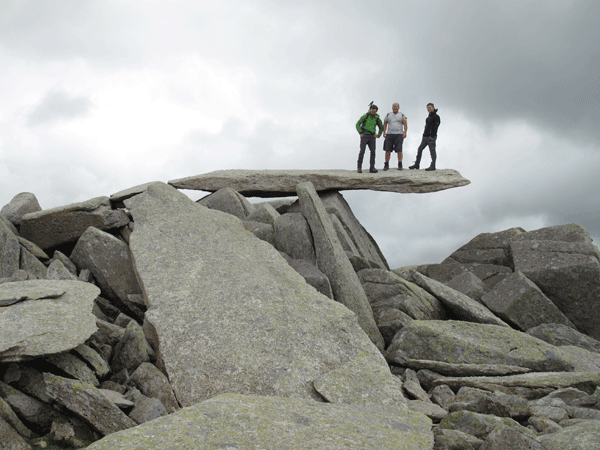 The Cantilever Stone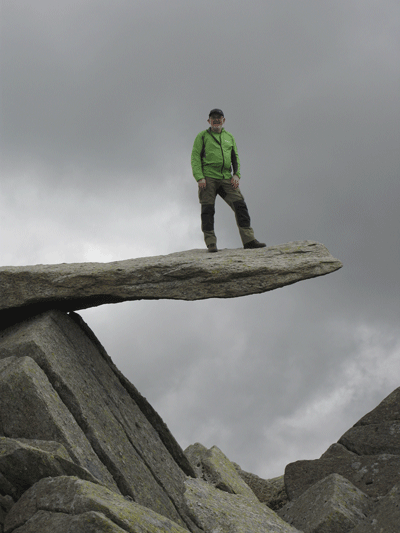 Torben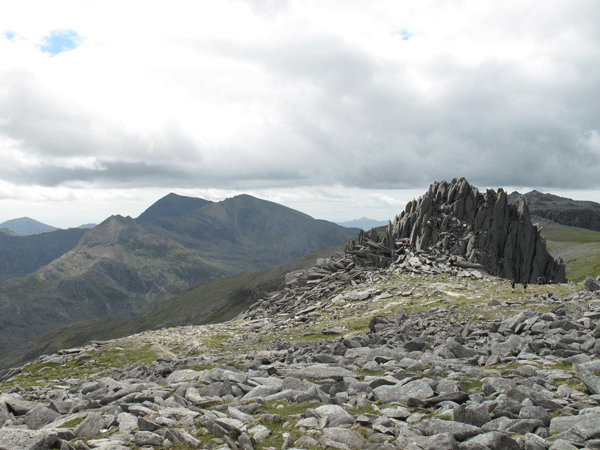 The Castle of the Winds or Castell y Gwynt with Snowdon in the background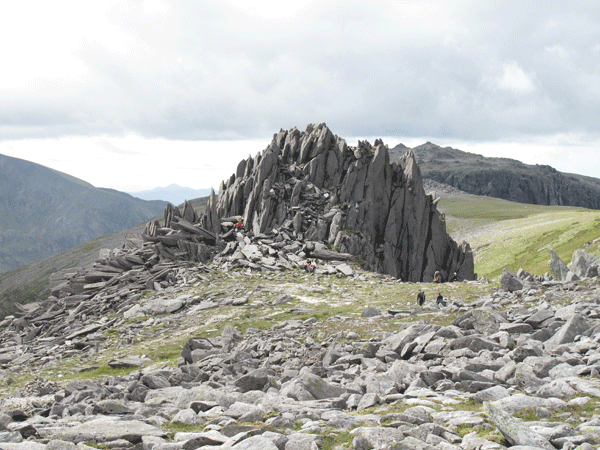 The Castle of the Winds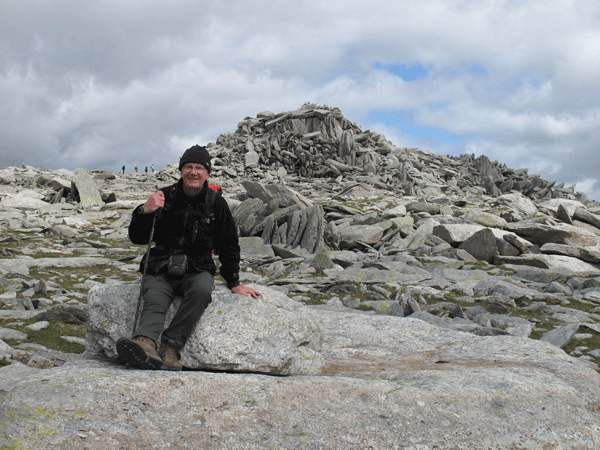 Mick resting near the Castle of the Winds, with Glyder Fach in the background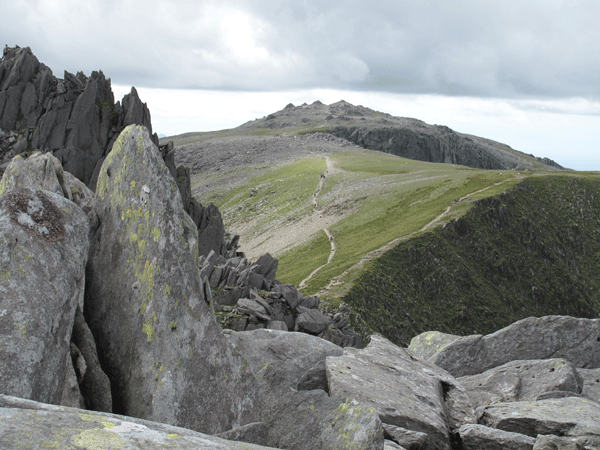 The view towards Glyder Fawr from Castle of the Winds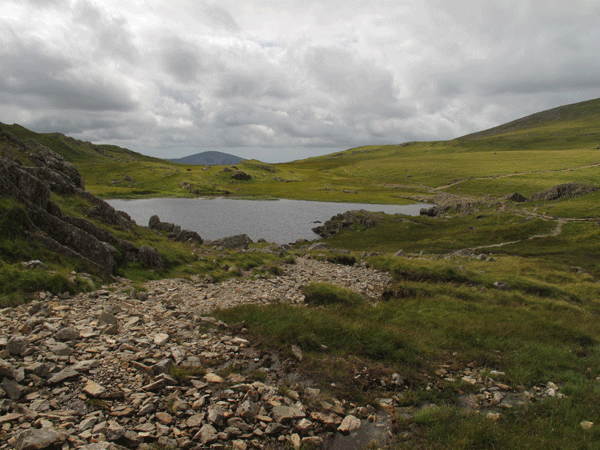 Llyn y Cwn, at the foot of the descent from Glyder Fawr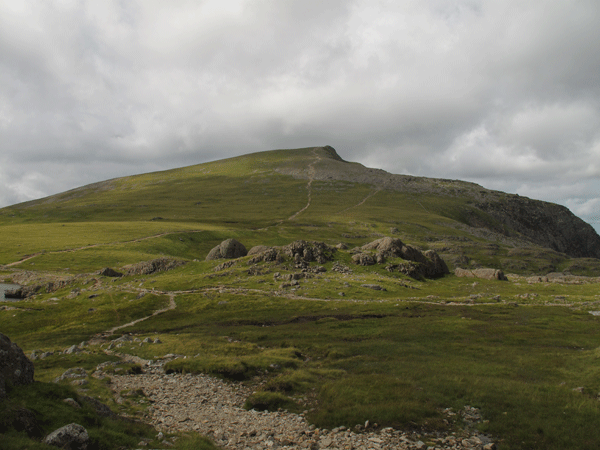 Y Garn ahead; we took the Devil's Kitchen route to the right down
to Lake Idwal. Llyn y Cwn is just visible on the left edge of this photo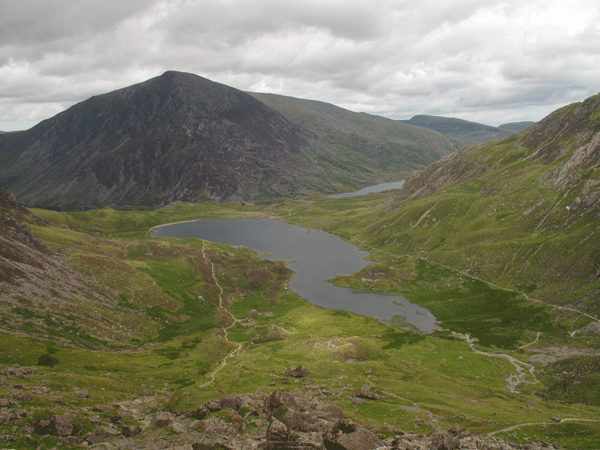 The route down, to the left of Lake Idwal