KE Adventure Travel:-

This spectacular walking holiday shows a surprising side to Tenerife as we explore the island from end to end and trek to the summit of Pico Teide – the highest point in Spain! We start by exploring the dramatic Masca Gorge and sail long the base of the Los Gigantes cliffs. Next is one of Europe's most famous volcanoes - Mount Teide! We head off on an unforgettable two day adventure through a beautiful and protected landscape to spend a night on the shoulders of Teide at the fantastically located Refugio Altavista. In the morning we hike to the summit of Teide (3718m) in time for sunrise, ensuring we catch the early morning light casting a "pyramid shadow" across the island. The view from the summit is superb as we look down on the neighbouring islands of La Palma and La Gomera. After Teide we stay in the colonial town of La Laguna whilst we explore the undiscovered UNESCO region of Anaga, a lush, prehistoric looking landscape with its own culture, flora, food, legends and some of the best coastal walking in Europe. The week finishes in the colourful capital of Santa Cruz, with its squares, pavement cafes, bustling harbour and laid-back atmosphere. If you are looking for a surprising side to the Canary Islands, with breath-taking scenery, fantastic walking and the opportunity to ascend the highest point in Spain, then this wonderful walking holiday shows a secret side to Tenerife!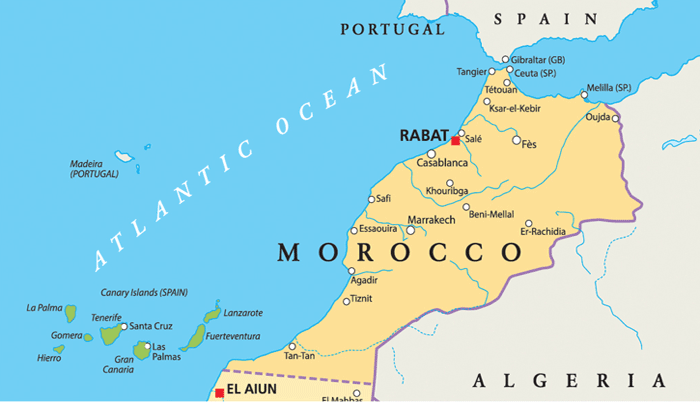 Courtesy of https://www.youngpioneertours.com/ypt-morocco-map
Date
Description
Km
Total Time
Ascent
Descent
Max Elevation
Min Elevation
Sat 4 Mar

Ferry from La Gomera to Los Cristianos
Homestay in Chio




Sun 5 Mar

Parador Hotel to Altavista Refuge
Altavista Refuge




15.25
6H47
1,140 m
19 m
3,270 m
2,144 m
Mon 6 Mar

Altavista Refuge/Cable Car/Parador
Homestay in Chio




10.88
4H02
352 m
1,463 m
3,551 m
2,144 m
Tues 7 Mar

Masca Gorge**
Hotel Aguere in La Laguna




10.01
3H46
250 m
800 m
610 m
3 m
Wed 8 Mar


Cruz del Carmen - Punta del Hidalgo
Hotel Atlantico in Santa Cruz




12.74
6H44
343 m
1,236 m
953 m
21 m
Thurs 9 Mar


Chamorga Circular Walk
Hotel Atlantico in Santa Cruz




6.71
3H56
316 m
316 m
722 m
480 m
Fri 10 Mar


La Cumbrilla - Playa de Antequera
Hotel Atlantico in Santa Cruz




5.81
2H44
66 m
683 m
635 m
3 m
Sat 11 Mar
Santa Cruz Sightseeing

61.4

2,467 m

4,517 m
**

Garmin GPS did not record properly in the gorge; figures used are as per KE Adventure information notes


Travel Details
| | | |
| --- | --- | --- |
| | ETD Tenerife South 18:55 hrs EZY8706 ETA London Gatwick 23:20 hrs | |
Local Agents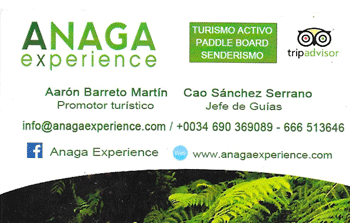 Aar

on
Cao
Homestay Accommodation in Chio
The trip was reorganised slightly due to the availability of accommodation in the Altavista Refuge, so we were based for the first 3 nights at the home stay in Chio.
The twelve of us were spread over three houses in the location and met in the larger house at breakfast time.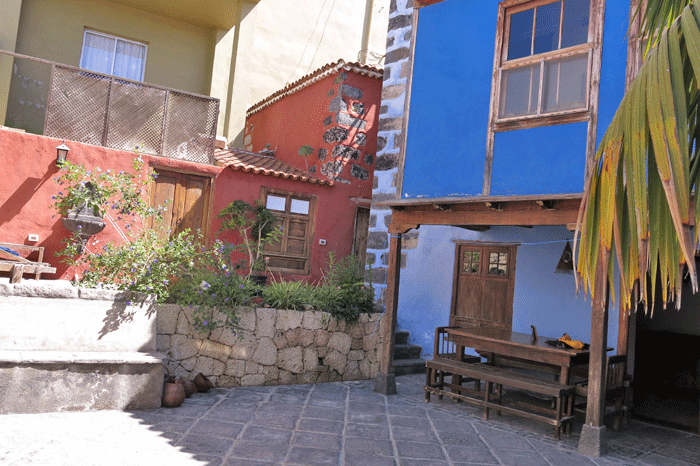 The courtyard in our house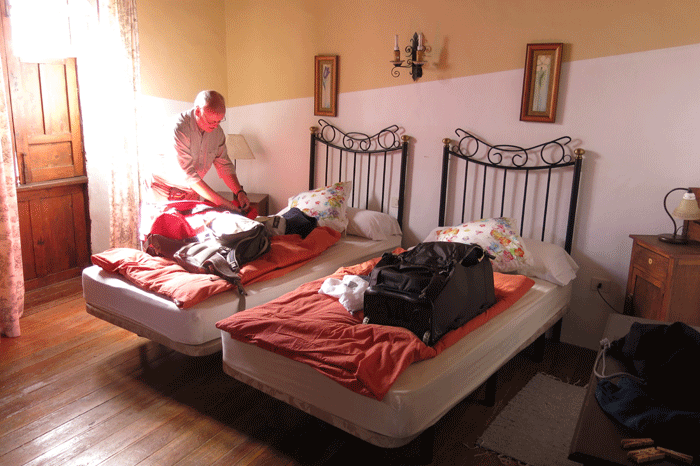 The bedroom Matt and I shared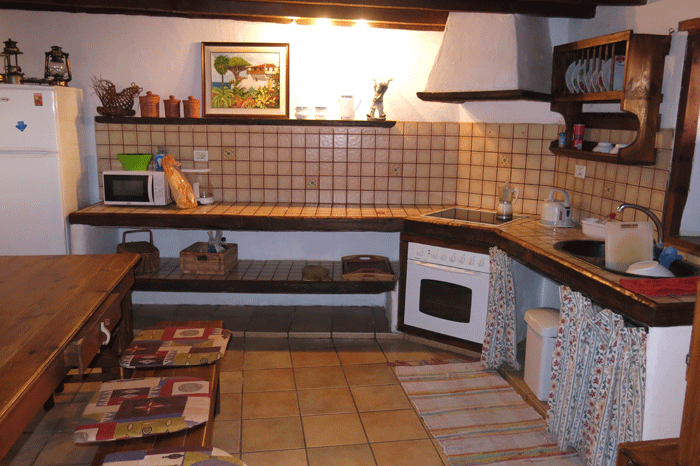 The kitchen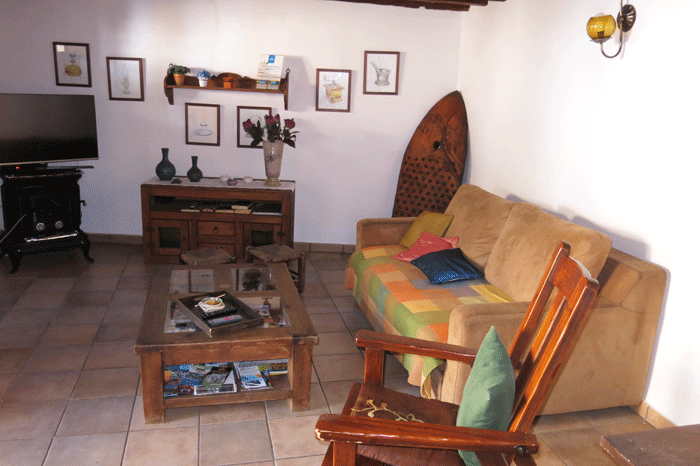 The lounge
Chio Village
Researchers and writers allude in their works to the fact that the word "Chio" refers to those other place names of native origin which are so frequent in the municipal districts of Guia de Isora, Santiago de Teide and their surroundings such as Chiguergue, Chirche, Chajajo, Chinyero, and so on. In the mid-nineteenth century, José Augustin Álvarez Rixo wrote a study on the language of Canarian natives in which he indicates that the word "Chio" might mean plantation in Syriac. Nowadays, Chio conserves a rich ethnographic heritage, in which elements such as numerous threshing-floors and drinking-fountains located in Calle La Palma stand out.

Water has traditionally been a much-prized element of nature that has been hard to find in the lands to the south of Tenerife, because it meant agriculture and even livestock were the stuff of subsistence. The arrival of water in Chio in 1902 can be called an historic milestone. This work is due to the stubbornness and efforts of José Evora Franquis, who did not hesitate to use his own funds to carry out this great work. Nowadays, in proof of its gratitude, one of the main streets of the village is named after him. Apart from the installation of the metal pipe which brought the much-appreciated liquid from Chirche, a tank and the corresponding drinking fountain were built in the centre of the village, which the people called El Chorro, at the crossroads of the streets known as San Juan and La Palma.

Perhaps of more interest to present day trekkers, there are two bars in the main street and a mini-market. There is another mini-market a mile or so up the road. One of the bars.... "Parada" ... caters for the cycling fraternity and is bedecked with cycling memorabilia.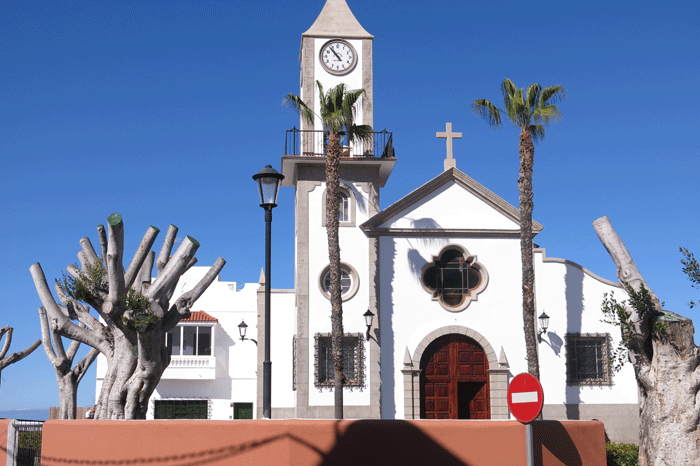 The Church