Day 4 Anaga National Park

Cruz del Carmen to Punta del Hidalgo
Wednesday 8th March 2017
KE Adventure Travel Trip Notes

After breakfast we transfer (45mins) to Cruz Del Carmen and the beautifully lush area of Anaga. The contrast between the area of Pico Teide and the Northern Coast of Tenerife is outstanding. The protected Anaga Mountains could be a scene straight out of Jurassic Park, complete with atmospheric dragon trees and beautiful areas of laurel which provide amazing canopies to walk right under! The area of Anaga is located in the North-East of the island and is an area of outstanding natural beauty. The whole area is dramatic, consisting of a wild coastline, deep ravines, rich forest and hamlets located on suspended craggy ridges it's hard to believe anyone still lives there! Largely unexplored, this is an undiscovered area of Tenerife, famed for its beautiful laurel trees and spectacular coastal walking. Our trail today starts in the area of Cruz Del Carmen before we descend through a beautiful landscape of rich vegetation that leads us down to the coast in La Punta. Along the way we'll be rewarded with breath-taking coastal views, and learn about the ancient "guanches." Still an object of great mystery, the original inhabitants of the Canary Islands were rumoured to be a highly beautiful, tall and muscular, but little is known of their true origins. Our walk finishes in the small port of La Punta and after having a brief look around, a short transfer (30mins) sees us return to La Laguna for a second night.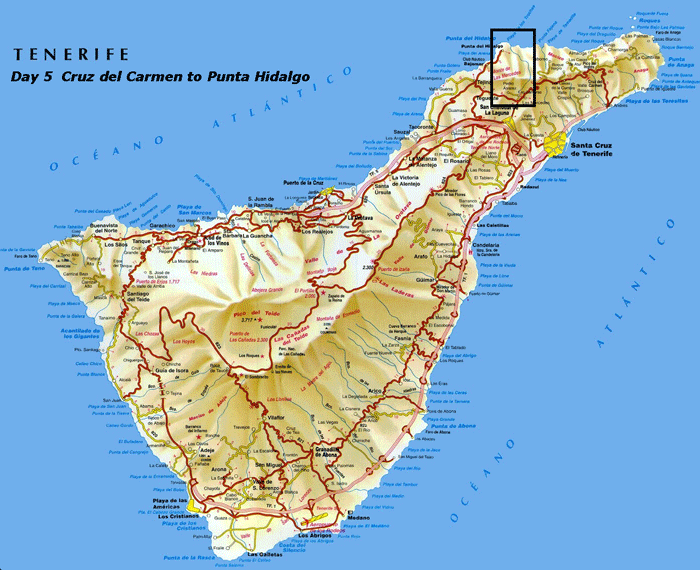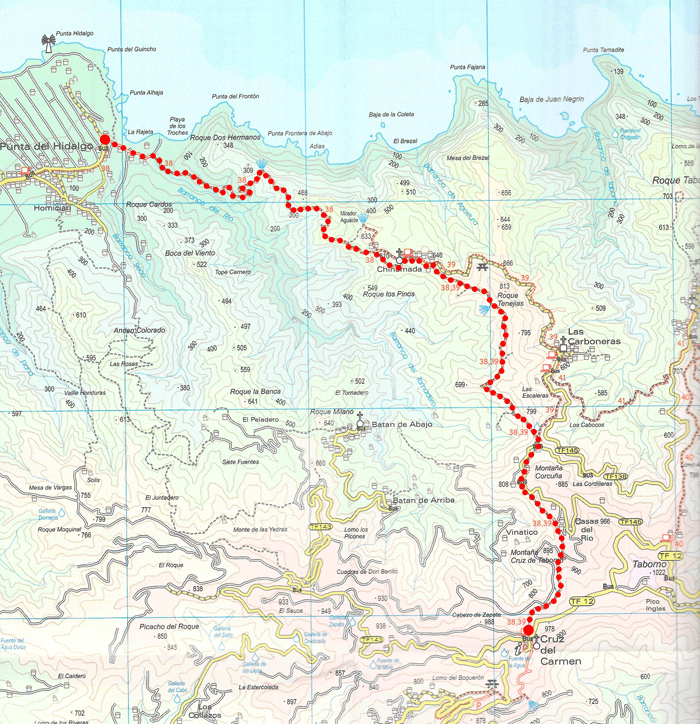 | | | | |
| --- | --- | --- | --- |
| | Garmin GPS Data | | |
| | Distance | 12.74 km | |
| | Elapsed Time | 6 hrs 44 mins | |
| | Ascent | 343 m | |
| | Descent | 1,236 m | |
| | Maximum Elevation | 953 m | |
| | Minimum Elevation | 21 m | |
PR TF-10 Cruz del Carmen to Punta del Hidalgo

The path PR TF-10 runs through one of the most visited areas of the Anaga Rural Park. It begins to the right of the "Cruz del Carmen" restaurant. Throughout this route you may discover two completely different environments.The section between Cruz del carmen and Chinamada descends over the montverdes, an old forest of evergreens with constant humidity. The next section between Chinamada and Punta del Hidalgo leaves behind the refreshing trees and runs through a sunny path carved in stone which reveals the Atlantic Ocean at several viewpoints. Traditionally these two paths were used as rural communication links and had a commercial purpose.
-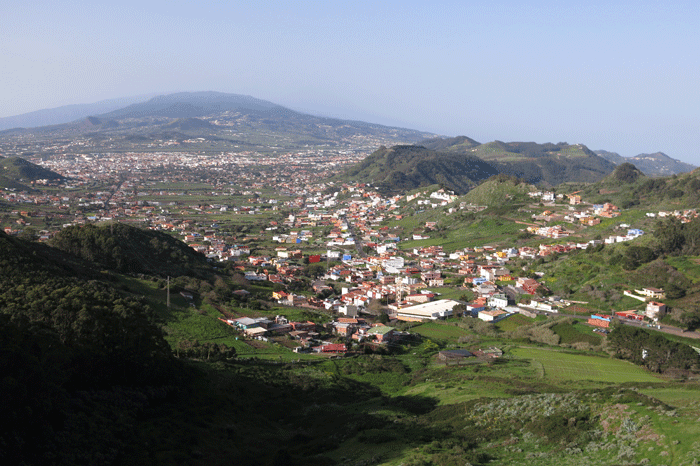 Mirador de Jardina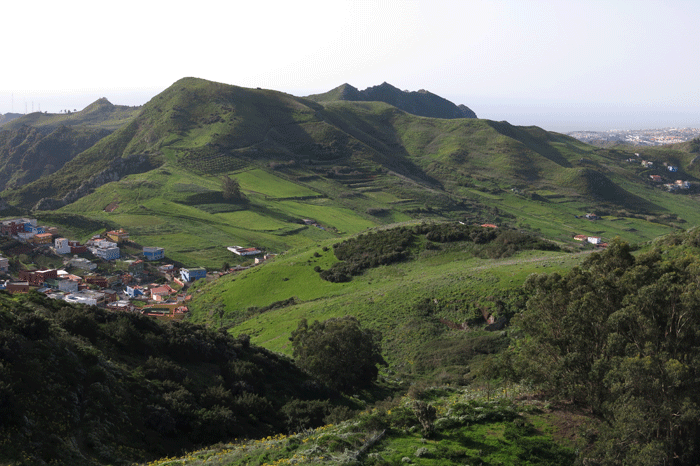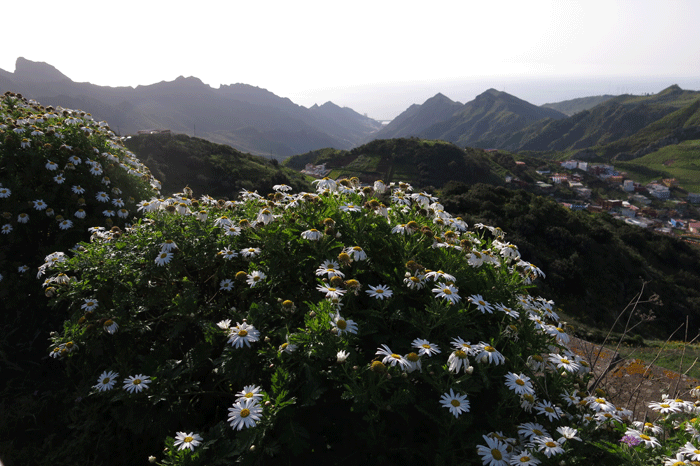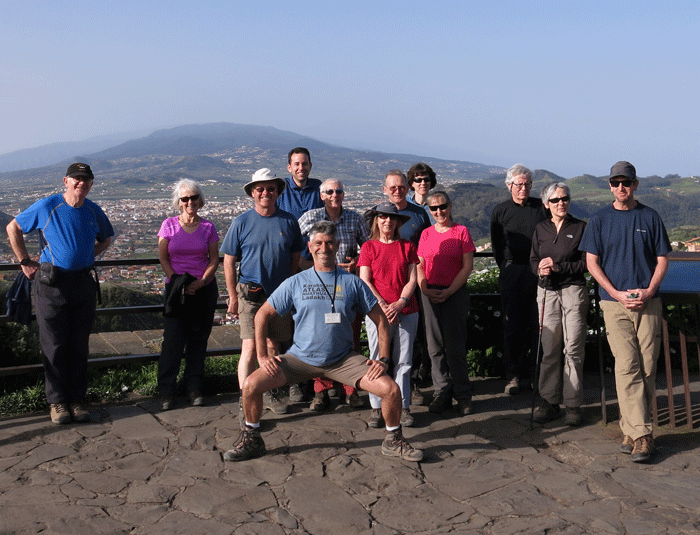 Cao practicing the hakka?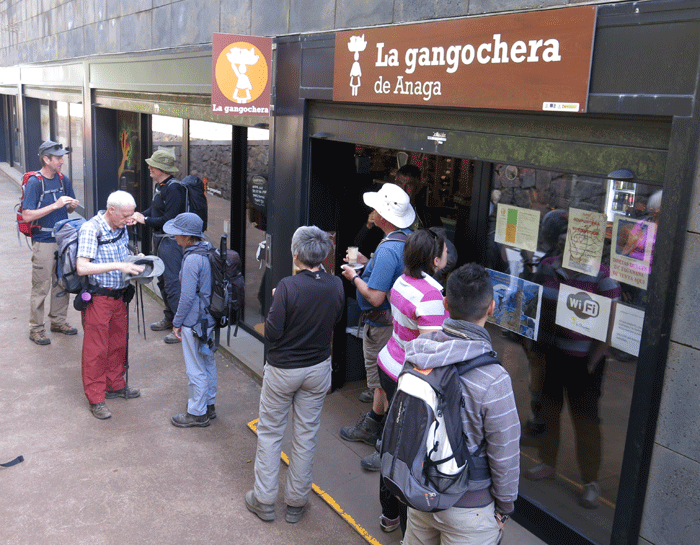 Start point - Cruz del Carmen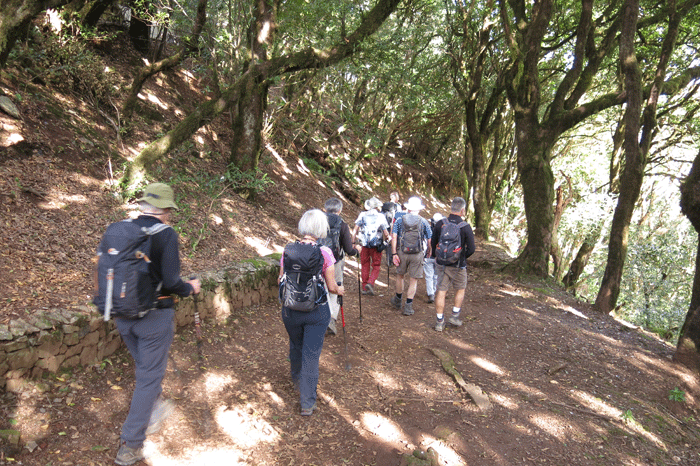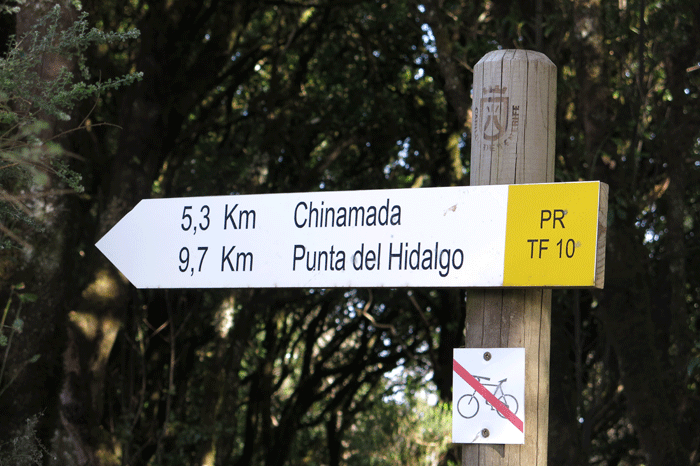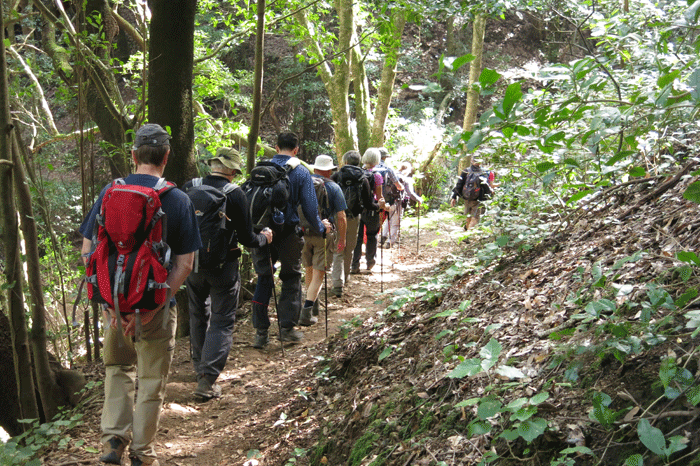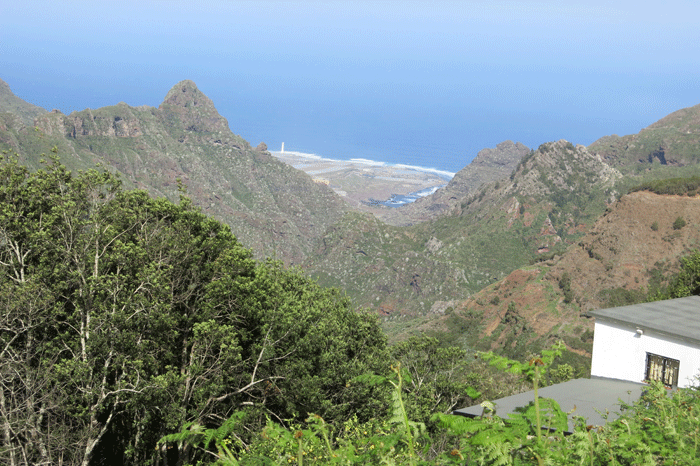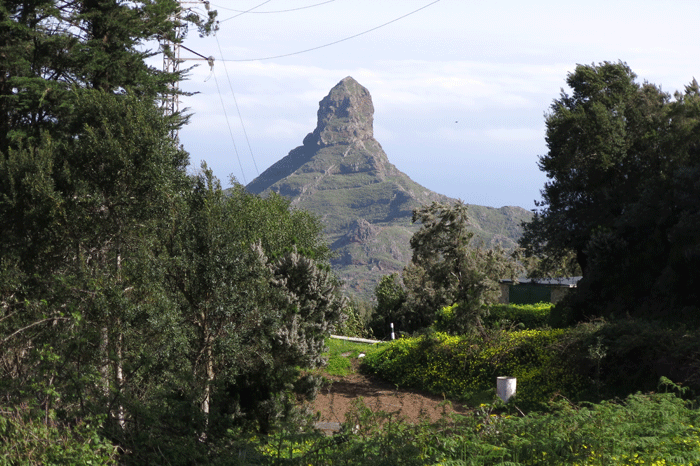 Roque de Taborno..... the "little Matterhorn"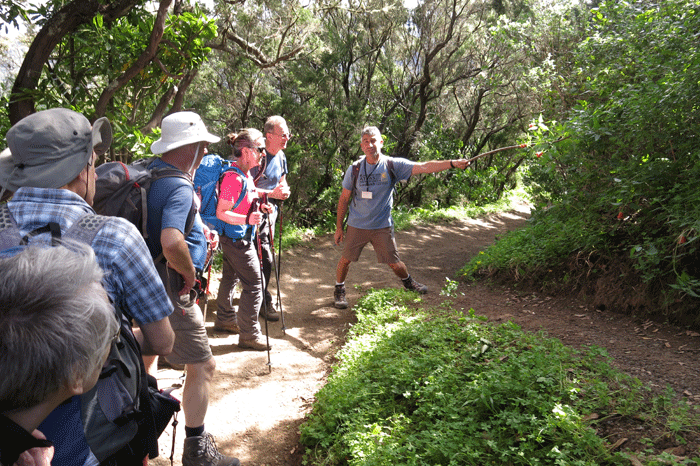 Cao explaining the bicacaro flower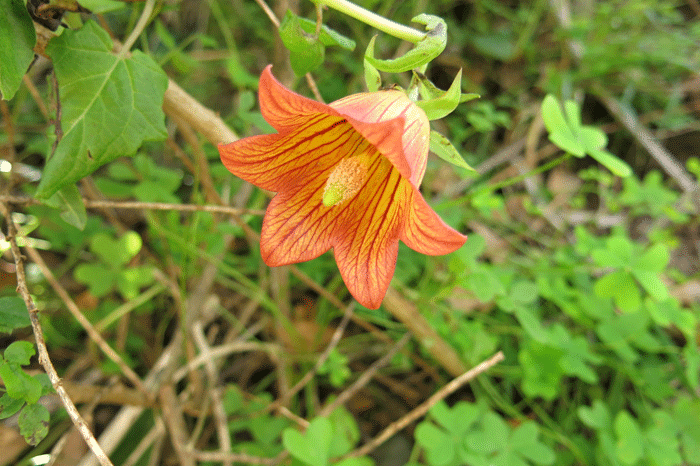 Bicacaro flower
Bicacaro

Canarina canariensis is endemic to the Canary Islands, being found in the laurel forests and forest margins. Flowers are axillary, solitary, bell-shaped, 3–6 cm long, orange (darkening when dried). It has a thick tuberous root, from which hollow, scrambling stems about 3 m are produced each year. The fruit is a large ovate, fleshy berry, orange when ripe, and edible. The species is bird pollinated by passerine species such as the chiffchaff.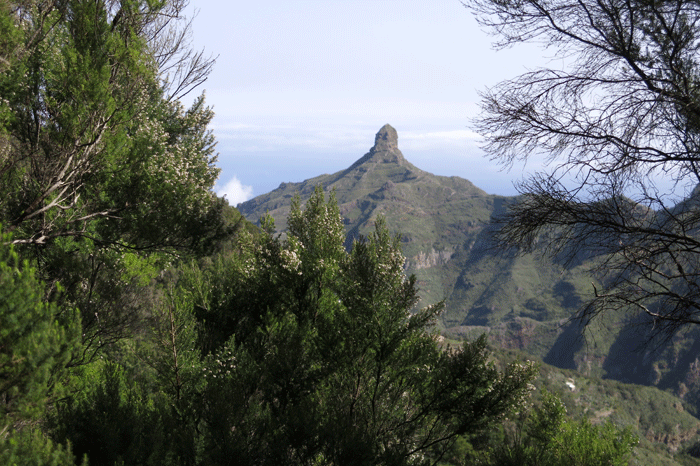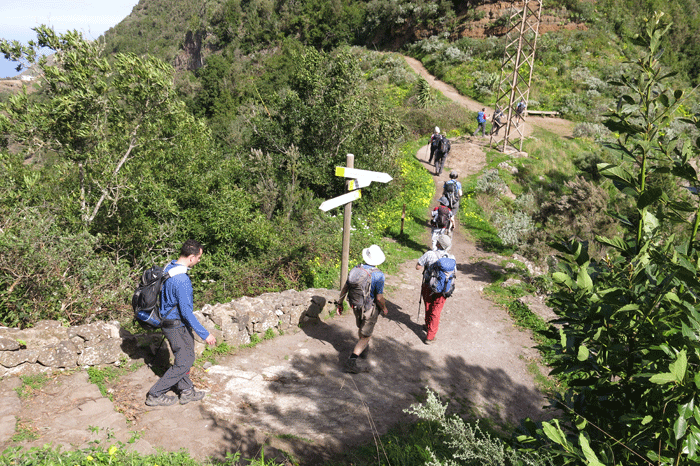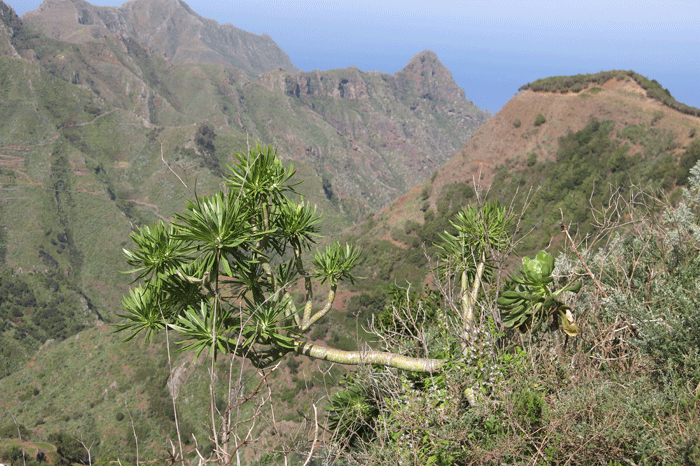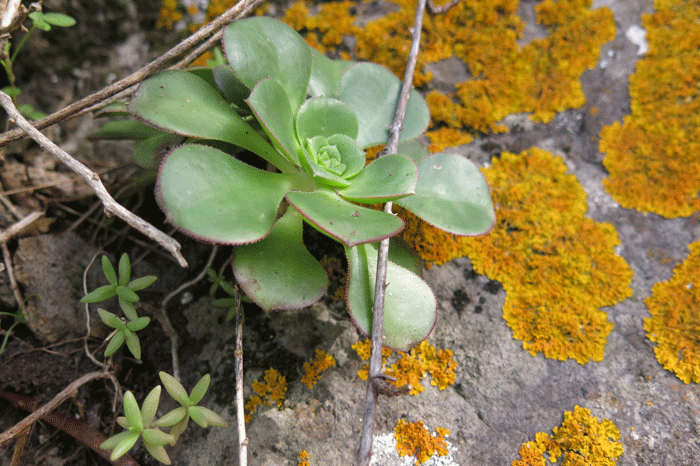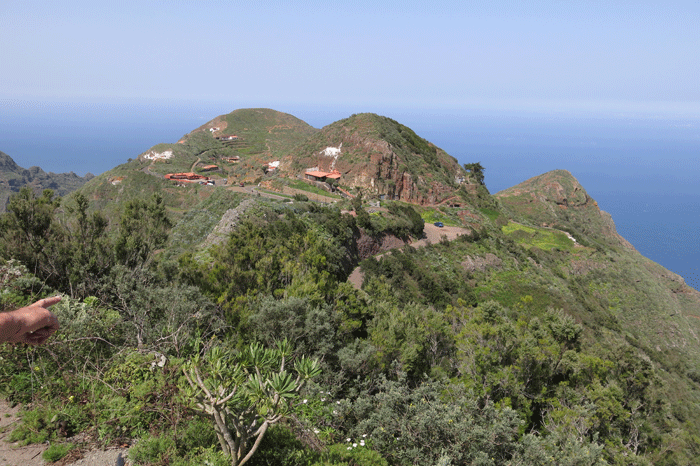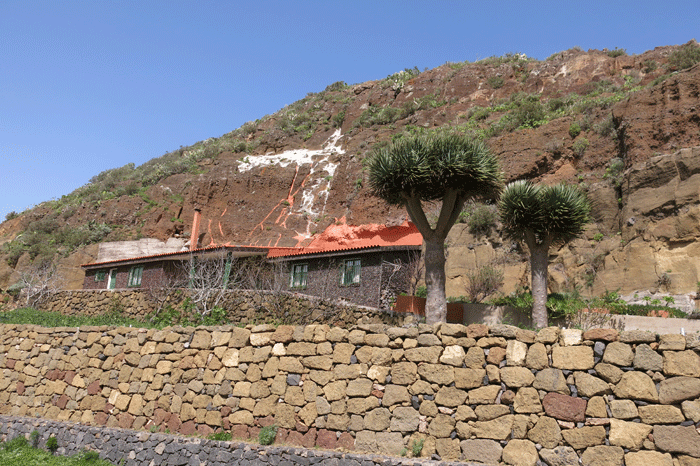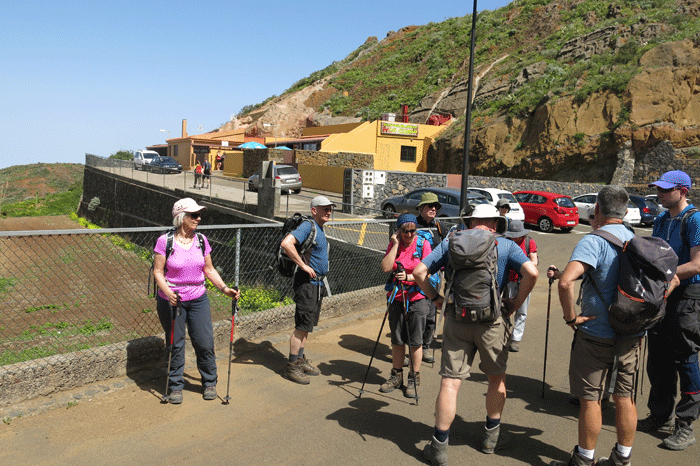 Lunch at La Cueva Restaurant ("The Cave")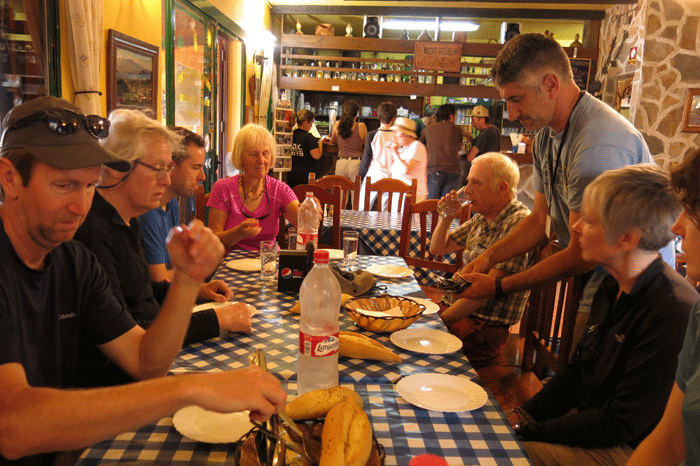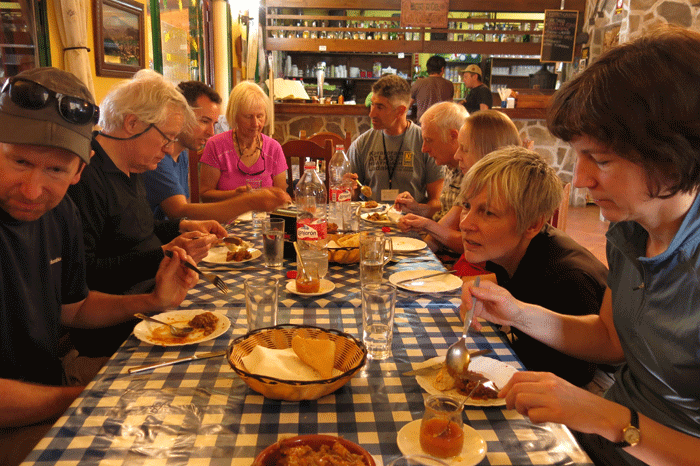 Sandra doen't look too sure about this dish!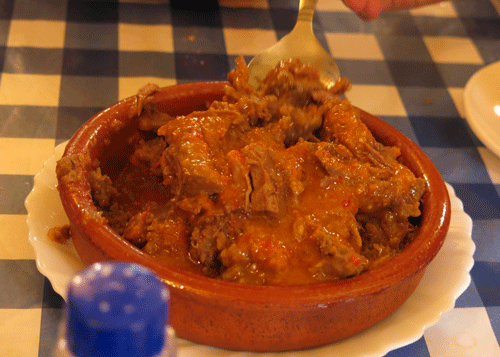 Escaldón de Gofio
In Canarian homes escaldón de gofio often accompanies Canarian stews and broths like pucheros or cazuelos but in some traditional restaurants it turns up on the starters menu.

It's a dish that has links with Tenerife's original inhabitants, the Guanches as the main ingredient is gofio; a flour that pre-dates the conquest. It's made from various roasted grains and is still immensely popular across the Canary Islands.

Escaldón in it's most basic form is a very simple dish; consisting of gofio mixed with fish stock to make a thick paste. The better the stock, the better the escaldón. It often comes accompanied by huge chunks of onion for scooping it up like a dip. Sometimes people add meat, fish and, or, vegetables and occasionally even drizzle mojo (Canarian sauces) over it to perk it up.

It's cheap, tasty and whilst it's never going to scale the culinary heights or be the best looking dish on the block, it is an authentic taste of Tenerife.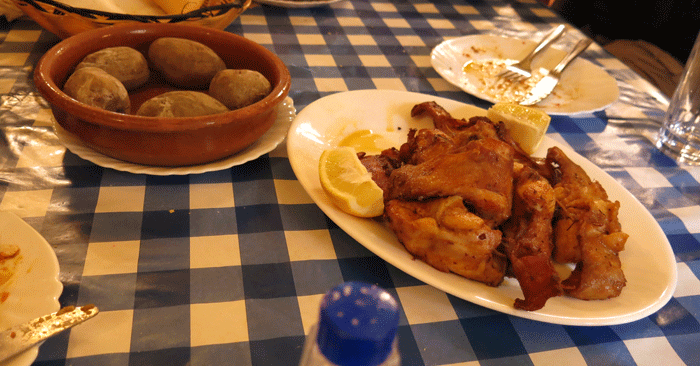 Rabbit and traditional potatoes for main course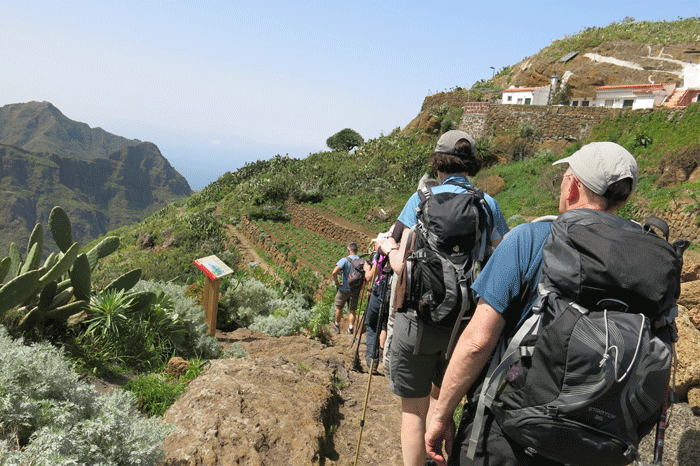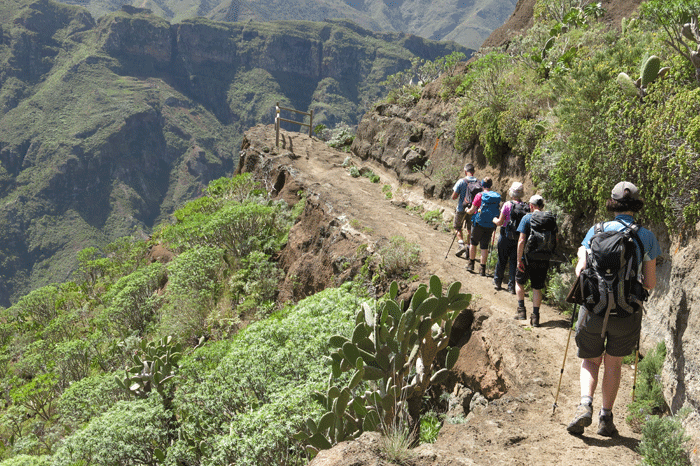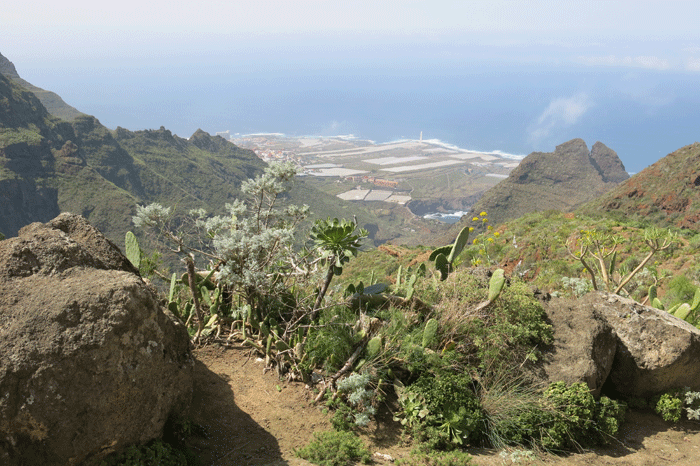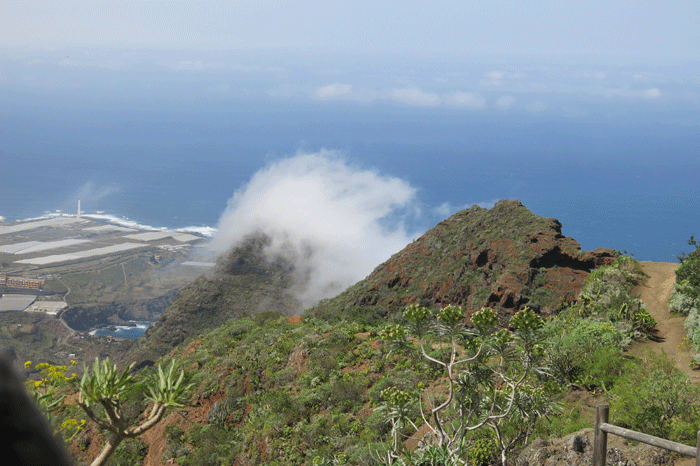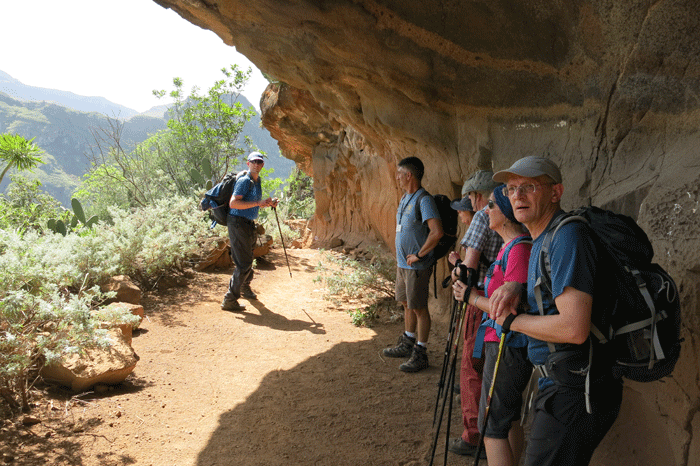 A nice cool spot in the shade.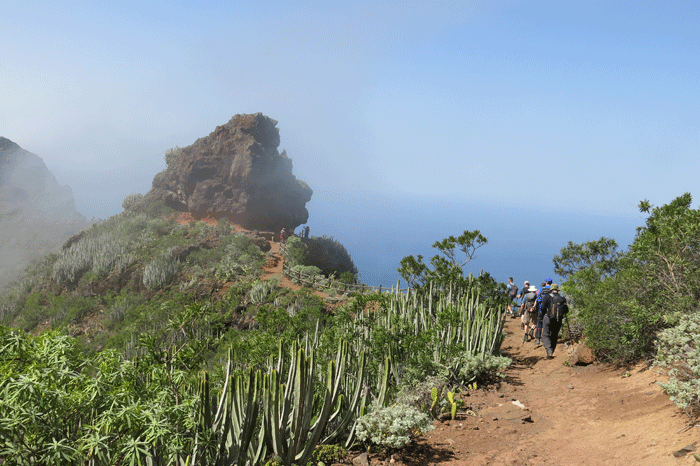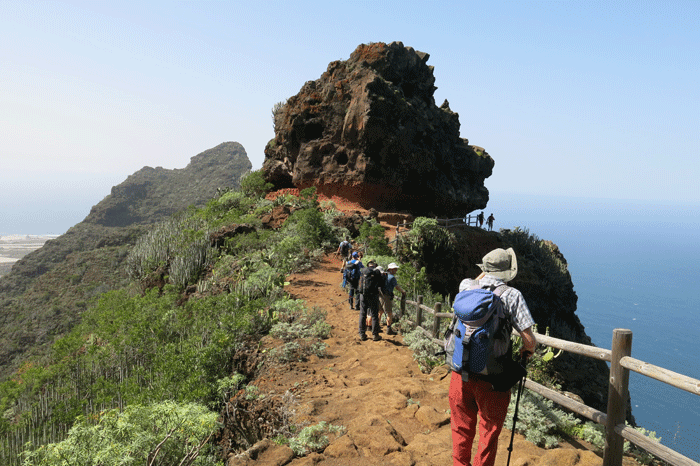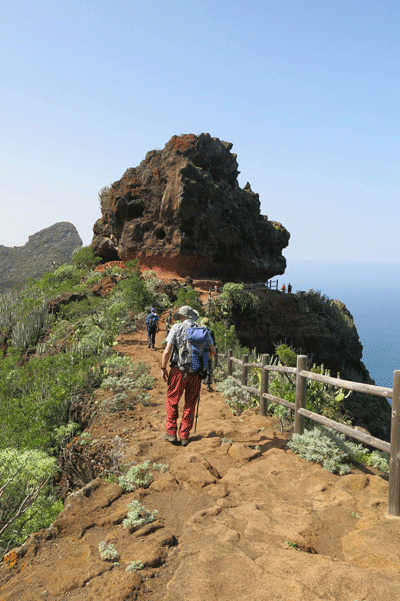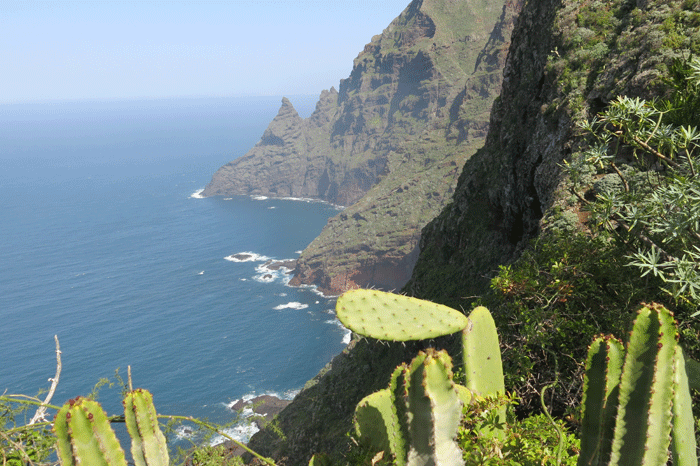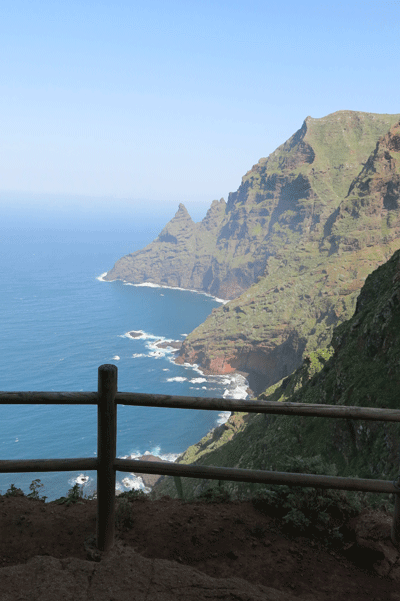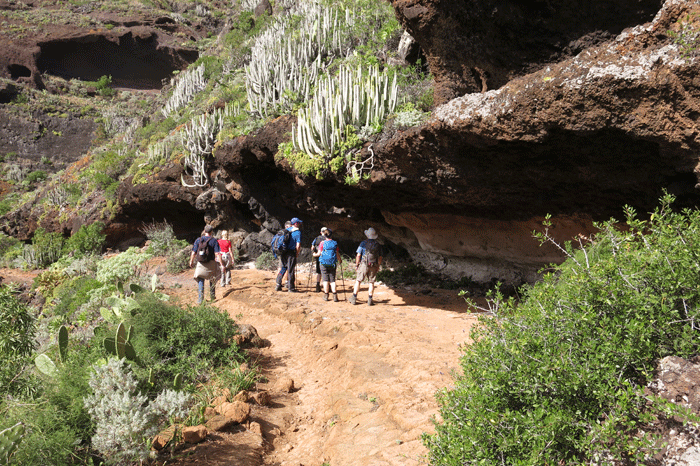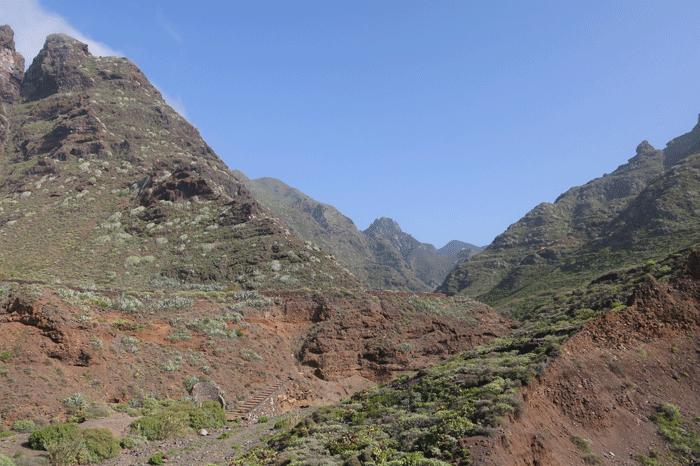 Looking back from whence we came
Punta del Hidalgo