12TH - 29TH JULY 2009
15 Days, 218 Miles, 96 Locks
Day

Miles

Locks

From

To

1

1.5

0

Ripon Marina

Oxclose Lock

2

25

4

Oxclose Lock

York

3

20

2

York

Selby Basin

4

27

6

Selby Basin

Bramwith Junction

5

20

5

Bramwith Junction

Mexborough Top Lock
Sprotbrough Bridge Moorings

6

18

4

Sprotbrough Bridge Moorings

Pollington Lock Moorings

7

9

2

Pollington Lock Moorings

Ferrybridge Lock

8

15

11

Ferrybridge Lock

Office Lock, Leeds

9

8

11

Office Lock, Leeds

Apperley Bridge

10

4.5

5

Apperley Bridge

Saltaire

11

3

11

Saltaire

Top of Bingley 5-Rise Locks

12

13

0

Top of Bingley 5-Rise Locks

Skipton

13

0

0

Skipton (R&R)

14

8

12

Skipton

Langber, East Marton

15

9

10

Langber, East Marton

Borrowford, Below Lock 51

16

28

6

Borrowford, Below Lock 51

Riley Green

17

9

7

Riley Green

White Bear Marina, Addlingtom

218

96
Sunday 12th July 2009
After completing the Coast-to-Coast (West) walk the day before, I was still quite tired as we departed Ripon Marina and we decided on a short and leisurely cruise down to Oxclose Lock.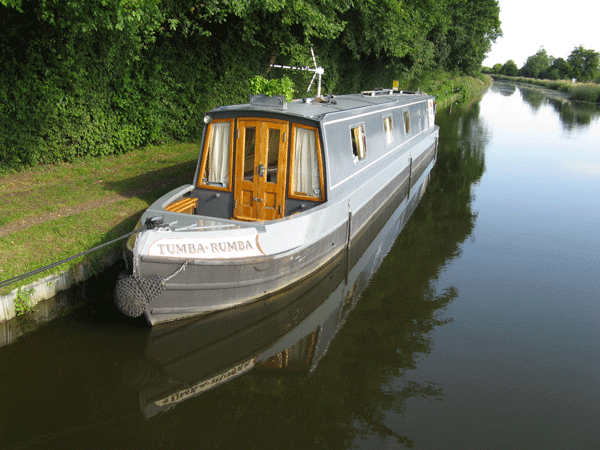 Moored above Oxclose Lock
Monday 13th July 2009
Leaving Oxclose Lock at 8-30 a.m., we cruised past Newby Hall, through Westwick Lock and were soon approaching Milby Lock along a shady overgrown cut, and ideal place for kingfisher spotting.

Approaching Milby Lock along a shaded cut
We cruised on down the River Ure/Ouse to York, mooring up in the centre between Scarborough Rail & Foot Bridge and Lendel Bridge at 3-20 p.m.

Mick, sporting the Coast-to-Coast beard, trying to look like Harrison Ford!
An enjoyable trip down the river in glorious weather, the only hard part being the passage through Linton Lock. It doesn't get any easier, but at least it was not in flood like last year!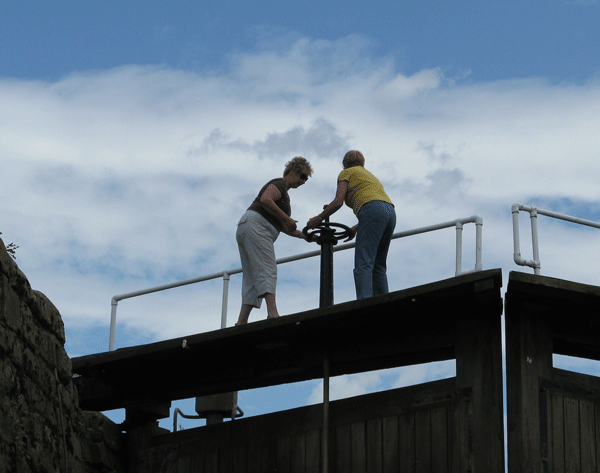 Struggling with Linton Lock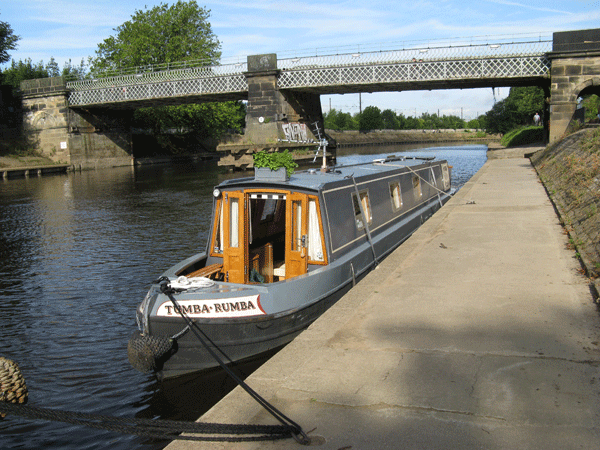 Moored near Scarborough Bridge, York
It was nice to be back in York again, and two Yorkshire Fat Rascal scones from Betty's put a smile back on our faces! Never mind the calories, they are delicious!
Tuesday 14th July 2009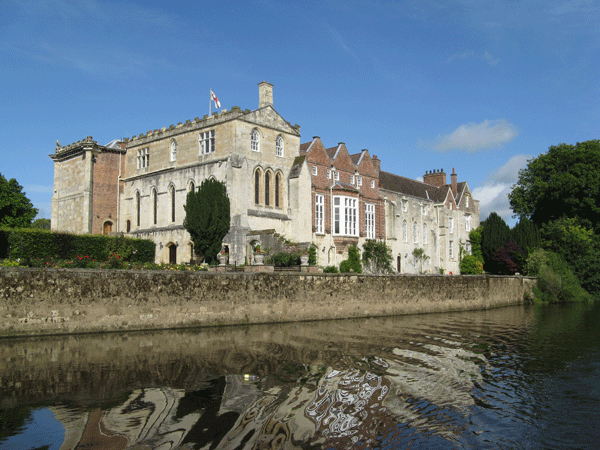 Bishopthorpe Palace
We left York at 8-30 a.m. and an hour later we were moored up at Naburn Locks waiting for the ebb tide. We enquired with the lock keeper about the health of "Sid the seal", who we had seen swimming above the lock last year, to be advised that he was in good health and had been enjoying the salmon in the river. There is a salmon leap next to the weir at Naburn to allow the salmon to go up river.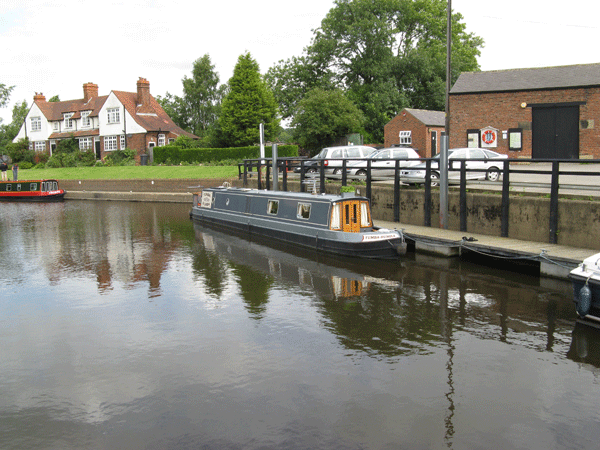 Moored at Naburn Locks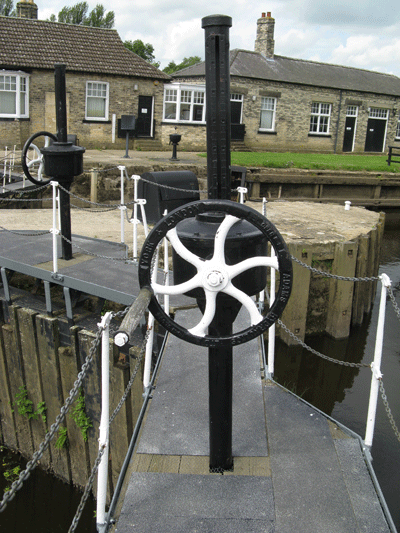 The lock keeper allowed us in to the lock just before 1 p.m. The locks are huge, with capacity for 6 sixty-foot narrowboats at a time. Three other boats went in with us, and we were soon in a procession heading down the river towards Selby.

Boat leaving Naburn Locks
Care had to be taken on this section as there were many "foreign objects" floating in the river, including many tree trunks and even a dead calf.

Approaching Cawood Swing Bridge
The scenery on this stretch is monotonous, and the highlight was navigating the strong current for a 360 degree turn so as to be heading back up river for the entry in to Selby Lock. We were soon through the lock and moored up for the evening in Selby Basin.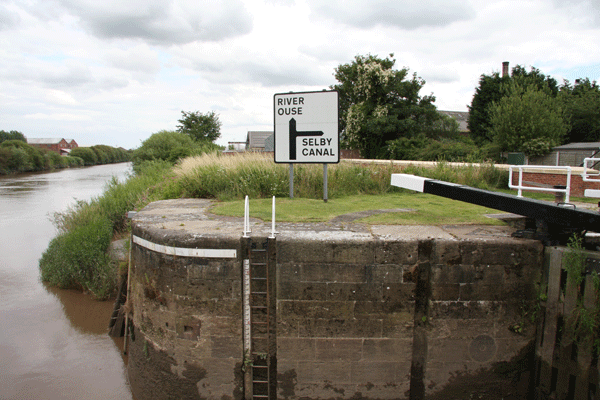 Entrance to Selby Locks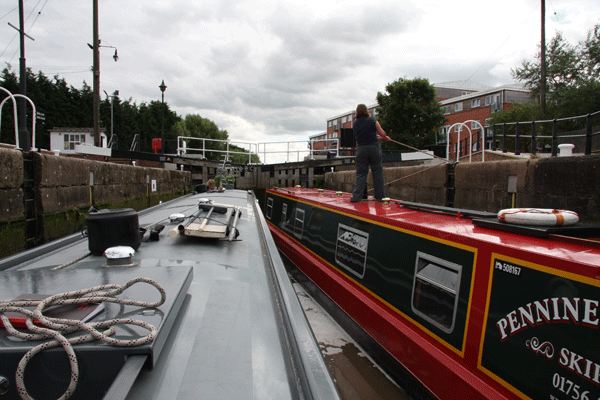 Selby Locks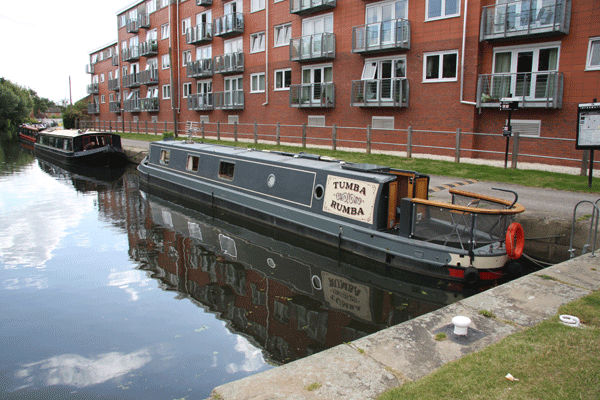 Moored in Selby Basin
Wednesday 14th July 2009
Departing Selby Basin at 8-45 a.m. we passed through Selby Swing Bridge and headed down the Selby Canal to West Haddlesey.

Down the Selby Canal
The Selby Canal has little going for it; the scenery is mediocre and the amount of weed in the canal is not good. At West Haddlesey Flood Lock we joined the River Aire and continued on our way towards Bank Dole. Passing through Bank Dole Lock we turned to the left down the Aire & Calder Navigation. We had not gone a few hundred yards when we became aware of a huge boat approaching behind us. No way we could compete with this so we pulled over to the side to let it go through.This boat was amazing, and the captain's bridge was supported on hydraulic supports so that it could be lowered to enable it to go under the low bridges.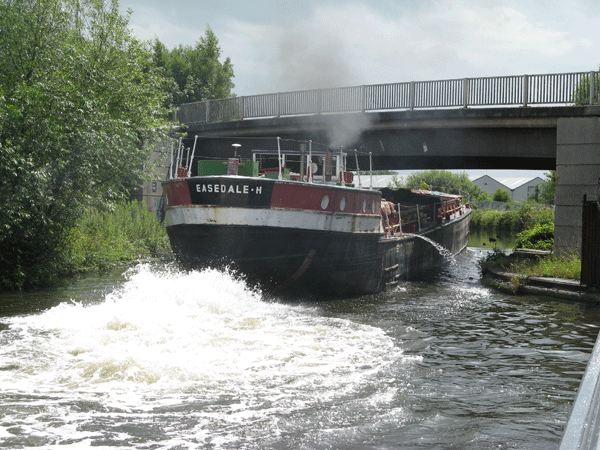 Captain's bridge lowered to navigate the low bridge
The Aire & Calder is a very wide, long, straight canal with few locks...... the locks are huge but fortunately are hydraulically operated using a BW key. Whitley Lock comes first, followed by Pollington Lock. Shortly after this the South Yorkshire Navigation goes off to the right, over the Went Aqueduct.

This section of the canal is straight.... dead straight.... and there are many lift bridges and swing bridges.

Sykehouse Lift Bridge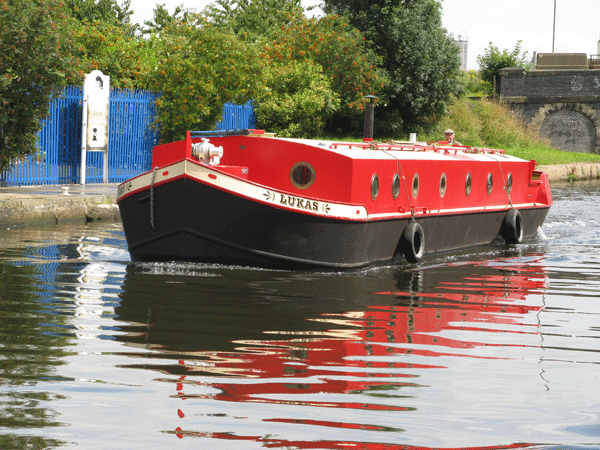 Wide beam boat "LUKAS"
Soon we approached the "Sykehouse Lock & Swing Bridge".

Sykhouse Lock & Swing Bridge
This place is unique and should be used as an entrance test for those wishing to join MENSA! It is a long hydraulically operated lock with a swing road bridge in the middle! Understanding how it works is a bit of a challenge, but in essence
The first control pedestal operates the sluices and the gates, but does not have a place for your BW key.

You have to put you BW key in a pedestal in the middle of the lock, next to the Swing Bridge. You have to leave your key in this pedestal until you have gone through the lock.There is a sign telling you to "Proceed to bridge pedestal"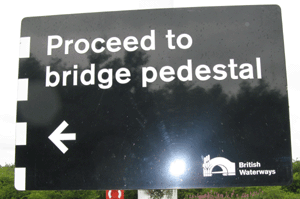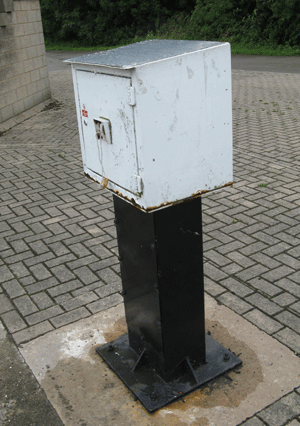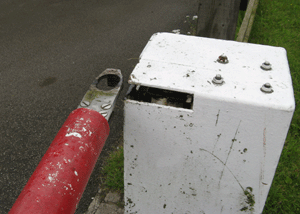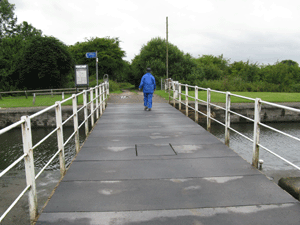 Don't forget the barrier on the far side otherwise it won't work!
Then you have to pull up a large black handle with a loop on the top to release the swing bridge. This allows you to swing the bridge out of the way. A second large black handle with a loop on top locks it into position in the open position. You can easily get a hernia lifting these levers!

Now you can go back to the entrance to the lock where there is another control panel to let the water out of the lock.

Next you can open the lock gates and enter the lock.
Next you close the lock gates
Next you can go to the far end of the lock and raise the paddles to let in the water.
Now you can open the upper gates and drive out.
Next you close the lock gates.
Next you go back to the swing bridge, pull up the black locking handle and swing it back into position, engaging the second black handle when it is in the closed position.
Now you can open the two traffic barriers.
Now you can retrieve your BW key.
Phew!
And to top it all there is a sign telling you not to inconvenience the traffic on the road! If there is ever a lock that should be manned by BW staff...... this is it!
We pressed on through Kirkhouse Green Lift Bridge, Top Lane Lift Bridge, Low Lane Lift Bridge and over the Kirk Bramwith aqueduct before mooring up at Bramwith Junction.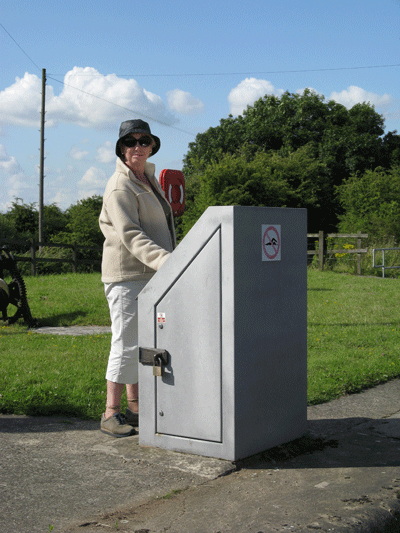 Sue operating the lift bridge
Thursday 15th July 2009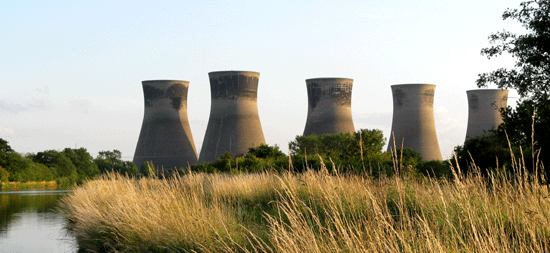 View from our mooring at Bramwith Junction
We left our moorings at Bramwith Junction at 8-40 am and headed for Mexborough, not sure what to expect. But actually it was very pleasant cruising with the mighty River Don coursing beneath high wooded banks.

Barnby Dun Lift Bridge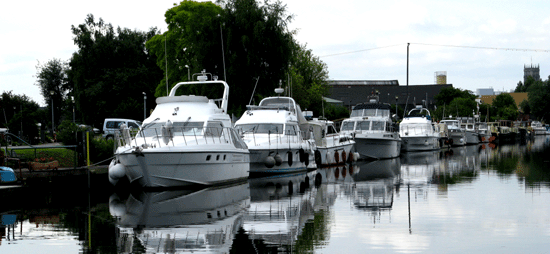 Strawberry Fields Marina, Doncaster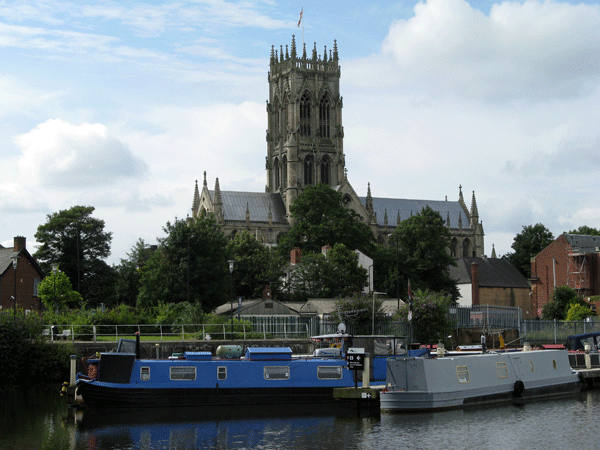 Doncaster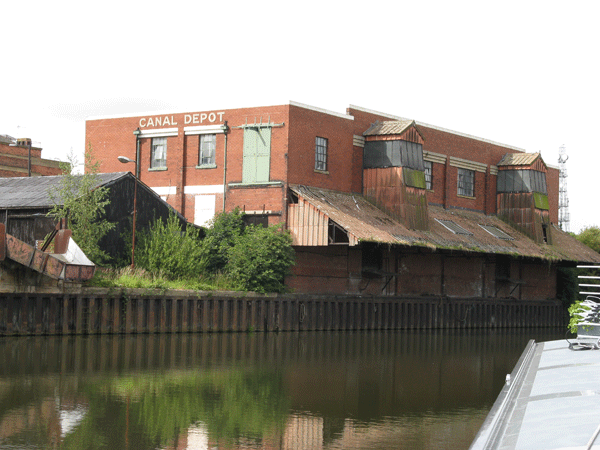 Old Canal Depot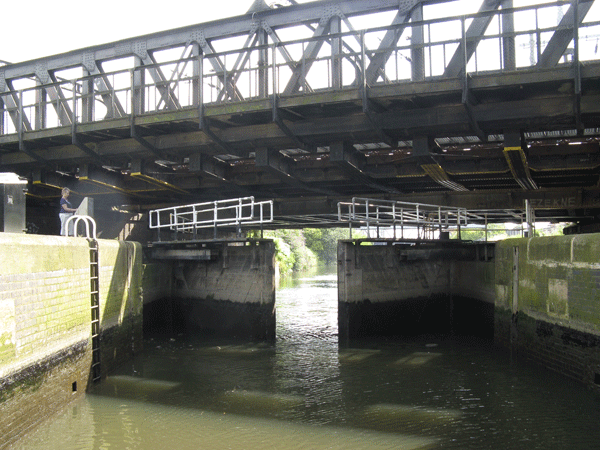 Doncaster Town Lock
The 4 locks we did up to Mexborough Top Lock were all huge, automated and well kept. We cruised under Conisborough Aqueduct, a mighty construction in blue brick worthy of "Heritage Site" status, and on past Consiborough Castle.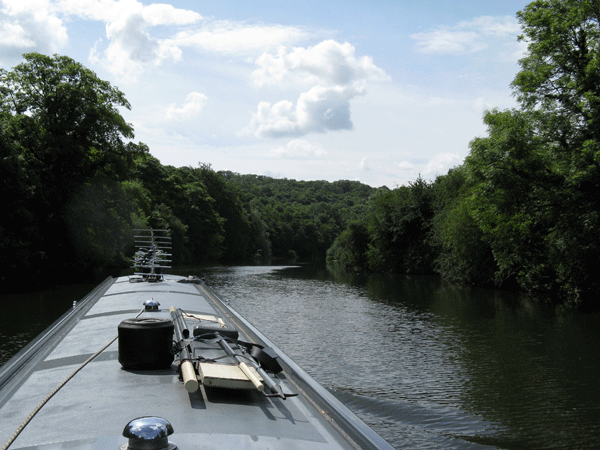 The tree lined River Don

Conisborough Aqueduct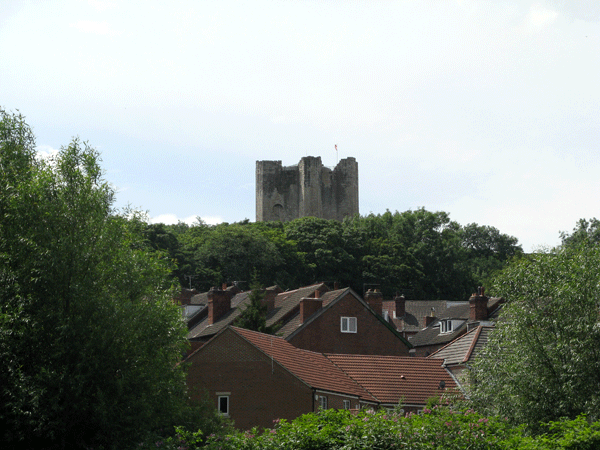 Conisborough Castle, peeping above the trees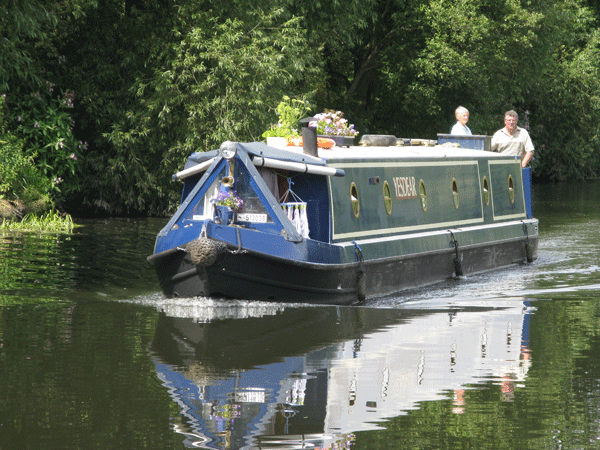 nb "YESDEAR" steaming up the River Don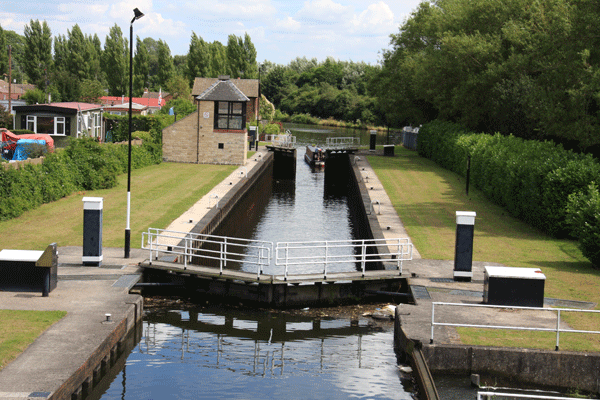 Mexborough Top Lock
After a walk around the town and some shopping, we headed back towards Doncaster and moored for the night at 4 pm at Sprotbrough Bridge moorings. These were quite nice visitor moorings, with the pleasure boat Wyre Lady operating from the opposite side of the river.

That's what you call a "Boat"! Glad we did not meet it on a bend! The "Humber Princess" navigating Sprotbrough.
Friday 16th July 2009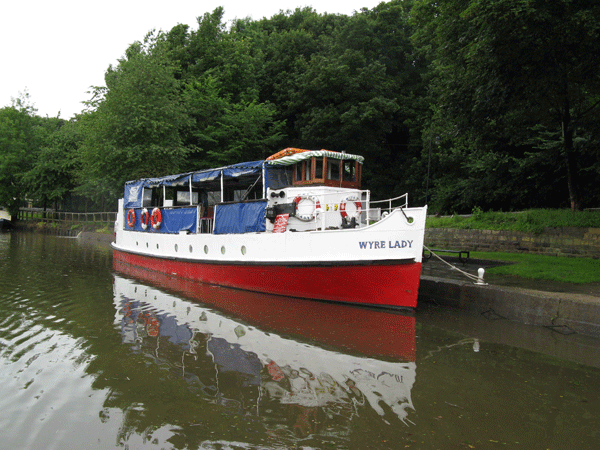 Wyre Lady Pleasure boat moored neared Sprotbrough Lock
We woke up to heavy rain and wind and decided to stay moored up until it had blown over. By 11 0'clock the rain had subsided and we were on our way, retracing our steps to Bramwith Junction.

Lots of large vessels on this stretch of water!
At least one lock and a swing bridge were manned by BW staff today, which helped our passage no end. We continued along the New Junction Canal, battling again with the Sykehouse Lock/Swing Bridge. By now it had started to rain and as we turned out of New Junction Canal on to the Aire & Calder Navigation a real hooley blew up! We reached the visitor moorings at Pollington Lock at 4 p.m. with heavy rain and strong winds, and decided to moor up for the day.
Saturday 17th July 2009
The weather was better but still overcast as we made our way from Pollington Lock to Ferrybridge. The river was quite high with water coming off the Pennines after the previous days rain, so the lock was closed. We arrived at 12-15 p.m. and moored up for the day.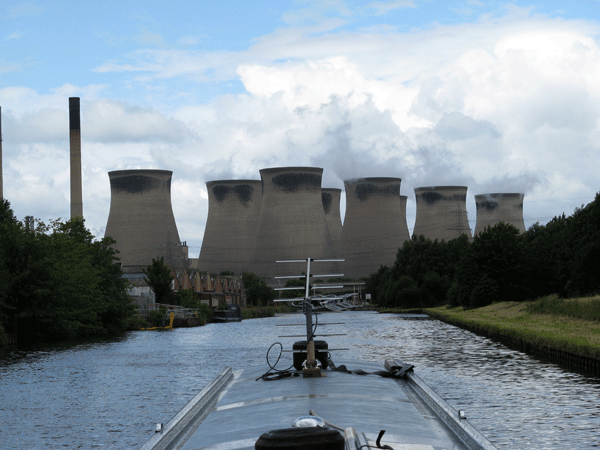 Approaching Ferrybridge Lock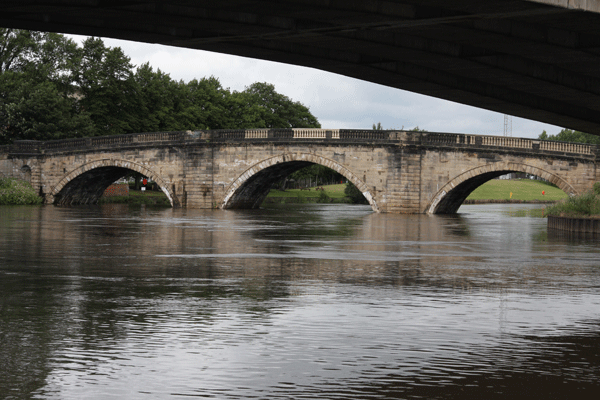 High water level at Ferrybridge
Sunday 18th July 2009
We woke early and headed to the top end of Ferrybridge Lock to check the level of the river. It had gone down a lot overnight, and was well on to the "orange" strip.... proceed with caution. One boat headed out through the lock and it was obvious that the current had reduced a great deal compared to the evening before. After some discussion with another boat, "nb Whileaway" we decided that it was safe to proceed, and agreed to go in convoy.

Out on the river
Once out of the lock and on to the river proper we were surprised how benign it was. Another boat was waiting to go through the lock at Castleford, so we passed through together. The two other boats carried on straight towards Huddersfield as they had a booking through the Standedge Tunnel the following Wednesday. Apparently BW no longer use the electric tugs to pull you through the Standedge Tunnel any more; a BW man actually comes on your boat and takes it through for you using the boat's engine power. We turned right for Leeds. The weather was bizarre. One minute it was warm and sunny and you had to peel off layers of clothes, next there was a hooley blowing with heavy rain! We moored up at the Armouries pontoon at Leeds to take on water, and as it was quite early we decided to press on through Leeds. The centre of Leeds has changed quite a bit since we last came through, and at River Lock we were met by a British Waterways man who operated the lock, but said that we could not go much further that day. We moored up just after Office Lock, behind a boat that was heading out at 7-30 a.m. the next day. BW open the locks at 8 a.m., so we agreed to pair up with the other boat as far as Rodley. The BW man advised us not to stop before Rodley; he recalled an incident where a boat had moored up and had been attacked by 15 youths with hammers who stole everything on the boat! We did not need telling twice. Whilst it was nice to be back on the canals again, it made us realize how free and easy navigating the rivers had been! Hello Sykehouse Lock..... all is forgiven!!
Monday 20th July 2009
We set the alarm for 7 a.m. so as to be ready to leave at 7-30 a.m. with the other boat, but it had already left at 7 a.m. We never saw it again, so we did the 11 locks to Apperley Bridge by ourselves.

Leaving Leeds
We passed through St Ann's Ing Lock and arrived at Oddy 2 Locks at 8-10 a.m., just after it had opened.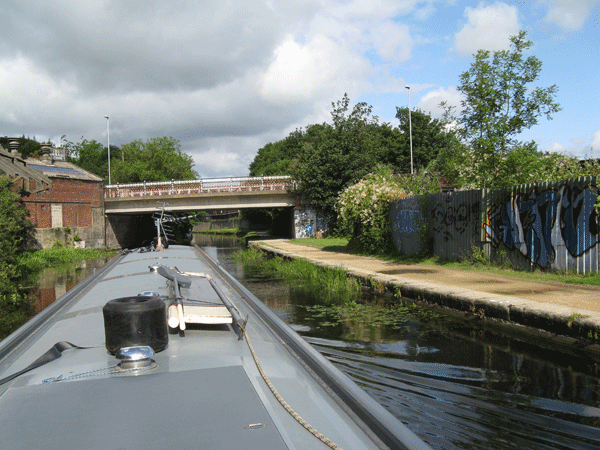 Quite a rough area as you leave Leeds, with graffiti everywhere
Two BW men helped us through this lock, and then we carried on to Kirkstall Lock. We received help from BW men again at Forge 3 Lock and Newlay 3 Lock.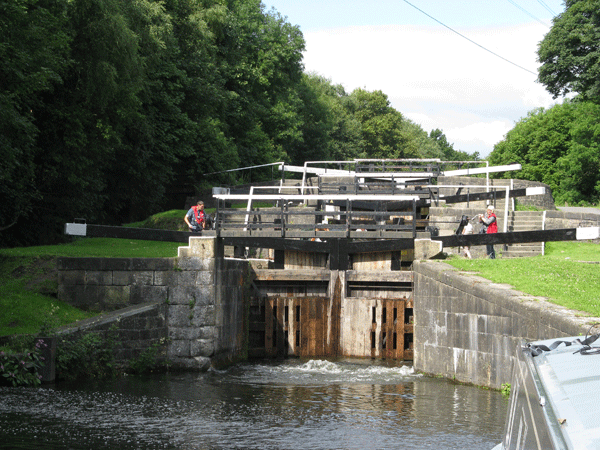 Forge 3-rise Locks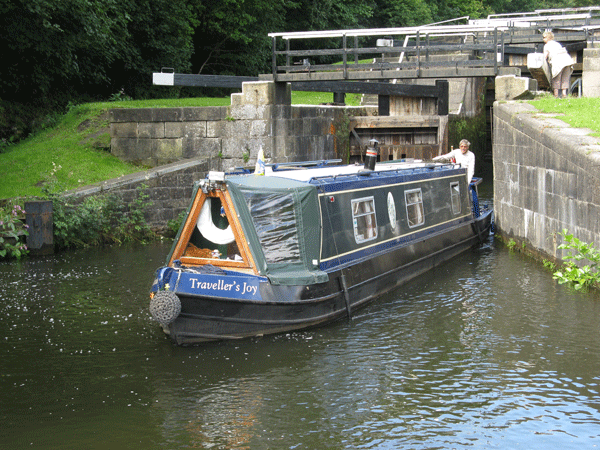 nb "Traveller's Joy" leaving Forge Locks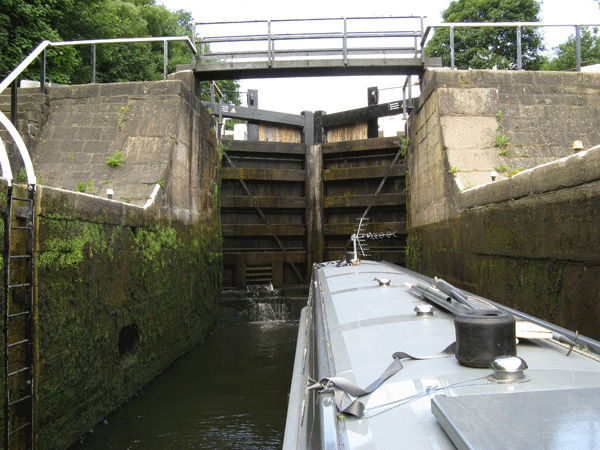 The middle gates are quite impressive in Forge Locks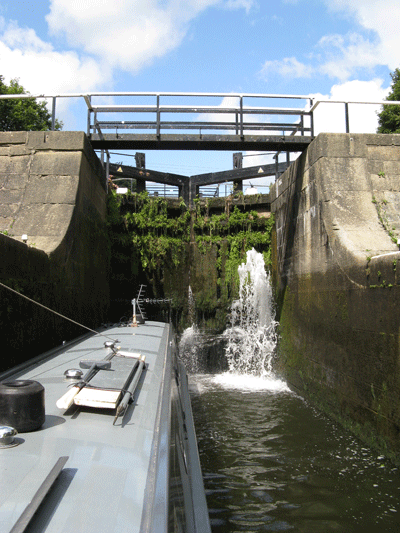 In Newlay Lock, we were forced to moor on the left hand side, due to a cascade of
water surging through the poorly maintained lock. This could easily flood the front
of the boat if you were on the right.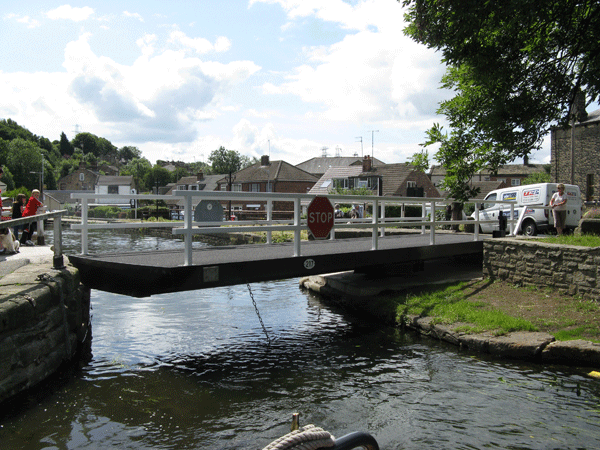 The first of many swing bridges comes after Newlay Locks.
We had been looking for somewhere to buy diesel for some time, and decided to press on to Rodley Boat Center, which, according to Nicholson's guide book, sold diesel. The Boat Center was pretty run down and despite walking around the yard there was no one to be found. We pressed on to Apperley Bridge and filled up with diesel near the marina, just before Dobson 2 Locks. Calder Valley Marine, Apperley Bridge insist on selling diesel at a 60:40 propulsion:heating ratio, giving the purchaser no choice. Their diesel pump is really antiquated, and they only sell in units of 10 litres. Still it was reassuring to fill up, as there do not seem to be many places offering diesel these days! We moored up at 1-30 p.m. alongside houses just past the marina, and walked to the nearby Sainsbury's for supplies.
Tuesday 21st July 2009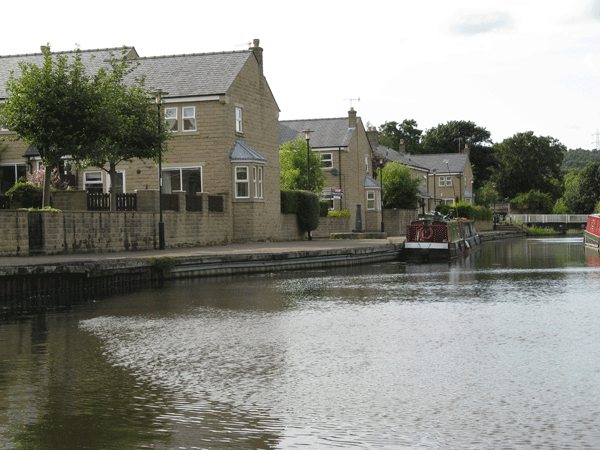 Moorings at Apperley Bridge
We left our moorings at Apperley Bridge at 8-30 a.m, passed through the swing bridge and headed for the Dobson 2-rise locks.

Dobson 2-rise Locks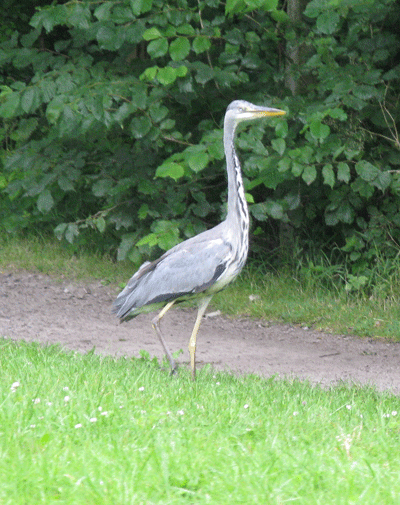 Waiting for lunch
Although there was a BW office and maintenance yard next to the locks and plenty of blue-shirted people wandering around, we had to do the 2-rise on our own. The lock is poorly maintained and Sue could not turn the lever to operate the bottom paddle, so I tied the boat up and went to help. Even for a man it was hard and only one of the two bottom paddle winders were working. There is no indication on the bottom lock arms which way to turn to open and which way to close. It is not intuitive, and with the arms being so stiff you wonder if you are turning them the right way! It was 9-30 a.m before we were clear of the Dobson Locks, and we then made our way to the Field 3-rise Locks.

Field 3-rise Locks
Fortunately there was a BW man on the locks which made passage easier. After leaving the Field Locks we cruised along a high embankment towards Saltaire. The bank was eroding away in places restricting the width of the towpath, another example of lack of maintenance on this stretch. One imagines there could easily be a breach if it gets worse.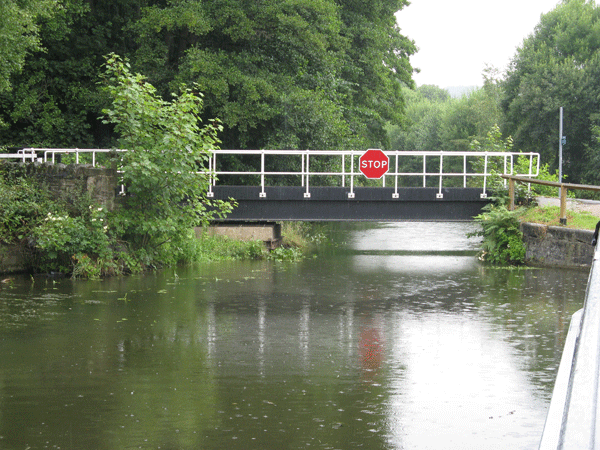 One of many swing bridges
We arrived in Saltaire as the heavens opened up; there are visitor moorings there but they are only long enough for a couple of boats. One boat had buttied up already. The frustrating thing is that there is ample mooring space beyond the "official" moorings..... going well under the road bridge... but there are no mooring rings or rails to tie to. Not to be defeated and because of the heavy rain I managed to use one mooring ring and then put a couple of pins in for the front of the boat. It was 12 noon by the time we were moored up and we were ready for lunch! We got talking to an American couple on the boat buttied up, and they advised that the lack of maintenance and the rubbish in the canal was noticably worse as they progressed from Liverpool eastwards. We felt that there had been a significant deterioration in the canal since we did it in 2004.
The place to go in Saltaire, especially when it is raining, is to "The Salts", Sir Titus Salt's mill built in 1853 which hosts a permanent exhibition of works by David Hockney.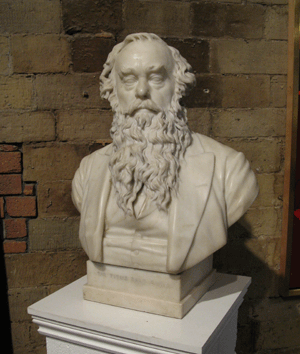 Bust of Sir Titus Salt in marble
Wednesday 22nd July 2009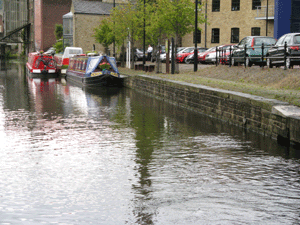 Moorings at Saltaire, but no mooring rings ahead of the boat moored!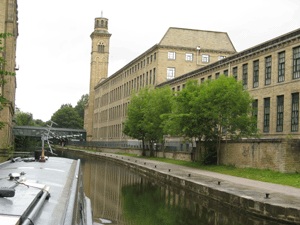 Leaving Saltaire, with more visitor moorings on the righ hand side
We left the moorings at Saltaire at 9 a.m. and headed for Hirst Lock and swing bridge. We had just gone through the swing bridge when we became aware that nb "Dire Straits" was approaching the lock, so we moored up to wait for them. Thereafter it was much easier to be going up the multi-rise locks as a pair. The Hirst Lock was not in goor repair; one bottom paddle was broken and the other dropped to the shut position if you removed your windlass from the winder.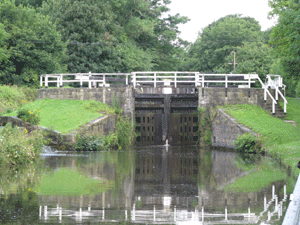 Hirst Lock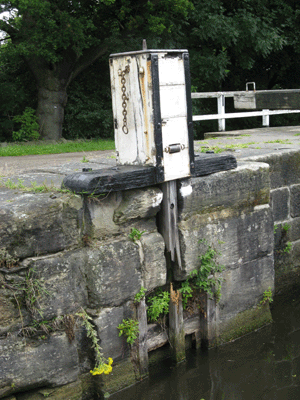 Faulty bottom paddle mechanism at Hirst Lock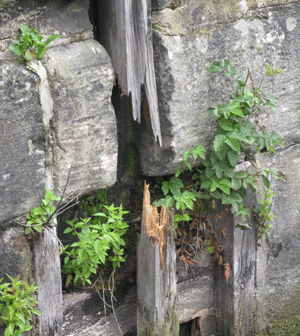 The reason it wasn't working was plain to see.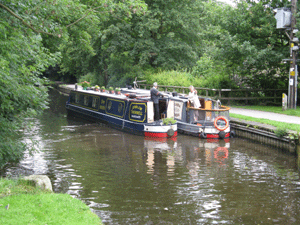 Moored with nb "Dire Straights" at Hirst Swing Bridge
Next came the Dowley Gap 2-rise locks. Again they were not well maintained and one bottom paddle was out of action. On top of that there was a cascade of water coming through the top gate.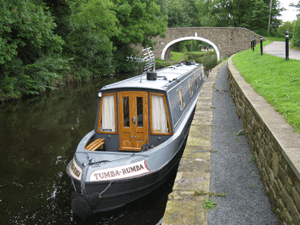 Moored by Dowley Gap Locks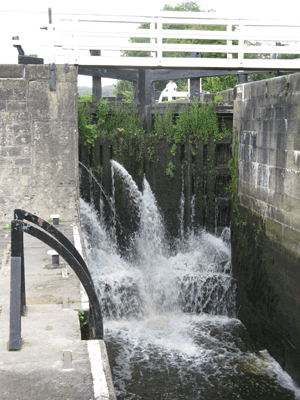 Water coming through the top gates at Dowley Gap Locks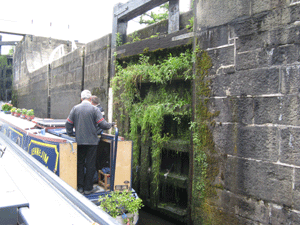 Leaving the lock gates covered in weeds must surely make them rot quicker and shorten their life.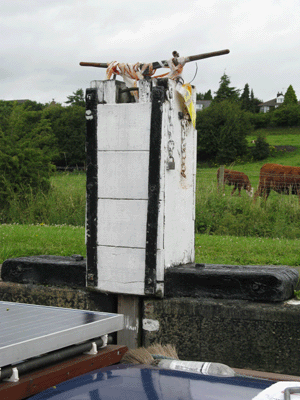 Judging from the discolouration of the tape, this lock paddle mechanism has been
out of commission for some time!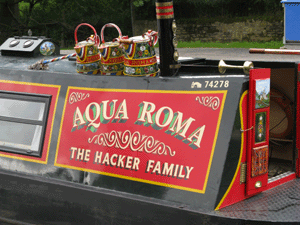 Nice paint work on boat waiting to pass through Dowley Gap Locks
Next came to Bingley 3-rise locks. We thought that we were going to have to wait 20 minutes as there was another boat waiting to come down. However it turned out to be a hire boat; they were trying to turn a 57 foot boat in a 58 foot wide canal and had got stuck! They were going nowhere, but with help with their front rope we managed to pull them round.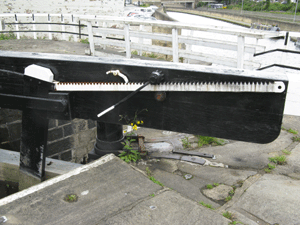 Unusual paddle mechanism on Bingley 3-rise locks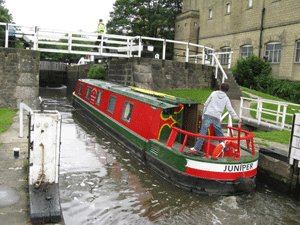 Boat in second chamber of Bingley 3-rise
The Bingley 5-rise tooks 50 minutes to complete, and then we moored up for the day at the top. We moored just in time as there was a sudden downpour shortly afterwards.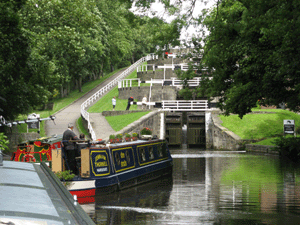 Bingley 5-rise Locks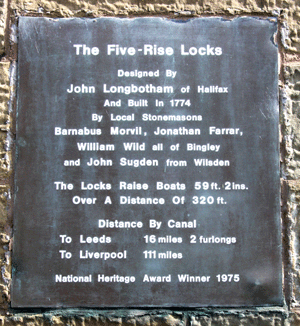 235 year old locks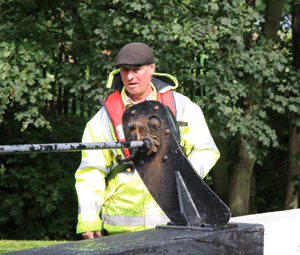 Barry Whitelock, the Bingley 5-rise supremo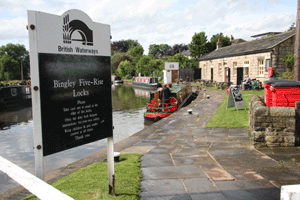 Nice cafe at the top of the 5-rise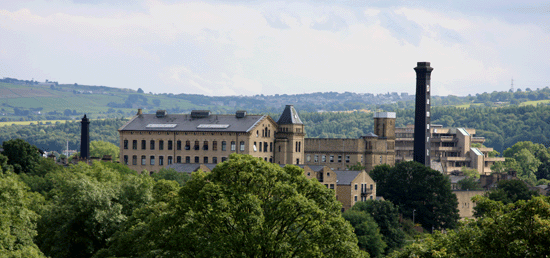 View over Bingley
Thursday 23rd July 2009
We set off at 8-30 a.m. for the 13 mile run to Skipton. Although the canal follows the contours and there are no locks, there are 19 swing bridges which take a lot of time to pass through. There were quite a few boats on the canal, mainly hire boats out of Skipton, which worked to our advantage as many of the swing bridges were open in our favour.

Scenery of the Aire Valley starts to get spectacular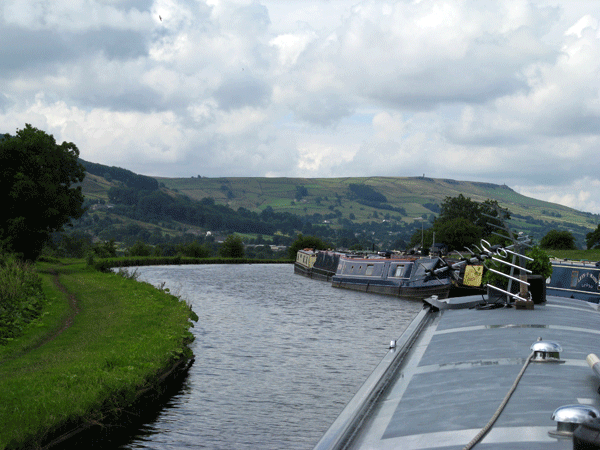 The valley is hemmed in by hills on either side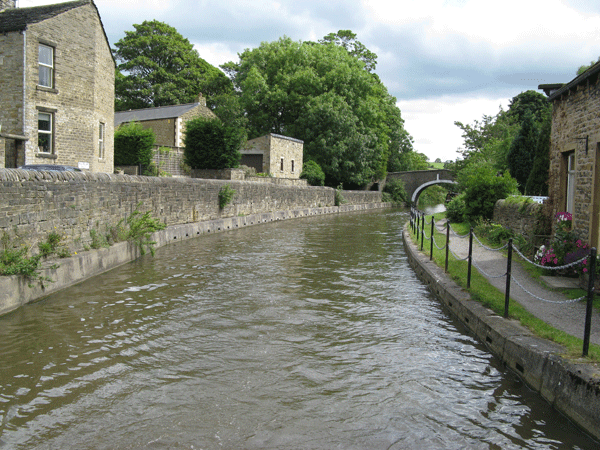 Kildwick

It took 5 hours to reach Skipton, and we arrived at 1-30 p.m. You are quite apprehensive as you come in to Skipton as there are boats moored everywhere and at first sight there are no moorings to be had. There are white tops on the right hand side, but these are supposed to be for the watering point and mooring is restricted....... although the signs have long since been scrubbed out and I suspect that people just moor up anyway. We stopped there temporarily whilst I went around the corner on foot; there was one mooring space on rings just opposite the Springs Branch, so it was a dash to get back to the boat and "bag" the spare mooring before someone else got it! We had our first Fish 'n Chips of the trip at Bizzie Lizzes.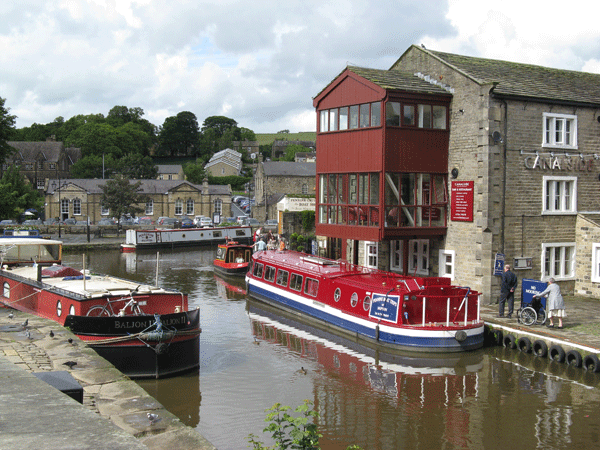 Skipton
Friday 24th July 2009
To comply with EU Directive 775191, "Fair Treatment of Boat Crew (Wives) - Permissable Shopping Opportunities Directive" the Captain (Temporarily-in-Charge) declared Friday as a day off! We had intended to go for Italian food in the evening, but when we got there we found that both were fully booked! We decided to try the other chip shop, Bizzie's at the top end of the town near the M&S Simply Food Store.
Saturday 25th July 2009
We set off at 8-30 a.m. and passed through the first swing bridge at Skipton to the watering point. There are some quite good moorings between the first and the second swing bridges if all the moorings in central Skipton are taken.

Alternative moorings between the swing bridges after Skipton center
After that we headed for Gargrave Locks at a leisurely pace, as the sun was shining and it was a joy to be on the canal.

Canal starts to enter open hilly countryside
At Gargrave we were surprised to see a queue of 4 boats with 2 in the locks. Apparently, due to the fact that thay had drained the main reservoir near Foulridge to do maintenance they had imposed a 10 a.m. to 6 p.m curfew on the Gargrave and Bank Newton locks to preserve water. This had caught people out, and some had been waiting for an hour and a half for the locks to open. It did seem to take a long time at it was 12-30 p.m. by the time we had gone through the Gargrave "6". At least it was a nice day and we did have BW men helping us to do the locks.

nb "Suzie Two" at Gargrave Top Lock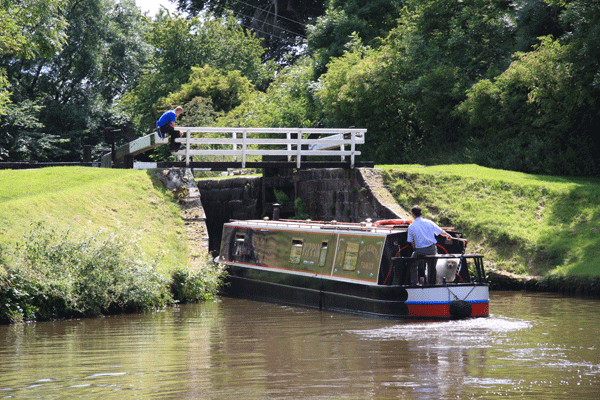 Bank Newton Locks
We passed through the Bank Newton locks much quicker and it was 3-30 p.m. by the time we got to the bendy bits where the canal snakes around following the contours. It is such wonderful scenery at this point that we decided to moor up for the night. This was an almost identical spot that we moored in 5 years ago.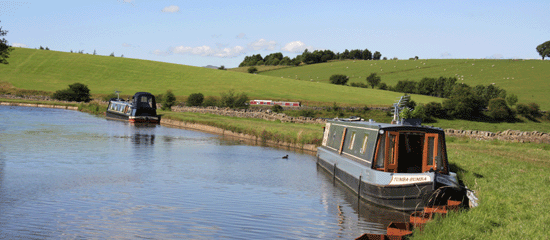 Moored at Langber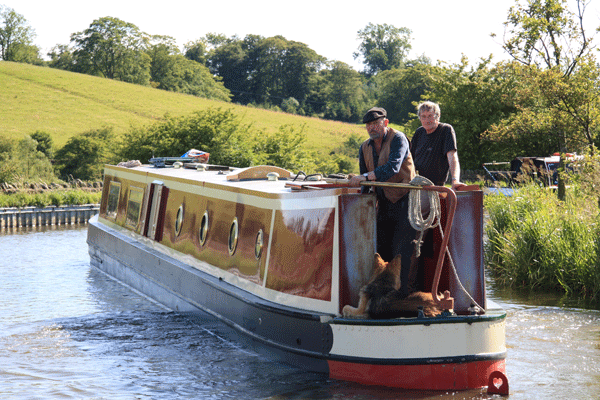 John and Chris on nb Inertia stopped by to say hello.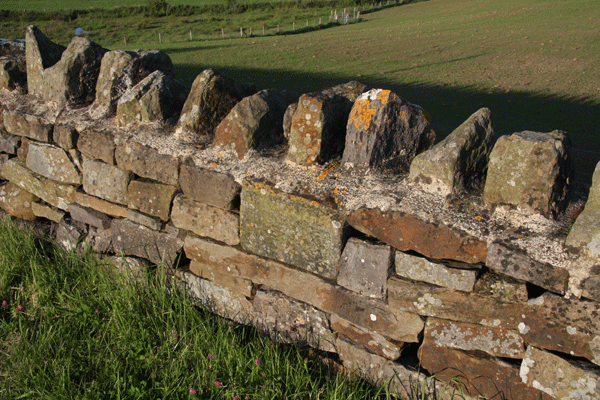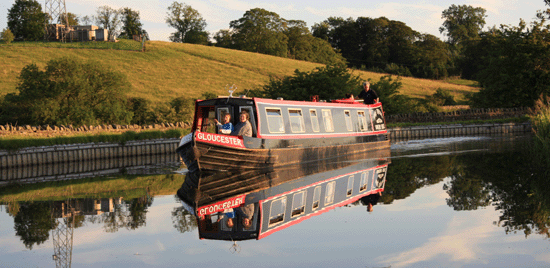 nb "Gloucester"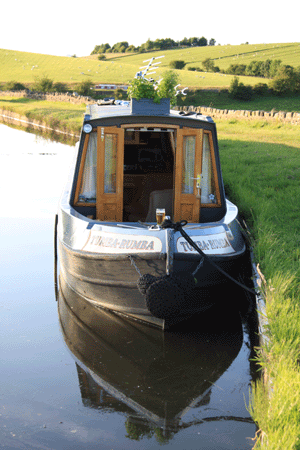 Evening at Langber
Sunday 27th July 2009
We left Langber at 9 a.m. and headed for the 3 locks at Greenberfield.

Moored ready to enter Greenberfield Locks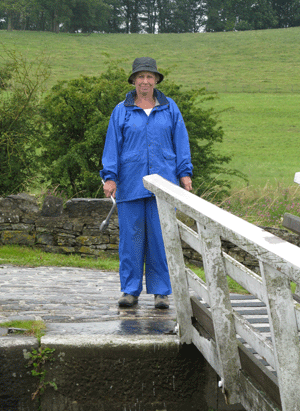 Crew not impressed with the weather
We pulled in to Lower Park Marina and boatyard just before bridge 152 and found John and Chris, nb Inertia, taking on water there. We continued with them for the rest of the day. John warned us of the very sharp turn at Salterforth, which we were grateful for, as you would not want to do that bend at speed and find another boat coming.

The double-arched bridge (#161) at East Marton
We arrived at the Foulridge Tunnel and had a 10 minute wait before we were on our way again. A boat that came out of the tunnel just before we went in was steam driven, and there was a noticeable smell of "steam traction" pervading the tunnel.

Steam driven narrowboat leaving the Foulridge Tunnel
The weather had been pretty miserable ever since we left Langber, but now it turned really horrible with driving rain and wind. We reached the Barrowford Locks and went down as a pair, which made it much easier. We had some problems at the bottom two locks as someone had let all the water out of the pound. We were on the mud for a short while until another boat came down behind us and gave us the water we needed to enter the lock. By the time we had finished this flight it was 3-45 p.m. and we were getting tired so we moored up for the night. Just as well we did as the rain got even heavier.
Monday 28th July 2008
Due to water rushing down the lock overflow during the night we did not get a good night's sleep and I woke at 6 a.m. We decided to make an early start and set off towards Burnley at 7 a.m. The weather was aweful. I asked a lady walking her dog along the canal where the summer was....... " It will be the afternoon" she replied. So that's official then. Summer in Lancashire was from 12 noon to 5 p.m. on Monday 28th July! Actually she was right, as in the afternoon the clouds blew away and the weather was sunny at last. It was sad going through Burnley. There were so many canalside warehouses and mills etc which were totally derelict.... down in the south of the country they would have been converted in to luxury apartments long ago.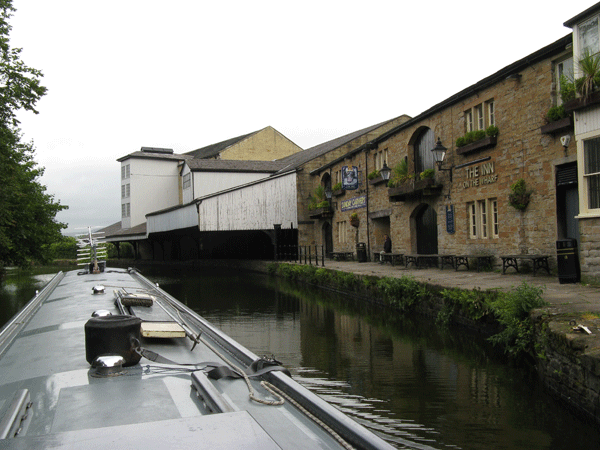 The Wharf, Burnley
There was a lot of rubbish in the canal... lots of bottles that had obviously been in the canal for years from their faded state....... it is a pity as you feel that once cleaned up it would encourage people not to throw more bottles in, but in the polluted state there is nothing to encourage people not to pollute further. And then footballs! Why are there so many footballs in the canal at Burnley?
After leaving Burnley we passed through the Gannow Tunnel. This is supposed to be two-way, but as we entered we saw two boats coming the other way and decided to wait for them to come out first. The tunnel is straight and well built, the roof being quite dry and drip free, which is unusual for canal tunnels.
We made a brief stop at Hapton to visit the chandlery and to take on diesel.
After Burnely we passed through wide open countryside until we eventually approached Blackburn and the six locks there.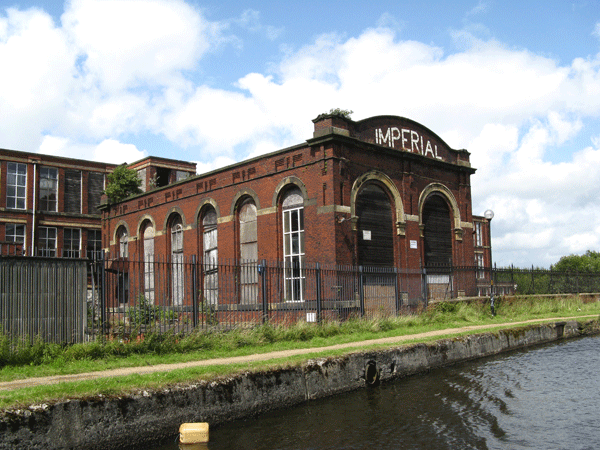 Entering Blackburn. Another old derelict industrial building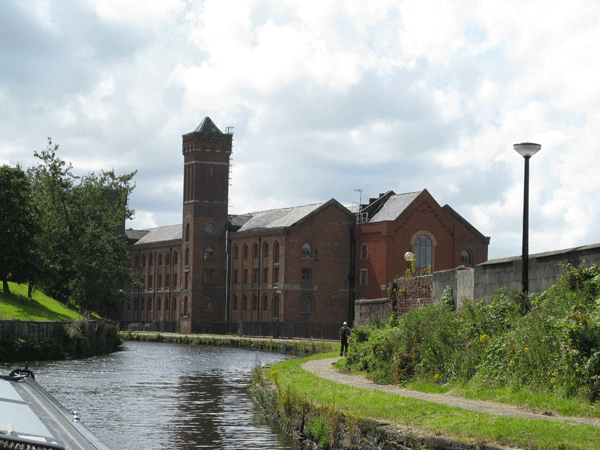 Daiseyfield Mill, Blackburn.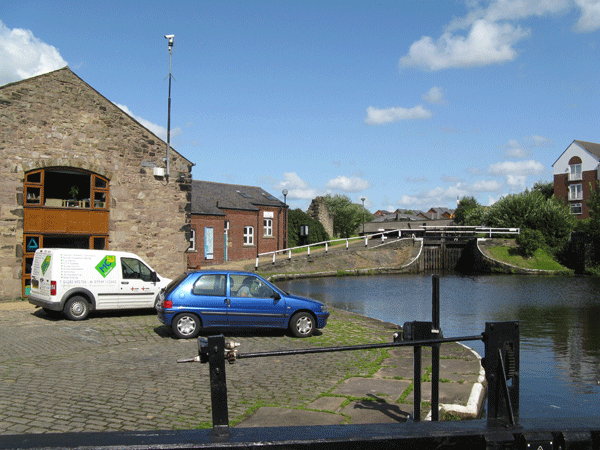 Blackburn Locks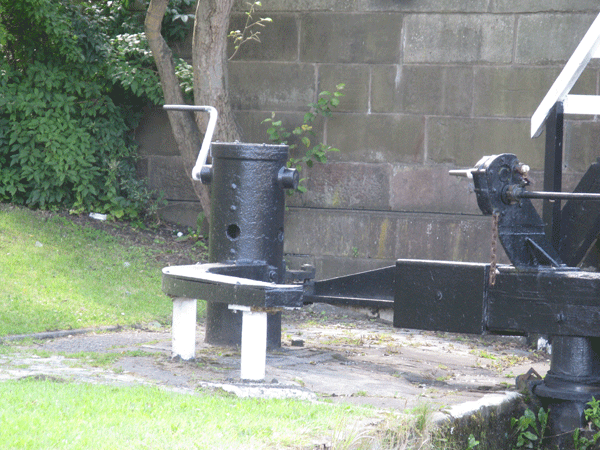 Unusual gate winding mechanism at Blackburn Locks
Again the canal was polluted with rubbish..... Blackburn seems to be the place to dump car wheels and setees in the canal! It was impossible to close the gate on the last of the Blackburn locks as there was so much rubbish behind the gate itself.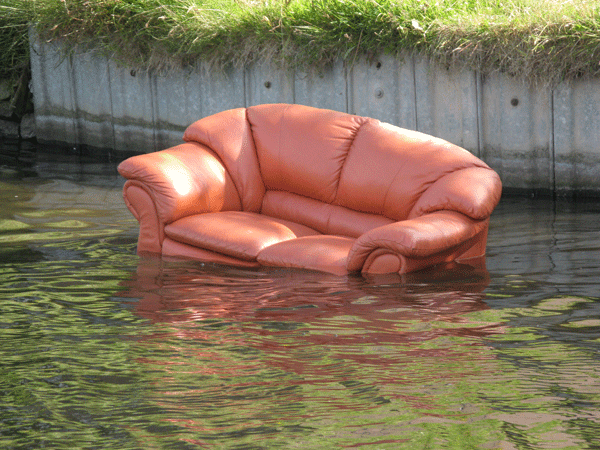 You get a better class of sofa in the canal at Blackburn.
We pressed on and eventally came to Riley Green, where we moored up for the night alongside a very nice pub, the Boat Yard. The food was really good and a pint of Thwaites "Wainwright" beer went down very well after the 11-hour day.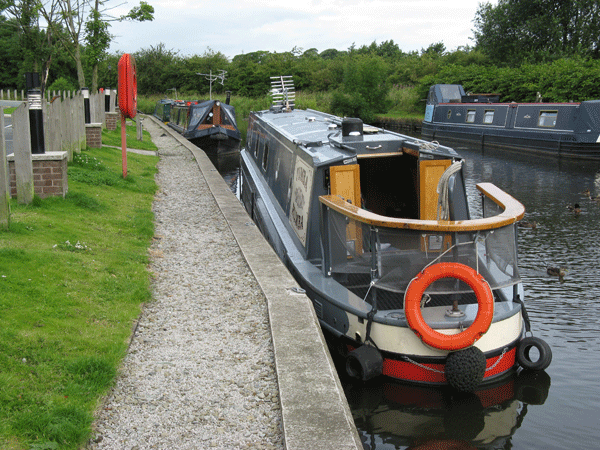 Moorings at The Boat Yard Pub, Riley Green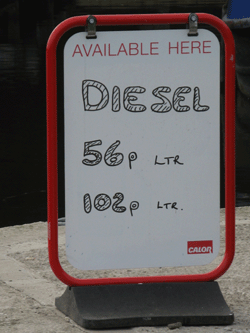 Diesel available at the small marina adjacent to The Boat Yard Pub
Tuesday 29th July 2009
We set of at 9 a.m. for a leisurely cruise to White Bear marina, Addlington. We soon reached the Johnson's Hill flight of locks, and moored up opposite the Top Lock pub to take on water.

The Top Lock pub, the Johnson's Hill Flight
At 10-15 a.m. we began our descernt of the 7 locks, only to be met by torrential rain when we were half way down. We had had a lot of heavy rain on the trip but this was TORRENTIAL! We got soaked! As soon as we came out of the locks we started looking for a mooring so that we could get out of our wet clothes, but there were none with mooring rings or with a rail to tie to. We passed the Botany Bay mill building, and moored up under the M61 bridge! There was a convenient rail to tie up to; although it was a bit dark and there was a lot of road noise, it was ideal in that we were out of the rain and could re-organise. That old favourite, the bacon butty, soon revived our spirits!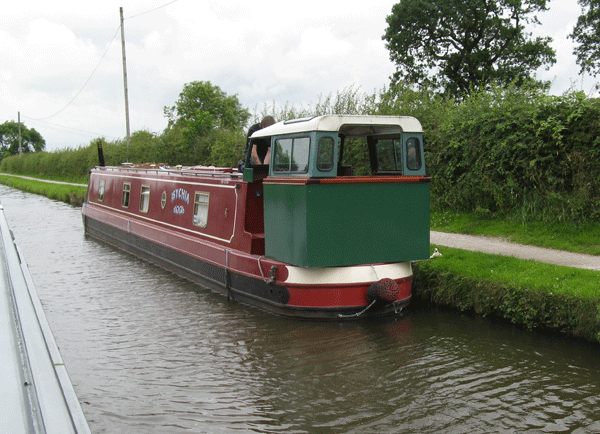 Landrover don't do narrowboats, but if they did this is what they would look like!
We arrived at White Bear Marina, Addlington about 4 p.m. and moored up. We had had a great trip despite the weather, but after nearly a month away from home on the Coast-to-Coast walk and then narrowboating I was looking forward to getting back.