St Julitta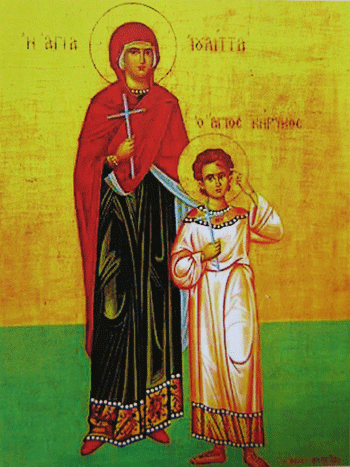 St. Julitta was a committed Christian who came from Iconium - modern day Konya. This was and still is a large and important city in the central southern part of Turkey with a long history dating back to 3000 BC. In the 3rd century AD Julitta married a wealthy nobleman, but at a young age she was widowed with an infant son. At that time the Roman Emperor Diocletian (Reigned 284 - 305 AD) was a strict believer in pagan gods and was persuaded that if anything went wrong it must be due to Christians. He started the bloodiest persecution of Christians in the Roman Empire.
Julitta escaped this persecution with her son Cyricus and two maids, and went to Seleucia, south of Baghdad, where St. Paul had been on his first missionary journey and where there was a strong Christian community. Things became difficult and she moved again to Tarsus in souther Turkey. tarsus is where St Paul was born and where he returned to live for a while after his conversion to Christianity on the road to Damascus.
Alexander, the Governor of Tarsus, heard of Julitta's Christian beliefs and tortured her. Cyricus witnessed this terrible torture and started to cry. The Governor lifted him up to sit on his knee to comfort him, but Cyricus became angry and scratched the Governor's face, shouting "I am a Christian also!" The Governor threw Circus from the high tribunal onto the stone steps fracturing his skull. Circus died soon after.
St. Julitta and Cyricus are venerated in many countries and particularly in France. The cult of St. Cyricus was strong in Celtic Britain. The half brother of William the Conqueror Count Robert de Mortain was given most of Cornwall after the Battle of Hastings in 1066 and one of his main centers of power was Helstone. close to Lanteglos. This close link with France may well explain how the dedication to St. Julitta came to Cornwall.
The dedication to St. Julitta and Cyricus is to family happiness and the cure of sick children. St. Julitta's dedication day is 16th June.
Courtesy of Lanteglos by Camelford Church