Day 0 - Tuesday 15th April 2014
London Stansted to St Jean Pied de Port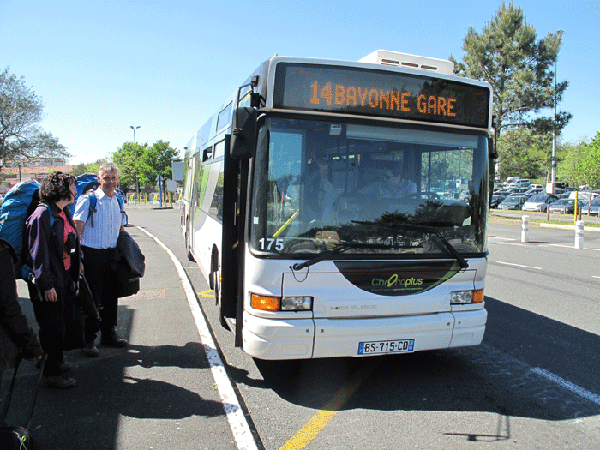 Bus from Biarritz Airport to Bayonne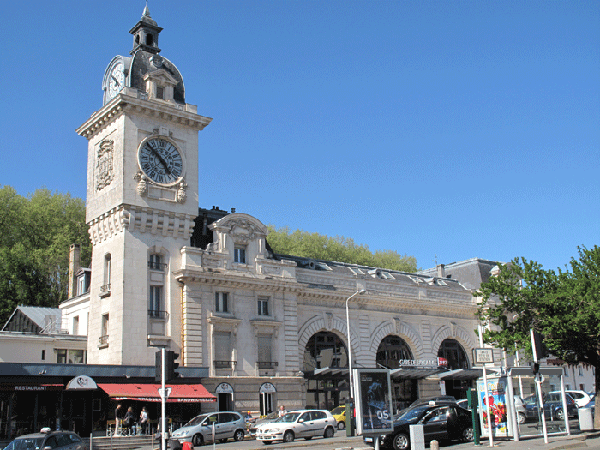 Bayonne Station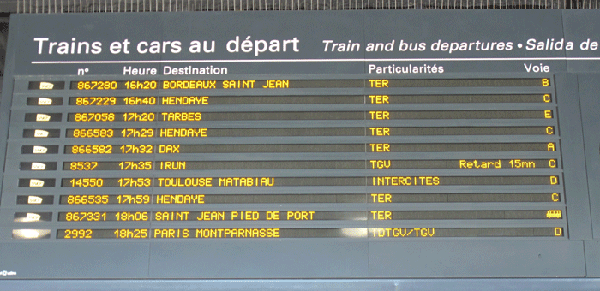 Our first indication that the train was not running and that we would be bused to St Jean Pied de Port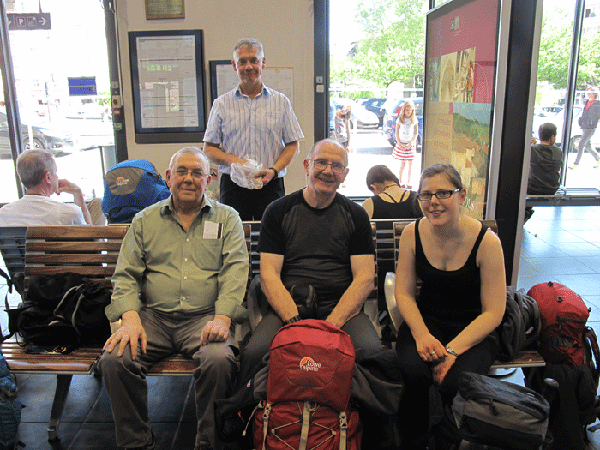 It does not take long before you start meeting fellow pilgrims... Jimmy (Edinburgh),
Mick and Nadya (Germany) with Glenn in the background
| | | |
| --- | --- | --- |
| | Our first encounter with Jimmy on the bus from Biarritz Airport to Bayonne Station did not fill us with confidence. "You know, people die on the Camino" he said..... "Some people get injured and damage tendons and get blisters and can't continue".... he went on to say "and they have even had people who have got lost and disappeared for a week". And for Jane he had a special word..."You don't get many women of your age doing the Camino" he said! Thanks for that Jimmy! We wondered whether we should get on the next bus back to the Airport! | |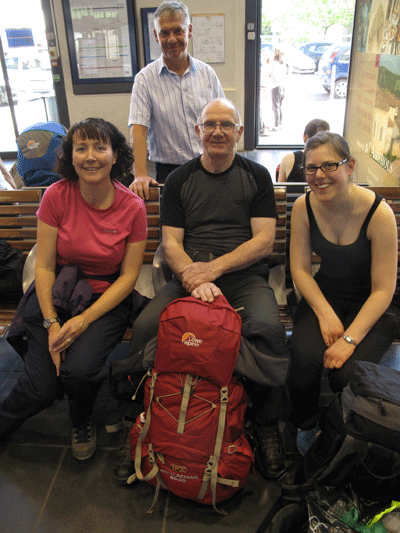 Jane, Mick and Nadya with Glenn in the background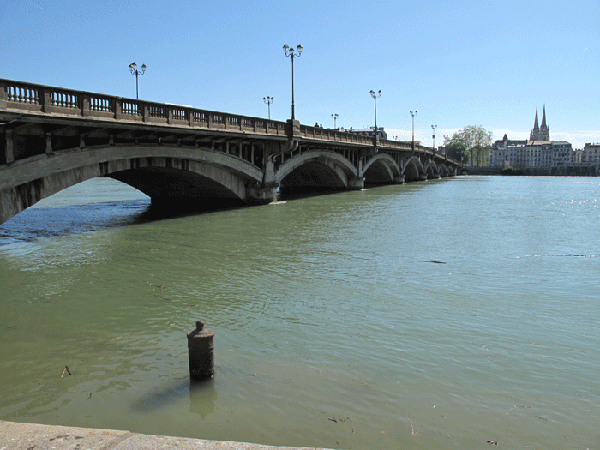 The River Nive, with Bayonne Cathedral in the distance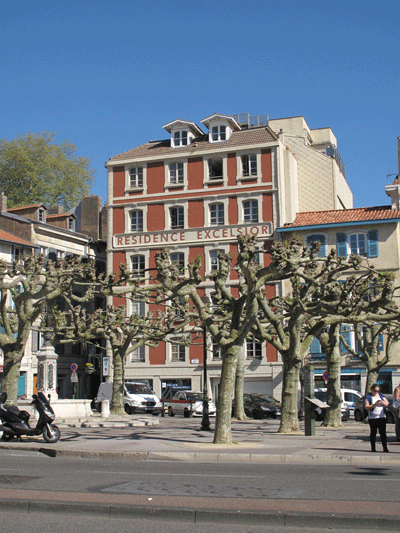 Beautiful buildings and pollarded trees!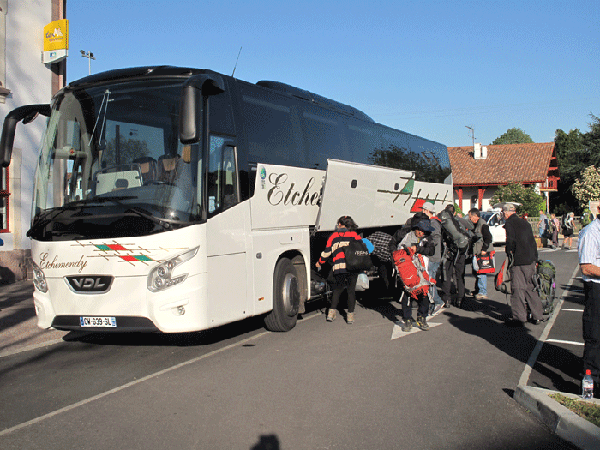 Arriving in St Jean Pied de Port after one hour's bus ride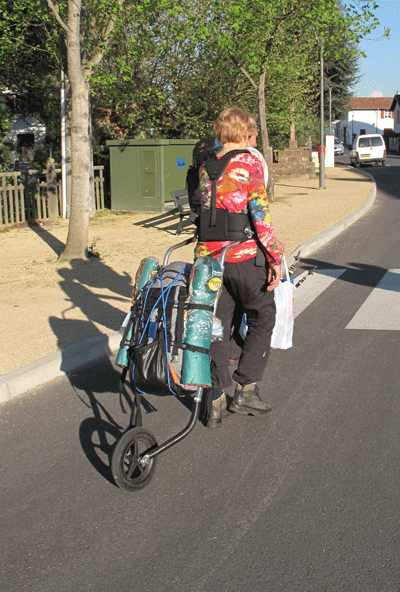 A unique way of handling a heavy rucksack!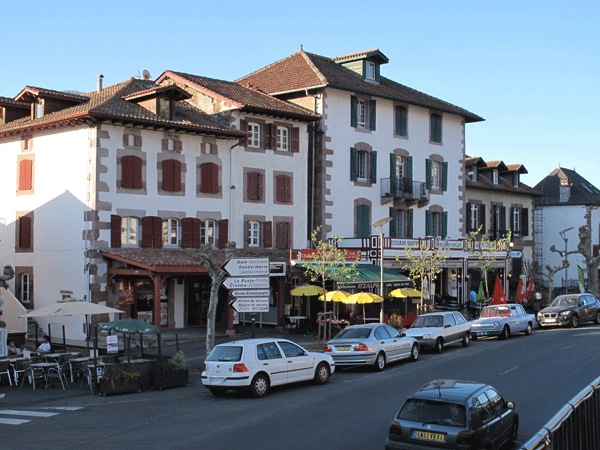 St Jean Pied de Port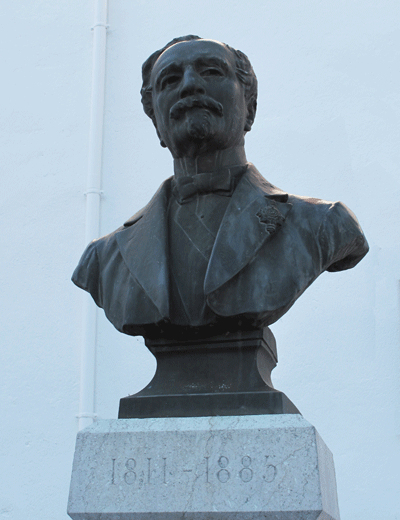 Michel Renaud (1812-1885) bust in St. Jean
Michel Renaud was a French politician who was born on April 12, 1812 in Saint-Jean-Pied-de-Port , and died on January 29, 1885 in Pau.

He was a merchant in Saint-Jean-Pied-de-Port, and a member of the Lower Pyrenees from 1848 to 1851. Opposing the Second Empire, he was arrested during the coup d'etat of December 2, 1851 and exiled in Spain. He returned to France in 1860. He was elected in 1871 and sat on the group of the Republican Left. Defeated in parliamentary elections in 1876 and 1877, he was finally elected to the Senate in 1882. He died in office in 1885.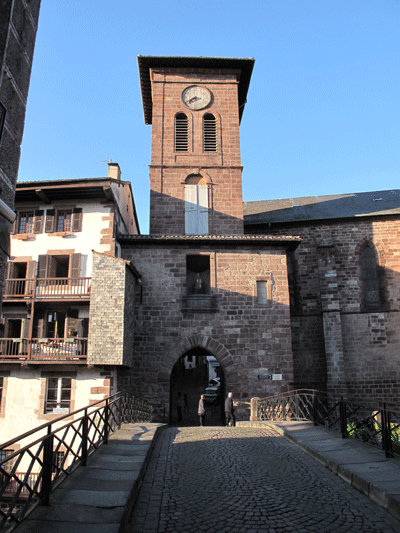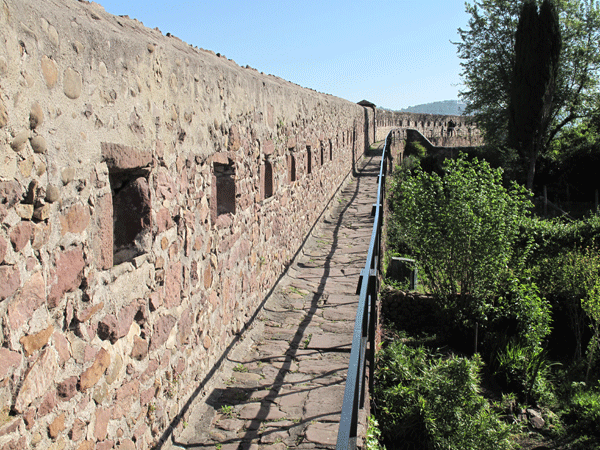 The town walls, St Jean Pied de Port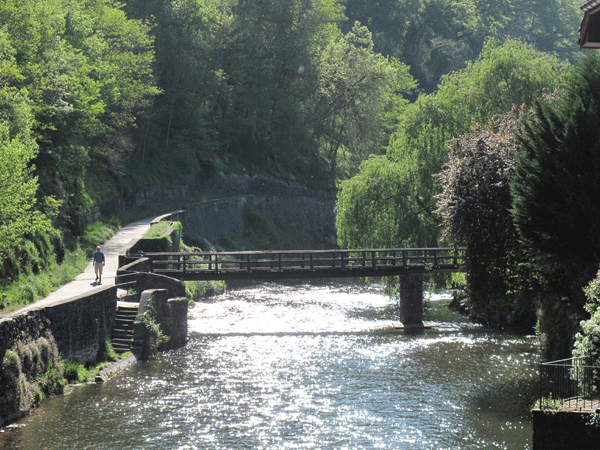 The River Nive, St Jean Pied de Port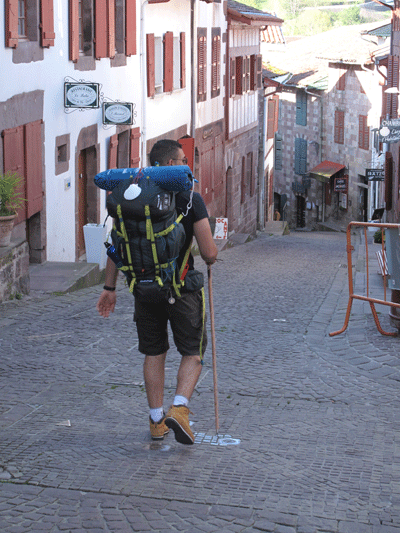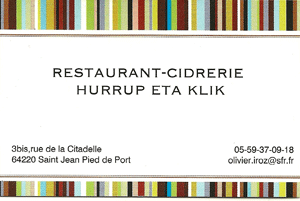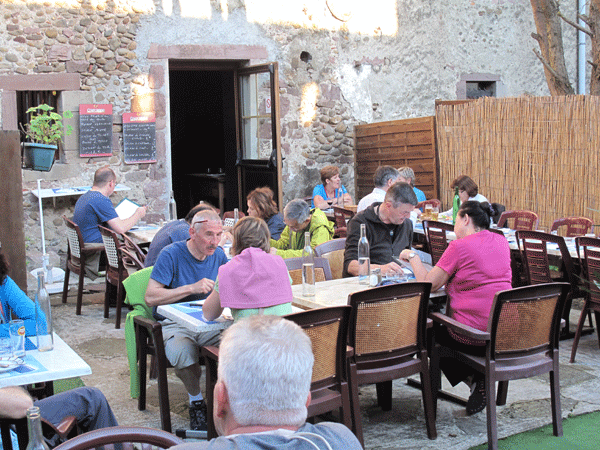 Dinner at Hurrup Eta Klik Restaurant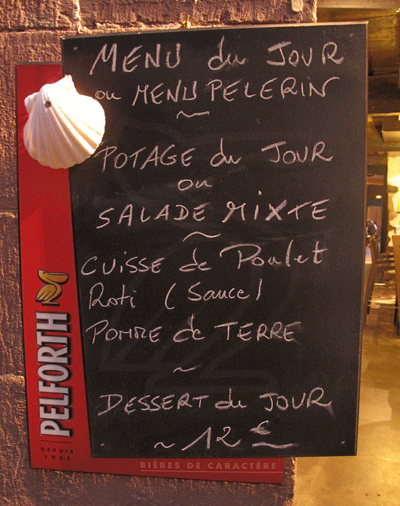 The Pilgrim's Set Menu for Euro 12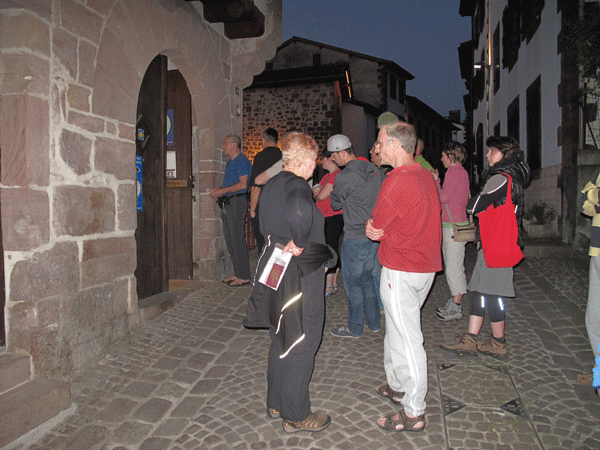 The queue outside the Confraternity office at 9-15 in the evening, with Pilgrim's waiting
to get their Pilgrim's credential stamped.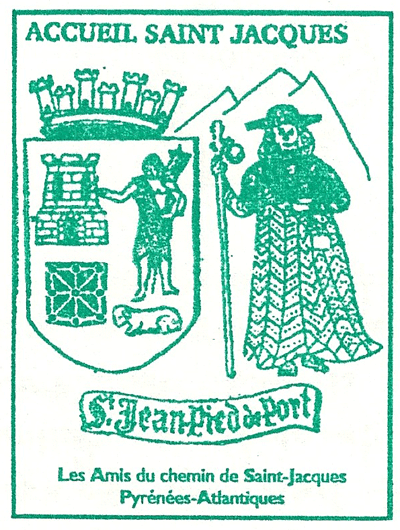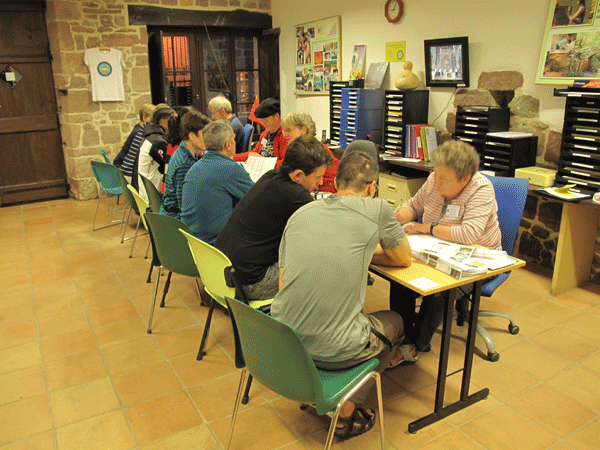 Pilgrim's being interviewed by the Confraternity staff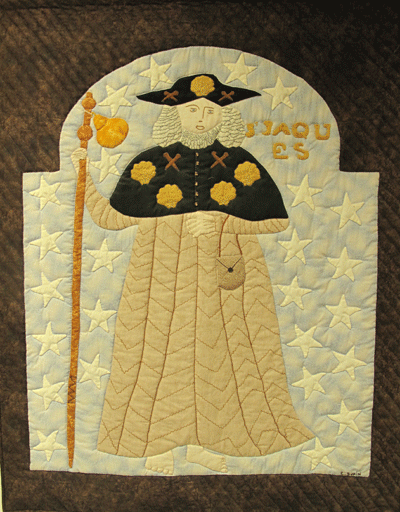 St James
Accommodation Notes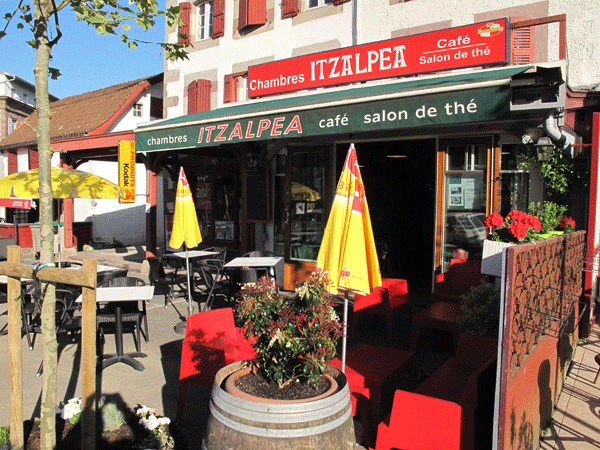 Hotel Itzalpea, conveniently located for the main street in St Jean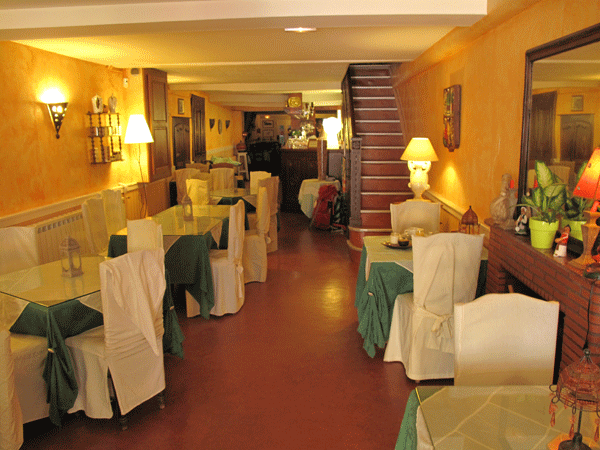 The restaurant and reception area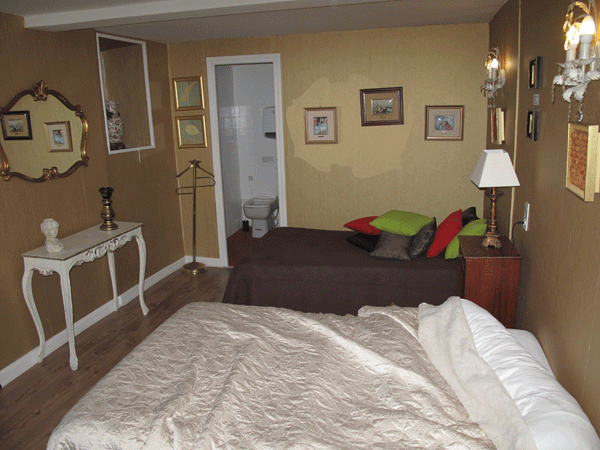 My double room for single occupancy at Euro 58 per night